Last week to celebrate my hubby's birthday, I made him homemade Butterfinger cupcakes (using leftover Halloween candy, of course!) I found a simple chocolate cake recipe from the Hummingbird Bakery (the obsession began in London, and then again once home after making the best ever red velvet cupcakes) and then created my own hybrid Butterfinger peanut butter frosting. The result: an unbelievably decadent crowd-pleasing chocolate peanut butter Butterfinger cupcake!
I used a very light, devils food chocolate cake recipe for the cupcakes, because I was afraid the rich frosting would need that balance. I'm glad I went that route, but if you're looking for a richer, sweeter chocolate cake for your cupcake base, this chocolate cupcake recipe looks divine.
The peanut butter Butterfinger frosting is such a winner. I nearly doubled the amount of peanut butter from the recipe I found online, making a rich peanut-buttery-smooth frosting, with Butterfinger crunch as the perfect texture component. Honestly, hubby and I could have easily stood there and licked the frosting bowl clean; it was that good.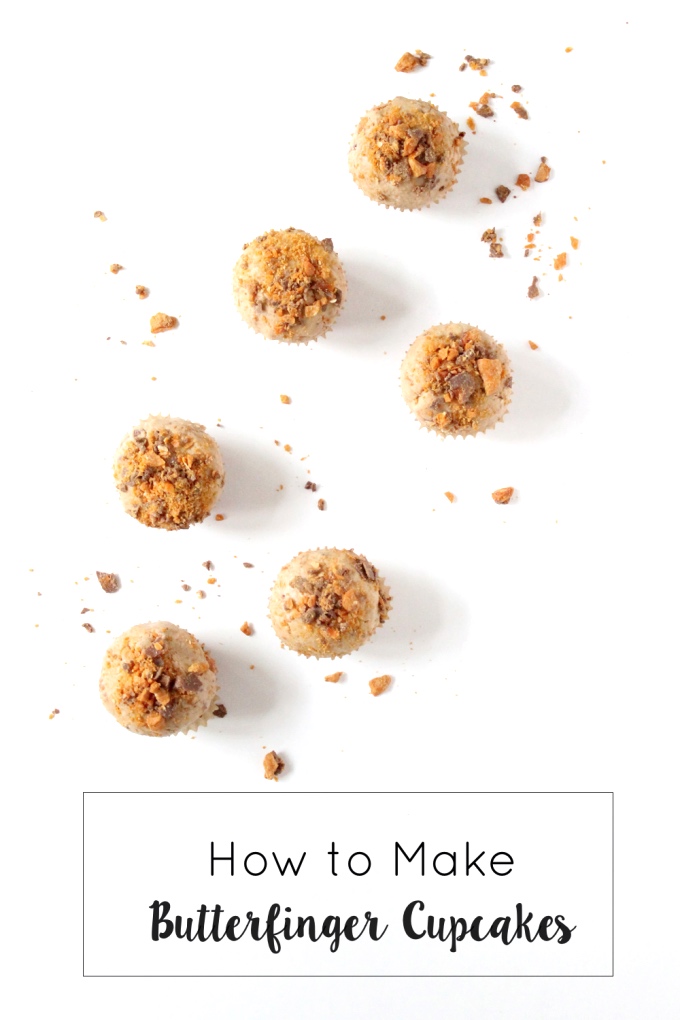 BUTTERFINGER CUPCAKES:
CHOCOLATE CUPCAKES
Makes 12 Cupcakes.
INGREDIENTS
3/4 cup plus 2 tablespoons all-purpose flour
2 and a 1/2 tablespoons unsweetened cocoa powder
a scant 3/4 cup sugar
1 and a 1/2 teaspoons baking powder
a pinch of salt
3 tablespoons unsalted butter, at room temperature
1/2 cup whole milk
1 egg
1/4 teaspoon purse vanilla extract
DIRECTIONS
Preheat the oven to 325°F.
Put the flour, cocoa powder, sugar, baking powder, salt and butter in a freestanding electric mixer with a paddle attachment (or use a handheld electric whisk) and beat on slow speed until you get a sandy consistency and everything is combined.
Whisk the milk, egg and vanilla extract together in a jug, then slowly pour about half into the flour mixture, beat to combine and turn the mixer up to high speed to get rid of any lumps.
Turn the mixer down to a slower speed and slowly pour in the remaining milk mixture (scrape any unmixed ingredients from the side of the bowl with a rubber spatula). Continue mixing for a couple more minutes until the mixture is smooth. Do not overmix.
Spoon the mixture into paper cupcake liners until two-thirds full and bake in the preheated oven for 20-25 minutes, or until the sponge bounces back when touched. A skewer inserted in the centre should come out clean. Leave the cupcakes to cool slightly in the tray before turning out onto a wire cooling rack to cool completely.
Allow the cupcakes to cool before frosting.
BUTTERFINGER PEANUT BUTTER FROSTING
INGREDIENTS
6 tablespoons unsalted butter, softened
1/4 cup creamy peanut butter (you can even go up to 1/3 cup if you really like a strong peanut butter taste)
1 and a 1/2 cups powdered sugar
1 Tablespoon milk
1 cup crushed Butterfinger bars divided in half
DIRECTIONS
For the frosting, beat butter in an electric mixer for two minutes. Add peanut butter, powdered sugar and milk. Beat an additional 4 minutes until smooth. Fold in about half of your crushed Butterfinger candy.
Using a large decorating bag and a large open tip or a zip-top bag with the corner cut off, fill bag and pipe onto each cupcake your desired amount.
Top with more crushed Butterfinger candy.
You can store these in an airtight container for up to 4 days. Enjoy!
Butterfinger Frosting Recipe adapted via Shugary Sweets // Chocolate Cupcake Recipe via Hummingbird Bakery Cookbook