This shop has been compensated by Collective Bias, Inc. and its advertiser. All opinions are mine alone. #BIGSeason #BigLots #CollectiveBias
Although I'm a bit early to the party, now that we're experiencing our first cold-weather fall/winter, I've gotten into the holiday spirit pretty early this year! And thanks to a little holiday encouragement from Big Lots, we went full-on Winter Wonderland in our dining room (already.) What can I say? I'm a holiday-fanatic.
The challenge? To transform our dining room into a Winter Wonderland. I mean, Big Lots' National Decorate Your Home Week is coming up, and I am of course, a Big Lots devotee. My mom, sister, brother and I have been scouring Big Lots for the holidays for as long as I can remember. I actually found my college apartment furniture (Broyhill) at Big Lots, and we still have it to this day (in our guest room!) But Big Lots is really THE place for holiday decorating, and it's always the first place I go to stock up for the season.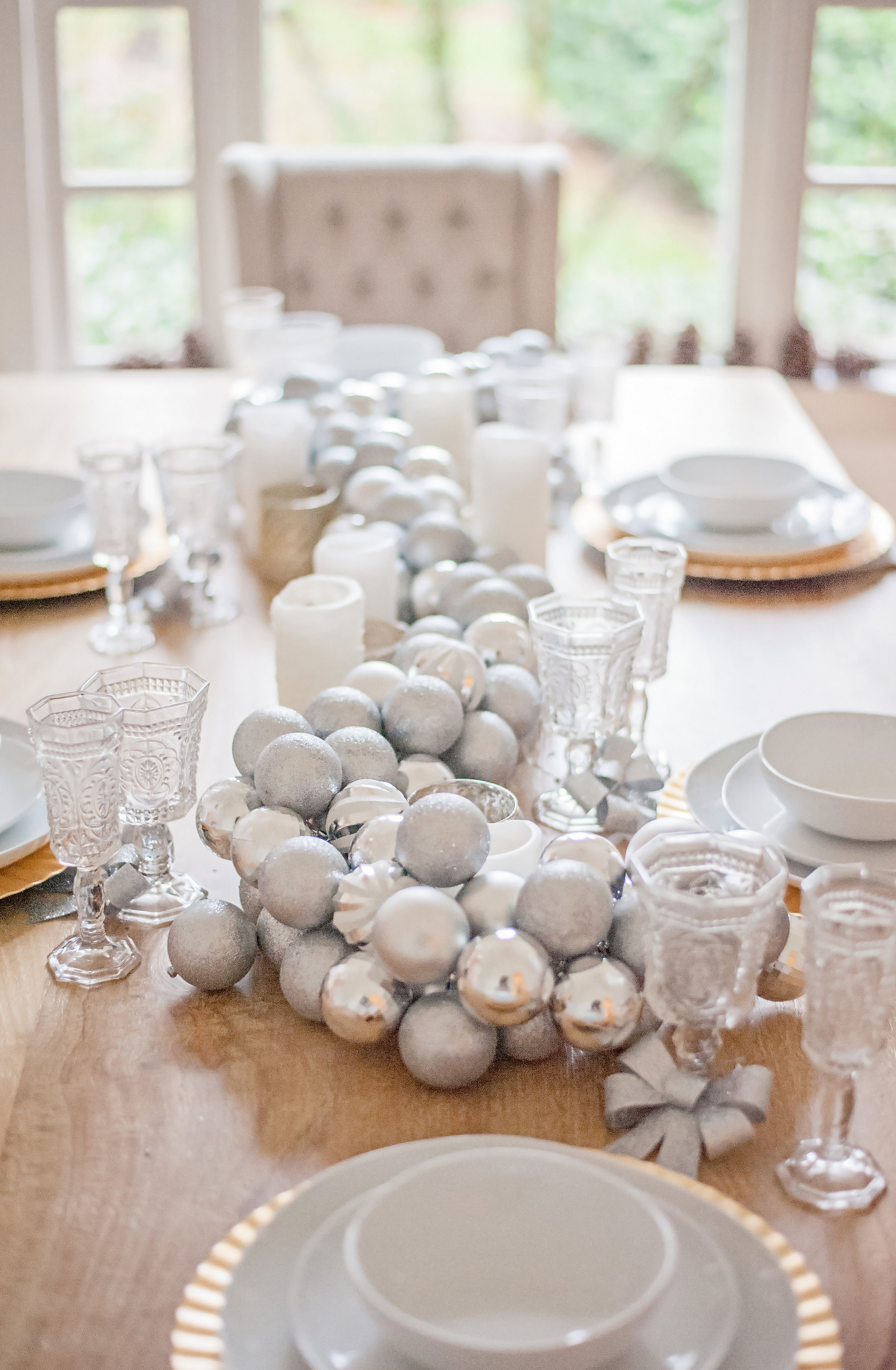 Aisle after aisle at Big Lots was already filled to the brim with all things seasonal decor for the holidays, as was our shopping cart. Scarlett had her arms wrapped around a bunch of sparkling branches most of her cart-ride, while her mama may have had her own arms wrapped around a gold studded deer she just had to have. Told you I was obsessed. There was such a wide array of stunning holiday and seasonal decor items, and the quality and price of the products can't be beat. Of course, styles and assortment vary by store, but that just means a visit to another Big Lots, in case I missed something fabulous of course.
So how do you turn your dining room (or really, any room for that matter) into a Winter Wonderland? Lots of white, silver, and sparkle. I'm still covered in glitter, days later, and I love it. I want our dining room to scream, Holidays, and that it did.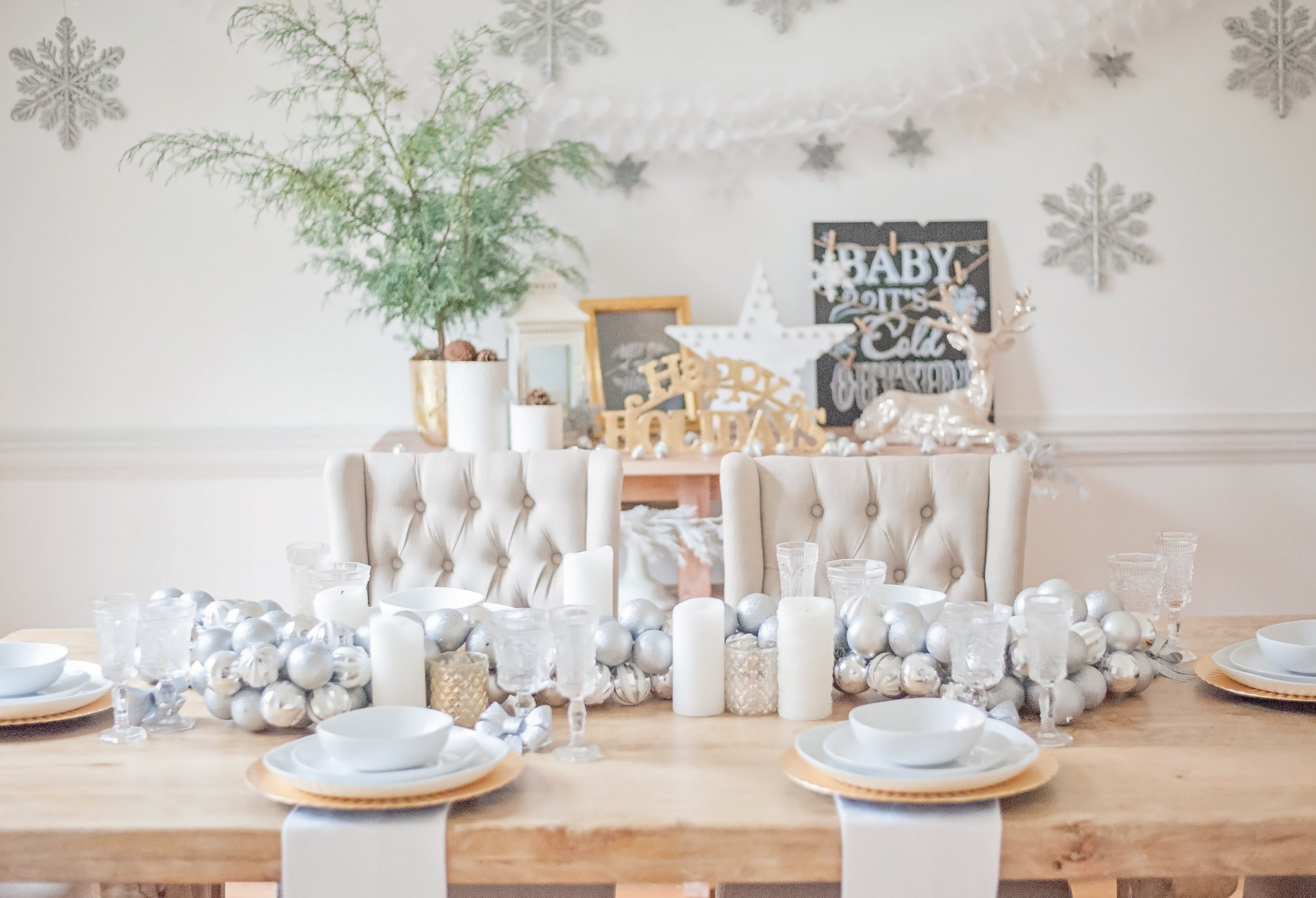 You may have seen me on Snapchat → glitterinclexi, covered in ornaments earlier this week; that was me, stringing so many silver glitter ornaments to create one giant ornament garland for our holiday table centerpiece (though it could easily double as fireplace mantle garland.)
I strung silver garland branches along the stair banisters and the front of our buffet, sprinkled mini disco ball ornaments (love!) along the buffet top, hung snowflake ornaments in various sizes along the wall to create a holiday backdrop for the room, set the table with gold chargers, and used all of these great decorative pieces, candles and votives, and holiday signs, to decorate our dining room table and buffet. I even lined our window sill with pinecones and made hot chocolate for the occasion using mugs, hot cocoa, mini candy canes, and giant campfire marshmallows all found at Big Lots.
'Tis the season to decorate! Upgrade a room, transform your lawn, decorate the tree, go all out with decorating your home like a Winter Wonderland this holiday season! Big Lots is celebrating National Decorate Your Home for the Holidays Week the week of November 16th- 22nd and you can join in on the fun. Big Lots has everything you need – for inside and outside your home, to get a start on the holiday season. Visit biglots.com/christmas to view the Christmas catalog and to check out ideas, tips, and inspiration. Planning ahead for the holiday season and decorating earlier means less stress and more time for the things that matter most!
I'd love to hear about your favorite ways to decorate for the Holidays! Do you keep your decorating to one room, or do you go all out throughout the house?
Photos by Brandi Leigh // Gold Chargers and Holiday Décor: Big Lots // With You Darling I am Home Print: Lindsay Letters // Dishes: West Elm // Gold Flatware: West Elm // Lace Napkins: Sur la Table // Sheepskin: Pottery Barn