This post contains affiliate links, which means that if you click on one of the product links, I'll receive a small commission. Additionally, as an Amazon Associate I earn from qualifying purchases. Thank you so much for clicking through and helping to support this little blog business of mine! Read more about our site, privacy, and disclosure policies here.
The one-month countdown has begun until the first day of school for all THREE of our girls here in Boston! I'm busy shopping for cute back-to-school finds and I've rounded up so many adorable school day picks, including our all-time favorite backpacks to help make your own back-to-school shopping easier!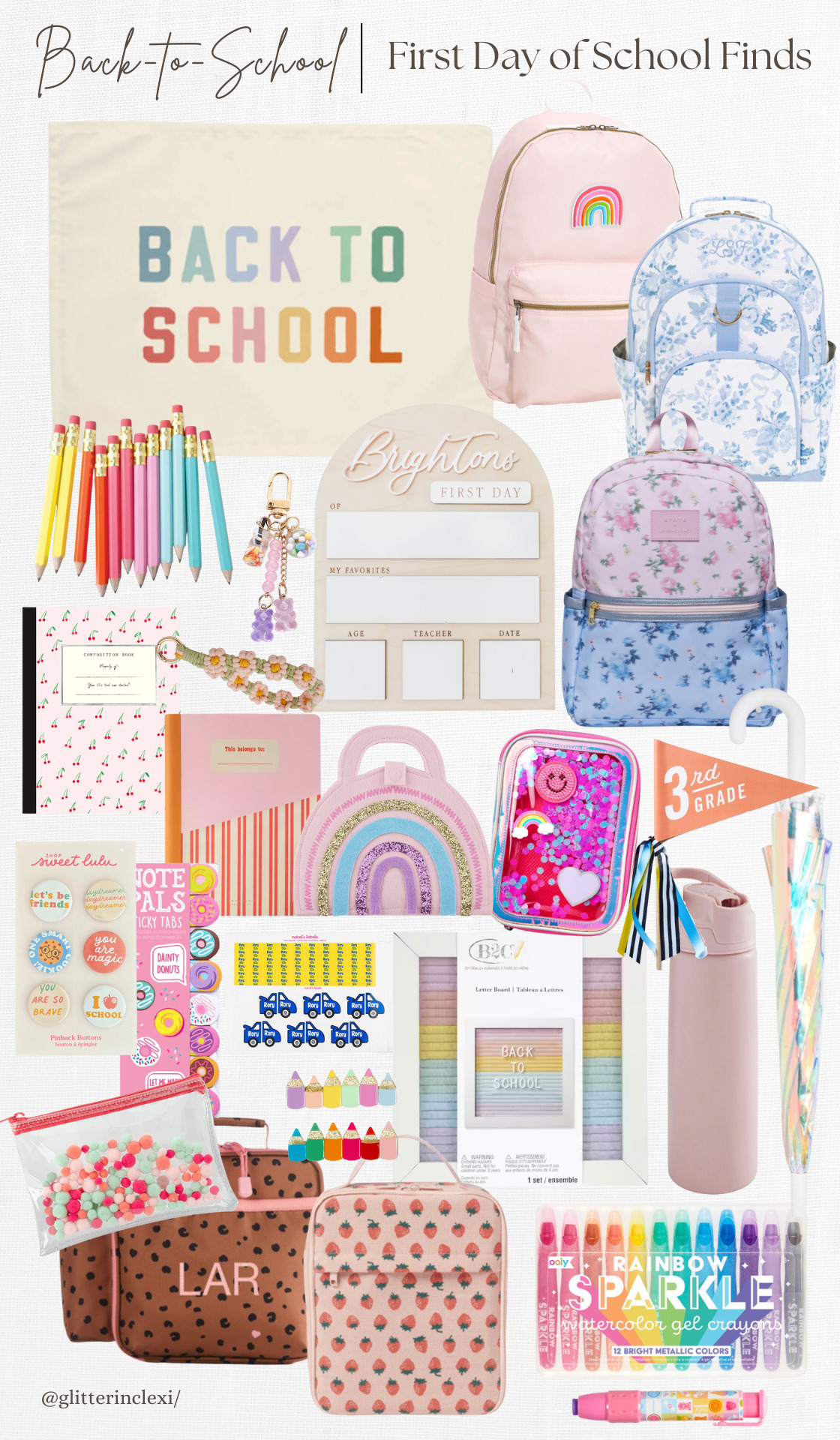 Back-to-School First Day of School Favorites
State Kids Backpacks
This year, Addie (our baby), will be starting preschool two mornings a week and thankfully, she'll be using one of her big sisters' hand-me-down State Kane Kids Backpacks and lunchbox. 😅 The two big girls both want new backpacks for school since the smaller backpack style that they have been using (they've used and loved the State Kane Kids Backpack for years now) can't easily hold their folders, art, and lunchboxes (which we've found is ideal for them when carrying around so much stuff.) Emmeline, our five year old, has her heart set on the Kane Kids Double Pocket in the metallic pink for kindergarten and though it seems big for her age — it's described as "larger than the Kane Kids, smaller than the Kane Kids Large" — so I'm hoping that with the detachable chest strap it will be perfect to hold all of her things; lunchbox included.
Pottery Barn Kids Backpacks
Our 9 year old is likely going with the X-Large size of the Pottery Barn Kids backpack (though she also likes some of the styles at Pottery Barn Teen.) She loves fun prints and patterns and has always been drawn to the great options that Pottery Barn Kids offers. Pottery Barn Kids backpacks are so durable, wash well, come with a built-in chest strap, and last for years.
Pottery Barn Kids Lunchboxes
Other than that, we'll be mixing in a few cute supplies and their current Pottery Barn Kids lunchboxes (the best!) and Pottery Barn Kids water bottles. Just like the Pottery Barn Kids Backpacks, the PB Kids lunchboxes can be washed in the washing machine (we air dry to dry) and fit all of our bento boxes and containers for lunch.
Additional Back-to-School Accessories
Everyone needs a new umbrella and I have my eye on these adorable color-changing kids' umbrellas from Anthropologie and this holographic umbrella from Maisonette. And of course, a few adorable new accessories that the girls can each pick out, also help to make back-to-school fun. We've found adorable accessories everywhere from online retailers to the Dollar Store (so many cute accessories there too!)
I'm also trying to figure out the best way to do first day of school picture signs. In years past we've used a letter board, but with three girls all starting school this year, we may not have room on our board. Any suggestions welcome!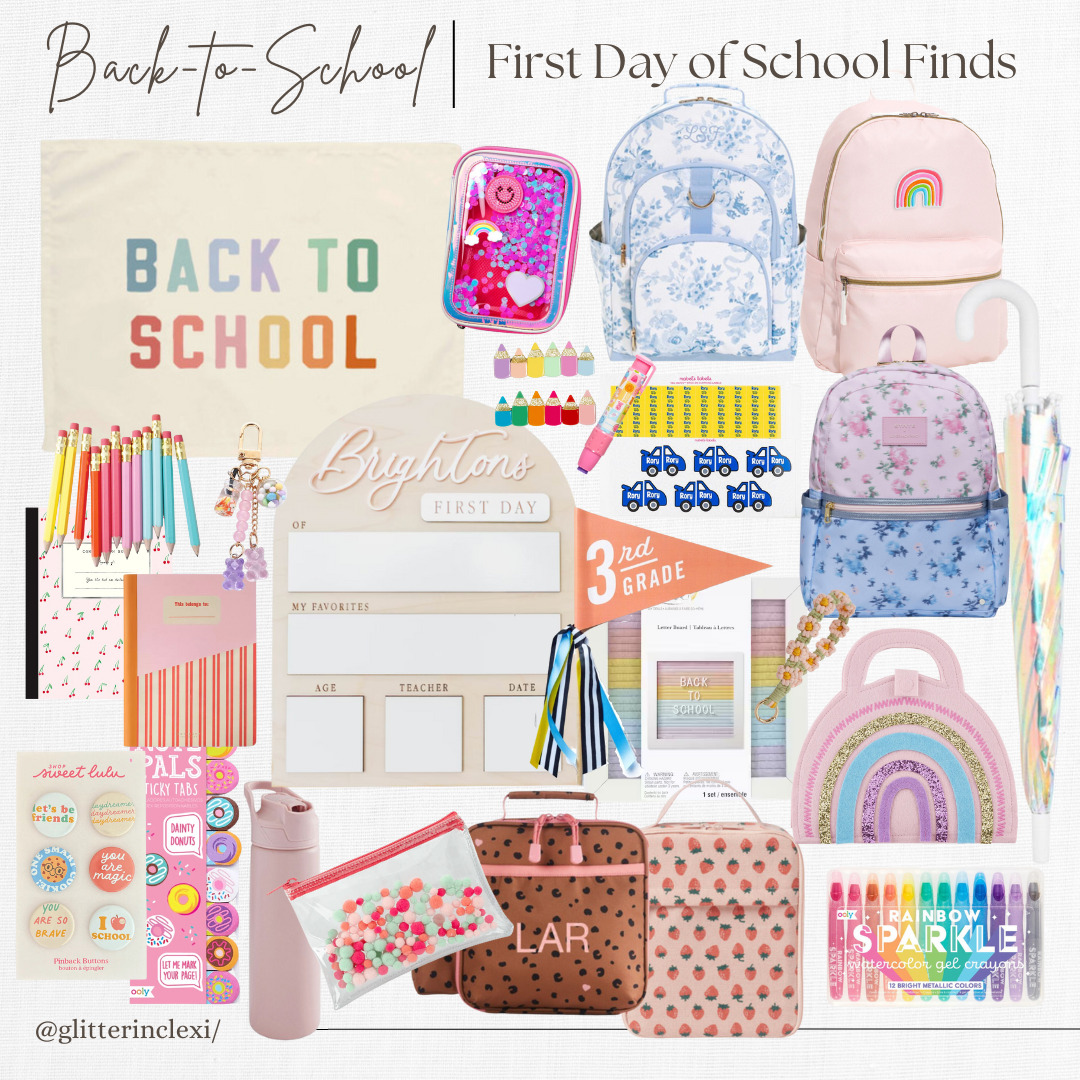 Back-to-School First Day of School Favorites | Click the Images to Shop

When do your kids go back to school? When we lived in North Carolina, school started in mid-August and here in Boston, school doesn't begin until after Labor Day (which feels so late!) Have you started back-to-school shopping where you are?
SHOP THE BACK-TO-SCHOOL FIRST DAY OF SCHOOL FAVORITES | CLICK LEFT & RIGHT ARROWS TO EXPLORE