This post contains affiliate links, which means that if you click on one of the product links, I'll receive a small commission. Additionally, as an Amazon Associate I earn from qualifying purchases. Thank you so much for clicking through and helping to support this little blog business of mine! Read more about our site, privacy, and disclosure policies here.
LUNCHBOX FAVORITES 🥪 It's back-to-school season and I'm sharing a few of our favorite lunchboxes for kids, plus all of the fun lunch-packing accessories and the best inexpensive Amazon labels that hold up in the dishwasher! 🙌🏻
Back-to-school time is on the horizon, which means getting ready for all things school!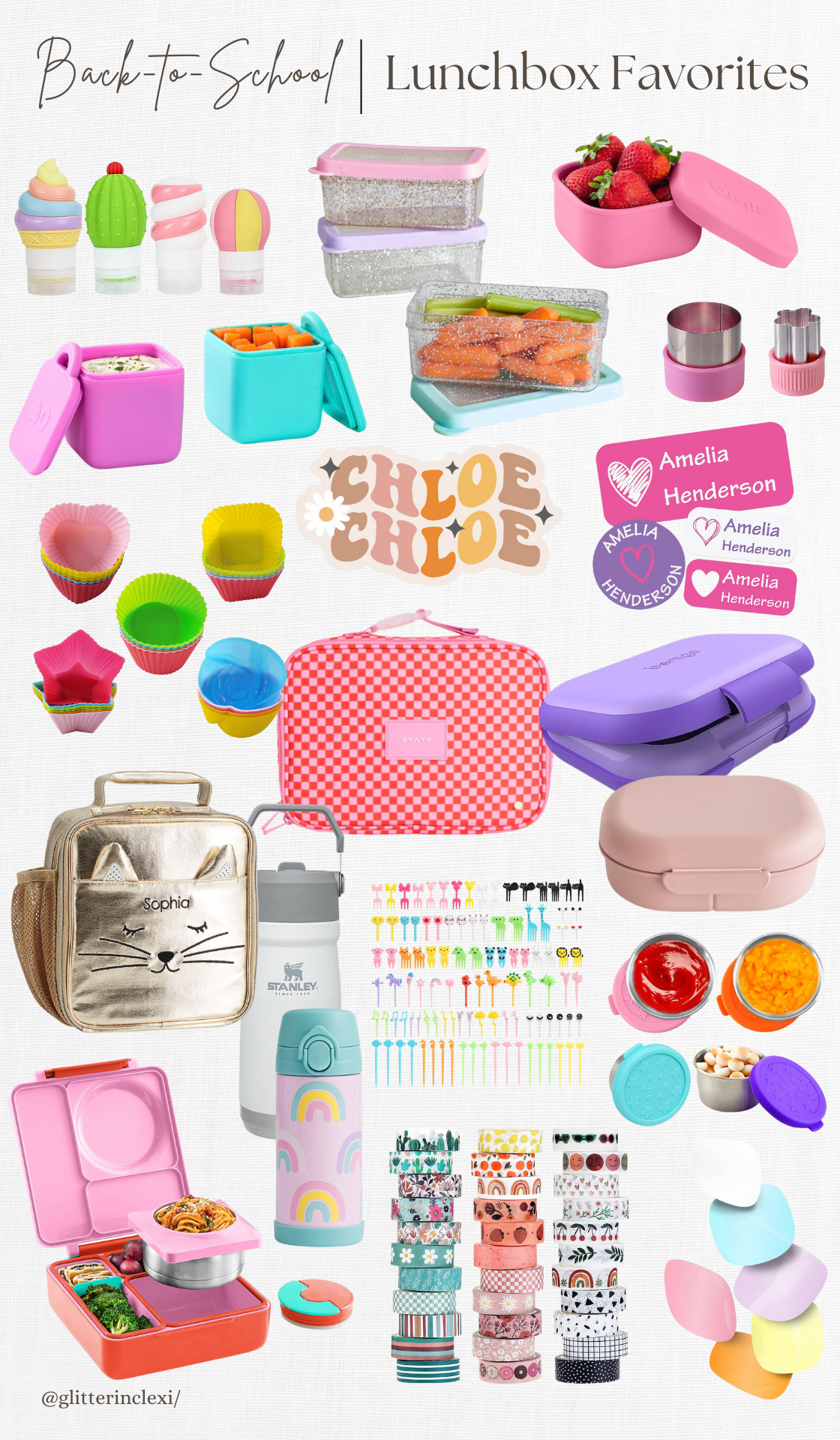 Back-to-School Lunchbox Favorites and Accessories
I'm sharing our back-to-school lunchbox favorites, including our favorite lunch bags, what we've found to be the best lunchboxes for kids, a whole bunch of the cutest lunch accessories, plus the most amazing Amazon labels that hold up in the dishwasher, laundry, and beyond.
A Note on Packing Lunch for Your Kids
Full disclosure and a note on packing lunch for your kids: all of these back-to-school lunchbox accessories are fun ways to pack your kids' lunches, and also totally not necessary. 🤪
Some days, I'm making hearts in my girls' food, heating up homemade soup, and using tiny containers to house their hand-cut fruit slices, and some days, it's a pre-packaged hummus cup, banana, and a bag of pretzels. 💪🏻
Being a mom is work, and lunch shouldn't be! If you want to go all out for your kids' lunch, you go, mama. Also, if you want to send Lunchables (which, for the record, were awesome back in my day!), you're feeding your kiddo a balanced meal and you are a rockstar parent.
Now onto the cute lunch stuff!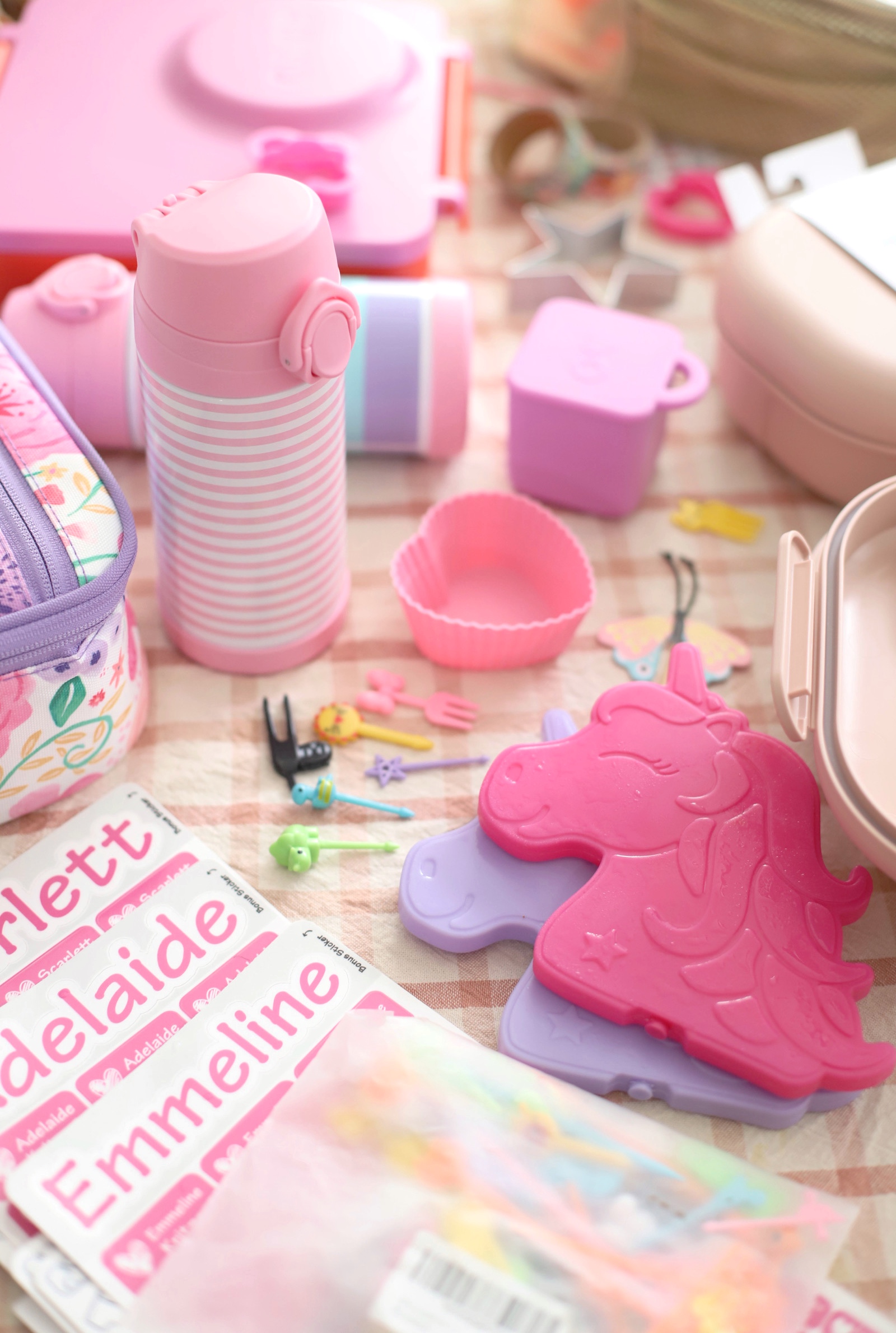 School Lunch Favorites
Lunch Bags
Our girls have used Pottery Barn Kids lunch boxes for years. We love that there are so many fun patterns and colors and styles to choose from, they fit every different shape bento box and lunchbox, and they wash really well. (Our kitty-loving five-year-old nearly lost her mind over this Emily & Meritt Gold Kitty Lunch Box!)
We also really like State Bags lunch boxes, and they're especially great for older kids.
Bento Style Containers
Having three kids (our oldest just turned 9!) means that we have tried so many lunch containers and basically every bento box under the sun. These are the standout bento-style containers we have used and loved over the years for the kids lunches.
Our favorite Bento Boxes for School Lunch:
Pottery Barn Kids All-in-One Bento Box | Great for younger kids, all in one piece, dishwasher safe on the top rack.
Bentgo Kids 5-Compartment Bento-Style Kids Lunch Box | I have nothing but good things to say about Bentgo Kids. Their bento lunch boxes are popular for good reason. My only real gripe is that they're better suited for younger kids, as the portion sizes won't cut it for bigger kids. The bigger Bentgo Fresh and Bentgo Chill are are both a great solution to the size issue if you love Bentgo.
OmieBox Bento Box for Kids | I just really, really, really love this bento box. It's pricier than the others, but our original OMIEBox is several years old and is still in great condition. The sections of the Bento Box are roomy and functional. And I really dig all of the OMIEBox accessories; especially the OmieBox Leakproof Dips Containers that are the perfect size for sauces and small snacks.
If you like sending hot food in your kids' lunch, the OmieBox Bento Box is perfect because it has an insulated leak proof thermos that actually keeps kids food warm. (By the way, to ensure food stays warm, before you fill the thermos, pour a cup of boiling water into it, let it sit for a few minutes, pour the water out, and then put your warm food into the preheated thermos. Works like a charm!)
mushie Kids Bento Lunch Box | This is my newest obsession. I like that it's deceptively roomy with 3 compartments and a removable divider with an area on top for a sandwich or additional food, somea with a set of the best ever Mushie fork and spoon, is easy to clean, and takes up a relatively small footprint in our kitchen.
Tupperware and Small Containers
Dip Cups and Sauce Bottles
We have and love these Stainless Steel Condiment Containers — perfect for dips and salad dressing. They don't leak and they come in cute colors!
Ice Packs
The girls are big fans of the Bentgo Buddies Reusable Ice Packs because they're unicorns. I like them because they keep their cold lunches cold. It's a win win. 🦄
Labels
As for the labels we use to label lunch boxes and lunch accessories (plus backpacks, school supplies, shoes, jackets, and so much more!), it's a tie between Minted personalized labels and these Bunny Badges Personalized Name Labels we recently found on Amazon.
Minted labels are pretty unparalleled in terms of staying power (through laundry cycles, the dishwasher, you name it) and adorable designs. Though so far, I've been extremely impressed with the Bunny Badges Name Labels (and at a fraction of the price.)
Water Bottles
We've tried many, many, many water bottles over the years, and the water bottles we repeatedly come back to are the Pottery Barn Kids water bottles; they're leakproof, keep drinks cold for hours, hold up well, and come in so many great designs and colors.
We have used and liked Simple Modern Kids Stainless Steel Insulated Water Bottles and Stanley IceFlow Stainless Steel Insulated Bottles; but my kids tend to bite on the spouts on those, so they aren't my favorite.
Extra Lunch Accessories
Food Picks – This giant pack of 106 adorable food picks is perfect for kids lunches. They're super affordable, so cute, and make everything you skewer them into happier.
Lunch Love Notes
For years I've used washi tape, post-it-notes, little cards, etc. to leave the occasional love note in my kids' lunches. I also recently discovered these Reusable Dry Erase Sticky Notes (on Amazon) and I just placed an order, so I'll definitely report back!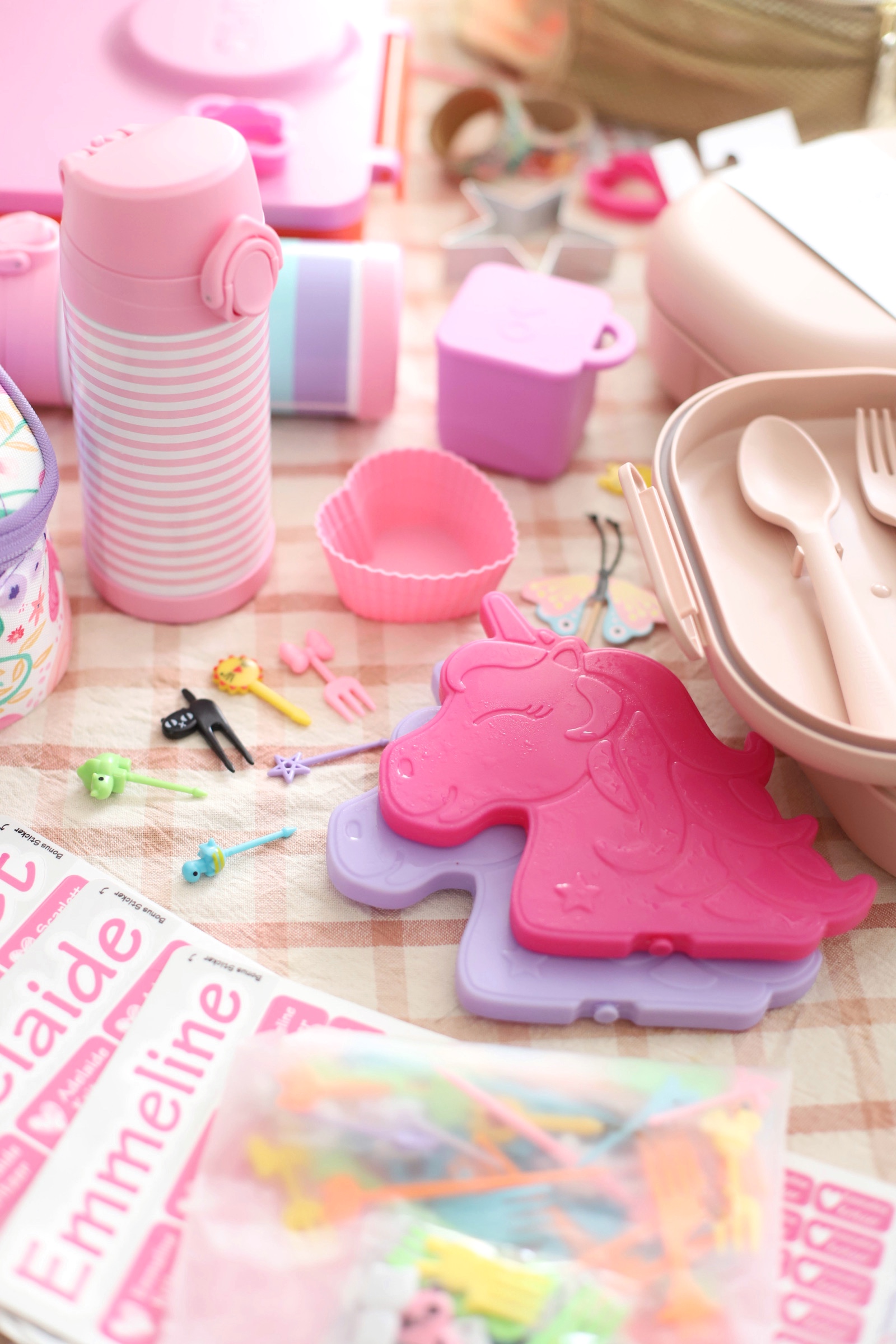 Back-to-School Lunchbox Favorites and Accessories | Click the Images to Shop

Do you tend to be a little *extra* with your kids' lunches or do you like to keep it simple when it comes to lunch (and snack)?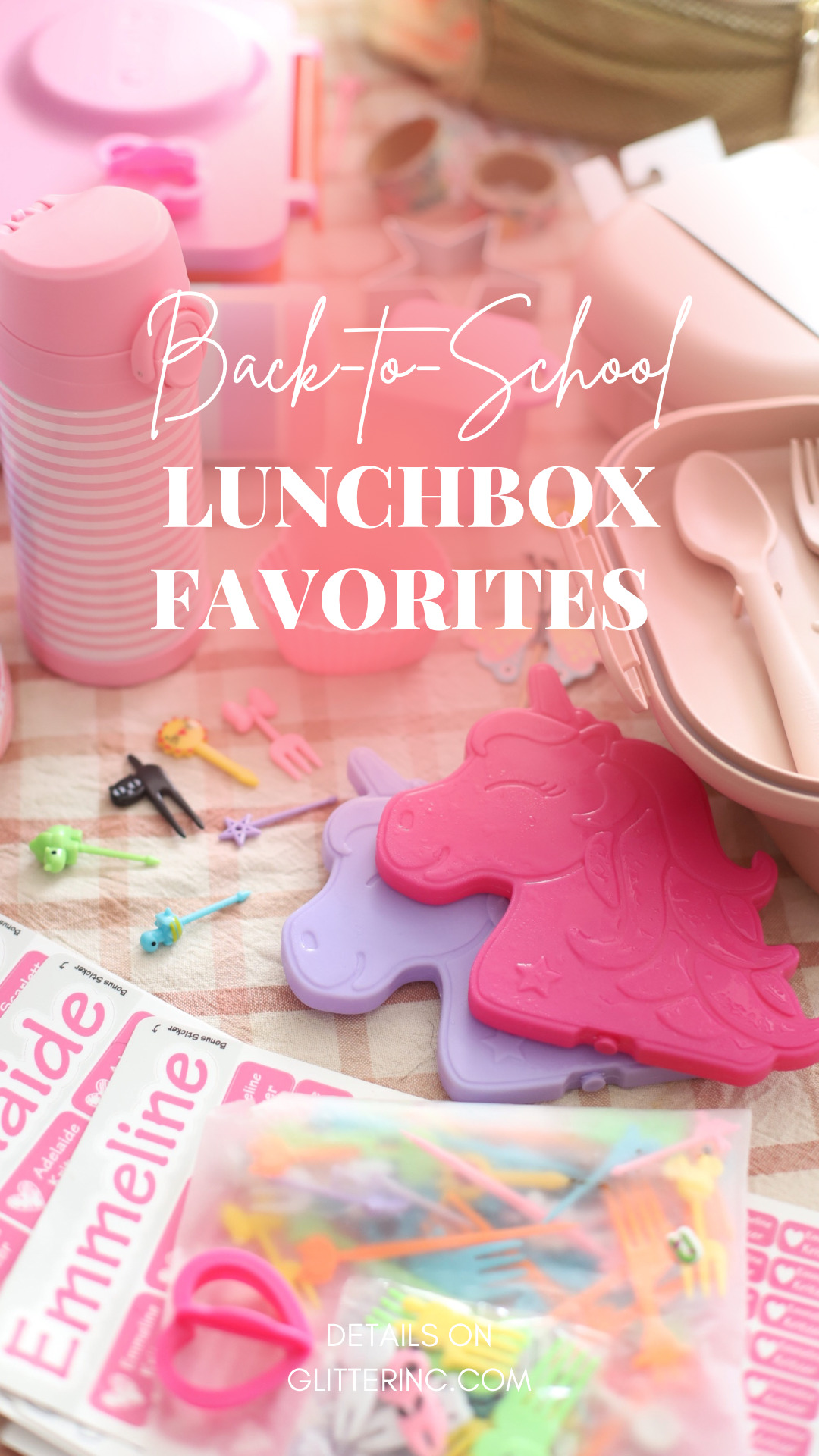 SHOP THE BACK-TO-SCHOOL LUNCHBOX FAVORITES AND ACCESSORIES | CLICK LEFT & RIGHT ARROWS TO EXPLORE