This post contains affiliate links, which means that if you click on one of the product links, I'll receive a small commission. Thank you so much for clicking through and helping to support this little blog business of mine! Read more about our site, privacy, and disclosure policies here.
If you're on the hunt for adorable baby girl and toddler outfits and accessories on a budget, this is the post for you! Amazon has some of the cutest affordable kids clothes out there, and their fall and winter wear is no exception. Read on to see 50+ of my current favorite boutique-worthy baby girl and toddler Amazon outfits, shoes, and accessories that I think you'll love!
Did you know that one of my most pinned posts on Pinterest is this post featuring 30 Adorable Amazon Outfits for Baby Girls and Toddlers? Whelp, I thought it was high time I share an updated post featured all of the extra cozy fall and winter outfits for your little ladies.
Because I'm basically obsessed with Amazon and that free two-day Prime shipping, a good chunk of our girls' wardrobes come from the mega online retailer. There's probably at least one new outfit (or two … I can't resist matching them!) in every Amazon package that arrives on our doorstep. Whoops!
Once you fall down the rabbit hole of adorable kids fashion on Amazon, you'll quickly realize that a lot of the outfits on Amazon are the same outfits sold in so many of those sweet baby and childrens boutiques that advertise all over Facebook, etc. And with Amazon, you're getting their awesome customer service, easy returns if something doesn't fit or work, and of course, free two-day shipping.
Well, luckily, since I can't stop, won't stop scouring for stylish Amazon outfits and accessories for my girls, I'm sharing 50+ of my favorite kids' fashion finds from Amazon right here.
Seriously, this post is a treasure trove of boutique-worthy adorable Amazon outfits for girls!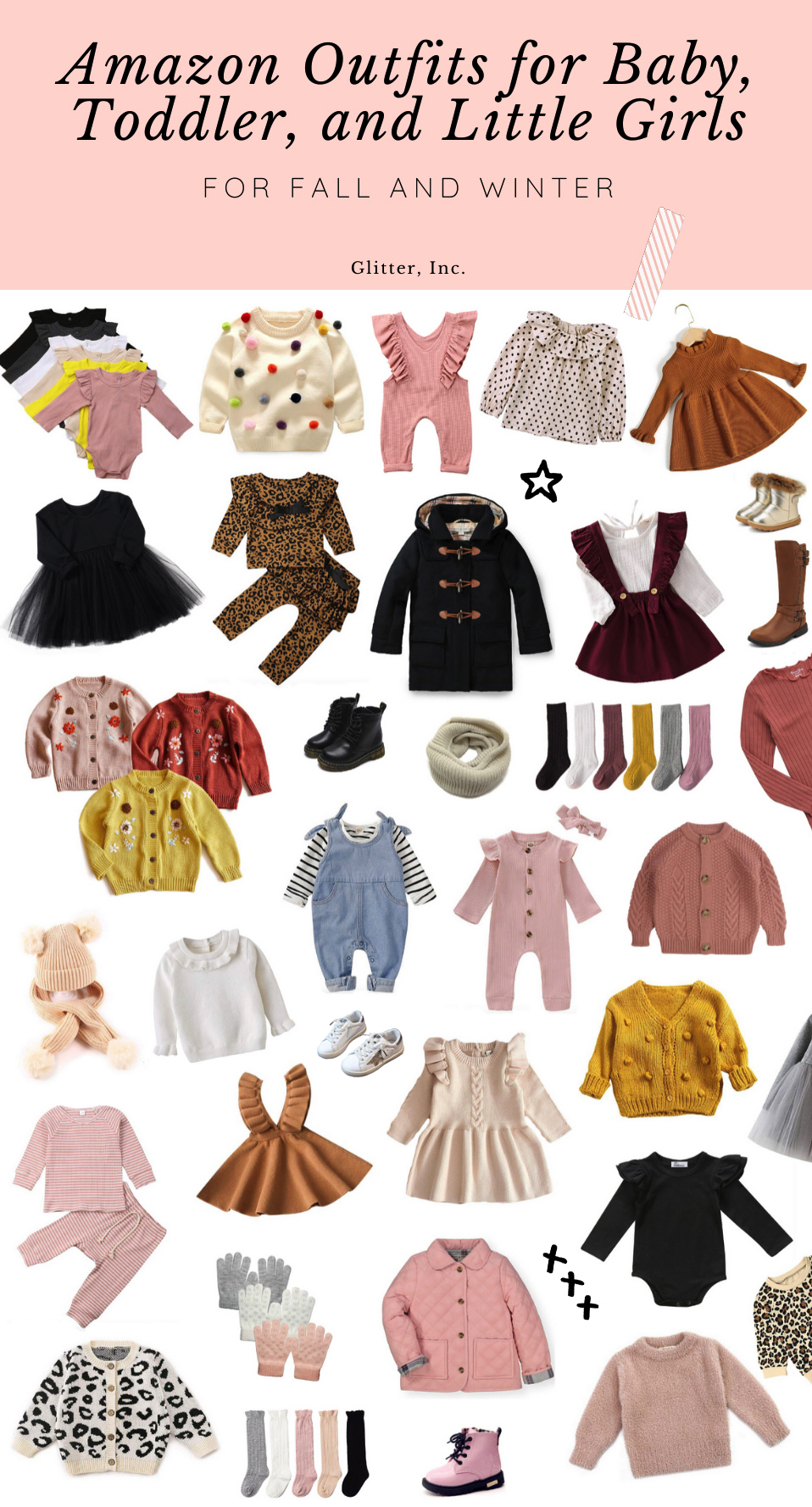 50+ GIRLS AMAZON OUTFITS FOR FALL AND WINTER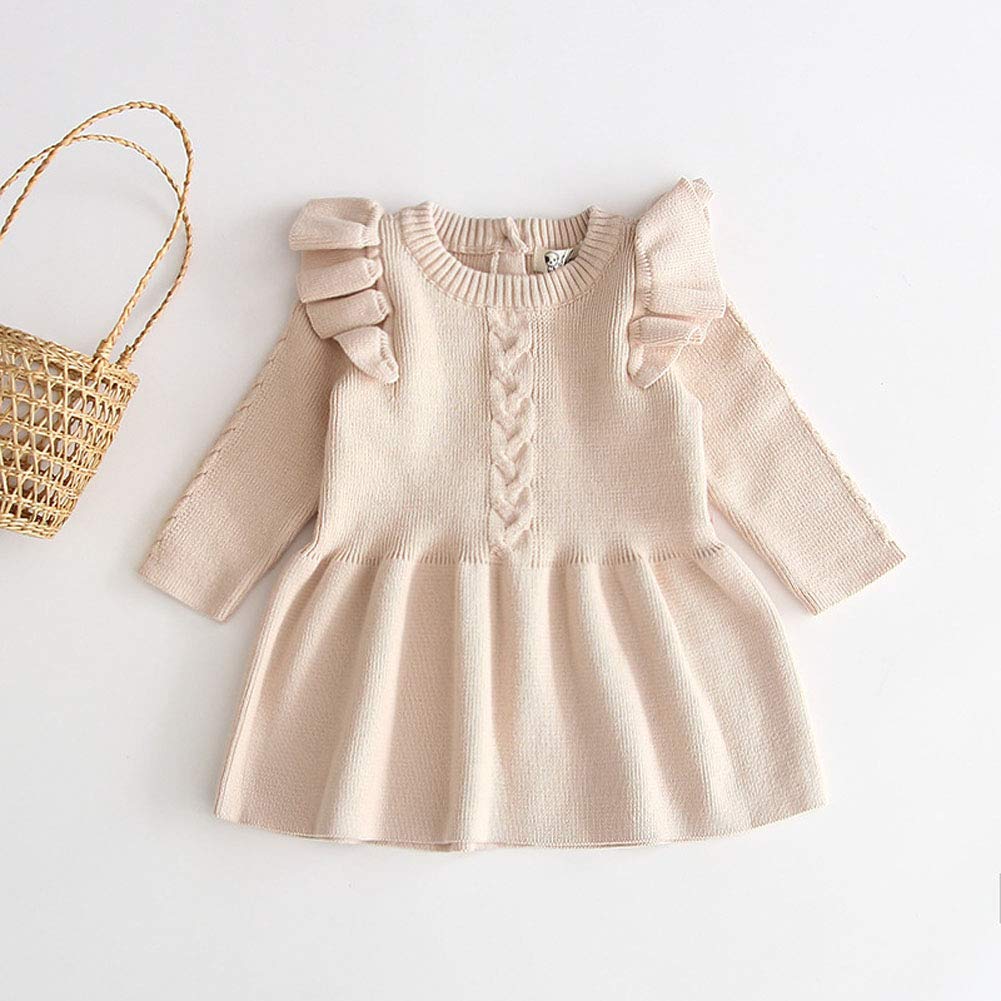 This one is currently in my shopping cart, it's so darn cute. I love a good sweater dress and the detailing and color options make this one extra sweet.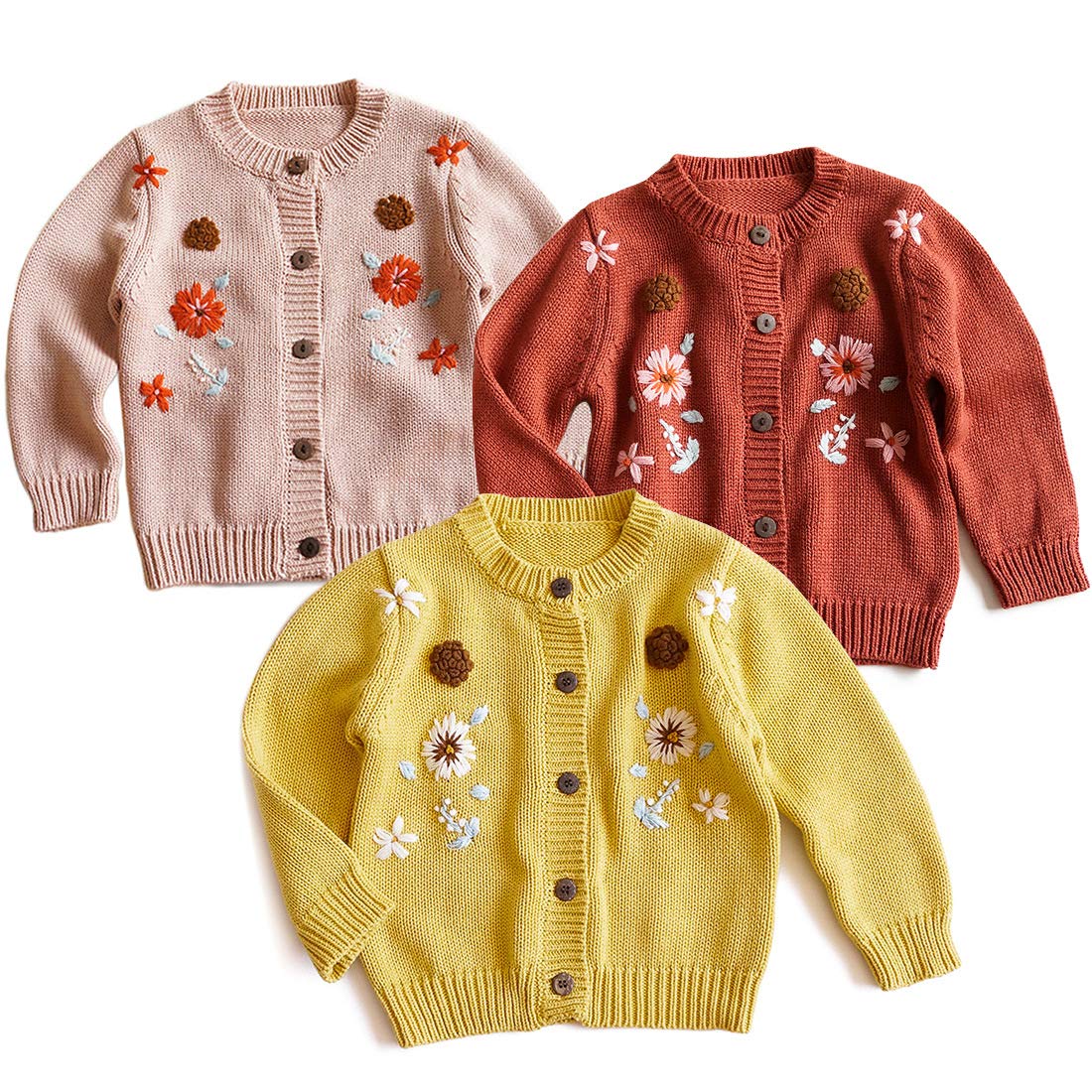 I have two of these in my cart because I just can't resist. These sweet cardigans are 100% super soft cotton, with hand-embroidered flowers in various soft pastel colors. They run from baby through a size 5T.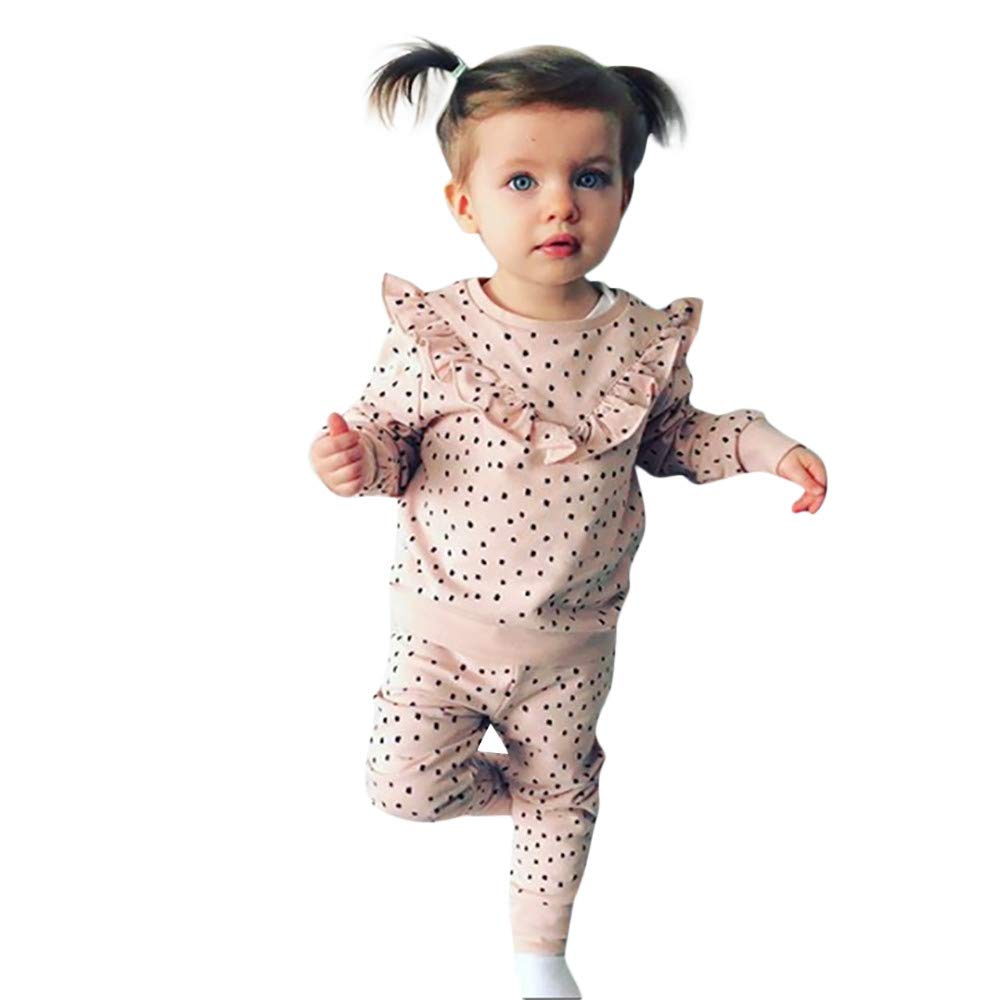 OMG, how cute is this little polka dot ruffled set? …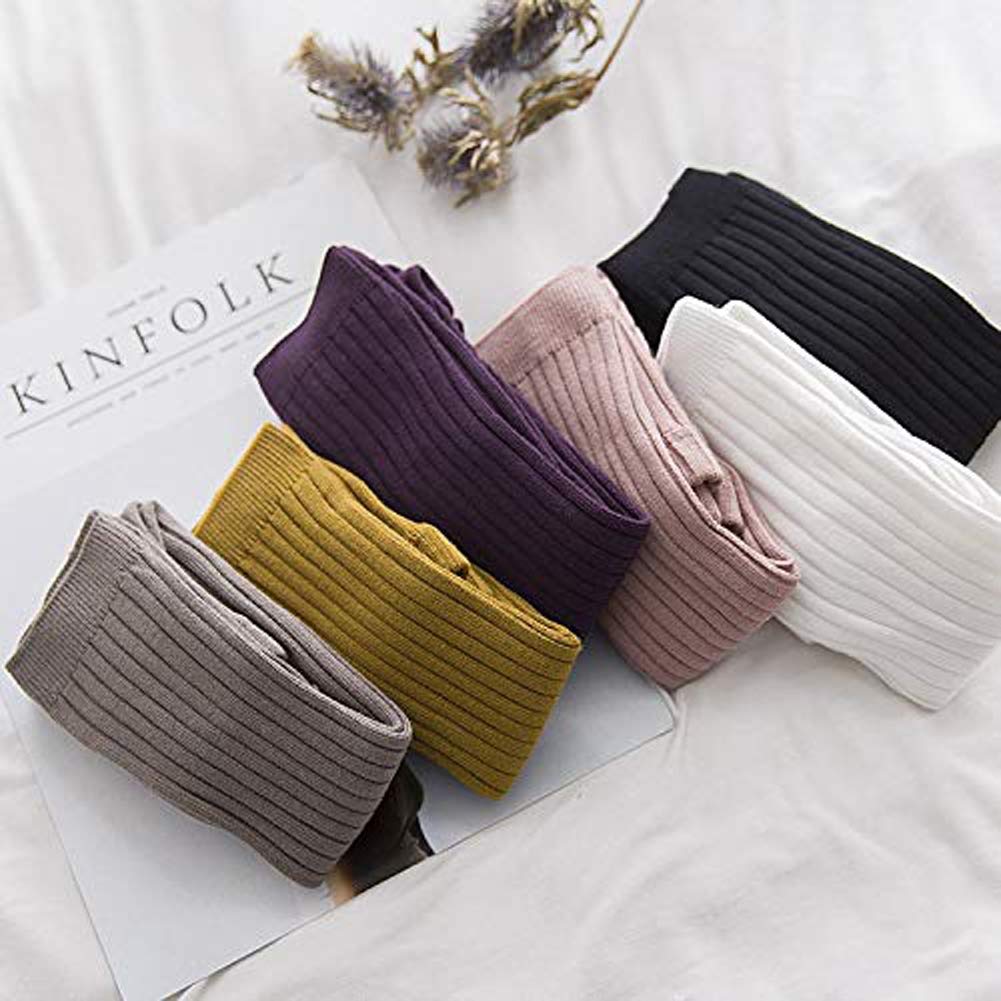 A friend of mine swears by these ribbed leggings for her kids so I'm ordering a 3 pack and I'll be sure to report back. I like that they have sizes from baby through 5 years, there are plenty of pretty neutral colors. In addition, they look a whole lot like the more expensive Zara ribbed leggings (that we currently have.)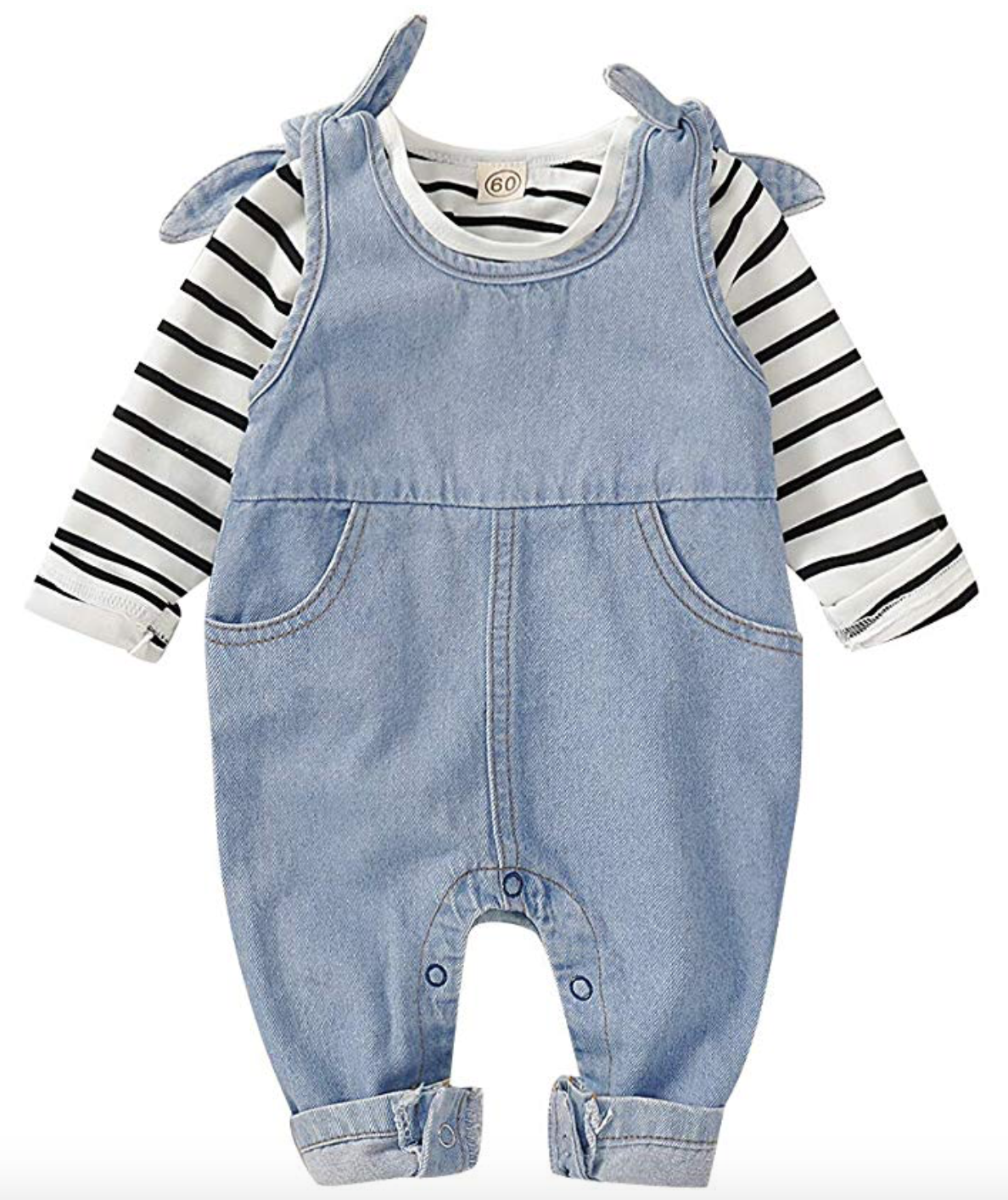 I don't know what it is about babies in overalls, but goodness, is it ever cute. You can also buy these adorable overalls without the striped top here, $18.99.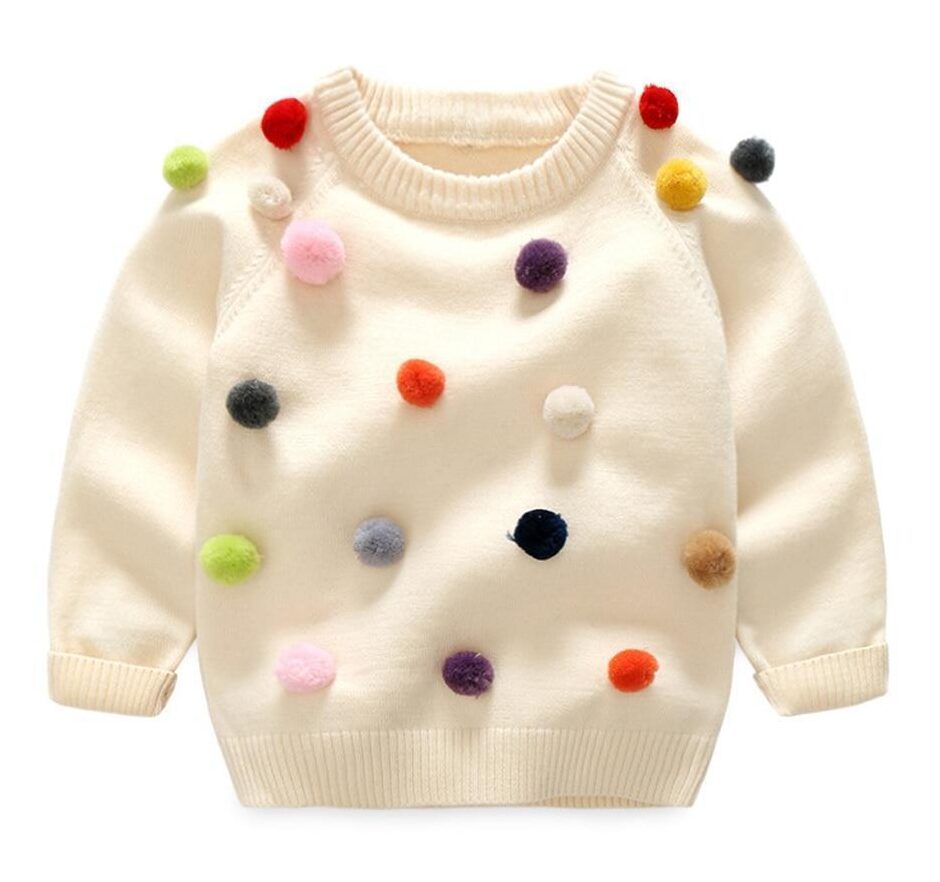 This adorable pom pom sweater looks straight off of the racks at a baby boutique. So darling! Also available here in additional sizes, $19.99.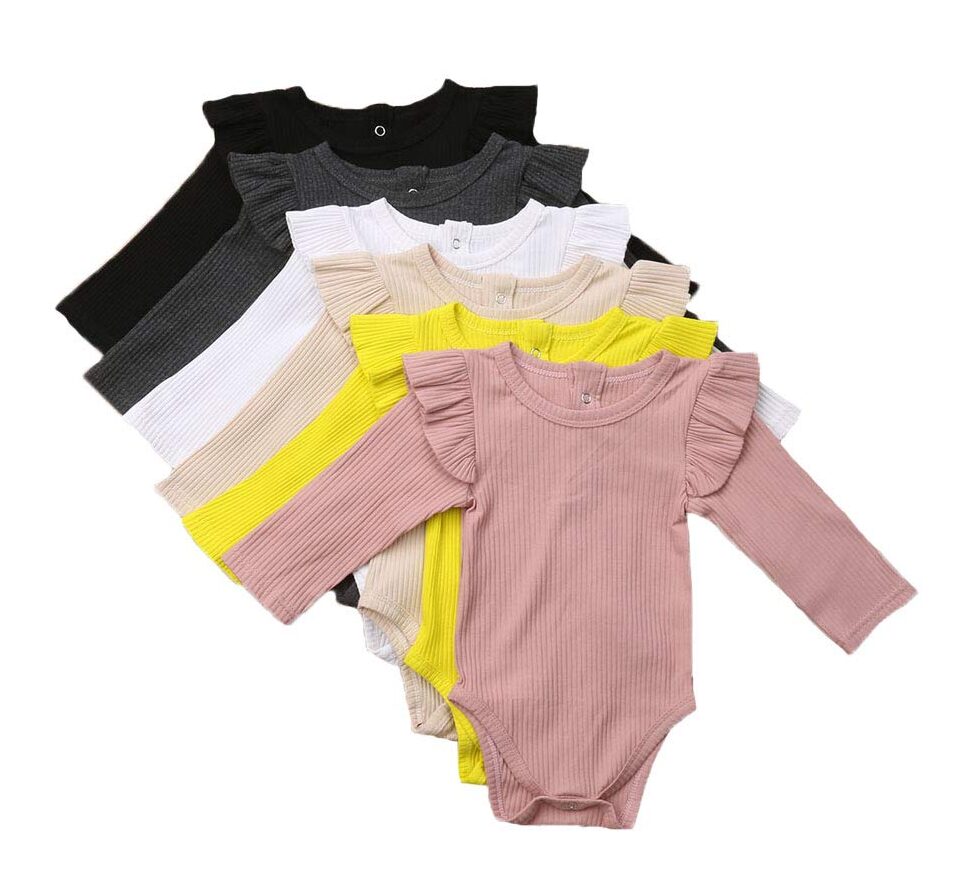 I just stumbled across these adorable ribbed bodysuits. So cute!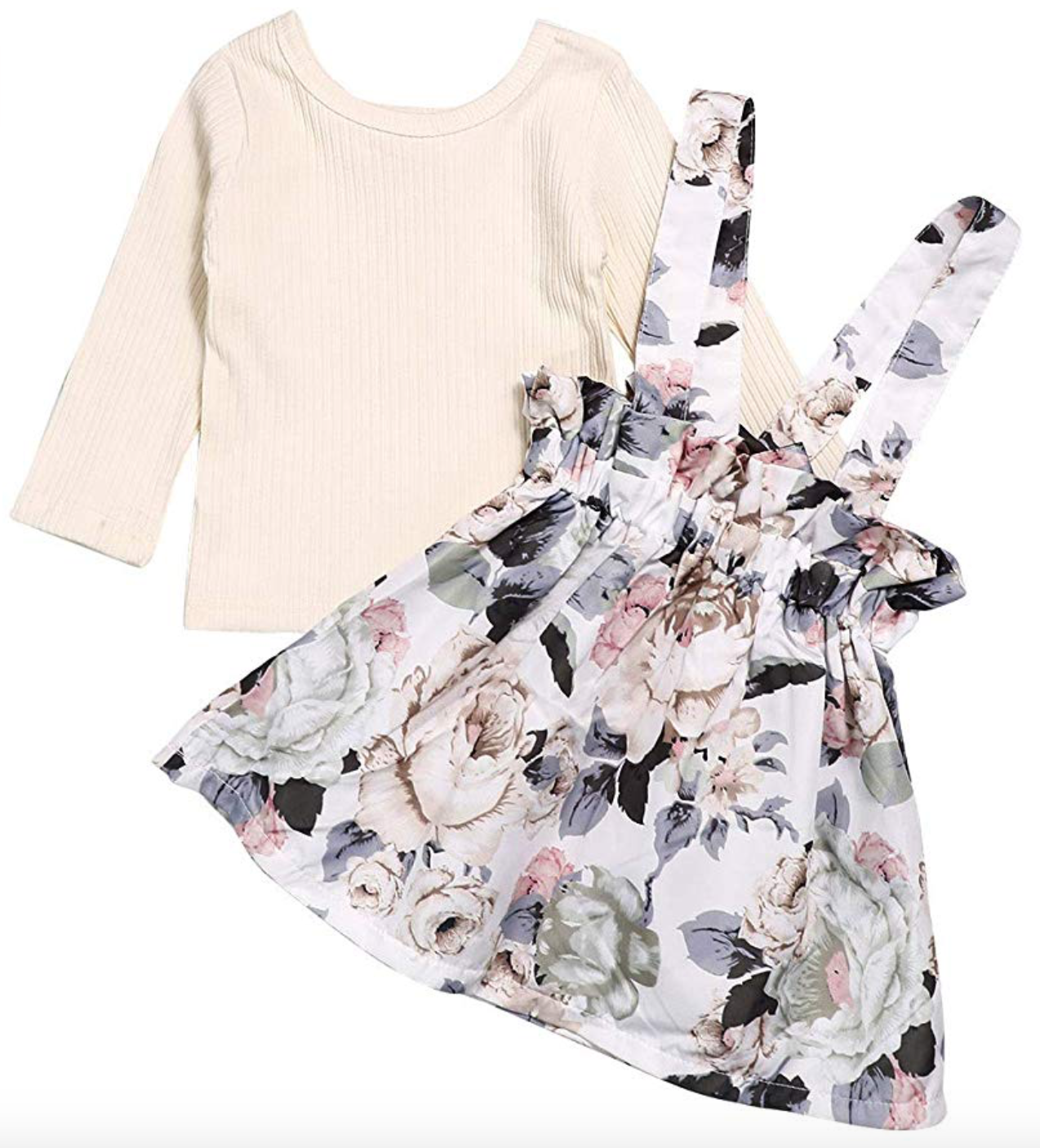 There are several color and pattern options on this one. Such a sweet little girls outfit for fall.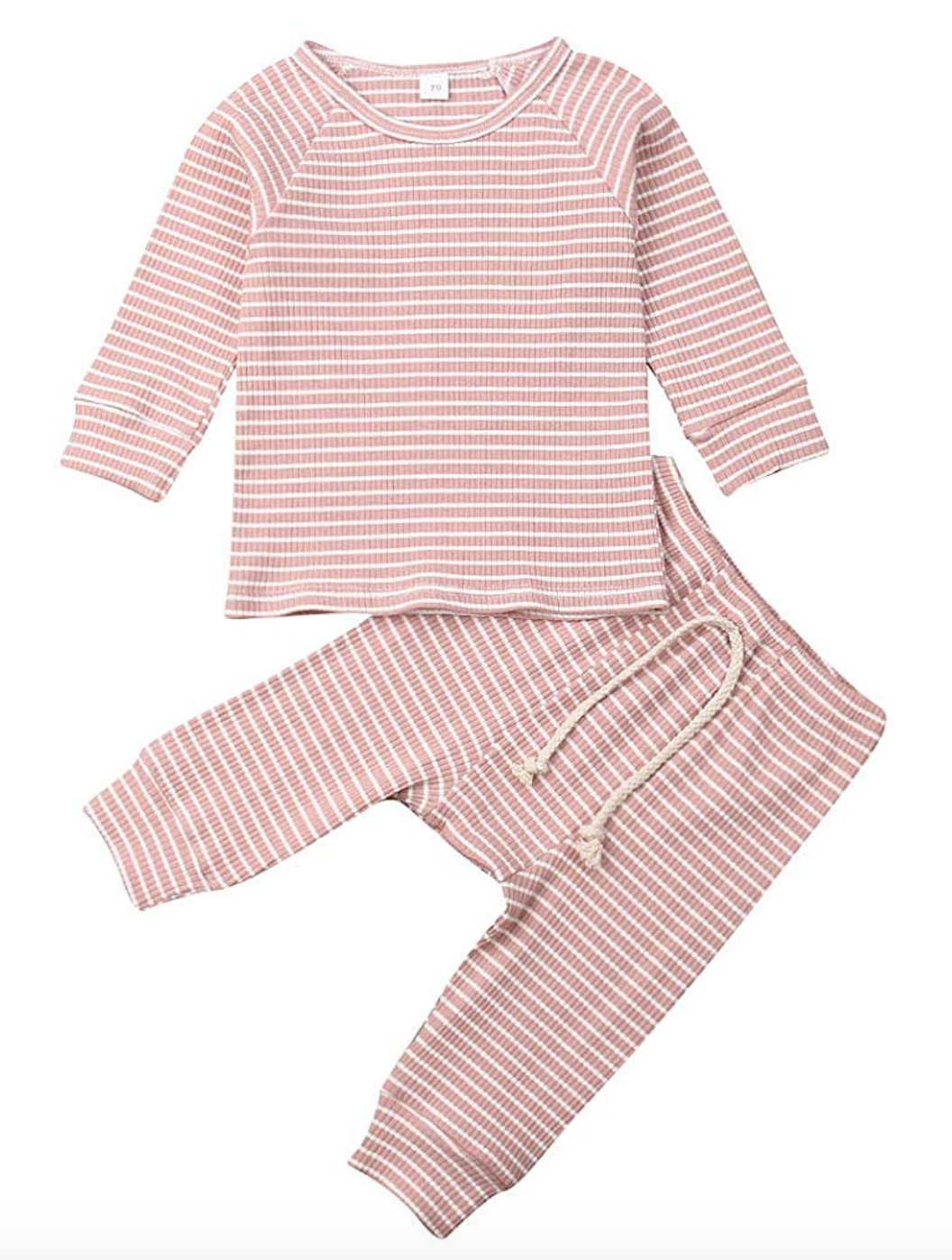 I love this sweet set. It comes in a bunch of colors, fits sizes up to 24 months, and is super affordable.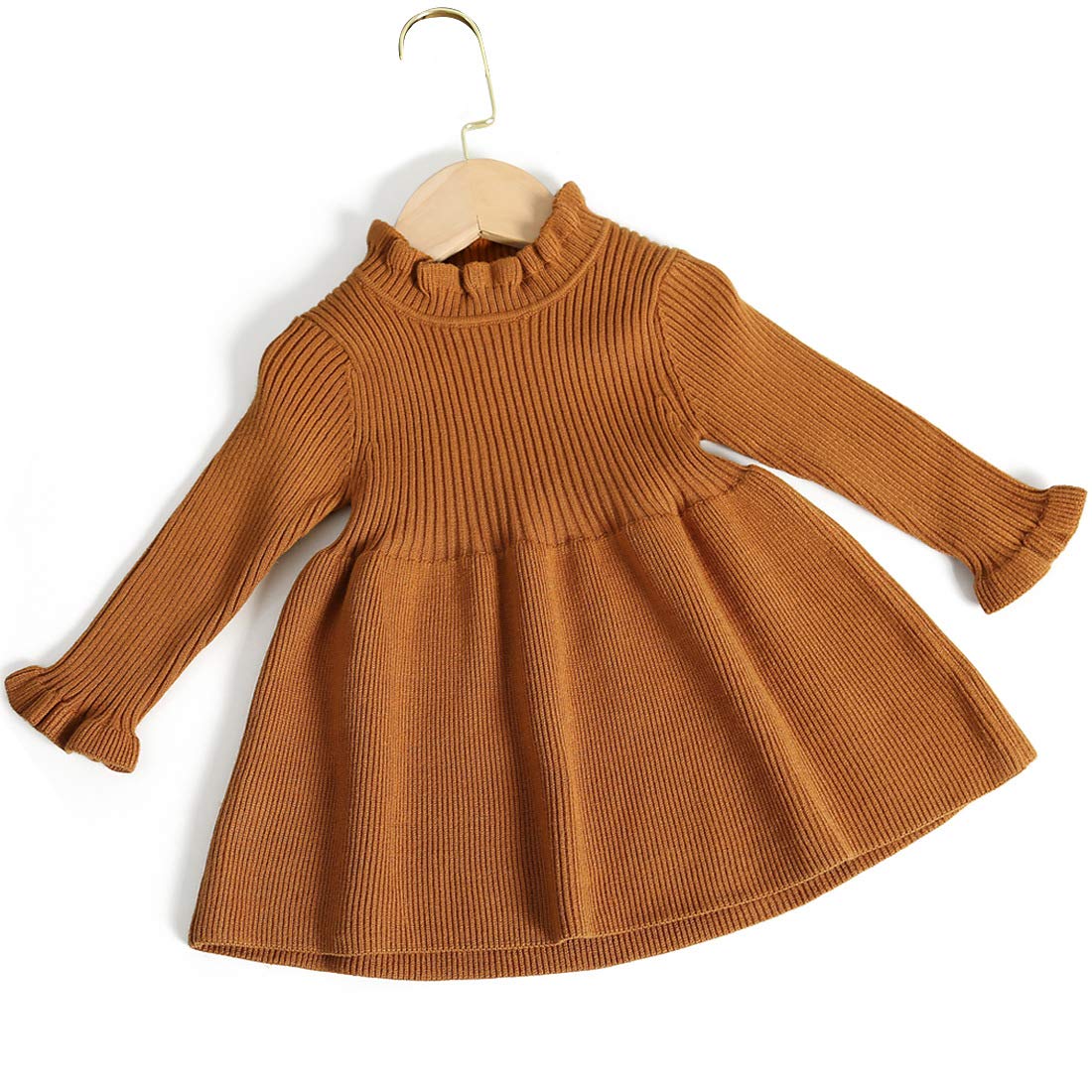 Love this for a holiday dress. Also comes in grey, oxblood red, and black and runs through size 6T.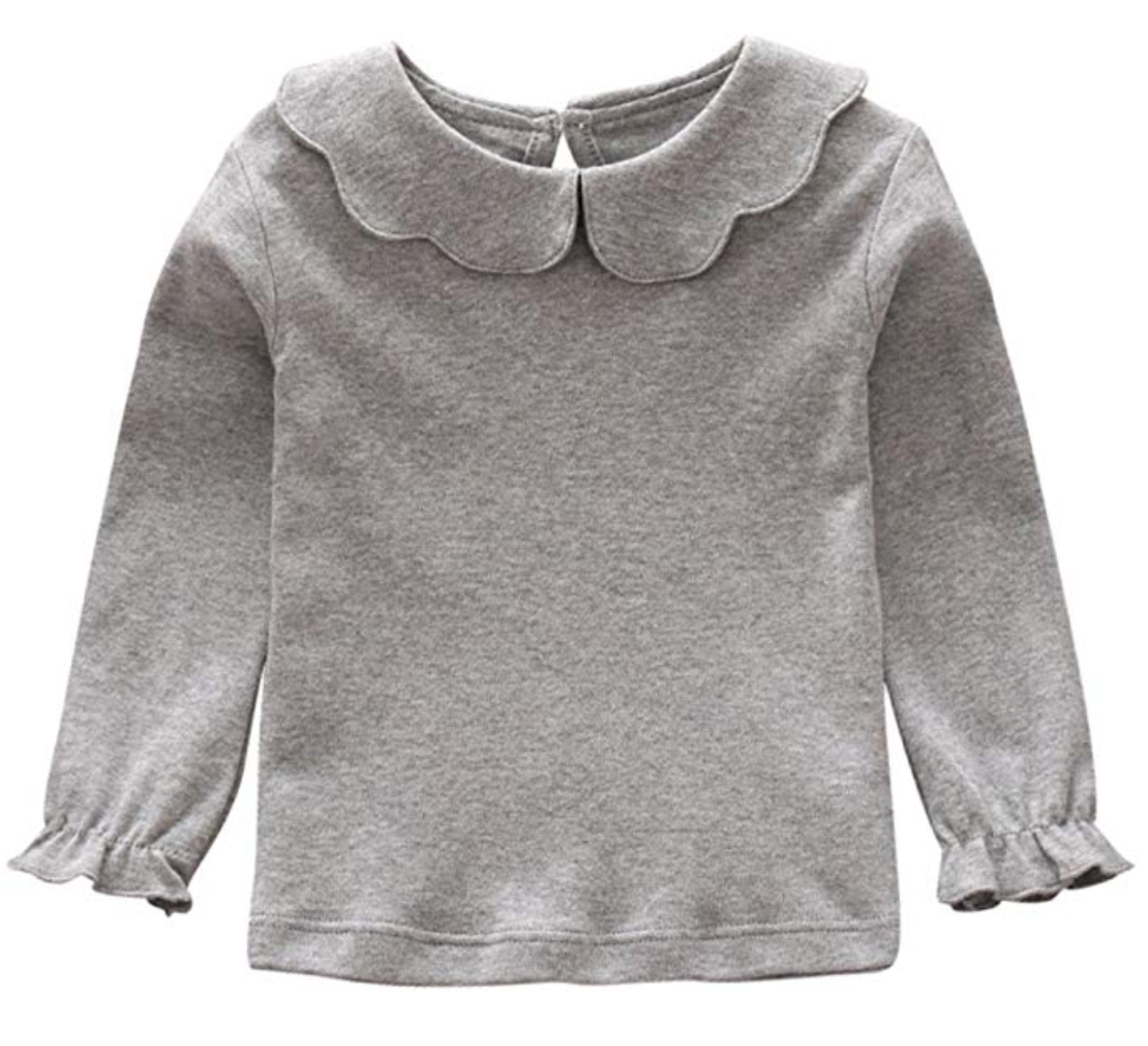 This sweet peter pan collar top comes in three classic colors – grey, white, and soft pink – and is such a perfect preppy layering piece for cold weather days.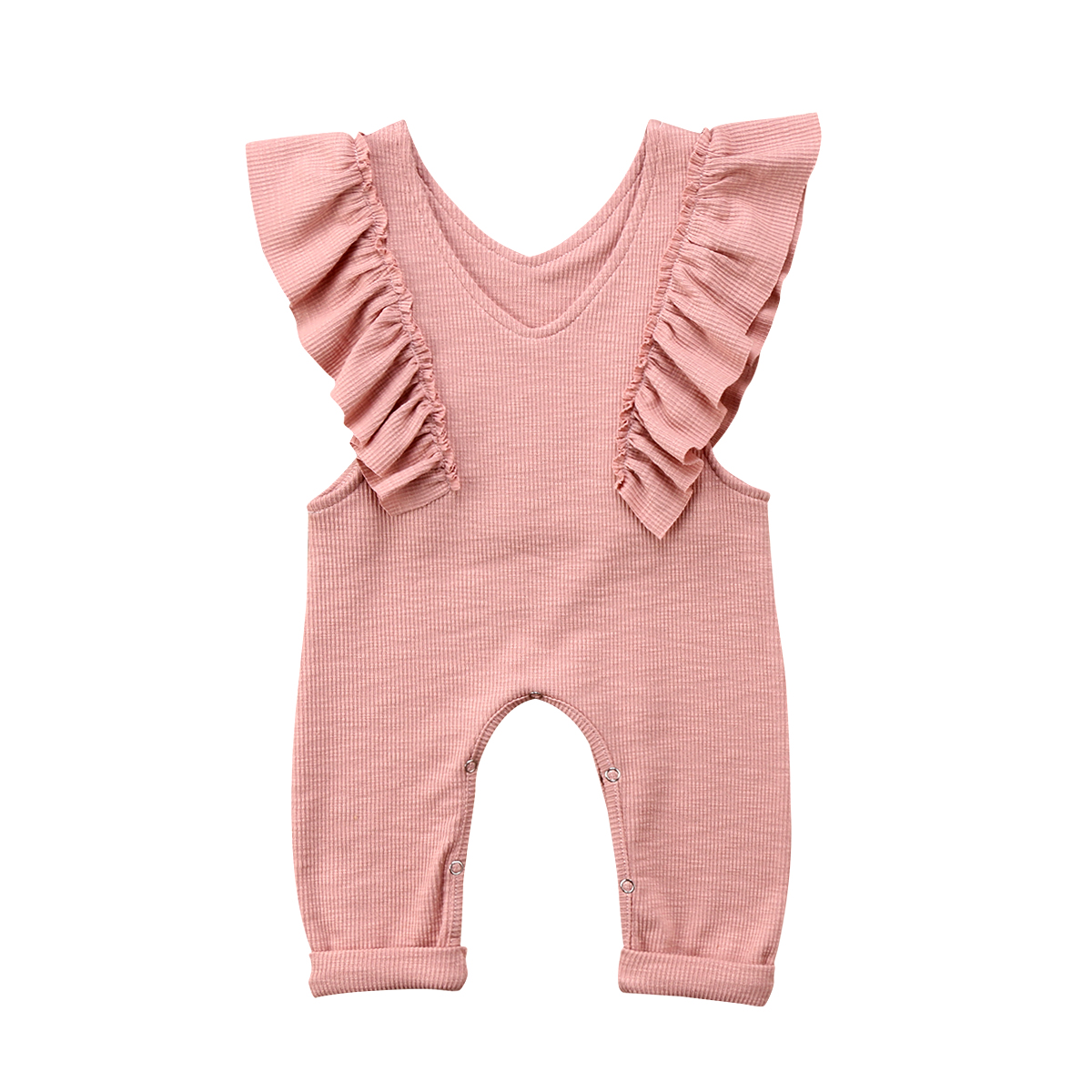 We loved these so much when Emme was a baby, we bought them in two sizes. This romper is SOOOOOO precious! It does run a little small, so size up one size.
Layered over tights and a long sleeve top, this romper would be adorable for chillier days! It also totally works for spring and summer. (It also comes in the prettiest blush pink color!)
This is another adorable holiday family photo outfit option. Comes in a bunch of colors. So sweet!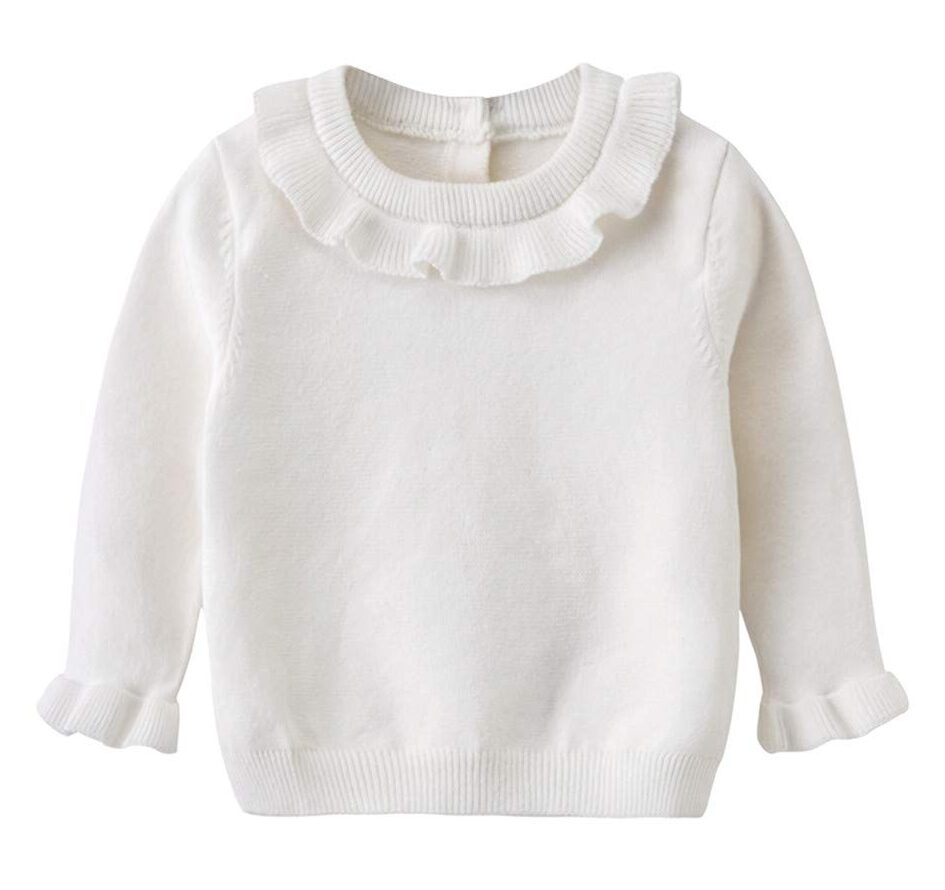 I can't get over how expensive this sweet sweater looks.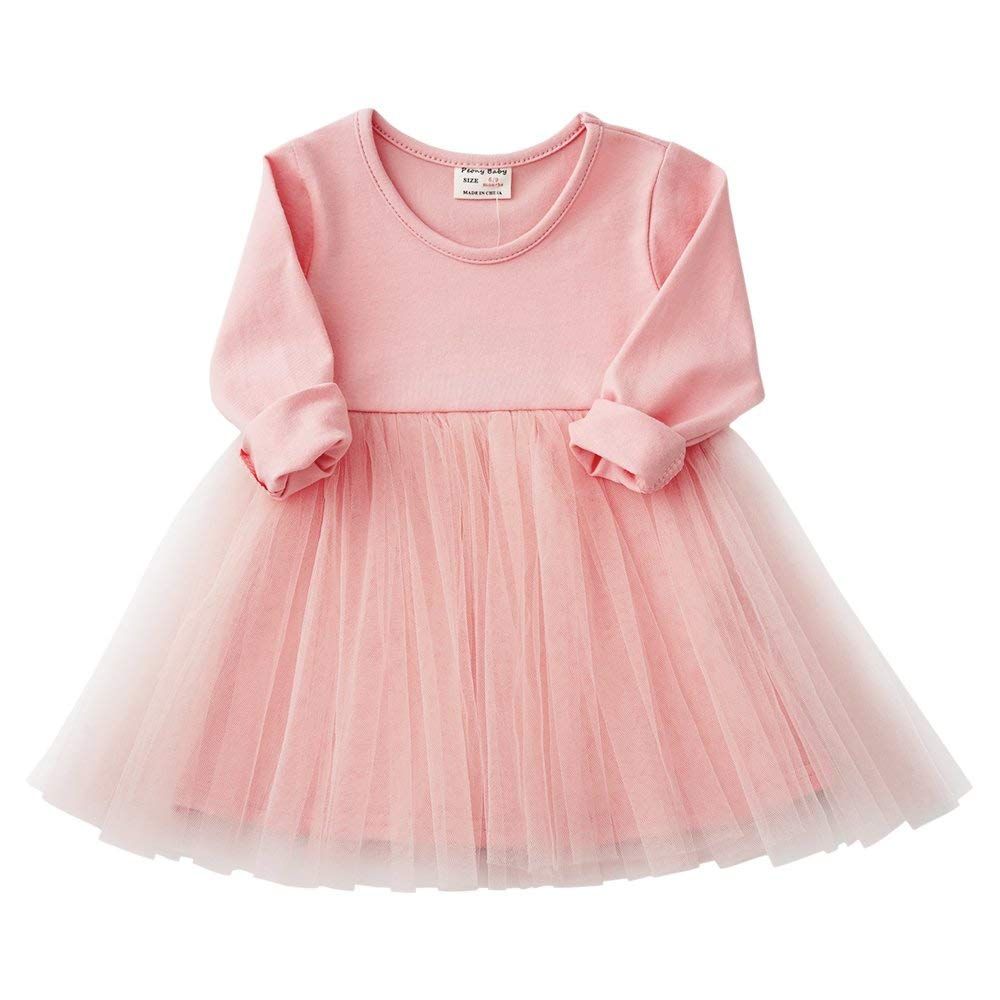 This adorable sweatshirt tutu dress comes in black, white, and pink. My girls would LOVE this one. Runs from 6 months through 4T.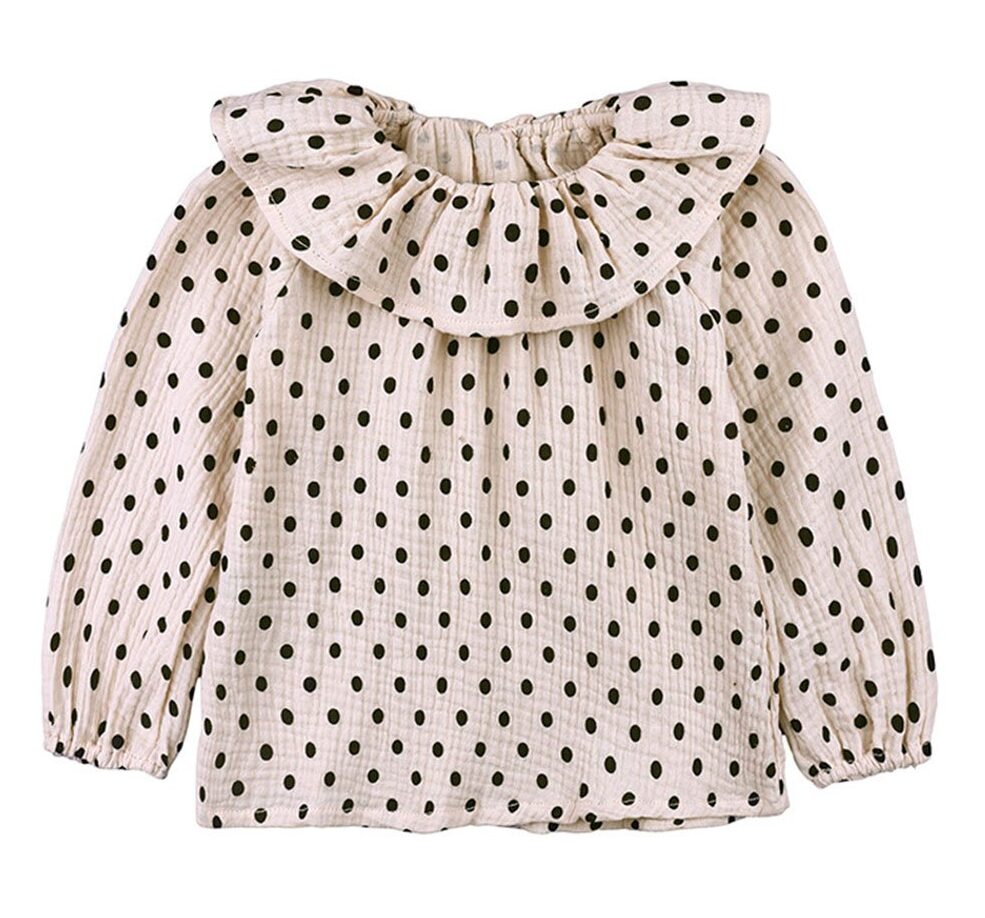 Our girls have these in the cream and black polka dot version and I adore them. The top is so cute, washes well, and we get loads of compliments when they wear them. Loving the new mustard and burnt orange shades for fall.
If you love leopard print, snatch this absolutely darling set up, stat. I know I did! 🙈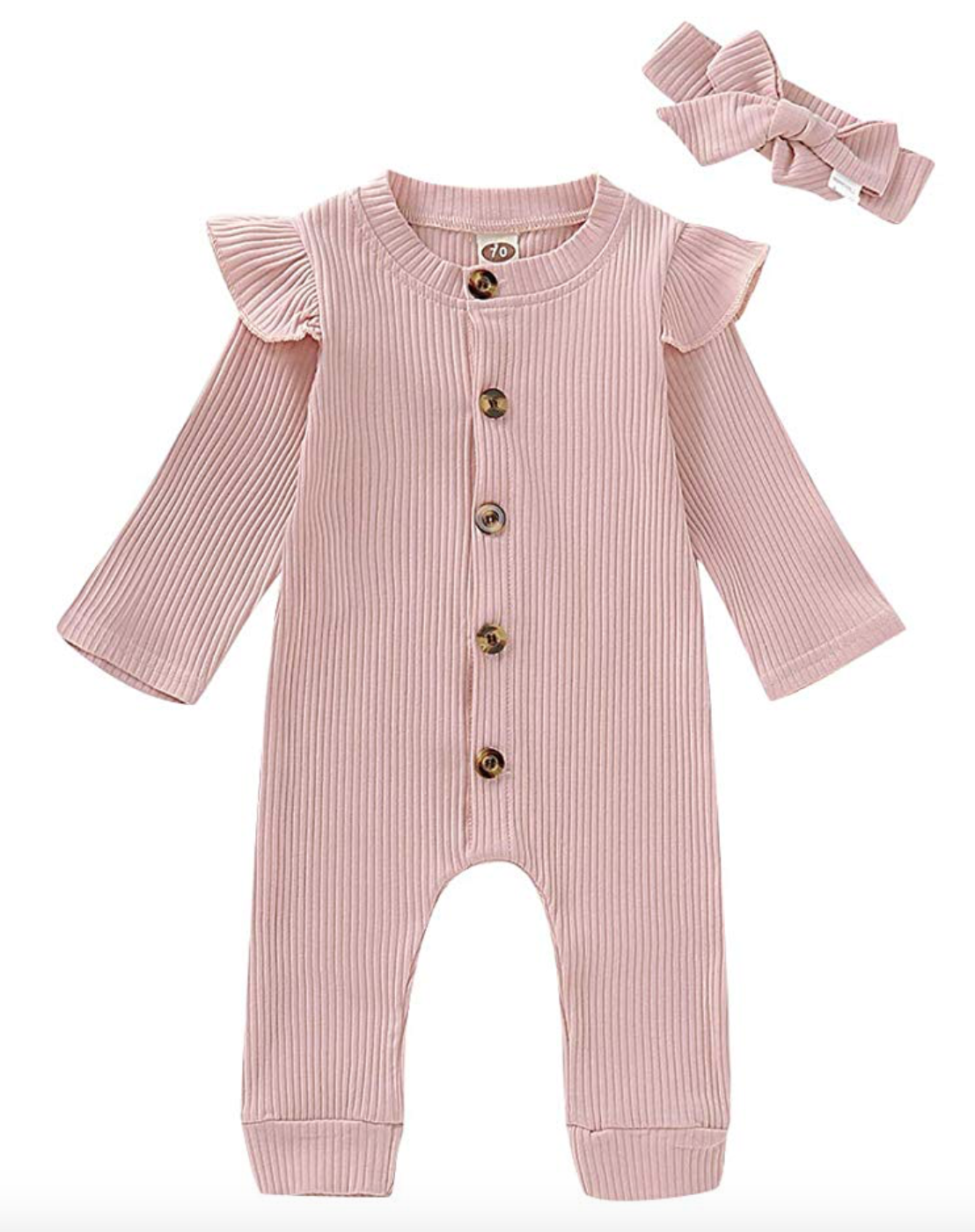 This would be such a cute gift for a new baby girl. It looks much more expensive than it is too.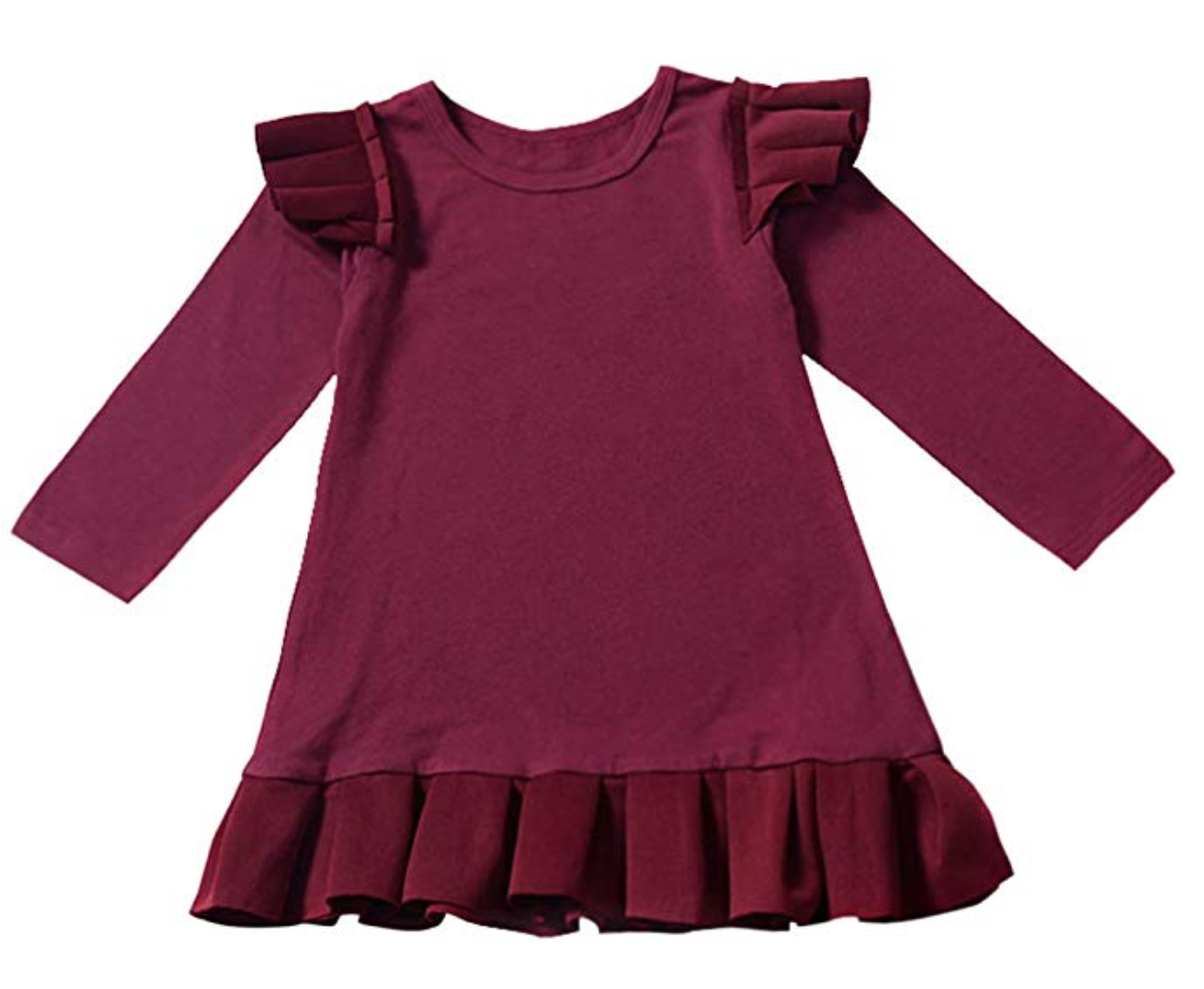 This dress would be so cute for holiday family photos. It also comes in white, black, and pink. It runs from size infant through 5T.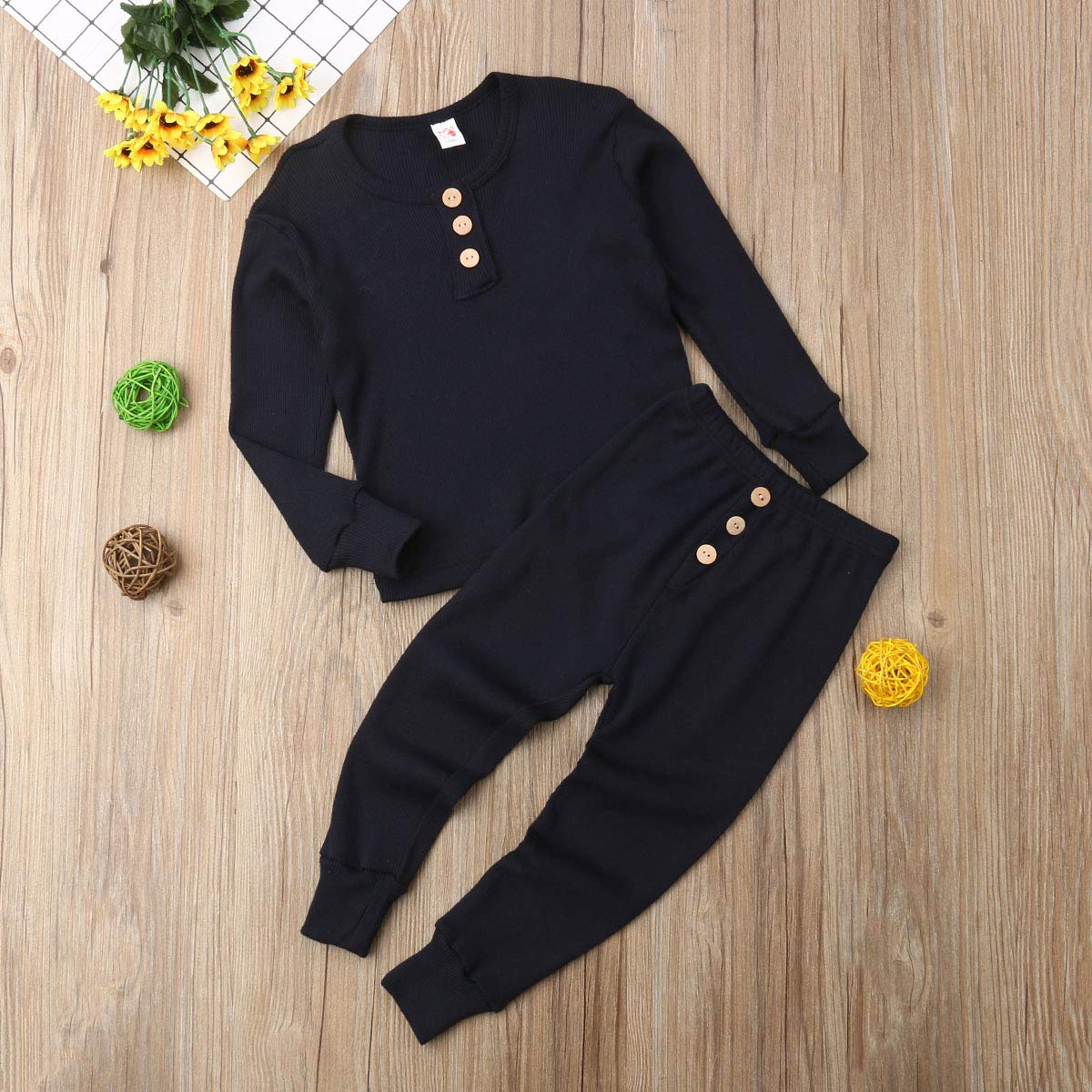 This set is so great for layering or as pajamas. Love the button detail. It also comes in SO many different color options. And there's also a super cute matching romper version for babies.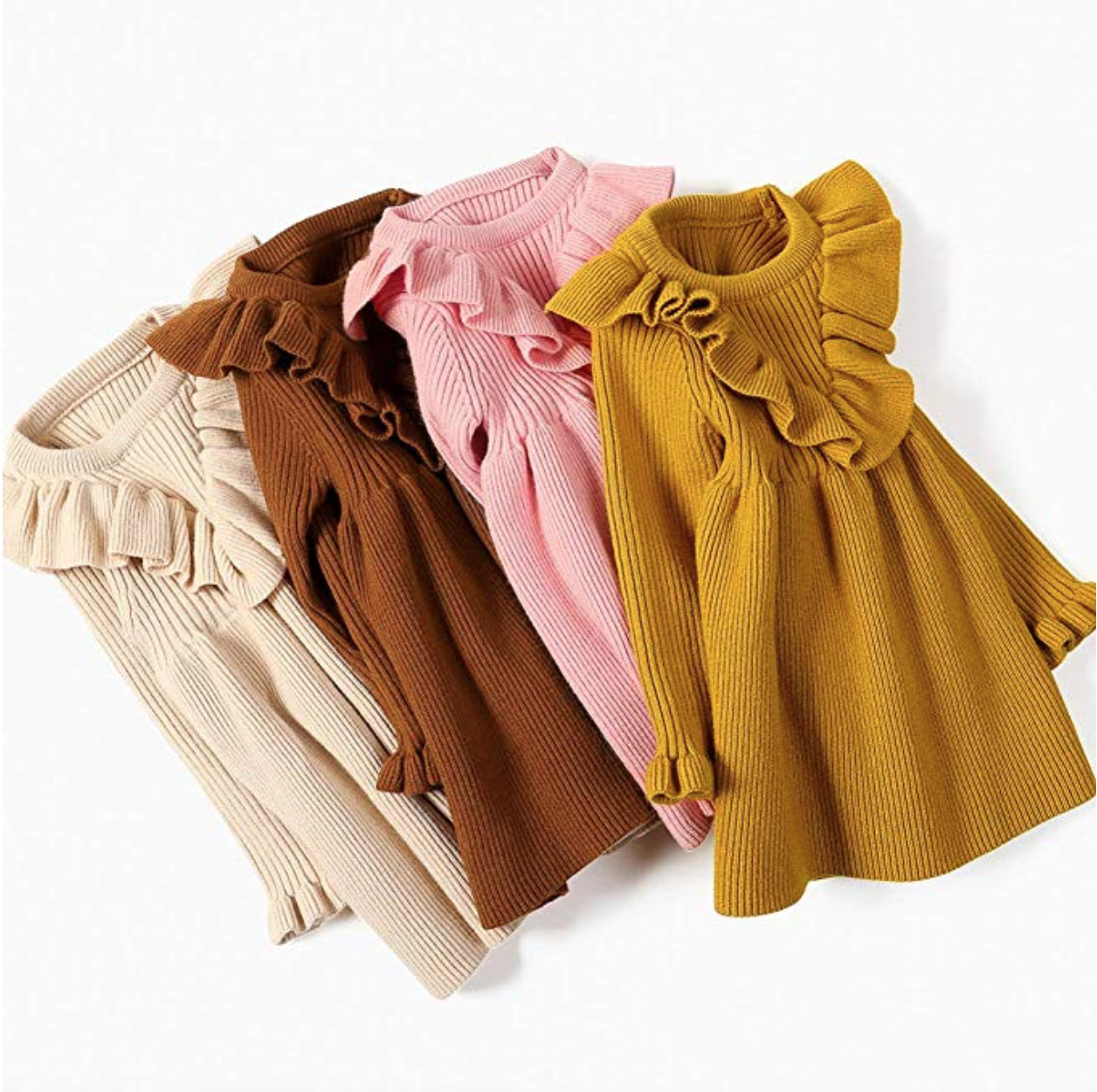 Love the ruffle detail on the front of these sweater dresses. The reviews all say these are great quality too.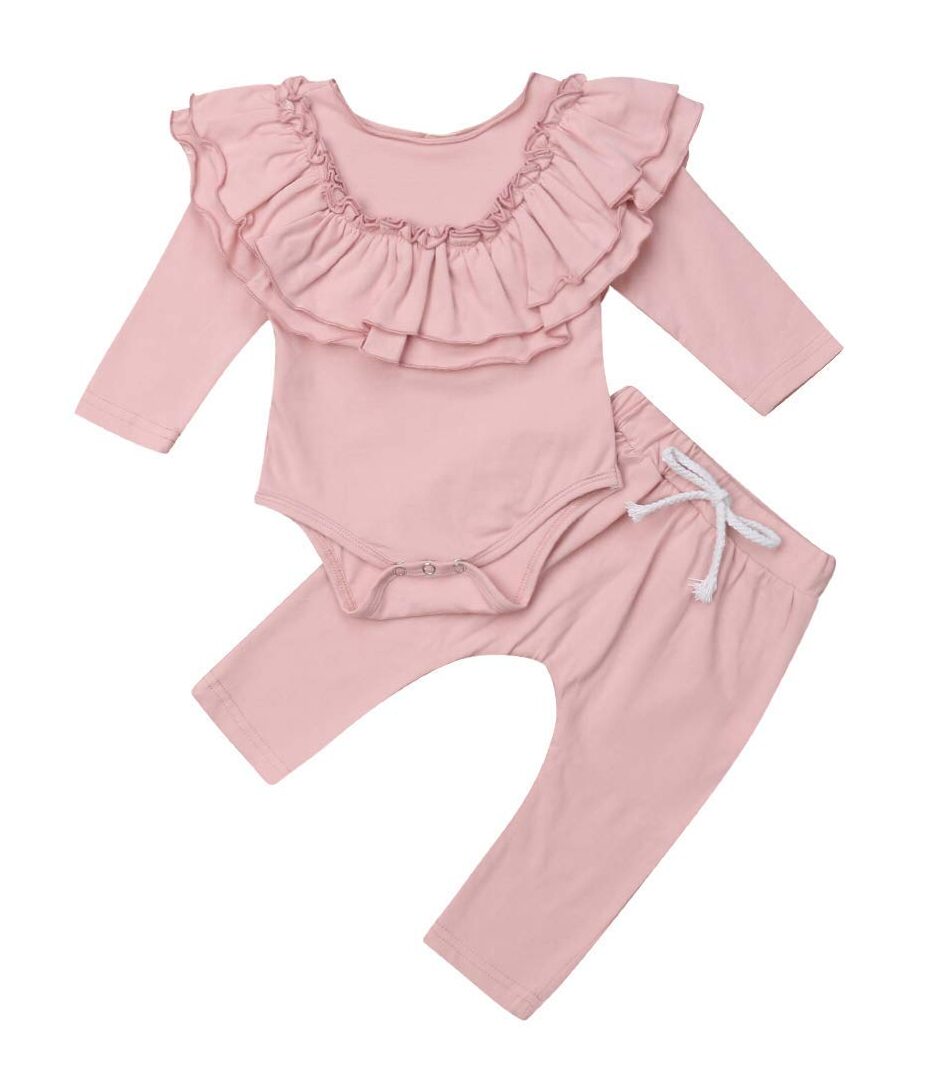 I mean, SO cute!!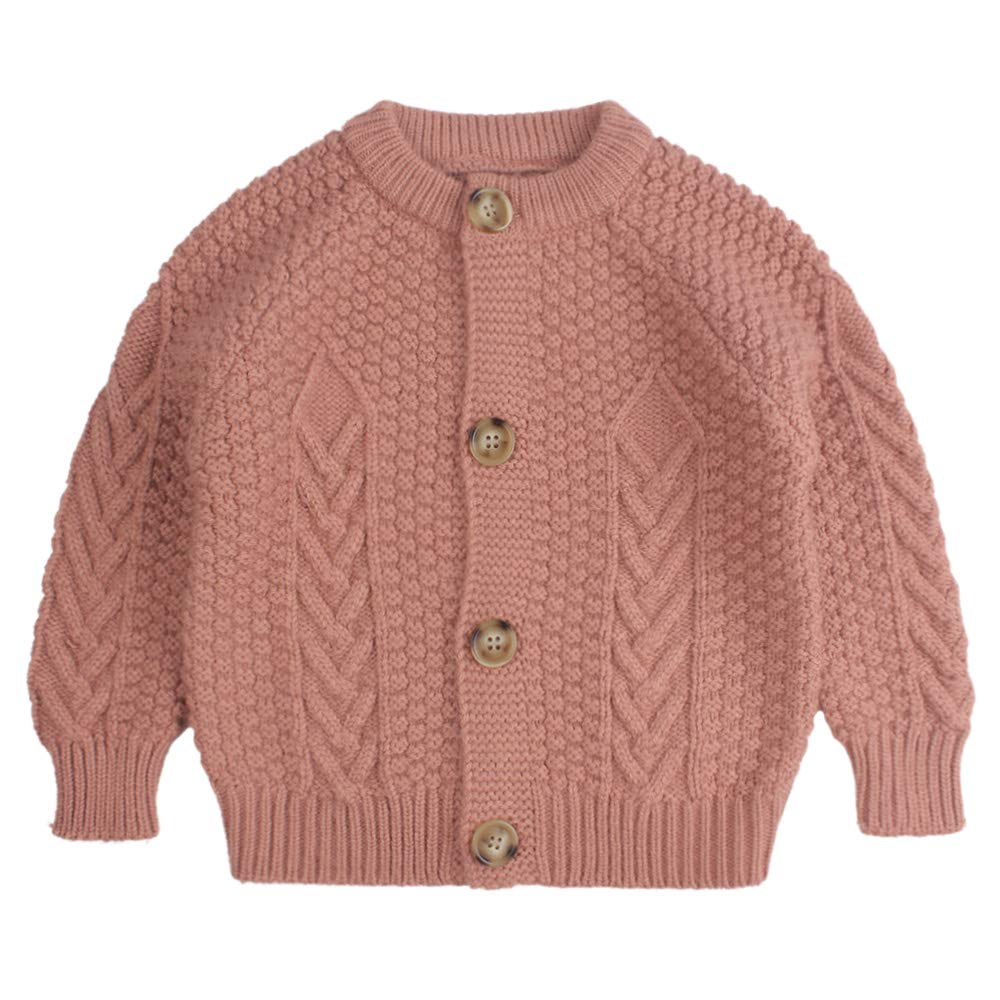 This super chic cozy cardigan comes in six different colors and goes up to a size 6T.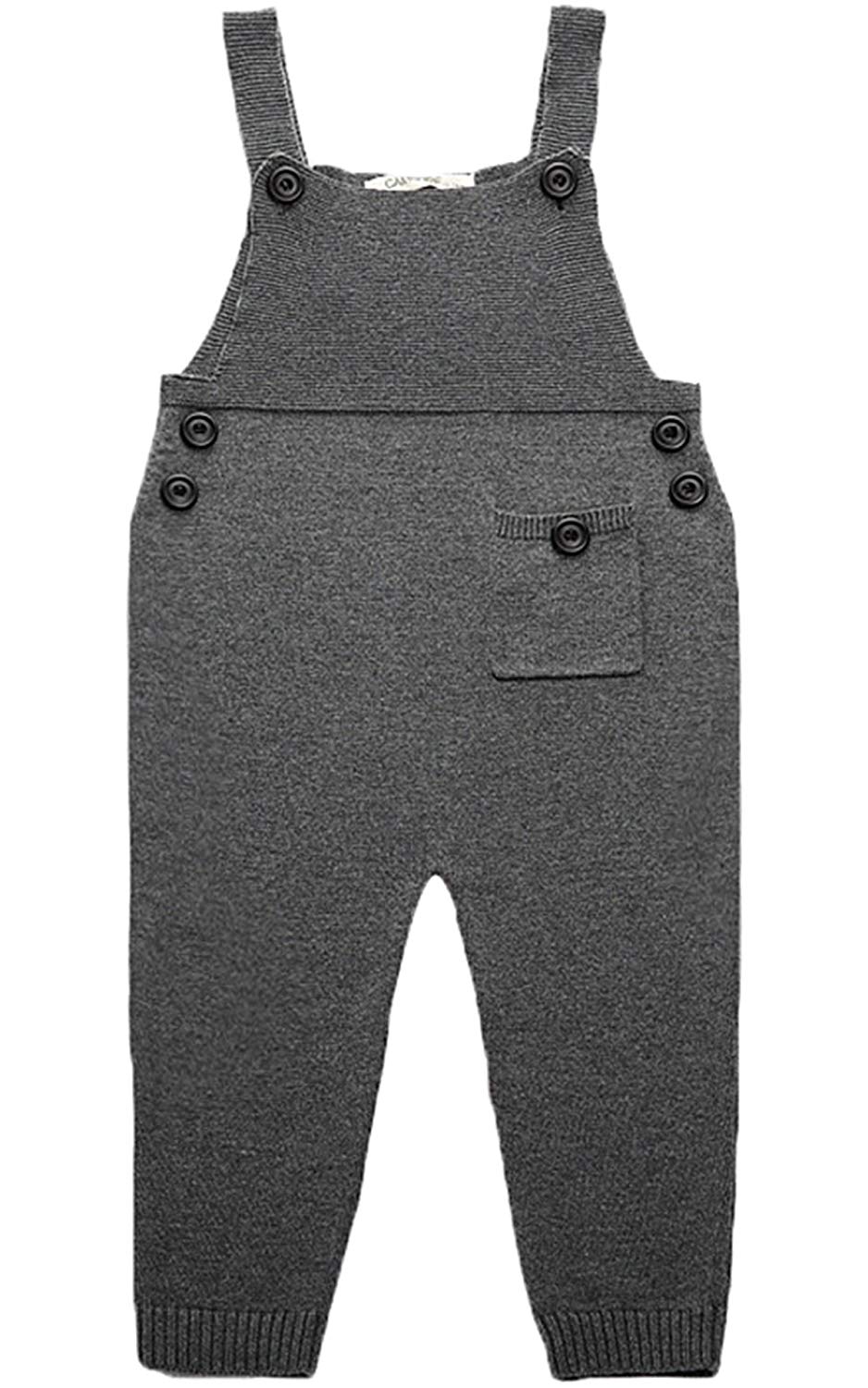 We had this when Emme was younger and it held up so well, washed well, and looked super cute on. Size up.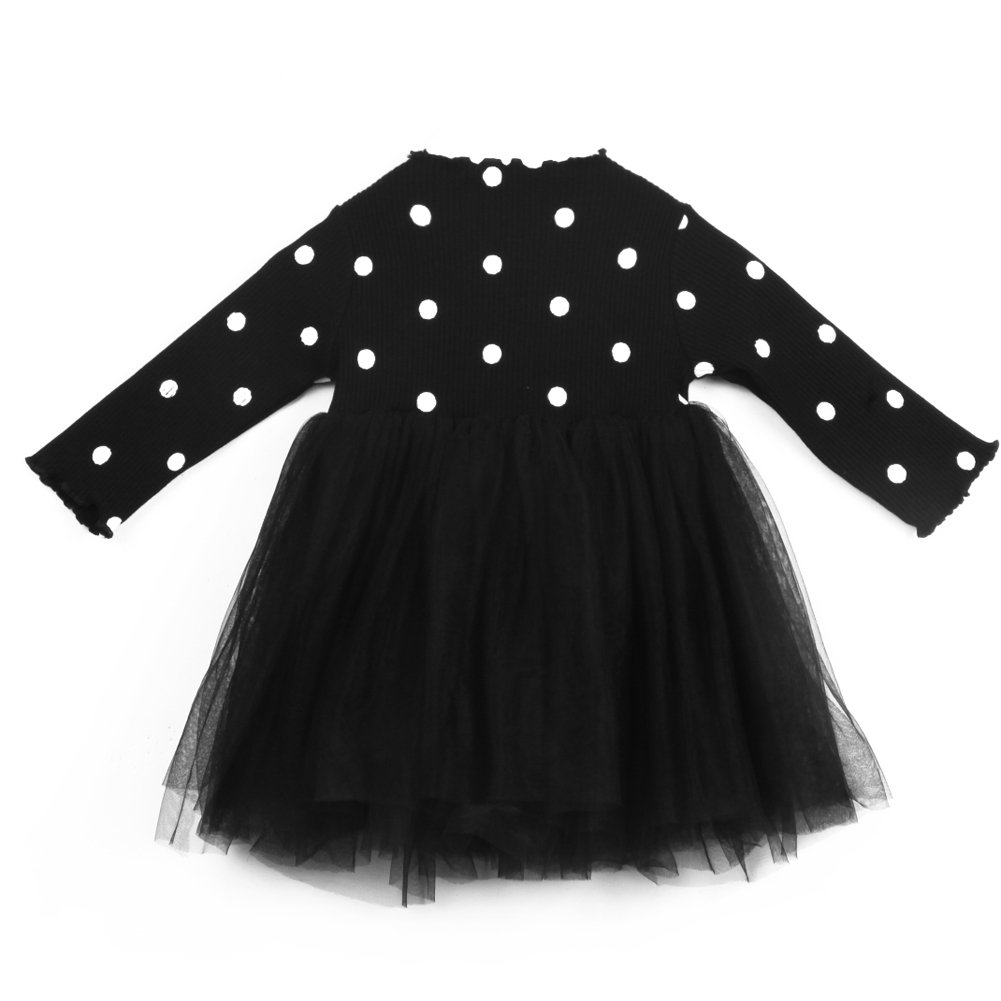 This would make for such a fun party dress over the holidays! Comes in three colors.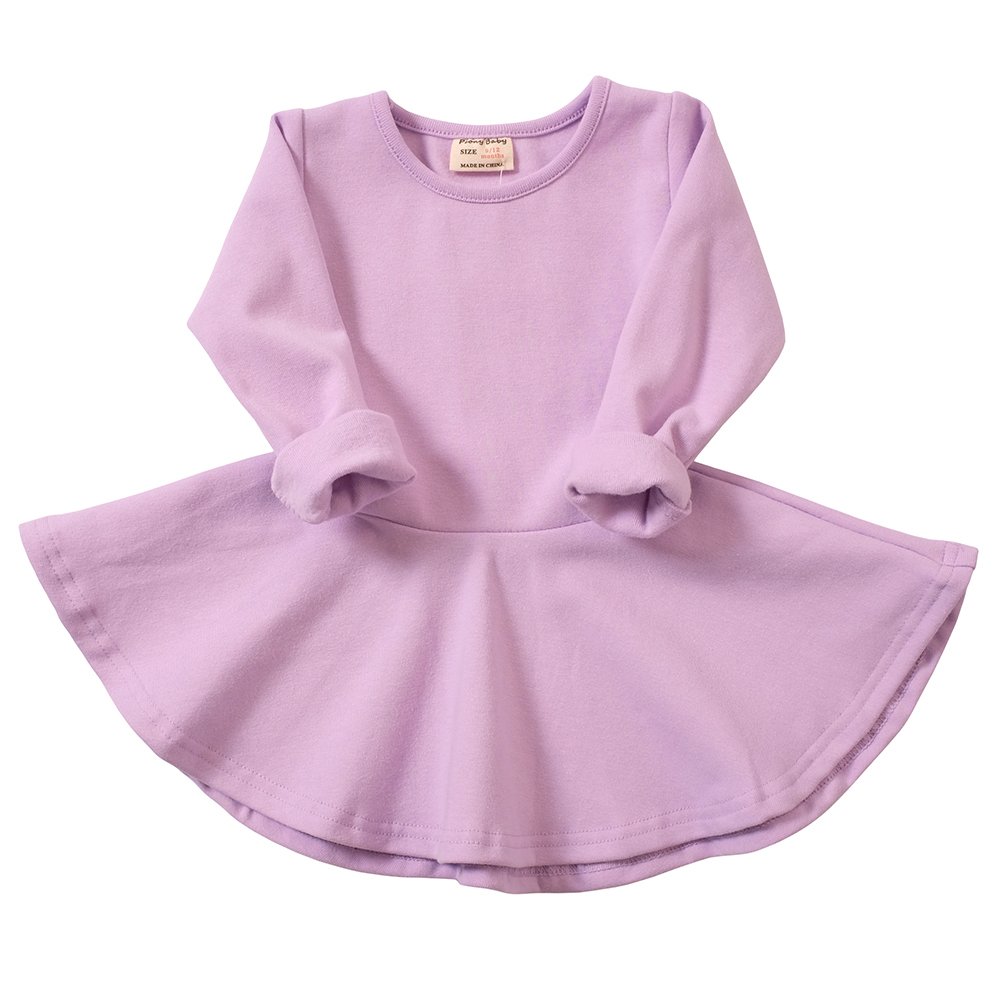 Love that it comes in sizes 6 months through 6T and comes in so many cute colors. The material is also nice and soft. These do run small, so be sure to size up.
This sweater tunic is totally something I would wear! Also available here.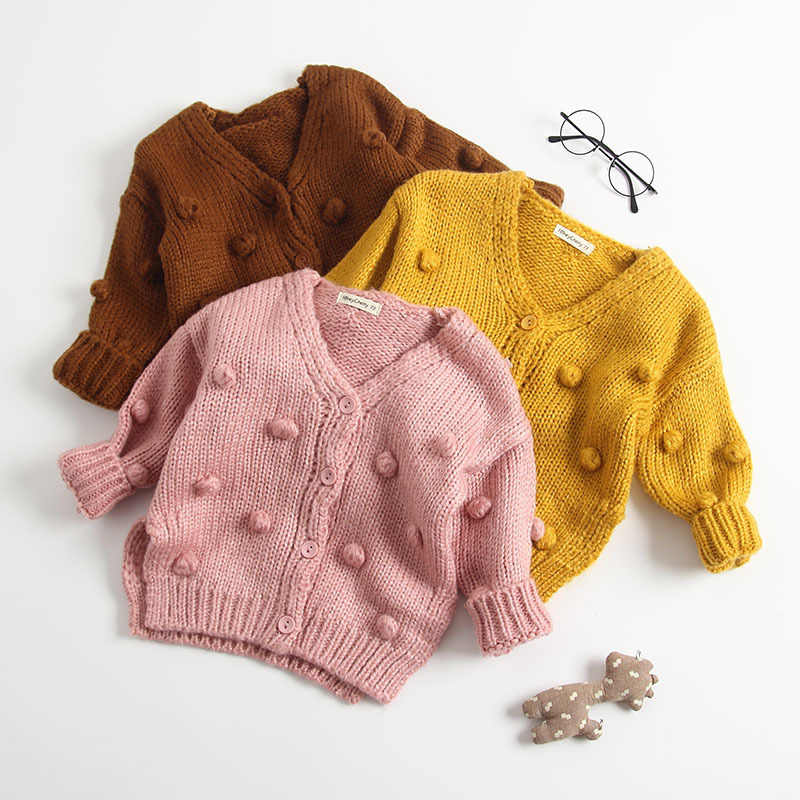 I'm not sure that there's anything cuter than a baby in a Grandpa cardigan. This one is particularly ADORABLE.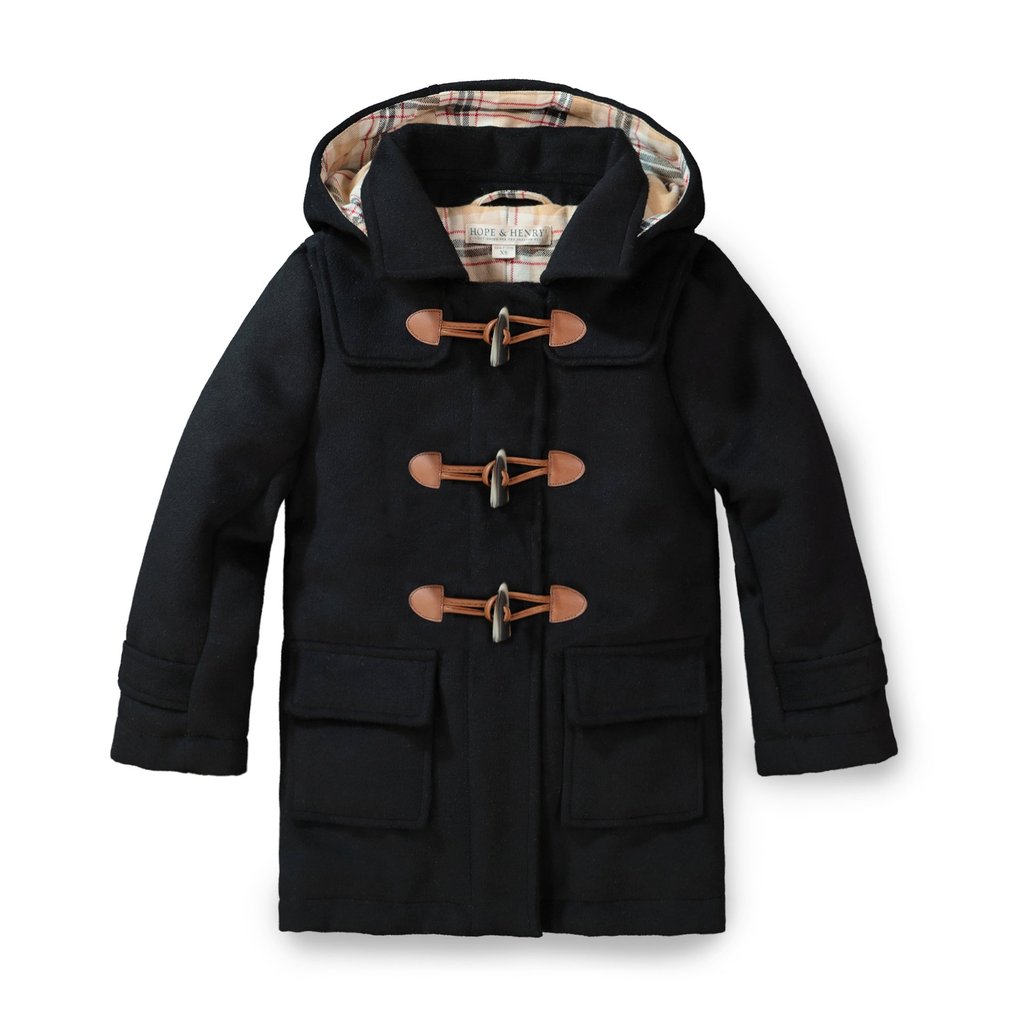 This toggle coat totally looks designer, but is actually a brand designed just for Amazon. It has great reviews, looks super warm, and also comes in black and pink.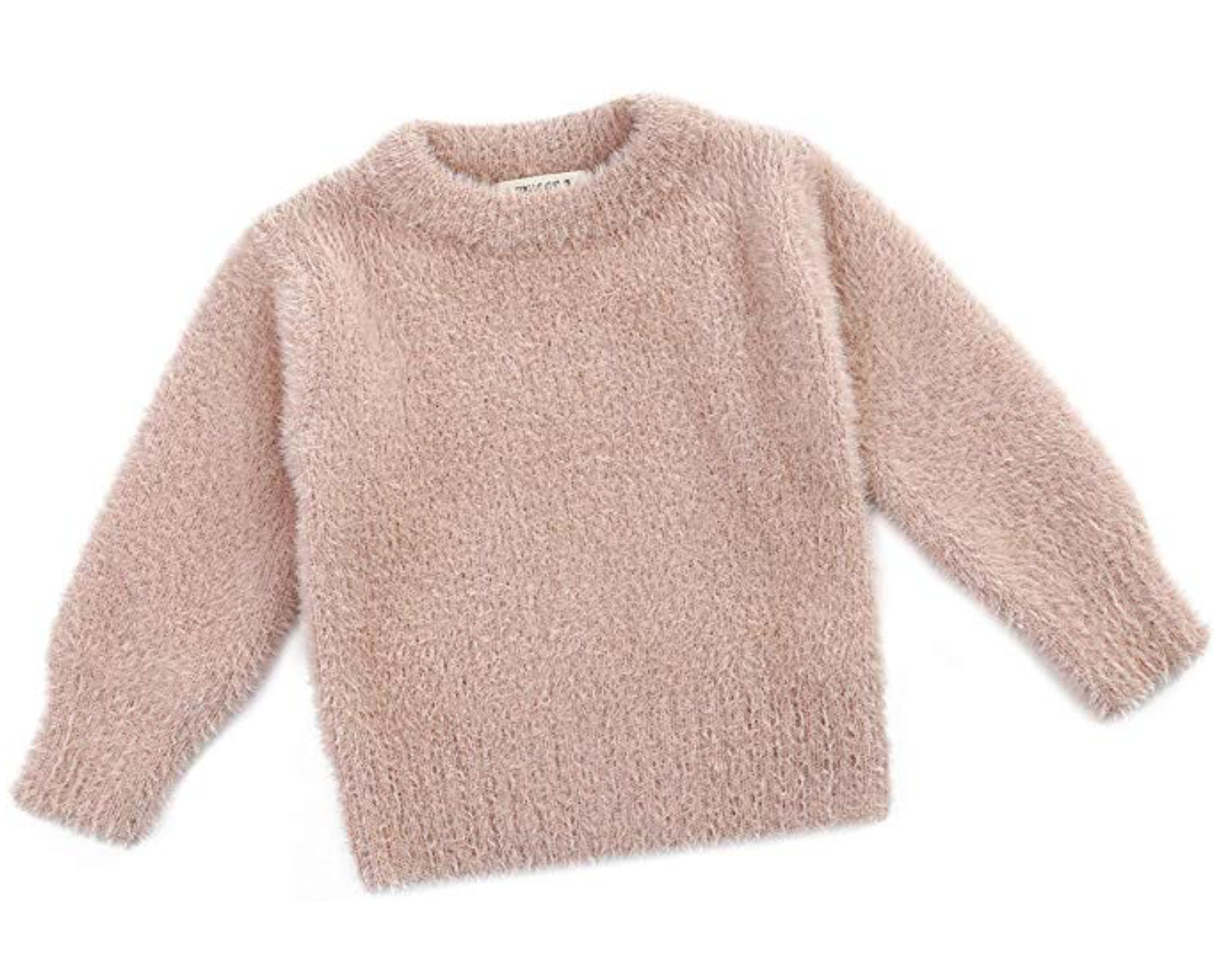 This fuzzy sweater is cuuuuuute and so on trend. It also runs from 6 months through 4T and comes in several pretty fall colors.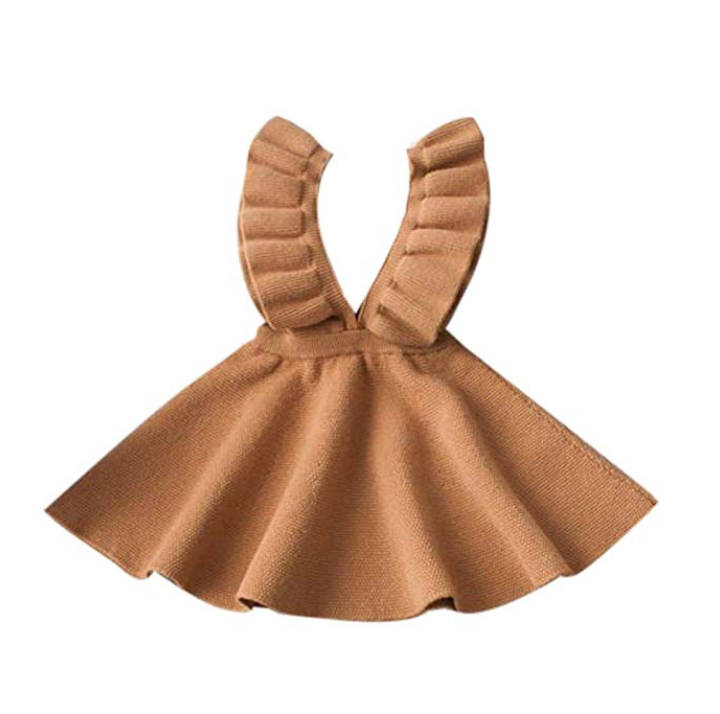 This one is totally adorable! You can see Scarlett, when she was 4 years old, in it right here! This one was taken more recently, at 5 years old. Note: It does run a bit small so order one size up.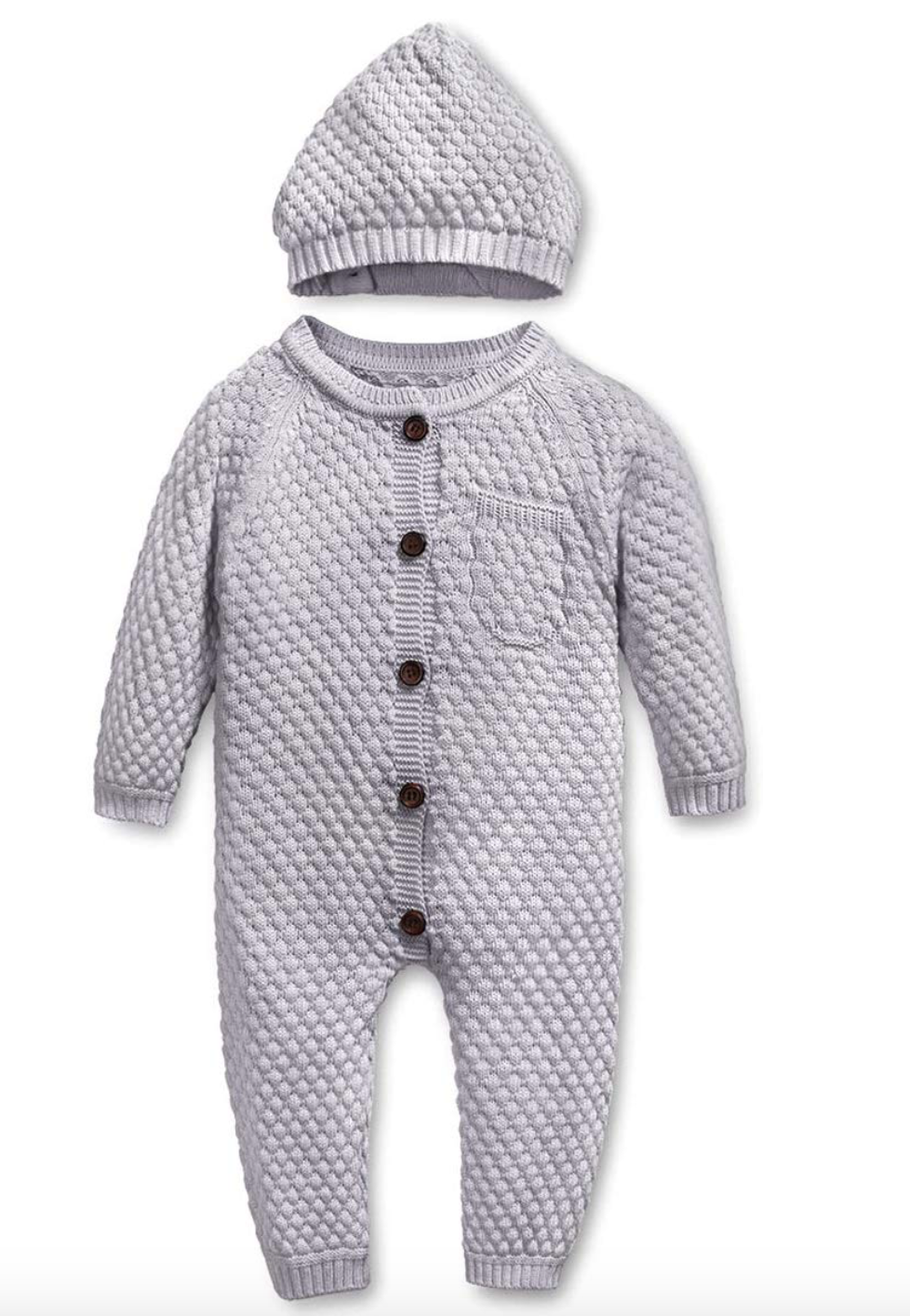 This is another super sweet gift for a new baby. It looks so cozy and high end.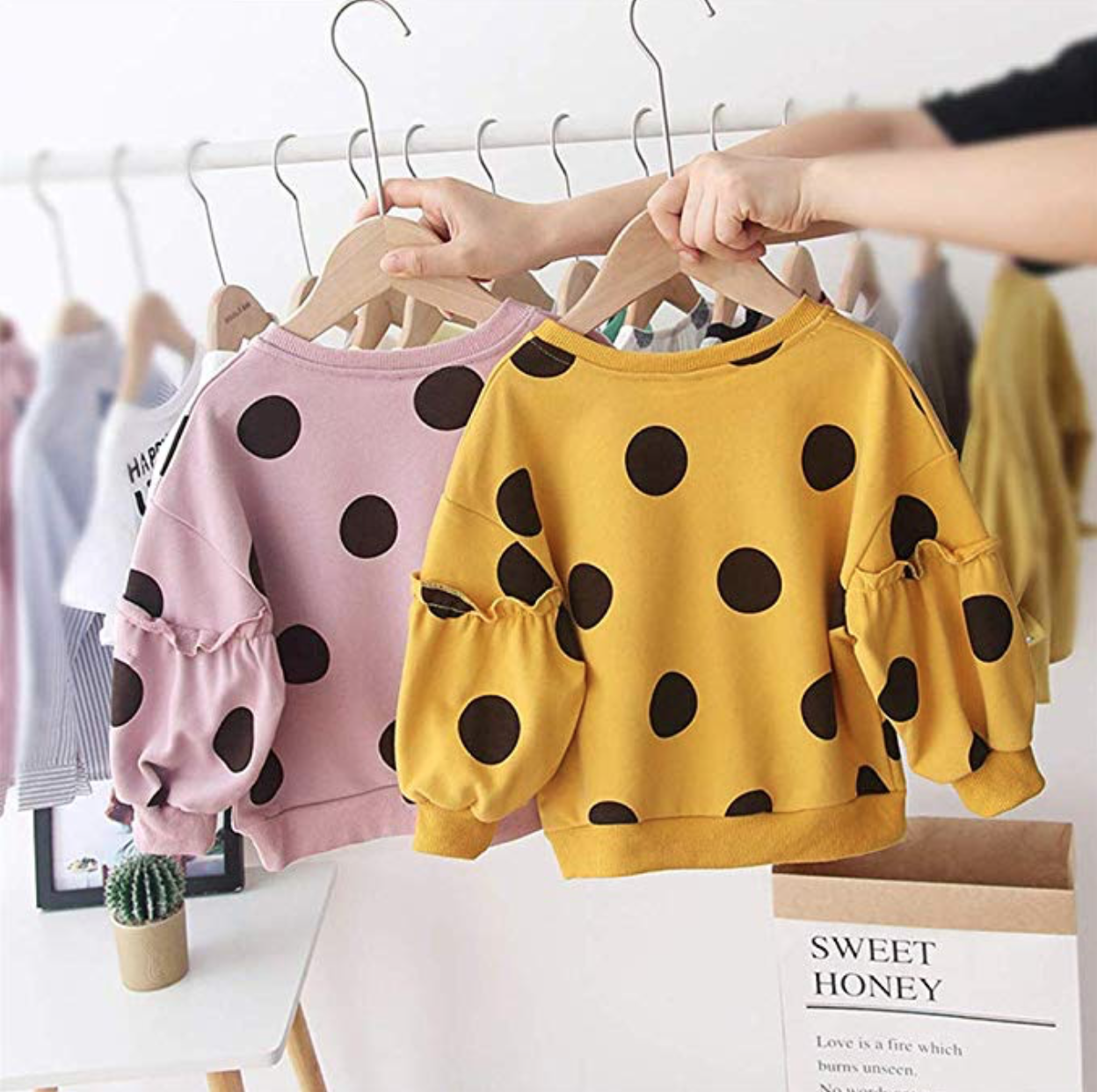 How adorable are these polka dot sweatshirts? And they're super affordable!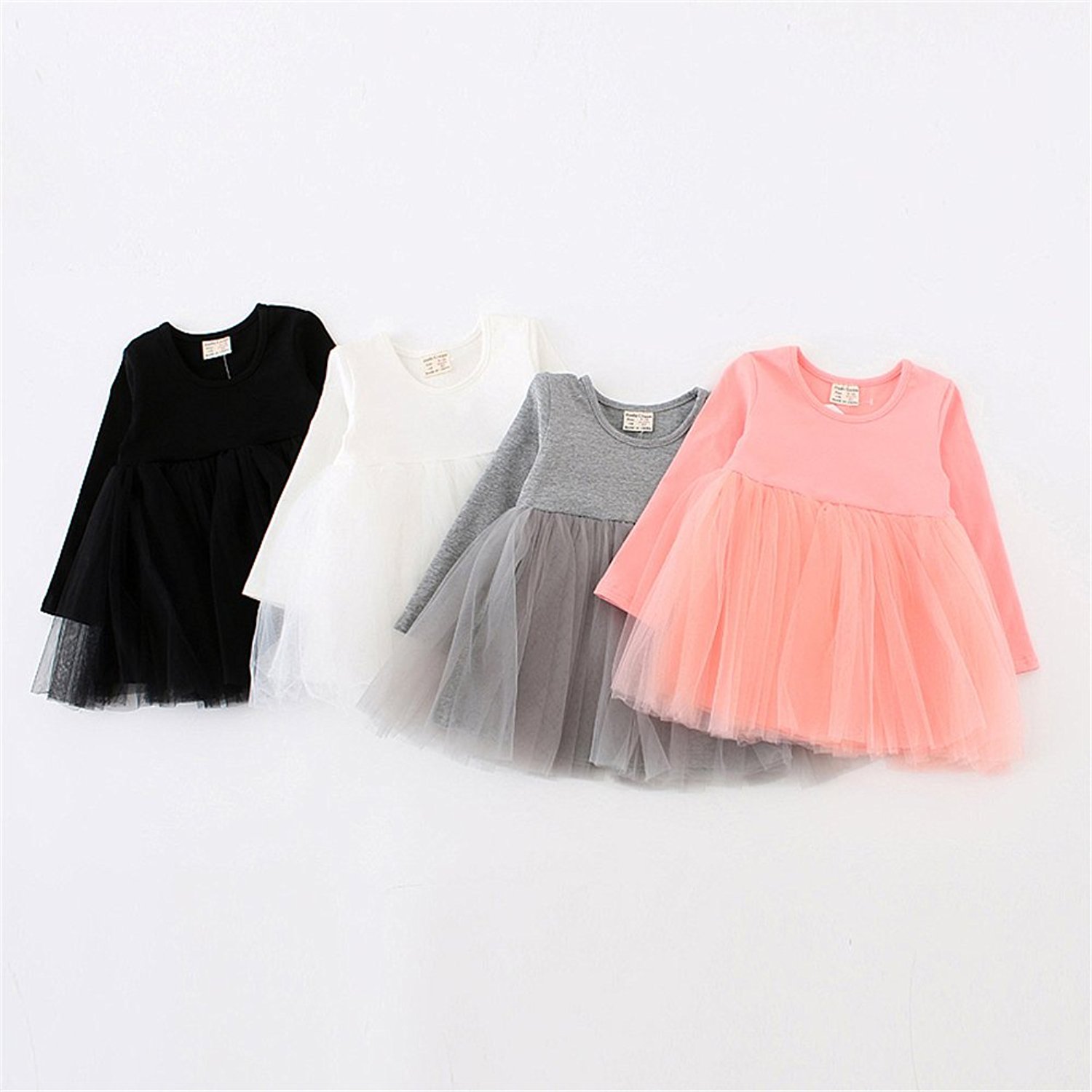 If you have a tutu obsessed toddler, this is the dress for you.
I really can't get over these little matching sets. So cute for travel.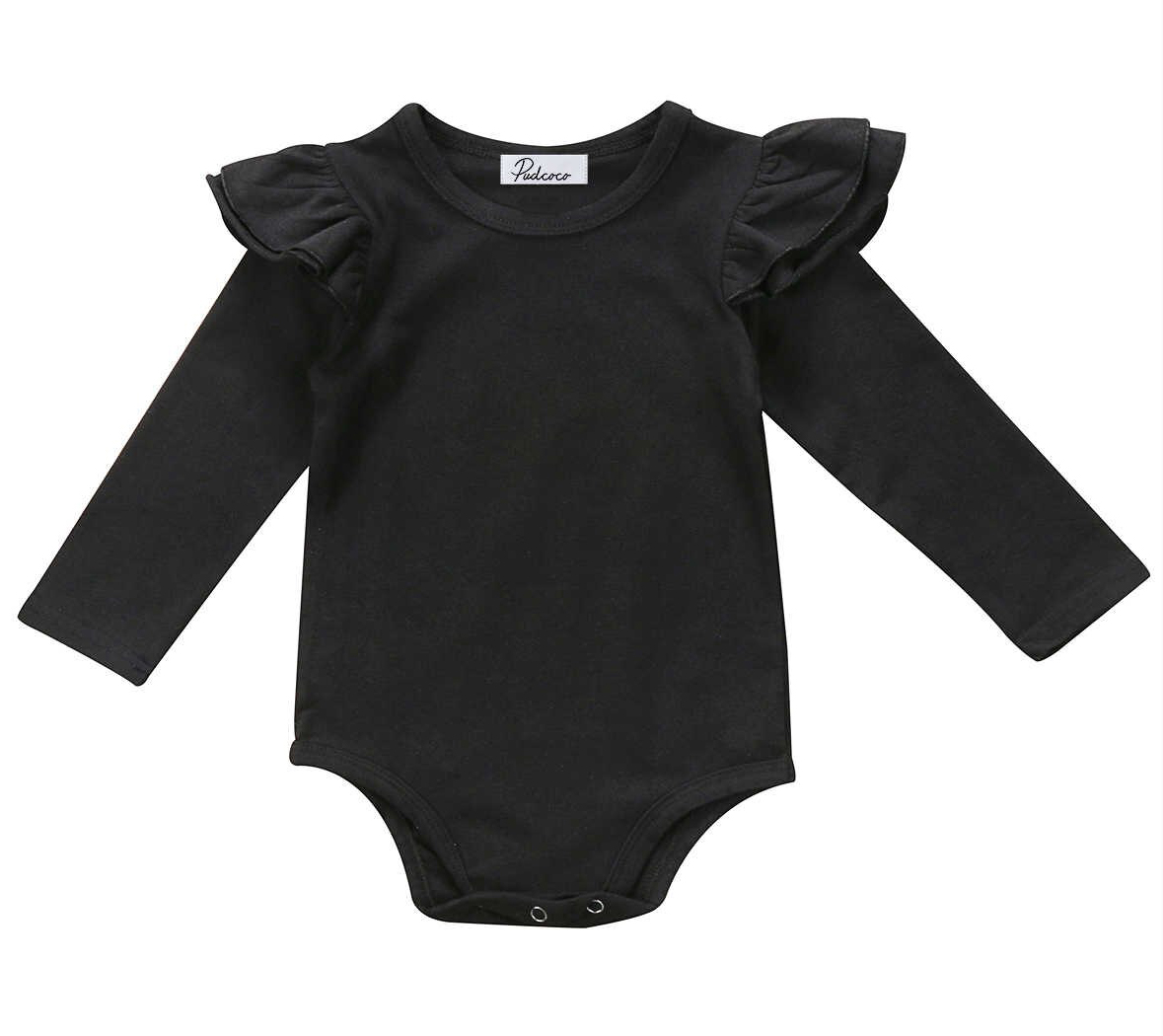 Emme wears this one – the onesie (seen here on her) – and Scarlett wears the kids shirt version. The ruffle detail on the shoulders of these basic tees really makes this top stand out beautifully.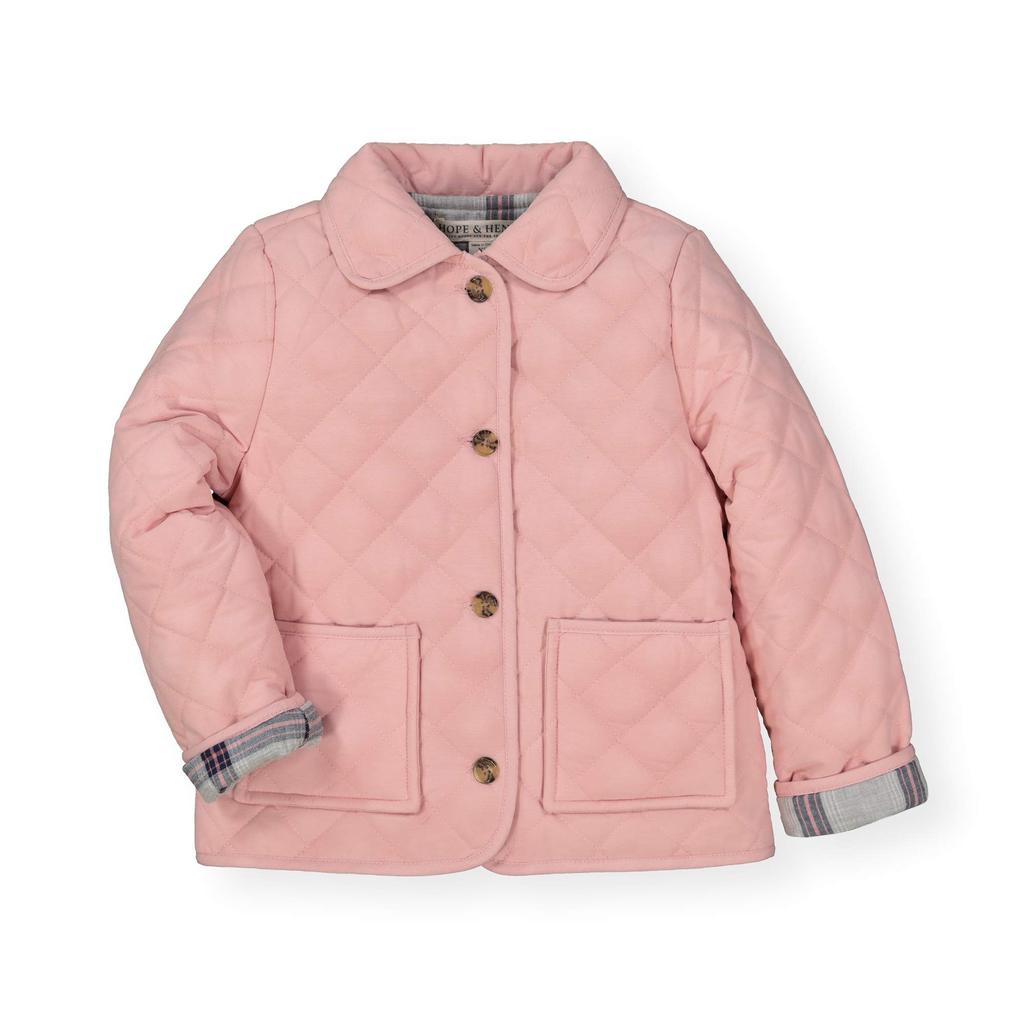 This is another stand-out Hope & Henry jacket. Love how expensive and chic it looks.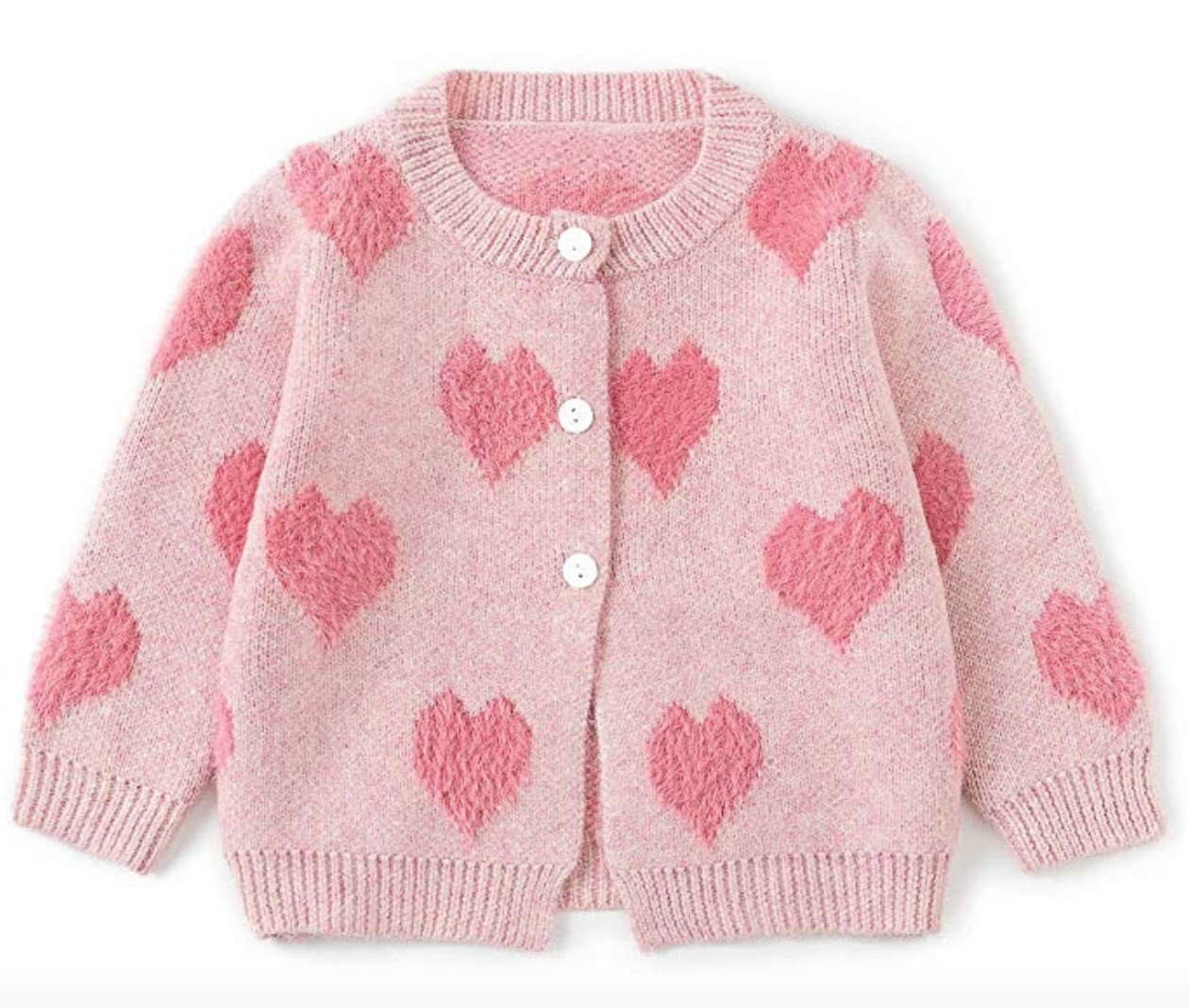 Such a sweet cardigan and it's also available in a cream leopard print.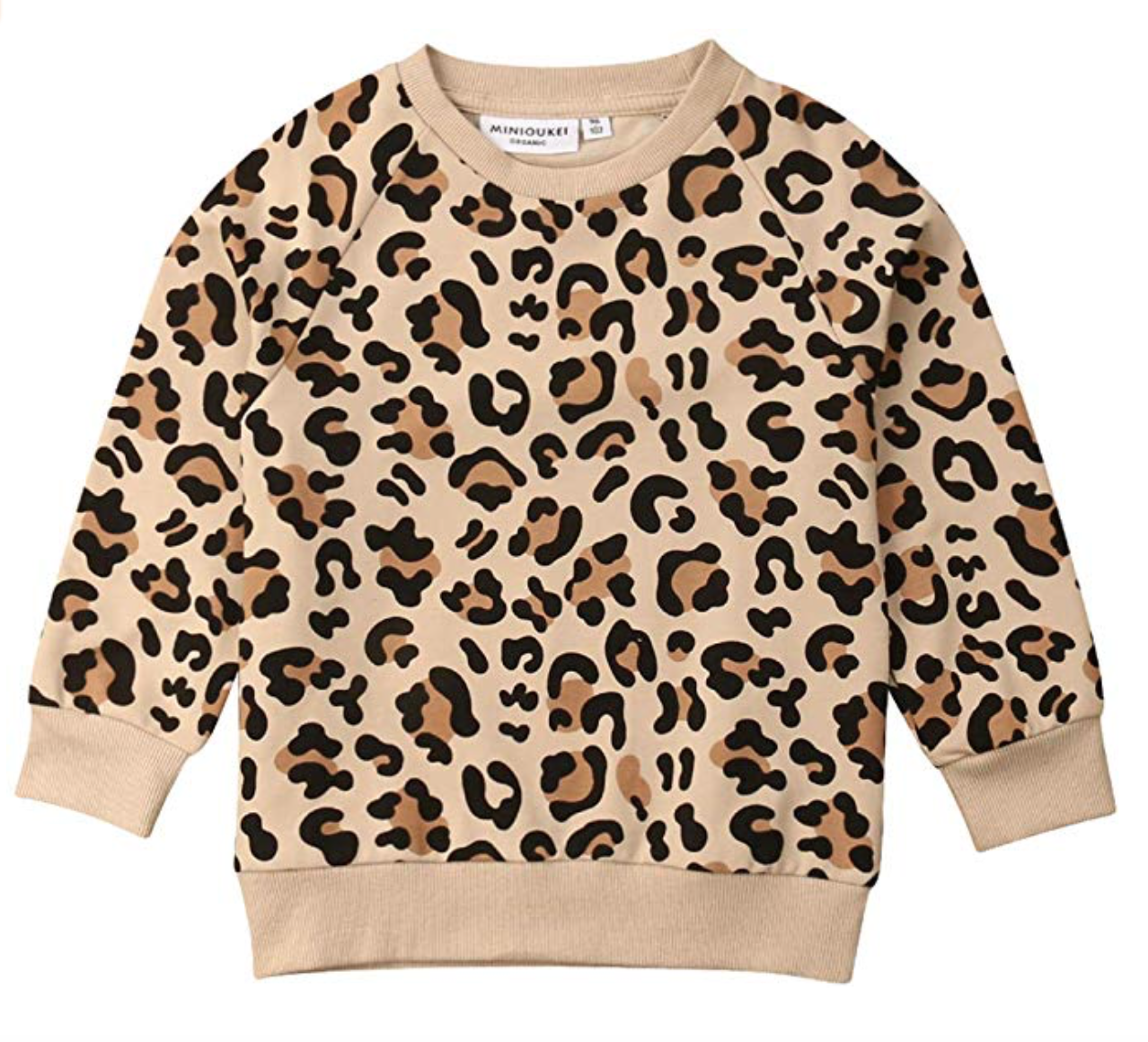 My obsession with leopard print runs deep. Also available through sizes 6T and 7 here.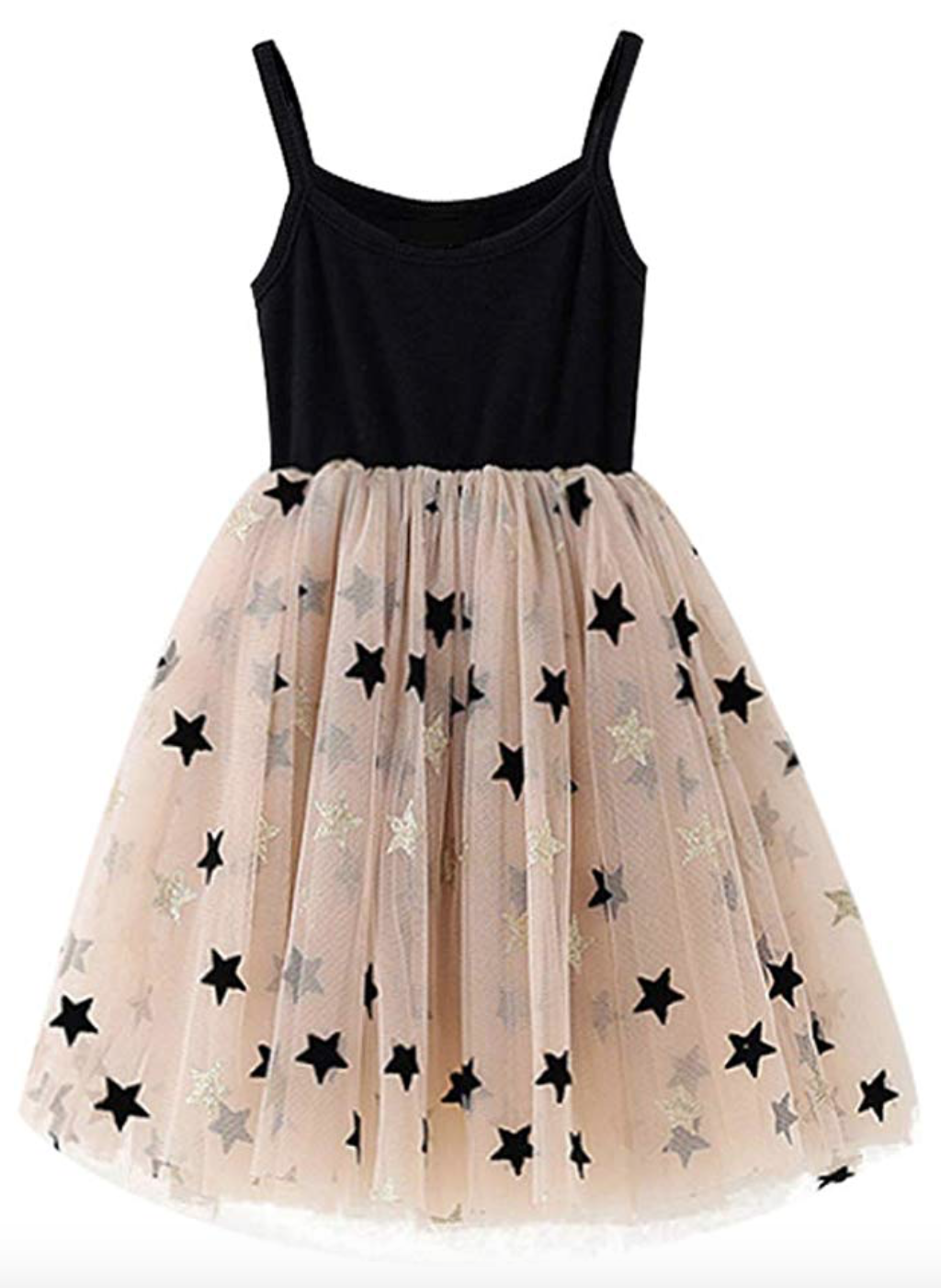 I'm so in love with this dress. Here are our girls in the blush pink version; it's such a fun party dress and totally perfect for the holidays!!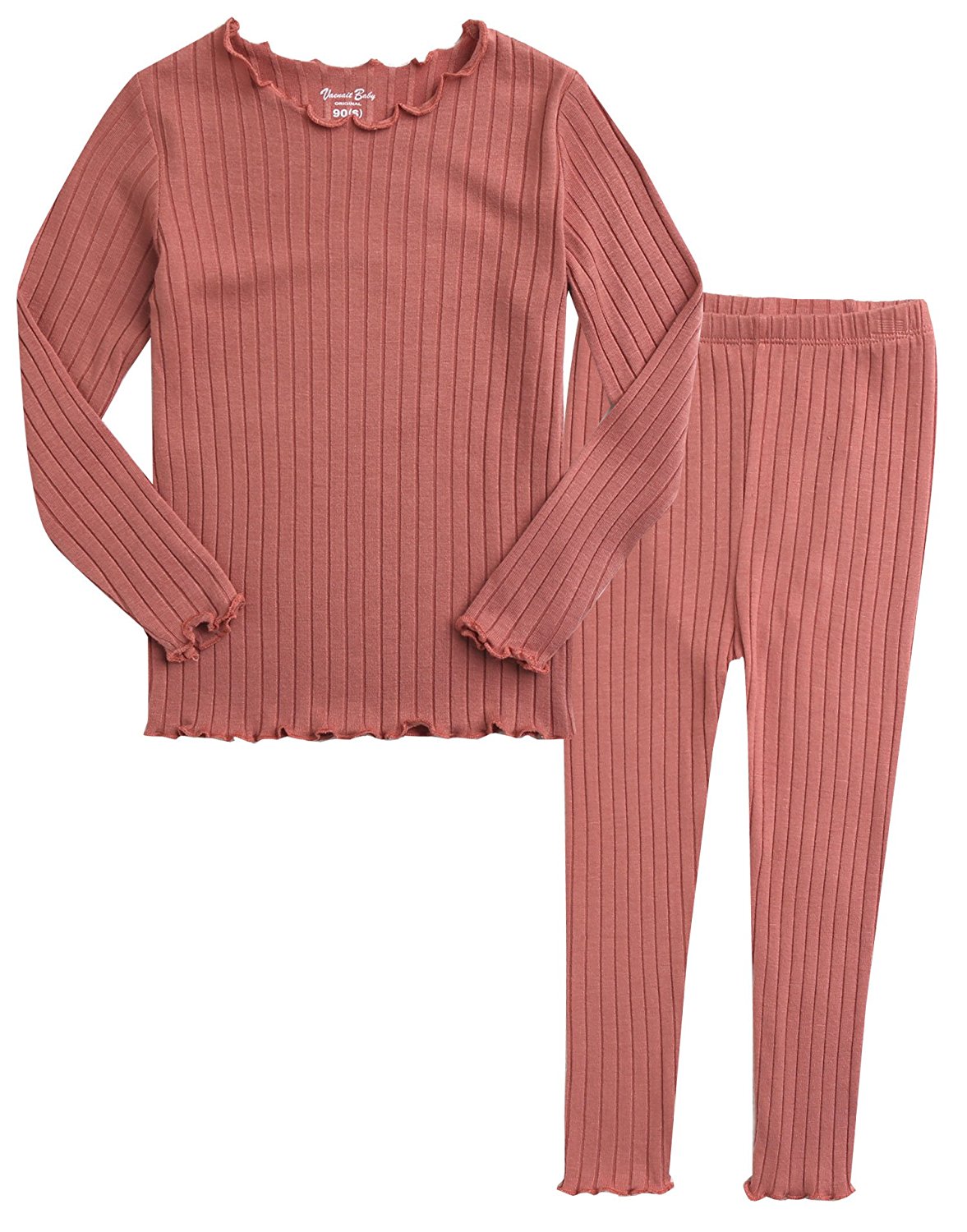 I've already talked about these super cozy pj's a few million times, but what's one more? 😂 We now have three matching pairs of these pj's for the girls, and I'm about to buy more for the holidays. Vaenait Baby gets rave reviews and their pajamas are super high quality, buttery soft, come in a bunch of cute colors and patterns, and wash really well. You can see our girls in a pair here, here, and most recently, here.
Girls Amazon Accessories and Shoes for Fall and Winter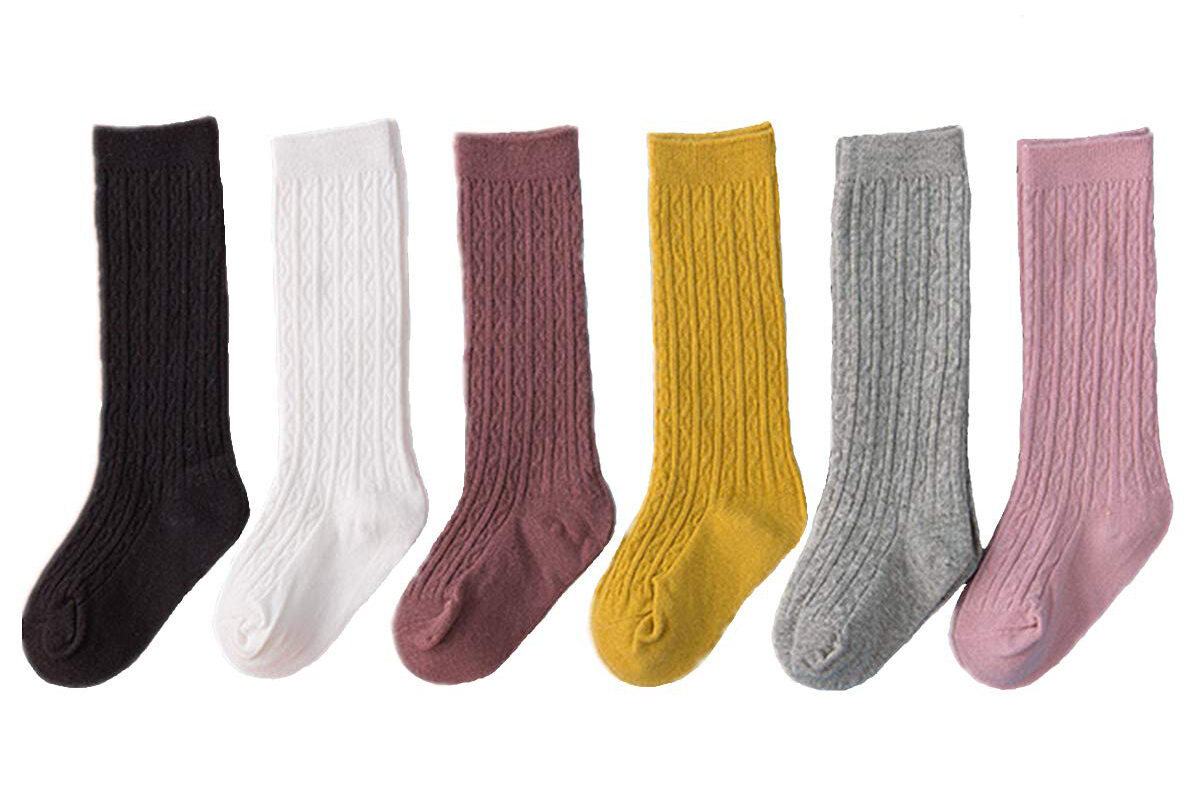 We have two sets of these socks for each of our girls. I absolutely love them and just keep buying them because they're so darn cute and having more makes matching them up after doing the laundry that much easier. 😉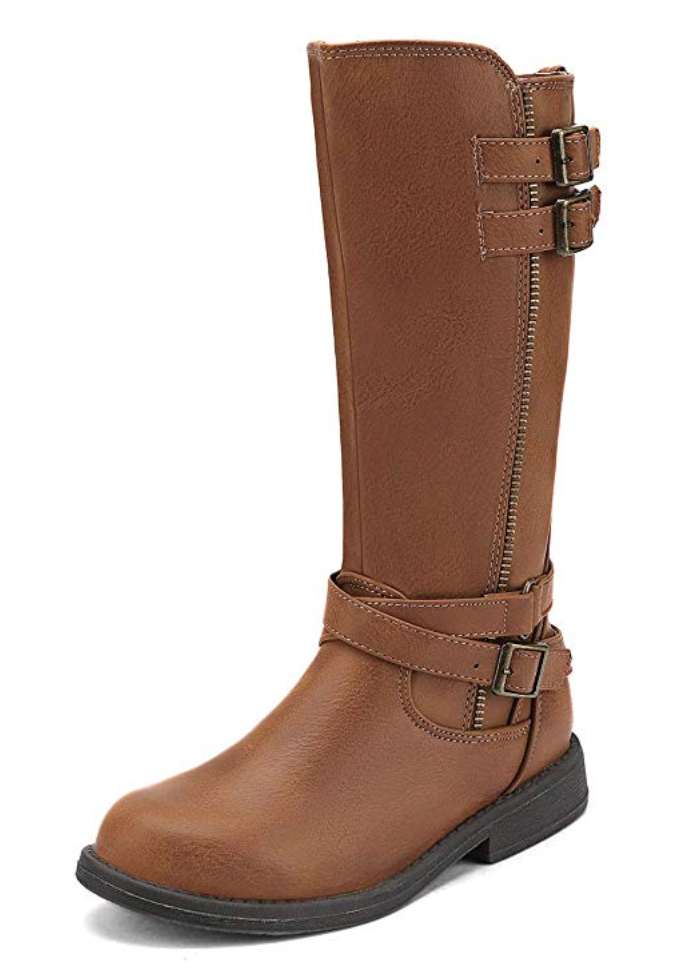 How chic are these little girls' boots? They come in lots of colors and hardware options and have great reviews.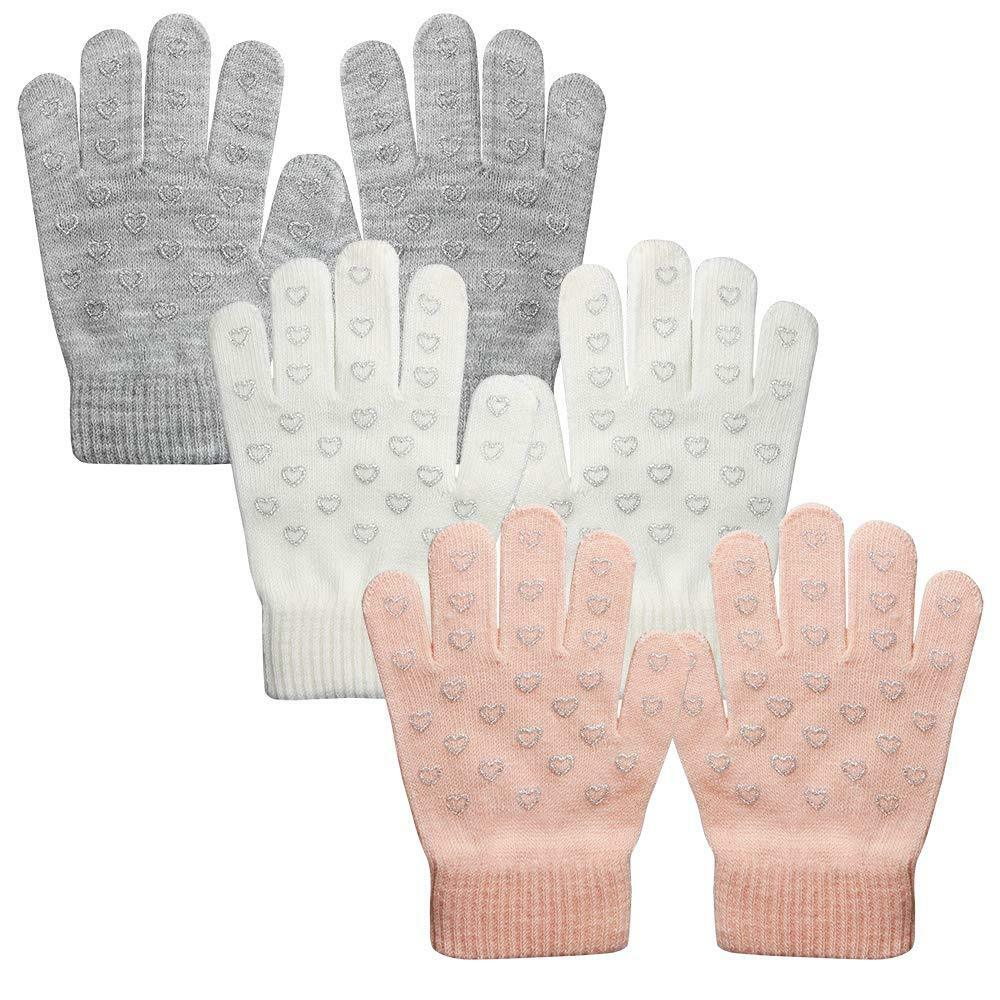 I like that these cute gloves come in a three pack, since we're known to lose gloves everywhere we go. 🤣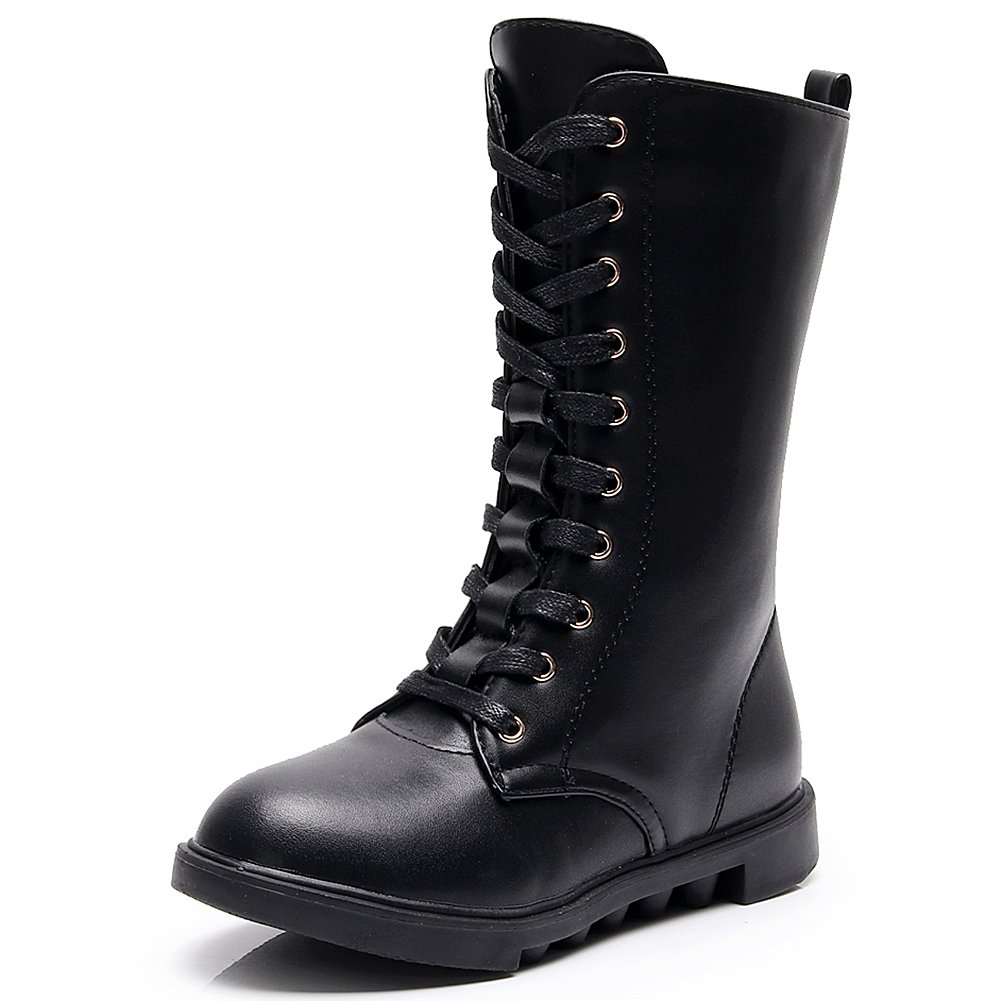 Our oldest, Scarlett, has these exact boots. They're super comfy and look SO cute on. They come in sizes for Toddler, Little Kid, and Big Kid. If they made them for adults, I would totally buy them in my size.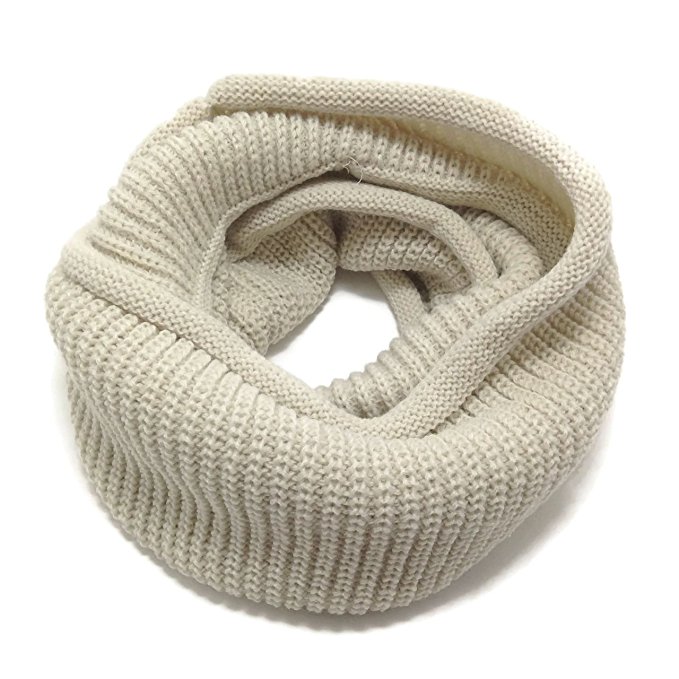 Scarlett has this scarf in cream, and she wore it all through Fall and Winter last year. I plan on getting one for Emme as well. The scarf is great quality and washes well, and I love an infinity scarf for kids because I don't have to worry about it dragging or the kiddos tripping over it. They're also harder to lose at the park, out and about, etc.
How adorable are these Golden Goose look-a-like sneakers?! They come in three different colors. Be sure to size up at least a size or two as they run pretty small.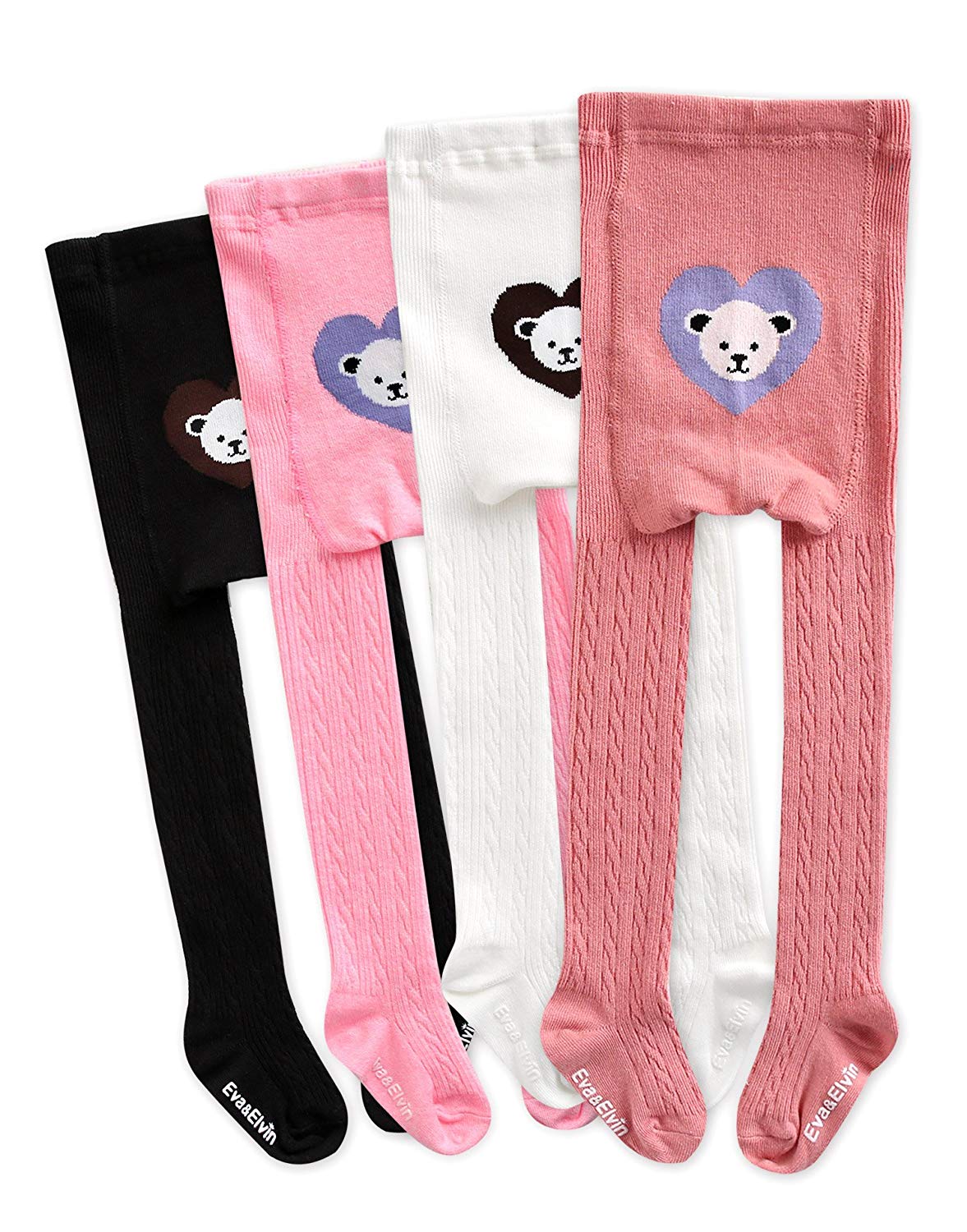 These tights are awesome. They're actually made by the same company that makes the pajamas we're obsessed with, so no surprise really that the tights are equally great. I love that they come with four pairs per pack, the the bottoms have grips so the girls don't slip when playing in them without shoes on, and they run all the way up to size 7.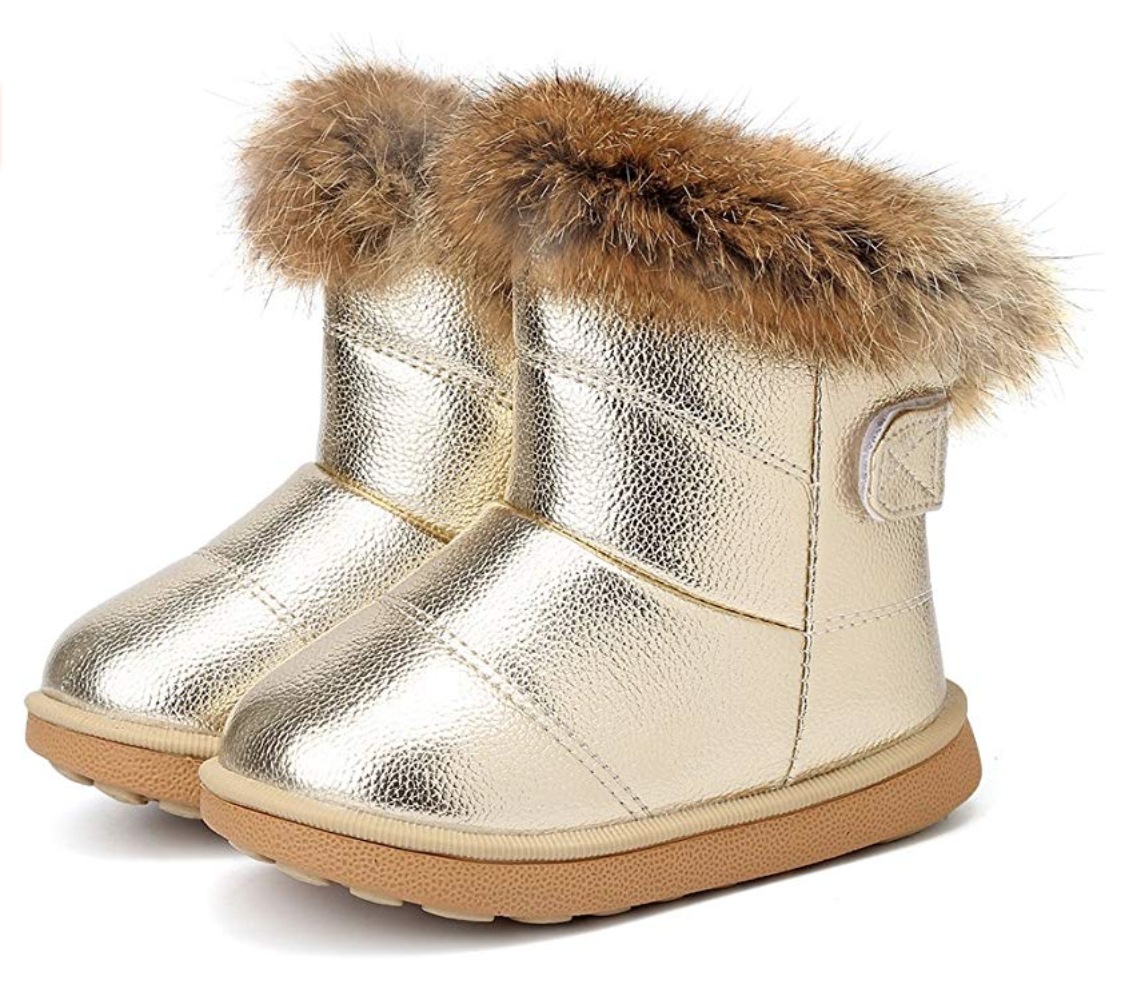 Toddler Warm Winter Snow Boots, $
These come in SO many cute colors, though of course I'm partial to the gold pair. In addition, these are available in toddler and little kid sizes.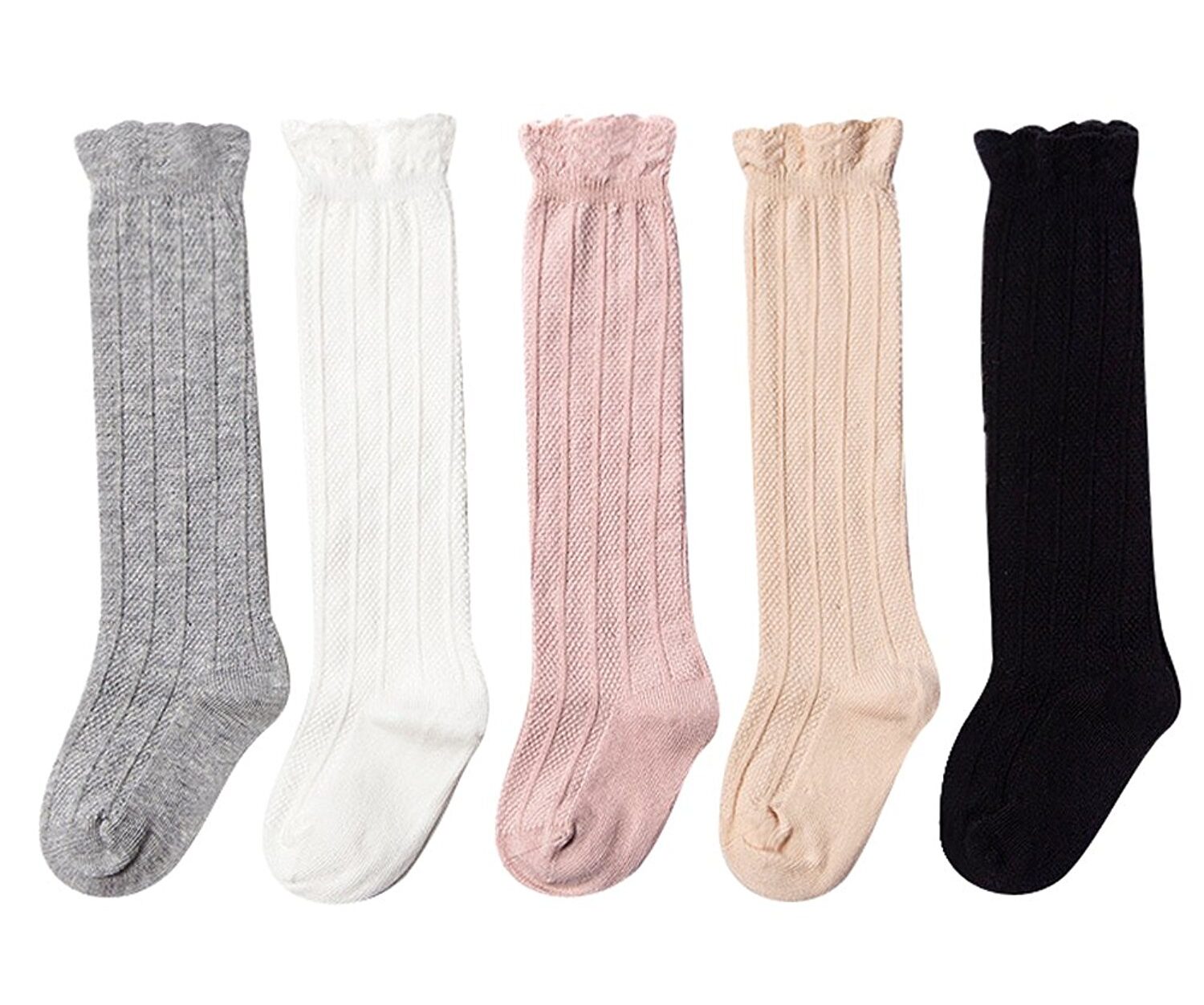 We also have these socks and they are beautifully made. In short, really high quality.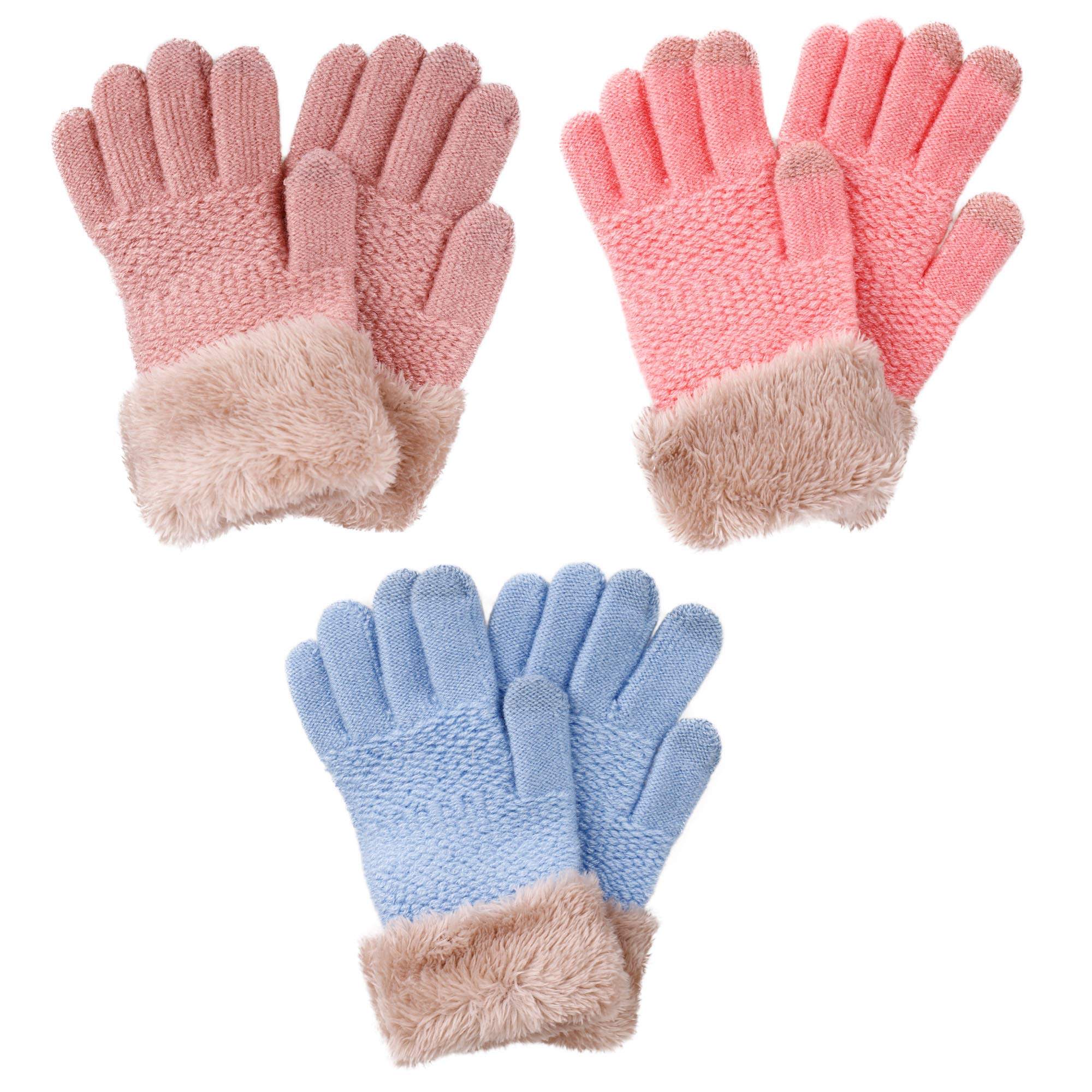 These cute gloves are super plush and I love the faux fur detail.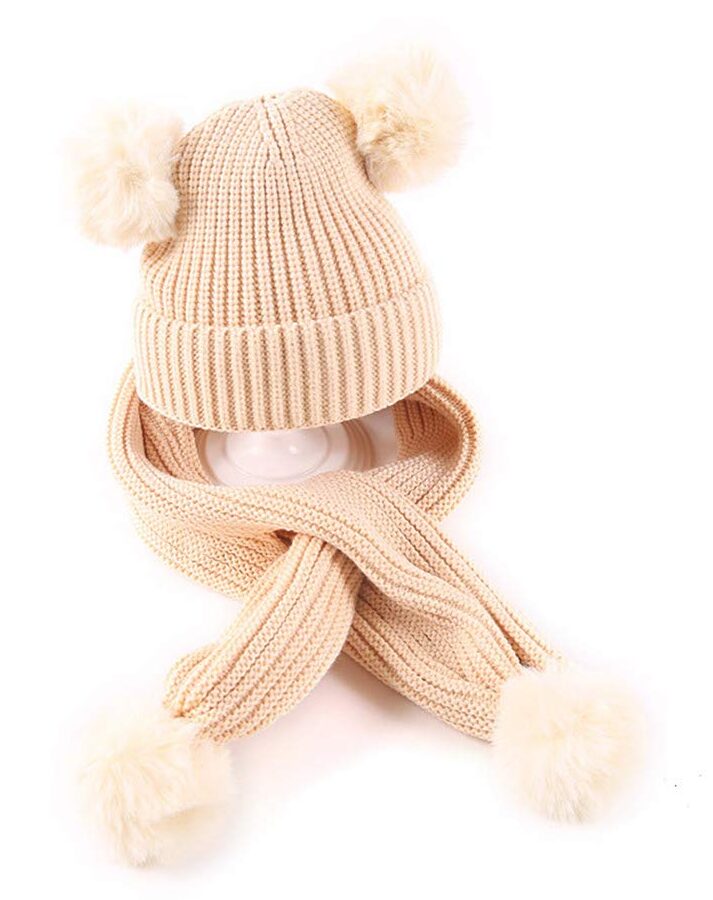 Love that this set matches. And it comes in a few different color options as well.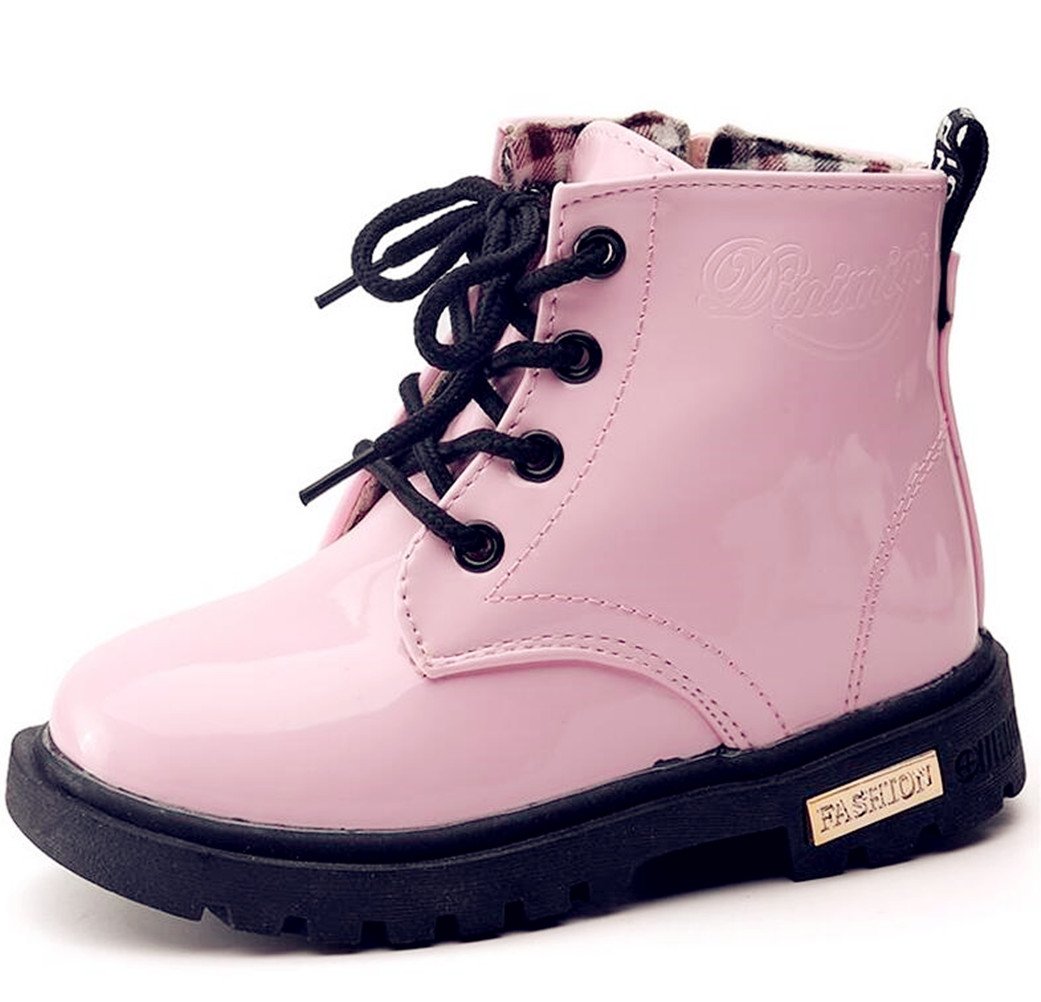 These look just like tiny Doc Martens and I adore them. They come in a TON of colors and are offered in sizes for Toddler, Little Kid, and Big Kid.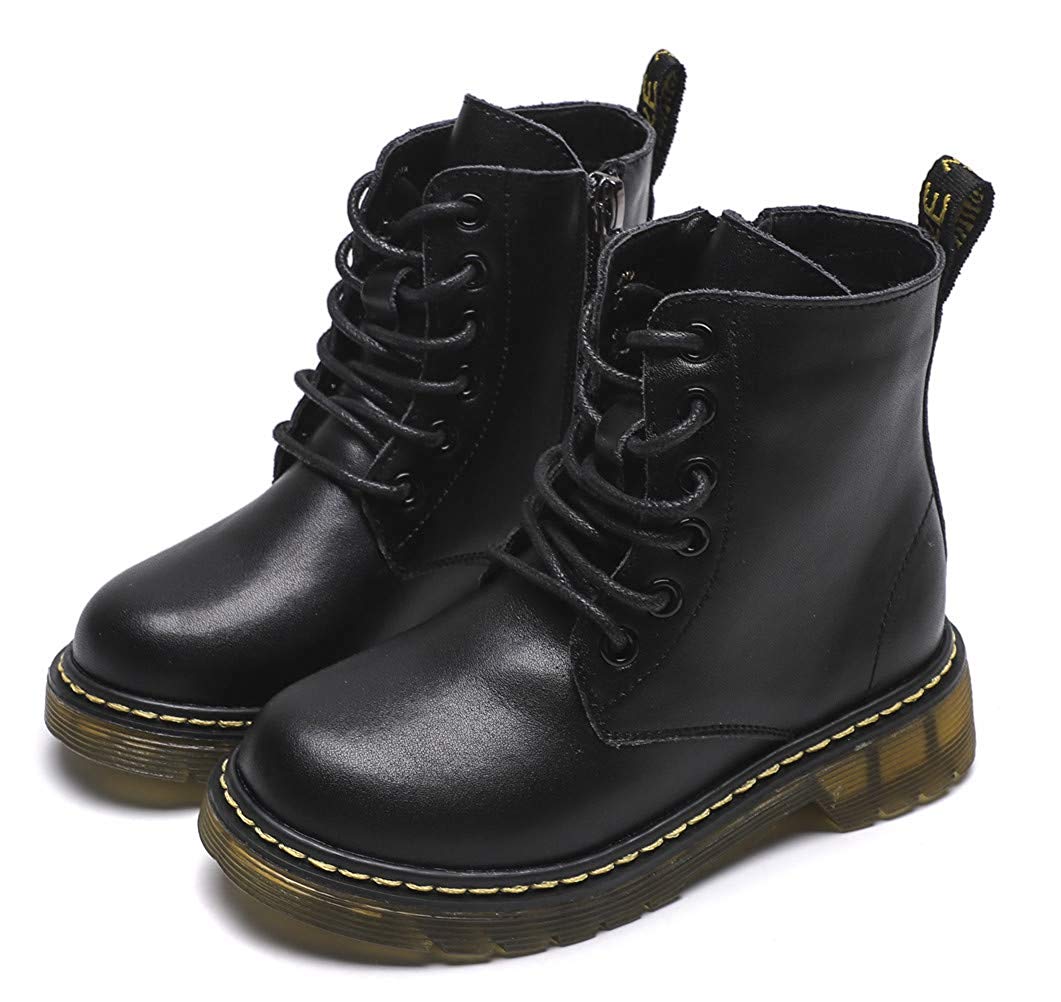 ThisDoc Marten look-a-like pair is also super cute!
Have you bought cute kids clothes and/or accessories on Amazon? Are you a fan?
SHOP MY FAVORITE GIRLS AMAZON OUTFITS | CLICK LEFT & RIGHT ARROWS TO EXPLORE
GIRLS CLOTHING

SWEATERS AND COATS

SHOES AND ACCESSORIES

LOVE THIS POST? SEE MORE OF OUR FAMILY CONTENT RIGHT HERE!