This Amazon outfits post contains affiliate links, which means that if you click on one of the product links, I'll receive a small commission. Thank you so much for clicking through and helping to support this little blog business of mine! Read more about our site, privacy, and disclosure policies here.
Searching for adorable baby girl and toddler outfits and accessories on a budget? Did you know Amazon has some of the cutest affordable kids clothes out there? I'm rounding up 30 of my current favorite sweet-as-sugar baby girl and toddler Amazon outfits and accessories that I think you'll love! Read on to see my picks!
Lately, I've been getting so many questions about the cute outfits and accessories (read: bows!) I've been putting baby Emmeline (and our toddler, Scarlett) in; and wouldn't you know it? So many of them have been fashion finds from Amazon!
Once you fall down the rabbit hole of adorable kids fashion on Amazon, you'll quickly realize that a lot of the outfits on Amazon are the same outfits sold in so many of those sweet baby and childrens boutiques that advertise all over Facebook, etc. And with Amazon, you're getting their awesome customer service, easy returns if something doesn't fit or work, and free two-day shipping. Whaaaattt?
I was already getting Emme's baby bow headbands and Scarlett's oversized hair bows on Amazon, but now that I've discovered this whole treasure trove of adorable kids fashion, I really can't stop myself. There's probably at least one new outfit for one of my girls in every Amazon package that arrives on our doorstep. Whoops!
And since I'm totally obsessed with adorable baby and toddler Amazon outfits for my girls … I'm sharing 30 of my favorite kids fashion finds from Amazon right here!
UPDATE SPRING 2019: I've found even more adorable outfits for baby girls, toddler girls, and kids on Amazon, and I've added them to this list!
(Seriously, this post is a treasure trove of boutique-worthy adorable Amazon outfits for girls!)
FAVORITE AMAZON OUTFITS FOR BABY GIRLS & TODDLERS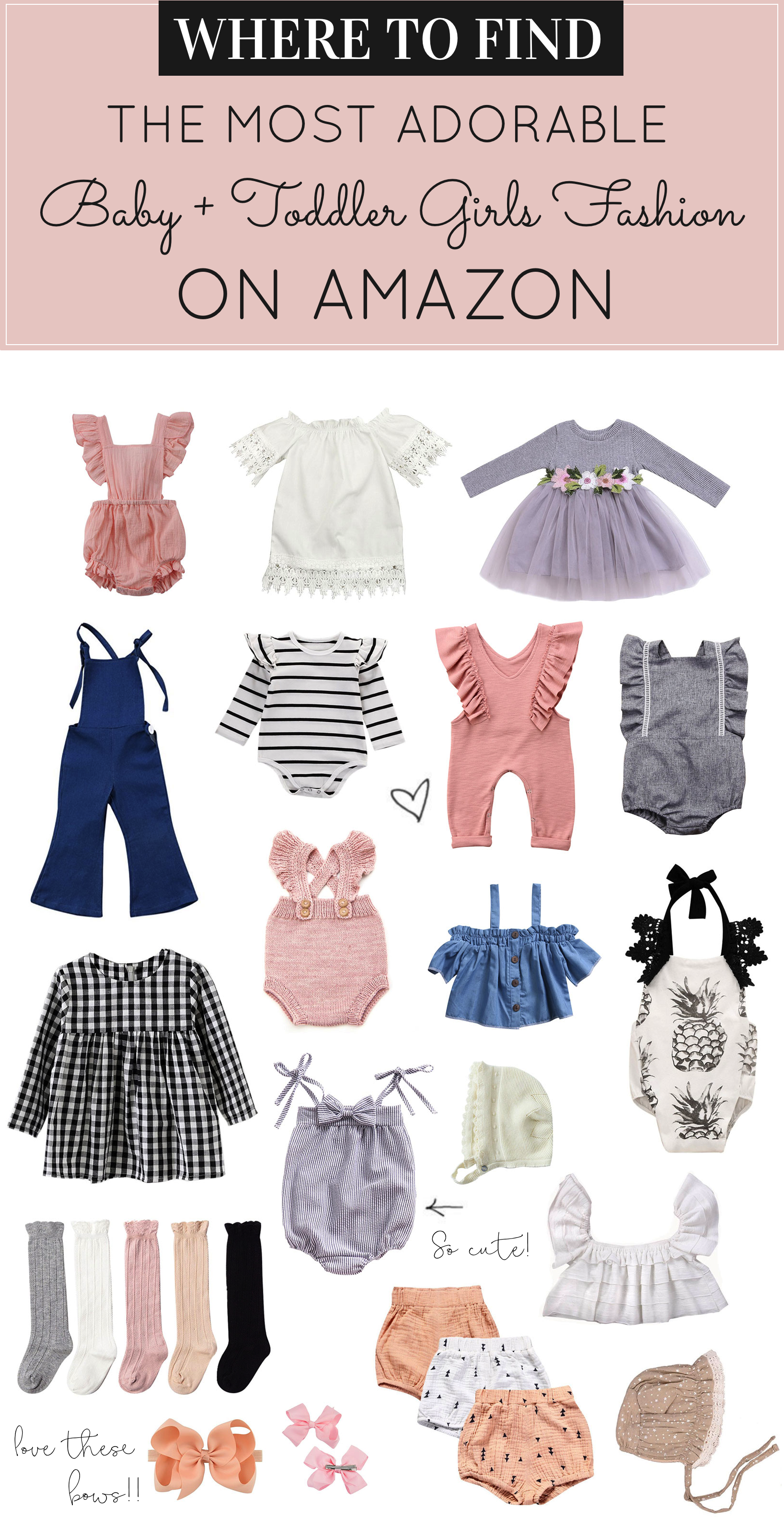 30 Adorable Baby Girl and Toddler Outfits and Accessories on Amazon (All Under $20!)

Toddler + Baby Girl Ruffle Loose Jumpsuit Romper Overalls, $12.97 (We just got this for Emme and it is SOOOOOO precious! We got a 1-2T. She's only 6 months old right now, so it's too big for her for at the moment, though the reviews say it does run small. (I got a TON of questions about this one when I shared it in a mail day haul on my Instagram Stories!)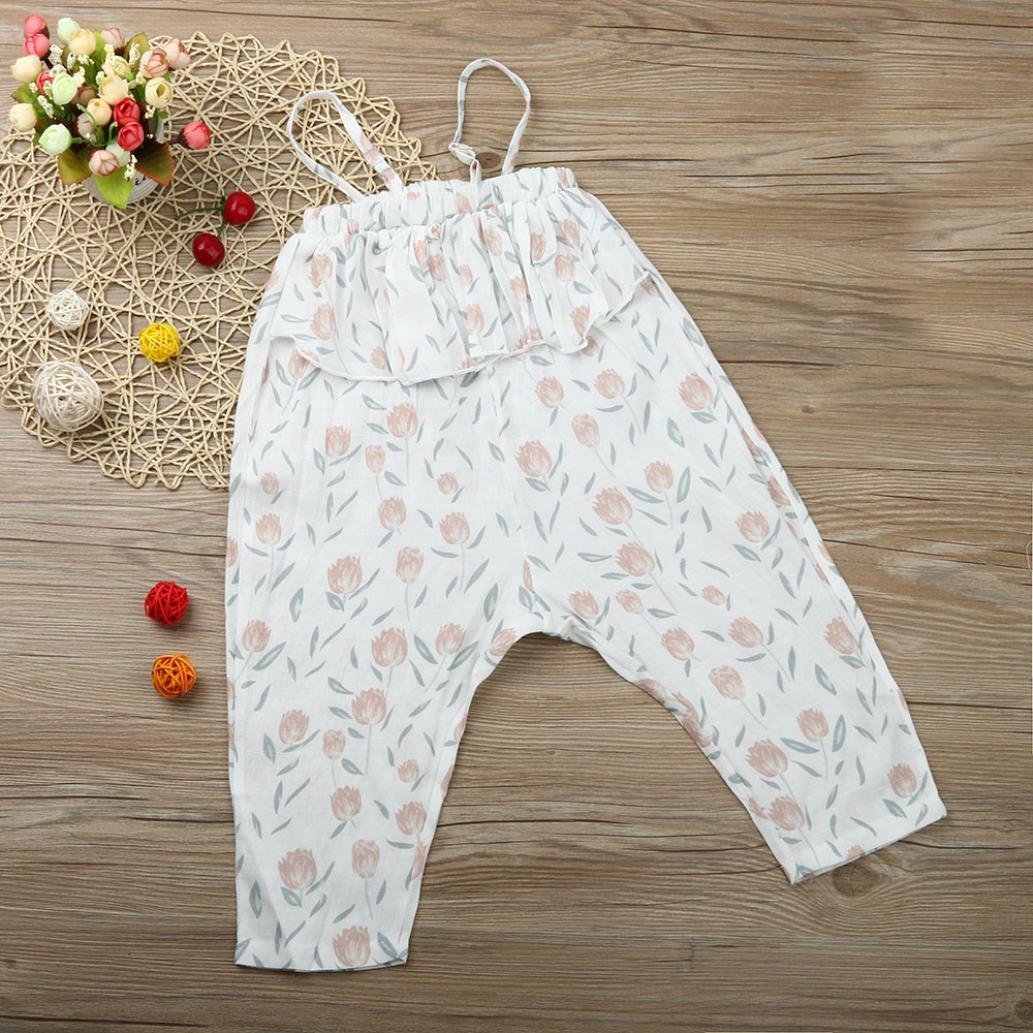 Baby Girls Flower Print Romper, $6.99 – $10.99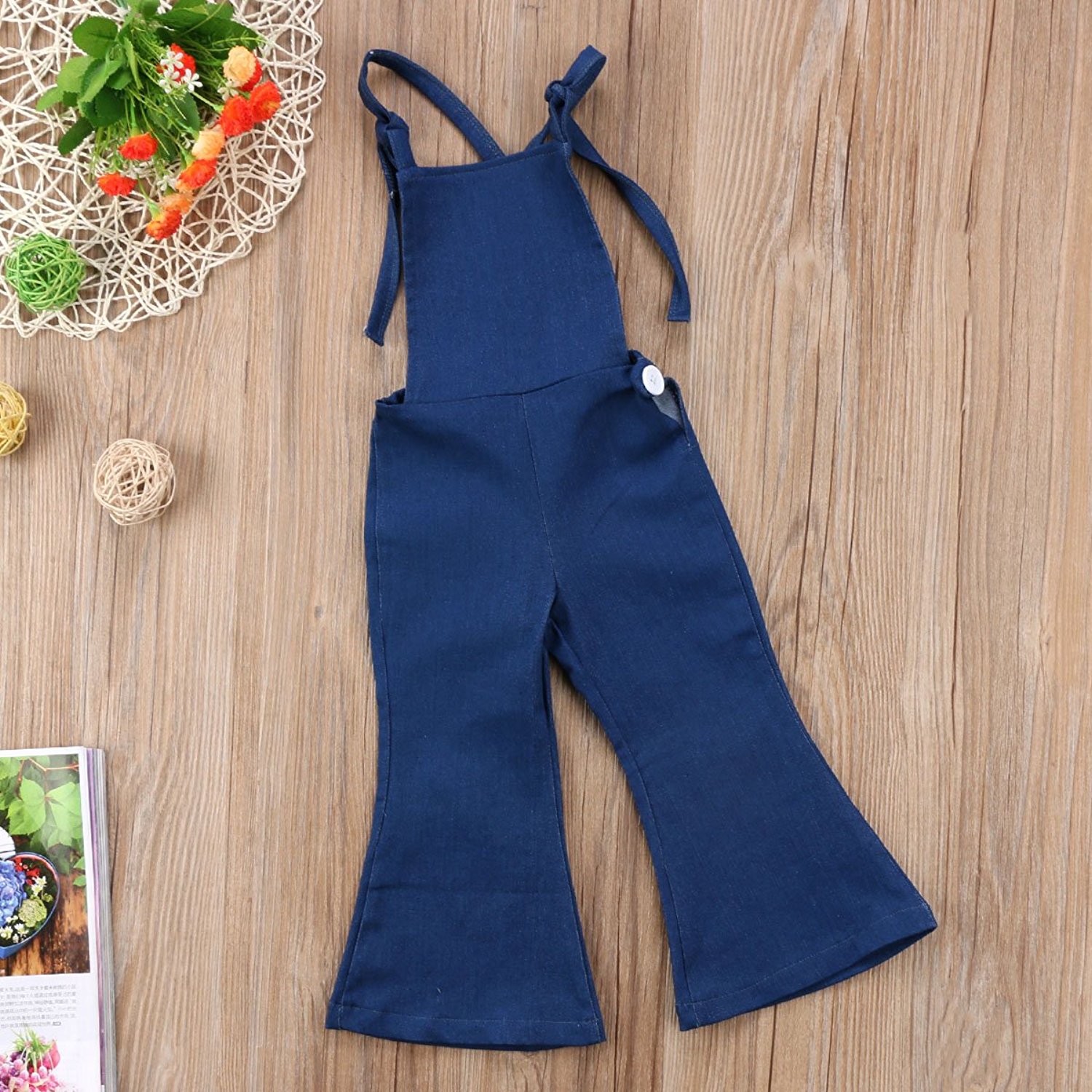 Pudcoco Baby Girls + Little Kids Suspender Overall Flared Denim Jeans Jumpsuit with Bell Leg, $11.99 (Scarlett wore these on my Instagram Stories a couple of weeks and I got SO many messages asking about them! They are truly adorable and look unbelievably cute on.)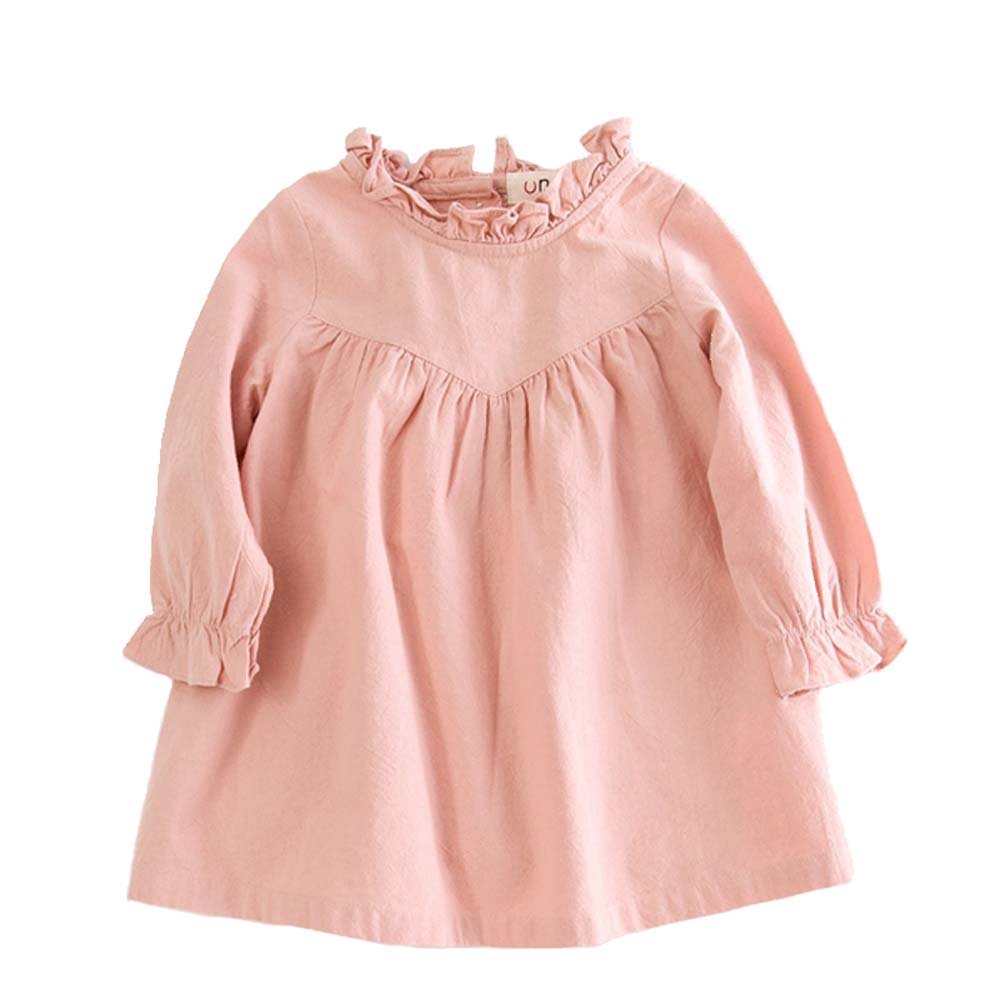 VIYOO Children Cotton Linen Long Sleeve Girl Dresses Casual Fashion Summer Toddler Girl Dress, $13.90 (There's also a chambray version!)
Vaenait baby 12M-7T Baby Kids Girls Boys Unisex Soft Comfy Modal Tencel Shirring Sleepwear Pajamas 2pcs Set, $15.99 (We now have two matching pairs of these pj's for the girls, and I'm about to buy more. Vaenait Baby gets rave reviews and their pajamas are super high quality, buttery soft, come in a bunch of cute colors and patterns, and wash really well. You can see our girls in a pair here.)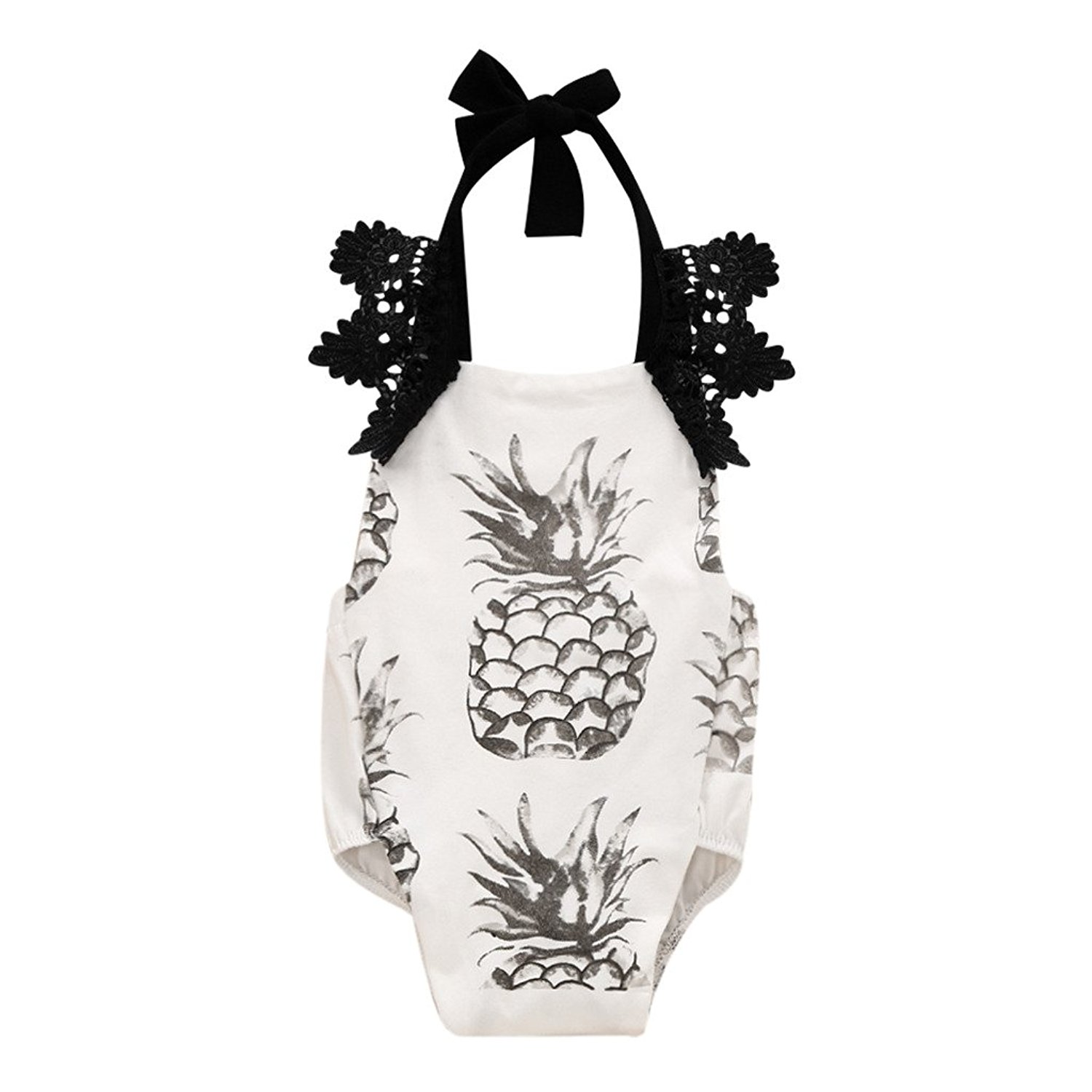 Baby Girl Lace Crochet Pineapple Printed Onesie Romper, $9.99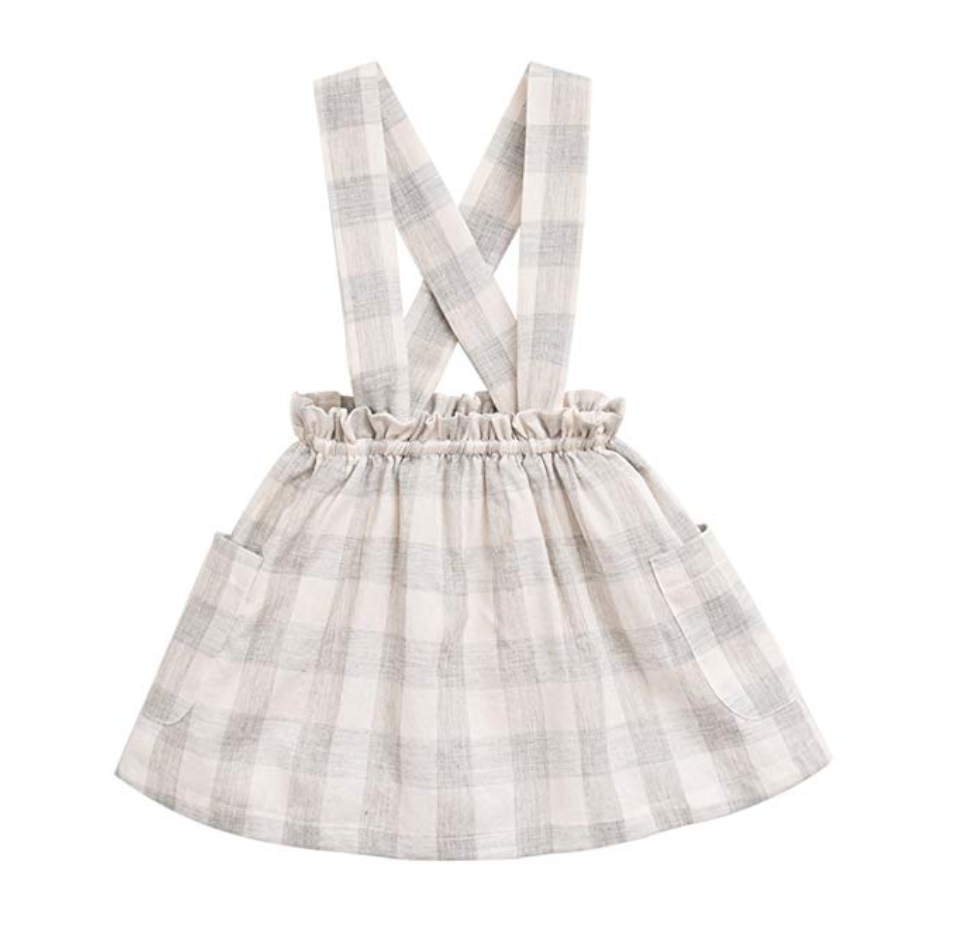 marc janie Little Girls' Fashion Suspender Skirt Baby Girls Jumpsuit Strap Overall Dress, $15.90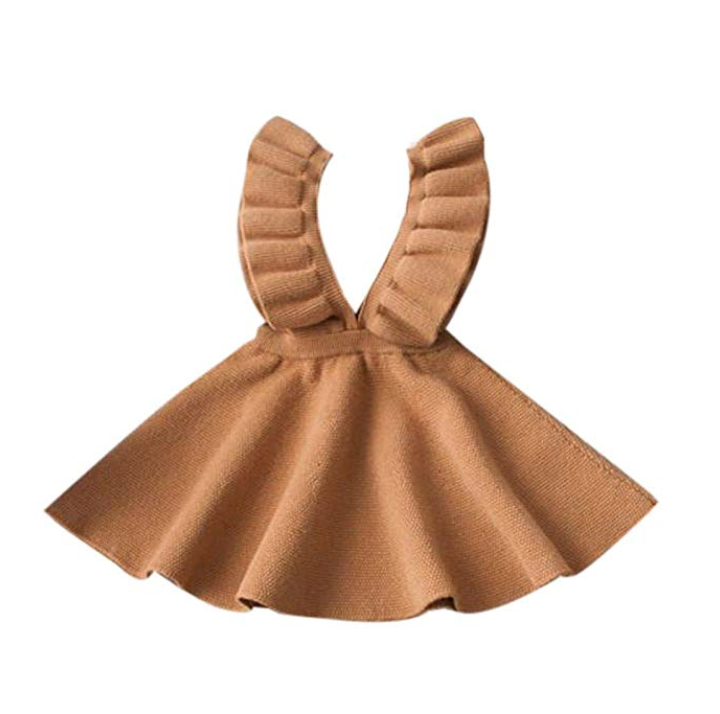 Noustyle Toddler Girl Kids Baby Overalls Knit Solid Sleeveless Sweater Ruffle Tutu Dress in Coffee (You can see Scarlett, our 4 year old, in it right here! Note: It does run a bit small so order one size up.)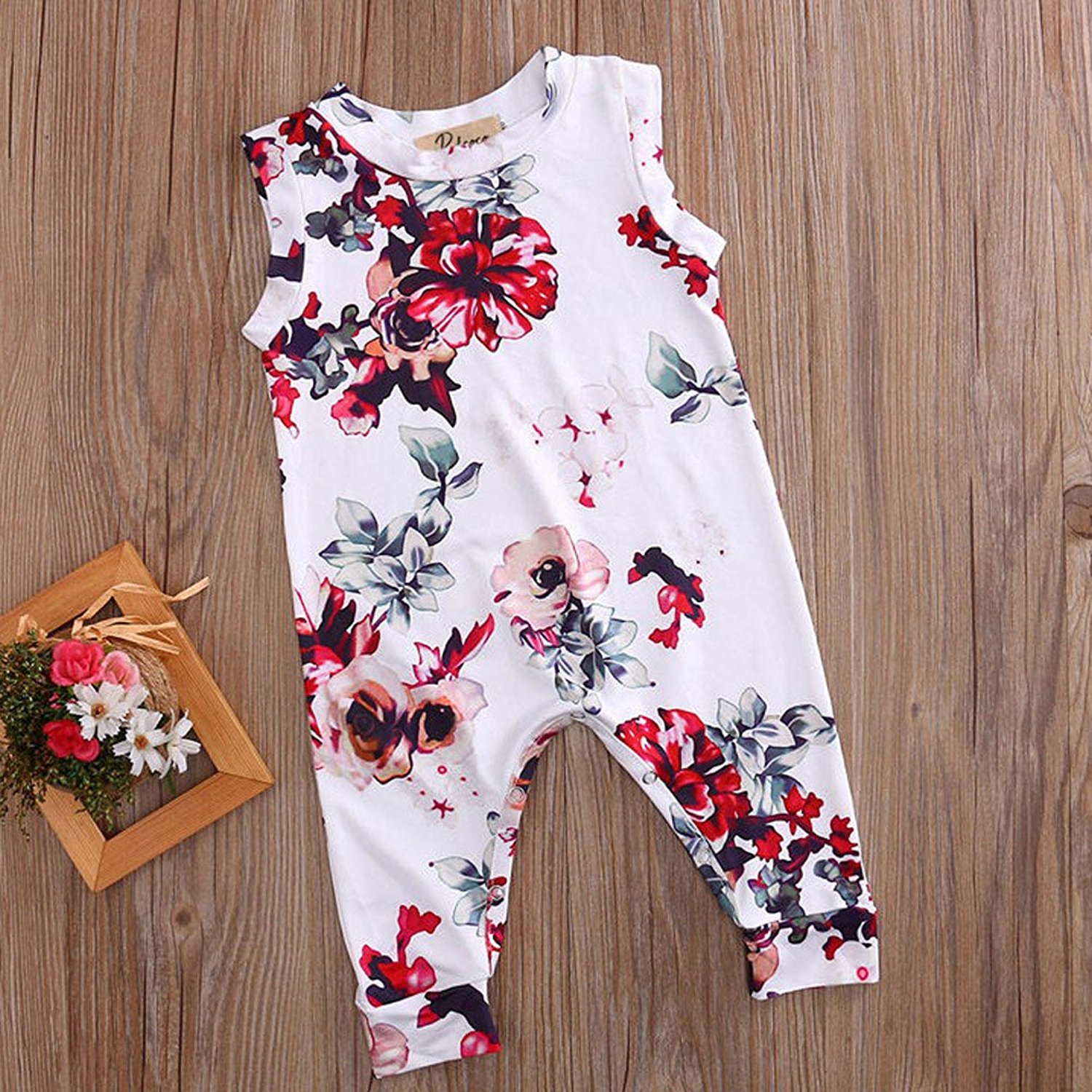 Toddler and Baby Girls Flower Print Long Romper, $12.99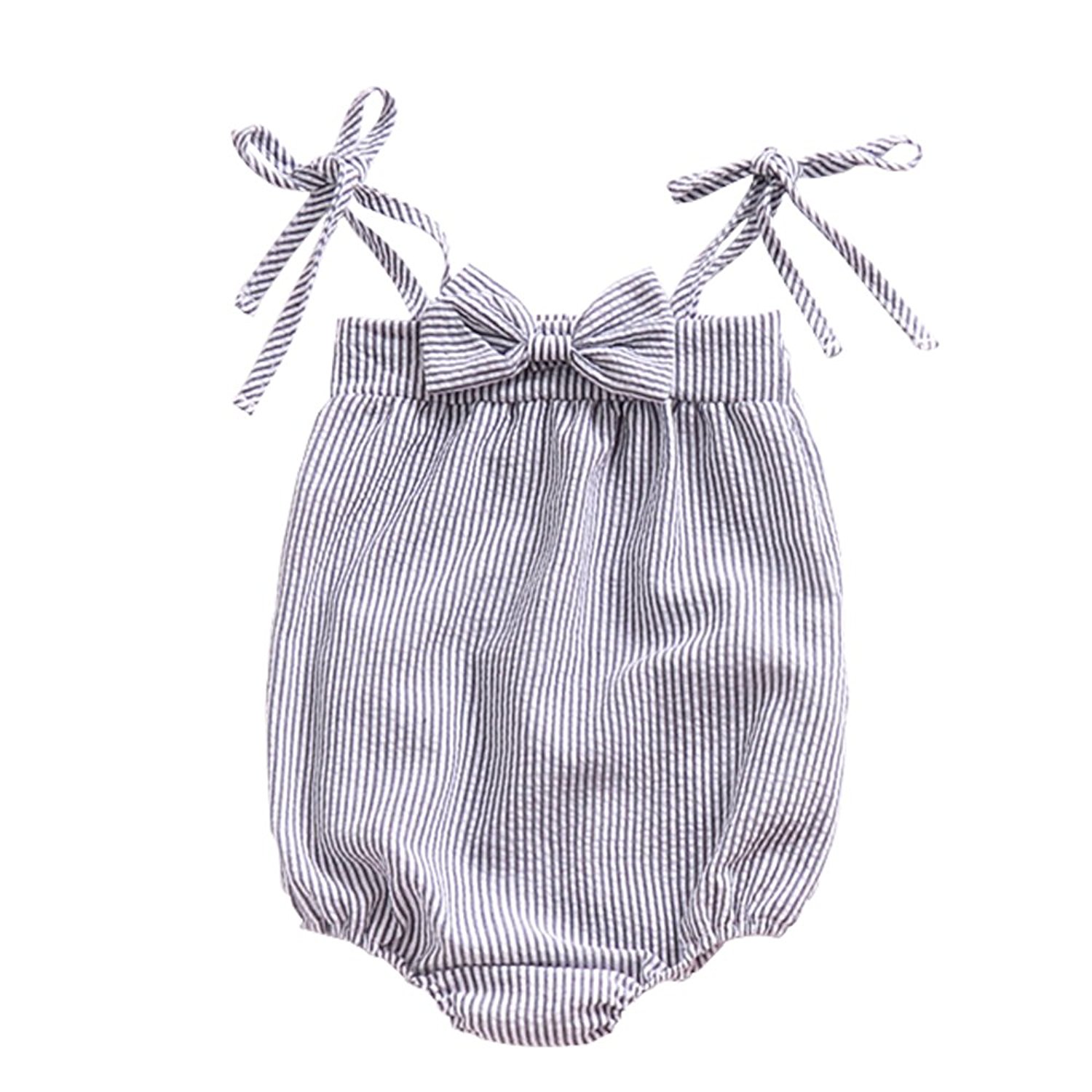 Ding Dong Baby Girl Summer Striped Romper, $8.99 – $14.99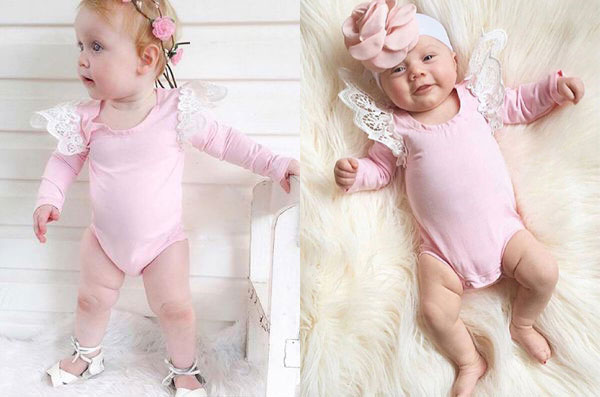 Baby Girls Cute Lace Ruffle Sleeve Bodysuit, $3.79, plus shipping (We got this one in pink, though it also comes in black, and OMG … adorable!)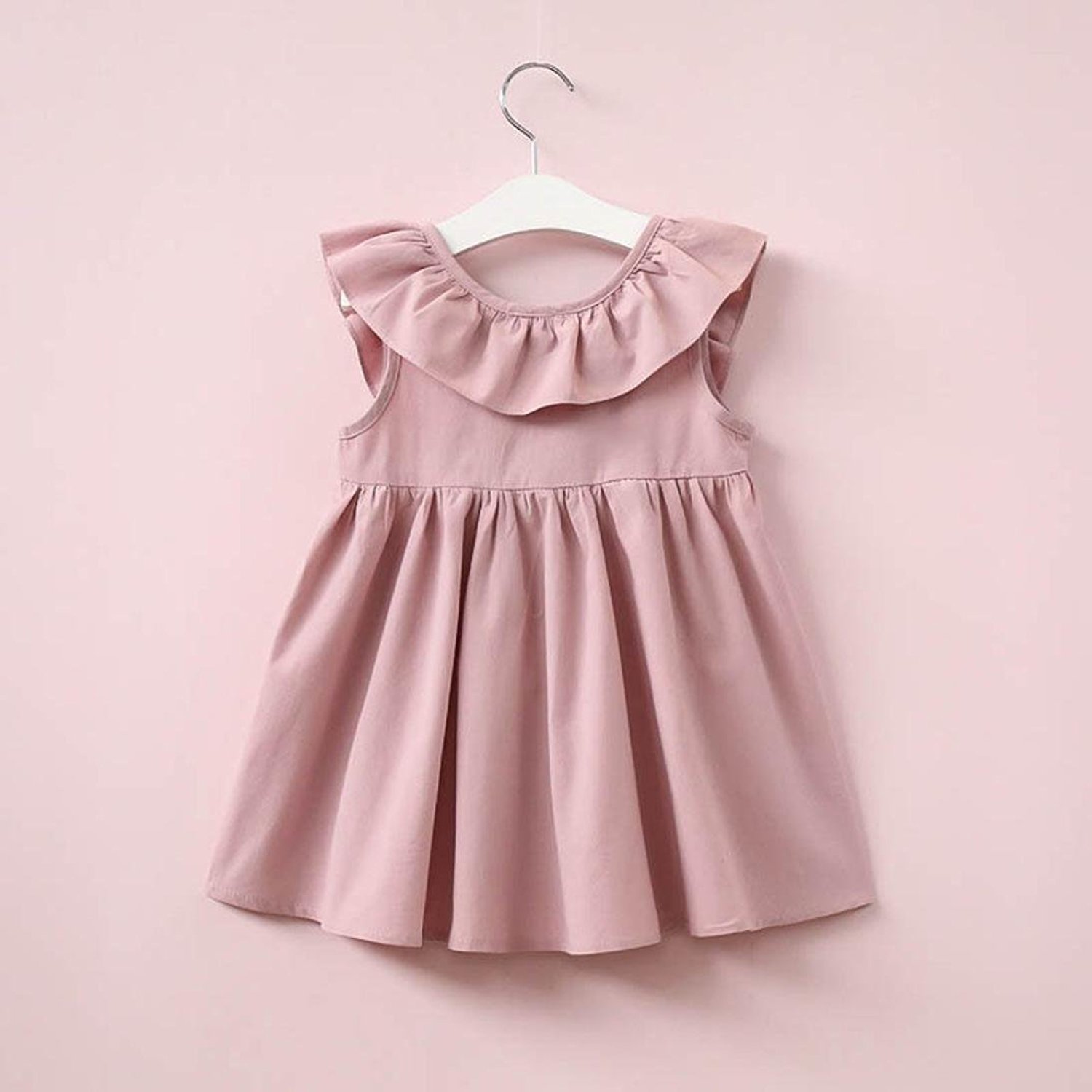 Toddler and Baby Girl Ruffled Backless Solid Casual Dress, $7.99 – $9.25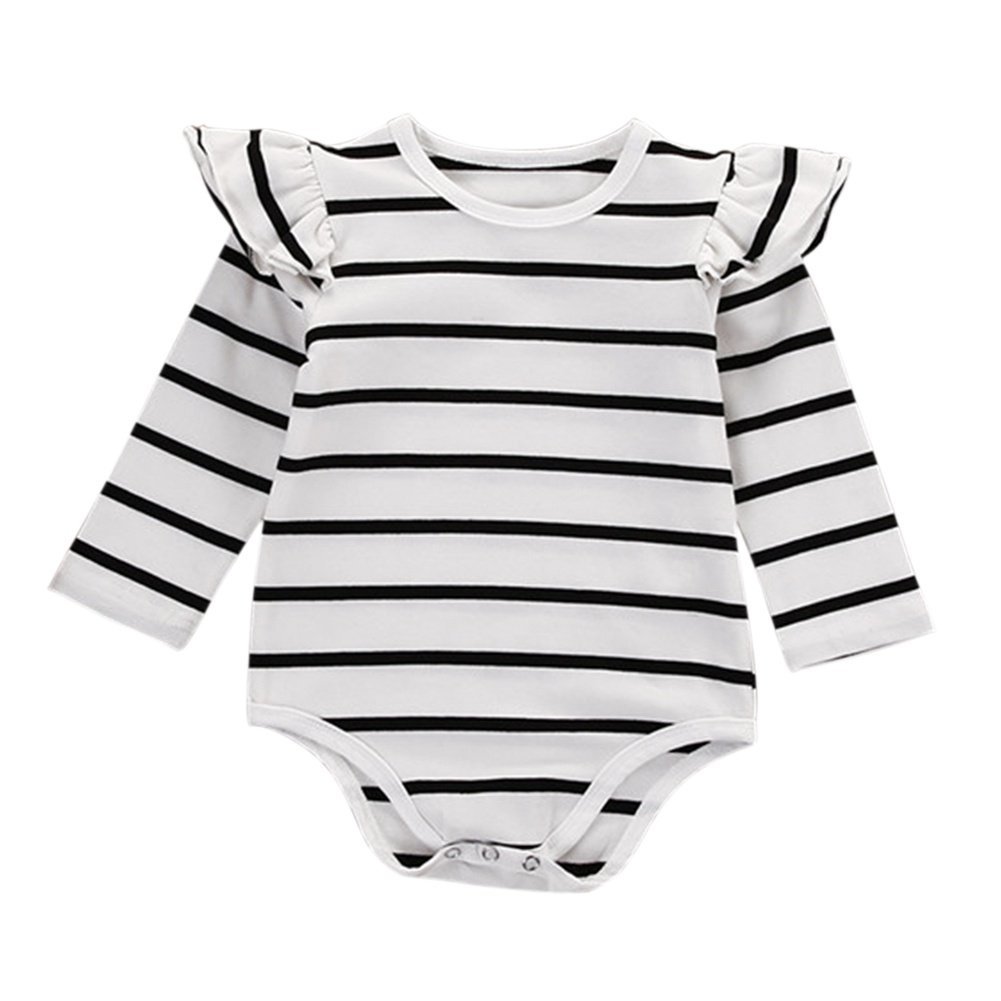 Magical Infant Baby Girls Long Sleeve Bodysuit Romper with Ruffle Fly Sleeve, $5.99 (We have this. The fabric is super soft. Note: it runs large.)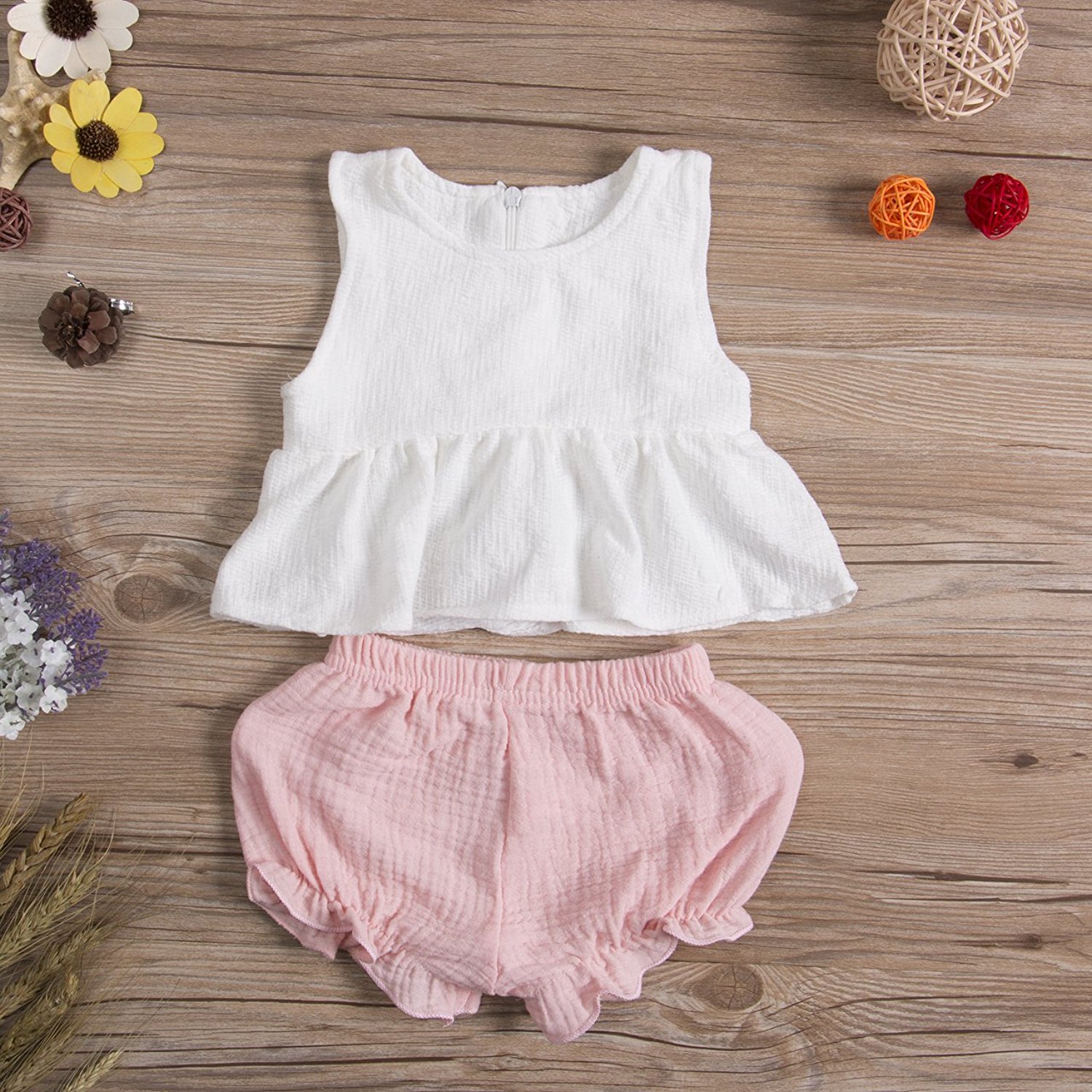 2 PC Baby Girl Tank Top + Short Pants Bloomer Set, $ (We just ordered this one for the summer and it is SO stinkin' cute!)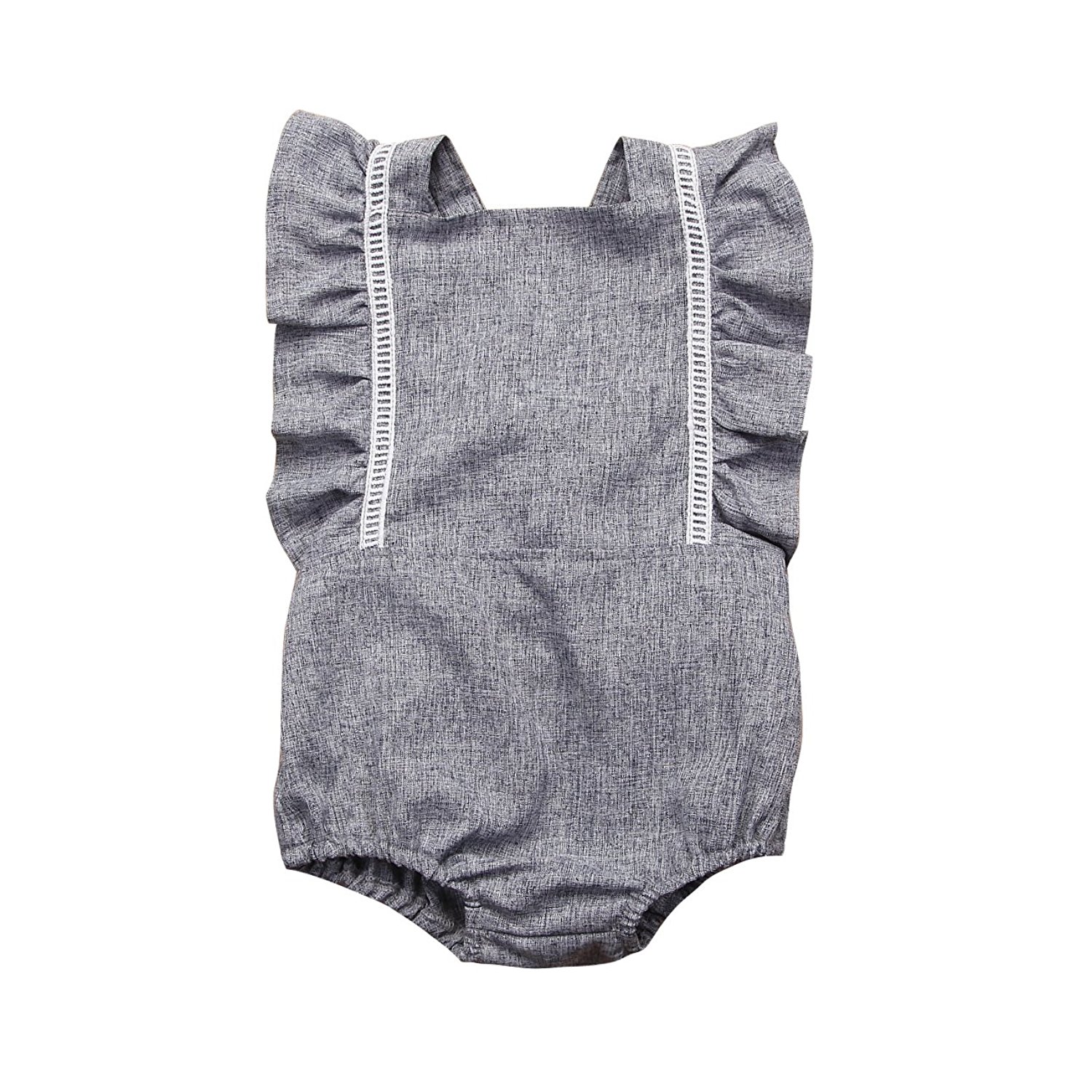 Baby Girl Ruffles Romper Sleeveless Bodysuit, $10.49 (We got this one in the mail the other day. The fabric on this one is really nice and should be so cute for Summer!)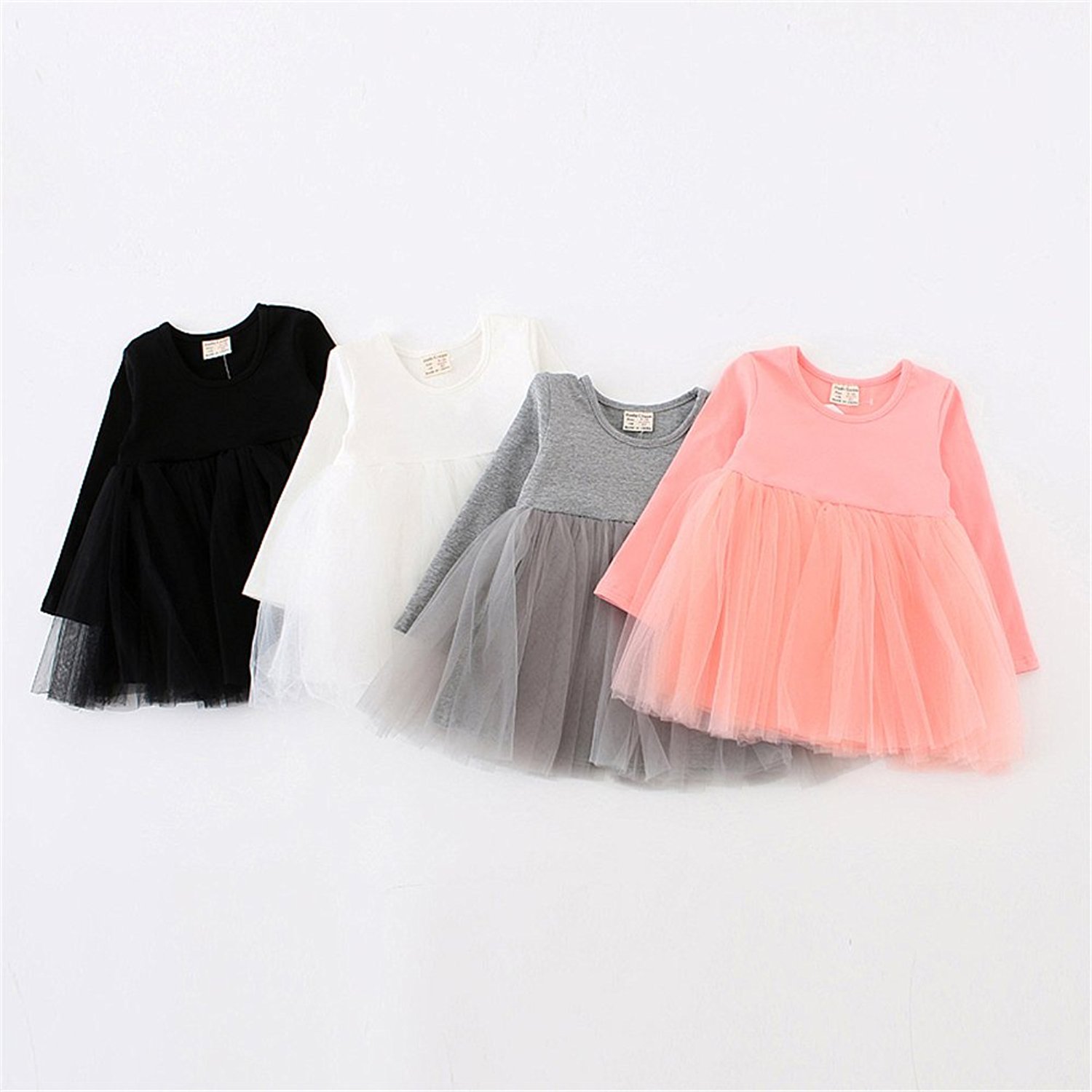 Girls Pleated Baby + Toddler Long Sleeve Tutu Princess Dress, $13.99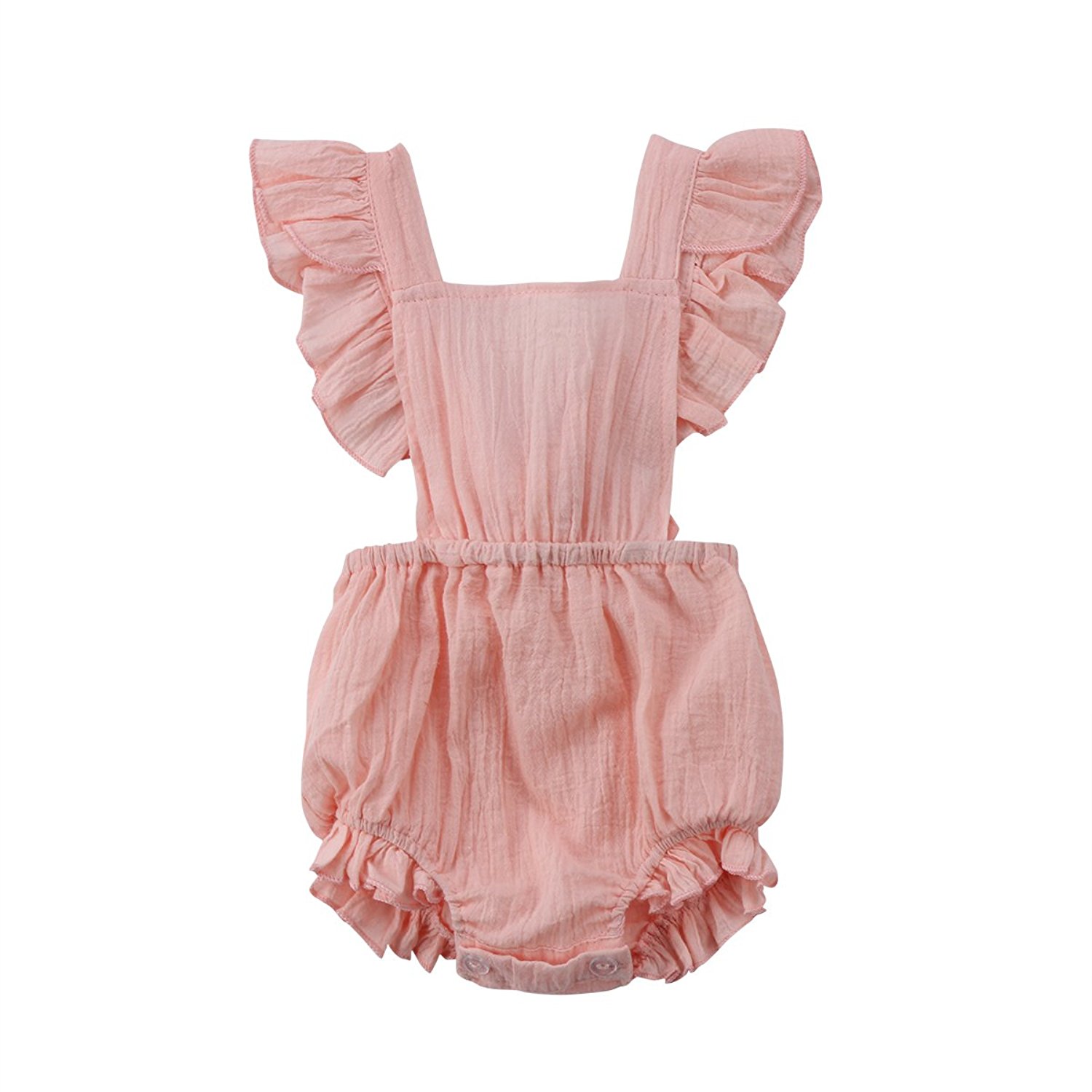 Baby Girl Butterfly Sleeve Backless Ruffle Romper, $5.99, plus shipping (You would probably need to put a shirt or onesie on underneath this, but so cute. And this lace version is also really sweet.)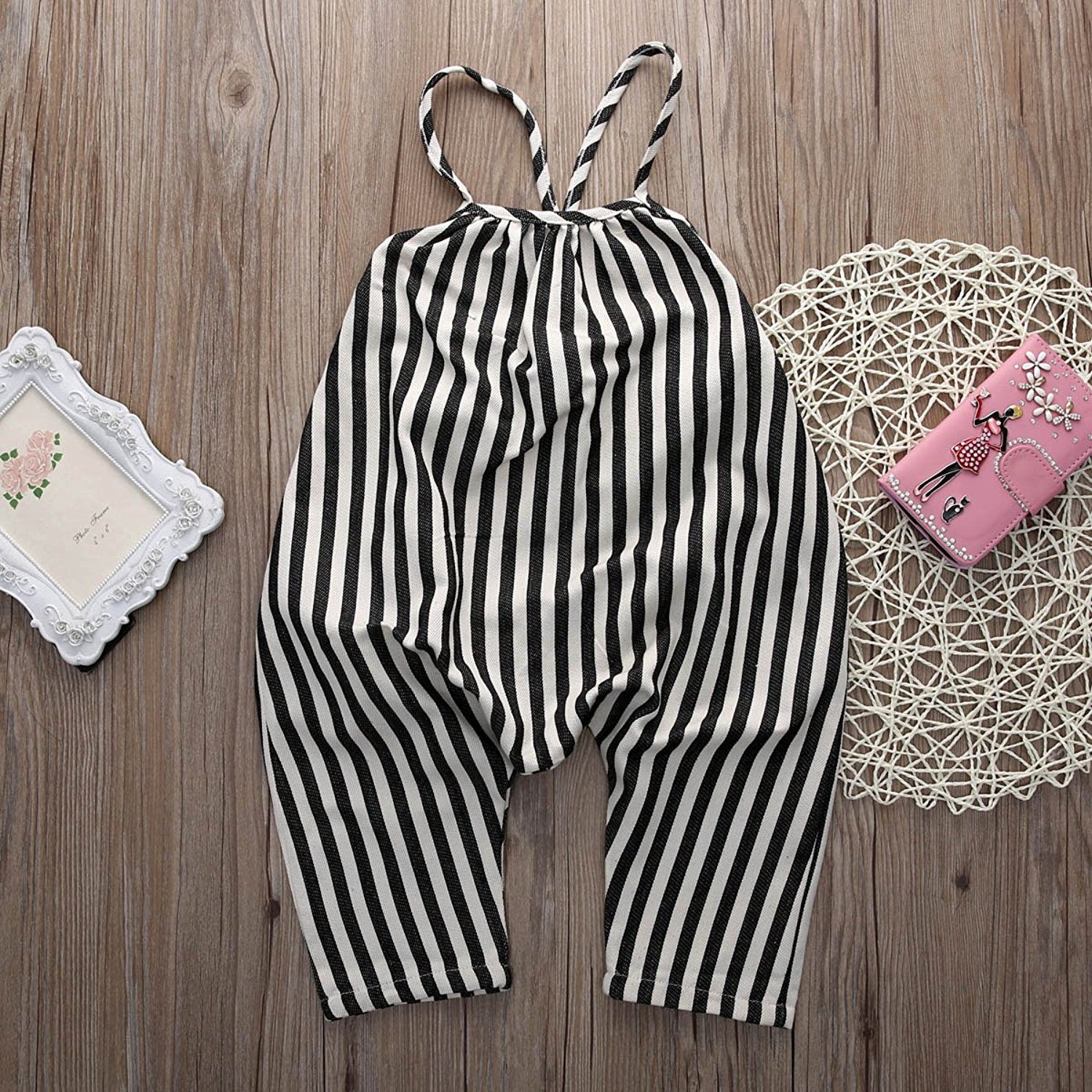 Striped Harem Baby Romper, $5.47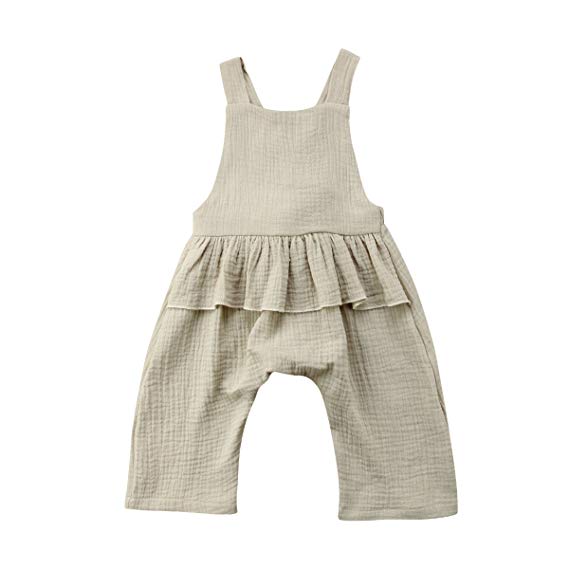 Wiwiane Baby Girl Sleeveless Ruffle Romper Jumpsuit Backless Playsuit Outfit Overalls, $5.69 – $12.99 (Also comes in pink and white!)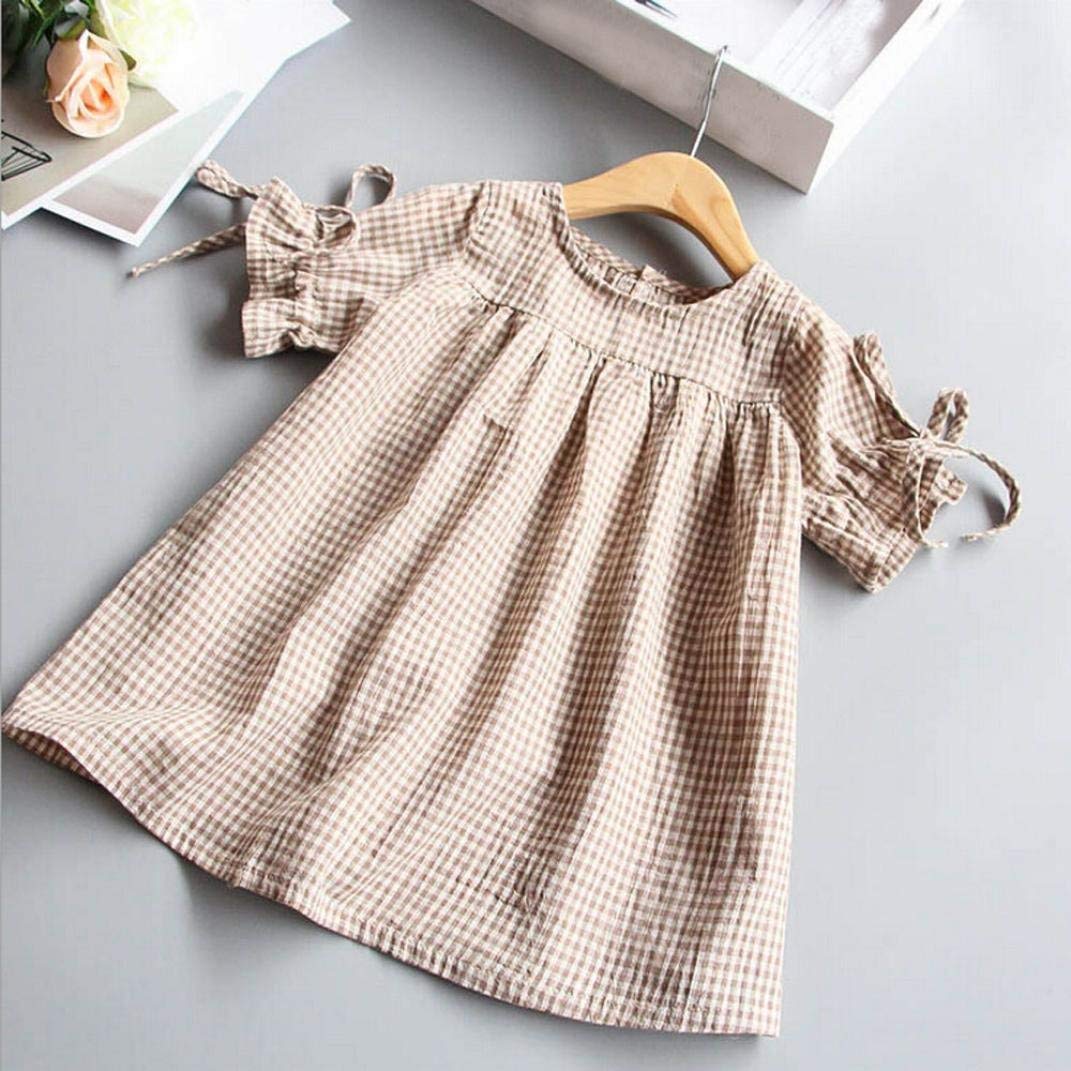 Muxika Summer Toddler Kids Baby Girl Bowknot Plaid Party Princess Mini Dresses, $3.99 – $4.49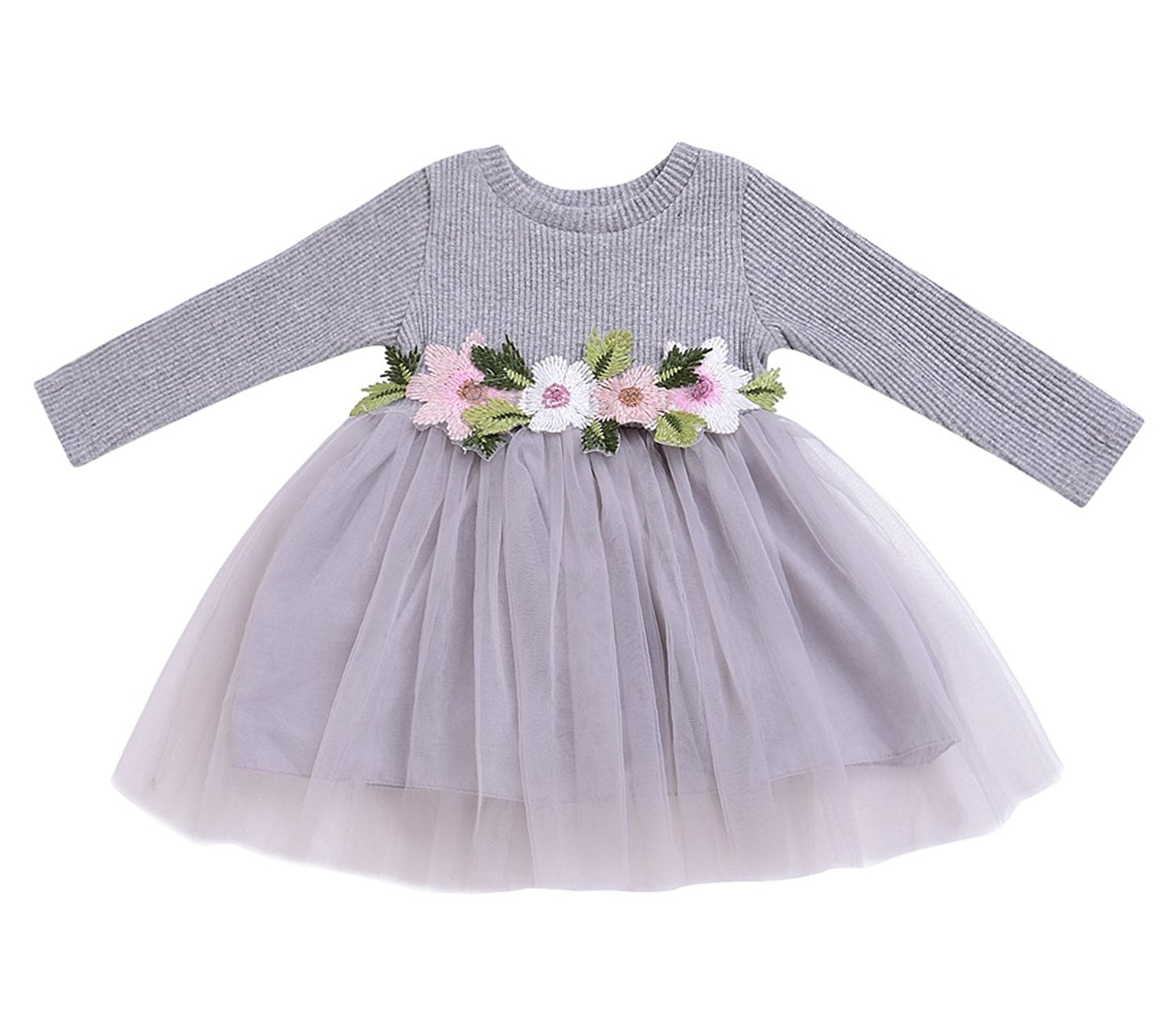 Mini Honey Baby + Toddler Girls Long Sleeve Floral Tulle Tutu Dress, $11.99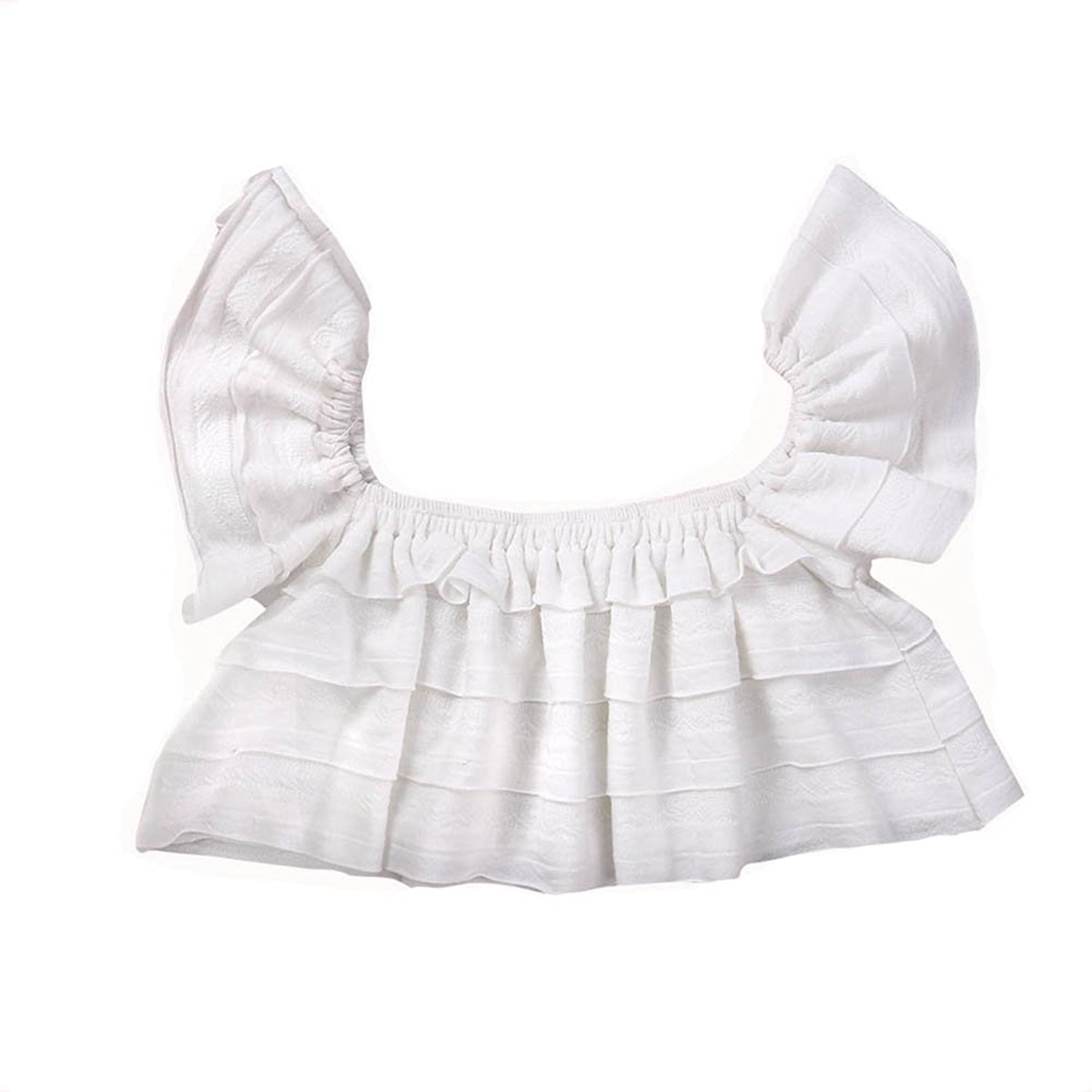 Baby Girls Off Shoulder Boho Blouse Top + Bandage Headband Outfit Set, $3.98, plus shipping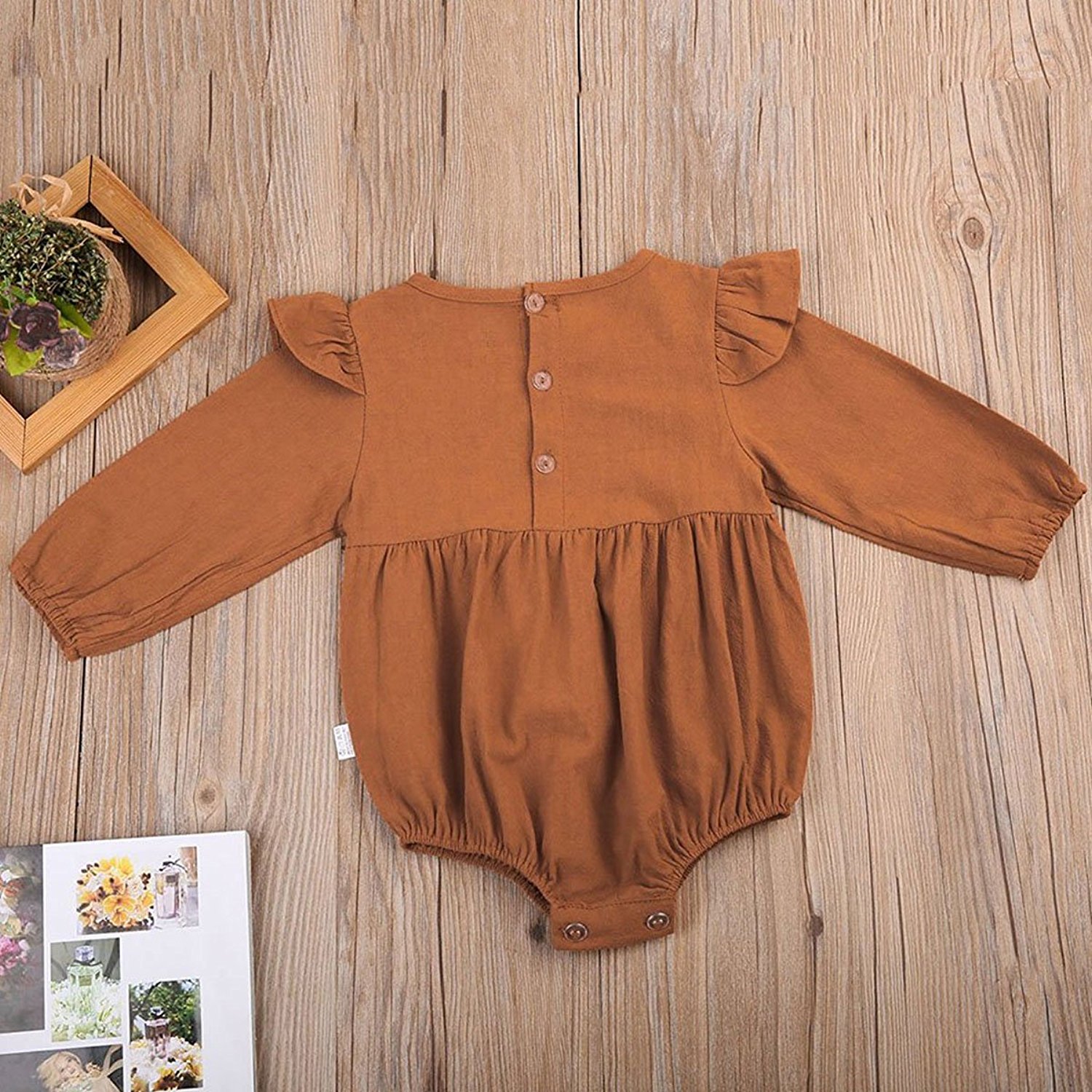 Baby Girl Long Sleeve Ruffles Romper Bodysuit, $9.98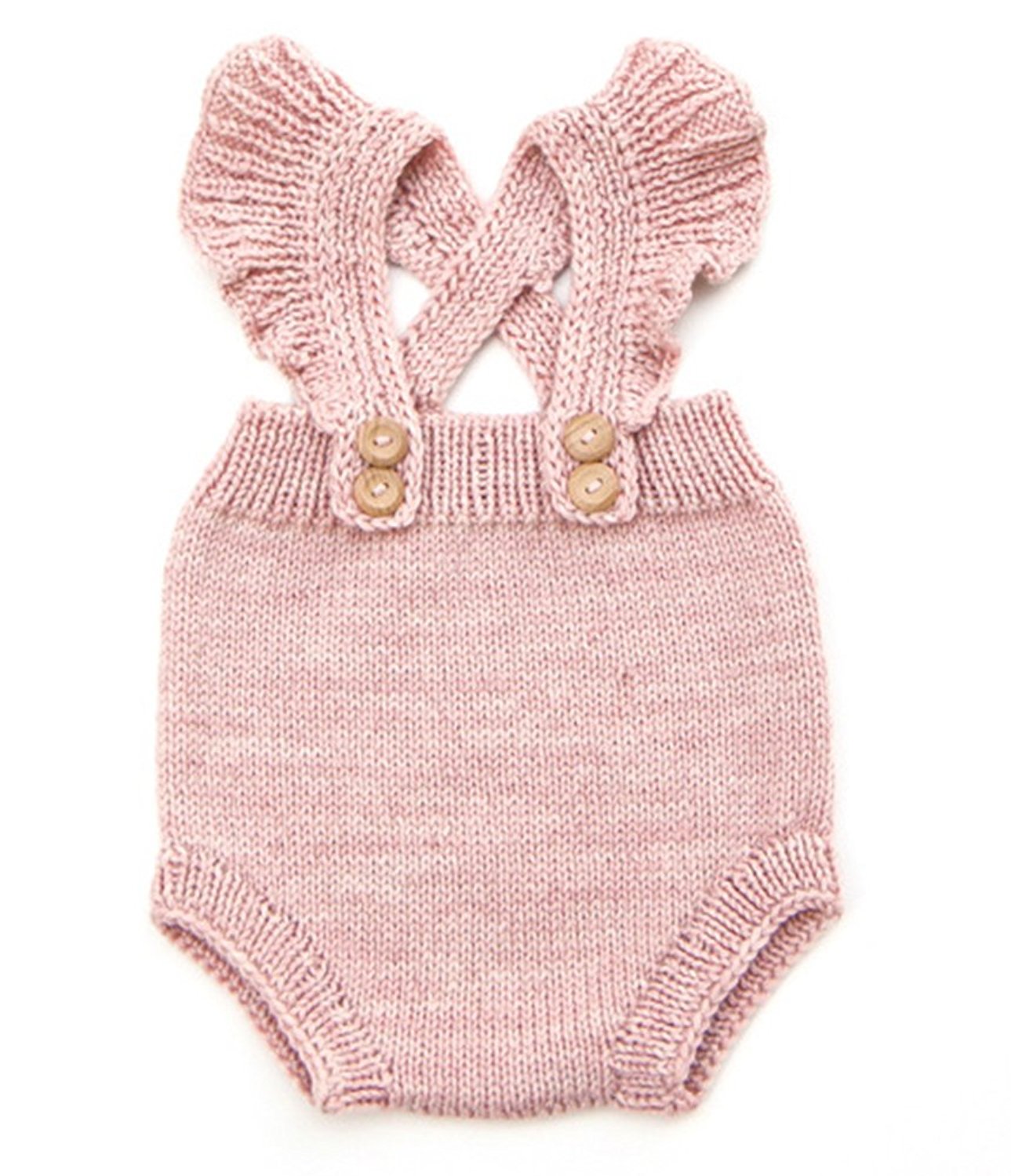 Baby Girls Knitted Romper Cross Bandage Ruffles Jumpsuit, $15.99 (Too perfect for a baby photo shoot!)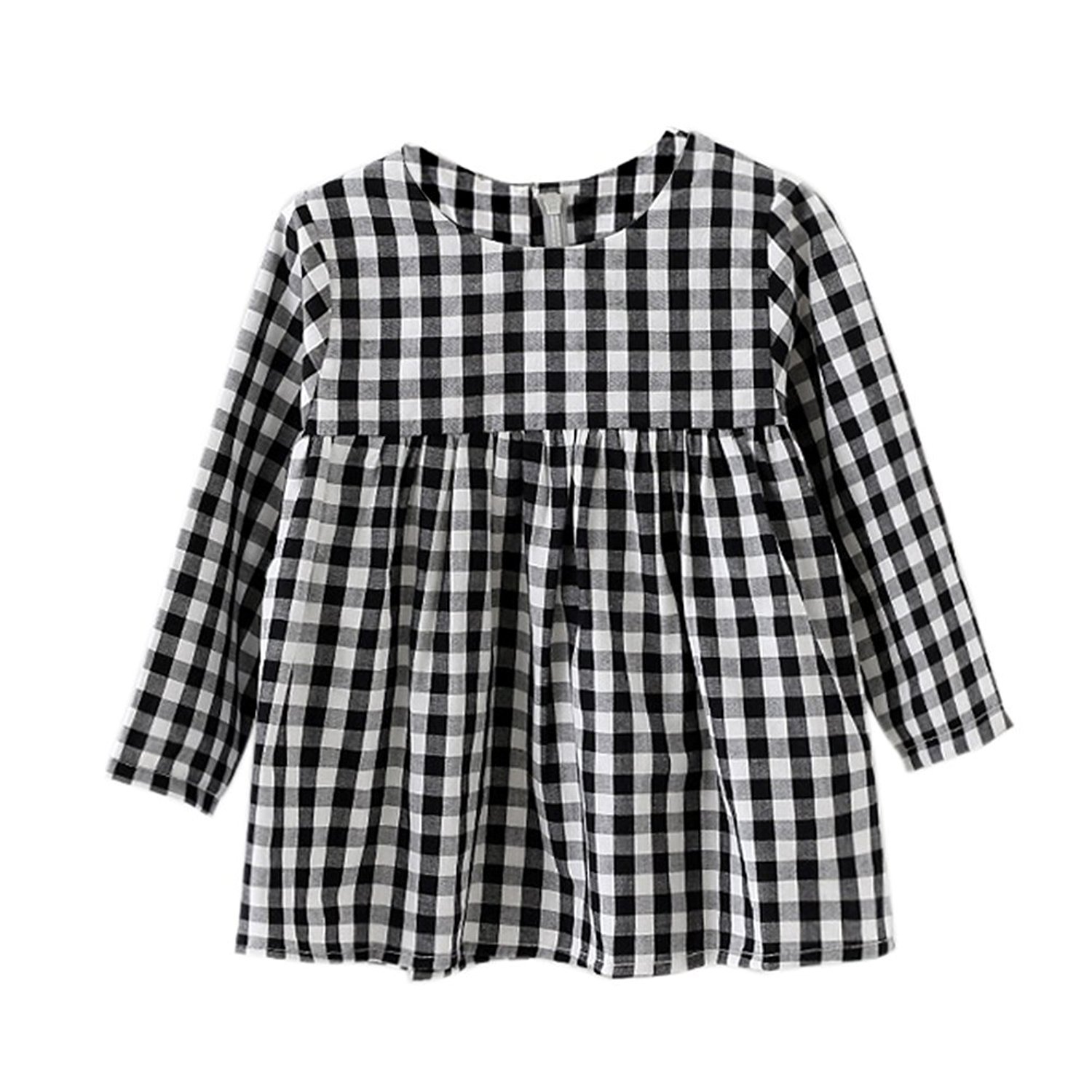 Little Kids and Baby Girls Long Sleeve Dress in White and Black Plaid, $12.99 (I got matching dresses for the girls! Stay tuned for the inevitable adorable sisters photo.)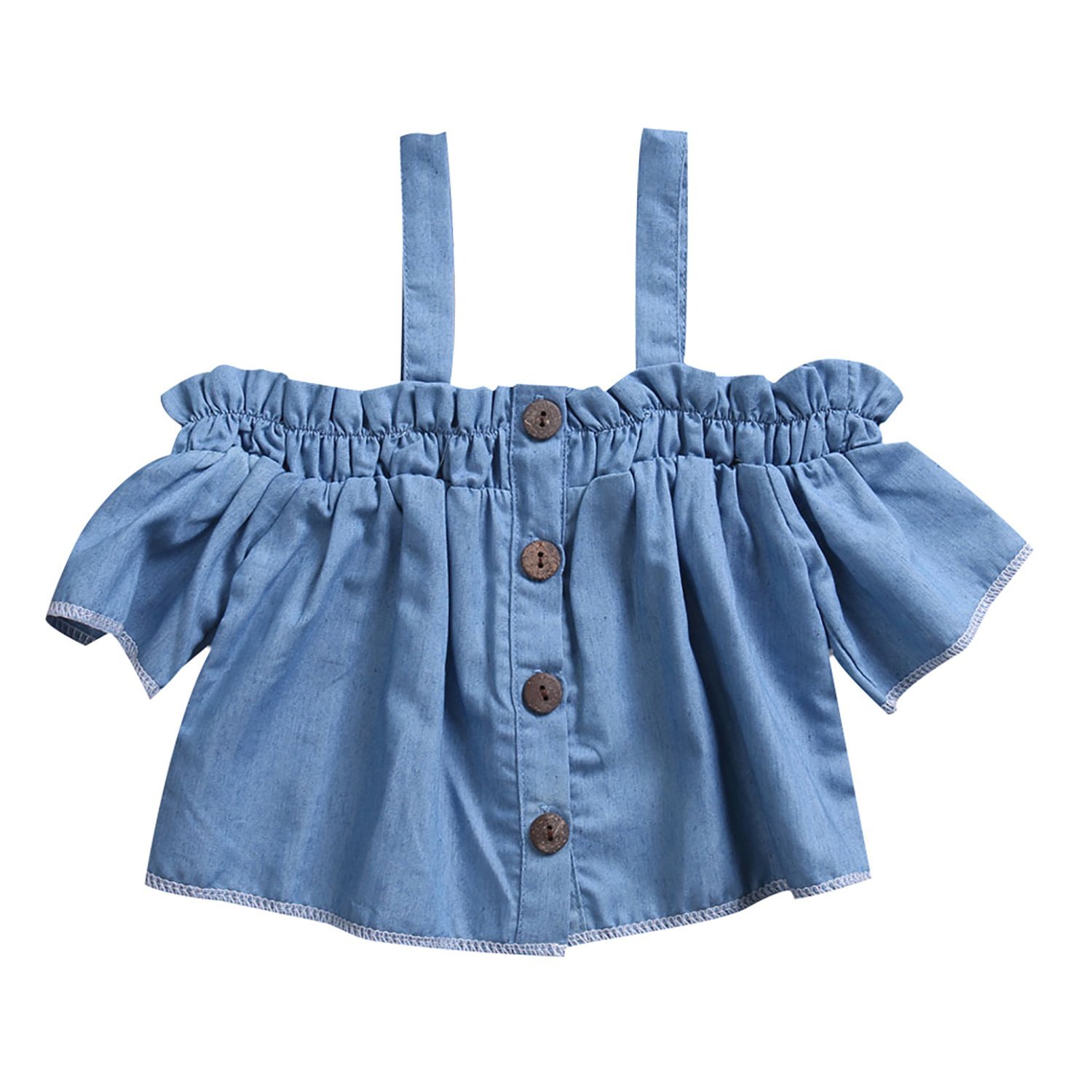 Baby Girl Short Sleeve Denim Top with Buttons, $4.22, plus shipping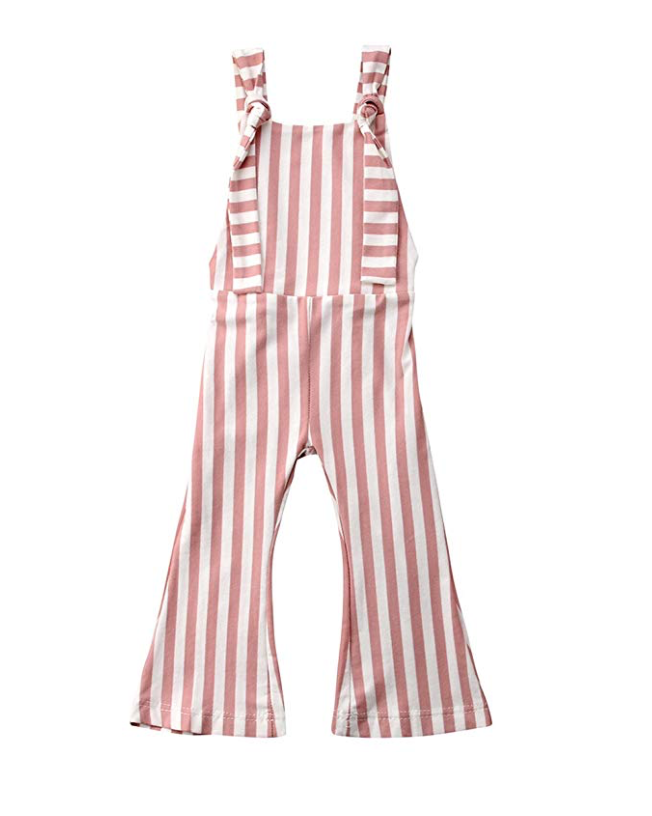 Toddler Kids Baby Girl Stripes Bell-Bottom Jumpsuit Romper Overalls Pants Outfits, $5.98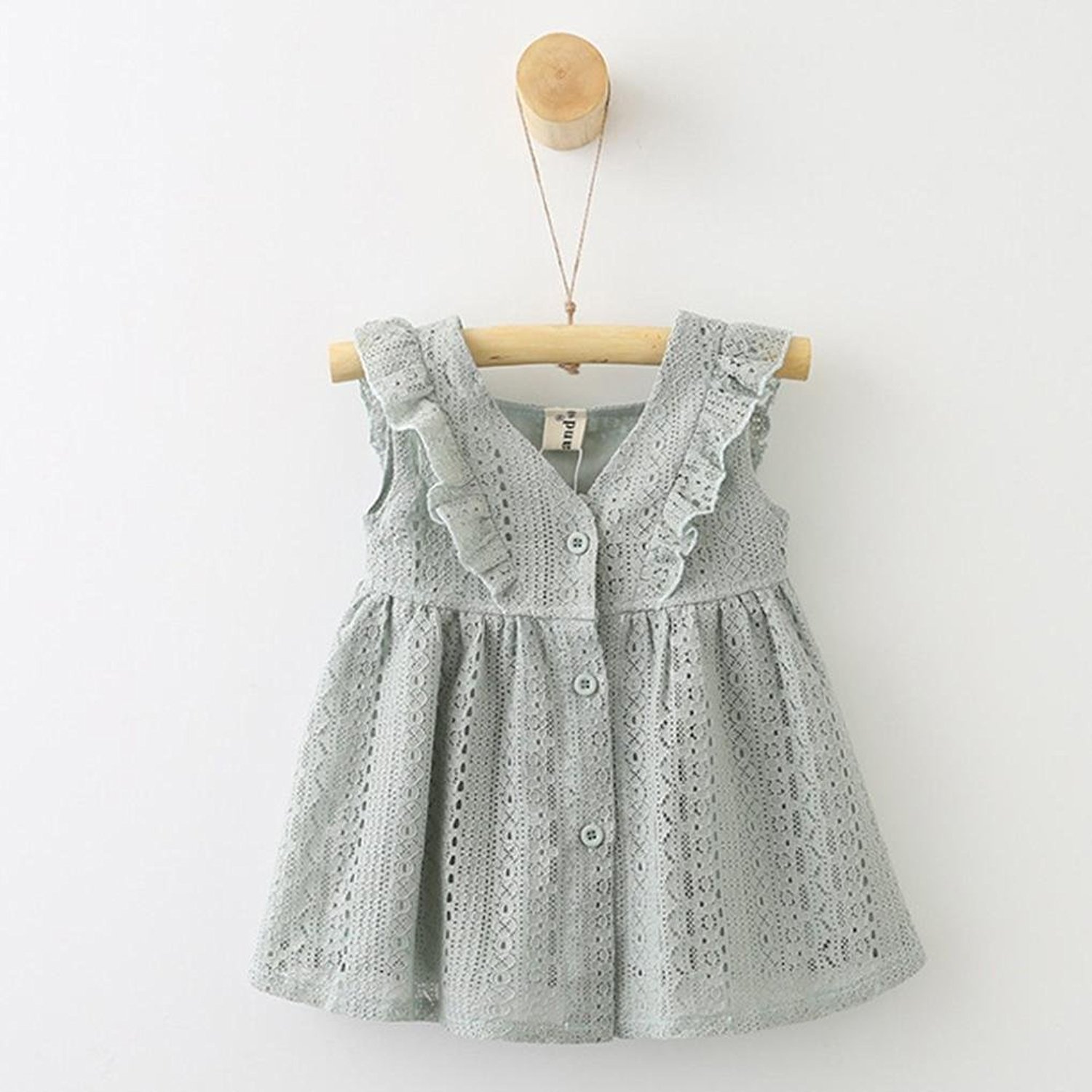 Baby Girl Lace Ruffles Princess Button Dress, $2.58, plus shipping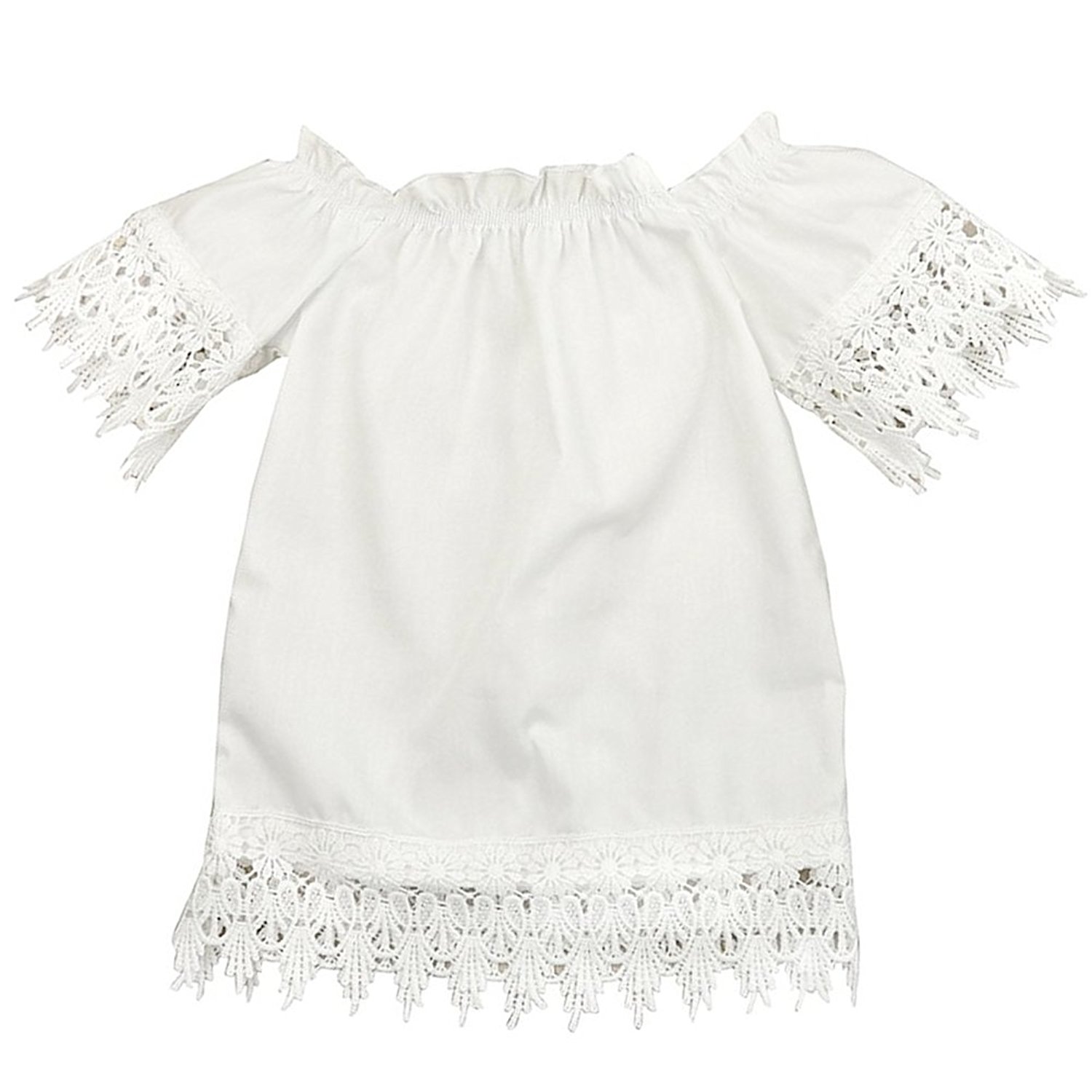 Baby Girls White Off Shoulder Lace Dress, $11.99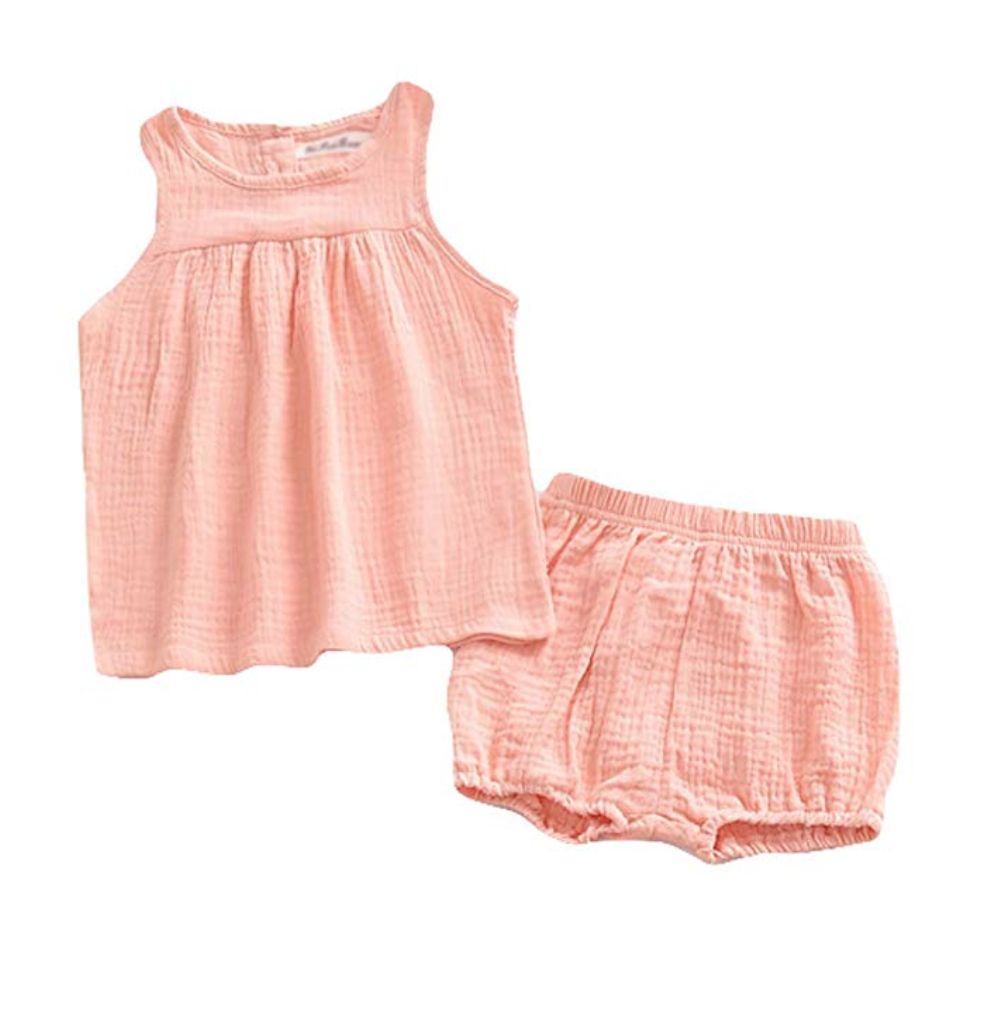 LOOLY Baby Outfits Unisex Girls Boys Cotton Linen Blend Tank Tops and Bloomers, $11.99 – $12.99 (Comes in several cute colors! I love that these pieces can work as great separates too.)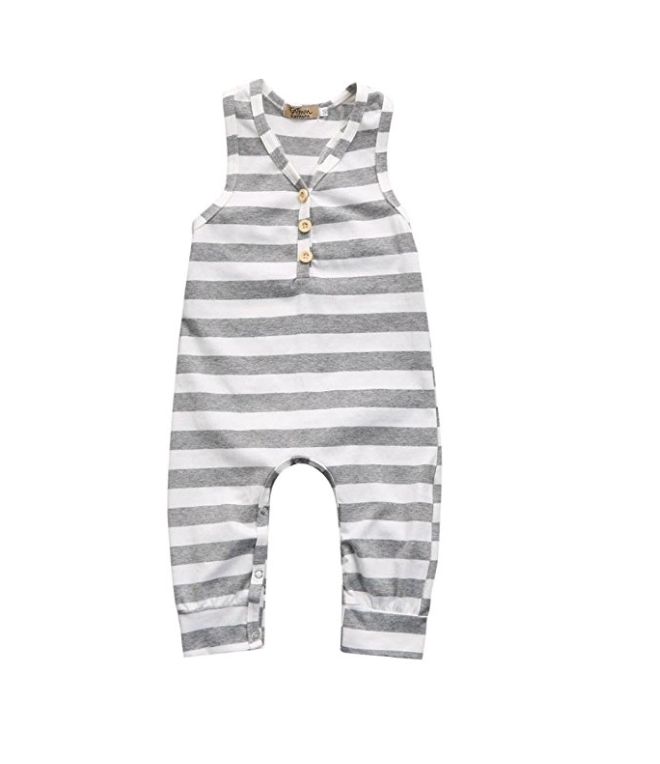 iumei Baby Boys and Girls Gray and White Stripe Sleeveless Romper Bodysuit Jumpsuit Cotton, $7.94 – $10.49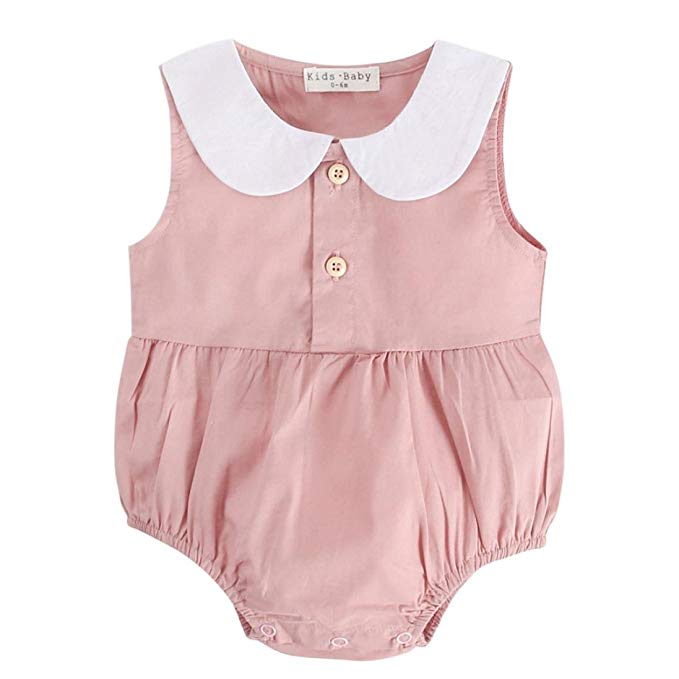 Juner Baby Girls Outfits, Adorable Peter Pan Collar Romper Sleeveless Button Playsuit Summer Cool Clothes, $5.25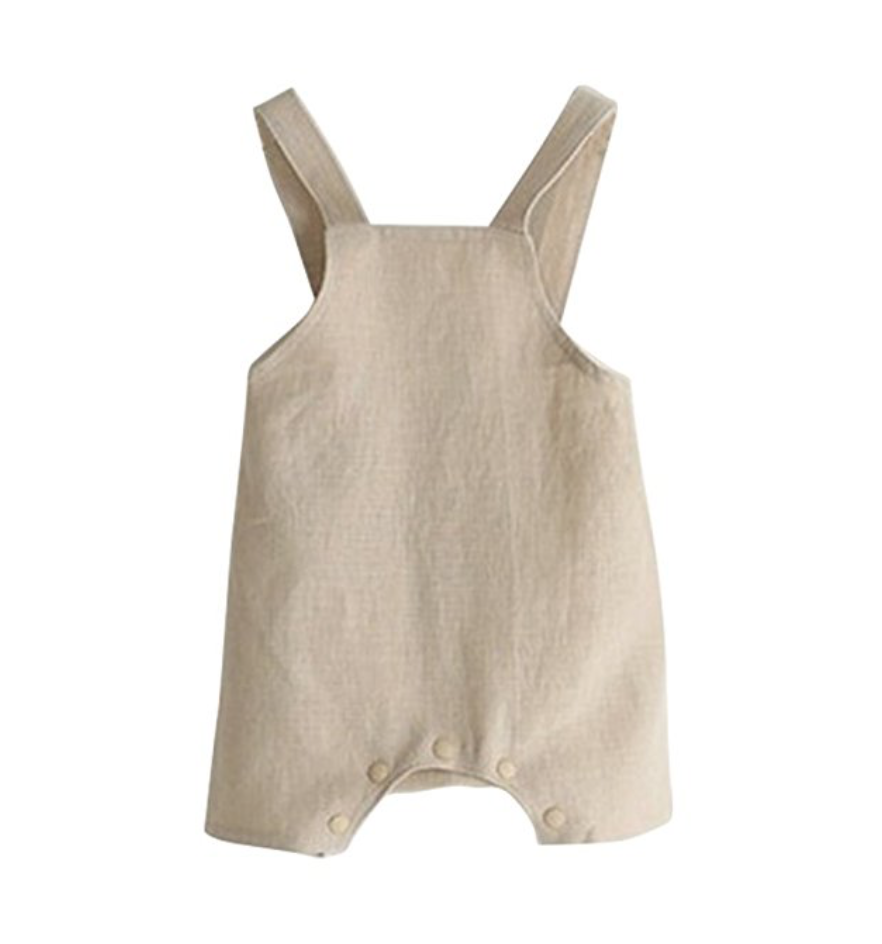 ESHOO Baby Boys and Girls Cotton Linen Romper Jumpsuit Pants Overall One Piece, $5.29 – $8.99 (Also comes in a chambray blue.)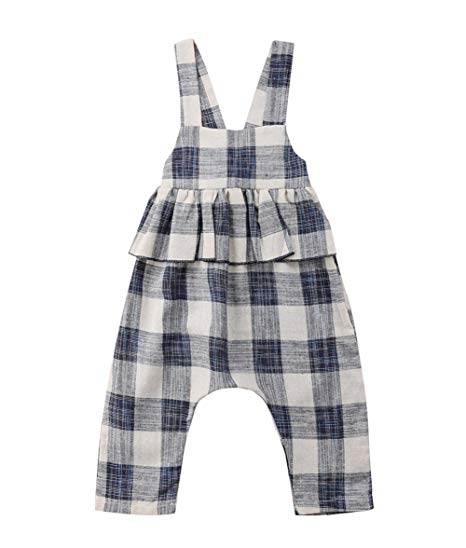 Toddler Kids Baby Girl Stripes Bell-Bottom Jumpsuit Romper Overalls Pants Outfits, $5.97
Aaaand I had to throw in these accessories because they're just so darn cute …
Baby Girls 3 Pack Cotton Linen Blend Cute Bloomer Shorts, $19.68 (Though not technically an outfit, under a dress or paired with a loose top, these bloomers totally make the outfit! Keep in mind they run BIG.)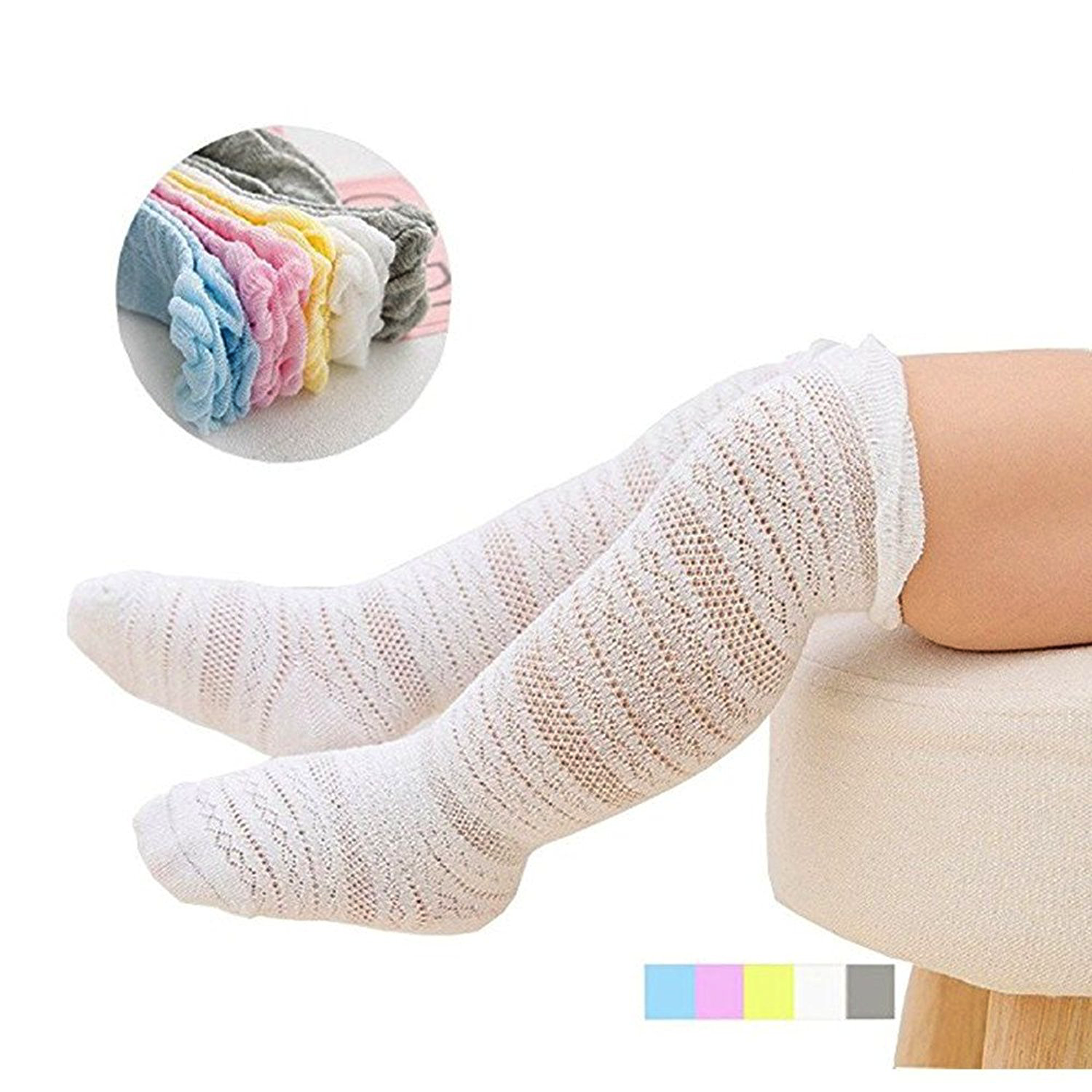 Baby Girl and Toddler Knee High Cotton Socks, 5 Pack, $10.99 (These are the exact socks Emme wears all of the time; and as seen in this post; just look at those thighs. 😍 The socks are so beautiful, soft – albeit a little bit delicate, and make any outfit look ten times more feminine and sweet. Can you tell I'm obsessed?)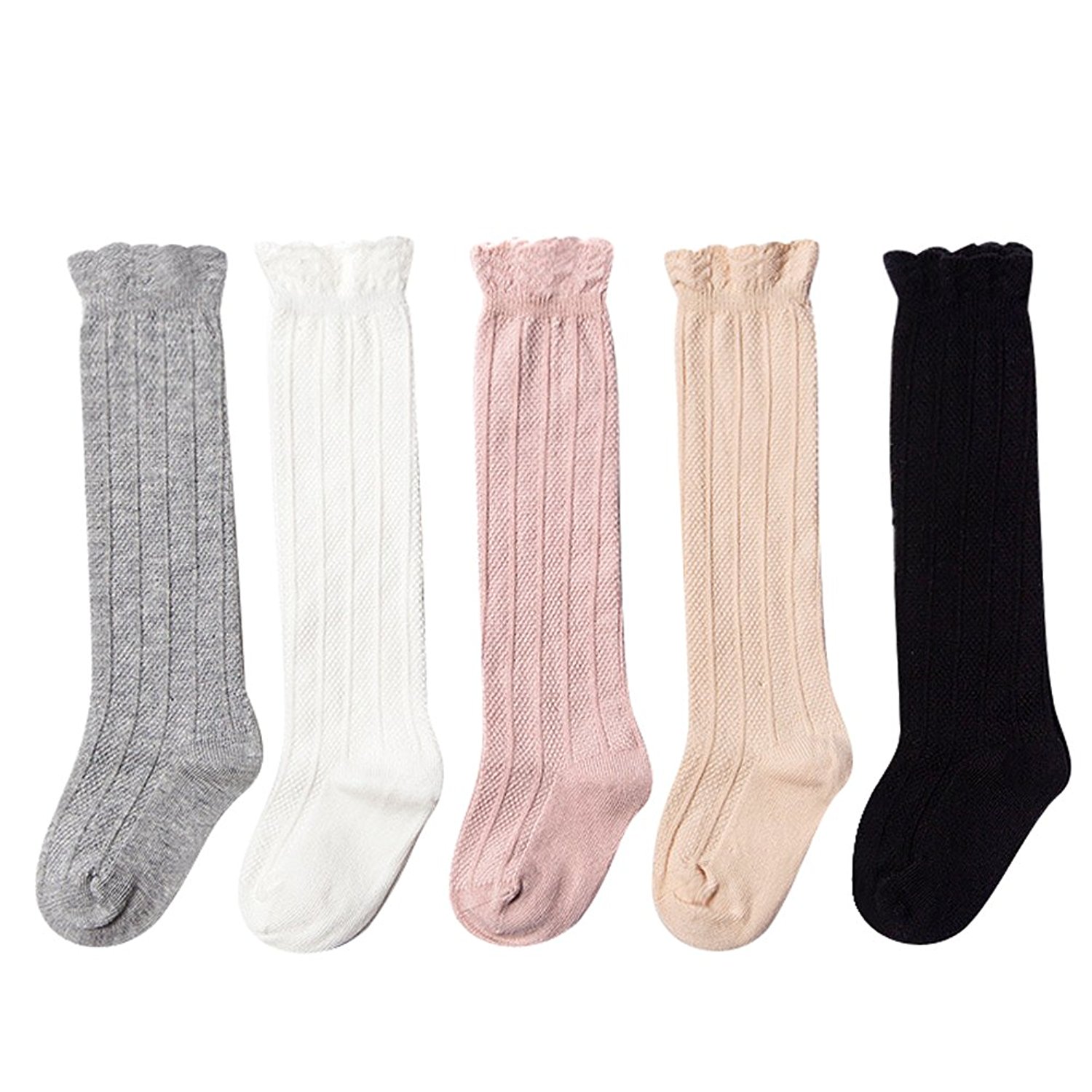 Baby Girl Ruffled Knee High Tube Sock Stockings, $14.90 (We also have these socks and they are beautifully made and really high quality. I will say that I bought them for Emme, but they're pretty big on her, so I may give them to Scarlett to wear as below-the-knee socks.)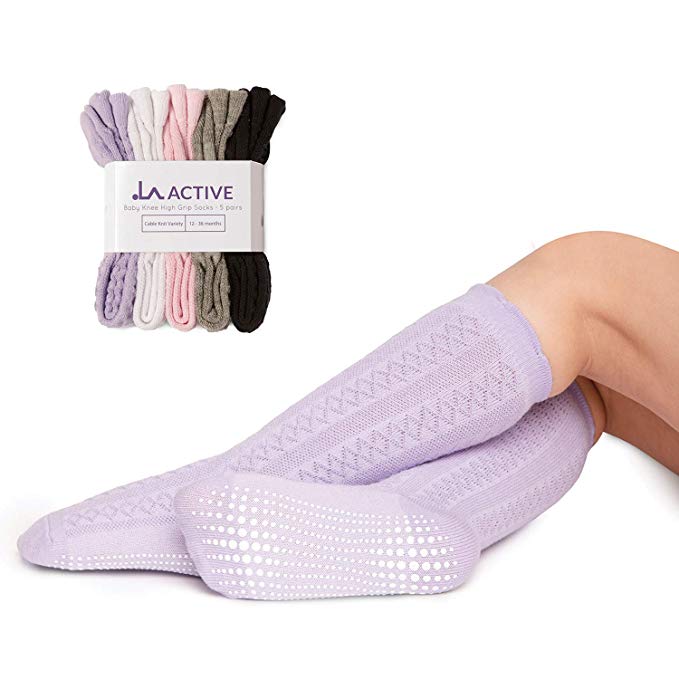 Girls Knee High Grip Socks – 5 Pairs – Baby Toddler Non Slip/Anti Skid Cotton Cable Knit Stockings (Loving that these crochet socks – perfect for spring and summer, I might add – have grips at the bottom! You can also order the all-white pack, in case matching up socks drives you nuts.)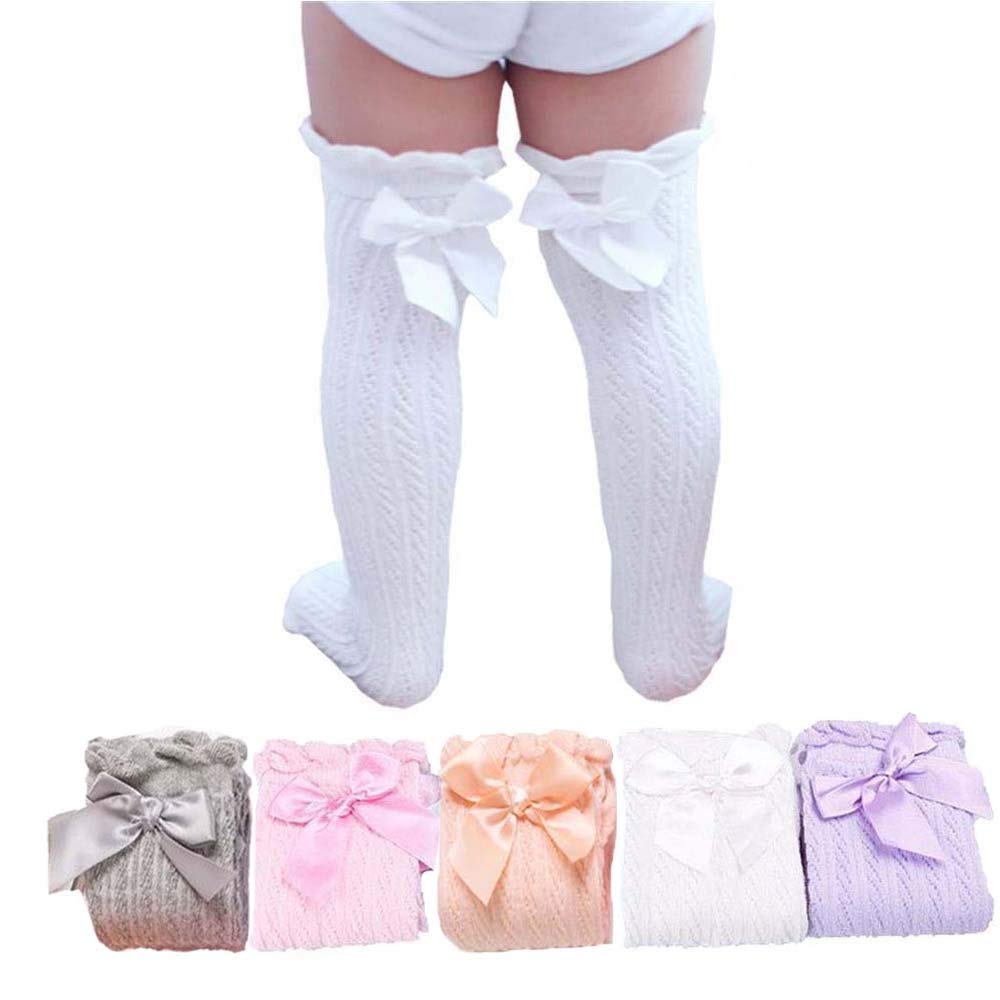 5 Pairs Girl Lace Bows Princess leg Warmers Cotton Over Calf Knee High Socks (Okay, clearly I have a thing for knee-high socks, but OMG, these have BOWS!)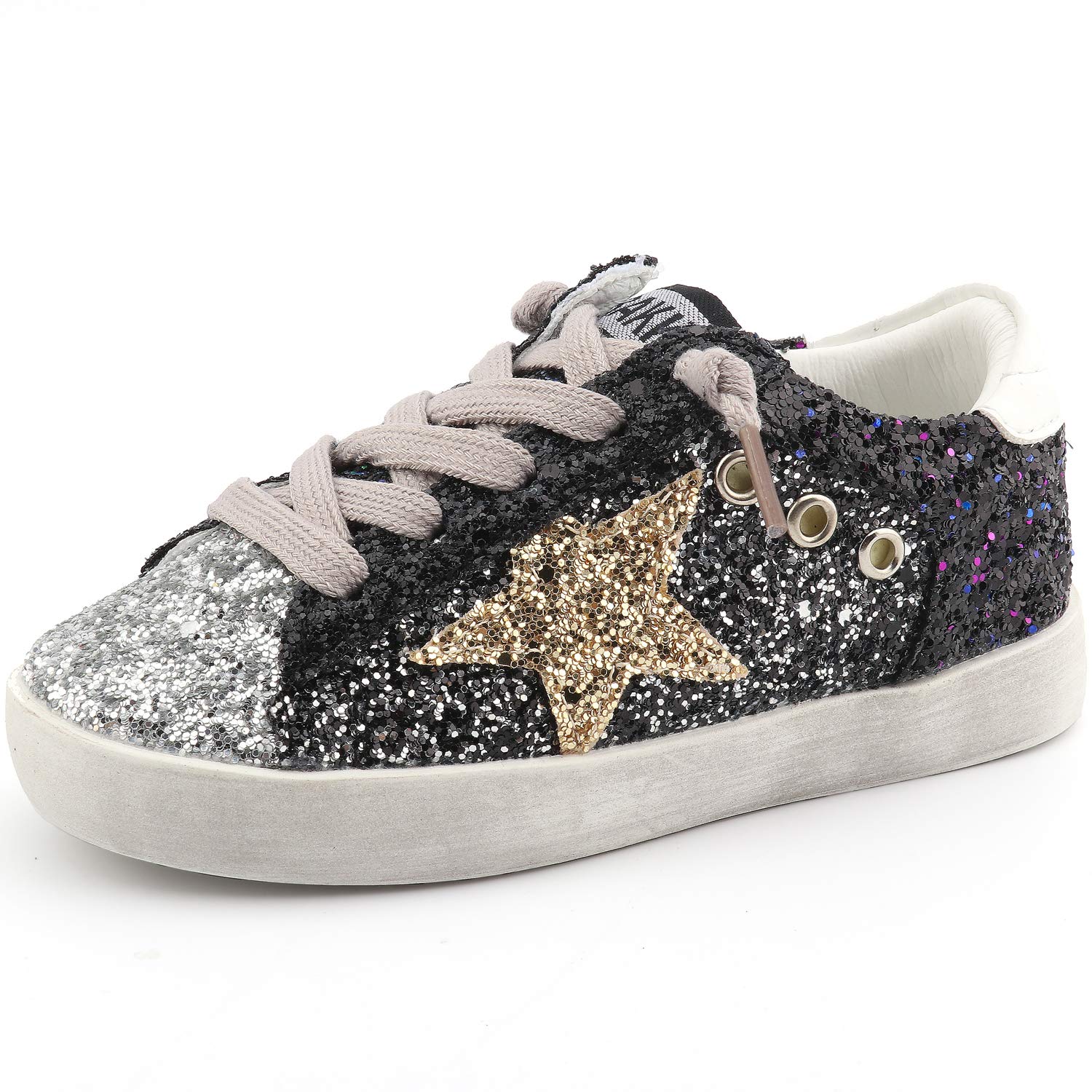 Toddler Baby Glitter Shoe Girl/Boy Sequin Star Flat Sneakers (These are total Golden Goose dupes – for a fraction of the price – and I am here for it.)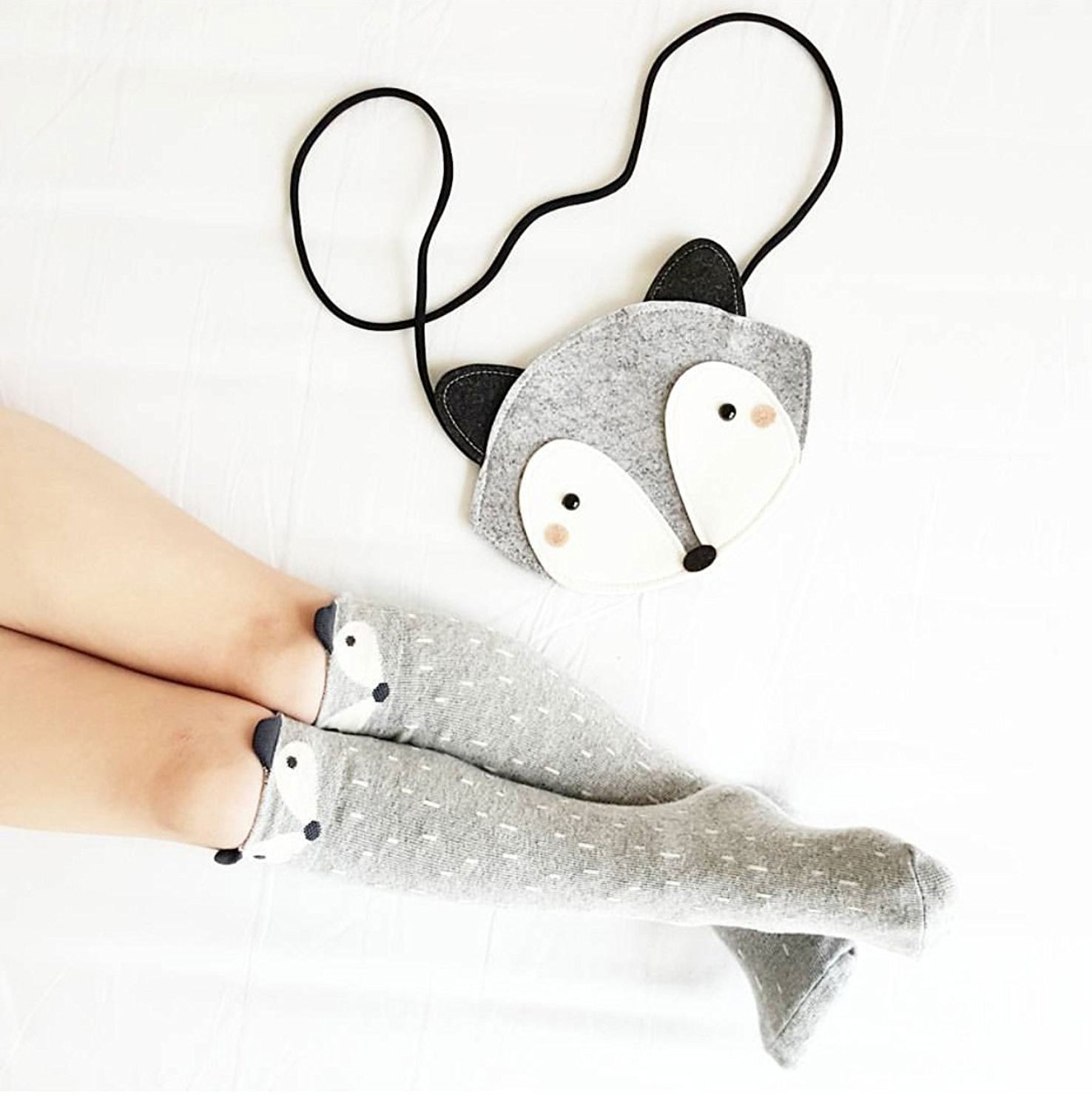 Baby and Kids Cotton Socks Knee High Long Socks Anti Skid With Grips, 2 Pack, $9.99 (These animal socks are darling and the anti-skid grips at the bottom are PERFECT for toddlers. I'm pretty sure we have these in every color.)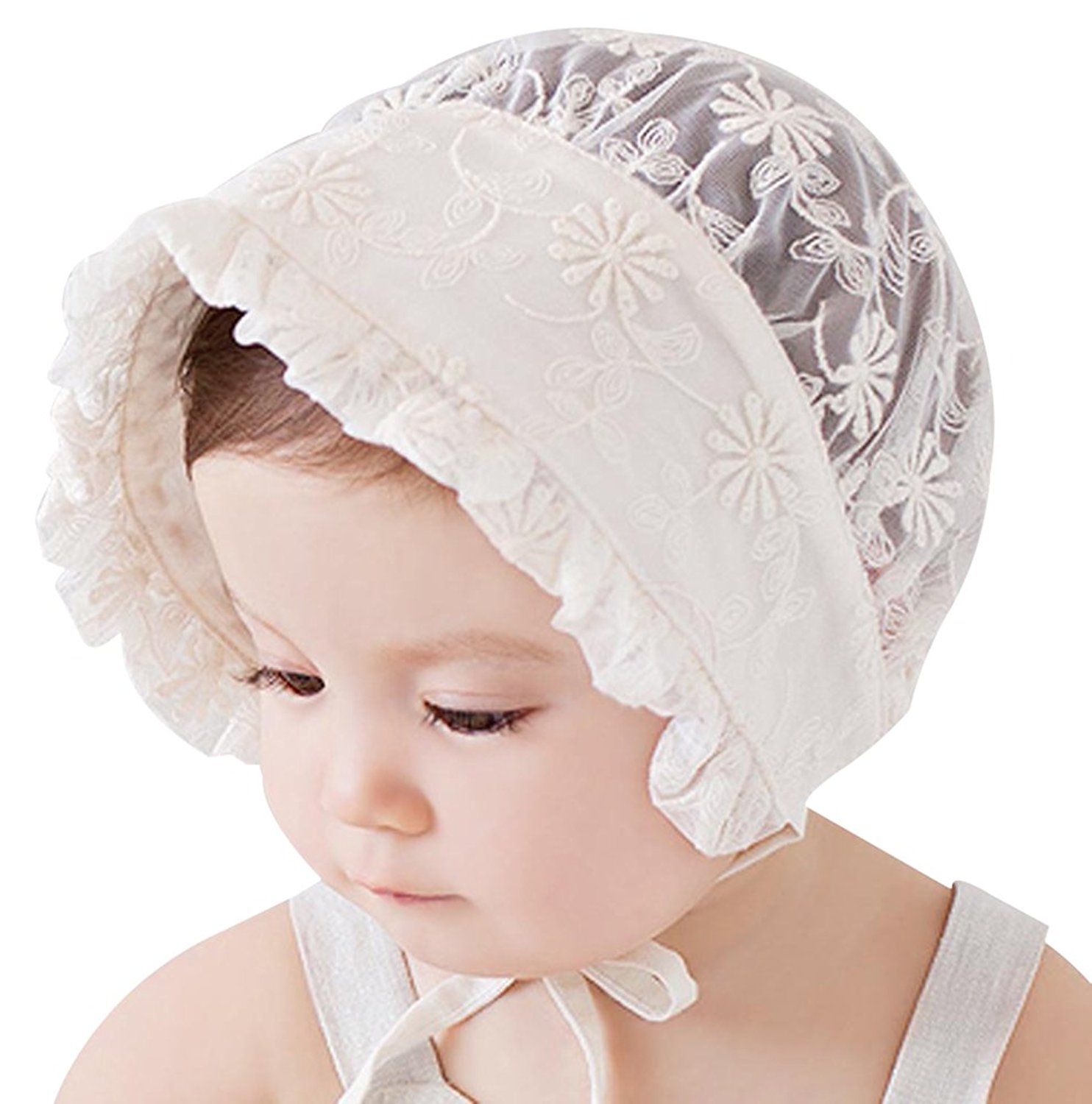 Baby Girl Bonnet Eyelet Lace Breathable Cotton Adjustable Sun Hat, $10.99 (Okay, I'll admit, I've gone over the deep end with baby bonnets, but babies just look so ridiculously cute in baby bonnets; don't they!?)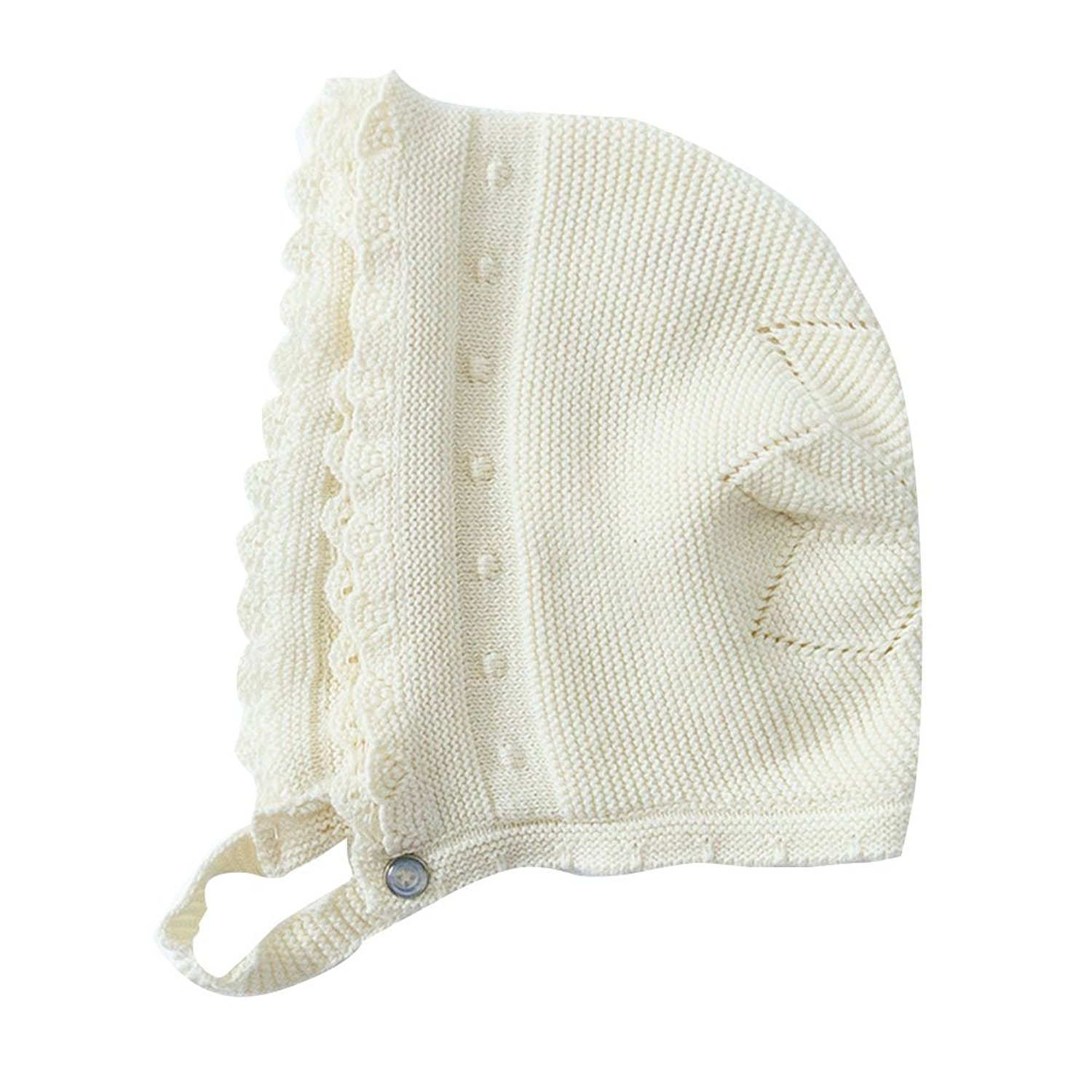 Lace Bonnet Knit Baby Hat, $12.99 (We have this one and use it on Emme often. The quality is really impressive. You can see Emme wearing it here on Instagram.)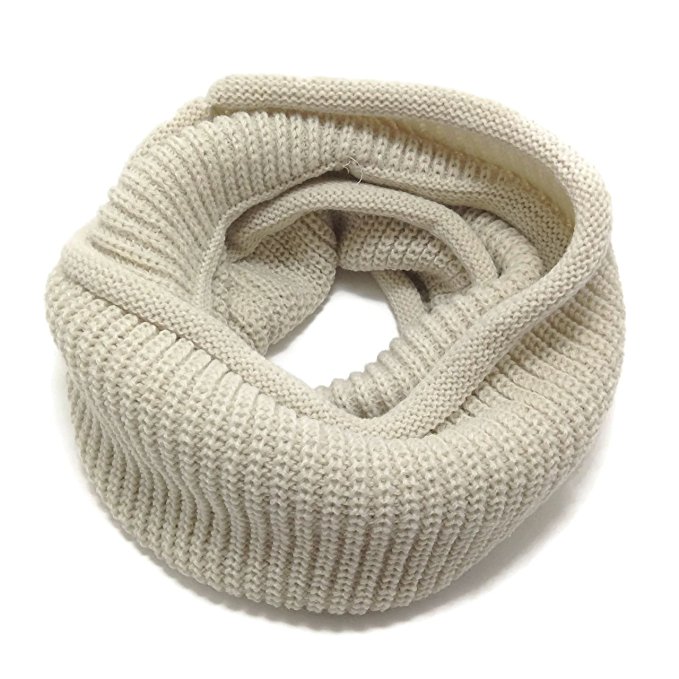 HappyTree Kids Fashion Thick Knitted Warm Infinity Scarf, $12.99 (Scarlett has this scarf in cream, and she wore it all through Fall and Winter. It's great quality and washes well.)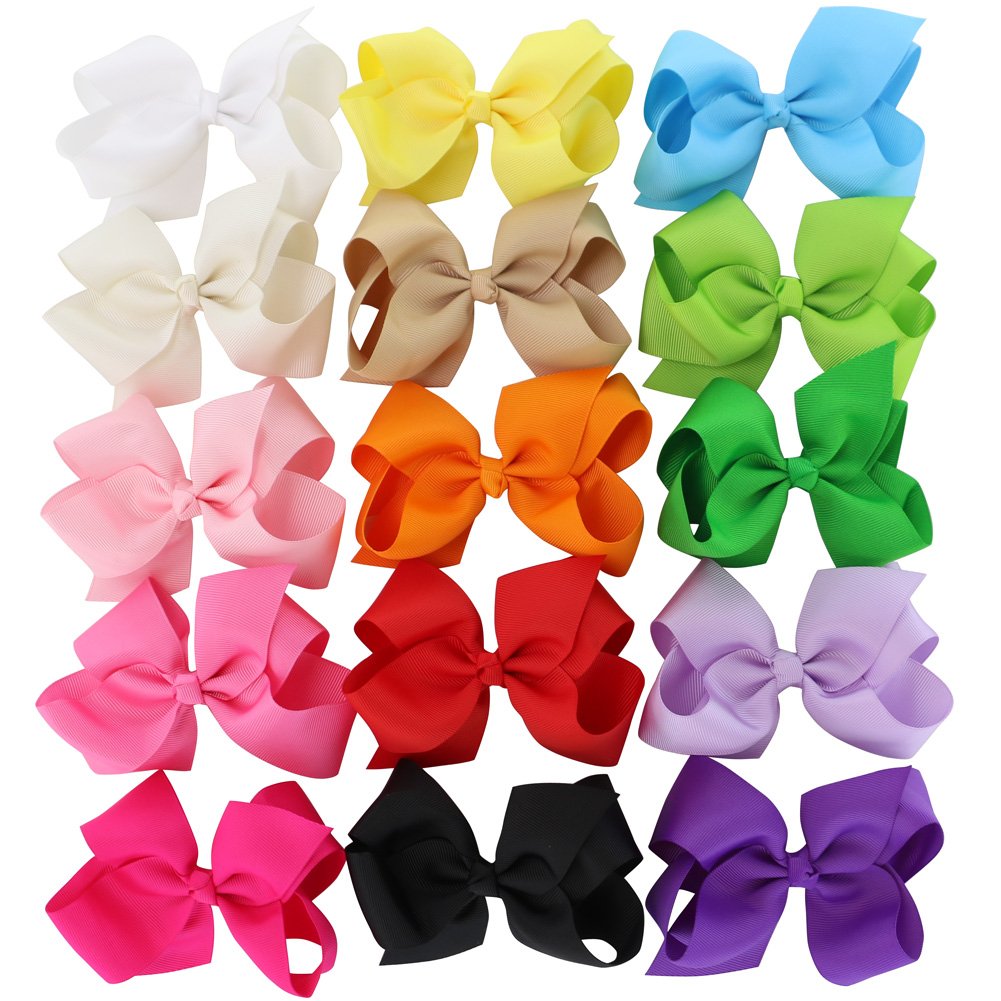 Grosgrain Ribbon Hair Bows Headbands for Baby Girls and Toddlers + Ribbon Boutique Hair Bows Clips with 15 Colors in Pairs (You know those HUGE bows I'm always putting my girls in? You can see Emme's in action here and here. Well, here they are! Albeit, a bit dramatic and over-the-top, I never get stopped more, and asked where the bows are from, than when I have one of our girls in a big 'ol bow. The quality of these bows is so impressive and they are CHEAP. You get 20 bows or bow headbands for under $15!)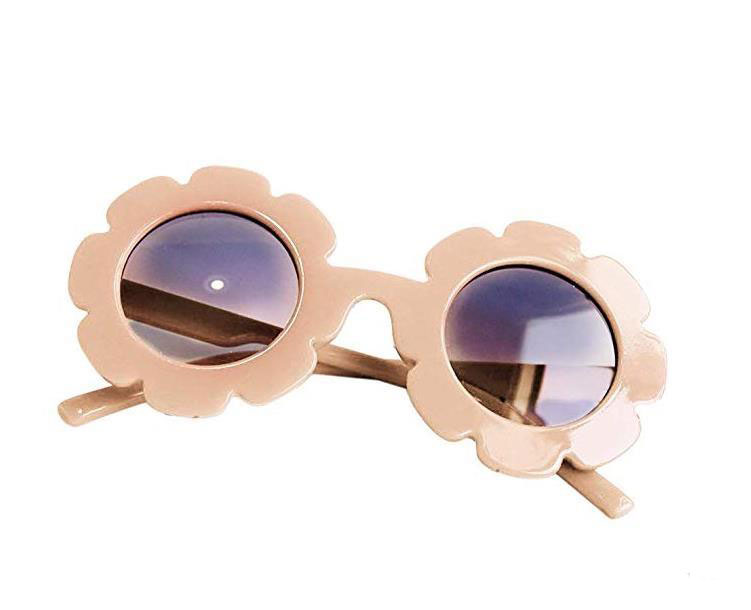 …
Stylish Round Flower Sunglasses for Babies and Kids (Just ordered two pairs of these – one for each girl, so I'll be sure to keep y'all posted!)
Have you bought cute kids clothes and/or accessories on Amazon? Are you a fan?
SHOP MY FAVORITE KIDS AMAZON OUTFITS | CLICK LEFT & RIGHT ARROWS TO EXPLORE

LOVE THIS AMAZON OUTFITS POST? SEE MORE OF OUR FAMILY CONTENT RIGHT HERE!