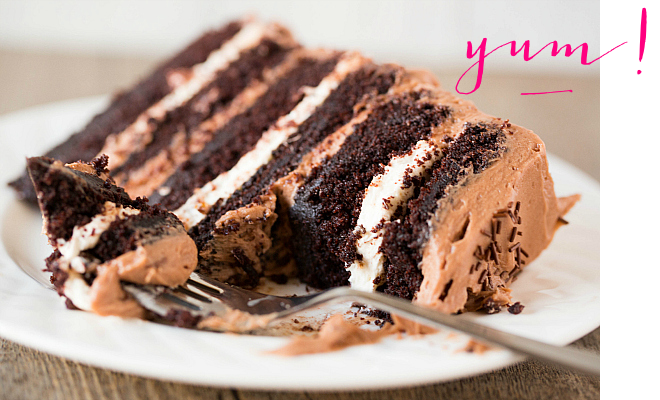 I seem to know a huge amount of Summer babies, and most of them are family … so I find myself scrambling to dream up the perfect birthday cake for them, year after year.  And birthday cake is kind of a big deal in my family.  We rack our brains over the perfect cake flavor to request, and even if the cake's been made a thousand times before, it tastes infinitely better in your birthday.  Thus it's importance.
Marshmallow-aholics rejoice – this crazy rich six-layer chocolate cake with toasted marshmallow filling & malted chocolate marshmallow cream frosting is right up your alley.
I've wanted to try Smitten Kitchen's Best Birthday Cake recipe for ages: moist yellow cake with chocolate frosting; what's not to love?
For the person with the major sweet tooth, this snickers cake (made with rich chocolate cake, peanut nougat homemade snickers bar filling, salted caramel sauce, salted caramel buttercream frosting, milk chocolate ganache and chopped peanuts.  That was a mouthful.  A really ridiculously delicious mouthful.)
This Southern Style strawberry cake with strawberry cream cheese frosting looks incredible … and it's pink … sooo, I'm thinking it's perfect.
I've always wanted to make a coconut cake (I love coconut), and this lemon-filled coconut layer cake sounds light and heavenly.
And last but certainly not least, a brown butter layer cake with strawberry jam & pink ombré cream cheese icing. This is the cake I wanted to make the second I saw it. Not only does it sound amazing but it just looks so darn pretty.