In the Summer, especially here in Miami, I've had to learn to change up my beauty routine to keep my skin and hair in check with the crazy hot temperatures.  So when Vaseline asked me to share a "Day in the Life of Beauty"  all about my efficient morning beauty routines, I knew it was just the post for me.  Like most people, I'm on a pretty tight time-frame in the mornings, but from 9 to 1:30 I'm in a law office, where I can't just turn up in my sweatpants (no matter how much I'd love to on some days … a.k.a., Mondays.)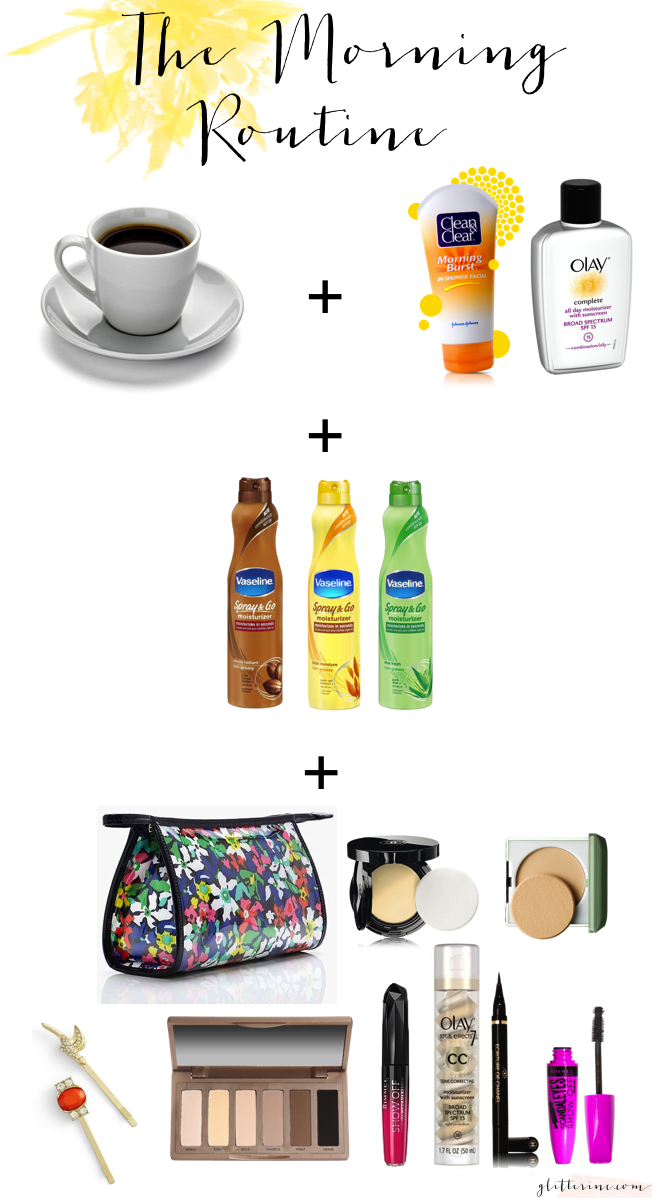 Get the Beauty Routine Accessories:  Clean & Clear Morning Burst Face Wash // Olay Complete All Day Moisturizer With Sunscreen SPF 15 // Vaseline Spray & Go Moisturizer // Kate Spade Rose Avenue Medium Cosmetic Pouch // CHANEL VITALUMIÈRE AQUA Fresh and Hydrating Cream Compact Makeup SPF 15 // Clinique Stay-Matte Sheer Pressed Powder Oil-Free // Urban Decay Naked Basics Palette // Rimmel Show Off Lip Lacquer // Olay Total Effects CC Cream // CHANEL ÉCRITURE Automatic Liquid Eyeliner // Rimmel ScandalEyes Show Off Mascara // Berry 'Bird' Bobby Pins (Set of 2)
First things first, I always wash my face with a gentle exfoliator, and of course I brush my teeth.  Then it's coffee and moisturizer.  I've been trying to buy makeup that comes packed with SPF for my face, but I also like to keep my skin moisturized from head to toe.  Olay has a great face cream with SPF that I've used for years, but putting lotion all over your arms, legs, and neck for fifteen minutes each morning can get tedious.  In comes Vaseline Spray & Go Moisturizer; totally time-saving and brilliant.  The spray is not sticky or greasy, and you can put your clothes on right after application.  My suggestion: go with the cocoa butter formula – cocoa butter helps prevent stretch marks (not that we have those), and treats of dry or burned skin (the result of extra-hot Summers).
My Summer makeup routine is a bit different as well.  As I mentioned, every concealer and touch-up I buy has to have SPF. I'm also really into tinted SPF moisturizers, and this one has become a fast favorite.  Then it's a swipe of oil-free moisturizer to help stay matte, a bit of eyeshadow, a swipe of liquid liner, and a bold stay-out lip.
This Summer I'm also trying to lay off the hair iron … trying … so I've searched for a few sweet clips to keep my hair up and pretty.  I've also been trying out a lot of simple updos like these to keep cool in the warmer months.
Do you change up your beauty routines for Summer?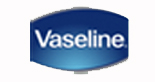 Vaseline Spray and Go Moisturizer is a quick, continuous 360 spray lotion that moisturizes deeply and absorbs in seconds, so you can put your clothes right on and get on with your day. Available in three formulas — Total Moisture, Aloe Fresh, Cocoa Radiant — this fast to apply, quick to absorb line of lotions leaves skin instantly soft, not sticky or greasy. Find out more at maxthemorning.com.
Disclosure: Compensation was provided by Vaseline via Glam Media.  The opinions expressed herein are those of the author and are not indicative of the opinions or positions of Vaseline.