This post contains affiliate links, which means that if you click on one of the product links, I'll receive a small commission. Additionally, as an Amazon Associate I earn from qualifying purchases. Thank you so much for clicking through and helping to support this little blog business of mine! Read more about our site, privacy, and disclosure policies here.
Looking for a few new delicious salad recipes to add into the mix this summer (or really any time of the year)? These 20 incredible salads, full of fresh produce, savory extras, and tossed in homemade dressing, will make you love salad in a whole new way.
It's no secret that I'm a bit salad-crazed (plenty of amazing recipes here, here and here), and with temperatures rising in the summer-time, my urge to cook big elaborate meals diminishes. Really, I just want to lay in the sunshine, play in the ocean, and eat popsicles. Typically, that translates to sweating in the sunshine, chasing my toddler through the sprinklers, and eating her popsicle rejects.
But I digress.
Salads.
I could eat one every day. (Followed by a cookie, of course. These easy dark chocolate chip oatmeal cookie bars are in my fridge right this very second.) But, I like to shake things up in the kitchen, so I'm always experimenting with salad and dressing recipes and combinations.
There is nothing like a bright salad for lunch or dinner to get spring and summer vibes going. So, summer and salads just seem to go hand in hand, especially on those super hot days when the last thing you want to do is cook a heavy meal in a warm kitchen. Salads are also entirely necessary when bikinis are a not-so-subtle reminder that it's high time I get back in shape. Whoops!
Lucky for us, these 20 summer salads are relatively good for you. Use all of the best of that irresistible summer produce – cherries, berries, peaches, sweet corn, watermelon, and fresh herbs, and are packed with flavor (and the occasional cheat, like toasty croutons, bacon, or a creamy dressing … I mean, I am eating salad after all … still counts!)
If a plain old salad has got you down, flip the script and try one of these incredibly yummy salads for something totally different and delightful, perfect for wowing your family or at your next backyard barbecue.
No boring salads over here!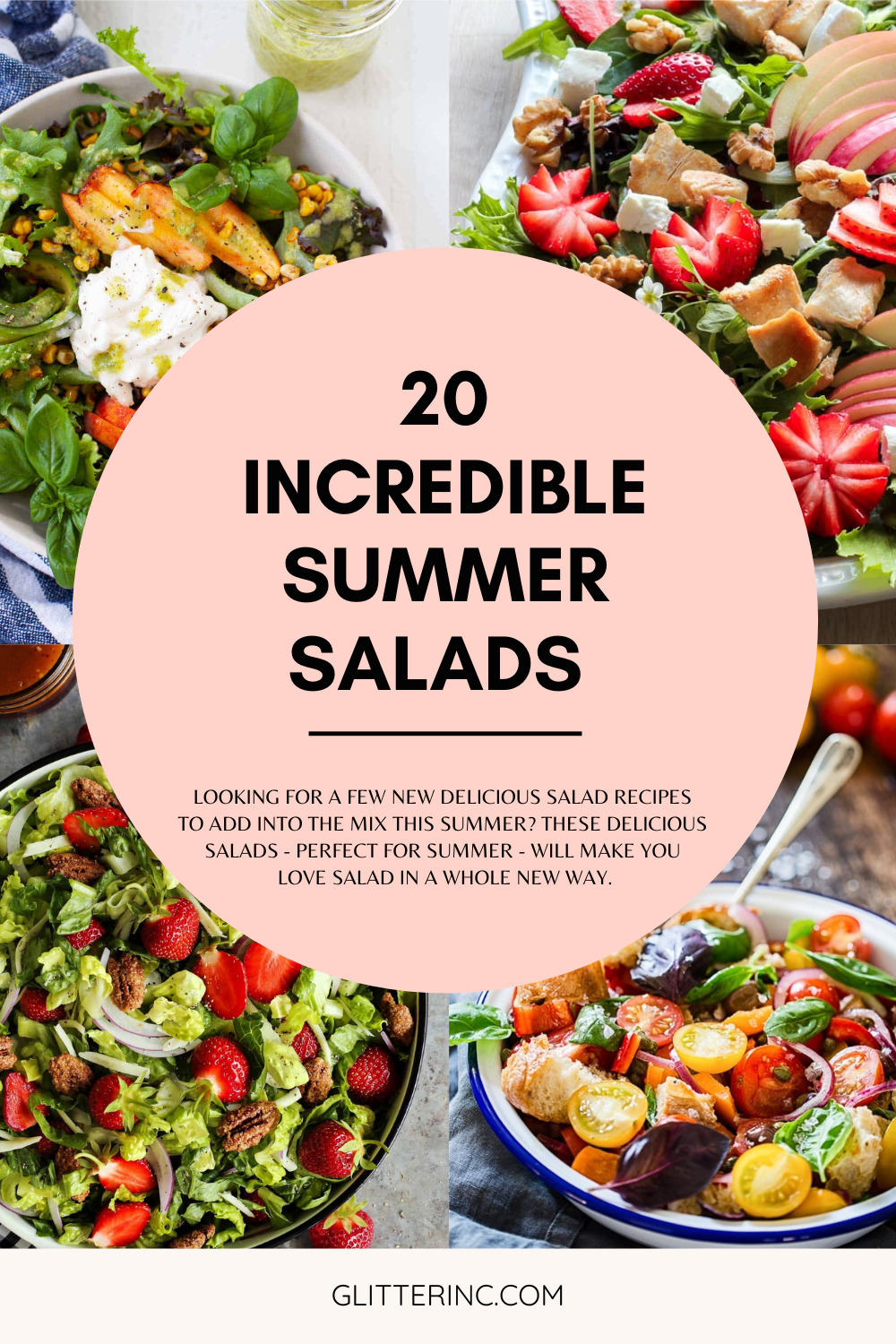 Incredible Summer Salad Recipes
These are a few of my favorites (some tried and true, some at the very top of my "must make" list) …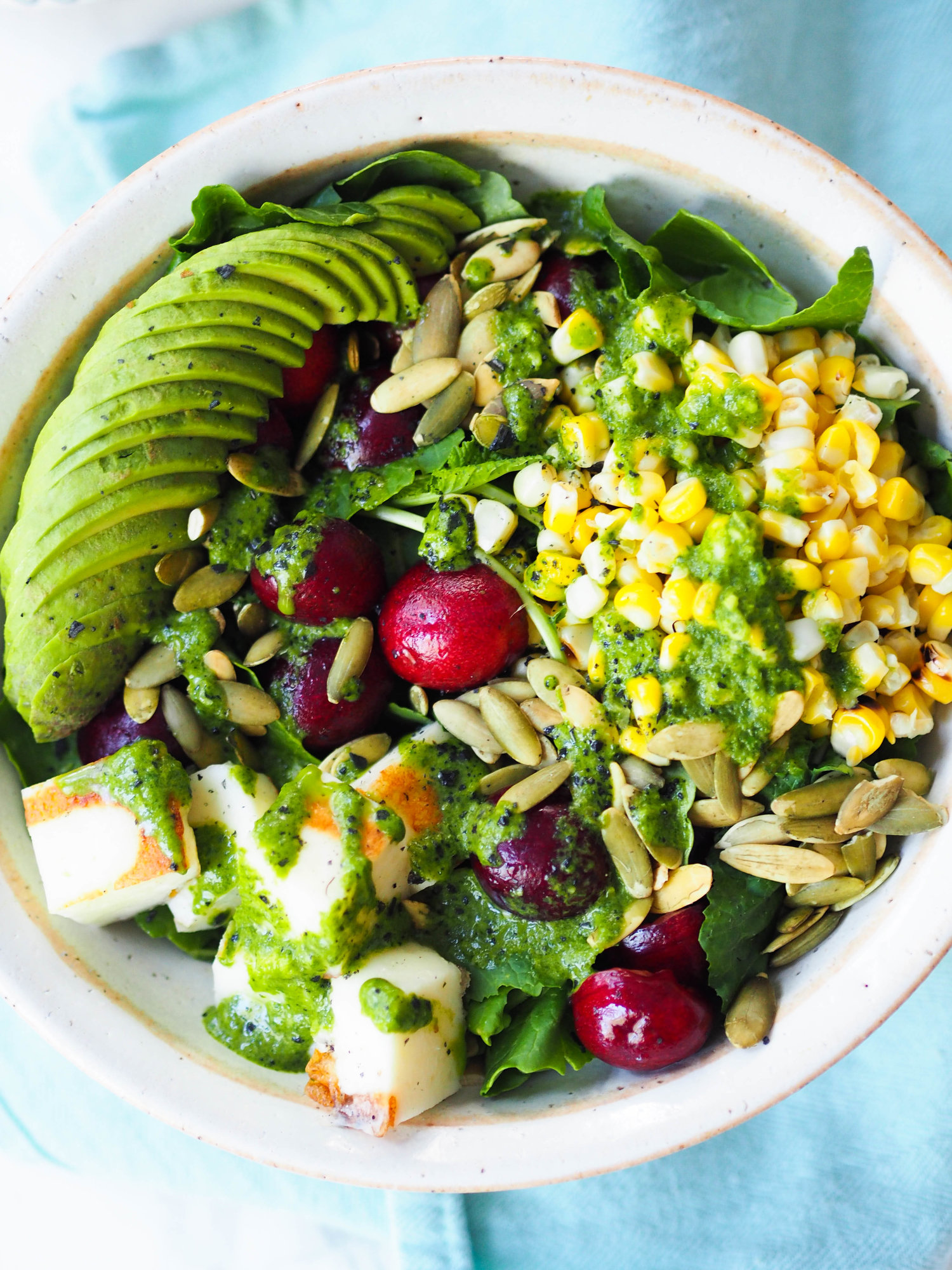 This summery salad is packed with all the flavors and textures. It has grilled halloumi cheese, bright fresh cherries, creamy avocado, charred corn and toasted pumpkin seeds in a cilantro-spinach dressing!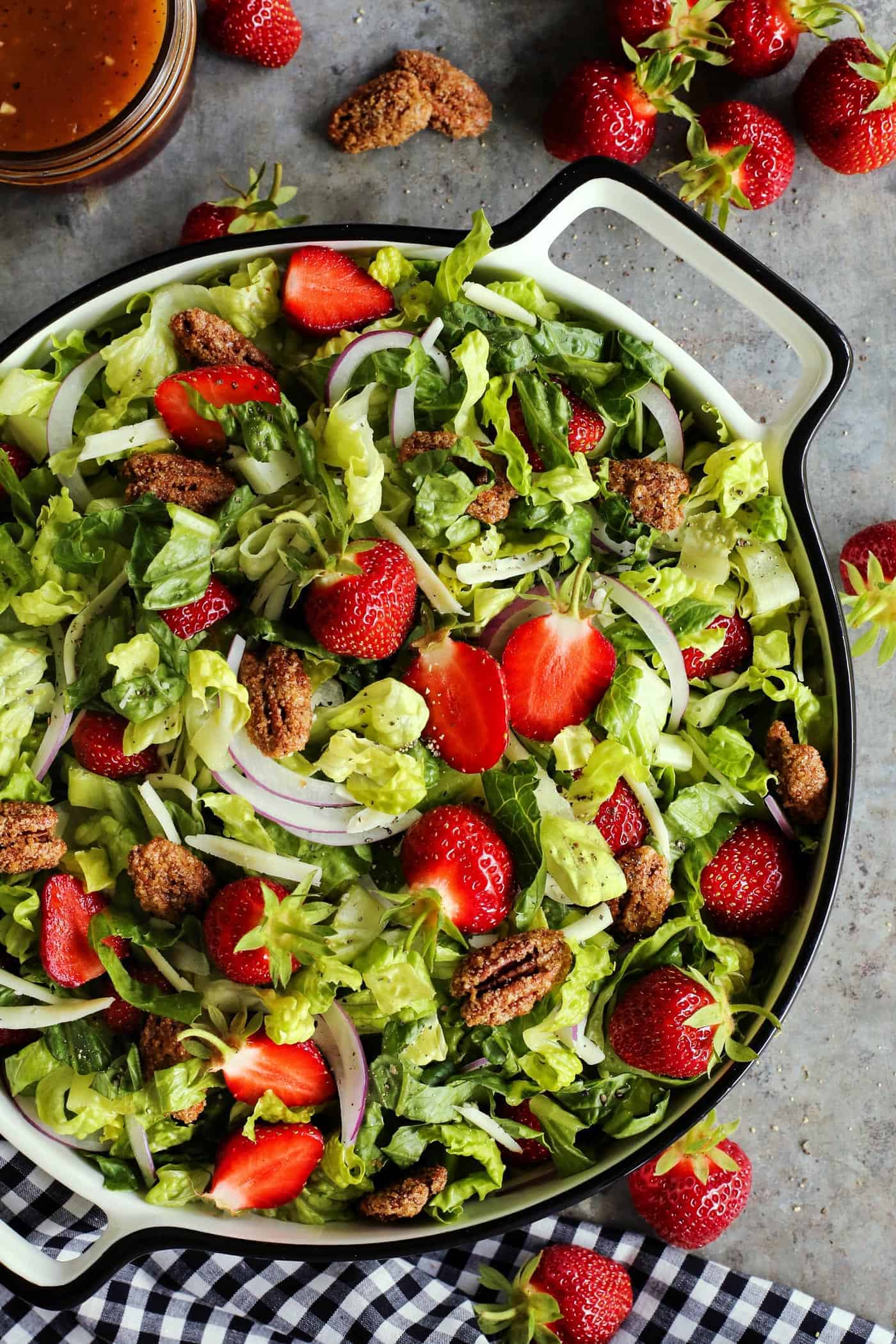 This Strawberry Salad is a bit unexpected with monterey jack cheese. Also, it's ridiculously crunchy candied pecans, and a delightful homemade red wine vinaigrette. A beautiful crowd-pleasing salad recipe that your whole family ado will adore!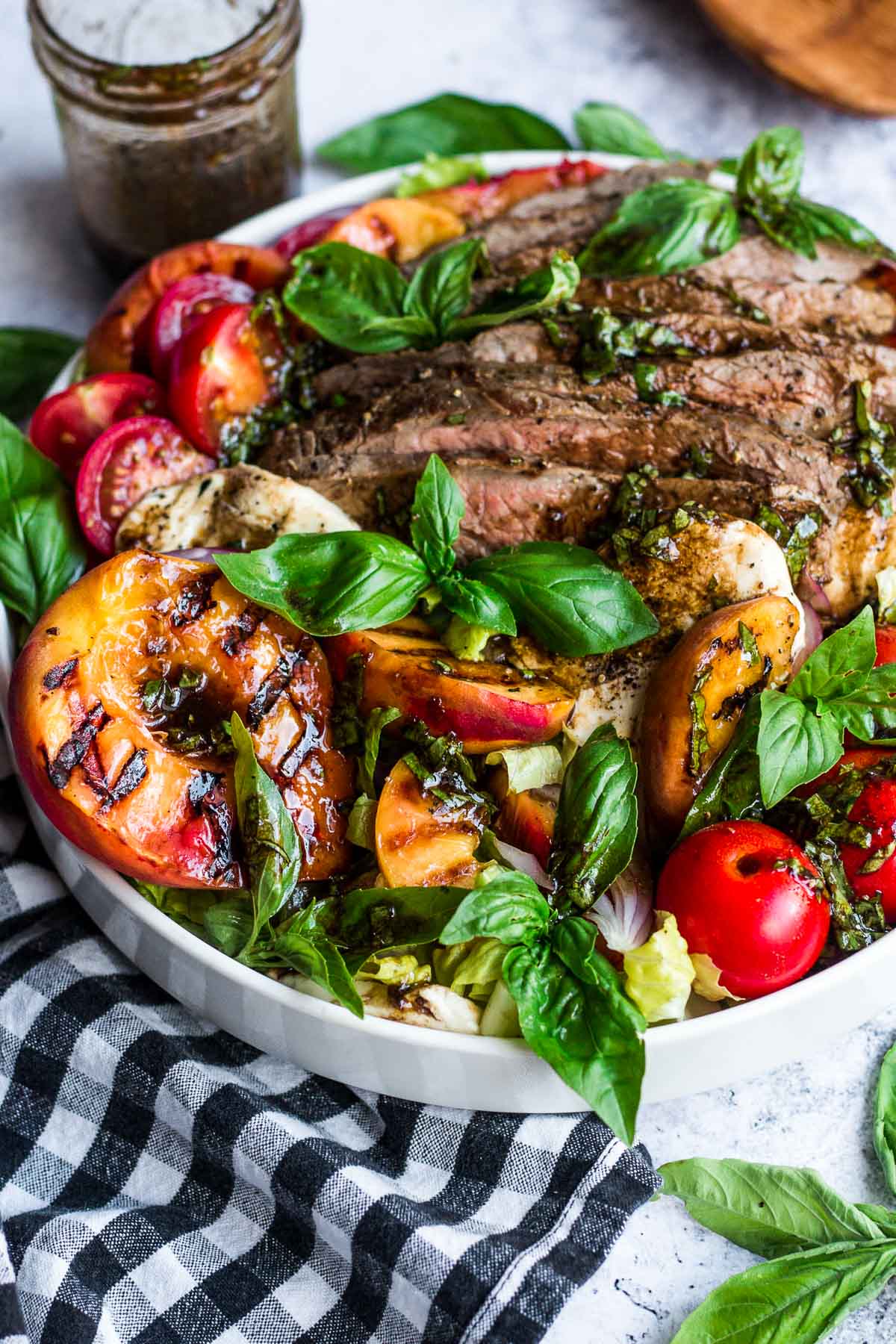 So, this favorite summer salad is packed with peppery grilled flank steak, peaches and fresh mozzarella cheese on a bed of crisp romaine lettuce. Also, this homemade Basil Balsamic Vinaigrette is the perfect finishing touch!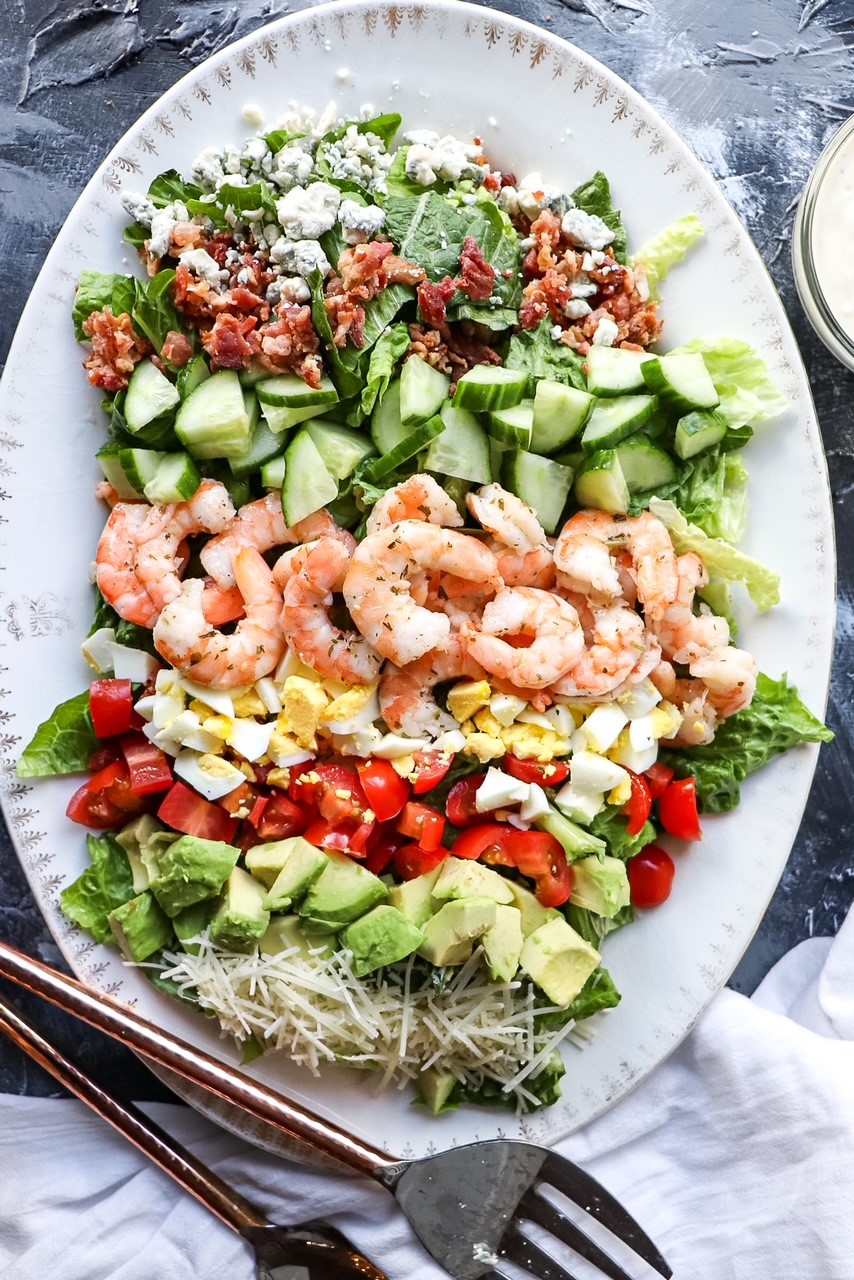 This Cobb Salad is a twist on the classic, adding in cilantro lime marinated shrimp and a variety of vegetables. Also, it is the perfect side dish or is hearty enough to be a stand-alone meal!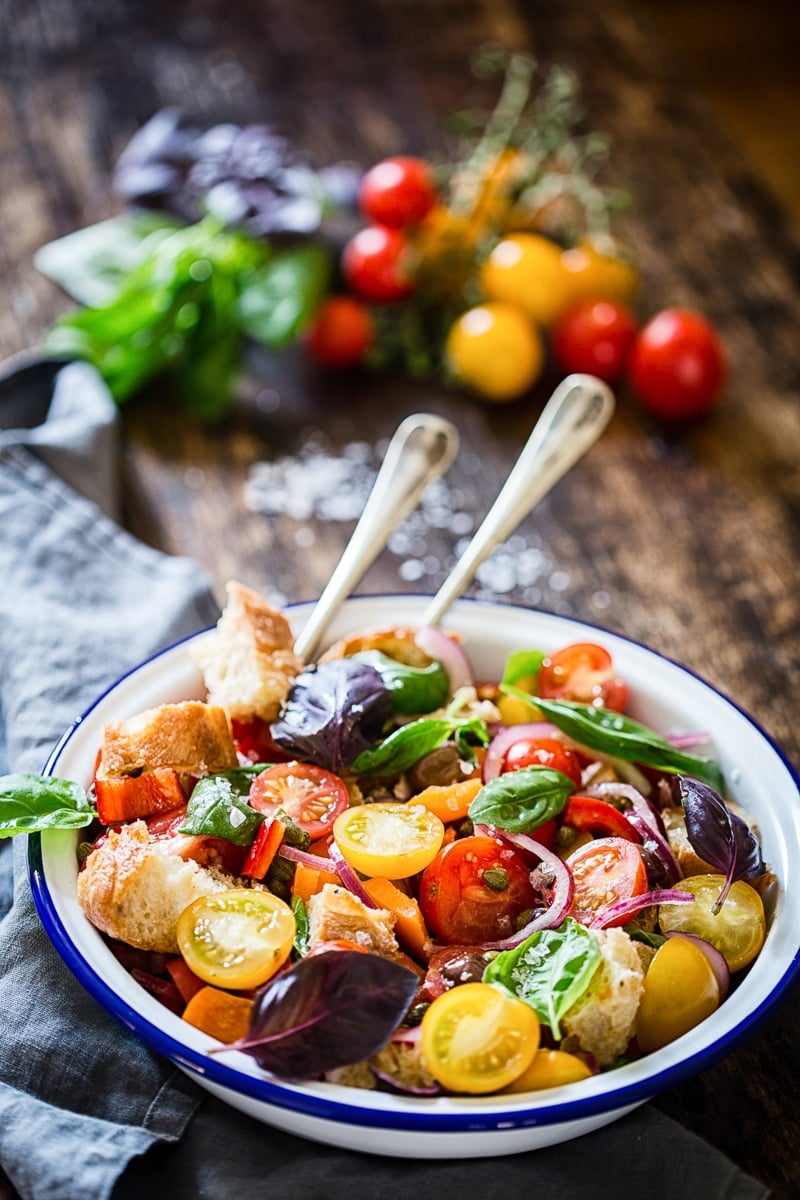 So, this Panzanella Salad, with Tuscan roots, is made with ripe, sweet and juicy tomatoes, crusty ciabatta and fragrant basil. Also, this salad is delicious, fresh and is truly the best of the summer offerings!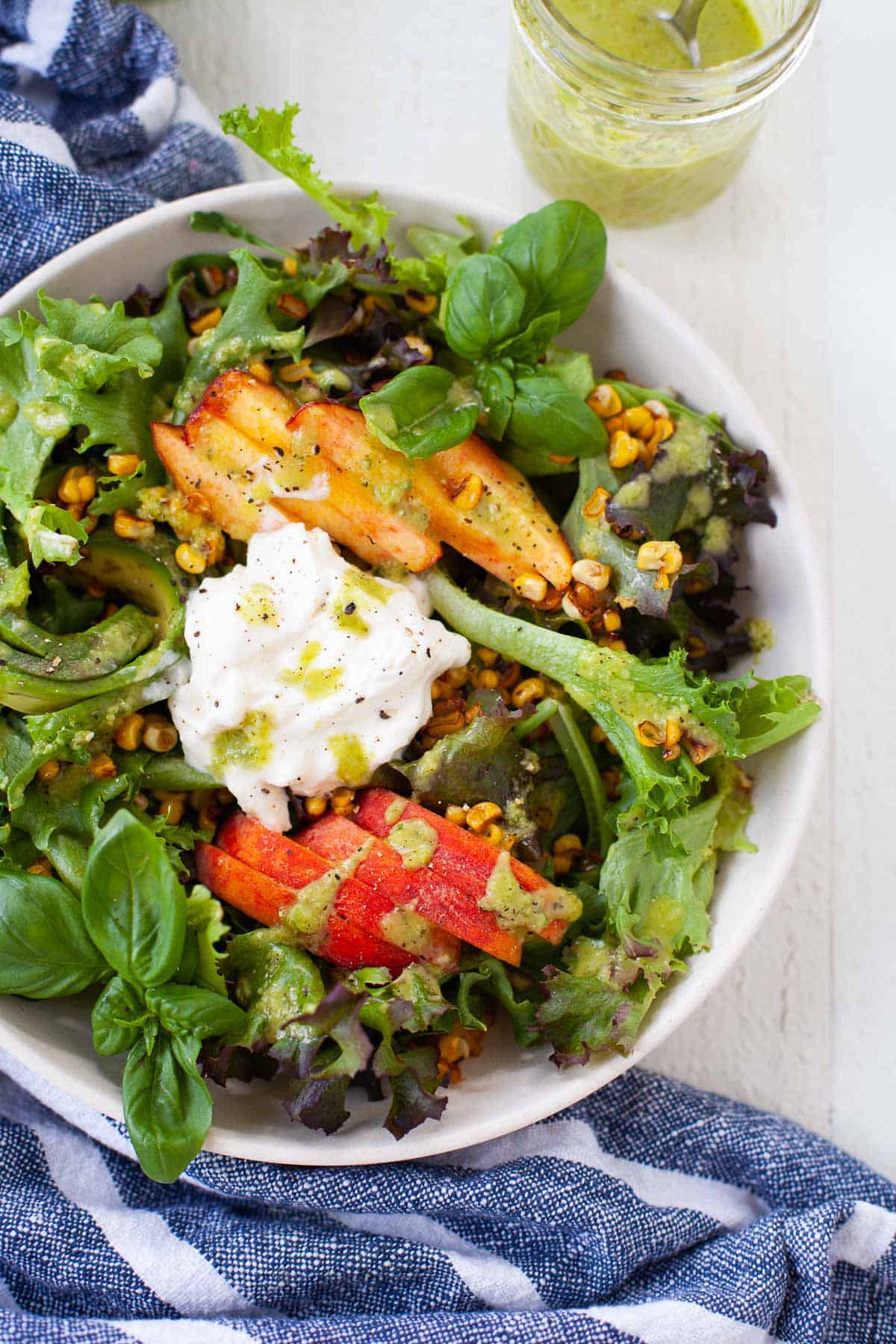 So, use the best of summer produce and make this refreshing summer peach and corn salad. Also, it'll be ready in just 15 minutes. This salad is packed full of juicy fresh peaches, charred sweet corn, creamy avocado, and rich burrata. It's  topped with a homemade spicy jalapeño vinaigrette that you an adjust to your liking. This is such an ideal salad for the summer season!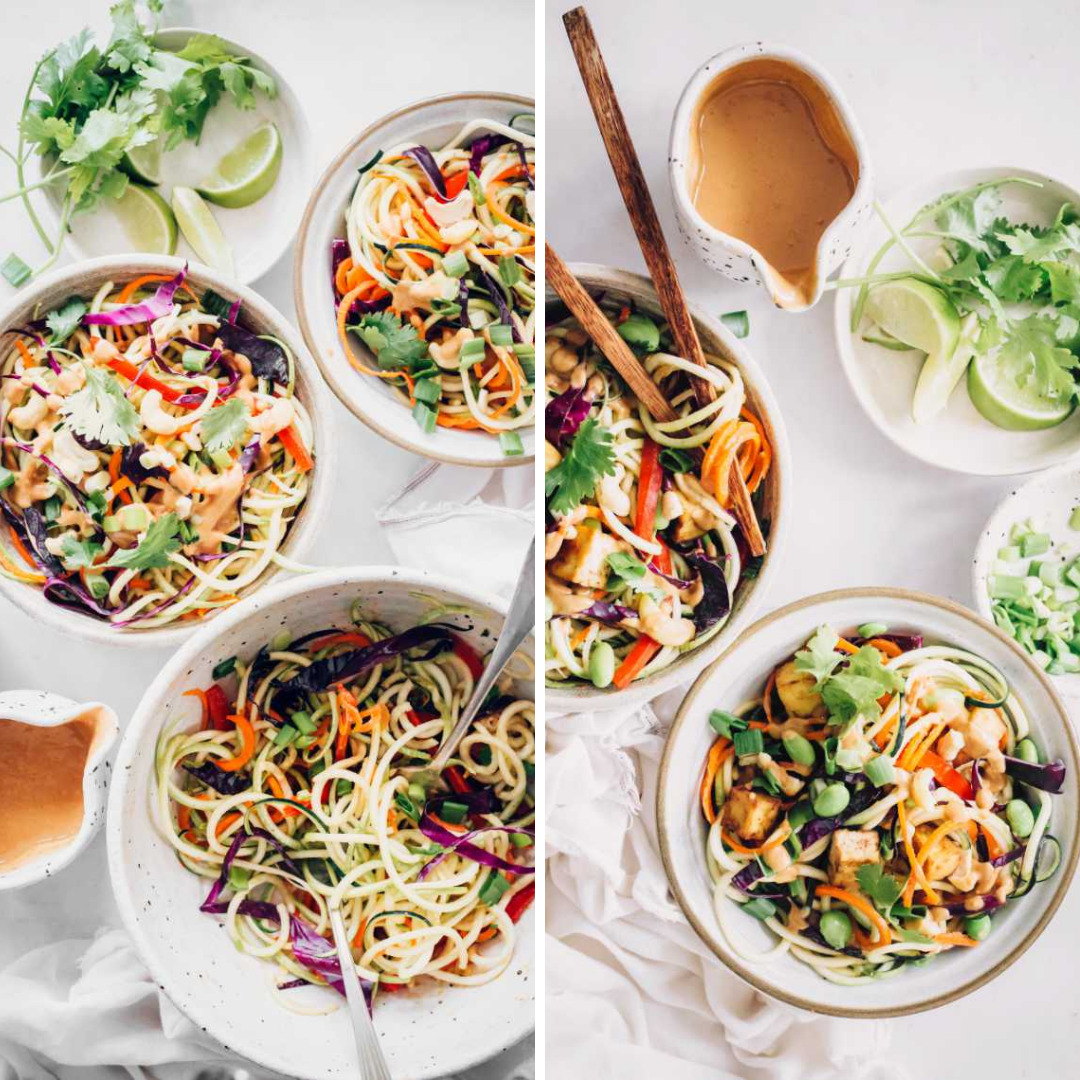 This cold, crispy, crunchy take on classic pad Thai. However, it's in salad form is a total explosion of flavors. This beautiful salad bowl is loaded with colorful spiralized vegetables. These include zucchini, yellow squash, carrots, red cabbage, bell peppers, sprouts, and cilantro. It is then tossed in a creamy peanut dressing. Also, you add tofu for added texture and protein!)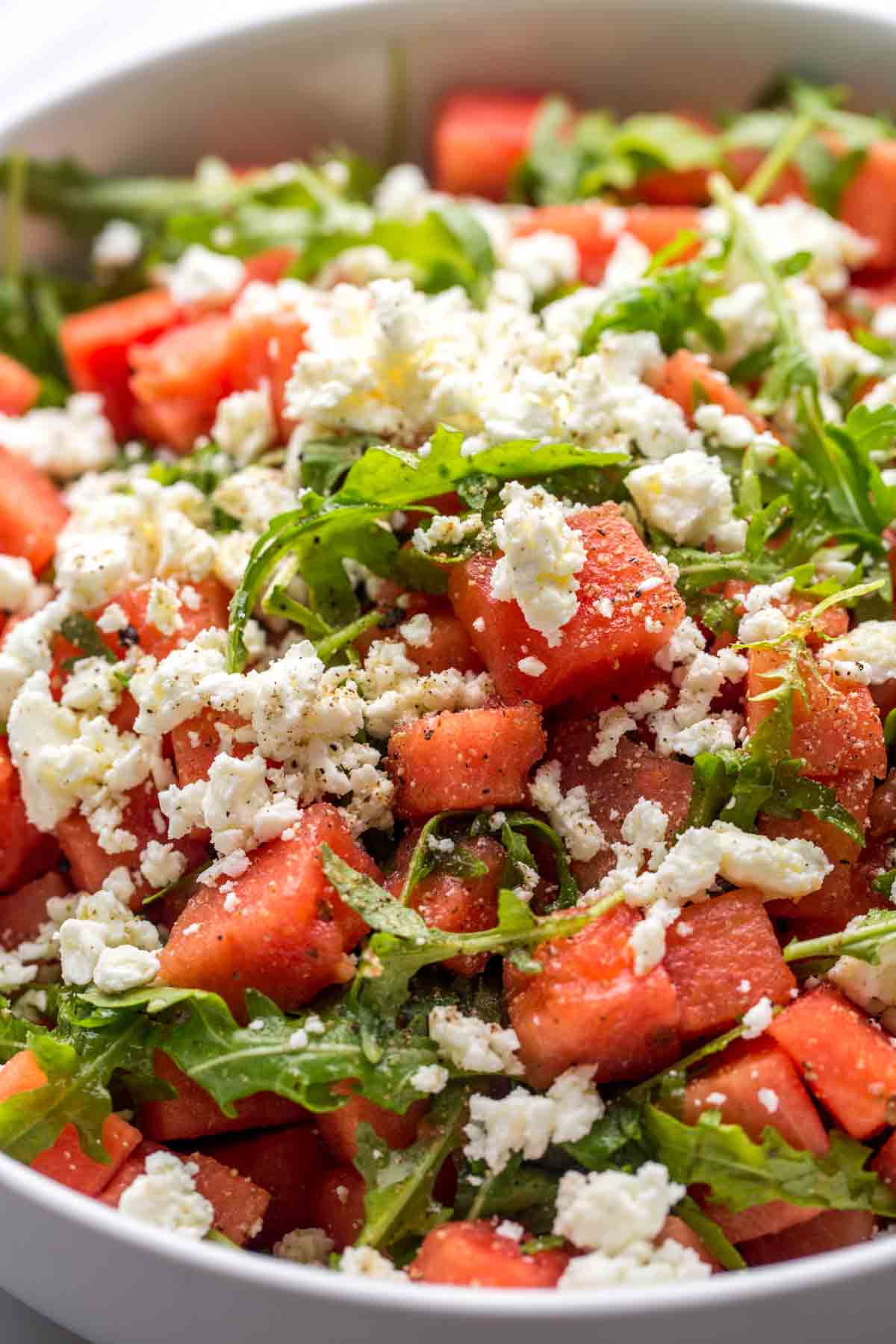 This watermelon and feta salad is one of my favorites for summer! You will love the juicy watermelon with the salty feta and peppery arugula leaves. Perfect for BBQs, potlucks, or a light summer meal.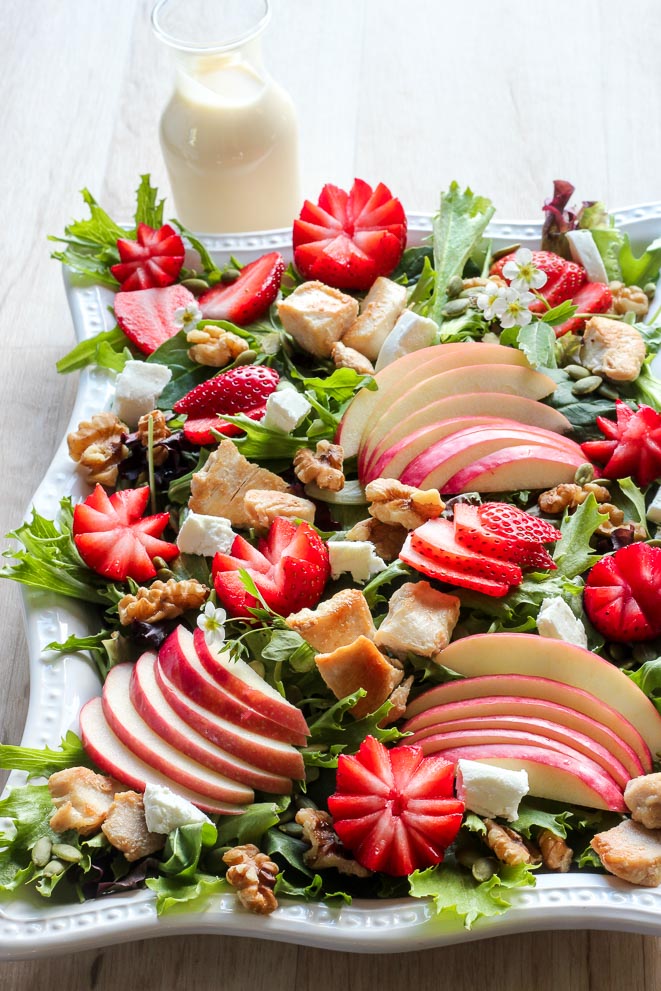 This EASY Strawberry Chicken Salad and the Creamy Maple Dressing that goes with it are SO addictive you'll be craving it every day! This is such a unique and yummy summer salad.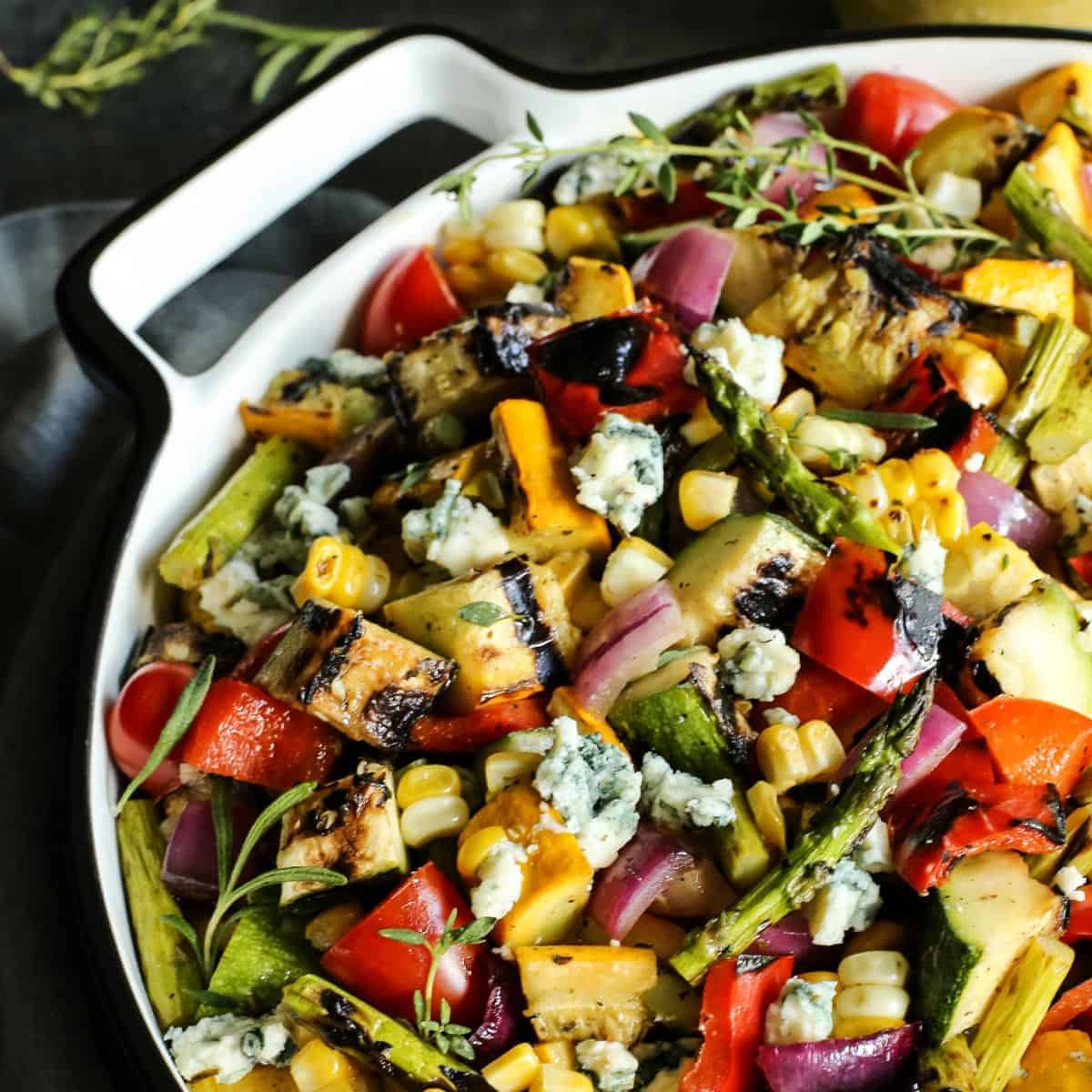 The perfect compliment to your summer grilling, his grilled vegetable salad recipe is full of perfectly charred vegetables dressed with a sunny, herby lemon vinaigrette. Bites of creamy, salty blue cheese (or substitute Parmesan) are the yummiest finishing touch!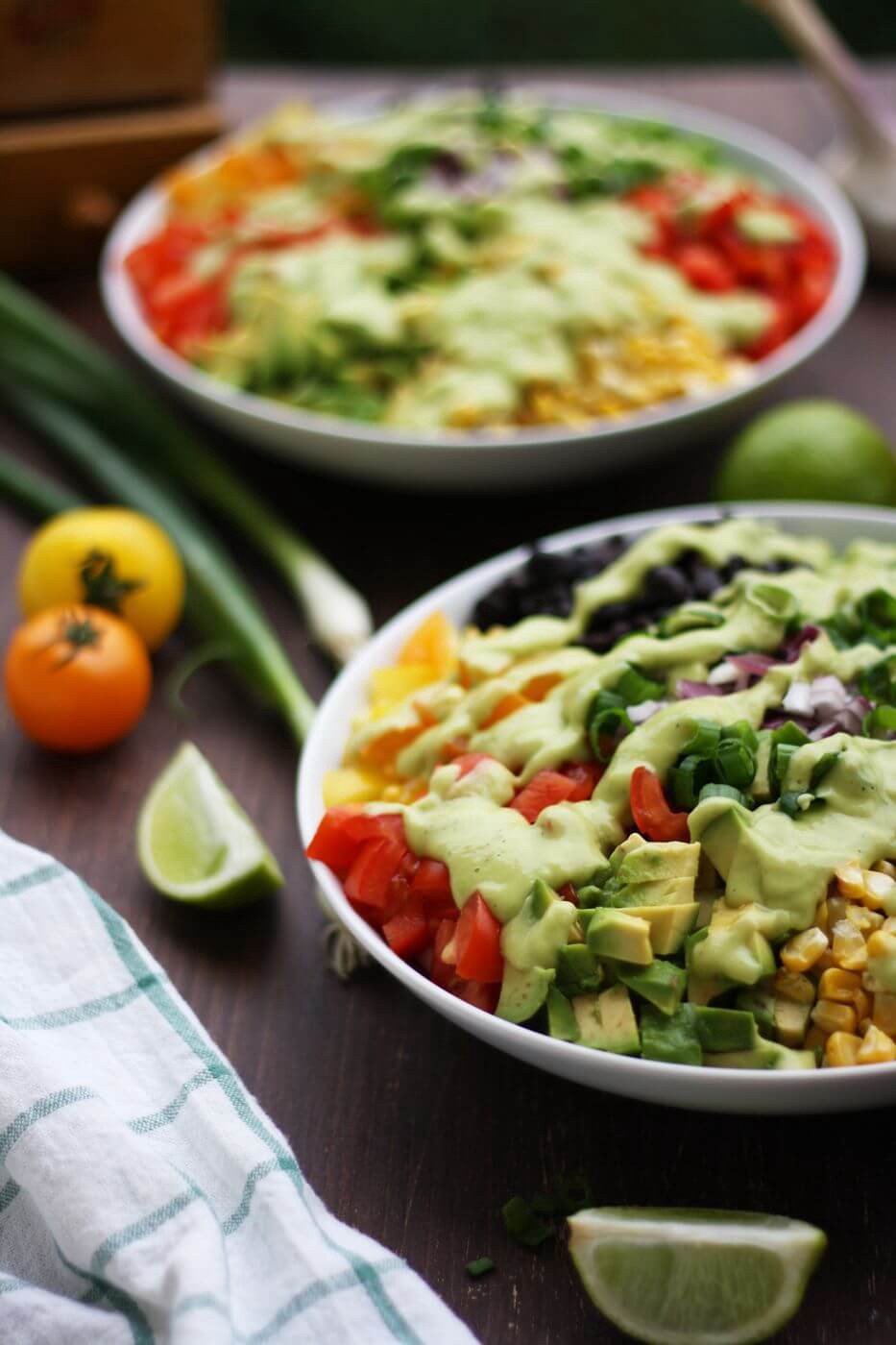 This super flavorful Mexican chopped salad with avocado dressing is perfect for a quick and light summer lunch or dinner or as an easy side dish for potlucks and summer BBQ parties. The homemade avocado dressing really makes this one a standout.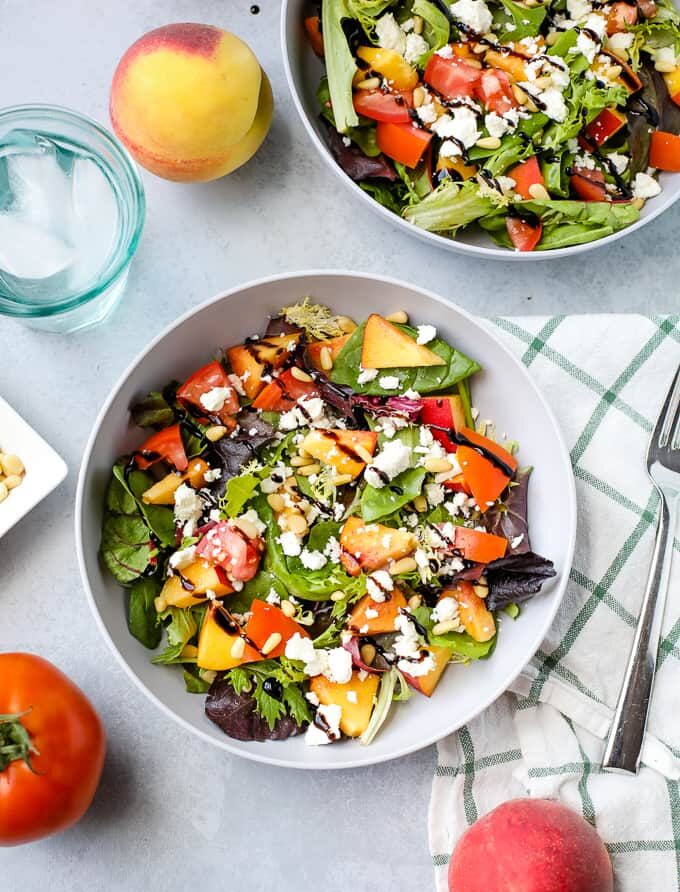 This hearty salad is filled with sweet peaches, toasted pine nuts and salty feta for a quick and delicious dinner salad or side dish. It's easy to make and perfect for a summer meal!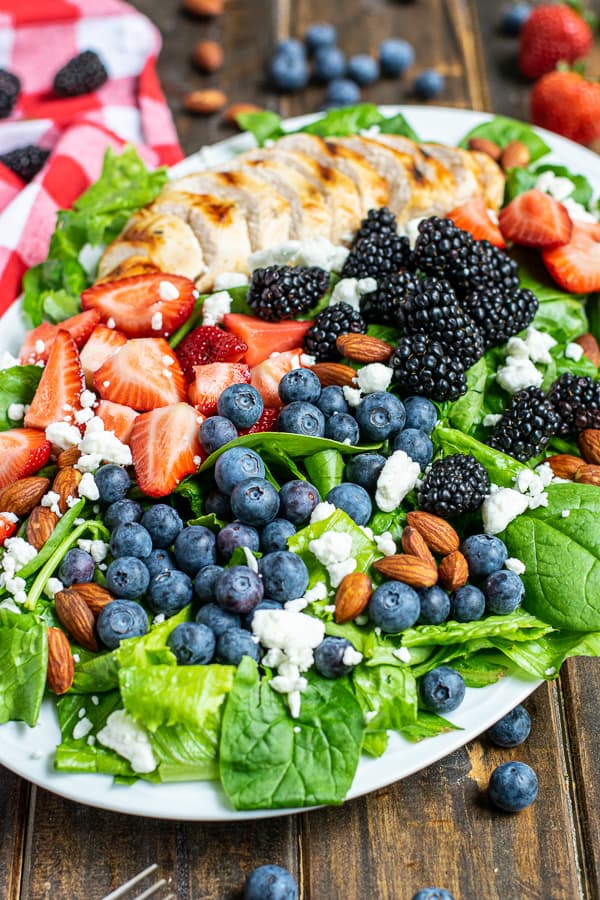 This fresh Summer Berries & Grilled Chicken Salad recipe is full of flavor and practically made for summer.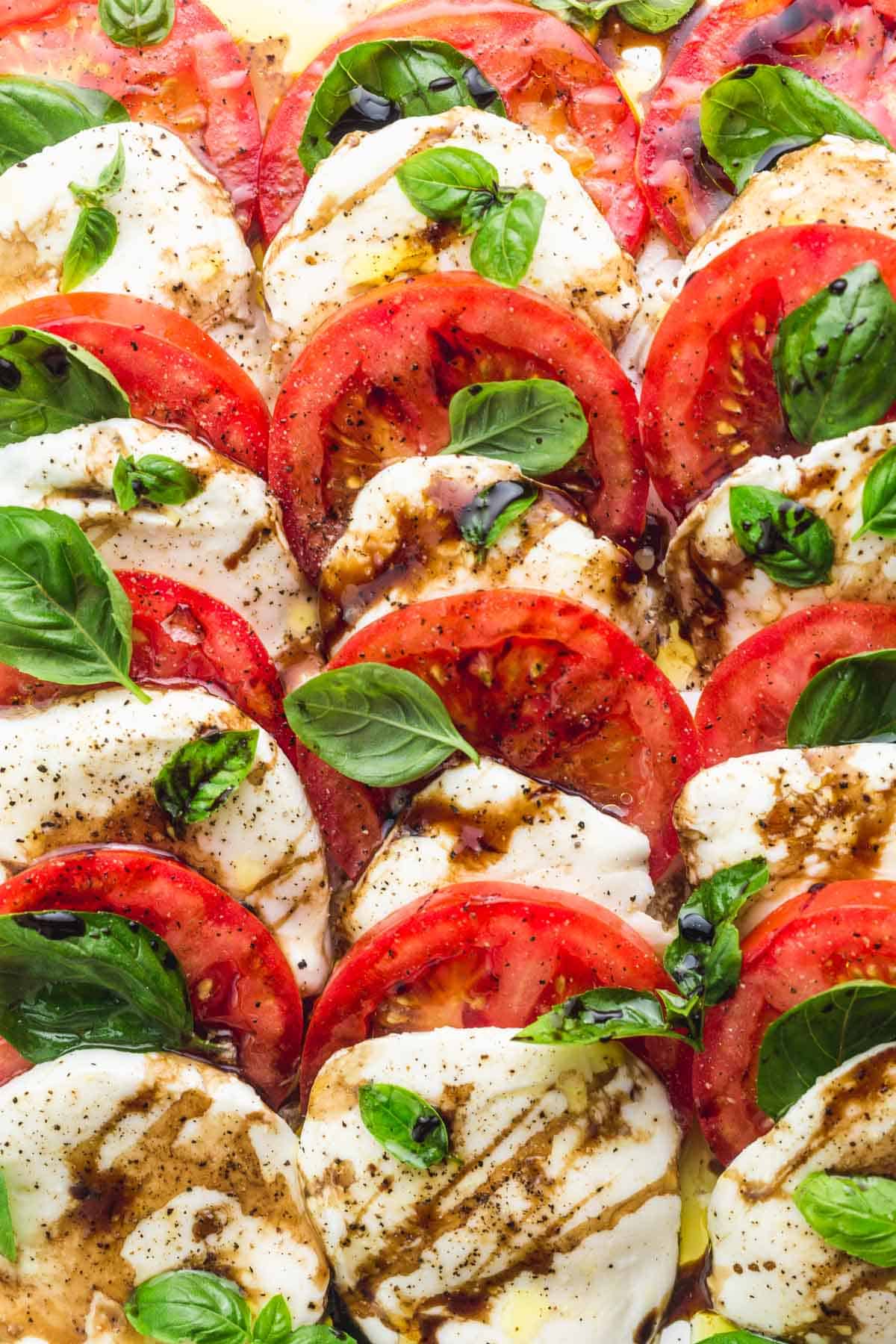 Another favorite of mine, a beautiful Caprese salad is easy and so delicious. The whole salad so simple and requires just a few ingredients to make it. If you really want to wow your guests, try serving it this way.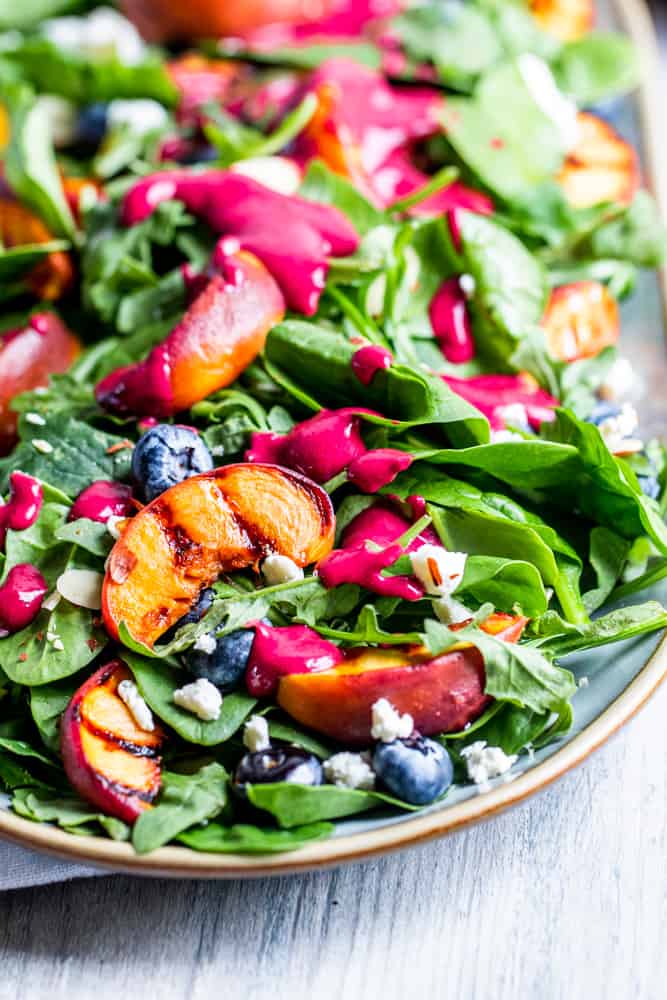 This Grilled Peach Salad is the perfect summer side dish. Packed with grilled peaches, blueberries, goat cheese and almonds plus homemade blueberry dressing for a bright and fresh combination.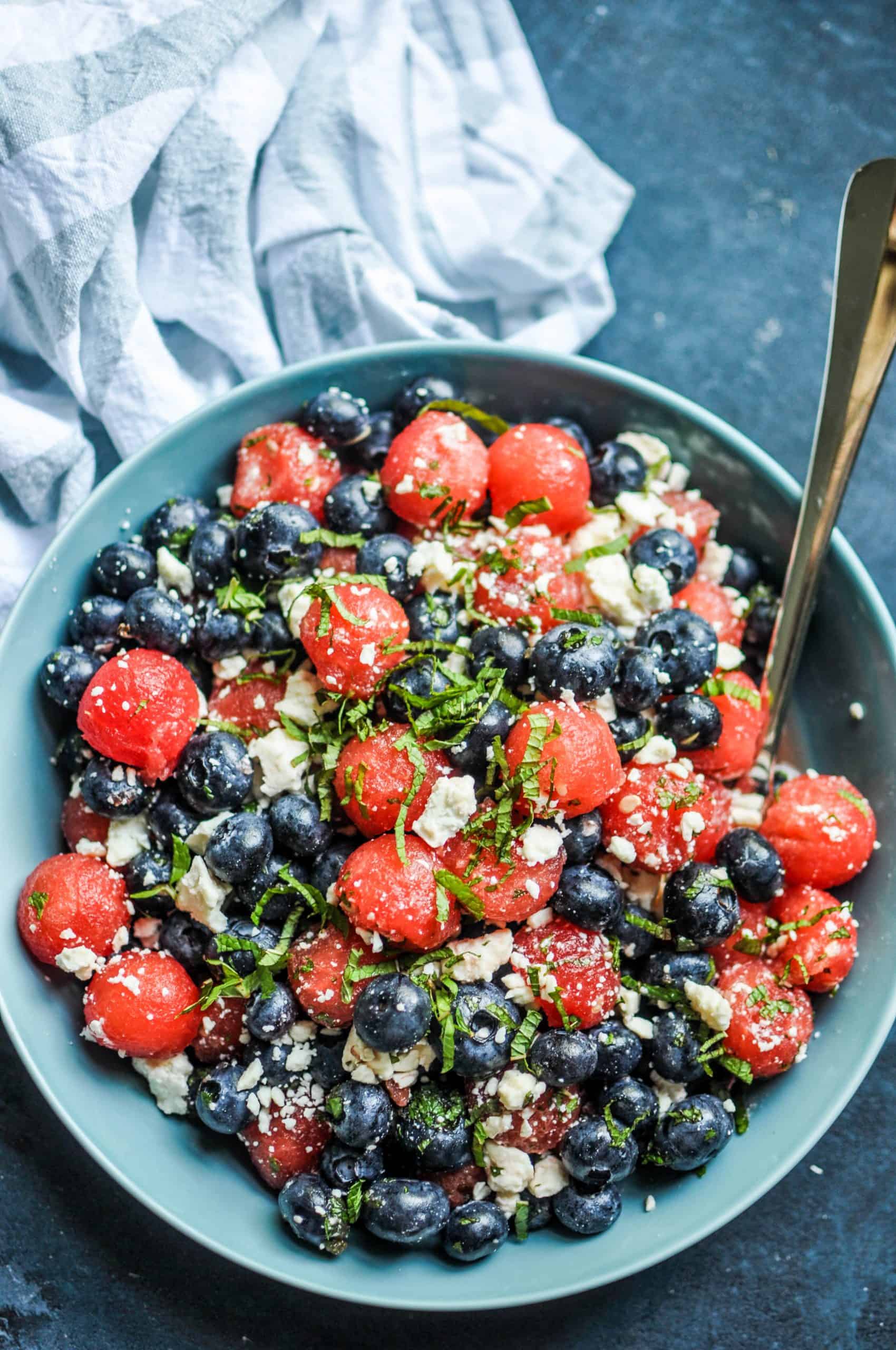 This fresh and bright watermelon, blueberry, and feta salad recipe is a fruity, summer delight! The addition of chopped mint and honey truly elevate this salad recipe into something really special.
I love that this salad in particular is extra festive and perfect for summer holidays like Memorial Day, the Fourth of July, and Labor Day.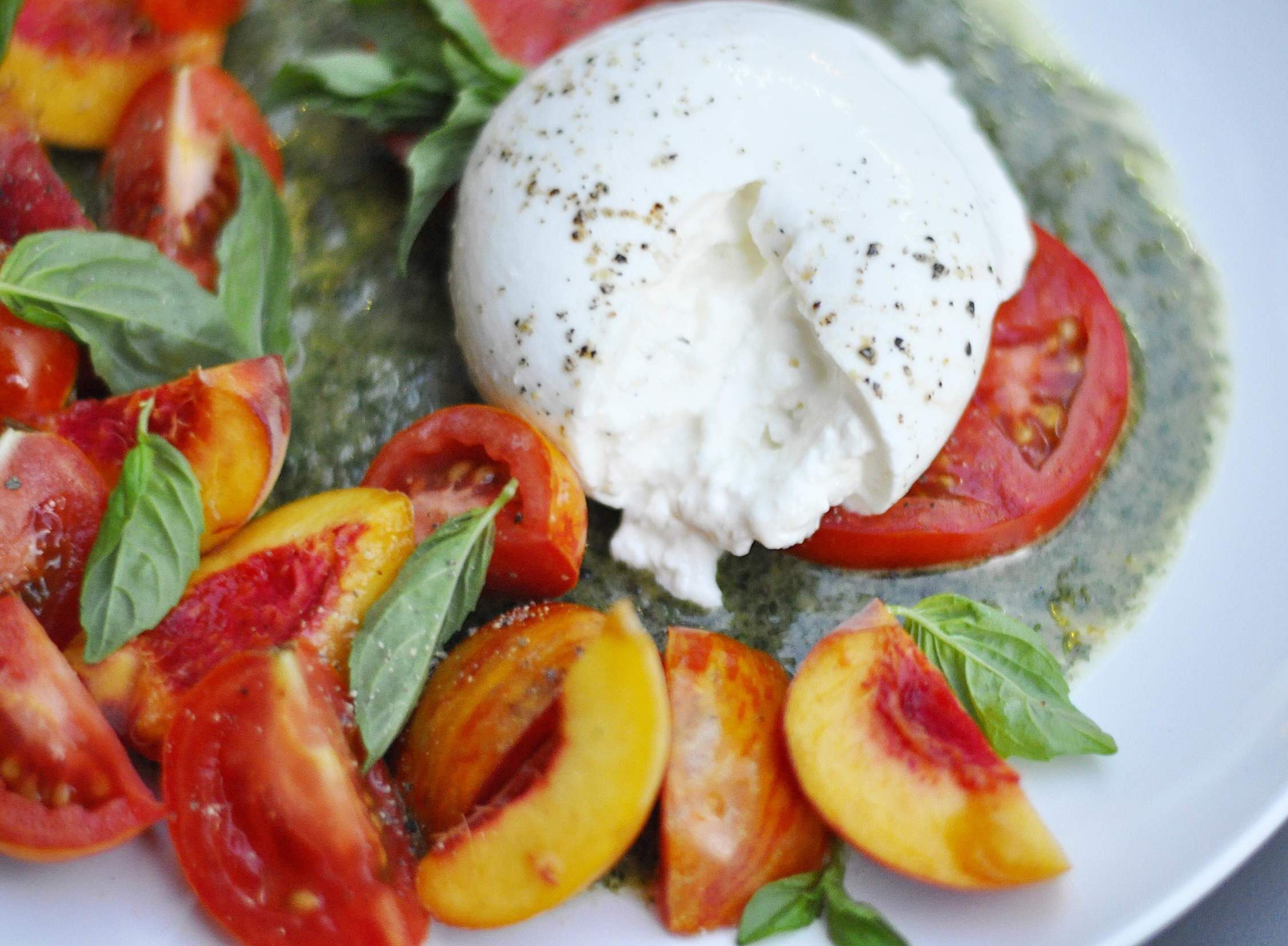 Summer peaches and ripe heirloom tomatoes are perfectly complimented with a simple-to-make homemade pesto and fresh burrata cheese. It's the perfect summer salad!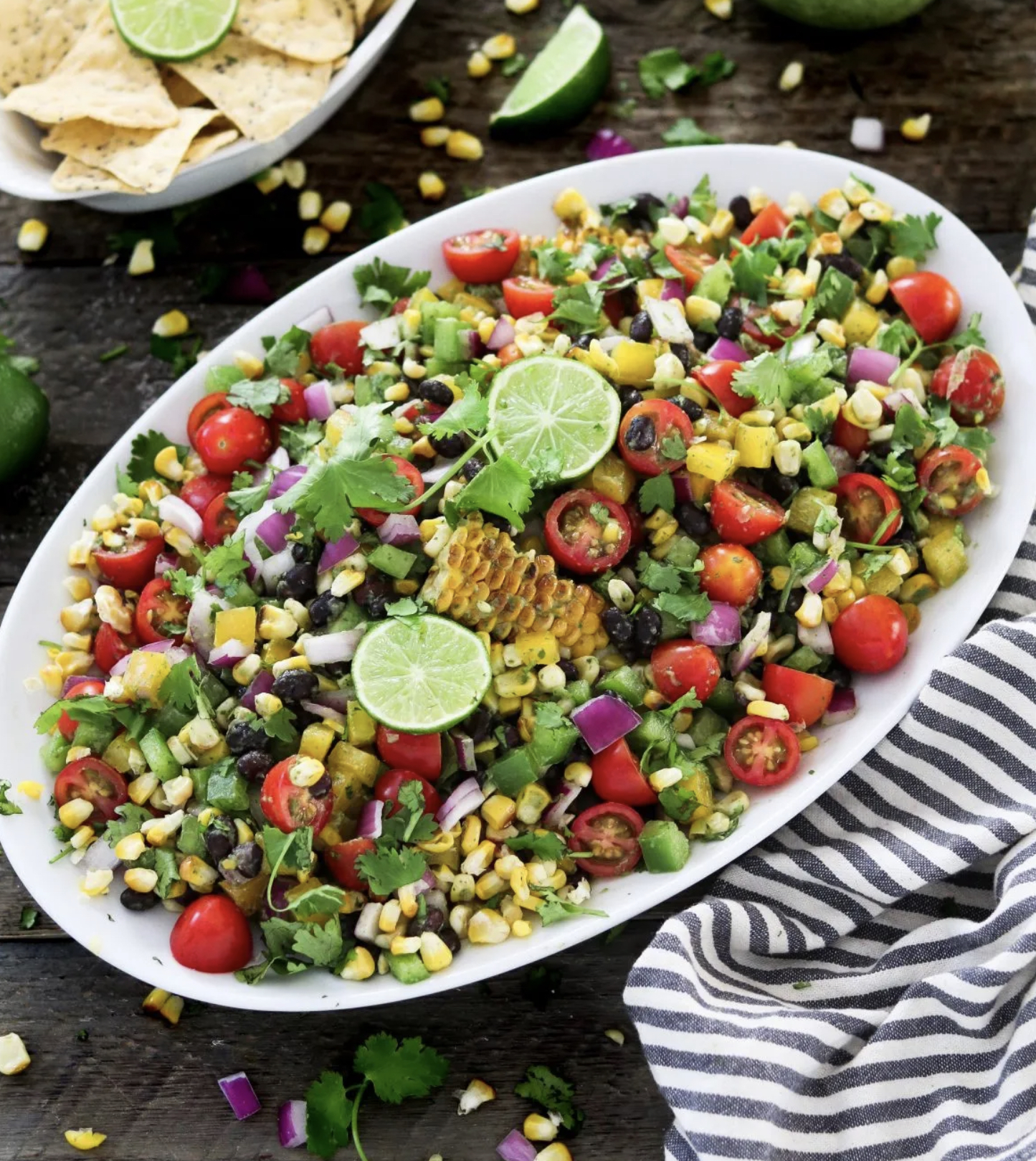 This incredible summer grilled corn salad is sort of a side dish, dip, salad hybrid and it is delicious. Add grilled chicken to this flavorful salad, packed with grilled sweet corn, fresh avocado, beans, onion, tomatoes, cilantro, and that creamy homemade cilantro lime dressing and it's a complete summer meal.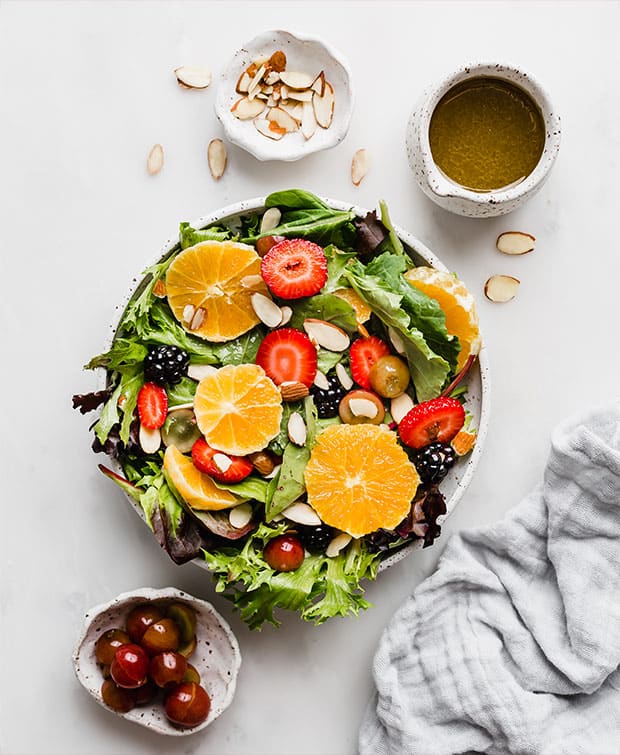 This bright citrus summer salad is full of colorful fresh fruit that's topped with a vibrant and delicious homemade citrus vinaigrette. It's the perfect salad to enjoy all summer long!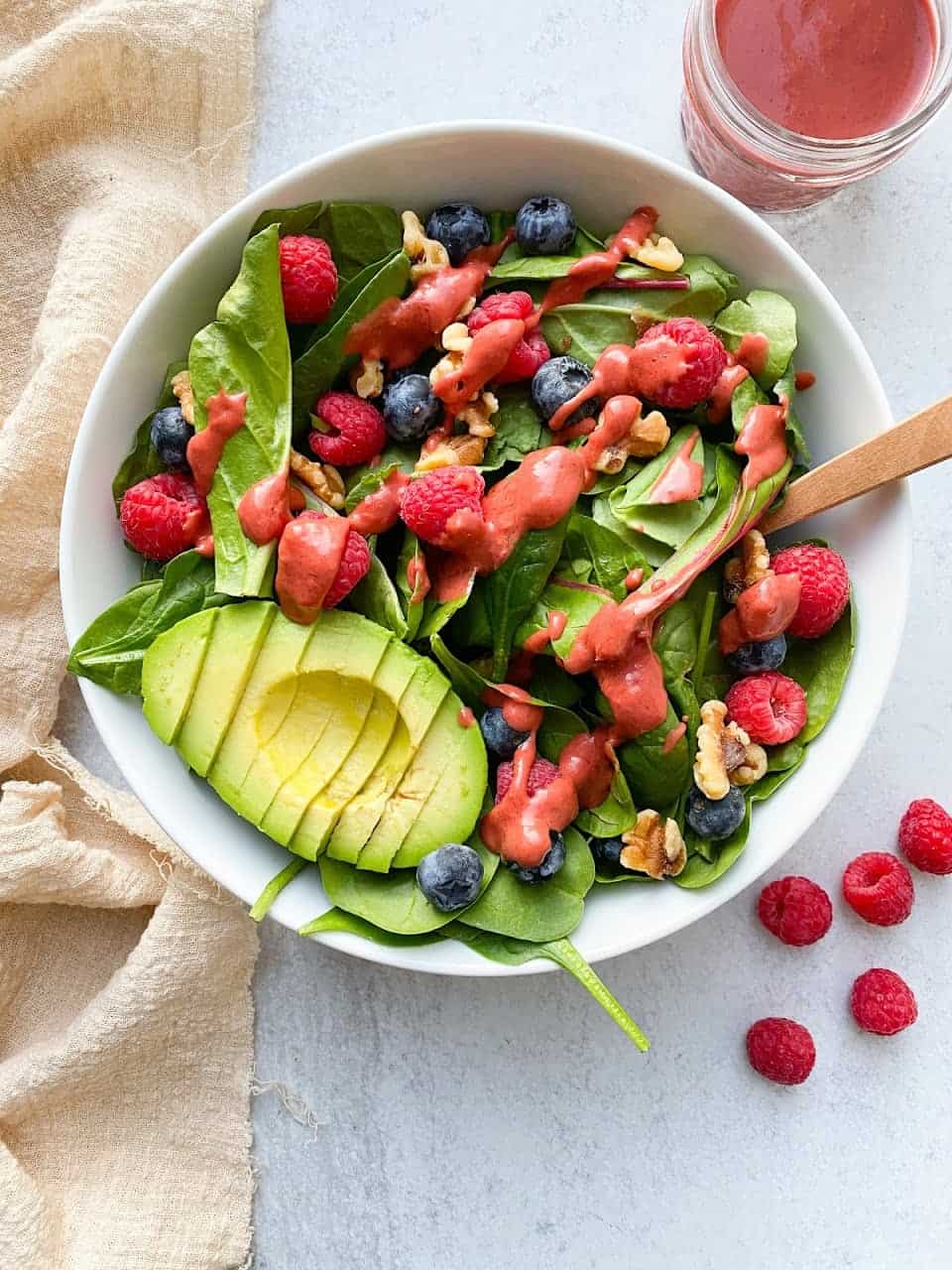 This Berry salad made with a homemade raspberry vinaigrette, fresh berries and nuts is so light and fresh! It's perfect for a light meal or summer salad!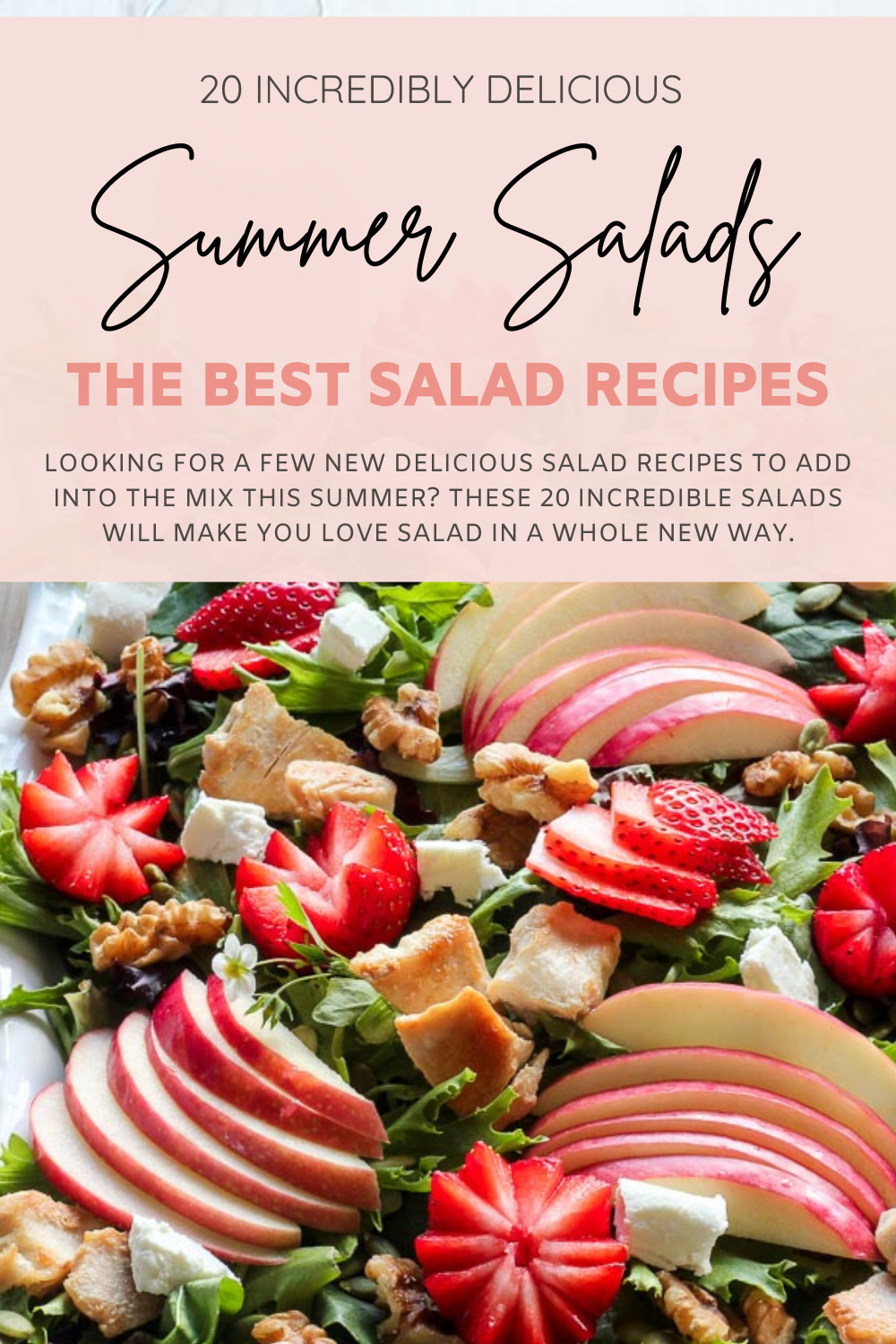 SHOP THE SUMMER SALADS RECIPE POST | CLICK LEFT & RIGHT ARROWS TO EXPLORE

Love these yummy summer salads? Head to our recipe page to check out what else we're whipping up in the kitchen!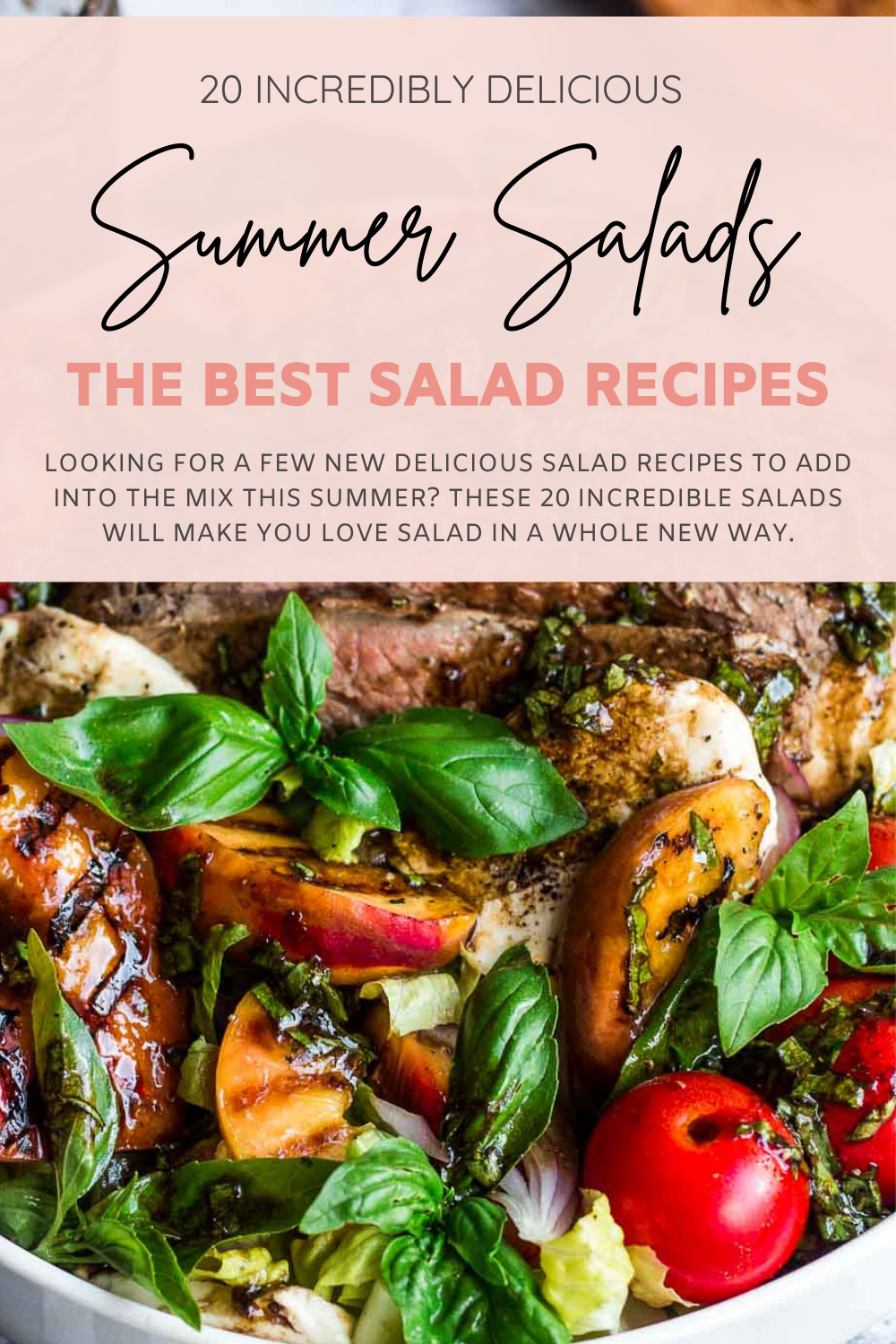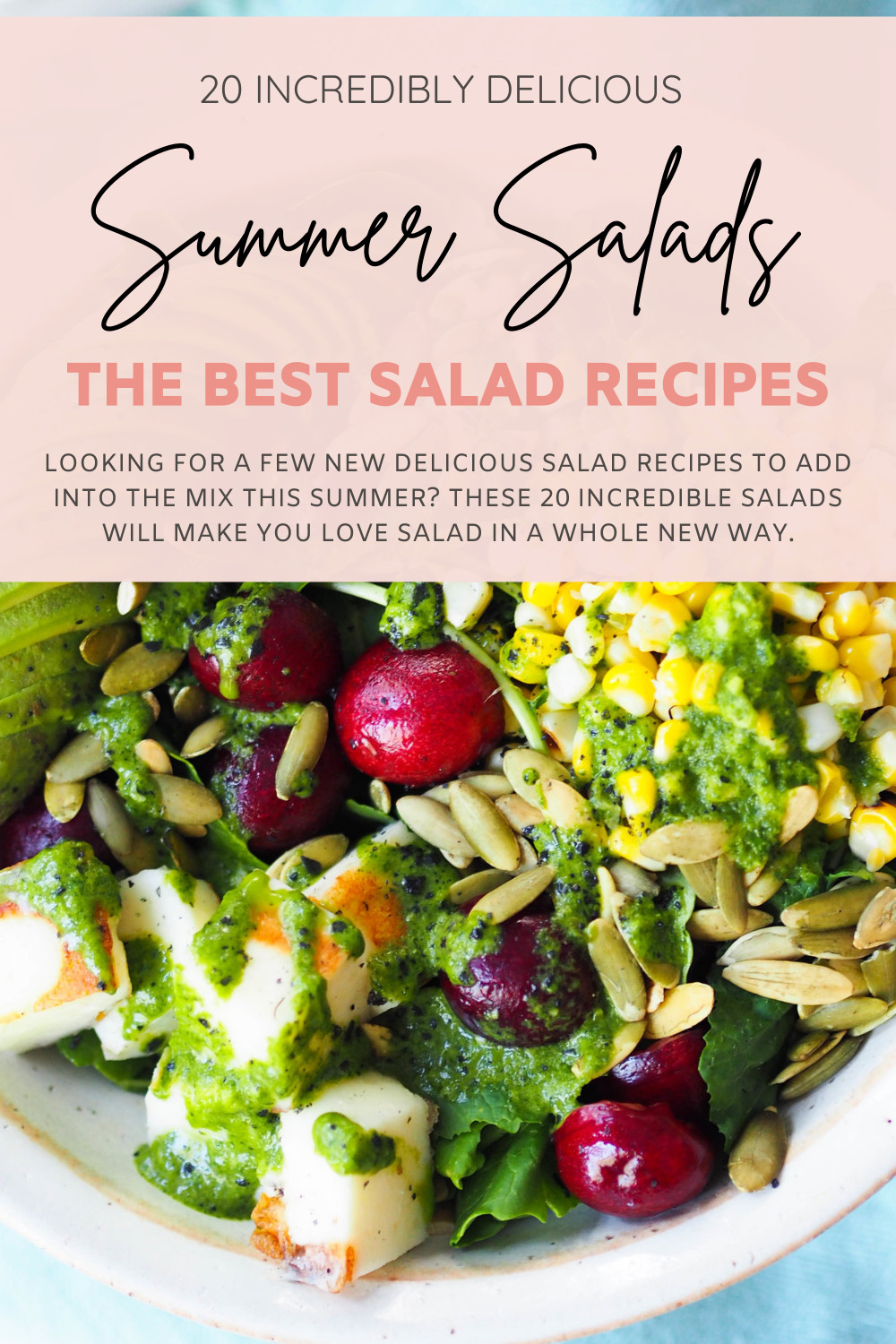 Cover Image: Strawberry Salad with Candied Pecans and Red Wine Vinaigrette