Today I'm partnering with Vaseline to share a peek into my updated diaper bag. When I first had Scarlett, I painstakingly packed (a.k.a., overpacked … okay, more like stuffed to the brim) our diaper bag with everything I thought I could possibly need. One of the funniest lessons of motherhood is learning that no amount of advice, books, apps, or anecdotal evidence is going to teach you how to be a mom. Being a mom teaches you how to be a mom, plain and simple. Thankfully, my diaper bag situation is a tiny bit more manageable these days. Or at the very least more thoughtful. Although I will probably always be that mom who has, well, everything*, I've learned to consolidate quite a bit.
One of the big changes I've made (and after much encouragement from my own mom who convinced me that you really could throw what you need for baby into your own bag and make it out the door): I've started using just a tote bag for both my things and the baby's. That's not to say that I don't still use the diaper bag when I know we'll have a long day out and about or on trips, but for running a quick errand or two, it is infinitely easier to throw everything – baby's and mine – into one bag.
For myself, the key was to focus on my own beauty and purse must-haves. Wallet, phone, keys, sunglasses = always. A few beauty musts including powder, a spare nail polish (chipped nails drive me crazy), and one or two of my favorite Vaseline Lip Therapy Tins. (Truly, I'm totally hooked on these little tins – since getting these, I've been rotating through Rosy Lips, the Original, and Cocoa Butter – a new favorite.) Vaseline is actually celebrating the U.S. launch of the brand's Lip Therapy Tins! Clinically proven to help heal dry lips and provide long-lasting moisture, these little tins are my winter survival secret weapon. They keep my lips unbelievably hydrated while I'm on the go (which is always!) and last and last. You can pick some up for yourself at Target and Target.com.
*Seriously, need a snack? A juice box? Diaper? Wipes? Change of clothes? Change of socks? Spare shoes? Bandaids? Moisturizer? I've got you covered!
A few key things in my purse/diaper bag:
By the way, Vaseline sent me all of their adorable lip tins along with a real cake decorated like a Vaseline Lip Therapy tin! How cute is that?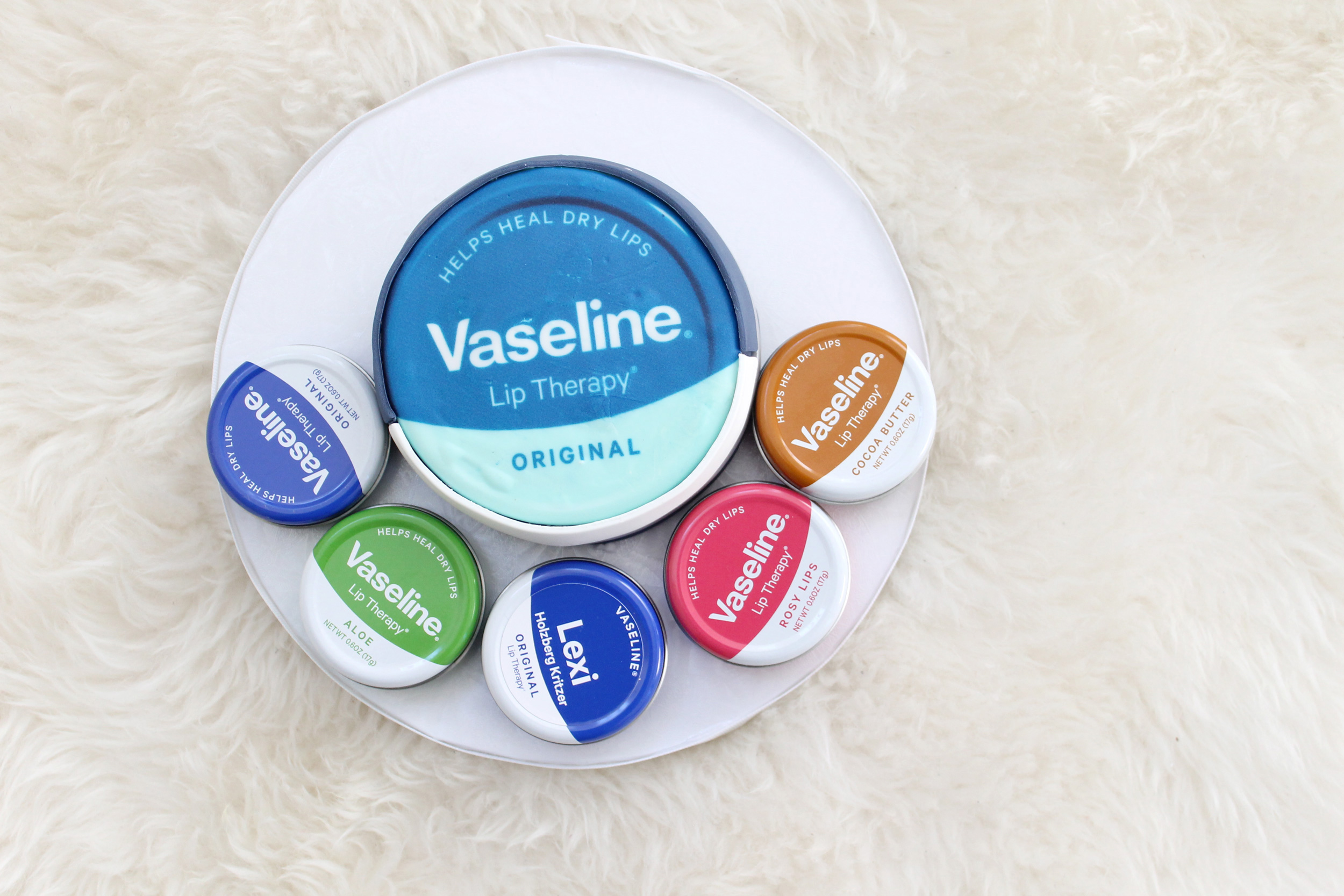 So tell me, fellow mamas: what do you keep in your diaper bag? Have you learned to carry a separate diaper bag or do you haul it all in one great big tote?
SHOP WHAT'S IN MY BAG / CLICK LEFT & RIGHT ARROWS TO EXPLORE

This post is sponsored by Vaseline. Thank you SO much for supporting the sponsors that make Glitter, Inc. possible!