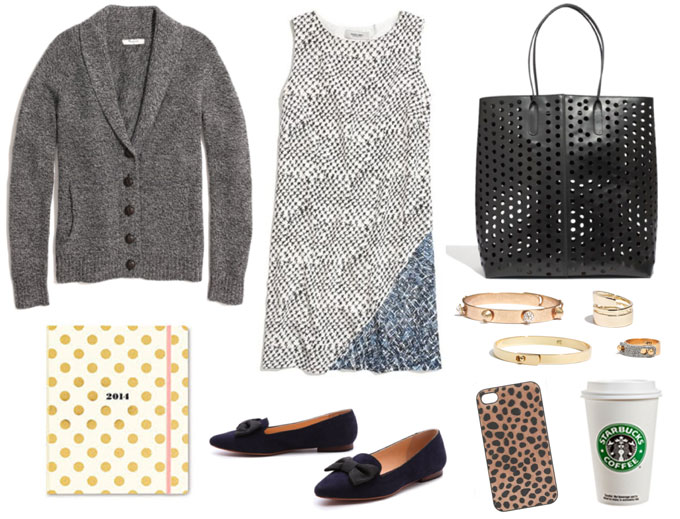 Get the work week look: 
MADEWELL Log Cabin Cardigan:  I'm guilty of wearing a cardigan … everywhere.  But thankfully, it's cool to wear a sweater in an office, or when sitting behind a laptop.  Perhaps less cool:  wearing a cardigan to a bar, which I do, on the regular.  Well, the four times a year I hang at a bar, and order a shirley temple.  I'm cool, kids.
Rachel Comey Silk Observer Dress:  I love love love an easy dress, and I've had my eye on this one for weeks.
Rachel Comey Punched Tote:  I live out of my purses, and totes are just over-sized purses that still count as reasonably-sized, sort of.  I'm into it.
Kate Spade Agenda 2014:  I just got this agenda in the mail, about two months late (the planner actually starts in August), but I'm obsessed.  The polka dots have me jumping for joy, and the sweet little Kate Spade approved quotes at the start of each month totally make my day.  I'm also a loyal pen-and-paper kind of girl when it comes to my organization.  (Read more about that, here.)
Marais USA Slipper Flats in Navy + Black:  It was love at first sight.  (I usually keep a pair, or three, of high heels tucked under my desk for clients, lawyers, and the occasional lunch run.)
The baubles at Madewell right now are so good.  In no particular order, I want them all:  Pavé Stud Glider Bangle // Glider Bangle // Pavé Panel Ring // Ribbon Ring 
J.Crew Calf Hair Case for iPhone 5/5S:  Fuzzy animal print for my phone, fabulous.
Coffee:  Ahem … necessary.
What are your work day must haves?