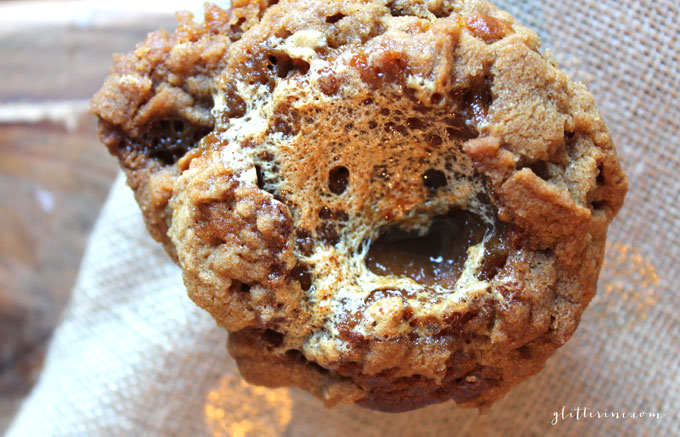 Truth time: this past weekend I went on a bit of a pumpkin spree on Pinterest. And I got seriously overwhelmed. Also, I got hungry. So I decided the only logical thing to do was to bake. I went a little crazy and combined a couple of recipes I had spotted on my internet-hunting and ideas floating around in my head. There were a lot of really amazing-looking pumpkin recipes; definitely going to have to try my hand at these Melt-in-your-Mouth Frosted Pumpkin Cookies via Parent Pretty and these Pumpkin Spice Cupcakes with Marshmallow Buttercream Frosting via Averie Cooks, next. I knew I wanted to add a marshmallow element — I mean, who doesn't love the toasted marshmallows on top of their candied sweet potatoes during Thanksgiving? We were out of fluff (I'm looking at you, hubby!) and I wasn't in the mood to go all marshmallows-from-scratch, so I decided I was just going to sneak a large marshmallow in the center of each cupcake-muffin-hybrid.
By the way, still not sure if these bad boys are cupcakes or muffins, but they sure are delicious. And of course, not putting a topping on any cupcake or muffin in this house is just a sin, so easy-as-could-be streusel topping it was!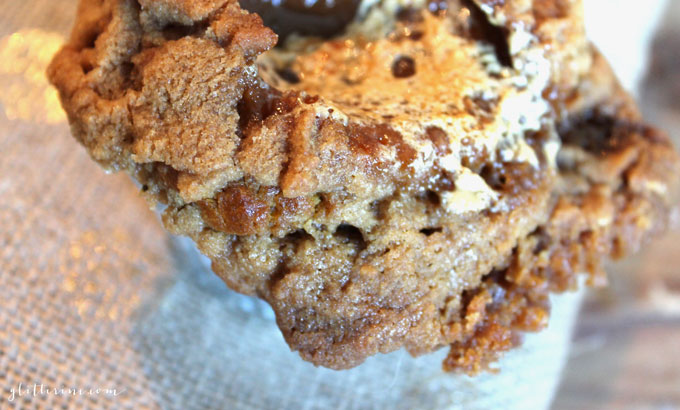 Yields about 12 – 14 large Muffins
INGREDIENTS
For the Cake

1 cup sugar
1/2 cup peanut oil
2 eggs
1 can pumpkin (15 oz.)
1 1/2 cup sifted all purpose flour (I used 1/2 whole wheat flour and 1/2 all-purpose flour)
1/4 tsp. salt
1/4 tsp. baking powder
1/2 tsp. baking soda
1/2 tsp. ground cloves
1/2 tsp. cinnamon
1/2 tsp. ground nutmeg
For the Streusel

1/2 cup brown sugar (dark brown or light brown)
1/3 cup all-purpose flour
1/4 cup butter (softened)
12 Marshmallows
DIRECTIONS
Preheat oven to 325 degrees.
Grease and flour (or spray with baking spray) a loaf pan or muffin tins (I used cupcake liners).
Beat sugar with oil until blended. Add eggs, one at a time, beating well. Continue beating until light and fluffy. Then mix in pumpkin on low speed.
In a separate bowl, mix together all of the dry ingredients for the cake.
Add dry ingredients into the wet mixture on low speed and mix well.
Pour about half of the dough into the prepared pan or muffin cups. Stick a marshmallow in each cup (if you're using the marshmallows), and then pour the remaining batter over each.
In a separate bowl, prepare the streusel topping by mixing all of the streusel ingredients until you have created a crumb texture; you can use a pastry cutter or a mixer to do this. Spread the topping over the wet cake or muffins.
Bake for about 60 minutes or until toothpick comes out clean. Allow to cool for 10 minutes; remove from pan and finish cooling on a rack or plate.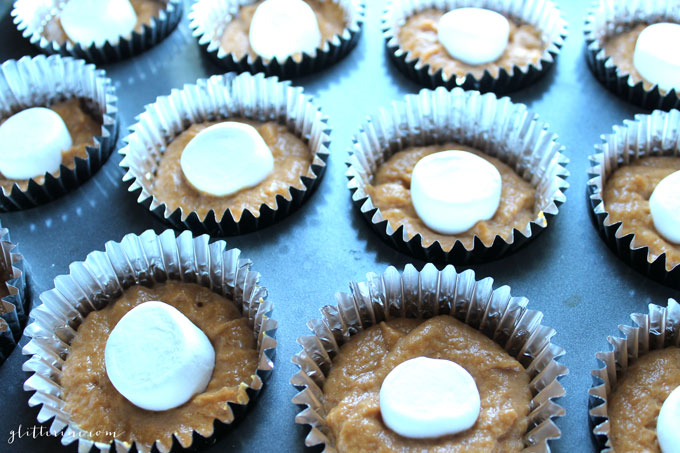 Note: The marshmallows sort of burst through the streusel topping (and toast themselves in the oven) so you could easily skip one or the other; i.e., the muffins would be amazing with just the marshmallow or just the streusel topping. I'll probably choose just one next time I bake these up (which I'm guessing will be very soon).
The muffins were a big hit! Hubby was obsessed with the streusel topping (It came out buttery and crunchy and extra sweet); and honestly I could have skipped the streusel – but I don't like incredibly sweet desserts (I know, I know, I'm a weirdo.) The cake itself is incredibly moist, and tastes like Fall. Together, the ingredients kind of sing. You could also just as easily bake the cake as a pumpkin bread all on it's own — it really is that moist and good. Eat these warm; you can thank me later.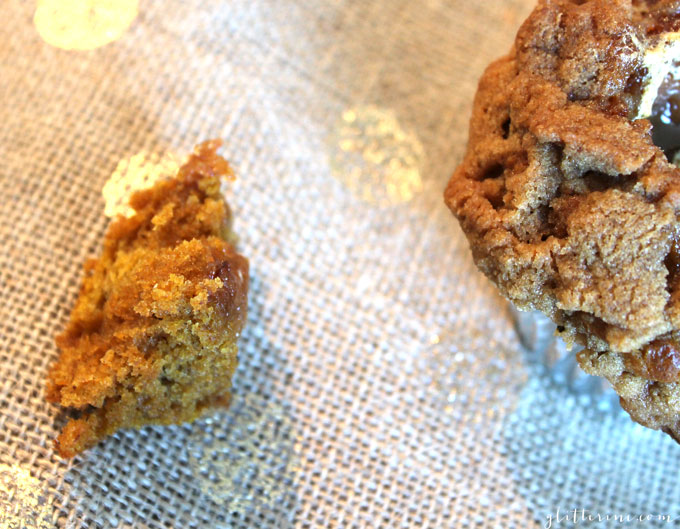 Recipe created by me, Lexi of Glitter, Inc. // Cake adapted via The Charm of Home's Pumpkin Bread