At our house, banana bread is all the rage. I've been making the same unbelievably moist, dense, perfectly sweet banana bread recipe for years. That is, until this past weekend, when I finally experimented and tried a vegan version of my precious banana bread. Scarlett has had a milk protein allergy since birth, and though I'm hopeful she'll grow out of it, that day has yet to come. So in the meantime, and for the sake of her health, of course, I am learning to bake a few yummy vegan recipes. I used to shudder at the thought of a meal without milk or butter or cheese, but as I'm learning to cook vegan dishes, I'm amazed at all of the incredible flavors you can get without said dairy-laden culprits. Lucky for us, Scarlett can eat eggs, but this vegan chocolate chunk banana bread doesn't use any eggs, milk, or butter, and still tastes heavenly.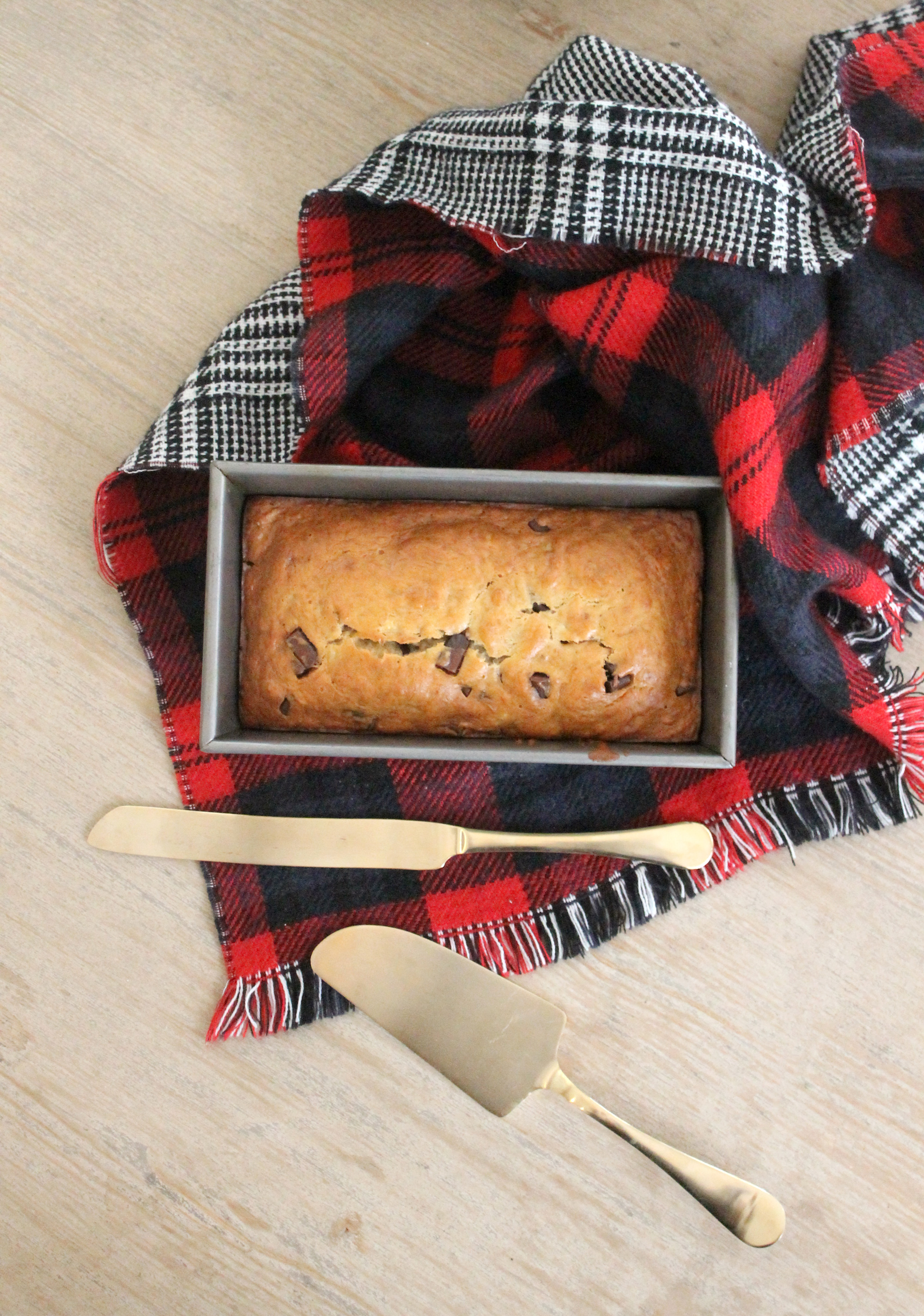 So let's talk about this banana bread. It is good. Like, really good. It's tender and soft, with the right amount of bounce, and a hearty somewhat chewier crust (as it should be!)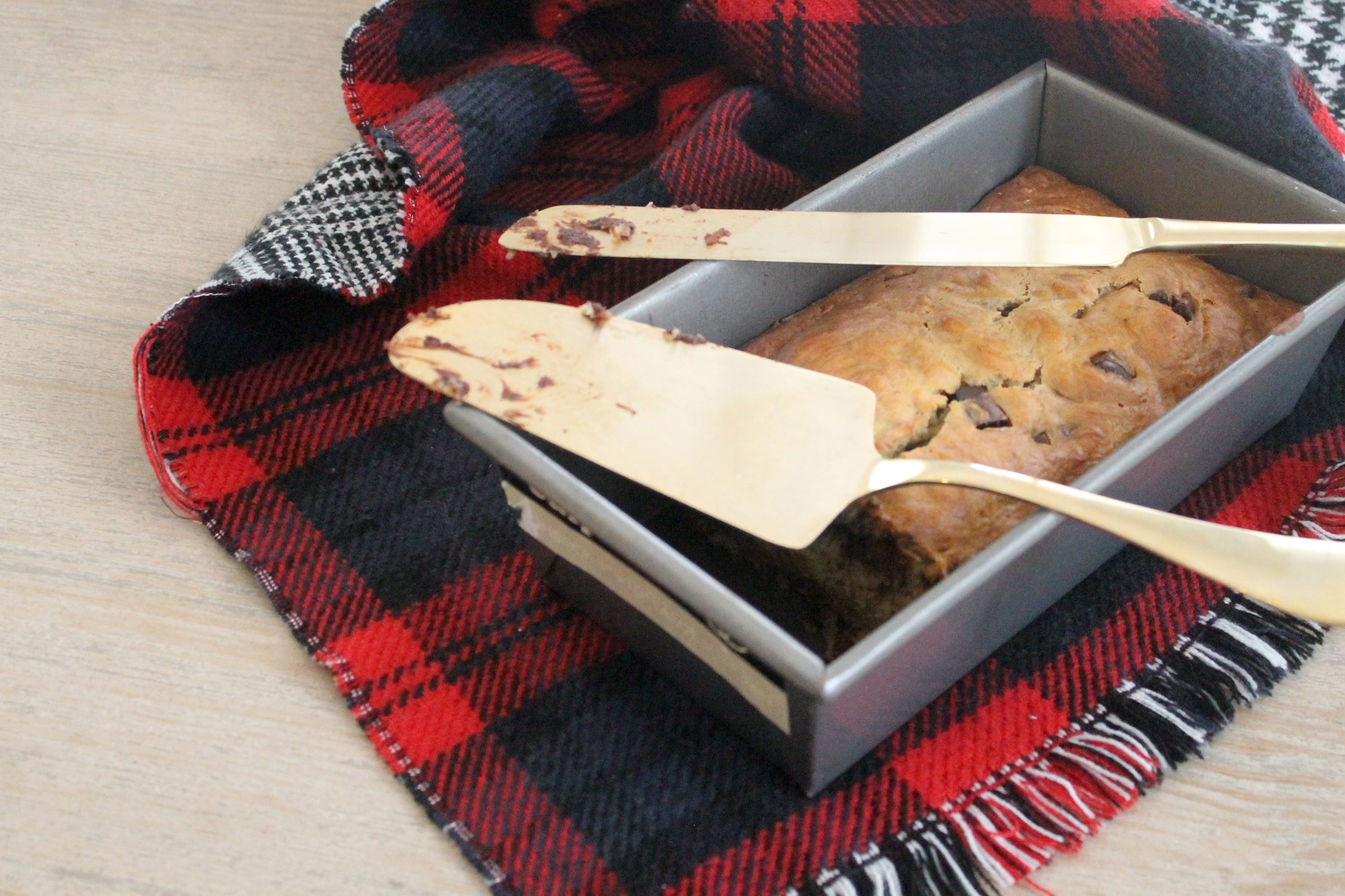 VEGAN CHOCOLATE CHUNK BANANA BREAD
1 load (or about 8 servings)
Prep Time: 20 Minutes // Cook Time: 55 Minutes
INGREDIENTS
baking spray
1 1/4 cups unbleached all-purpose flour
1 teaspoon baking soda
1/2 teaspoon kosher salt
3 very ripe medium bananas, mashed (about 1 1/4 cups)
3/4 cup sugar
1/2 cup plain soy milk yogurt or coconut milk yogurt
1/2 cup vegetable oil
1 teaspoon pure vanilla extract
Dairy-Free Chocolate Chunks or Chips* (optional)
DIRECTIONS
Preheat the oven to 350 degrees F.
Coat a loaf pan with baking spray.
Whisk the flour, baking soda and salt together in a medium bowl.
Whisk the bananas, sugar, yogurt (I used coconut milk yogurt and it worked like a charm!), oil and vanilla together in another medium bowl or your stand mixer.
Gently fold the wet ingredients into the dry ingredients with a rubber spatula (or on low speed in your mixer) until the batter just comes together. Add in your chocolate chunks (optional) and gently mix one more time. The key to quick breads like banana bread is not to over-mix.
Transfer the batter to the prepared loaf pan and bake until a tester inserted in the center comes out clean, about 55 minutes. Allow the loaf to cool in the pan on a wire rack for 30 minutes. Enjoy!
*I recently started using Enjoy Life chocolate chunks and chips; they're gluten-free, dairy-free, nut-free, and soy-free, and totally delicious. They also bake incredibly well. Even Target carries them!
Recipe adapted via Food Network
This post contains affiliate links, which means that if you click on one of the product links, I'll receive a small commission. Thank you so much for clicking through and helping to support this little blog business of mine! Read more about our site, privacy, and disclosure policies here.