Now that winter is in full swing, I thought it was about time I round up a few of the things on my wishlist; a.k.a., the shopaholic confessions – we'll call this one the winter Edition.
I've been watching youtube videos lately, mostly beauty-related, and can I just say, some of these girls are SO inspiring? I find myself curious about things like lighting and contouring, and I guess if I'm willing to take baby steps into the world of highlighting, the HOURGLASS Ambient® Lighting Palette might be the perfect place to start. I also read WAY too many reviews on neuLASH Lash Enhancing Serum and I can't help but wonder if this magic-in-a-bottle really works? I mean, bombshell lashes without layers of mascara? Sign me up! I finally took the plunge and bought a tube of the Naked Ultra Nourishing Lip Gloss in Beso; I already have (and adore) two of the Naked eyeshadow palettes and can't help but feel like their range of nude lip glosses are probably fantastic.
Oversized sweaters and chic coats (under $200!) are a given, and the choker is having a bit of a rebirth (hello, nineties!), and what would a wishlist be without a few couture bags to dream about?
I'm also finding myself drawn to pops of color in home design. Maybe it's that it's so cold and sometimes grey outside, if I bring the color in, I can will the sunshine right alone with it. Solid theory. Cue the Festival Garland.
So without further ado, these are the things I have my eye on (or in my growing online shopping carts).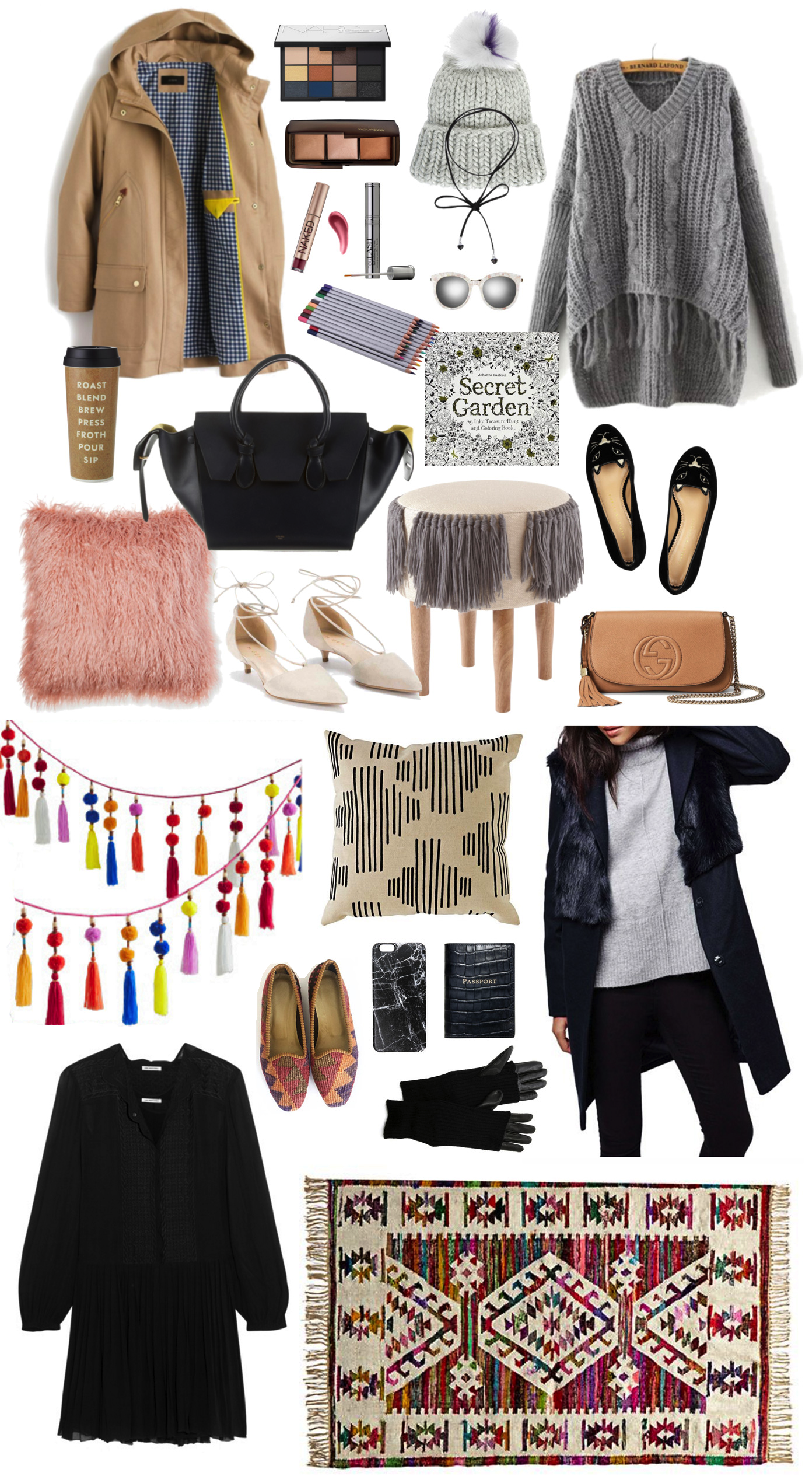 J.Crew Chateau Trench Coat // Eugenia Kim Rain Beanie // Hide and Seek Heart Ribbon Choker // GENTLE MONSTER 56mm Round Sunglasses // Grey V Neck Tassel Dip Hem Sweater (On sale for $20.26, and I'm also loving this Cowl Neck Tunic Sweater on sale for $28.88!) // The Land of Nod Festival Garland // Kilim Shoes // Topshop Longline Coat with Fur Overlay // Prada Vitello Wallet // Mod Botanical Throw Pillow // Elizabeth and James Maitai Dress in Navy // M. Gemi Heels // HOURGLASS Ambient® Lighting Palette // NARSissist L'Amour, Toujours L'Amour Eyeshadow Palette // Gucci Soho Medium Crossbody Bag // Naked Ultra Nourishing Lip Gloss in Beso // neuLASH Lash Enhancing Serum // The Secret Garden Coloring Book // Ohuhu 24-color Colored Pencils // Céline Mini Tie Tote // Nate Berkus™ for Target Fringe Woven Stool // Charlotte Olympia Kitty Embroidered Velvet Slippers // Casetify Black Marble iPhone 6 / 6s Case // Black Crocodile Passport Holder // Carolina Amato Knit & Leather Gloves // Étoile Isabel Marant Auxane Embroidered Crepe Mini Dress (Also crushing on this Free People Perfectly Victorian Embroidered Mini Dress.) // The Land of Nod Casablanca Rug
SHOP THE STORY / CLICK LEFT & RIGHT ARROWS TO EXPLORE

Whew! How about you? Any winter must-haves topping your list this season?
This post contains affiliate links, which means that if you click on one of the product links, I'll receive a small commission. Thank you so much for clicking through and helping to support this little blog business of mine! Read more about our site, privacy, and disclosure policies here.