This post contains affiliate links, which means that if you click on one of the product links, I'll receive a small commission. Additionally, as an Amazon Associate I earn from qualifying purchases. Thank you so much for clicking through and helping to support this little blog business of mine! Read more about our site, privacy, and disclosure policies here.
Celebrate the season of love with the family. Choose to use the cutest Valentine's Day pajamas for kids, babies, and even matching v-day pj's for mom and dad.
With Valentine's Day in just a few weeks, I'm already decorating the house in hearts. Also, yesterday we made Valentine's Day cupcakes, and naturally, we're rocking our Valentine's Day Pajamas every chance we get.
I love making things festive for each of the holidays throughout the calendar year. Also, I love snagging a couple new pairs of pajamas for the kids for Valentine's Day each year is always on my to do list. I especially love that Valentine's Day pajamas are typically "neutral" enough to wear all year long; i.e., it's easier to get away with wearing pj's with hearts on them throughout the year than it is to wear pajamas with say, snowmen or reindeer on them.
I actually already ordered the girls matching Striped Nightgowns from Amazon earlier in the month, and they also happen to be perfect for Valentine's Day thanks to their sweet pink color. (Bonus: these adorable night dresses come in both long-sleeved and short-sleeved versions – great for any season – the fabric is super soft, and they've already washed up really well.)
I've rounded up my picks for the CUTEST Valentine's Day pajamas. These are from a few of our favorite places to shop for festive Valentine's Day pajamas for the kids and family. It includes a few shopping MVP's like Old Navy, Hanna Andersson, Amazon, Cecil and Lou, Monica and Andy, Target, Pottery Barn Kids, and more.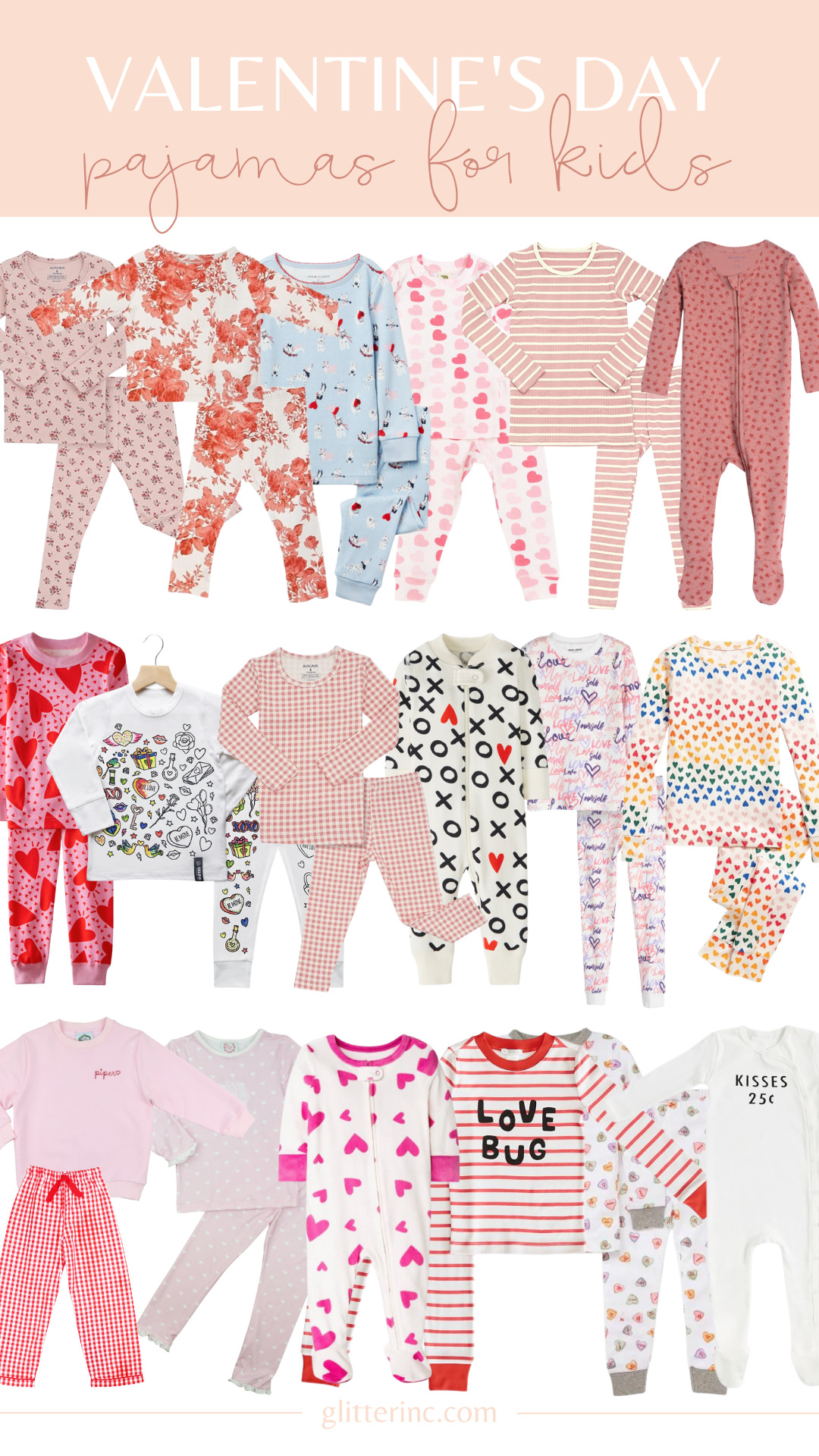 Valentine's Day Pajamas for Kids (Plus Matching Options for Babies, Toddlers, and The Whole Family)

Top Row:
1 – Amazon Girls Pajamas (in Daily Pink)
2 – MASONgrey Mini Hunter Set, Ruby Bloom
3 – Janie and Jack Dog Pajama Set (This Monica and Andy Matching Family Gray Furever Valentines Two-Piece Bamboo Viscose Pajama Set is another adorable puppy dog option!)
4 – Monica and Andy Matching Family Two-Piece Pajamas, in Valentine's Day Pink Hearts (I also really love the more subtle heart print on this Owlivia 100% Organic Cotton Baby Long Sleeve Pajama Set, available on Amazon.)
5 – Amazon AVAUMA Baby Boys Girls Pajama Set 6M-7T Kids Cute Toddler Snug fit Pjs Cotton Sleepwear, in Indi Pink2/Ivory
6 – Maison Me Baby Sawyer Valentines Pajamas, Ditsy Hearts – There are even matching pajamas for toddlers, kids, and mom!
Middle Row:
1 – Hanna Andersson Long John Pajamas In Organic Cotton, in Full Hearts
2 – Selfie Clothing Co. The Tot Exclusive Toddler/Big Kid Color-In PJs Valentines Day. (My kids would get such a kick out of coloring in their own Valentine's Day pajamas!)
3 – Amazon Girls Pajamas, in Check Pink
4 – Hanna Andersson Baby Zip Sleeper In Organic Cotton, in Hugs and Hearts
5 – Neon Rebels Dahl Valentines Pajama Set, Graffiti
6 – Old Navy Matching Gender-Neutral Printed Snug-Fit Pajama Set for Kids
Bottom Row:
1 – Cecil and Lou Pink Long Sleeve Sweatshirt AND Cecil and Lou Red Check Youth Pajama Pants
2 – Cecil and Lou Pink And White Knit Heart Print Pajamas
3 – Cat & Jack Pink Baby Girls' Heart Footed Pajamas
4 – Pottery Barn Kids Love Bug Organic Pajama Set
5 – Burt's Bees Baby Valentine's Day Organic Cotton Pajamas, in Sweet Heart (Also love these Burt's Bees Baby Valentine's Day Organic Cotton Pajamas, in Rose Petal; and they're both on sale!)
6 – Pottery Barn Kids Kisses Organic Nursery Pajamas
SHOP MY VALENTINE'S DAY PAJAMA PICKS BY CLICKING THE IMAGES

Do you shop for Valentine's Day pajamas for your kids? Any favorite brands?
IF YOU LOVED THIS KID-FRIENDLY VALENTINE'S DAY PAJAMAS POST, YOU CAN SEE MORE OF OUR LIFE WITH TWO LITTLE ONES HERE.
SHOP THE VALENTINE'S DAY PAJAMAS FOR BABIES AND KIDS | CLICK LEFT & RIGHT ARROWS TO EXPLORE