This post contains affiliate links, which means that if you click on one of the product links, I'll receive a small commission. Thank you so much for clicking through and helping to support this little blog business of mine! Read more about our site, privacy, and disclosure policies here.
Looking for a new show to watch while at home? This list of the best shows on Netflix, Hulu, and Amazon Prime to binge right now is HUGE!
I don't know how to just watch shows on Netflix, Hulu, and Amazon Prime. I binge shows on Netflix, Hulu, and Amazon Prime. Actually, we binge these streaming services (my husband and I, that is.) But when I realized hubby was about to start two weeks of night float today – i.e., he basically lives at the hospital for two weeks straight … more on medical residency and the life of a doctor's wife here – I decided to do a bit of research on the hunt for the best shows on Netflix, Hulu, and Amazon Prime to watch in true binge-worthy fashion, for hours at a time.
Before you panic at the sheer enormity of this list, know that I haven't seen all of the shows on this list (okay, maybe most), but when your husband is a resident, you're alone, a lot (you can read more about the life of a doctor's wife, here) and Netflix, Hulu, and Amazon Prime … they're your friends. And let's face it, even when he is home – after our hectic weeks: him at the hospital and me trying to run a business and chase down a toddler – mindless, pajama-clad, binge-watching is just what the doctor ordered. Ha, nerdy pun totally intended.
The Best Shows on Netflix, Hulu, and Amazon Prime to Binge Right Now (This List is HUGE!)
Since sharing is caring, I thought I'd publish the spoils of my addiction with a huge list of the best shows on Netflix, Hulu, and Amazon Prime to binge right now; some I've seen and loved and many others have come highly recommended. There are some thrillers, documentaries, and heavier dramas mixed in, but much of this list is comprised of feel good, make you laugh out loud comedy, rom com, and reality type shows; a.k.a., my favorite kind of binge-worthy shows!
UPDATED FOR APRIL 2020
Be sure to let me know in the comments if I've missed any favorites! I'm always looking for new shows to get hooked on.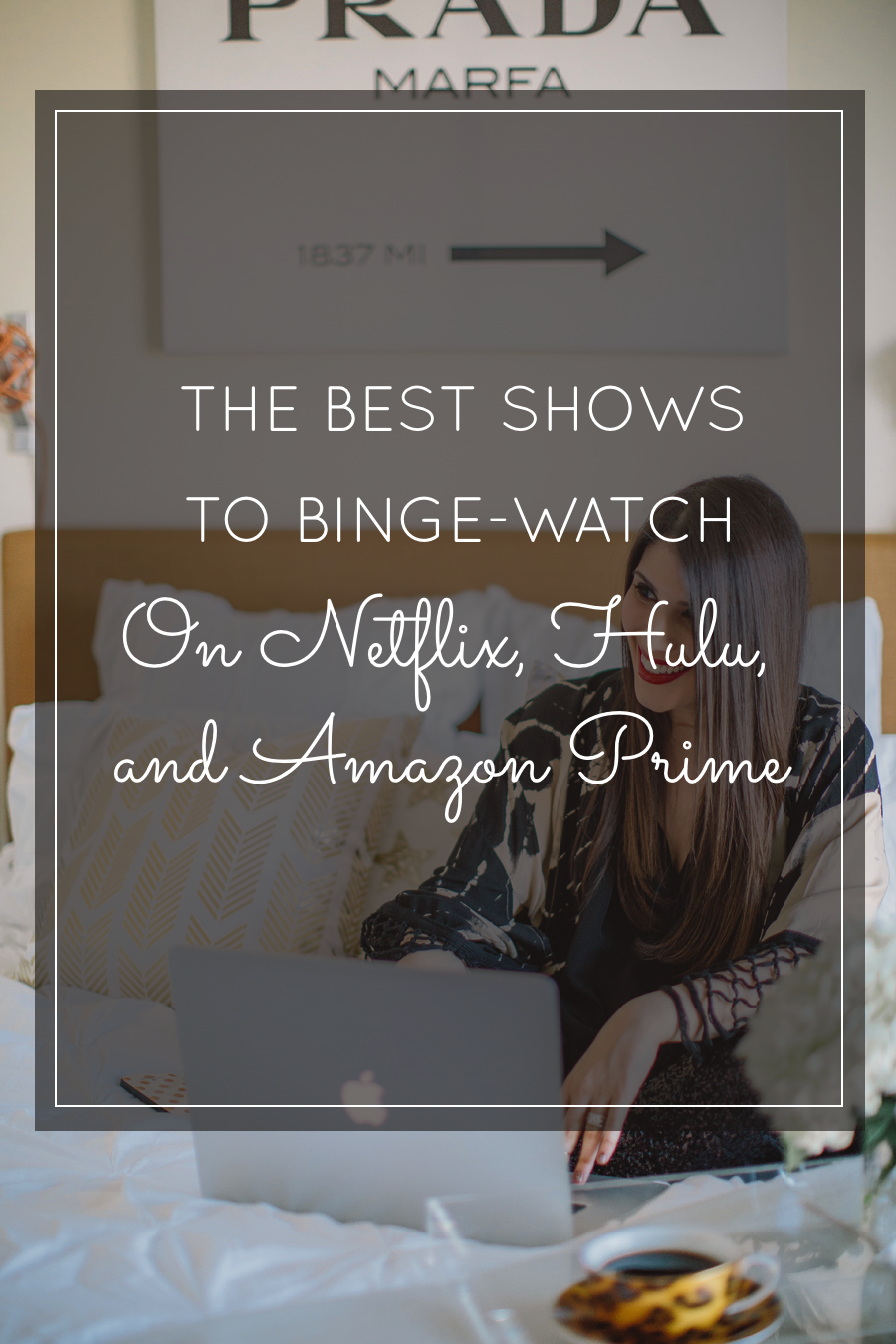 The Best Shows on Netflix
The Office: It's hard to convert people into the cult-like following that is an "Office lover" until they've actually seen The Office … in it's entirety. And then they watch it again and again and again. Did you know that "The Office" is the most-watched show on Netflix? Crazy, right!? This may sound nuts, but if you're looking for the best love story ever (as in, even better than The Notebook), watch The Office. I kid you not.
Schitt's Creek: Oh how I love this show. Do yourself a favor and watch Schitt's Creek in its entirety, ASAP. The story: when the super-wealthy Rose family are defrauded by their business manager and lose all their money, they're forced to move to Schitt's Creek, a backwater town they once purchased as a joke but suddenly turns out to be their only remaining asset. They go from living in a mansion to sharing two rooms in a rundown motel – and hilarity ensues from them slowly adjusting to their new surroundings over the course of the seasons (of which there are five on Netflix). Each family member delivers an incredible performance, and their roles are so memorable, you'll find yourself quoting the show constantly.
Love is Blind: Netflix's first reality dating show, this is one you just can't seem to look away from. The characters/daters are all over the top and have pretty much become instant memes. Even my husband was into this one.
Tiger King: This new Netflix documentary is probably the binge-worthy series of this season. It's wild and disturbing, and will have you scratching your head after each and every episode, wondering how on earth this is even real.
Parks and Recreation: Stop. Do not pass go, well, at least not until you've watched every last episode in this series. Do it for Leslie Knope. This is one of our favorites. Witty, heartfelt, and uproariously funny and quotable, you're unlikely to find a more likable sitcom or more likable characters.
Unbreakable Kimmy Schmidt: I love, love, love this show. Their's just something so innocent about Ellie Kemper's character, a girl rescued after 15 years in a cult, who reclaims her life by venturing to New York. Her wide-eyed enthusiasm is just the best.
Queer Eye: The Fab Five are unbelievably lovable and that's probably the number one reason to binge this show. They cover a plethora of topics, including food, real estate, makeovers, therapy, and even romance, while trying to help people. What's not to love? It's plain old feel-good TV.
The Great British Baking Show: If you love cooking and baking shows, this one is a must see. The level of craft and skillthat the bakers bring forth is truly impressive, and I've honestly learned so much watching the show. The oroiginal judges, Mary Berry and Paul Hollywood make the show extra special.
Gilmore Girls: I have and always will adore this show. I've watched the entire series at least four times now, and truly, it never gets old. The dialogue is beyond witty, the cultural references are fantastic, and you can't help but fall in love with each of the characters, even when you want to throw your frozen waffle at the computer screen. Do not pass go; watch this series. (By the way, the follow up to the Gilmore Girls series – "A Year in the Life" – not as good; but after watching the original series, you'll be so hooked, you'll have no choice but to watch it.)
Reign: I would watch this CW show again JUST for the clothes. The costume designer is a genius. The story is about the Queen of Scotland Mary Stuart, as she travels to France with four ladies-in-waiting to secure her politically strategic engagement to the king's son, Prince Francis. Mary and Francis share a mutual attraction, even though he has reservations about the wisdom of an alliance with Scotland. Complicating issues is Bash, Francis' illegitimate half-brother whom Mary finds herself drawn to in spite of herself. The French Court is also full of less romantic challenges for Mary, who finds her engagement — and life — threatened until she finds an ally in a mysterious shrouded guide. With all that she faces, Mary rallies, readying herself to rule and trying to find a balance between the demands of her country and those of her heart.
The Crown: The widely popular historic drama, made for Netflix, follows the political rivalries and romance of Queen Elizabeth II's reign and the events that shaped the second half of the 20th century. We just started the very first episode and I can't take my eyes off of the costumes. Plus, I love anything with a historical slant. Plus, super fans are all agreeing: it's so good. Watch it on Netflix.
Mixology: This show on Netflix is totally under-rated but brilliant. It's only one short season and well worth the watch. The next time you hit a Friday night with nothing to do, break out a bottle of wine, a big bag of popcorn, and binge away. You will LOVE it.
The Circle: Though I haven't watched this one yet, most say it's a cross between shows like Big Brother, Love Island, and a pinch of The Bachelor, so yeah, it's definitely on my watch list. This Netflix reality TV show is all about the social-media game and what people will do to get famous.
Black Mirror: Black Mirror is an anthology series exploring a twisted, high-tech world where humanity's greatest innovations and darkest instincts collide. The episodes are reminiscent of the Twilight Zone. It's available on Netflix. Both my hubby and sister are obsessed.
Stranger Things: When a young boy disappears, his mother, a police chief, and his friends must confront terrifying forces in order to get him back. It's set in the 1980s so there's plenty of throwback goodness too. Basically everybody LOVES this Netflix show and I'm probably the last chicken on earth who's still too scared to watch it. Whomp, whomp.
Breaking Bad: When it comes to rooting for the bad guy, my husband swears that this show does it better than any other show he's ever seen. He's been campaigning to get me to watch the series for years now. I'll probably cave.
Weeds: Widowed suburban housewife Nancy Botwin (Mary-Louise Parker, who is awesome, I might add!) starts growing and selling marijuana to make enough money to support her family after her husband's unexpected death leaves her in serious debt. The show sort of loses it's luster and charm once Nancy goes from suburban house mom drug dealer to international drug kingpin several seasons in, but admittedly, you root for the sort-of bad guy and get sucked in, hook-line-and-sinker. We finished the entire series and I'm glad we did. Watch it on Netflix.
Vampire Diaries: Just started this one and already, I love it. Some of the vampire scenes leave me a little jumpy (yeah, yeah, I'm a chicken!), but you just know the impending love triangle is going to be GOOD. Watch it on Netflix.
The Originals: Created as a spin-off of The Vampire Diaries, the series follows a family of power-hungry thousand year old vampires look to take back the city that they built and dominate all those who have done them wrong. Watch it on Netflix.
Next in Fashion: This newcomer show is a perfect binge for Project Runway fans, offering Netflix's spin on the fashion competition show. Eighteen designers compete for the chance to win a cash prize and the opportunity to sell their line on Net-a-Porter, designing looks from red carpet dresses to sportswear under crazy time conditions. Hosts Alexa Chung and Tan France are also a big draw.
13 Reasons Why: Truth talk: I've been too scared to watch this one. Not that's it's "scary," just sad and raw and real. The extremely popular, and somewhat controversial new Netflix original drama is about a young teen, Hannah Baker, and the 13 reasons why she commits suicide; i.e., intense bullying, sexting, betrayed friendships and loneliness of high-school.
Ozark: Ozark is another hugely popular Netflix show. It's a crime drama thriller that will keep you on the edge of your seat. A Chicago-based financial advisor secretly relocates his family to the Missouri Ozarks when his dealings with a drug cartel go awry.
Drop Dead Diva: When beautiful but shallow model-wannabe Deb dies in a car accident, her soul resurfaces in the person of Jane, a queen-size attorney who is brilliant and well-liked … or the exact opposite of Deb. By a twist of fate, Deb must come to terms with inhabiting Jane's curvier frame. Though I've never seen it, it has a 97% rating on Google Reviews. Definitely on my must-watch list. (You can catch it on Netflix.)
Mysteries of Laura: This is the description I pulled up on Google …Laura Diamond is a brilliant NYPD homicide detective striving to balance her day job with a chaotic home life, and she's the first to admit that she doesn't always pull it off flawlessly. Her rambunctious twin boys and soon-to-be ex-husband, Jake – who can't seem to find the time to sign the divorce papers – make life interesting. Complications arise when Jake becomes Laura's boss at the precinct, but with the help of her understanding – and attractive – partner, Billy, she somehow manages to make it all work.
Charmed: Another cult favorite I have yet to see. I hear it's a must. A group of sisters discover they are witches; the good kind, that fights evil. The entire series is on Netflix.
Friends: I'm not sure I've ever met a person who hasn't seen Friends. It was easily one of the best shows on television (especially when it ran from 1994 to 2004). Mostly I catch random episodes being re-aired on tv late at night and in hotel rooms, but I've been thinking lately how fun it would be to re-watch the series from start to finish.
How I Met Your Mother: I'll admit I also watched this show for the love story, but not the mother's. I'm a forever fan of Lilly and Marshall. Well, them and Barney. This show is adorably funny and sweet. Just watch it. You can thank me later.
Arrested Development: Quirky in all of the right ways, this show has such a loyal following that after being cancelled on the heels of its third season, it was brought back to life for a fourth season to appease the masses. Rumors continue to swirl on wether there will be an additional season or even a movie. Hubby and I can't wait.
Spinning Out: I watched this one season show in a weekend. Netflix tries their hand at an ice skating drama where a figure skater tries to get back into competition after a fall that left her with a head injury. The show reveals the uglier side of figure skating, with abusive mothers, damaged hips, and cutthroat competition. Kaya Scodelario stars as Kat who has to learn how to skate with a partner if she wants to get back on the ice, and January Jones plays her bipolar mother. There's even a fun cameo from Queer Eye's Jonathan Van Ness.
The Witcher: The Netflix Original looks like an attempt at Game of Thrones, and is based on a Polish fantasy book franchise that gained global popularity following its successful video game adaptation. The series follows Geralt of Rivia (played by Henry Cavill), whose occupation as a mutant 'witcher' sees him slaying monsters for money. His destiny becomes entwined with an orphaned princess on the run and a powerful sorceress testing the limits of her abilities. The timeline is a bit hard to follow, but the characters are interesting, and I'm hopeful for future seasons.
Jane the Virgin: I don't know what it is about the show, but it's completely addicting. Jane is sweet, love-able, and sometimes naive, but the backdrop, done in a telenovela style, is dramatic and laugh-inducing, and very refreshing compared to so much of what's on tv these days. It's not at all surprising that Gina Rodriguez won a Golden Globe AND an Emmy for her role as Jane on the show.
Crazy Ex-Girlfriend: I laugh through every single episode of Crazy Ex-Girlfriend. Every single episode. As of now, I'm woefully behind, but I've vowed to catch up. Basically, a very quirky young woman abandons a powerhouse job at a law firm in New York City in an attempt to reconnect with (errr, stalk) her old boyfriend. There are also many musical numbers. The creator, writer and star of the show, Rachel Bloom, won a Golden Globe for it, so you know it's gotta be good.
Scrubs: This show is so light and sweet and funny, mixed in with a little bit of hospital heartbreak, that we tend to put it on any time we're stuck on what to watch. If you love Zach Braff, you'll love this show.
New Girl: I can't help but feel like the first two seasons of this show were a bit stronger than the last few, though I hear it on good authority (my sister!) that the newest season is full of laughs. Either way, Zooey Deschanel, who plays Jess, is so cute I could scream. Want her dresses. All of them.
Gossip Girl: This show is the height of guilty pleasures. Gossip Girl follows the lives of privileged teenagers on the upper east side with money to blow and absolutely no scruples. You'll love to hate them and secretly want to be them (or at least raid their closets.) Seriously, do it for the fashion. And Chuck Bass.
Shameless: Oscar-nominated actor William H. Macy plays Frank Gallagher, a single father of six who spends much of his free time drinking at bars. The show is wild and dark and twisted, and though we've only just begun the first season, I already love each and every one of the over-the-top "hot mess" characters.
Riverdale: Riverdale is a dark teen comedy based on characters from the Archie comics. The campy mystery mixes in elements of a conventional teen drama — romance, small-town life, and the high-school ecosystem — with a murder mystery that everyone is trying to solve. There are also inexplicable small-town 1950s vibes, despite being set in the present, but it's fun to watch.
Hart of Dixie: Okay, I was a little devastated when this show was canceled after only a four-season run. Big city doctor moves to a small-town; cheesy adorableness ensues, with added hot guy love triangle. This show is adorably sweet and I miss it.
Daredevil: This is definitely a superhero show of the more gritty variety. Set in the Marvel universe, Daredevil follows Matt Murdock, attorney by day and vigilante by night. Blinded in an accident as a child, Murdock uses his heightened senses as Daredevil to fight crime on the streets of New York at night. Intense, but really, really good.
Orange is the New Black: It's a favorite for so many for a reason. The first two seasons felt stronger than the third, and we haven't yet gotten to the fourth season. Still, definitely worth a watch.
The West Wing: Created by Aaron Sorkin, this political drama takes places within the fictional White House walls. This was easily television's all-time best political drama; and Aaron Sorkin at his absolute best. The dialogue is brilliant, and you fall in love with each of the characters, with their own tangled lives and lofty political ideals. I mean, according to my whole family, President Bartlet (played by Martin Sheen) is the greatest fictional President of all time. For what it's worth, my Dad has binge-watched this series at least three times, and he's a genius. Just sayin'.
Dynasty: The modern day CW reboot of the classic 1980s primetime soap, the new Dynasty is totally binge-worthy. Fallon Carrington is an epic character to watch and the FASHION in the show is incredible.
The Punisher: Of all of the Marvel shows, for whatever reason, hubby and I have really liked this one. After the murder of his family, Marine veteran Frank Castle became a vigilante known as "The Punisher" with only one goal in mind, to avenge them. It's intense, and really well done.
Crashing: Shoutout to my sister who got me hooked on Phoebe Waller-Bridge's genius shows. Basically, in exchange for low rent, a hodgepodge group of 20-something tenants set up residence as property managers (i.e., in a huge disused hospital). The relationships are complicated and you can't look away.
Nailed It!: This show is admittedly ridiculous, but host, Nicole Byer, makes it so adorably watchable, that we tune in whenever we can't figure out what else to watch. The premise: home bakers with a poor track record in the kitchen seek redemption — and cash — on this series. In every episode, three contestants try their hand at re-creating edible masterpieces. The projects rarely turn out great, but whichever amateur baker comes closest to a successful dessert by the end of the episode takes home the $10,000 prize.
House of Cards: This one requires your full attention; a.k.a., my husband loves it and I'm "meh" about it, but so many people swear by this show, that I knew it had to be included.
Sherlock: Though it may have been done before, this iteration of Sherlock Holmes, is arguably the best. The British series stars Benedict Cumberbatch and Martin Freeman, and is a modern update that finds the famous sleuth and his doctor partner solving crime in 21st century London.
Sons of Anarchy: I never in a million years would have thought that I would fall for a show like SOA, but I did. Go figure. The story is twisted and intense and sad, and the lead character is such a dreamboat it's hard to look away. (No longer on Netflix. Stay tuned.)
The Best Shows on Hulu
Vanderpump Rules: This show is totally my guilty pleasure. The reality series, following a group of sometimes single employees at a Lisa Vanderpump Bar in Hollywood, has been running since January 2013 and is still going strong. Each character is slightly more over the top and self obsessed than the last, and it's their ridiculous antics that keep the show highly entertaining.
The Mindy Project: Mindy Kaling is the most charming, adorable, smart, funny, young comedic writer around right now, and you're majorly missing out if you've never gotten into The Mindy Project. The series stars Mindy Kaling as Mindy Lahiri, a young OB/GYN, as she navigates through her professional life and romantic relationships, and it's available on Hulu.
This Is Us: It's quite possible that hubby and I are the last two people in the country to not yet get on the This Is Us bandwagon, but truthfully, I'm too hormonal (post baby number two) to watch a show that will surely make me cry at every single turn. Despite all that, it's utter popularity is pretty telling. Watch it on Hulu.
Fleabag: Fleabag is a British comedy-drama television series created and written by Phoebe Waller-Bridge, about an angry, dry-witted, sex-addicted woman, known only as Fleabag. She has no filter as she navigates life and love in London while trying to cope with tragedy. Fleabag is both the kind of character you love and hate and the show is totally worth the binge.
Brooklyn Nine-Nine: Available on Hulu, the series comedy revolves around Jake Peralta (played by Andy Samberg), an immature but talented NYPD detective in Brooklyn's 99th Precinct, who comes into immediate conflict with his new commanding officer, the serious and stern Captain Raymond Holt. Laughs ensue.
Now that we've watched several seasons, I have to admit: I totally love it. Well into the series, I still laugh at every single episode. So good.
Buffy the Vampire Slayer: Believe it or not, I have never seen Buffy, but its hoards of fans made me put it on my must-watch list stat. Basically a young Sarah Michelle Gellar is a Slayer, one in a long line of young women chosen for a specific mission: to seek out and destroy vampires, demons and other forces of darkness.
Don't Trust the B— in Apartment 23: Before Krysten Ritter was Jessica Jones, she was in the tragically underrated Don't Trust The B—. I'm not sure why this show was canceled but it was awesome and funny and inappropriate, and very much worth the binge watch.
Californication: We only recently started this show, and although we're still only in season one, I'm already hooked. The show is perverse and raunchy and totally goes there, but it's highly entertaining. David Duchovny who plays Hank Moody, an alcoholic, womanizing novelist, is irresistibly awful and great.
One Tree Hill: I've actually only seen a handful of episodes, but so many friends of mine swear by this show, that I know it has to be well worth the watch. High school (and then college) drama full of pretty people; what's not to love?
Friday Night Lights: In a small town, high school football is everything. That and a whole lot of drama makes this fan favorite a show I definitely need to see. (Update: I'm on season two and I totally LOVE it.)
Jessica Jones: This superhero-meets-detective show is edgy and raw and features a butt-kicking female superhero lead. Very cool. And very dark.
Dawson's Creek: O.M.G. I was so in love with this show growing up. Although I was a Pacey girl all the way, there was something so sweet and earnest about Dawson and his puppy dog views on high school romance.
Veronica Mars: Classic, adored show I have yet to watch but swear I'll get to one day. If you love Kristen Bell (and really, who doesn't?) this one is probably worth the watch.
Killing Eve: I NEED to watch this one, stat. Per Wikipedia, Eve's life as a spy is not adding up to what she had hoped it would be when she started. She is a bored, very smart, MI5 security officer who is very desk-bound. Villanelle is a very talented killer, mercurial in mood, who clings to the luxuries of her job. Eve and Villanelle go head to head in a fierce game of cat and mouse, each woman equally obsessed with the other as Eve is tasked with hunting down the psychopathic assassin.
The Bold Type: Three young women in NYC strike up the sweetest friendship while working for fictional global women's magazine Scarlet. The character are likeable and the way they lean on one another as they try to find their own voices is totally endearing. I totally love this CW show.
Younger: If you loved Hilary Duff back in her Lizzie McGuire days, you should 100% be watching Younger. Basically, suddenly single-mom Liza realizes how hard it is to try to re-enter the working world at 40. She winds up lying about her age and getting a totally enviable job at a publishing house where she meets future BFF, Kelsey. The love interest(s) in this show are totally dreamy, and the cast of characters is the best. This one is a MUST watch.
Little Fires Everywhere: Another Reese Witherspoon collaboration, people are raving about this book-turned show. Per the shows' description, the intertwined fates of the picture-perfect Richardson family and an enigmatic mother and daughter who upend their lives.
Love Island: Both the British and American versions of this reality dating show are available on Hulu. Watching a bunch of attractive people live, hookup, and fight in a villa is actually way more entertaining than you might expect. The contestants participate in bizarre challenges and get tangled up in terribly complicated love triangles and squares. The goal is to couple up with a stranger and then be the last pair standing. The final duo wins a ton of money.
The Best Shows on Amazon Prime
The Marvelous Mrs. Maisel: The new first season of this show is on Amazon Prime and I binge-watched it in one weekend. In 1958 New York, Midge Maisel's life is on track- husband, kids, and elegant Yom Kippur dinners in their Upper West Side apartment. But when her life takes a surprise turn, she has to quickly decide what else she's good at – and going from housewife to stand-up comic is a wild choice to everyone but her. The Marvelous Mrs. Maisel is written and directed by Amy Sherman-Palladino (Gilmore Girls); so the writing is FANTASTIC.
Sports Night: One of Aaron Sorkin's lesser known series, Sports Night, is quite possibly my favorite of all of his shows. The shortest run, and very little to do with sports (despite what it's name may imply), the rather funny and heartfelt show documents the fictional lives and relationships and behind-the-scenes of a sports news show. Hubby and I generally have an annual binge-a-thon of both this show and The Office. For whatever reason, both shows have just kind of stuck with us.
The Good Place: Set in the afterlife, The Good Place follows a lazy, entitled, selfish woman Eleanor Shellstrop (played by the ever-adorable, Kristen Bell) enter into "Heaven" only to discover that — due to a mixup — she was incorrectly assigned. With the help of her new friends, Shellstrop endeavors to be a better person and earn her place in Heaven. So cute.
Broad City: Dying to watch this funny feminist take on life in your twenties. Plus, the show is produced by Amy Poehler, so obviously it's a winner.
Catastrophe: This one is on Amazon Prime, and seriously, kudos to them for streaming such an ingenious show. I can't believe how accurate (and hilarious) the conversations on modern day dating, marriage, and parenting are. Somewhat raunchy, with plenty of funny, this is one my husband and I binge the second each new season is released.
The Royals: All four seasons of The Royals are available on Amazon Prime. If you haven't yet gotten hooked on this show, it's time to start. The drama about a fictional British Royal family set in modern day London, who inhabit a world of opulence and regal tradition that caters to any and every desire, but one that also comes with a price tag of duty, destiny and intense public scrutiny, is E network's first scripted series, and it's great. I was pretty crushed when it was canceled. Still, worth the watch for solid entertainment.
Felicity: Just thinking about this show brings back all of the feels. I could totally relate to shy girl Felicity when I used to anxiously await a new episode each week. Obviously well worth the trip down memory lane.
Available on Other Channels + Streaming Services
And though they're not on Netflix, Hulu or Prime, shoutout to these great shows:
Big Little Lies: The seven-episode miniseries, created and written by David E. Kelley, and based on the hugely popular novel by Liane Moriarty, stars Reese Witherspoon, Nicole Kidman, Shailene Woodley, and a cast of all-stars, is a dark comedy based on three friends with a whole lot of secrets. If you have HBO, you can watch it there.
Walking Dead: Alright, I'll admit it: I'm far too terrified to actually watch this show, but its legions of fans will swear otherwise. If you like zombies, and intense human connection, try this one on for size. This one is available streaming on AMC.
Odd Mom Out: The Bravo show, created by and starring Jill Kargman, is such a gem. Basically, New Yorker Jill Weber is both trying to embrace her quirky and unconventional life with husband Andy and their three kids in NYC and at times give in to the temptations and perks afforded to her by Andy's wealthy, blue-blooded, status-obsessed family. The culture clash is brilliant and so funny.
Southern Charm: This Bravo reality show has been running for years. The wealthy twenty-to-thirty-somethings live in Charleston, and they're all a bit of a hot mess. I haven't picked back up where I left off in a long time, but now that we're home more, I'm thinking of getting back into this one. I mean, who doesn't love a hot mess? (Some seasons available on Hulu.)
The Real Housewives: There are so many spinoffs of the original show, I can't keep track. Basically, ubr wealthy houseives are endlessly involved in scandalous drama. The fights are volatile, the wealth is astounding, and there is SO much content to watch, you'll never get bored. Some seasons are available on Hulu.
Keeping Up With the Kardashians: Easily the most famous reality television family in the world, the Kardashian-Jenner clan are wild, uncouth, over the top, and totally watchable. The show is available on E! with some seasons available on Hulu.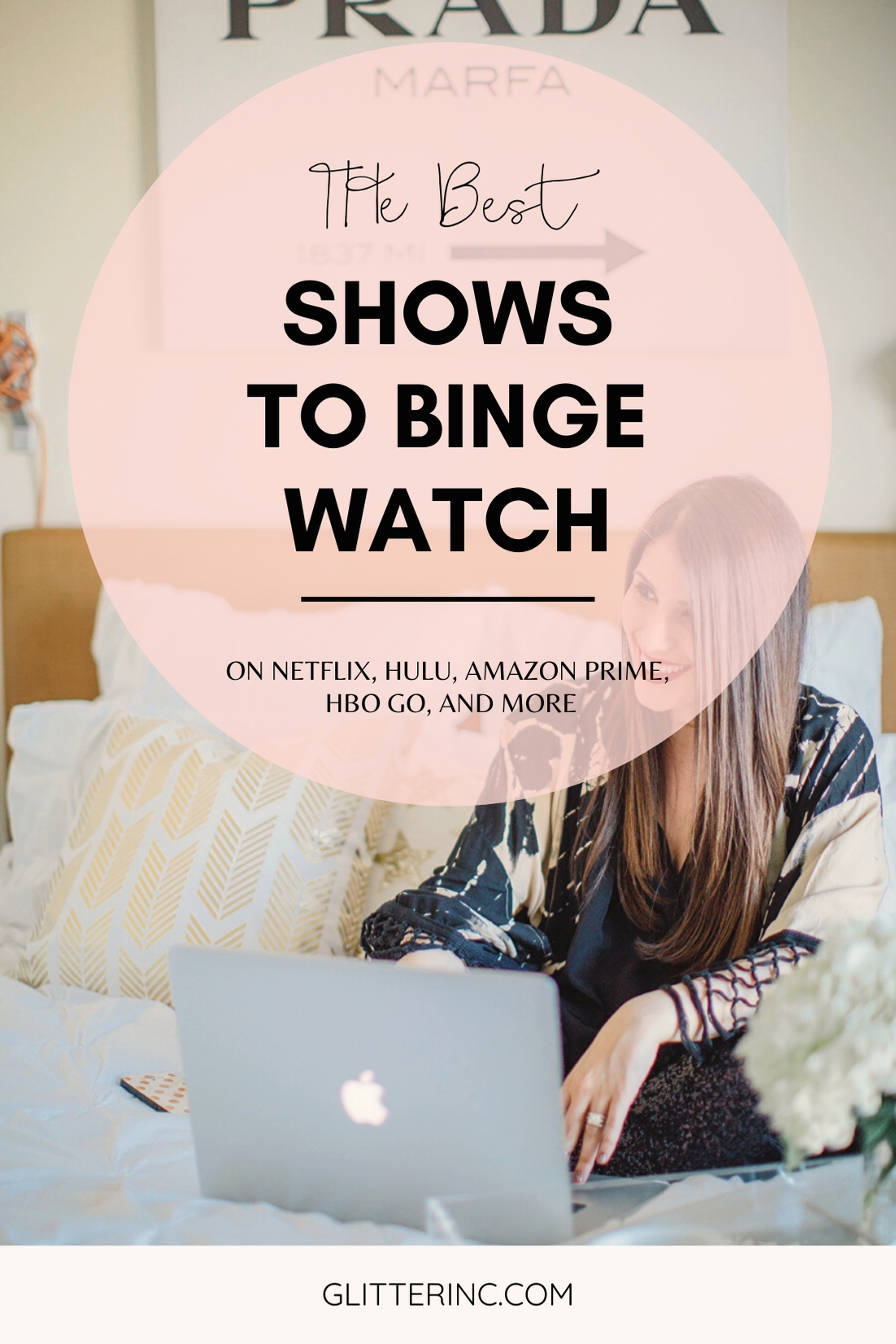 So put on your yoga pants, grab a steaming cup of coffee or tea, and bunker down. It's high time for a binge-a-thon. (And yes, I'm shamelessly committed.)
Image via my Style Me Pretty Home Tour | Photography: Jeremy Harwell | Design & Styling: Jennifer Wurtzebach of The Chic Pad & Lexi Holzberg Kritzer of Glitter, Inc.