This post is sponsored by BabbleBoxx.com on behalf of Single Edition Media. Thank you so much for supporting the sponsors that make this little blog of mine possible! Read more about our site, privacy, and disclosure policies here.
Just before the big move, while we were home in Miami (visiting my Aunt in the Keys to be exact!), I had the chance to try out BabbleBoxx's latest beauty box, the Beauty Blossom Box – full of larger than sample size products from some amazing beauty brands. We're talking full-size beauty items that have just hit stores! Basically a beauty lovers dream. (Check out my first two BabbleBox reveals here and here.) I'm a big fan of switching up my beauty routine, even if ever so subtly, with each new season. Especially now that we live somewhere that actually has different climates with each season (unlike Miami where it's basically always summer), I'm more aware of keeping moisturized, frizz-free, and fresh-faced, with each passing season. So without further ado, here are a few new-to-me beauty products for spring that I think you're going to love!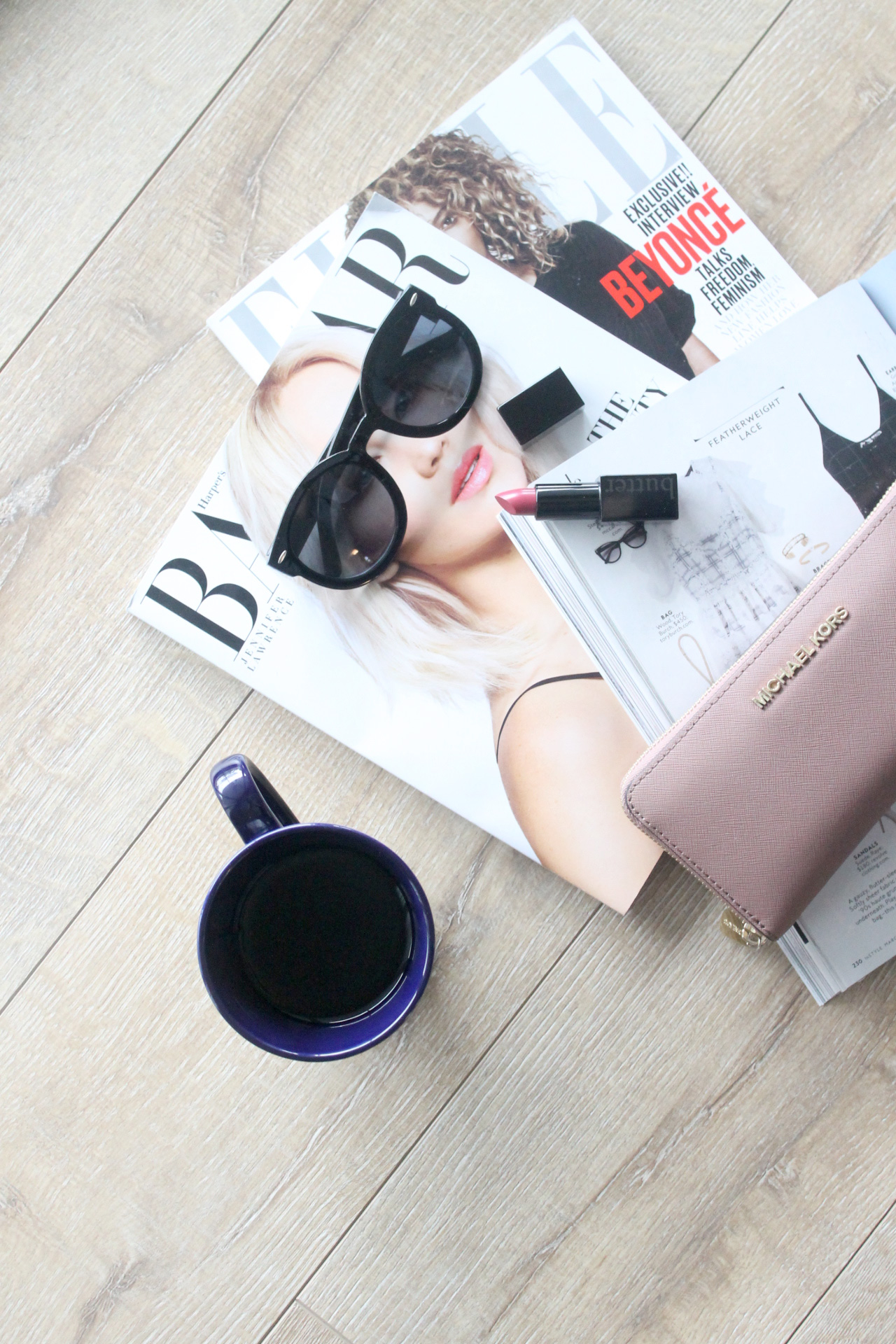 Butter™ London: Plush Rush Lip Gloss, Plush Rush Lip Liner & Plush Rush Lipstick
Butter London Plush Rush Lip Liner: This lip liner is basically foolproof. It allows you to effortlessly shape and define lips while keeping your lipstick in place. It's also water-resistant, is easy to blend in case you want to wear it as a standalone lipstick, has a velvety plush texture for seamless application, while revolutionary Filling Spheres help to minimize wrinkles and increase the appearance of lip volume. The result is contoured lips, rich in colour with no feathering of your precious color around the lips.
Butter London Plush Rush Lip Gloss: Especially in the summer-time, I'm a big fan of a pout-perfecting high gloss shine, and Butter London's Plush Rush Lip Gloss is ultra-shiny, plush-feeling, and uniquely crafted with a Phyto-Endorphin Complex to brighten your day. It comes in 12 adorable shades.
Butter London Plush Rush Lipstick: This gorgeous lipstick gives you fuller and more voluptuous lips with a long-wearing moisture-packed formula. The formula has a creamy feel without any feathering or bleeding. It also happens to come in 12 perfect shades and is specially formulated with a Phyto-Endorphin Complex to give you a blissful rush of happy.
To get 20% off your first purchase use code: BabbleBoxx2016.
Village Naturals Aromatherapy Calm Lavender + Chamomile Products
I'm a bath lover through and through, so I jumped at the chance to try out these bath products infused with essential oils and extracts of lavender and chamomile.
Calm Lavender + Chamomile Body Soak (20 oz): This skin skin softening, nourishing blend of sea salt enhanced with calming essential oils and extracts of lavender and chamomile plus an antioxidant-rich blend of vitamins C & E, will help you to relax and restore your body.
Calm Lavender + Chamomile Double Butter Bath Bombs (4.9 oz): If you're a fan of bath bombs, you're going to love these. Enriched with two moisturizing and nourishing butters: shea and cocoa, and infused with essential oils and extracts of lavender and chamomile plus an antioxidant-rich blend of vitamins C & E, these are the most luxe bath bombs around.
Pure Lavender Essential Oil (.33 fl oz): Calm your mind, body & spirit with these 100% pure, therapeutic-grade essential oils. Sourced from the finest plants around the world, Village Naturals lavender essential oil is derived from the lavender herb and smells incredible.
Get $1 off with this coupon at Village Naturals Aromatherapy.
Dr. Brandt Microdermabrasion is the original skin exfoliating procedure. The product actually contains aluminum oxide crystals, lactic acid and smoothing botanicals, i.e., the same ingredients used in medical offices for much pricier microdermabrasion procedures. This miracle scrub polishes away dead skin cells, revealing radiance, renews dull skin, providing a healthy look, and helps smooth the appearance of skin.
Microdermabrasion Facial Cream, exfoliates dead skin cells, smoothen fine lines, Microdermabrasion, Anti-aging, Age-defying. Use code BABBLE16 for 15% off.
European Wax Center Renew Me Restoring Serum
I am seriously loving European Wax Center's new line of products. The collection was created so that you can Maintain beautiful skin between European Wax Center treatments with our Signature Collection of luxurious, performance-driven products. And the Renew Me Restoring Serum is one of my favorites. This fast acting serum restores stressed skin by replenishing it with necessary nutrients, while calming irritation and redness, using European Wax Center's signature Comfort Blend™. It also contains a blend of powerful antioxidants that help defend against harsh environmental stress and other skin-aging factors.
European Wax Center Oh My Brow! Brow Highlighter
Lately I've become obsessed with my eyebrows. Who knew they mattered so much to your beauty look? Oh My Brow!™ Brow Highlighter is a soft, highlighting illuminator – in one universally flattering shade, Pearl – that you apply along the brow bone and above the arch, blending with the sponge end, to give your arches a beautiful boost. And if you want a little extra illumination oomph, apply Oh My Brow!™ Brow Highlighter on and above your cheekbones and in the corners of your eyes for a gorgeous face glow.
IT Cosmetics Superhero Mascara
In the last few months I've discovered IT Cosmetics mascaras and I'm never going back. (You may have already seen me singing it's praises over on my Snapchat.) All of the mascaras make your lashes long and full of volume, without any added clumping. This mascara in particular has strengthening biotin, lash-lifting polymers and plumping collage and because it's anti-aging, the mascara really gives your lashes life. With every coat, every single lash from base to tips gets lifted and creates a fuller lash line. How's that for a great mascara?
Dif you know you can use coconut oil for more than just cooking? Vita Coco Coconut Oil is 100% organic, unrefined, cold pressed, virgin coconut oil. Derived from fresh coconuts, Vita Coco Coconut Oil is not only great for cooking and baking, but also for dozens of all natural wellness and beauty uses, an is especially great for skin and hair.
A few fun beauty uses for coconut oil:
a miracle makeup remover
a safe and natural teeth whitener (just add add baking soda)
as a deep-conditioning treatment
applied post-shower for smooth skin
to repair dry hands
as a great cuticle repair treatment
a remedy for chapped lips
as an undereye cream to help with undereye bags and fine lines
a dime-size amount rubbed into damp locks before styling works as a frizz-tamer
as a dandruff treatment
burns, bug bites, and scrapes can all be soothed with a dab
sweep a small amount on top of makeup as a natural cheekbone highlighter
use instead of shaving cream to shave your legs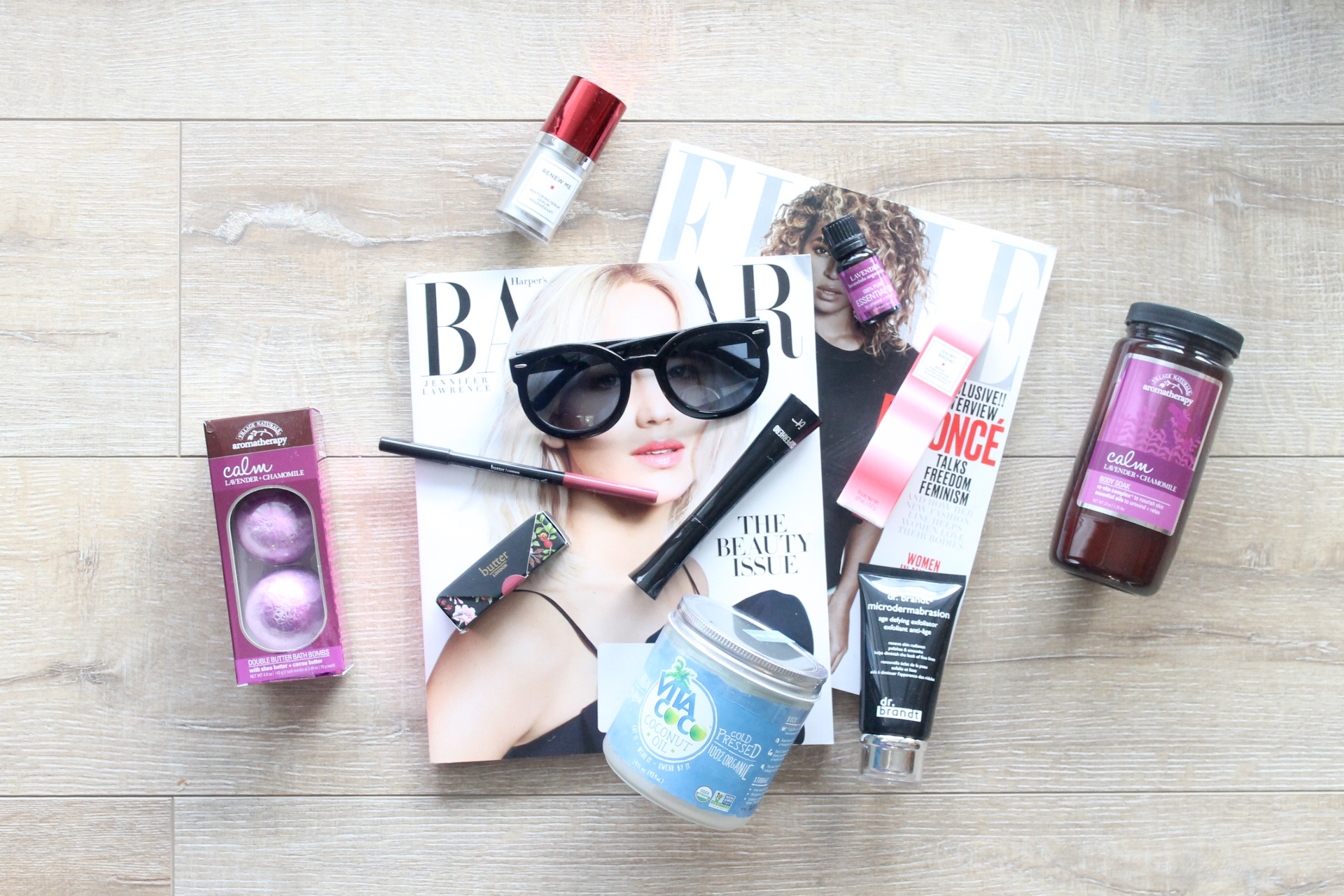 Have you tried any of these products? Do you like to change up your beauty routine with each new season?