When Hitha, packing and travel extraordinaire of travel blog, Hitha On The Go, asked me to try to narrow down my biggest packing flaw for the maternity leave series, I knew I could sum it up in one word: over-packing.  I explained to Hitha …
As for my crazy packing habit: I overpack everything (not just clothes, ha), but we can definitely stick to clothing.  I usually pack dresses and cardigans (especially for a Summer vacation), but I just pack so many.  Then I'll get nervous and add several bottoms and tops thinking, what if I don't want to wear a dress that day?  You should see my hospital bag … over-packing to the nth degree.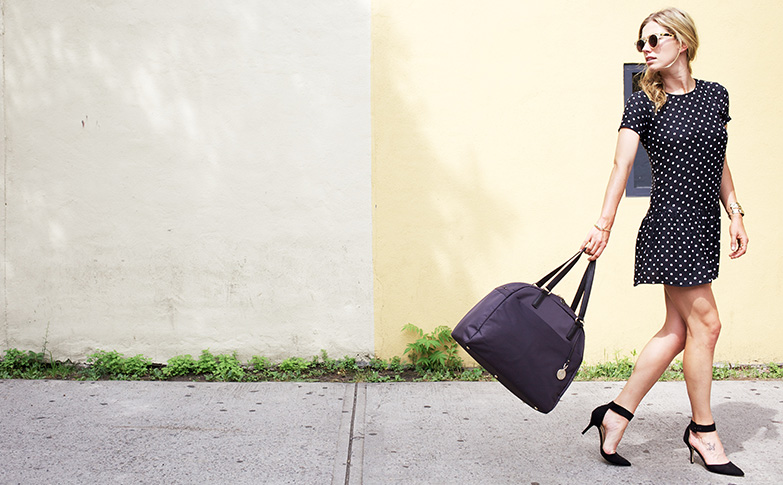 From Hitha:
Lexi is not the first overpacker out there – nor will she be the last.
Everyone has different clothing styles, different go-to outfits. However, these 3 tips will help any traveler pack more efficiently, without sacrificing style.
Let's dive in, shall we?
1)   Pack your favorite, most-flattering items.
Travels are NOT the time to try new trends, or wear clothing that you haven't deemed a "go-to" at home. Pack the items you can rely on always being comfortable and flattering. Try you best to opt out of overly trendy pieces – the last thing you'll want to do is to look back at those pictures and wonder "what the hell was I wearing?"
For any given trip, you'll find a 1-2 pairs of pants, several tops, 1 dress, and 1 blazer. The items are packed are my favorite items that I wear frequently at home. And all of them go with each other, which brings us to tip #2…
2)   Plan to wear every single item at least twice
When you pack your go-to pieces, the doubt of "what if I don't like this item on that day" goes away. Poof. Gone.
Jeans and pants can be worn at least 2-3 times. T-shirts can be worn twice (if not three times – wear it as a workout top on its last wear). Blouses can be donned at least 3 times, with the help of a sweat-wicking camisole. If you opt for a dress to wear in the evenings, mix and match it up with the help of different lip colors, jewelry, hair styling, and shoes. I assure you, it won't look the same.
3)   How to launder your clothes on the go
My toiletries bag will ALWAYS have these two bottles inside it – a clothing refreshing spray and a detergent. I'm notorious for doing some laundry in my hotel room sink – workout clothes, undergarments, and anything made from a quick-drying material.
Those that won't dry overnight (think tees, jeans, etc) get a spritz or two of this spray, which removes any odors and leaves them with a laundry-fresh scent. If you're going to pack with an edited-down wardrobe, never leave home without these two items. They are lifesavers.
If you want more packing and travel tips, be sure to sign up for my newsletter!
Image via Hitha On The Go (via Lo & Sons)