Today, the adorable Kayla of lovelucygirl is sharing a bit about her personal style and how she shops and dresses for a fashion blog, while still managing to keep her look simple and on-trend.  So much great advice!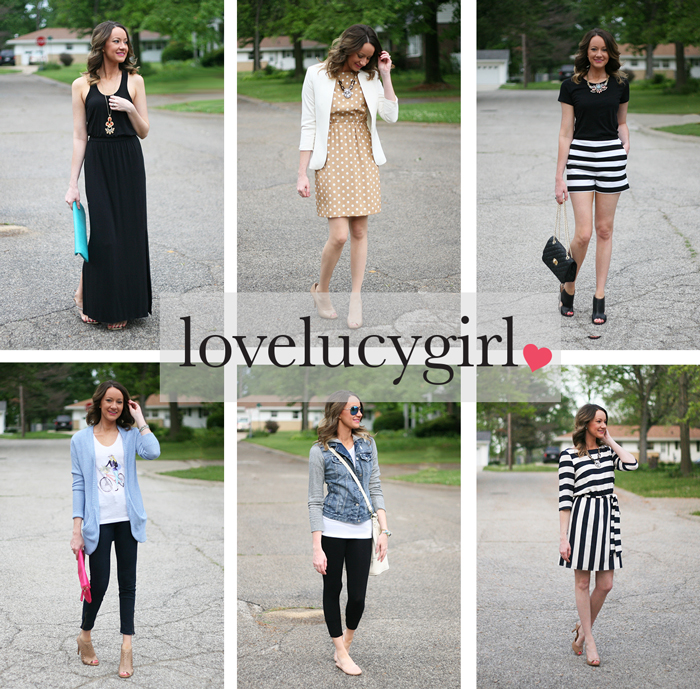 Hi new friends! I'm Kayla! Bringing you a guest post today for my sweet friend Lexi and her new precious girl!
I thought I would introduce you to lovelucygirl and give you a little insight to what it's all about!  lovelucygirl started as blog to document all the funny things that my dog, Lucy, did.. so yes, if you were wondering the blog is named after her.
Over time lovelucygirl has become more of a style blog with a few life lessons and puppy love thrown in.
There's few a things I've discovered about my style since started lovelucygirl. I like basics, statement necklaces and lots of stripes.. ha.
Really though.. If there is one piece of advice I could give while shopping or staring at your closet in the morning it would be to 'keep it simple.'
Sometimes we (I) get so caught up in trends and what other people are wearing that I forget what I actually like and look the best in. Just because crop tops are super hot right now that doesn't mean they are for everyone.. and I don't think I'm one of those girls.. ha.
I try to buy basic tees because they will go with everything – my favorite ones are from Gap and Old Navy.  And I can never pass up a classic dress. A good shape, style and pattern that looks good on your body will stay in your closet for years. I'm not sure if statement necklaces are a 'trend' or not but I absolutely love them. They add the perfect detail to almost any outfit and are a great way to dress up a normal look. My favorite ones come from J.Crew Factory – I never pass up a 50% off sale!
Come visit me at lovelucygirl! I love new friends! : )