Every Summer I tend to switch up my hair and beauty routine – mostly because Miami Summer's are so hot, and my hair and skin definitely take the brunt of the sun and humidity.  Right now, I'm working on tackling my damaged hair, and thanks to Neutrogena Triple Repair and a much-needed break from blow drying and my hair iron (oh yeah, I'm totally guilty of the age-old sun damaged and heat damaged hair troubles), my hair is finally getting back into shape.
Strong hair is completely possible with the help of Neutrogena Triple Repair and a little TLC.  And according to Neutrogena, hair is 3x stronger after just 1 use (it mends 97% of split ends instantly and reduces breakage by 80%, so hair is left stronger, smoother, and more nourished) … so far, I'm impressed. I also love that the Triple Repair line is a system – I feel like I'm really taking care of my hair.  Using all three products, the Triple Repair Shampoo, Conditioner, and Leave-In Treatment, in this breakthrough hair care system has been clinically proven to instantly repair the three leading signs of hair damage: Mends split ends, strengthens brittle hair, and protects from breakage.  Your hair is also protected against heat styling over 400°F so you can get the style you want without the damage and use your blow dryer and hair iron to your heart's content (a major bonus for a styling-tool-addict like myself.)  The Triple Repair system contains nutrient rich conditioners that target damage and penetrate deep to rebuild hair, leaving hair more resilient to the effects of heat, color, and styling.  The products also smell amazing and leave my hair super soft and clean.
Do you switch up your hair care for Summer?  Any tried and true tips/tricks?
Be sure to like Neutrogena on Facebook for all of the latest updates!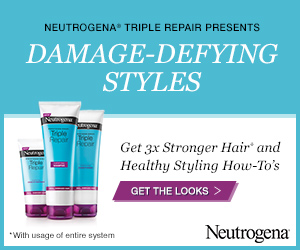 Sponsored by Single Edition Media on behalf of Neutrogena.  Thank you so much for supporting the sponsors that make Glitter, Inc. possible!