Hi! My name is Kristin and I blog over at Fancy Things Blog. I'm so excited to be guest posting today! I couldn't be more thrilled for you, Lexi. Your baby girl is going to be so cute and fashionable, I just know it!
Okay, onto some decor inspiration. I just recently designed my home office and wanted to share some ways you can glam up your own office space in just five ways!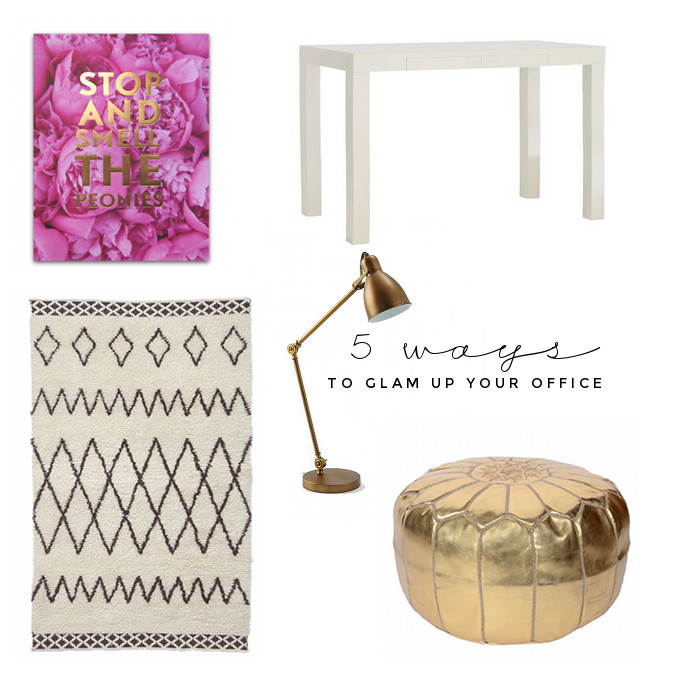 Print | Desk | Rug | Lamp | Pouf
1. Accessories: Accessories make all of the difference! I'm drawn to pretty gold accessories, but you can also add pops of color to your space this way. Think a bright picture frame, a faux python tray, candles, a Moroccan pouf, storage boxes etc.
2. Lighting: Natural lighting is always best when it comes to any space but an aesthetically pleasing lamp is great for additional lighting or to use at night.
3. Rugs/Pillows: Rugs and pillows are a must to make your space feel cozy and inviting! An area rug that is both comfortable and goes with your color scheme/design is important.
4. Art work: Art work adds life to your space and fills up those empty walls! There are so many affordable prints online that you can easily frame yourself.
5. Office Supplies: Colorful pens, file folders, agendas, notebooks..the list could go on! This girl loves some pretty office supplies.
I'd love to know some of the ways you accessorize your office. Let me know in the comments or feel free to visit me at my blog! Thank you so much for reading!