I was going to keep my Rose Bowl Market recap simple – nestle it in with the rest of the LA Glitter Travels post (coming soon) – but then I started going through my pictures … and there were dozens (and that's low-balling it). I also picked up a few tricks of the Rose Bowl Market shopping trade, so I figured, this has got to be useful information to someone (namely a flea market obsessive like myself), so here goes …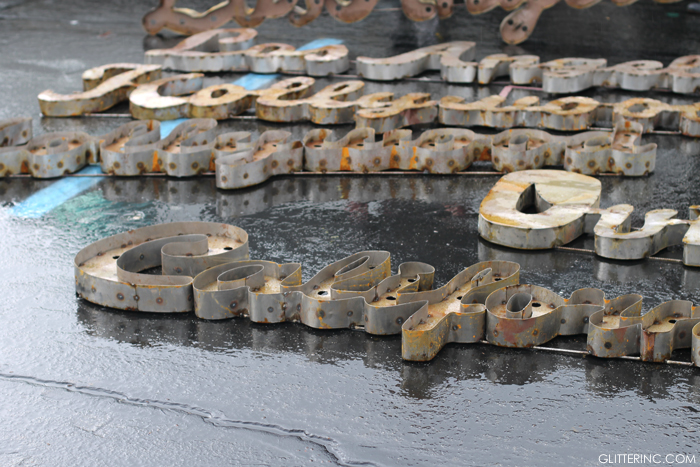 Held the second Sunday of every month at the Rose Bowl Stadium, we got seriously lucky when I realized we were in fact in LA on the second Sunday of the month. (A major happy dance ensued.)
It rained … or rather, sprinkled, the entire time we were there, which was both good and bad. Bad because the only champion of the rain was Scarlett, who lay cool as a cucumber under her stroller awning most of the trip; Good because rain deterred most everyone else, so there was plenty of greatness to rummage through.
We went with Rachel of Sugar-Coated Inspiration and her boyfriend, so we had double the scouts. Totally lucky that they were equally as into the hunt as we were.
Basically the Rose Bowl Market is a yard-sale-meets-estate-sale on steroids – from metal signs to wedding dresses to antlers to mid-century furniture to lion statues to gaudy jewelry to antique everything. It was awesome. I will plan all future trips to LA around the second Sunday of the month forever more.
Even innocuous piles of fabric hold gorgeous kilim rugs on the cheap. Still regretting not buying one of those beauties.
Man, I love these two. Thank goodness I've trained them both from a young age (got to hubby a little later, at sixteen) to tolerate my utter excitement over flea markets. They were both troopers.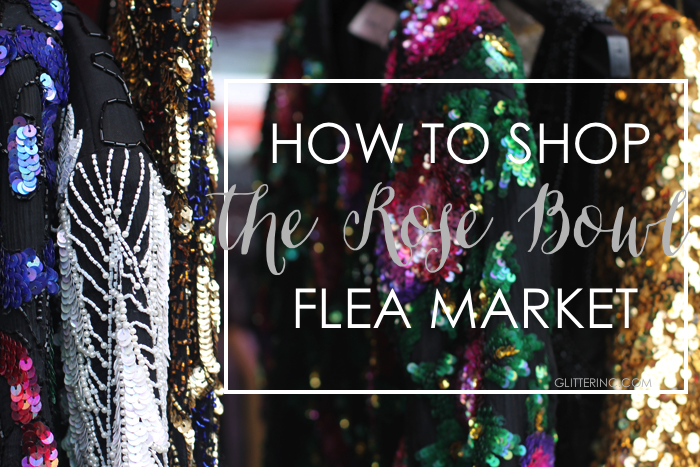 A Few Tips and Tricks for Shopping the Rose Bowl Market:
Go early. The good stuff goes fast. Believe it or not, it's more expensive the earlier you go; the price drops from $20 to $15 at 7am.
Prepare for crowds. Rainy days are great because people loathe rain. In case of rain, bring umbrella.
Bring cash. A few vendors accept checks or (gasp) credit cards, but not all of them do, and even those that do, will probably give you a better deal if you are willing to pay cash.
Bring snacks and water. The concessions at the Rose Bowl Flea Market are lame and I don't know why. But take my word for it – lame, overpriced hot dogs and water – not a fun time.
Bring a great big canvas bag for all of your loot and room in your trunk.
Bring a tape measurer if you're on the hunt for furniture, art work, or rugs. Duh.
You can find really incredible vintage pieces of furniture and art if you know what you're looking for, but don't be afraid to buy what you like (the same goes for fashion … so many cool old coats, sequin dresses, hats, and more.)
If there's something you like but you're not 100% sure you want to buy it, or in the alternative, if there's something you buy but it's big or heavy and you don't want to schlep it until the very end, write down the booth number. I know that seems silly, but the flea market is huge and you will forget which stall your prized fill-in-the-blank is.
Shop with an open mind. Things can be painted, fabric can be changed, stuff can be cleaned. But if it needs a lot of work, don't overpay.
Do check out Emily Henderson's post all about how she finds the best vintage pieces at flea markets. She is a genius.
Happy hunting!