One of my many goals of the new year is to dive back into reading. There was a sweet spot during my pregnancy where I devoured books, nestled somewhere between too nauseous to read and too tired to read. From the day my beautiful oh-so-perfect Scarlett was born, it became too-tired-too-exhausted-too-mind-numbed to read. I've been reading Caterpillar books (that are really just Scarlett's chew toys) for far too many months. And so I've challenged myself, to get back into reading … even if that means I read ten pages of a good book before my heavy eyelids win out each night … at ten pages a night, I'll easily finish a book in two months. That's groundbreaking, all things considered. Whether there will actually be a part two, remains to be seen, but it's the new year, so I'm being ambitious here.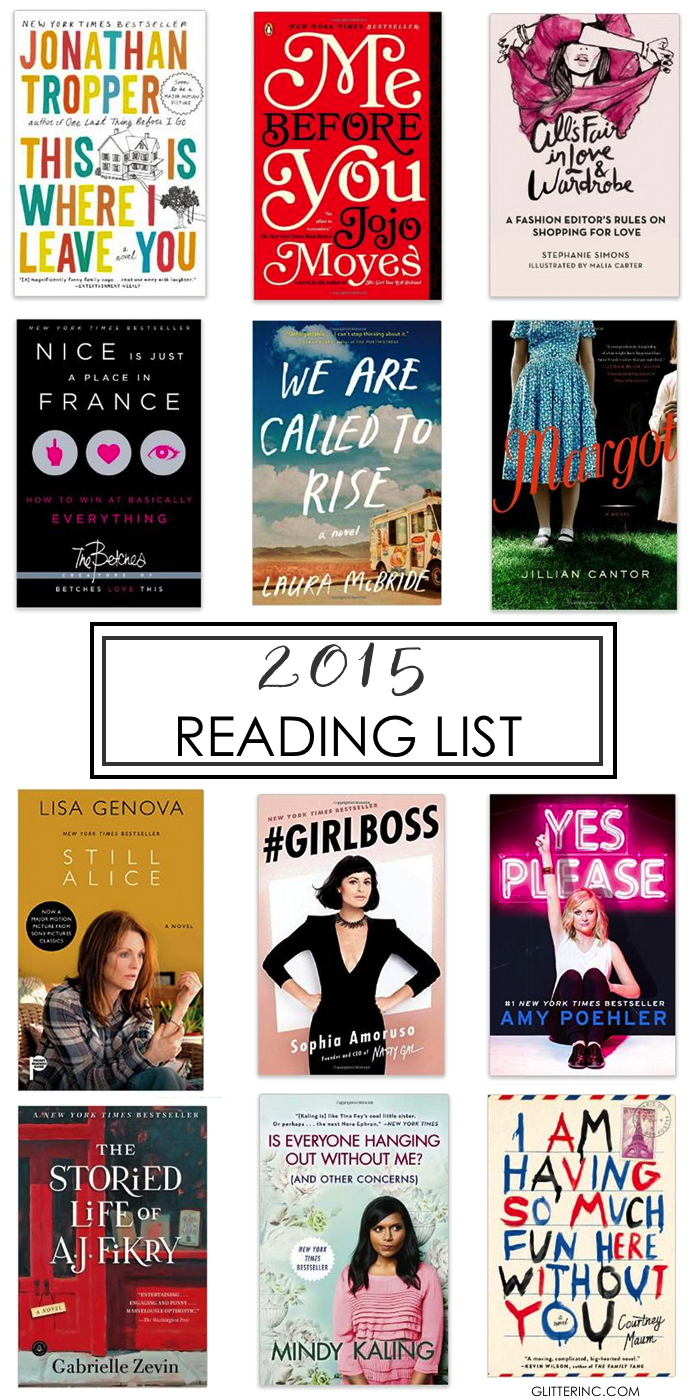 Clockwise from top left:
This Where I Leave You:  The death of Judd Foxman's father marks the first time that the entire Foxman family—including Judd's mother, brothers, and sister—have been together in years. Conspicuously absent: Judd's wife, Jen, whose fourteen-month affair with Judd's radio-shock-jock boss has recently become painfully public. Simultaneously mourning the death of his father and the demise of his marriage, Judd joins the rest of the Foxmans as they reluctantly submit to their patriarch's dying request: to spend the seven days following the funeral together. In the same house. Like a family. As the week quickly spins out of control, longstanding grudges resurface, secrets are revealed, and old passions reawakened. For Judd, it's a weeklong attempt to make sense of the mess his life has become while trying in vain not to get sucked into the regressive battles of his madly dysfunctional family.
Me Before You: Lou Clark knows lots of things. She knows how many footsteps there are between the bus stop and home. She knows she likes working in The Buttered Bun tea shop and she knows she might not love her boyfriend Patrick. What Lou doesn't know is she's about to lose her job or that knowing what's coming is what keeps her sane. Will Traynor knows his motorcycle accident took away his desire to live. He knows everything feels very small and rather joyless now and he knows exactly how he's going to put a stop to that. What Will doesn't know is that Lou is about to burst into his world in a riot of colour. And neither of them knows they're going to change the other for all time.
All's Fair In Love & Wardrobe: At last, a dating rulebook for fashion lovers! All's Fair in Love and Wardrobe puts a uniquely glamorous spin on shopping for love, offering pearls of wisdom from a venerable fashion editor. Who better to help you resist wayward temptation and avoid potentially expensive mistakes? With stiletto-sharp wit, this little guide reinvents the dos and don'ts of dating, covering everything from The Bra Code to the etiquette of chatting up a living mannequin. Consider this statement-making little book your front-row seat to the madcap antics of the modern guy—featuring more than one hundred rules on shopping for love, eye candy fashion illustrations, and a standard Curate-a-Date application for weeding out ill-fitting duds and heartbreaking heels.
Nice is Just a Place in France: How to Win at Basically Everything: Look, maybe you're a nice girl, but we're guessing you're more like us or you probably wouldn't have picked up this book. Not that we have a problem with girls who are nice people. But being nice is just not the way to get what you want. And this book is about getting what you want. Not in a like finding happiness, giving back to the world, being grateful for what you have sort of way. But in a ruling your world, being the most desired, powerful badass in the room way, so you can come out on top of any situation: guys, career, friends, enemies, whatever. How does a betch make that happen? Here are some highlights: DON'T BE EASY. DON'T BE POOR. DON'T BE UGLY. We didn't come up with these life lessons. We're just the ones who wrote it all down. This is not self-help. Self-help is for fat people and divorcées. This is how to deal with your problems when you have no problems. You're welcome.
We Are Called to Rise: An immigrant boy whose family is struggling to assimilate. A middle-aged housewife coping with an imploding marriage and a troubled son. A social worker at home in the darker corners of Las Vegas. A wounded soldier recovering from an injury he can't remember getting. By the time we realize how these voices will connect, the impossible and perhaps the unbearable has already happened. We Are Called to Rise is a boomtown tale, in which the lives of people from different backgrounds and experiences collide in a stunning coincidence. When presented the opportunity to sink into despair, these characters rise. Through acts of remarkable charity and bravery, they rescue themselves. Emotionally powerful yet tender and intimate, We Are Called to Rise is a novel of redemption and unexpected love.
Margot: Anne Frank has long been a symbol of bravery and hope, but there were two sisters hidden in the annex, two young Jewish girls, one a cultural icon made famous by her published diary and the other, nearly forgotten. In the spring of 1959, The Diary of Anne Frank has just come to the silver screen to great acclaim, and a young woman named Margie Franklin is working in Philadelphia as a secretary at a Jewish law firm. On the surface she lives a quiet life, but Margie has a secret: a life she once lived, a past and a religion she has denied, and a family and a country she left behind. Margie Franklin is really Margot Frank, older sister of Anne, who did not die in Bergen-Belsen as reported, but who instead escaped the Nazis for America. But now, as her sister becomes a global icon, Margie's carefully constructed American life begins to fall apart. A new relationship threatens to overtake the young love that sustained her during the war, and her past and present begin to collide. Margie is forced to come to terms with Margot, with the people she loved, and with a life swept up into the course of history.
Still Alice: Alice Howland—Harvard professor, gifted researcher, and lecturer, wife, and mother of three grown children—sets out for a run and soon realizes she has no idea how to find her way home. She has taken the route for years, but nothing looks familiar. She is utterly lost. Medical consults reveal early-onset Alzheimer's. Alice slowly but inevitably loses memory and connection with reality, as told from her perspective. She gradually loses the ability to follow a conversational thread, the story line of a book, or to recall information she heard just moments before. Genova's debut shows the disease progression through the reactions of others, as Alice does, so readers feel what she feels: a slowly building terror
#GirlBoss: At seventeen, Sophia Amoruso decided to forgo continuing education to pursue a life of hitchhiking, dumpster diving, and petty thievery. Now, at twenty-nine, she is the Founder, CEO, and Creative Director of Nasty Gal, a $100+ million e-tailer that draws A-list publicity and rabid fans for its leading-edge fashion and provocative online persona. Amoruso shows readers how to channel their passion and hard work, while keeping their insecurities from getting in the way. She offers straight talk about making your voice heard and doing meaningful work. She's proof that you can be a huge success without giving up your spirit of adventure or distinctive style. As she writes, "I have three pieces of advice I want you to remember: Don't ever grow up. Don't become a bore. Don't let The Man get to you. OK? Cool. Then let's do this."
Yes Please: In Amy Poehler's highly anticipated first book, Yes Please, she offers up a big juicy stew of personal stories, funny bits on sex and love and friendship and parenthood and real life advice (some useful, some not so much), like when to be funny and when to be serious. Powered by Amy's charming and hilarious, biting yet wise voice, Yes Please is a book is full of words to live by.
The Storied Life of A.J. Fikry: A. J. Fikry's life is not at all what he expected it to be. His wife has died, his bookstore is experiencing the worst sales in its history, and now his prized possession, a rare collection of Poe poems, has been stolen. Slowly but surely, he is isolating himself from all the people of Alice Island-from Lambiase, the well-intentioned police officer who's always felt kindly toward Fikry; from Ismay, his sister-in-law who is hell-bent on saving him from his dreary self; from Amelia, the lovely and idealistic (if eccentric) Knightley Press sales rep who keeps on taking the ferry over to Alice Island, refusing to be deterred by A.J.'s bad attitude. Even the books in his store have stopped holding pleasure for him. These days, A.J. can only see them as a sign of a world that is changing too rapidly. And then a mysterious package appears at the bookstore. It's that unexpected arrival that gives A. J. Fikry the opportunity to make his life over, the ability to see everything anew. It doesn't take long for the locals to notice the change overcoming A.J.; or for that determined sales rep, Amelia, to see her curmudgeonly client in a new light; or for the wisdom of all those books to become again the lifeblood of A.J.'s world; or for everything to twist again into a version of his life that he didn't see coming. As surprising as it is moving, The Storied Life of A. J. Fikry is an unforgettable tale of transformation and second chances, an irresistible affirmation of why we read, and why we love.
Is Everyone Hanging Out Without Me (And Other Concerns): Mindy Kaling has lived many lives: the obedient child of immigrant professionals, a timid chubster afraid of her own bike, a Ben Affleck–impersonating Off-Broadway performer and playwright, and, finally, a comedy writer and actress prone to starting fights with her friends and coworkers with the sentence "Can I just say one last thing about this, and then I swear I'll shut up about it?" Perhaps you want to know what Mindy thinks makes a great best friend (someone who will fill your prescription in the middle of the night), or what makes a great guy (one who is aware of all elderly people in any room at any time and acts accordingly), or what is the perfect amount of fame (so famous you can never get convicted of murder in a court of law), or how to maintain a trim figure (you will not find that information in these pages). If so, you've come to the right book, mostly! In Is Everyone Hanging Out Without Me?, Mindy invites readers on a tour of her life and her unscientific observations on romance, friendship, and Hollywood, with several conveniently placed stopping points for you to run errands and make phone calls. Mindy Kaling really is just a Girl Next Door—not so much literally anywhere in the continental United States, but definitely if you live in India or Sri Lanka.
I Am Having So Much Fun Here Without You: Where'd You Go, Bernadette meets Beautiful Ruins in this reverse love story set in Paris and London about a failed monogamist's attempts to answer the question: Is it really possible to fall back in love? Despite the success of his first solo show in Paris and the support of his brilliant French wife and young daughter, thirty-four-year-old British artist Richard Haddon is too busy mourning the loss of his American mistress to a famous cutlery designer to appreciate his fortune. But after Richard discovers that a painting he originally made for his wife, Anne -when they were first married and deeply in love-has sold, it shocks him back to reality and he resolves to reinvest wholeheartedly in his family life . . . just in time for his wife to learn the extent of his affair. Rudderless and remorseful, Richard embarks on a series of misguided attempts to win Anne back while focusing his creative energy on a provocative art piece to prove that he's still the man she once loved. Skillfully balancing biting wit with a deep emotional undercurrent, debut novelist Courtney Maum has created the perfect portrait of an imperfect family-and a heartfelt exploration of marriage, love, and fidelity.
Get the Books:

Are there any books on your must-read books this year?
By the way, an astounding 38 books are becoming movies in 2015 alone. Have you read any of them? I always seem to love the book version more than the movie, but some of these new films actually look really good. Fingers crossed!
Book Synopses via Good Reads