As temperatures begin to drop at rapid pace, it's hard not to reconsider your cold-weather wear. The only statement that statement coat makes by about mid-November is, "I'm cute, but definitely not warm enough." My clothes speak to me, fyi. Scarves are amazingly helpful in keeping warm, but one gust of wind, and whoosh, you've just gotten the chill of your life.
Then, in walks the turtleneck. The dreaded turtleneck. The turtleneck my mom always used to try to talk us into wearing as kids on our Winter trips up to North Carolina. When I think of turtlenecks, I think of purple OshKosh B'gosh cotton neck-traps or worse still, the ugliest of the ugliest in 1970s fashion. (I mean, my Dad wore turtlenecks and platform clogs. Platforms. He's 6'4, people.)
But today's turtleneck is so much more than that – it's loose and oversized with a forgiving collar, and it's effortlessly chic … who knew?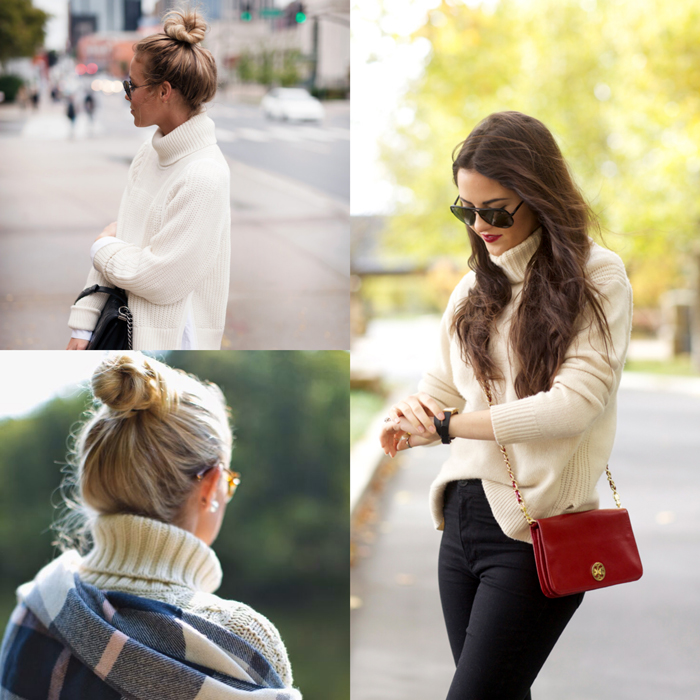 Worn with a great pair of cropped skinnies, the loose turtleneck is my new best friend.
A few of my favorites …

Images via Happily Grey // Tuckernuck (Egyptian Cable Turtleneck) // Pink Peonies