My office is a mecca, mostly to house all of my sparkle, inspiration, and stacks of papers and crafts and magazine pages. And though I often find myself curled up on the bed or sofa, laptop and baby in hand, I still cherish my office space. Office-related gifts … the type that add a bit of glam and sparkle to my little space, well those are just the bees knees. So I thought I'd share a few favorites to give and receive this holiday season.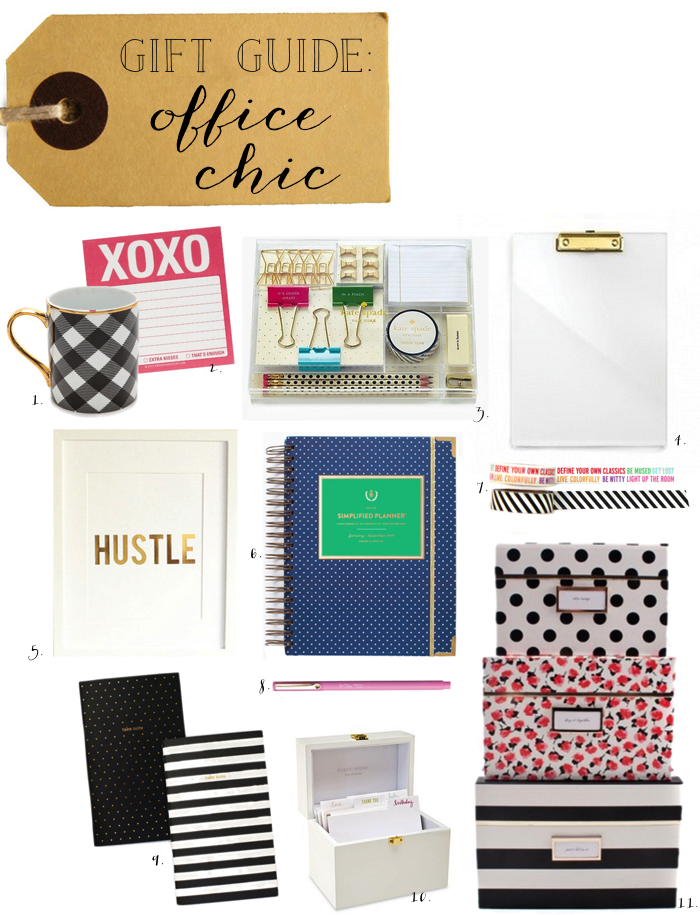 1. C. Wonder Buffalo Check Coffee Mug: Because every good office deserves a stylish coffee mug, because, coffee.
2. XOXO Sticky Notes: Far cuter than post-it notes, and the perfect stocking stuffer.
3. Kate Spade Whistle While You Work Tackle Box: This sweet little set is every office-lovers' dream.
4. Acrylic Clip Board: Acrylic and gold office supplies are everyone's fave.
5. "Hustle" Gold Foil Print: Self explanatory, and awesome.
6. Emily Ley Planner in Navy Dot: No piece of technology will ever replace my love for a the good old-fashioned paper planner, and Emily Ley has the most perfect planner, complete with adorable dots.
7. Kate Spade Decorative Paper Tape Set Live Colorfully: I am such a fan of paper/washi tape – especially for taping up pretty images on my office inspiration board.
8. Le Pen Pink Set of 12 Pens: I am a pen hoarder, and these are the gold standard of great pens … in blush pink. The best.
9. Sugar Paper Black White Pocket Notebooks: Notebooks, journals, always a perfect gift.
10. sugar paper Card For All Occasions Box Set: I love keeping cards on hand for every special occasion, and this set is beautiful.
11. Kate Spade Nesting Boxes: I have and love these Kate Spade nesting boxes; perfect to hide away the extra junk and papers and things I'm not ready to toss but can't figure out where to put them. They're also affordable and adorable. Love.
This year, I'll also continuously be adding to my holiday Gift Guides on Pinterest, so be sure to check out the GIFT GUIDE: OFFICE CHIC board for more great inspiration!