Freshly Picked sent me a diaper bag for review. All thoughts and opinions are 100% my own. This post contains affiliate links, which means that if you click on one of the product links, I'll receive a small commission. Thank you so much for clicking through and helping to support this little blog business of mine! Read more about our site, privacy, and disclosure policies here.
Have you been dreaming about getting your hands on the all new Freshly Picked diaper bag? I'm reviewing this AMAZING diaper bag – perfect for every day and travel with little ones. Read on for the details!
It's no secret that I love diaper bags and am more than willing to "test" out diaper bags until I find the perfect fit! But I'll be the first to tell you, I'm picky. In truth, when we had Scarlett, our first baby girl, I was loathe to give up my beautiful handbags for a … dun, dun, dun … DIAPER BAG.
But then I fell hard for stylish, designer diaper bags. I started with a Marc Jacobs nylon diaper bag (not purse-like enough for my taste, but a great diaper bag never the less), and then Lily Jade diaper bags, even giving my Louis Vuitton Neverfull tote a whirl as a makeshift diaper bag. The LV tote didn't really make sense as a diaper bag, even with an insert organizer, though I do occasionally use it as a diaper bag/travel bag because I just LOVE that bag. I still to this day love and use both of my Lily Jade bags, but … and trust me, it pains me to say "but" here … their bags are heavy. Made of genuine leather, and then filled with everything you need for a day out with kids*, Lily Jade bags can get heavy.
*Now that we have two kids under the age of three, and admittedly, since I was already a chronic over-packer (better to be over-prepared, is my motto!); a cute, functional diaper bag, that is also light and easy to carry for when I'm on-the-go, has become priority.
Then towards the end of last year, Freshly Picked – the geniuses behind our favorite baby moccasins – announced their first ever diaper bag with a Kickstarter campaign, that to no one's surprise, exceeded all expectations. The bag was a huge hit, and I was SO happy to get my hands on one thanks to the amazing ladies at Freshly Picked. Before I jump into all this diaper bag has to offer, I figured I should tell you right this very second that as part of the ALL NEW GLITTER, INC. LAUNCH PARTY, we're GIVING AWAY a Freshly Picked Diaper Bag to one lucky mama! (Giveaway now closed.)
NOTE: Giveaway for the Freshly Picked Diaper Bag from the ALL NEW GLITTER, INC. LAUNCH GIVEAWAYS has ended, Stay tuned for more fun giveaways in the future!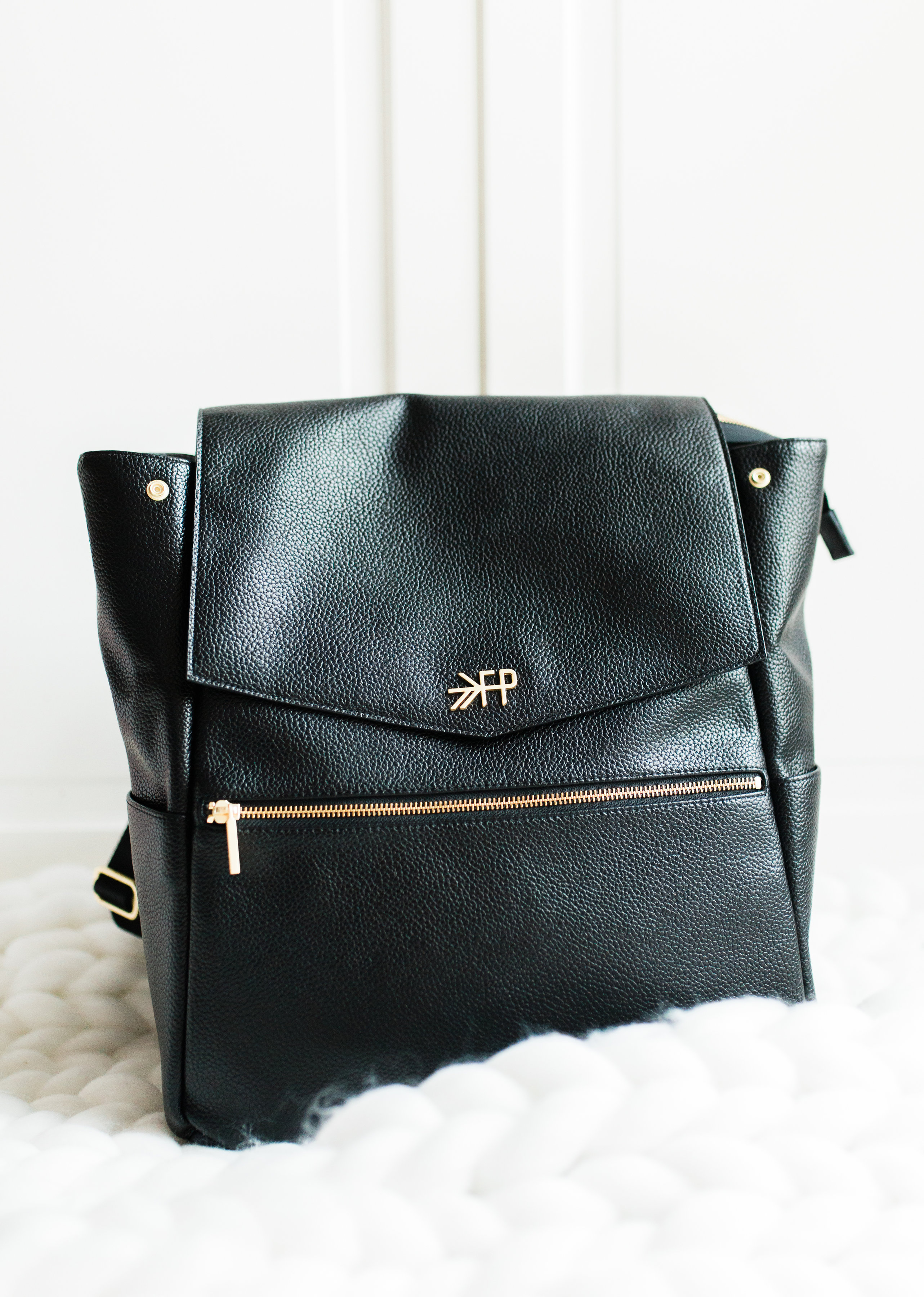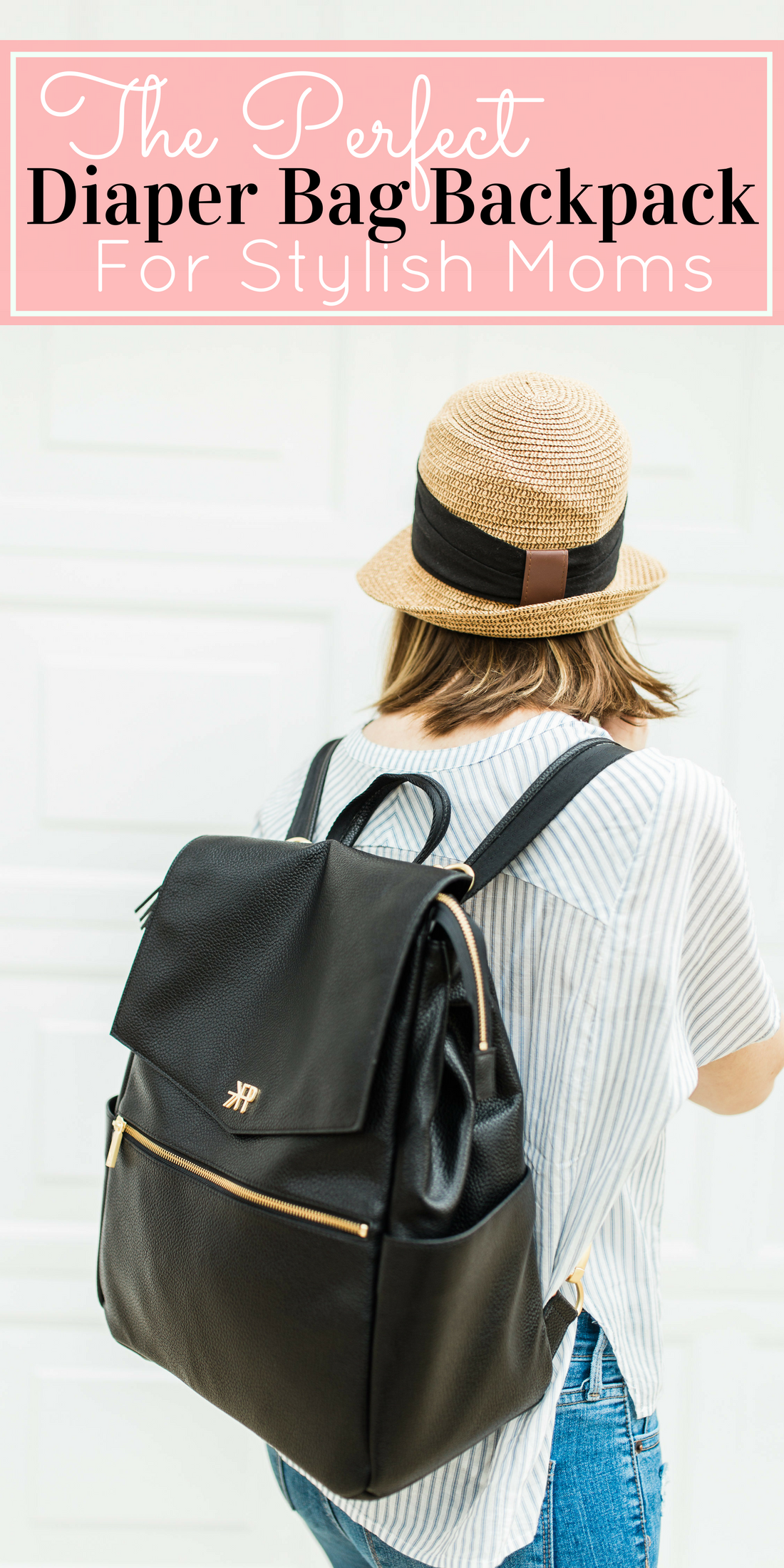 Freshly Picked Diaper Bag Review
The Perfect Option for Stylish, On-the-Go Moms
So let's dive right in, shall we? Say hello to my brand new Freshly Picked diaper bag.
Here's what's so great about the Freshly Picked Diaper Bag: they don't look like diaper bags. The vegan leather is actually quite beautiful in person, and I love, love, love the sturdy gold hardware. I've only been wearing my new Freshly Picked bag for a couple of weeks now, and I've already been stopped countless times, just to get the details on my bag/backpack. It is so chic in person, and the fact that it is a fully functional diaper bag, makes it pretty unbelievable.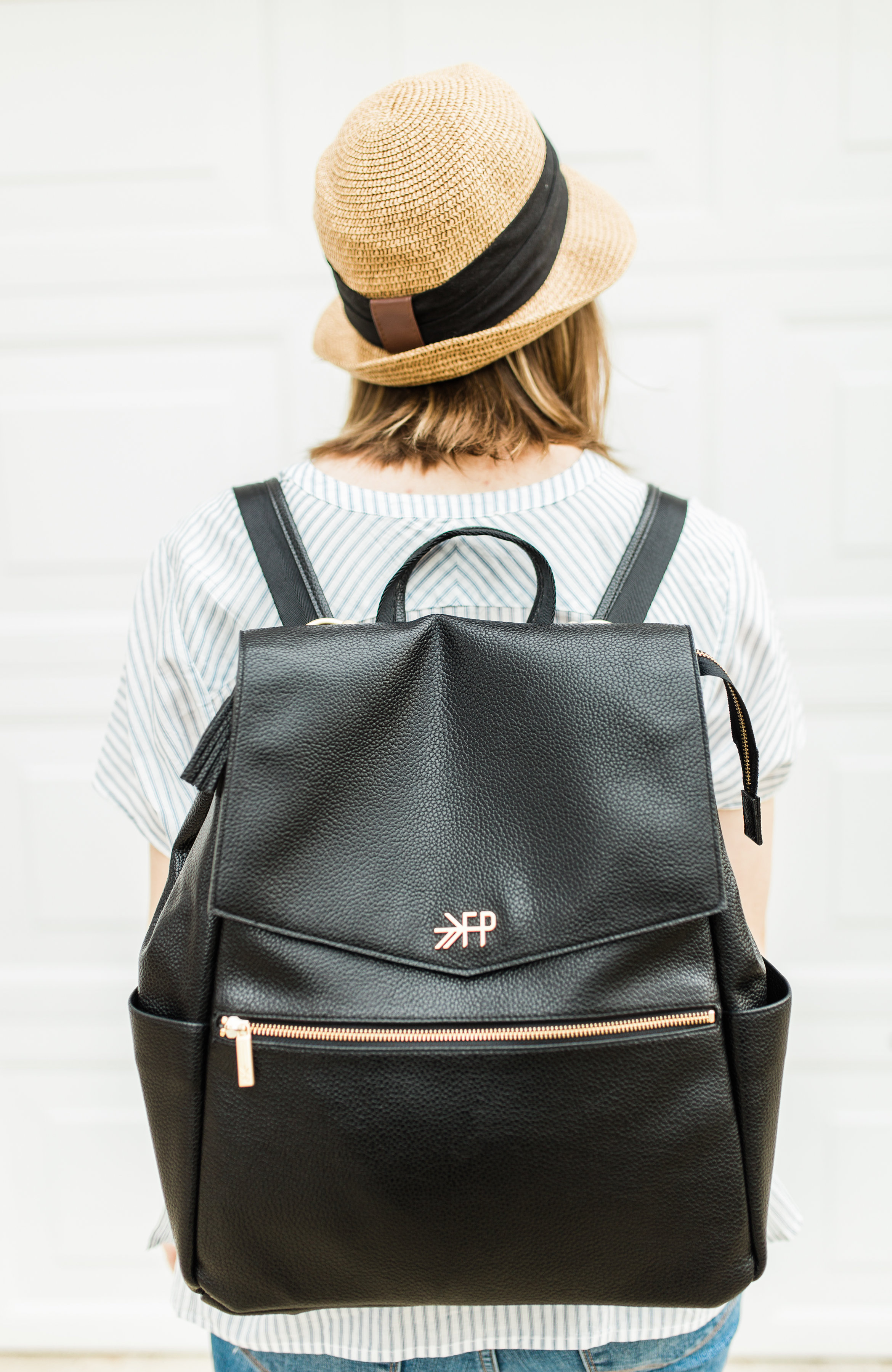 It's huge, which right off the bat, I adore. It is 13 inches wide, 15 inches tall, and has a depth of 7 inches. It also has an expandable opening that allows the bag to become noticeably bigger or smaller depending on whether the snaps are shut or not. It doesn't look huge though; but once you get inside, you realize just how much stuff it holds. It can even fit a laptop, plus all of your mom needs; which is a major plus for our growing family – especially because I work for myself and feel like I'm always on the go.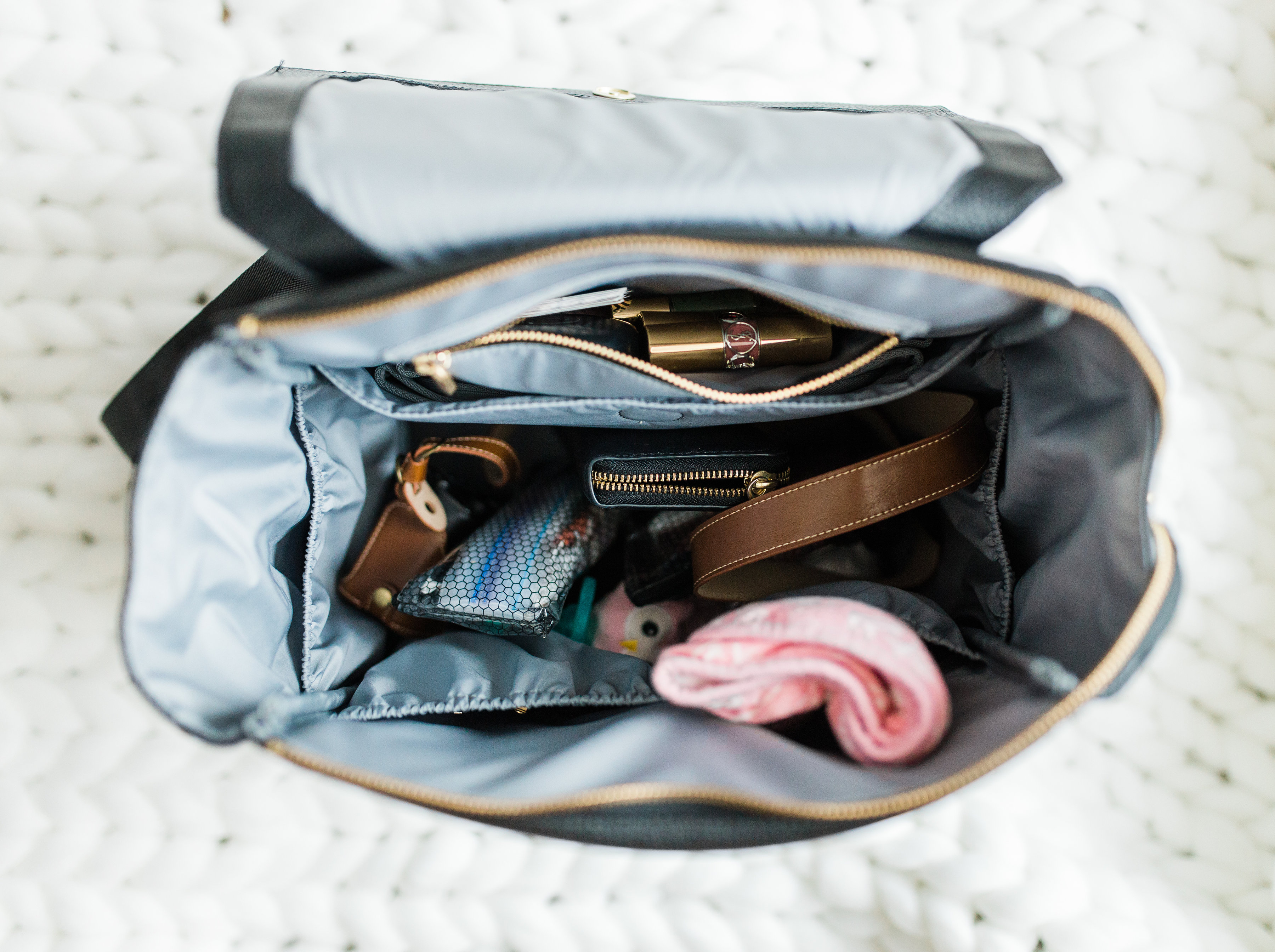 A few of my favorite features of the Freshly Picked Diaper Bag:
100% wipeable and spill resistant interior and exterior
Ten pockets with spacious central space for large items, including a large padded tech pocket that easily fits up to a 13-inch laptop
a front-zippered mom pocket that is perfect for quick-reach items like keys or a wallet
two large side pockets on the outside of the bag (These are designed to fit a 32 oz. water bottle/cup/oversized baby bottle – including our wide Dr. Brown's, etc. Having a place to keep bottles on the outside of the bag is a big help when you've got the case of a leaky sippy cup or bottle.)
Made with premium quality materials and luxe hardware
Magnetic front flap for easy close without zipping
Wearable 3 ways: backpack, cross-body, or purse
"Grab-and-go" top handle (This is SO handy; especially when you use the backpack style.)
Metal feet on bottom so bag never touches the ground
Nylon changing pad included (And the changing pad itself is so big! I love that.)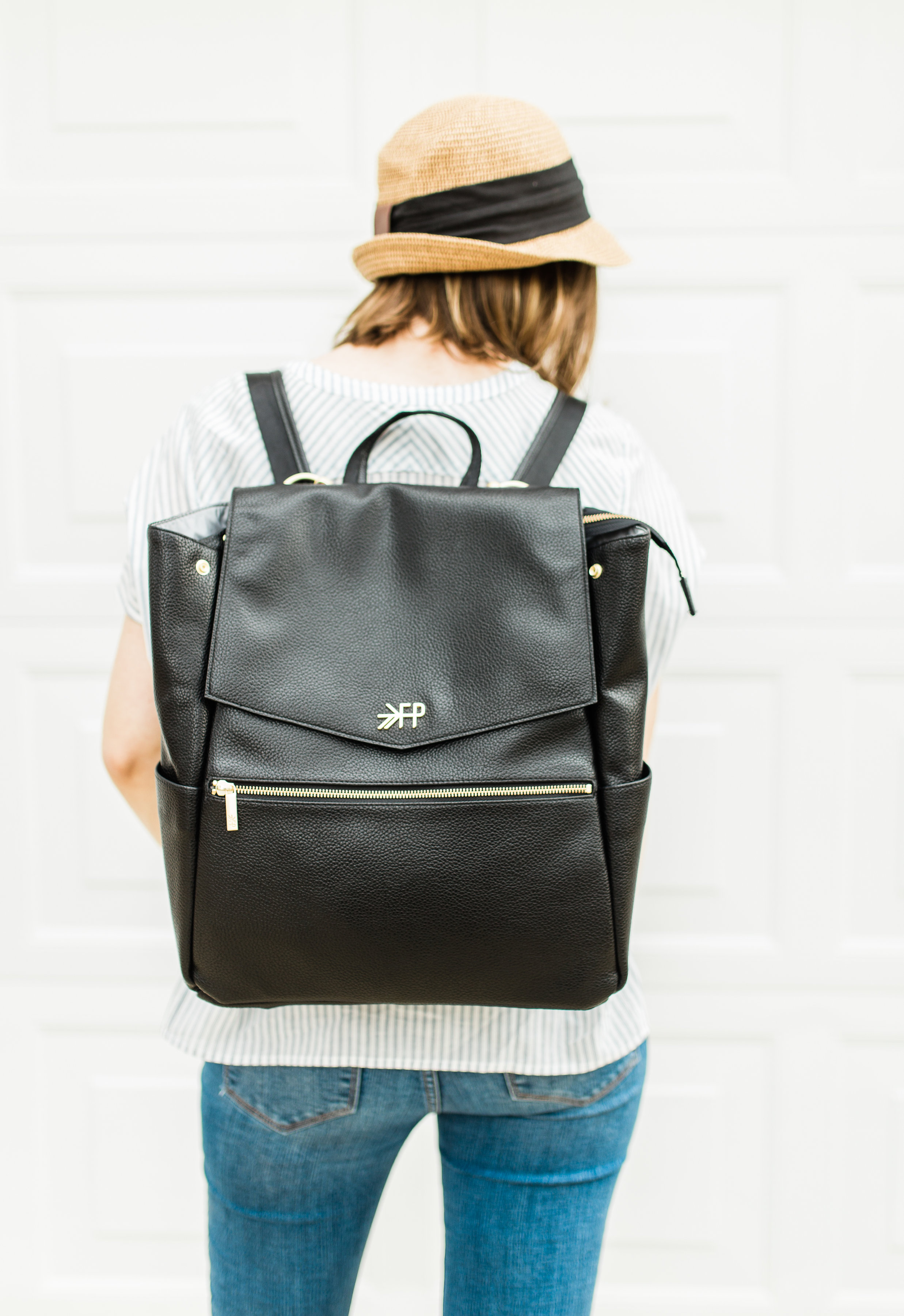 There are three ways to wear the Freshly Picked diaper bag: as a backpack (probably the easiest way to wear it for on-the-go parents), as a shoulder bag, and as a messenger bag (because it has the adjustable, detachable extra long strap for messenger or shoulder carry.)
I've never been much of a backpack wearer, and even with the Lily Jade, that has the backpack option, I always just kept my strap on as a messenger/shoulder style. With the Freshly Picked diaper bag, I LOVE the backpack carry. I may just be a newfound backpack convert. When I don't want to carry it as a backpack, I can just tuck away the straps in the huge back pocket.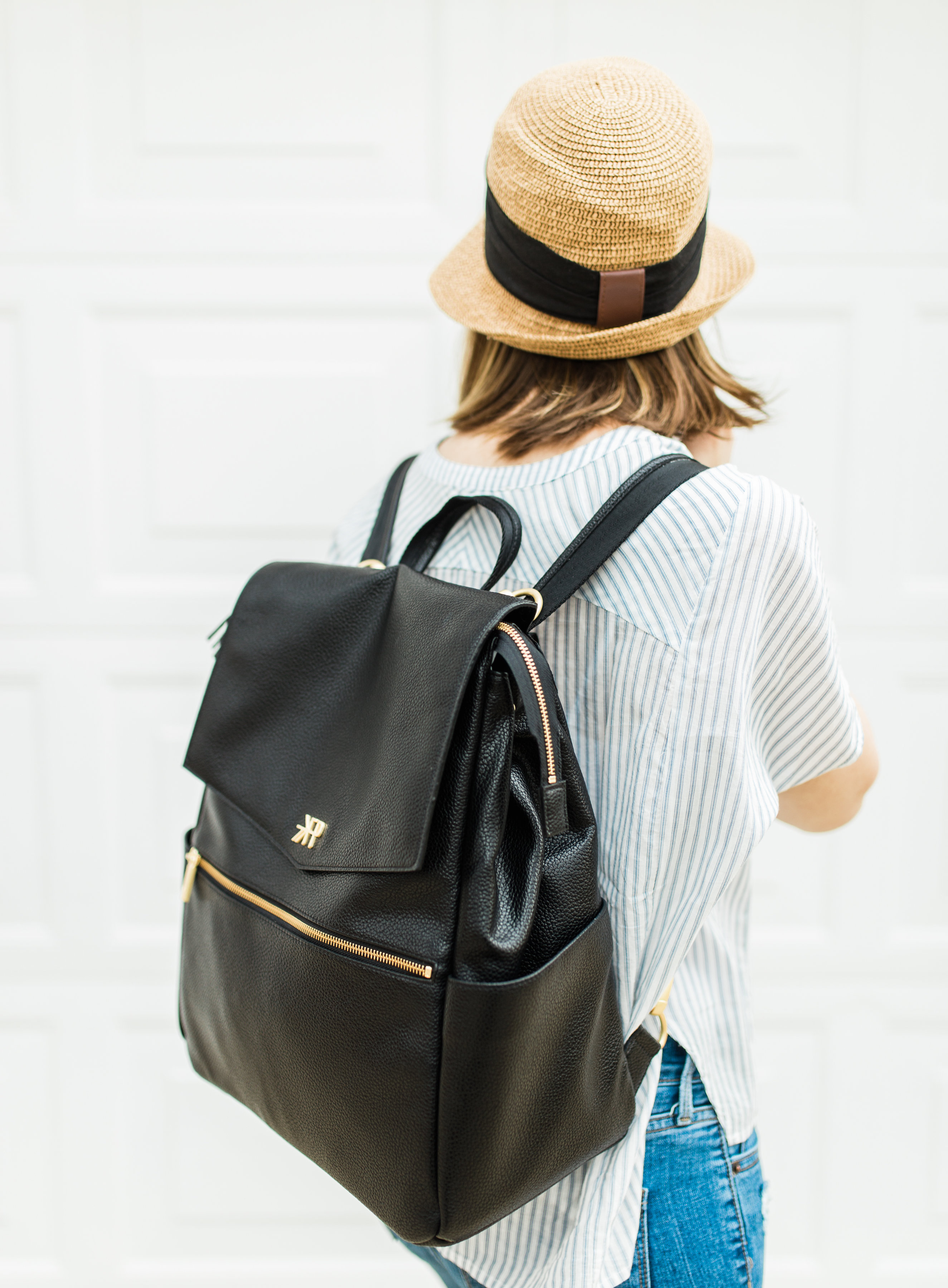 My only real gripes with the Freshly Picked diaper bag are the large flap on top, which adds an extra step in trying to reach in and grab something and the magnet on it doesn't always stick on the first try (this is especially tricky when I'm wearing it as a backpack), and the placement of the single strap is not my favorite. The attachment rings are on the back of the bag, rather than on the top sides, which makes it sort of an awkward way to carry it as a shoulder or messenger bag. It works, but truly, I wish it clipped onto either of the top sides.
I keep the top two side snaps un-snapped, even though snapping them would probably make it look a bit sleeker in backpack carry, because I need all the room I can get, and I love the extra space.
Fun bonus, my husband LIKES this bag. He doesn't mind carrying it at all. He's always been great with carrying my purses, diaper bags, etc. to lend me a helping shoulder, but it's nice not to have to force him into carrying a diaper bag with a loud print all over it.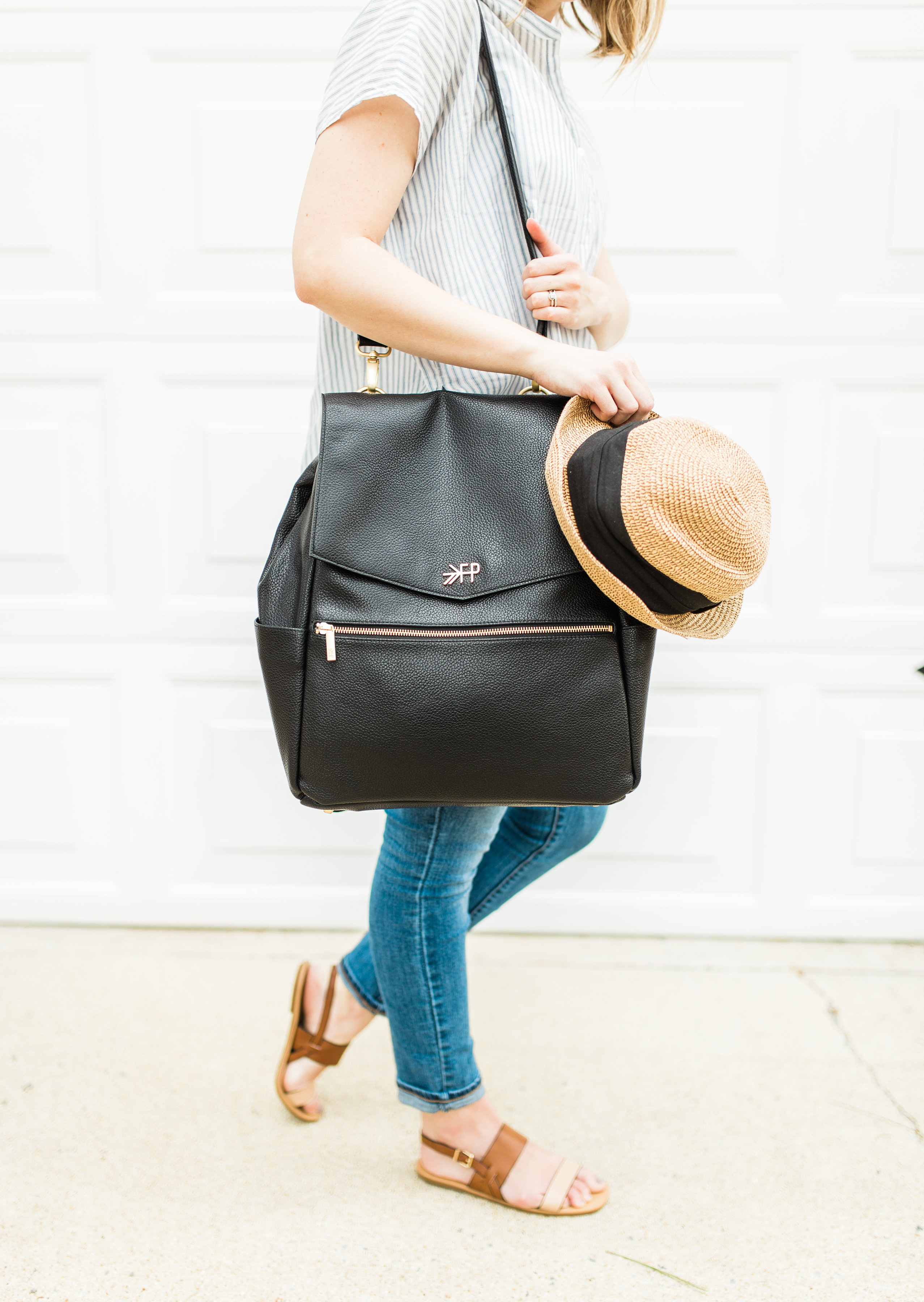 Now what you've all been waiting for …
FRESHLY PICKED DIAPER BAG GIVEAWAY – GIVEAWAY CLOSED
We're GIVING AWAY a Freshly Picked Diaper Bag. Oh yeah, you read that right: you could WIN any Freshly Picked diaper bag of your choosing! All you have to do is follow us on Instagram; plus there are a few more ways to follow for additional entries!
Enter using the Rafflecopter widget below:
Disclaimer: Glitter, Inc. is not responsible for prize fulfillment, and prize will be sent directly from Freshly Picked. Shipping within the US only. Winner cannot have won any other giveaway including a pair of Freshly Picked moccasins within the last 60 days. Entry ends on March 7th at 12:00AM EST. Please note entries will be verified. No purchase necessary; void where prohibited. One winner will be chosen at random through Rafflecopter. The winner will be notified by email. The winner will have 48 hours to respond or a new winner will be chosen. By entering into this sweepstakes, the entrant acknowledges that they are eligible for this sweepstakes according to all laws set forth by their state of residency.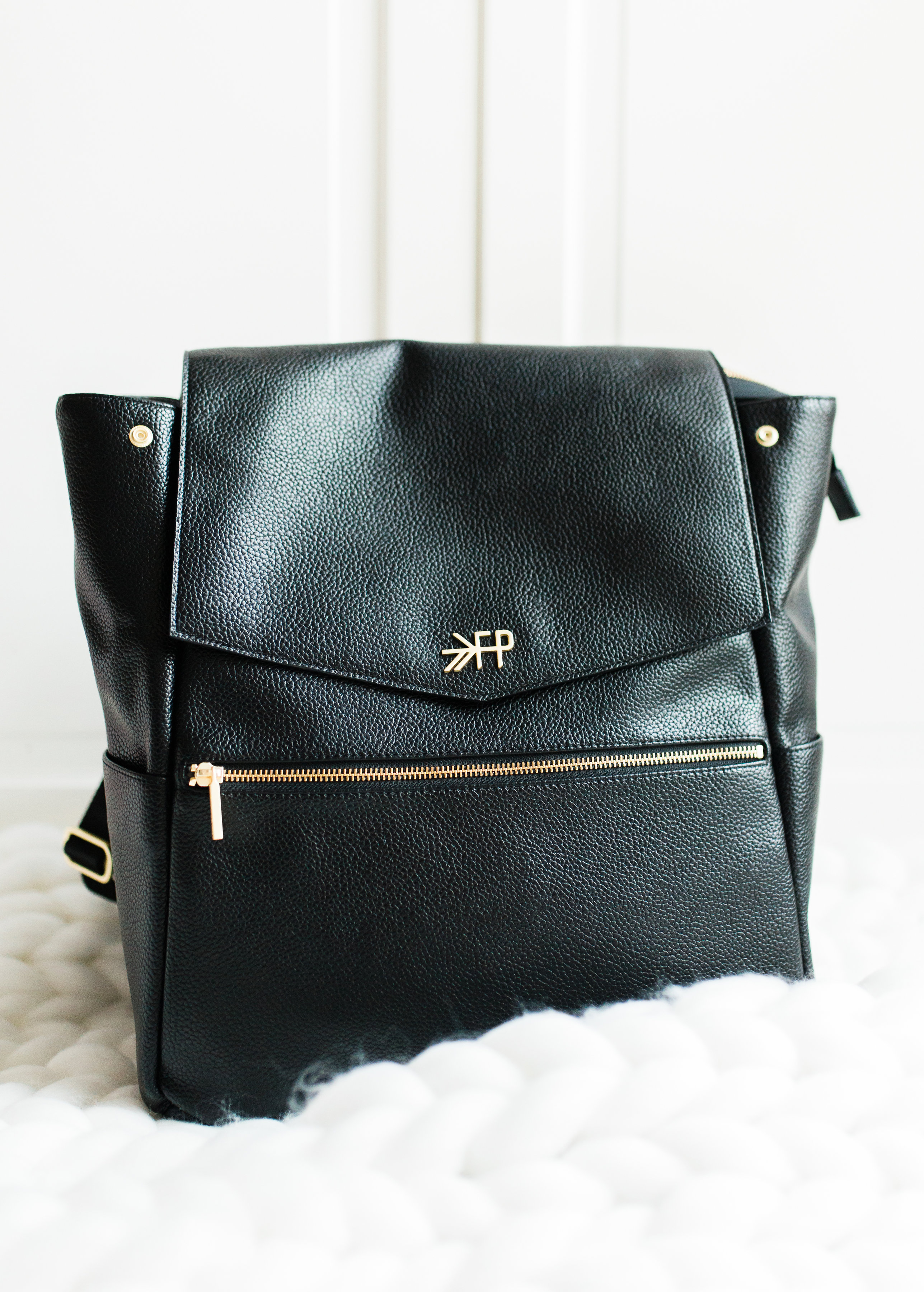 Considering a Freshly Picked diaper bag! Feel free to ask me your burning questions! And if you've been thinking about getting a Lily Jade diaper bag, or want to compare this bag to my other favorite diaper bag, you can find a review of the Lily Jade Meggan and Madeline right here.
Freshly Picked diaper bags are available on the Freshly Picked website, at Nordstrom, at Bed, Bath & Beyond, and on Amazon (with free two-day prime shipping!)
SHOP THE FRESHLY PICKED DIAPER BAG POST | CLICK LEFT & RIGHT ARROWS TO EXPLORE

Photos by Annie Watts Photography for Glitter, Inc.