This post contains affiliate links, which means that if you click on one of the product links, I'll receive a small commission. Additionally, as an Amazon Associate I earn from qualifying purchases. Thank you so much for clicking through and helping to support this little blog business of mine! Read more about our site, privacy, and disclosure policies here.
This incredibly moist spiced pumpkin cake recipe topped with a rich and fluffy chocolate frosting is bound to be your new favorite fall addition. Honestly, if you've never tried pumpkin and chocolate, now is the time! The combination is heavenly.
Goodness I love fall desserts. Typically, I make all of the apple and pumpkin things all season long, but today, I've got something just a little different for you … with a pumpkin spin. This incredibly moist spiced pumpkin cake recipe topped with a rich and fluffy chocolate frosting is bound to be your new favorite fall addition.
Now it may seem a little funky to pair something like pumpkin and chocolate, but let me tell you, if you've never tried the unexpected pairing before, NOW is the time. You'll be amazed. Pumpkin and chocolate were practically made for each other; especially a moist and slightly spiced cake and a rich and fluffy chocolate frosting. This pumpkin cake recipe is where it's at.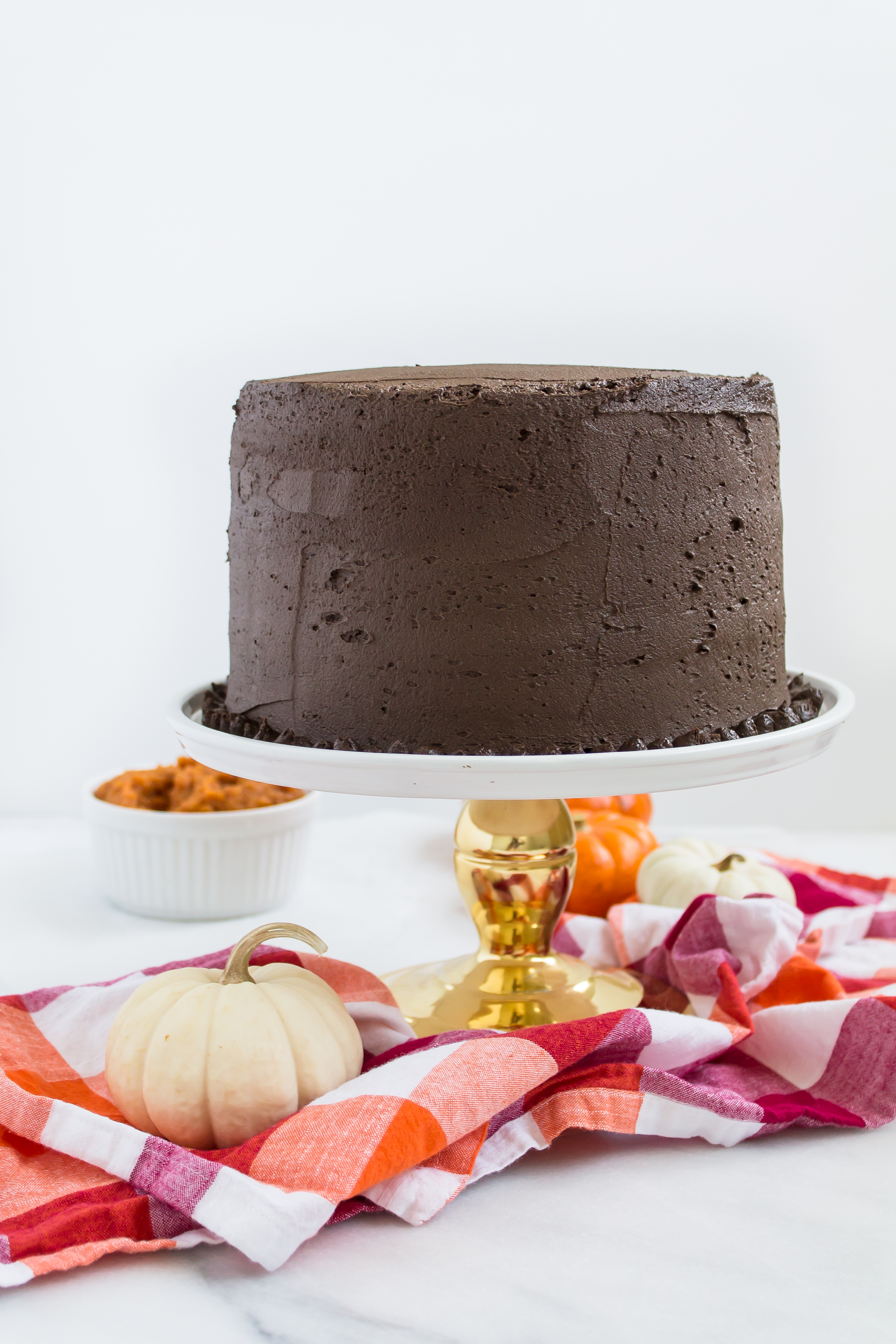 Our genius food contributor, Hope, dreamed up the recipe for this pumpkin chocolate cake, and the result is dreamy.
From Hope:
Filled with spices and topped with fluffy chocolate frosting, this pumpkin cake recipe is amazingly moist and so perfect for fall. It is always a crowd pleaser and my go-to cake for fall parties, but is still easy enough to have with everyday dinner!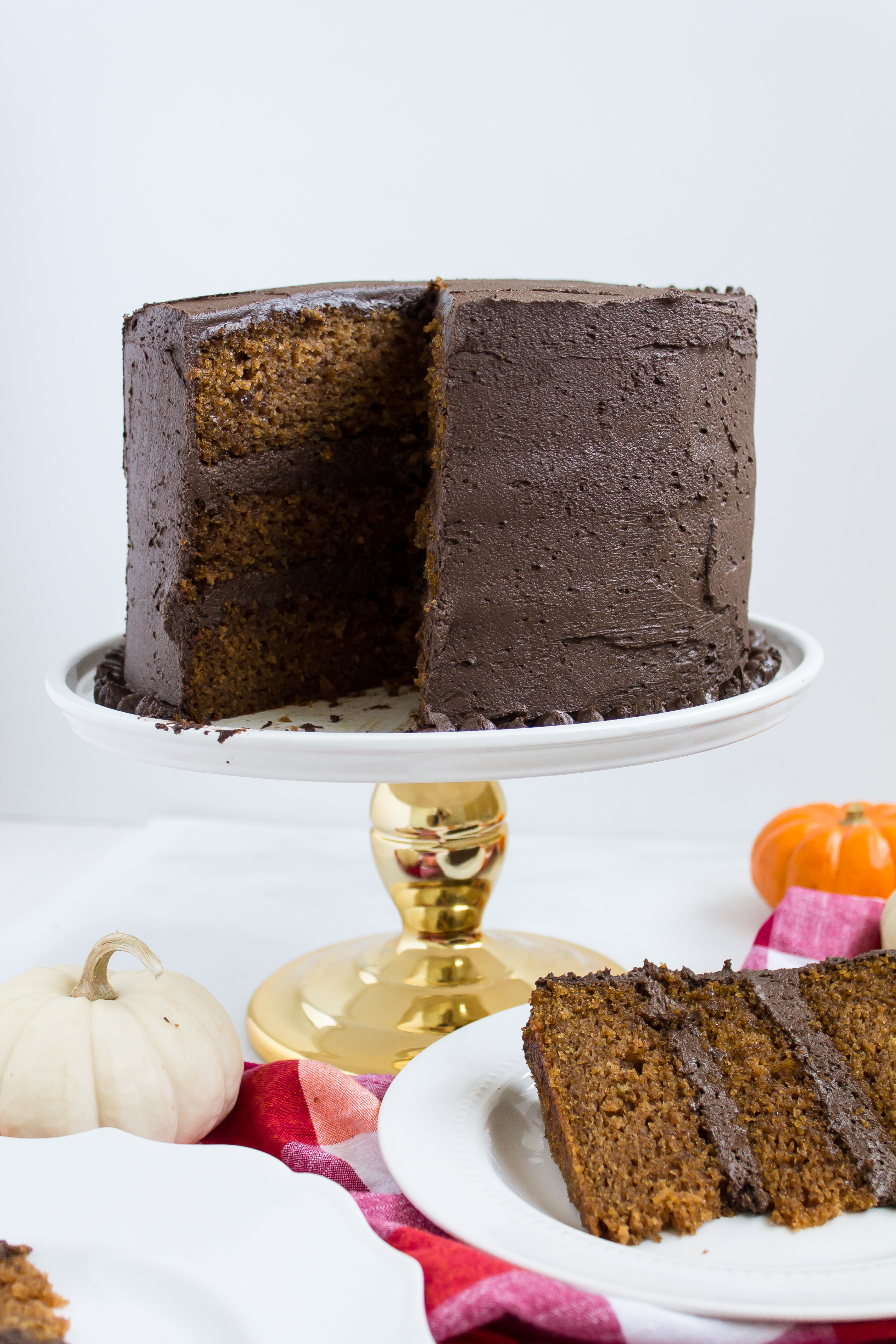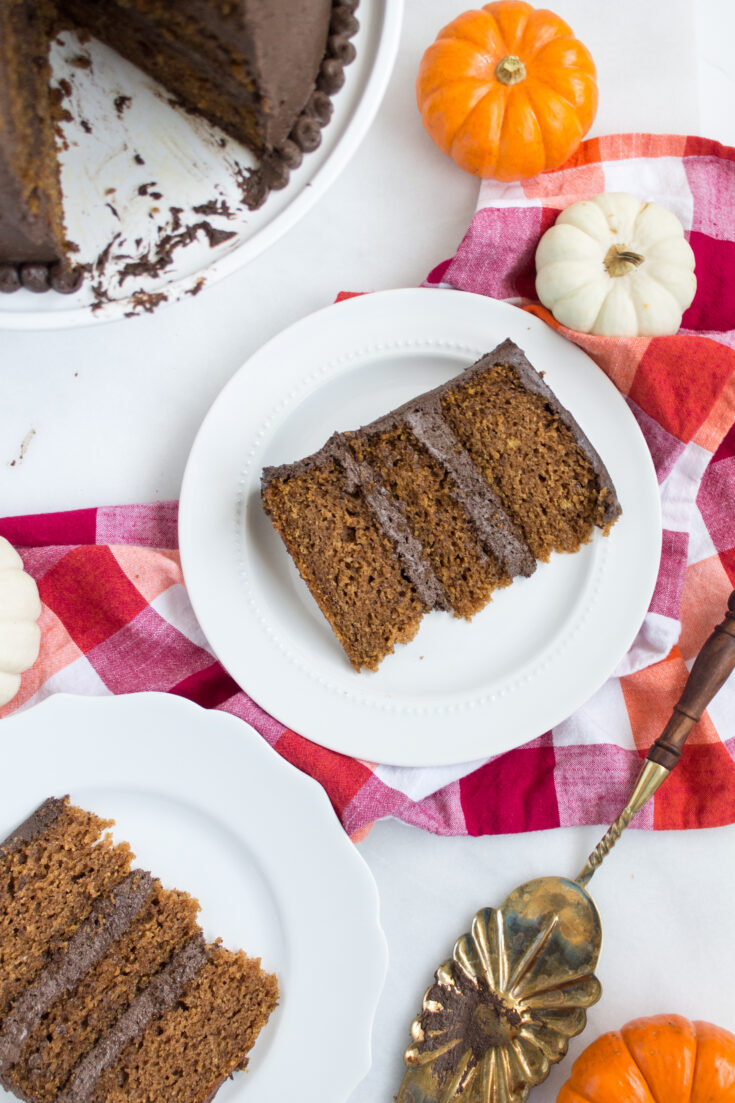 Yield:
Pumpkin Cake Recipe with Fluffy Chocolate Frosting
A perfectly moist pumpkin cake, filled with spices and topped with fluffy chocolate frosting, this cake is so perfect for fall.
Ingredients
Pumpkin Cake
2 ⅓ cups flour
3 teaspoons baking powder
1 teaspoon baking soda
2 tablespoons plus 2 teaspoons ground cinnamon
2 teaspoon freshly grated nutmeg
½ teaspoon ground cloves
2 ¼ cups (18 ounces) pumpkin purée
2 cups vegetable or canola oil
2 ⅔ cups sugar
1 ½ teaspoon salt
6 large eggs, yolks and whites separated
Chocolate Frosting
1 ½ cups (3 sticks) butter, softened
½ teaspoon salt
½ cup unsweetened cocoa powder
5 ½ cups powdered sugar, sifted
1 teaspoon vanilla extract
2 to 4 tablespoons milk
8 ounces semi-sweet chocolate, melted and cooled
Instructions
To Make the Pumpkin Cake:
Preheat the oven to 325 degrees F. Butter 3 8-inch round cake pans, then line the bottom with a circle of parchment paper and butter that as well. You can also use non-stick cooking spray for this step.
In a large bowl, whisk together the flour, baking powder, baking soda, cinnamon, nutmeg, and cloves. Set aside.
In a stand mixer, combine the pumpkin, oil, sugar and salt. With the mixer on medium speed, add the egg yolks one at a time, making sure each yolk is fully incorporated (or almost fully incorporated) before adding the next. Scrape down the sides of the bowl when you are done.
With the mixer on low speed, add the flour mixture, just until the ingredients are incorporated. Do not over mix. Pour your batter into the bowl you just used for the dry ingredients (or into another large bowl) and set aside.
In the now semi-clean bowl of your mixer, whisk the egg whites until they are frothy and white. They will still be fairly liquidy, not fully whipped. Fold the frothy egg whites into the cake batter until they are no longer visible (but be careful not to over mix). Pour the cake batter into the pan and bake on the middle rack in the oven, with enough room for it to rise.
Begin checking the cakes after 35 minutes (mine have taken anywhere between 35-50 minutes), removing them when a toothpick or thin knife inserted into the center of the cake comes out clean. The middle will set and cook a little longer from the heat of the pan as the cake cools. Let the cake cool in its pan on a wire rack for at least 20 minutes, or until the cake is pulling away from the pan. Transfer the cake onto a wire rack to cool completely before frosting.
NOTE: You can make this cake ahead of time! After it cools, wrap it well in plastic wrap and refrigerate for a few days, or freeze for a few weeks. If you freeze the layers, let them thaw in the fridge before frosting them.
To make the chocolate frosting
In the bowl of an electric mixer fitted with the paddle attachment, cream the butter until smooth and fluffy. This will take a few minutes.
With the mixer on low, gradually add in the salt, cocoa powder, and powdered sugar until combined. Add the vanilla and slowly add the milk, one tablespoon at a time. Mix on medium speed until the frosting is soft and silky, but not too thin. Scrape down the bowl and add more milk if it is too thick to spread. Add the melted, cooled chocolate and mix until it is fully combined. Mix on medium-high for 1 more minute to make the frosting light and fluffy.
Spread the fluffy fudgy frosting generously between the layers and all around the outside of your prepared pumpkin cake. Enjoy!
Just look at that decadent fluffy chocolate frosting!
I'm a big fan of baking cakes to bring to parties and events. This pumpkin cake recipe is relatively simple to make and any time you bring homemade cake anywhere, everyone is wildly impressed. I mean, come on, who doesn't LOVE cake?
By the way, we love this cake caddy; it's under $10 and works like a charm to transport cakes.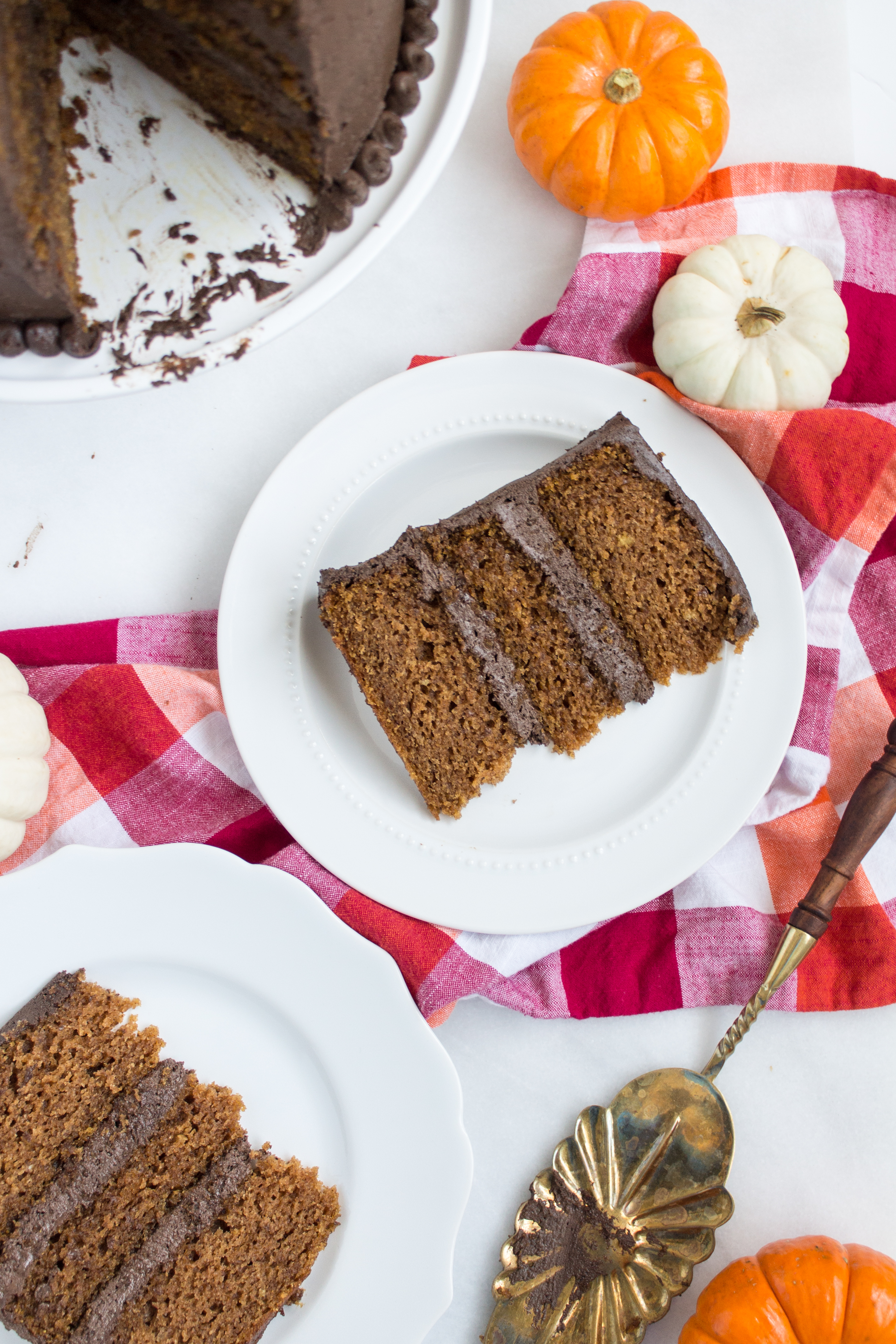 By the way, a leftover slice of cake the next morning with a big cup of coffee = bliss.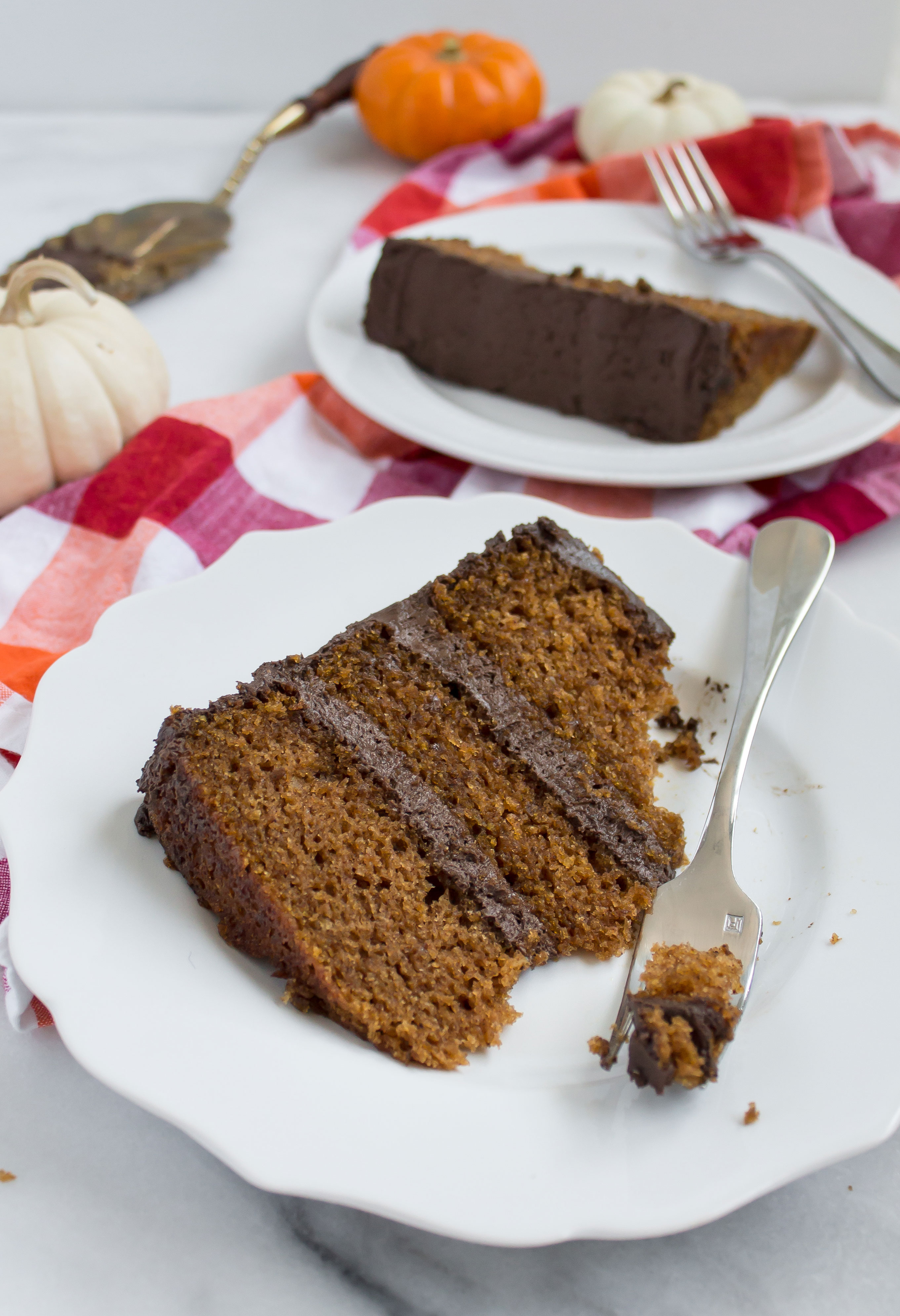 Love this pumpkin cake recipe? Head to our recipe page to check out what we've been whipping up in the kitchen!
If you make your own pumpkin cake recipe with fluffy chocolate frosting, be sure to tag me on social media (@glitterinclexi) so I can live vicariously through all of your sweet creations!