This post has been sponsored by Duncan Hines. All thoughts and opinions are my own. Thank you for supporting the sponsors who help to make Glitter, Inc. possible!
Like most busy moms, my mornings are a blur of activity – from getting my little one up, dressed and ready, packing up her things and anything I'll need for the day, and getting us out the door – the morning struggle is real.
Truth is, it's hard to remember to treat myself to a good breakfast. Though I do work from home most days, with the exception of photo shoot days and morning meetings, after the morning race to Scarlett's school, I find myself back at my desk or on the sofa, looking up at the clock sometimes to find that it's nearly noon and I haven't eaten a thing. Breakfast matters. We all know that by now. And for a pregnant working mom, skipping breakfast is just plain silly.
So I've come up with a busy mom breakfast hack … (because we all need a helpful life hack here and there!)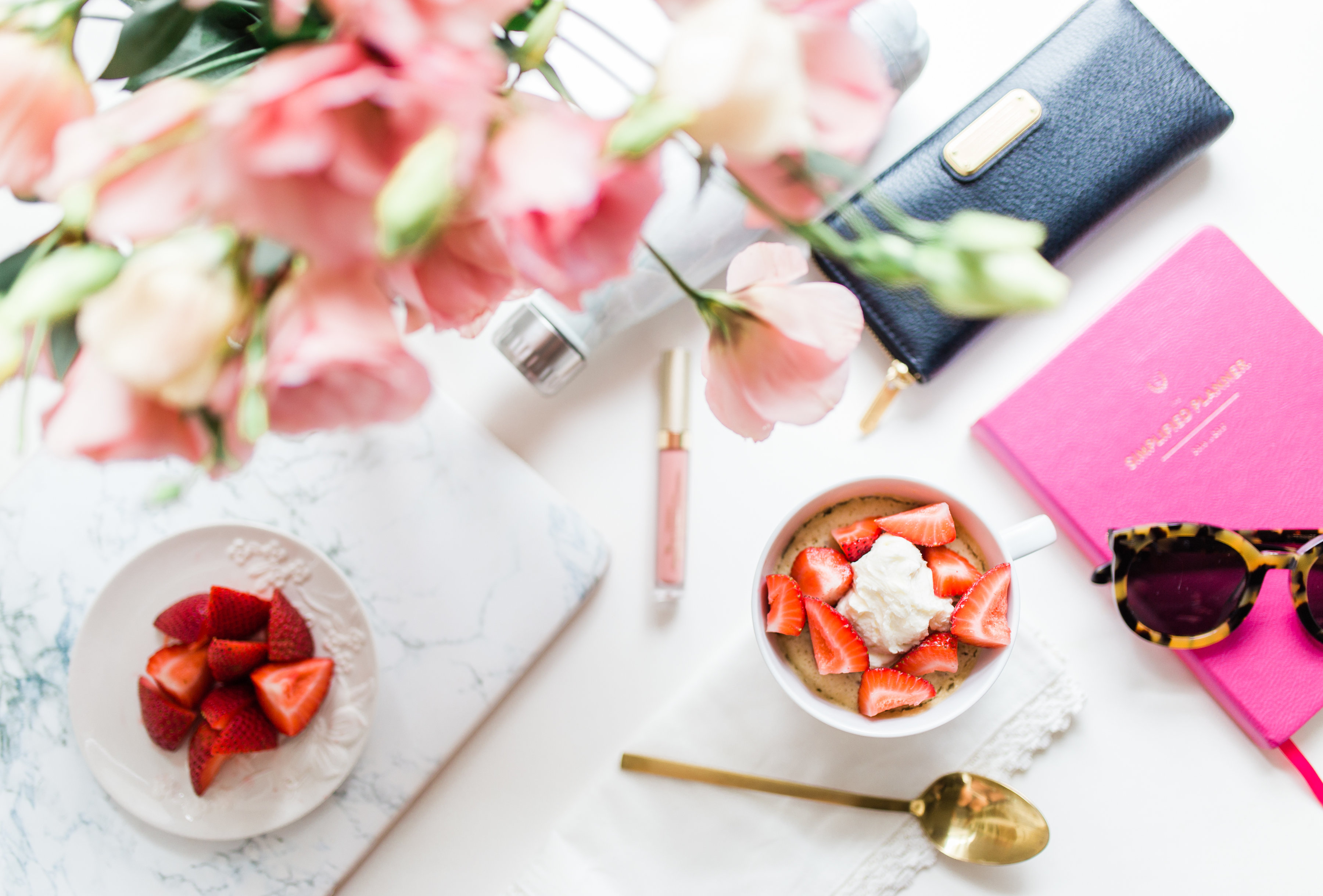 A quick and easy warm muffin – that's freshly made and warm in about one minute – with a cup of coffee; that's basically mom bliss; a.k.a., the perfect thing for moms who deserve a bit of goodness in the morning.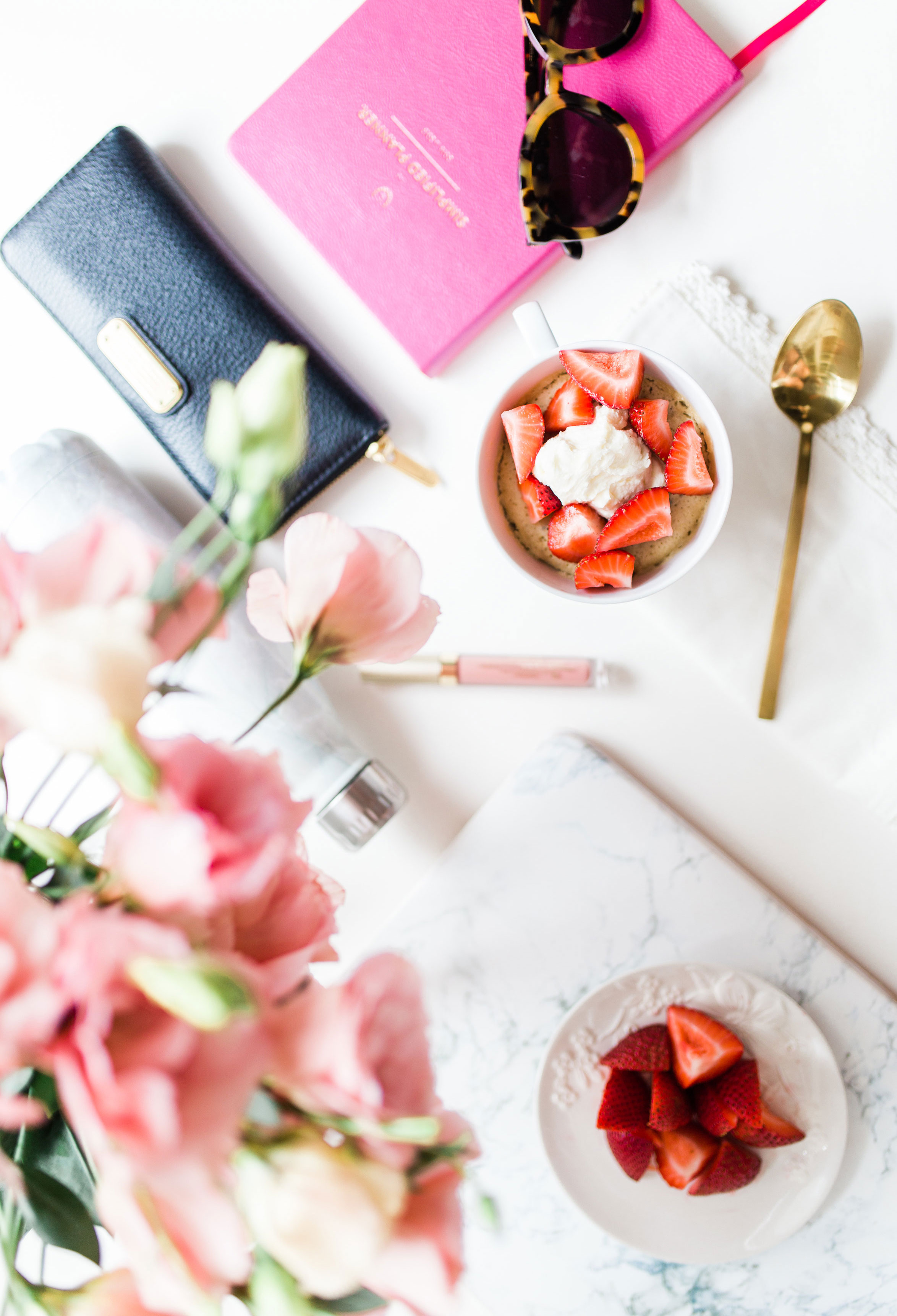 Which is why I'm way too excited about these new Duncan Hines® Perfect Size for 1® cakes and muffins. We all know I love to bake (Exhibit A), and really, there's nothing like warm, fresh-baked goods. But baking takes time and often results in a whole lot of leftovers I'm begging neighbors and my hubby's coworkers to take. (Seriously, I am a leftover photo shoot dessert pusher. Hang out with me too much and I'll be pushing carbs at you like there's no tomorrow.)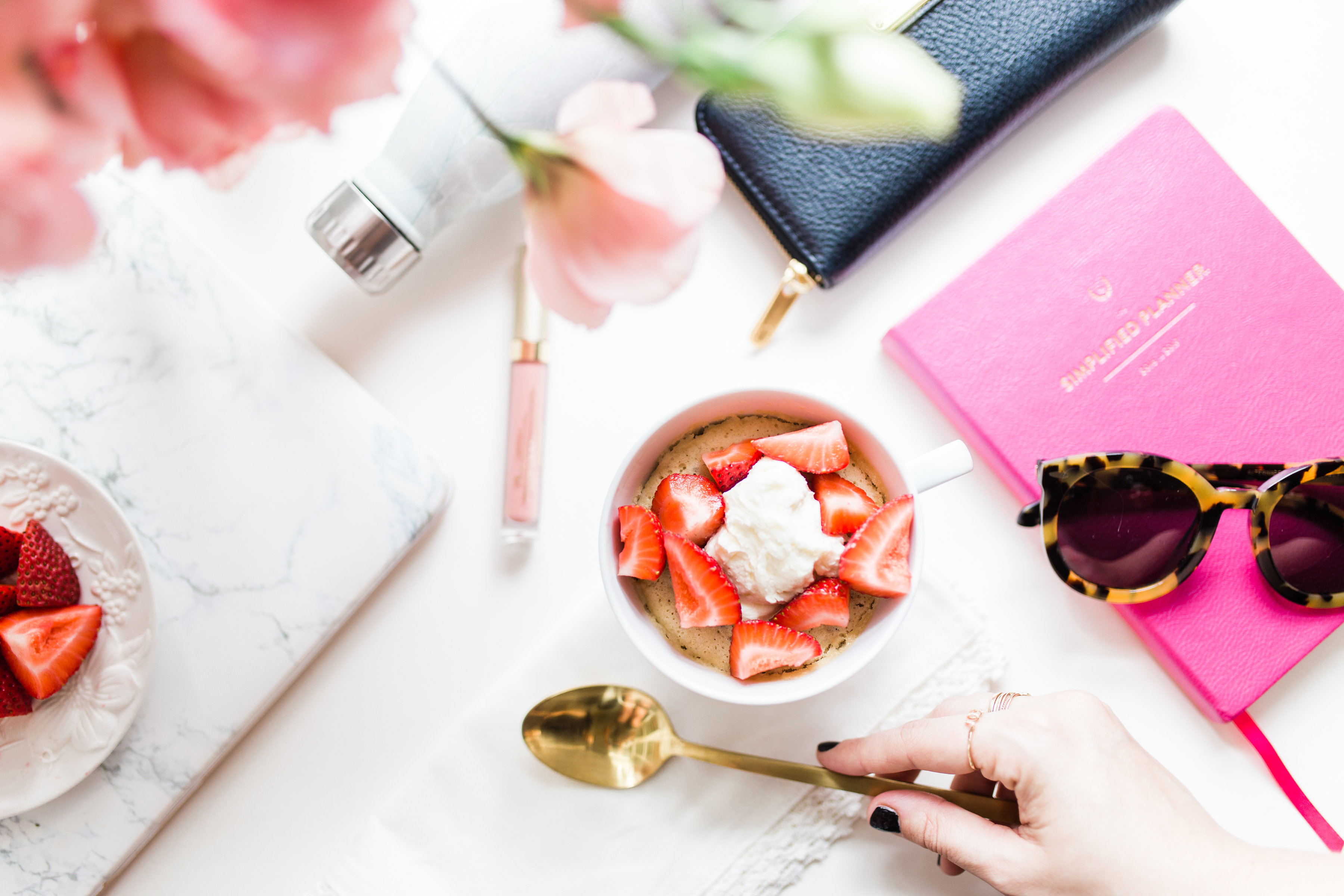 Back to those cakes and muffins … the Perfect Size for 1 cakes and muffins are just one serving per pouch and allow you to enjoy your favorite sweet any time of day. They're so convenient because you can have a warm cake ready in about in a minute; How PERFECT Is That?! They come in a huge variety of baked good types and flavors that work for breakfast, an after-school/midday snack, or late night dessert.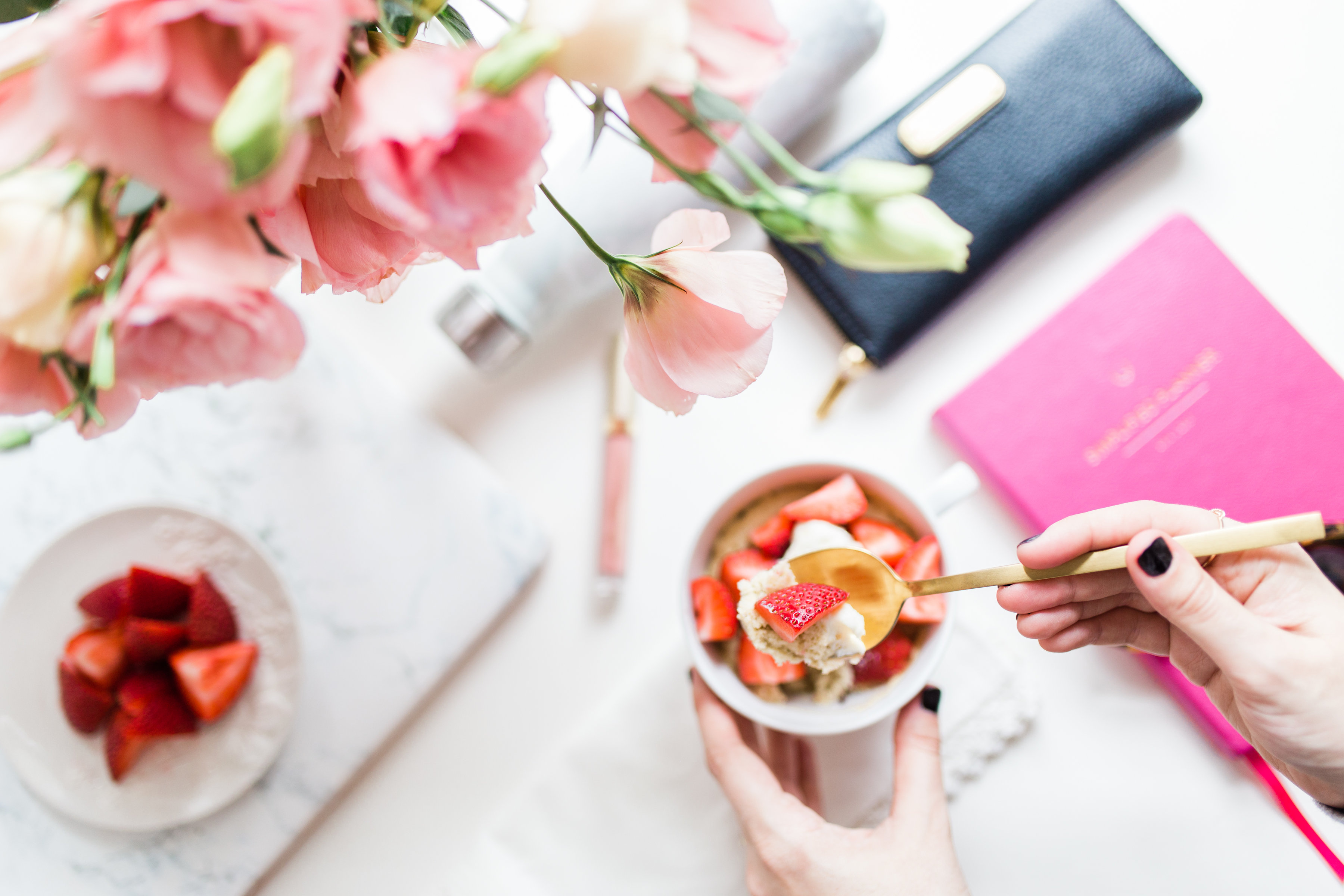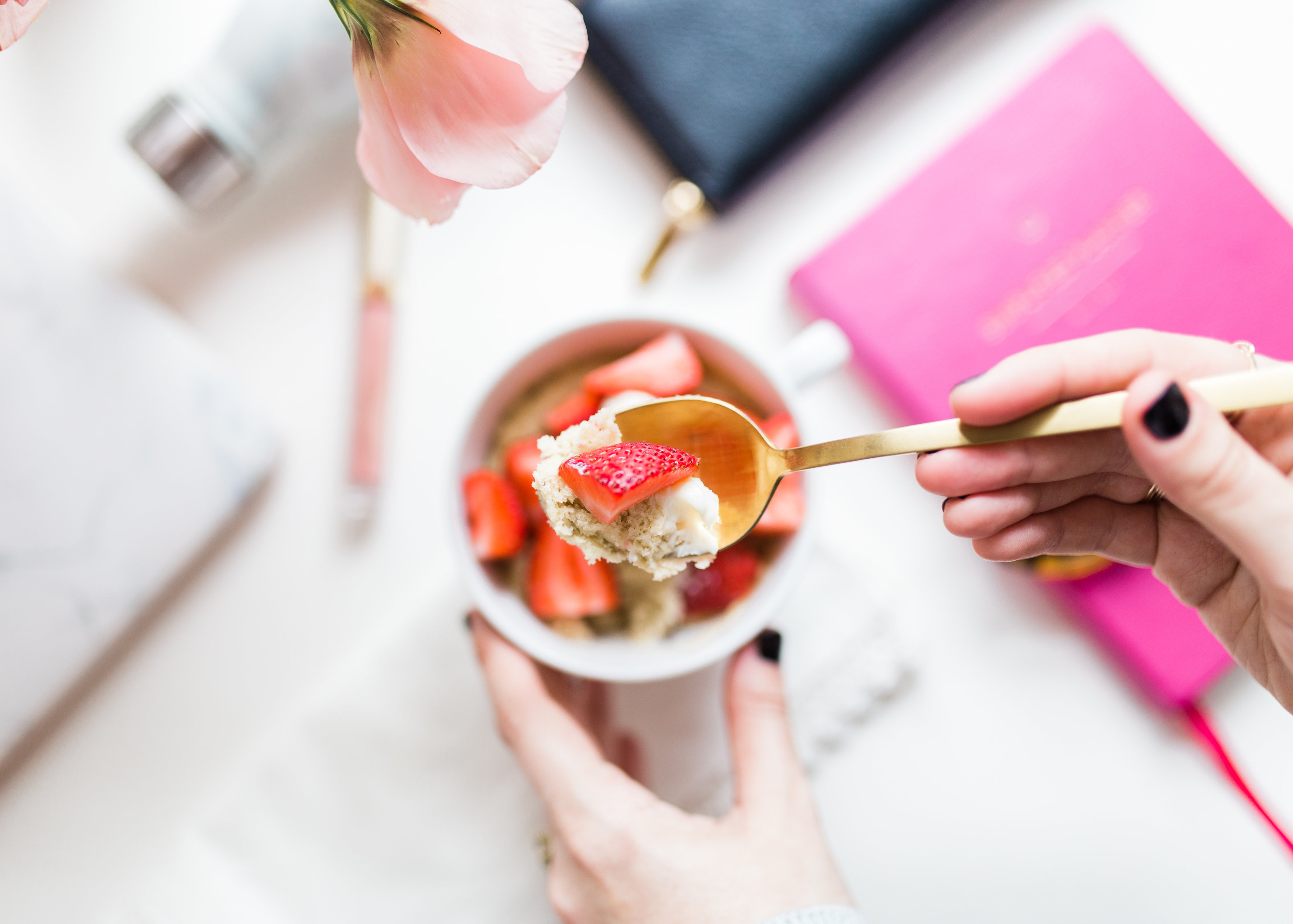 I topped my warm morning Duncan Hines Perfect Size for 1 Blueberry Muffin with a bit of sweetened cream cheese (just sprinkle a little powdered sugar into an ounce or two of cream cheese and stir), and some cut up fresh strawberries. Instant personalized treat! I'm partial to the muffins because, again, always forgetting to eat breakfast, and both the blueberry muffin and chocolate chip muffin are made from real ingredients, and have no artificial preservatives, no artificial flavors and 18g of whole grain per serving.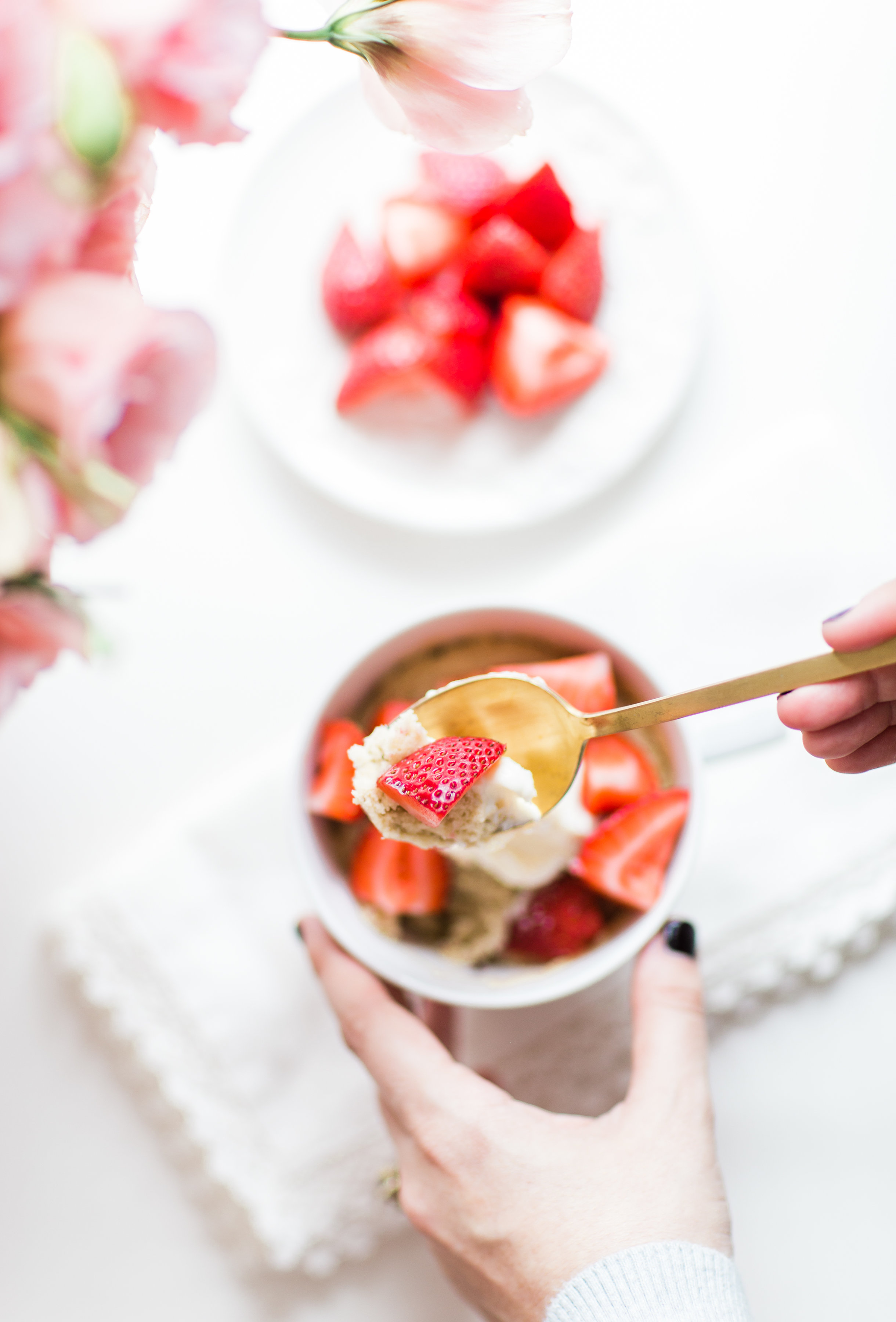 Right now, the Duncan Hines Perfect Size for 1 Chocolate Chip Muffin is my favorite, though I can't wait to try that double chocolate brownie. You can snag your own Perfect Size for 1 products at your local Kroger in the baking aisle. Our Kroger is right down the street from our house, and that brownie is sounding yummier and yummier by the second. #pregnantthoughts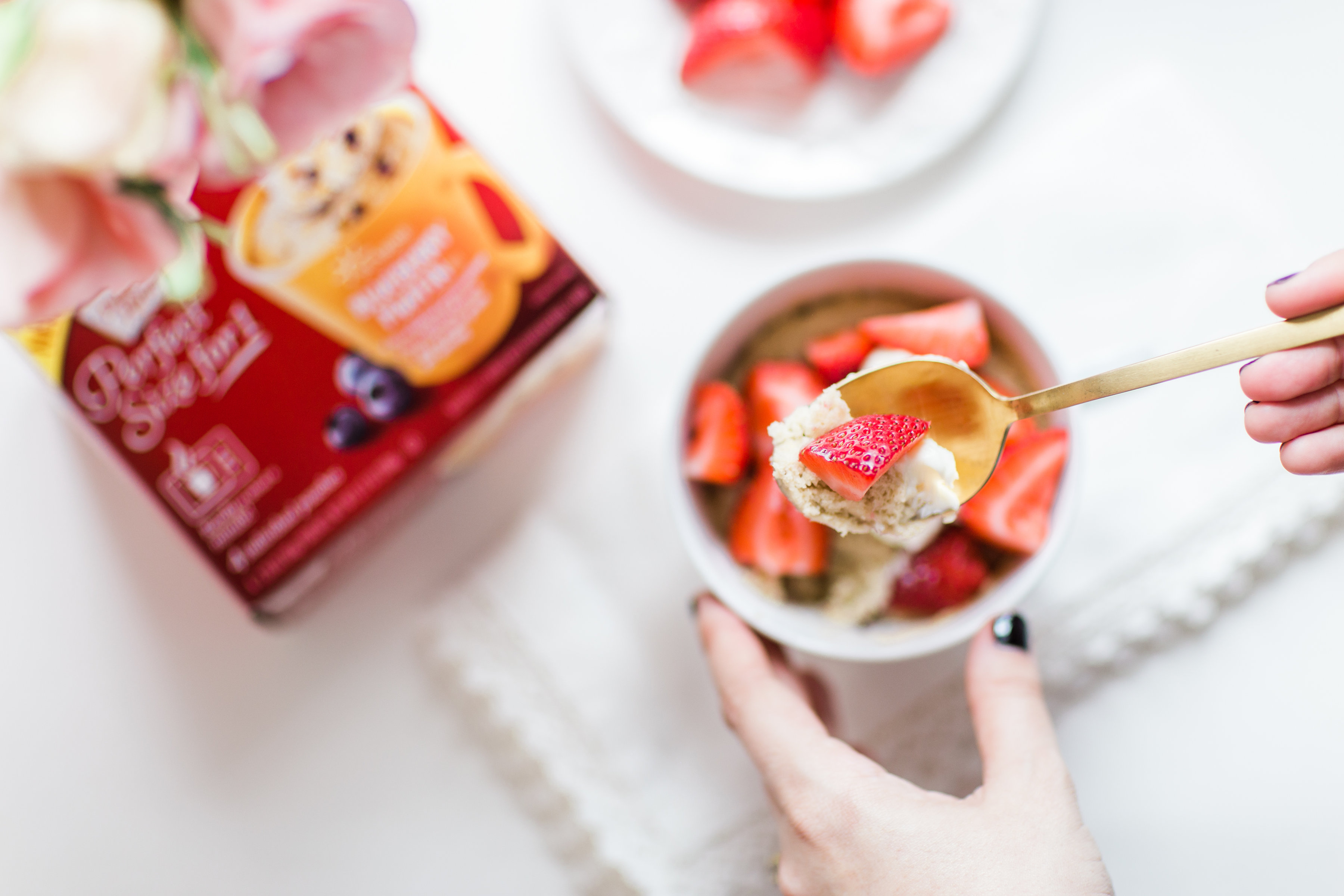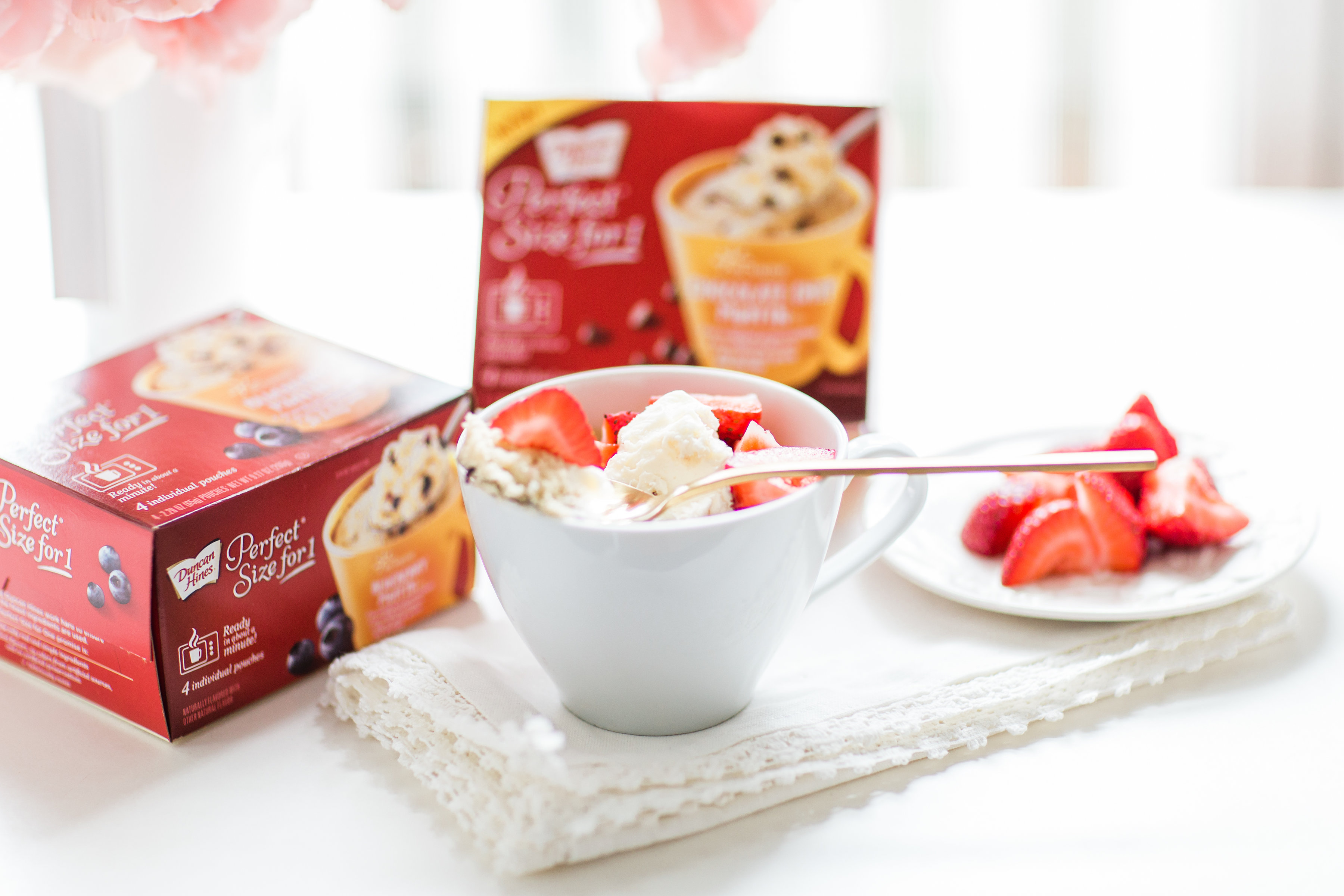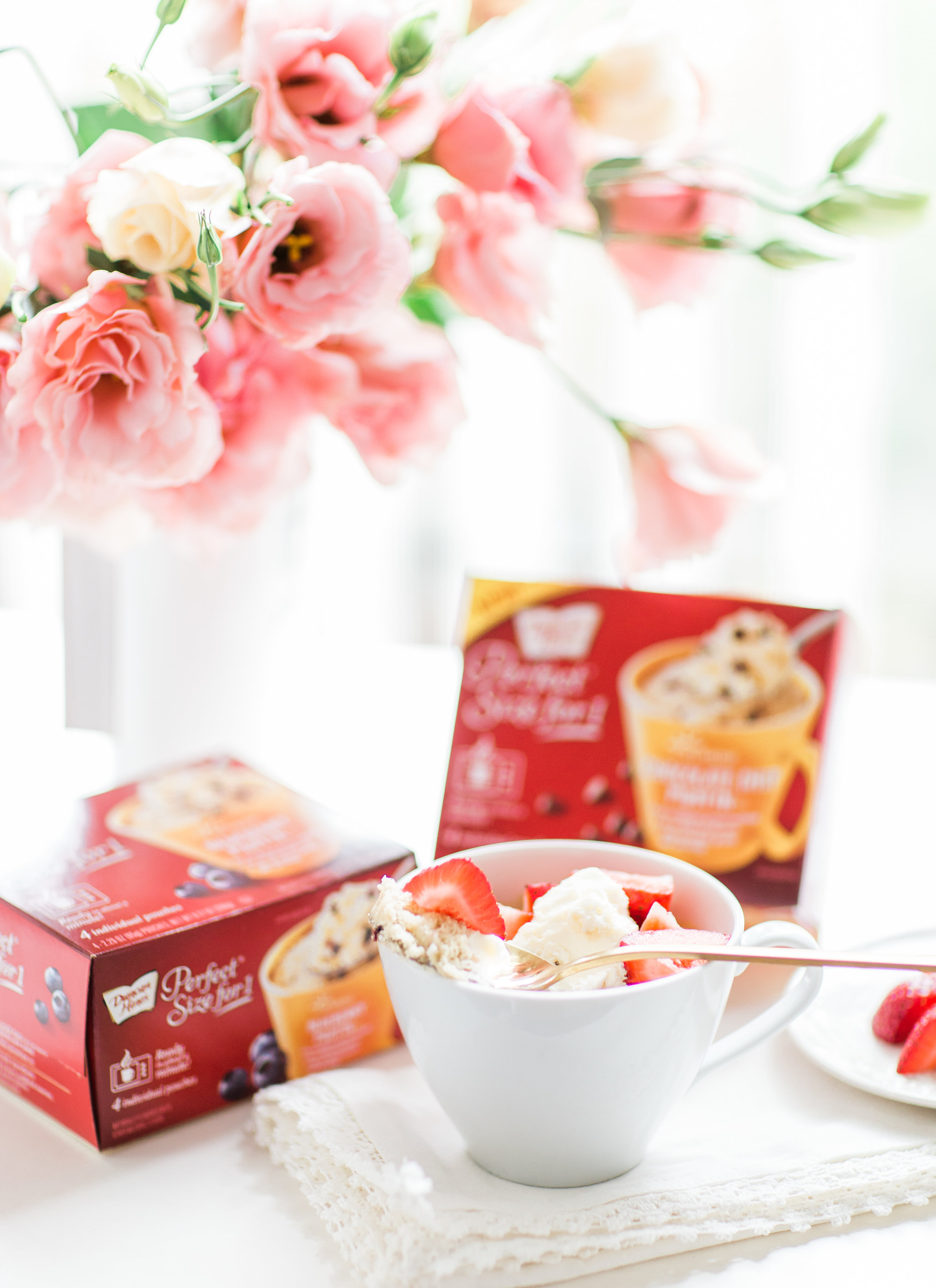 Any favorite quick and easy, busy mom breakfast hacks? Have you tried the Duncan Hines Perfect Size for 1 cakes and muffins?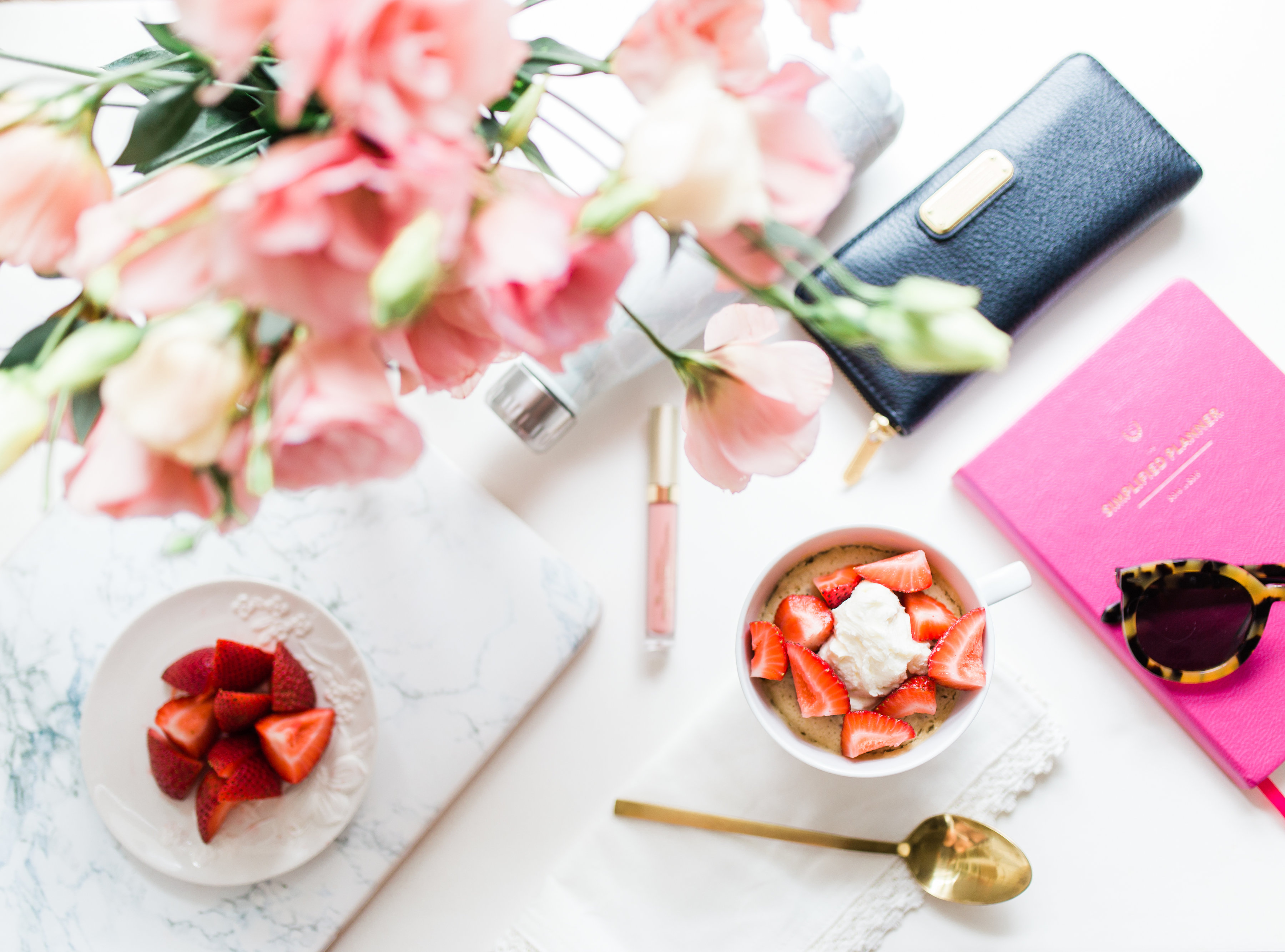 Photos by Annie Watts Photography