Often as a blogger, you can't help but notice trends that all bloggers seem to be embracing; and sometimes, it's a piece – a coat, a statement bag, a pair of sunglasses or jeans, a must-have fall scarf – that every fashion blogger seems to be wearing ALL over Instagram. While I love watching the rise and fall of new trends each season, I usually shy away from trend-heavy pieces, unless I see them as a long-term investment; i.e., something I would wear whether it was in style at the moment or not. But scarves – oh man, I love scarves. Scarves are the kind of thing that are always on trend when the cooler air starts to roll in. And like most fall and winter seasons of years past, a new "it scarf" has quickly emerged – one that nearly every blogger has donned in the last few weeks. Well, a new fall scarf was pretty much a no-brainer for me. I like big scarves and I cannot lie.
And this season, the Free People Kolby Brushed Scarf is undoubtedly the biggest trend to hit necks everywhere. Not a day has gone by in the last couple of weeks that I haven't seen this exact fall scarf pop up on my Instagram feed, worn by all of my favorite fashion bloggers. And while I'm certainly no style icon – I'm much more comfortable in my lifestyle lane (gimme ALL of the baked goods and pretty tablescapes!) – I couldn't resist the allure of a pretty new oversized fall scarf.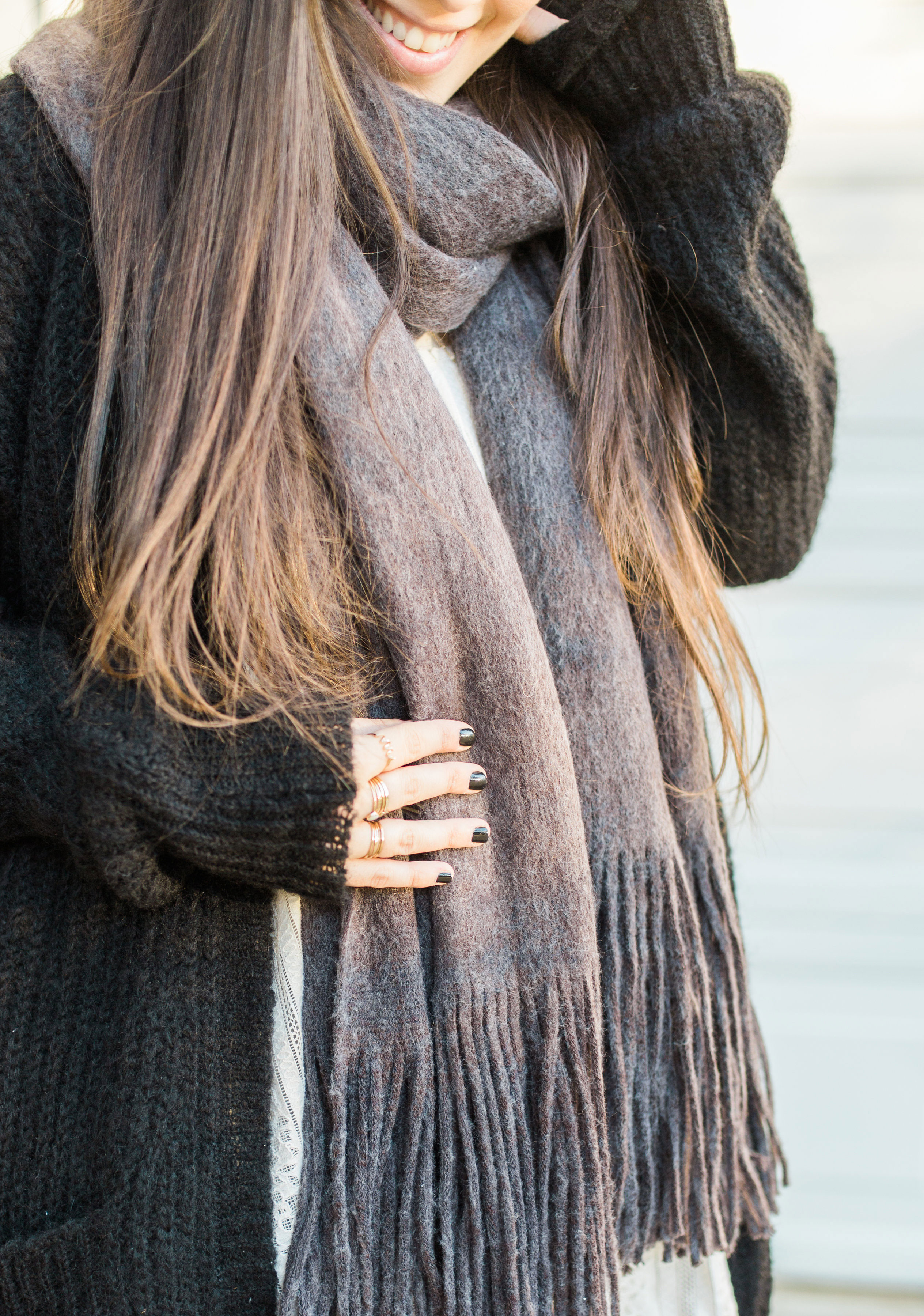 And oh my goodness, this scarf did not disappoint. I ordered the graphite/dark grey, though now I really want that neutral and light grey colors as well. The fall scarf is incredibly soft and warm – like, your favorite blanket ever soft – and at $48, it's reasonably affordable for a scarf that should last you for years. The thick fringe gives it a little drama and flare (YAS!) And about that: it's a classic, and will easily pass the test of time, even in trend-land. It's also the SIZE of a small throw blanket, which is my absolute favorite when it comes to a great fall scarf. You can bundle right up in it, tie it every which way, and bring it along as an easy throw blanket/scarf when you're out and about.
Guys, you need this scarf.
Snag your own fringe brushed fall scarf at Nordstrom, Free People, Zappos, and Shopbop, but hurry, a few of the colors are already on backorder. Told 'ya it was popular!
Are you a scarf-lover too? Check out these 10 fall scarves under $20 that only look expensive.
Photo by Annie Watts Photography for Glitter, Inc.
This post contains affiliate links, which means that if you click on one of the product links, I'll receive a small commission. Thank you so much for clicking through and helping to support this little blog business of mine! Read more about our site, privacy, and disclosure policies here.