I'll admit it, I've fallen hard for these two little girls. I've fallen hard for being a mom to two little girls. I love everything about this moment in time, sleep exhaustion and all.
From the moment we found out that our first baby was a girl, my head and my heart sang with excitement. Every minute of Scarlett's first three years have been a pleasure. There's no doubt in my mind that had we had a boy first, I would have been equally smitten; but having a girl first, the same way my mom had me first, has been perfection. And when the nurse at our ultrasound appointment a few months back confirmed that baby number two was in fact, also a girl, my heart felt like it was bursting. I'm not sure who was more excited, me or hubby. And yes, for the record, my husband is obsessed with his girls and would happily take at least a dozen more.
Now that our second baby girl is here, I look from one little girl to the other, with eyes already welling up full of tears, and I think that I couldn't possibly be any luckier. I actually feel my heart expanding and contracting every time I look at each one of them. I didn't know I could love this much, but it's been the easiest thing I've ever done.
I'm even more excited to watch with anticipation as my girls develop that bond only sisters can have. Hands down, my sister is my very best friend, and I feel crazy lucky to be able to give our girls that. Sure, in time, they'll drive each other mad, but for now, their bond is everything. And for the record, as an adult, having a sister becomes all the more special and important.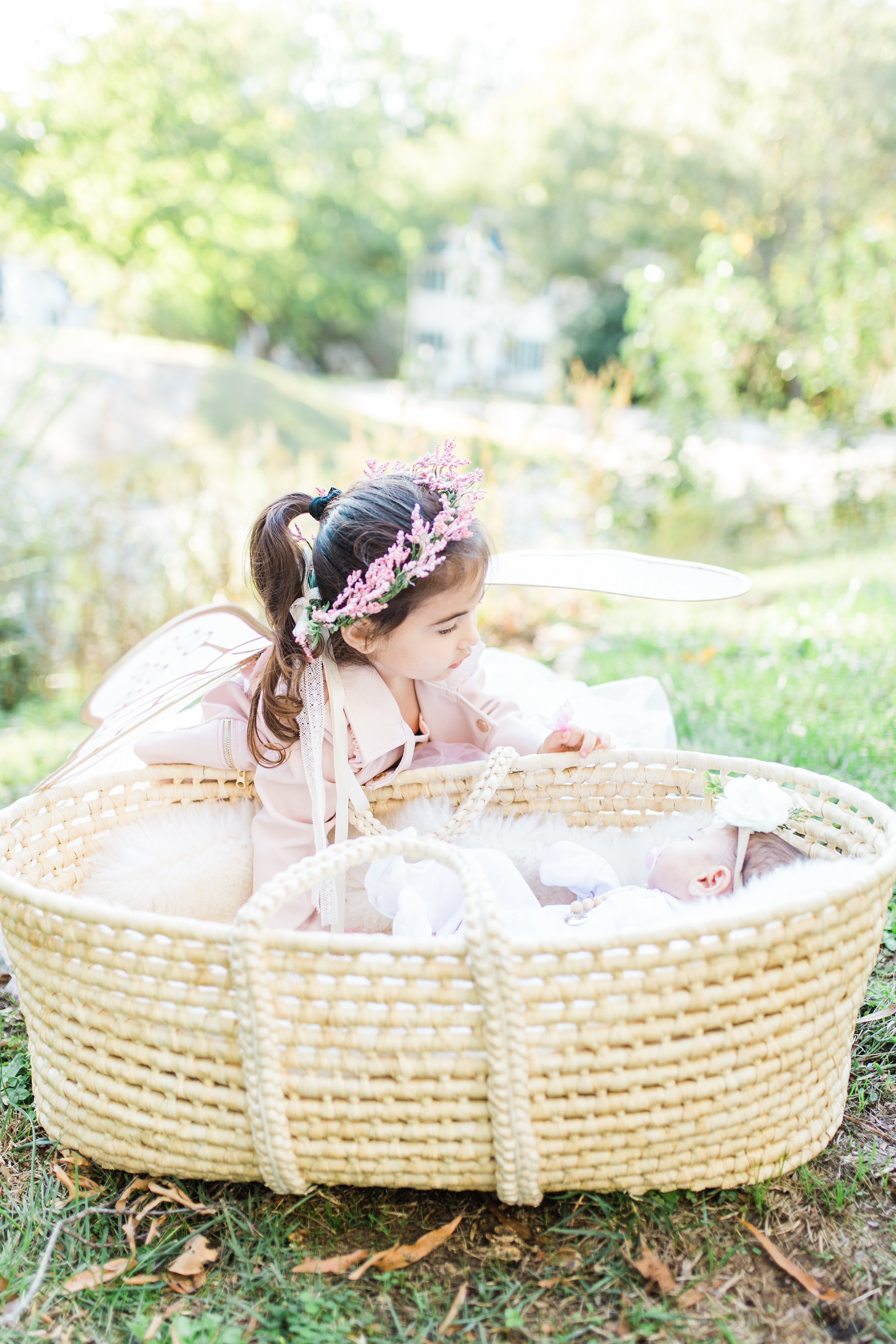 So this year, when I asked Scarlett this year what she wanted to be for Halloween, without any hesitation she proclaimed (in one stream of jumbled toddler-speak; you know the kind, where they never take a breath); "A sparkle fairy princess. And baby sister is going to be a twinkle sparkle little baby fairy princess." Like any mom of a toddler, I figured she would change her mind at least a thousand times, and I held off on hunting for the perfect Halloween costume. Every few weeks or so over the summer, we would talk about the fall and all of the fun holidays. I would mention Halloween and ask her again and again, "What would you like to be for Halloween this year?" and without fail, on every single occasion, she proclaimed, "A sparkle fairy princess. And baby sister is going to be a twinkle sparkle little baby fairy princess."
I wanted to be that cool mom who tries not to push gender norms on her children. We've successfully avoided Disney princess and pink character emblazoned clothing, though I'll admit to plenty of Taylor Swift dance parties in our living room, and I thought I was being SO progressive by allowing my daughter to be who she was meant to be. Little did I know, at least for the time being, who she is truly meant to be is a sparkle fairy princess.
So a sparkle fairy princess she was.
Thanks, in part, to our local BST page on Facebook (Buy/Sell/Trade); we spotted THE perfect sparkle fairy princess costume there about a month ago, and on the day her Daddy brought it home, she immediately demanded to be put in it, and clutched the skirt like she might never take it off. It was an instant hit.
Then, like any blogger mom, I had my amazing photographer swing by the day before Halloween to shoot a few pictures of my girls in costumes, because inevitably, trick-or-treating was a blur of taffeta and candy and chaos and I barely got any decent photos. I'll admit, having fancy schmancy photos taken to memorialize the girls' first Halloween together is a bit cheesy, but ya know, I'm a total cheese ball, so there you have it.
When I told her we were going to have Annie take pictures of her IN her sparkle fairy princess costume – well, you can imagine the excitement. Her goal: to "twirl and twirl and twirl."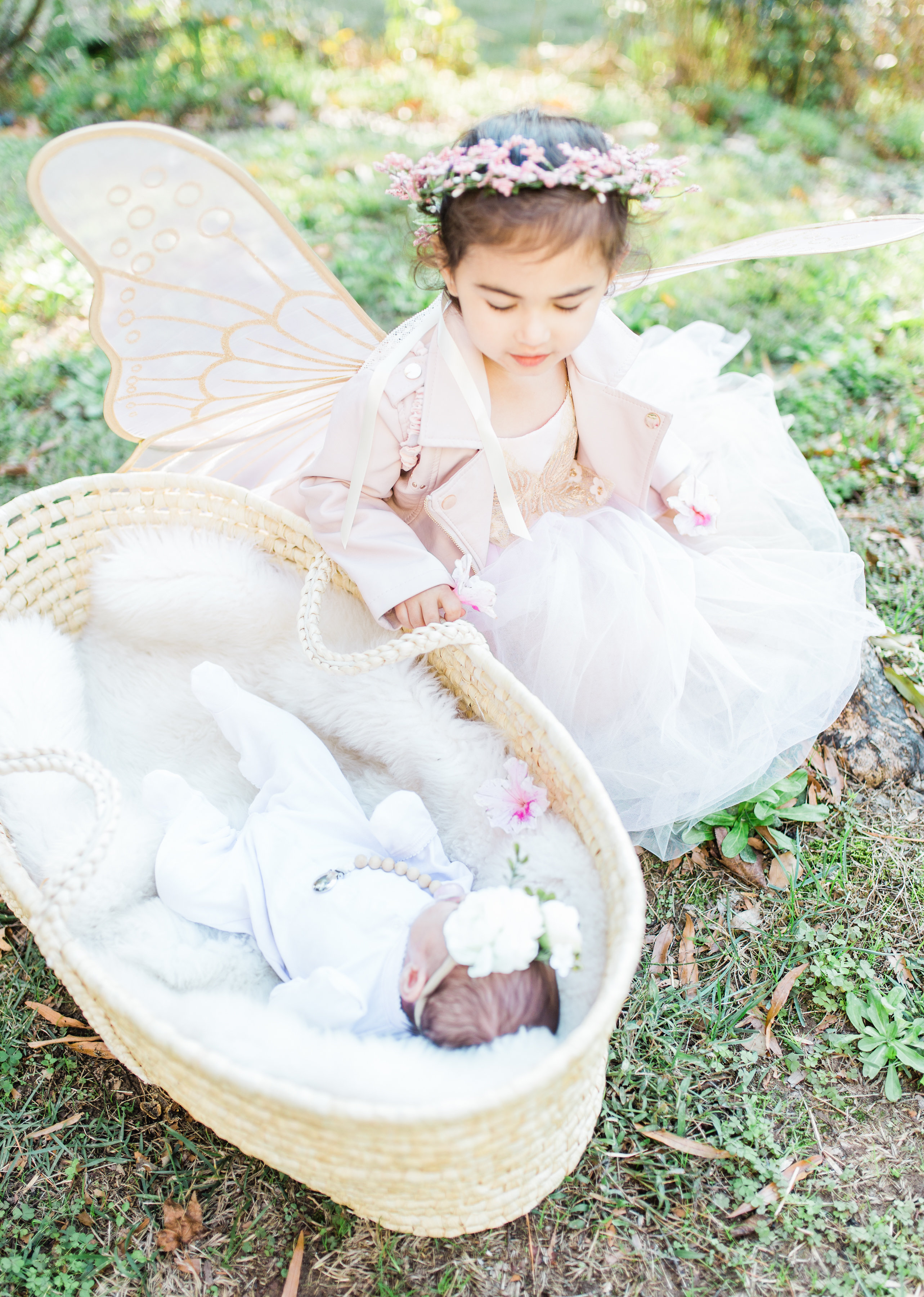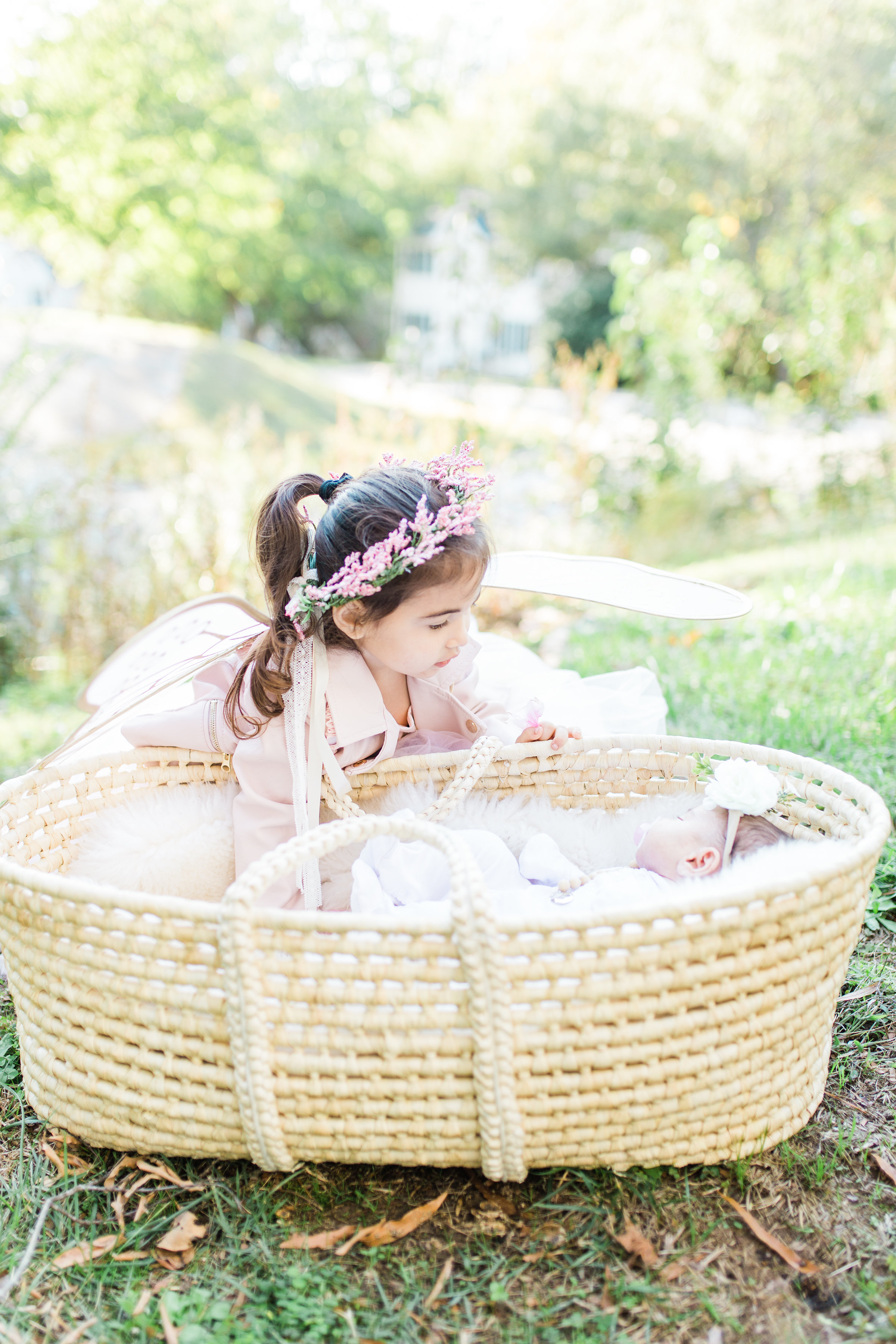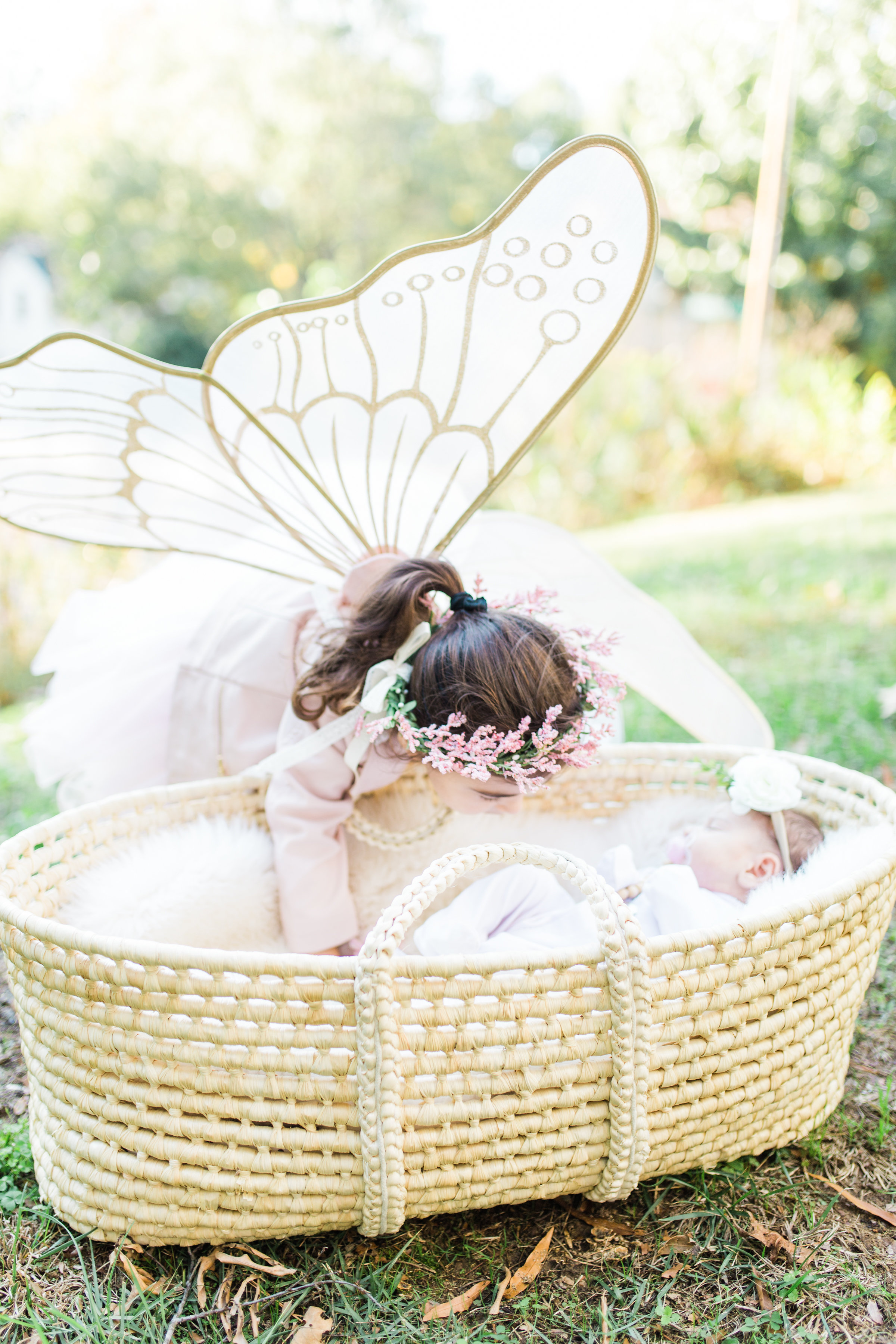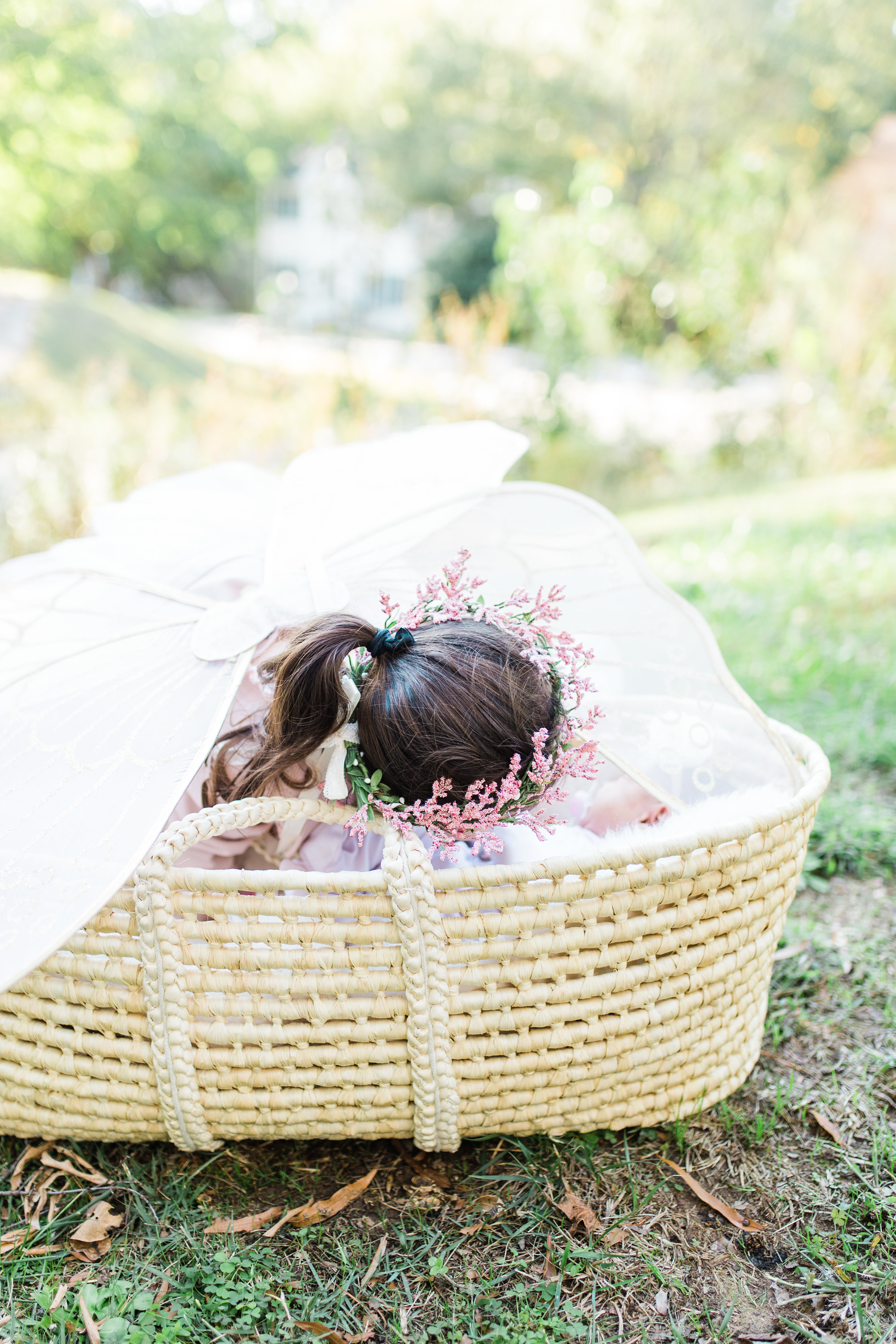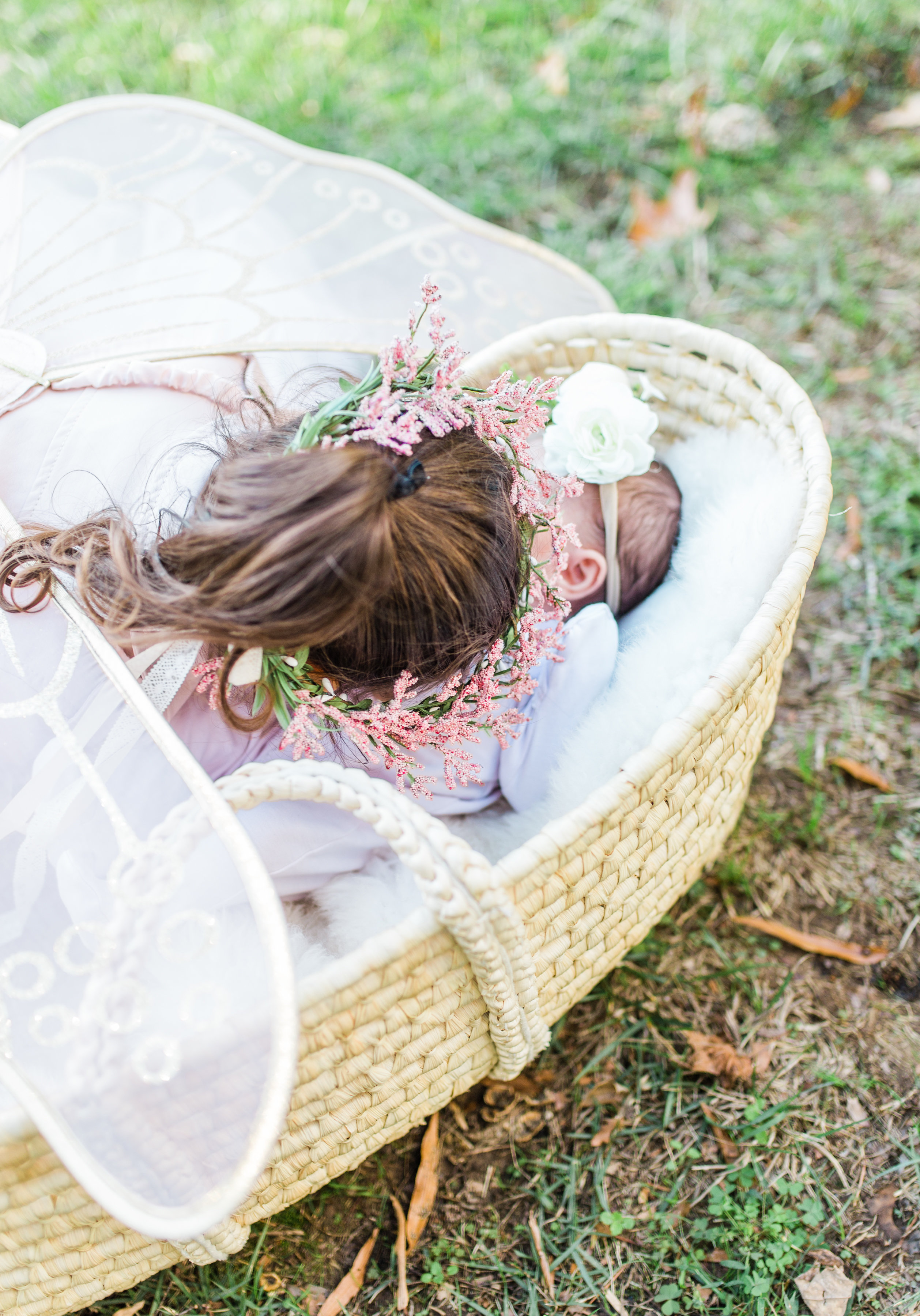 We will inevitably blow these photos up to life-size proportions and hang them everywhere and mail out copies to all of our family and collectively sigh at how sweet, at least in this moment where they're not crying or stomping feet or spitting up (in the baby's case), our two little girls are.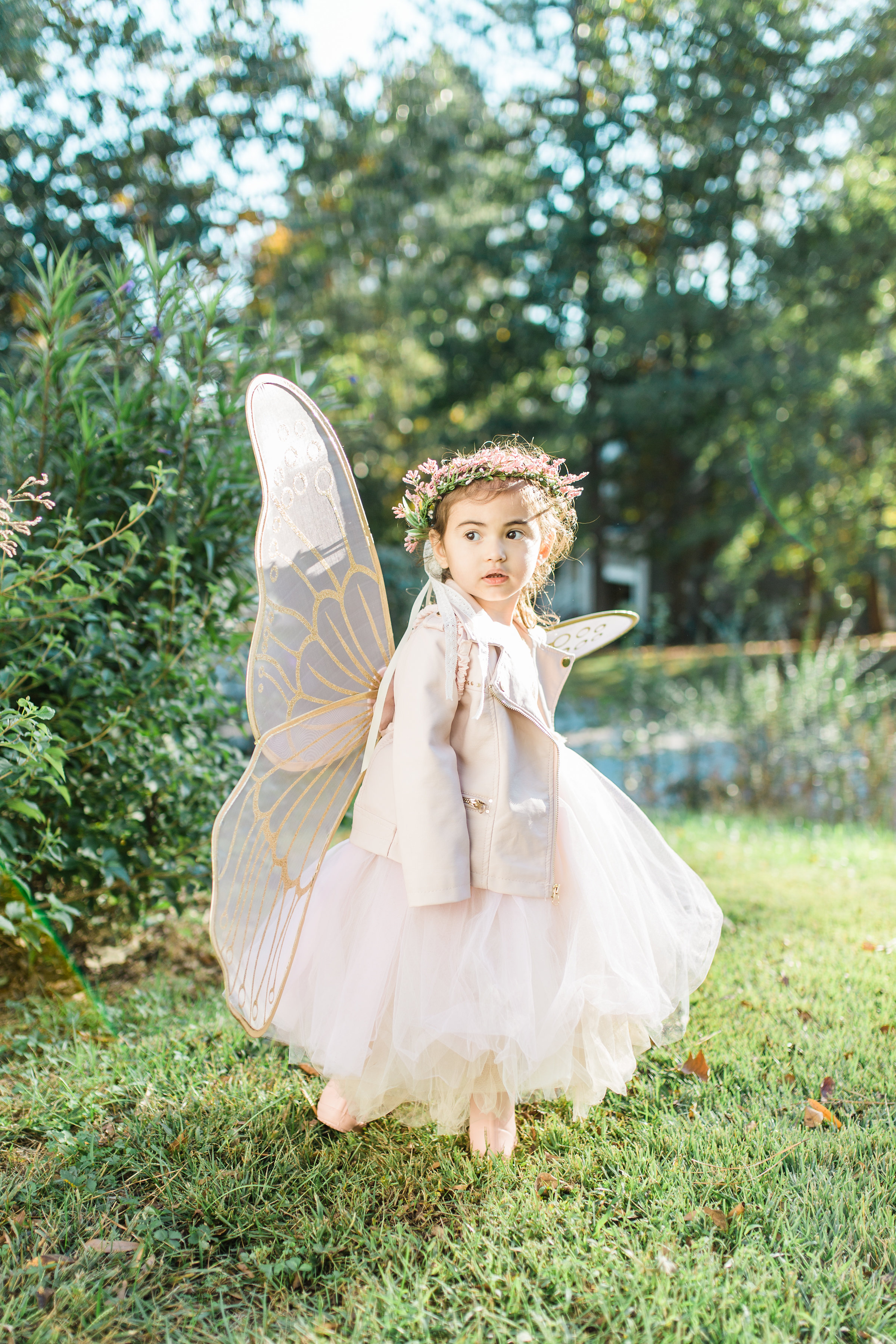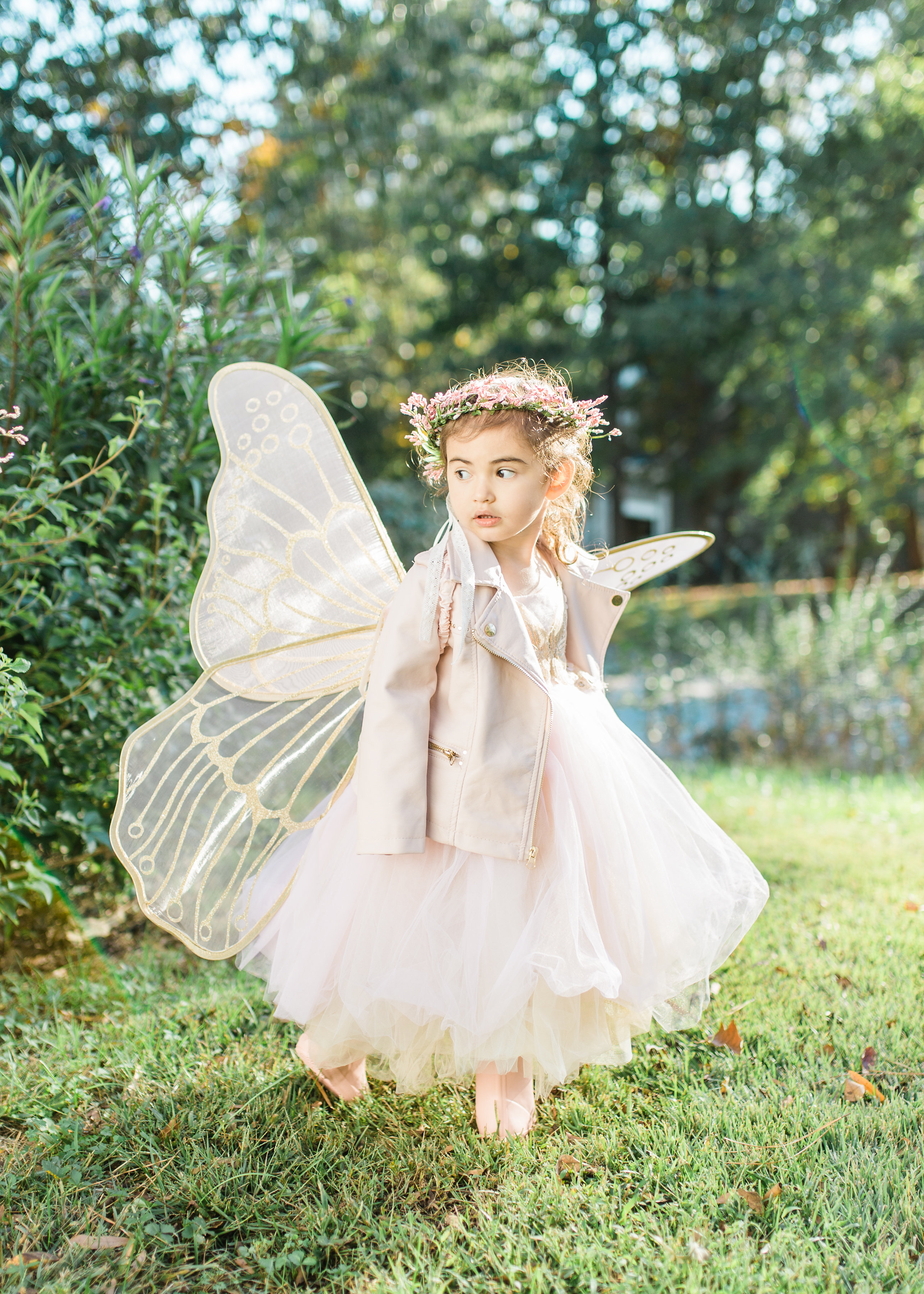 Sparkle on, little princess.
And where as much pink as you'd like.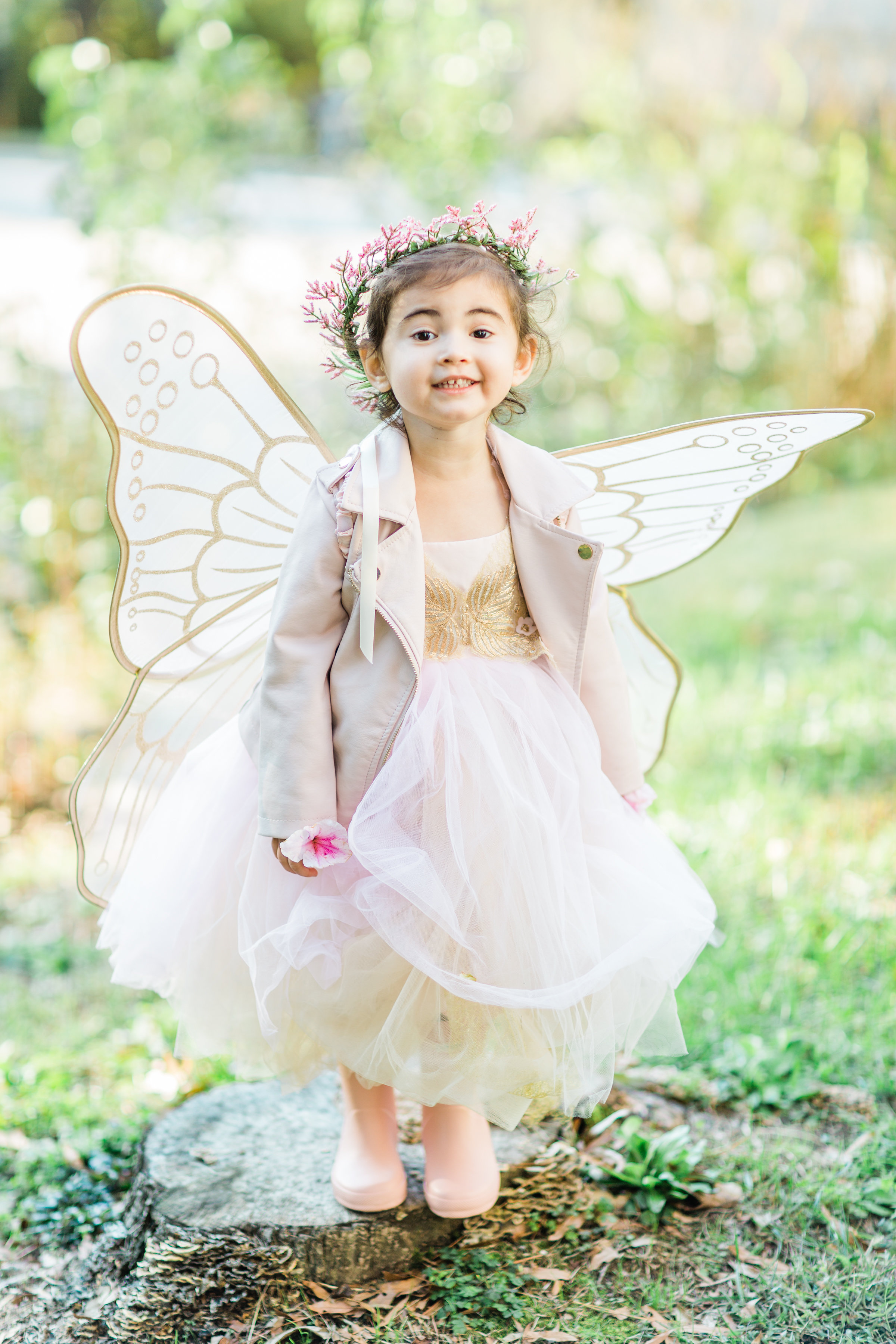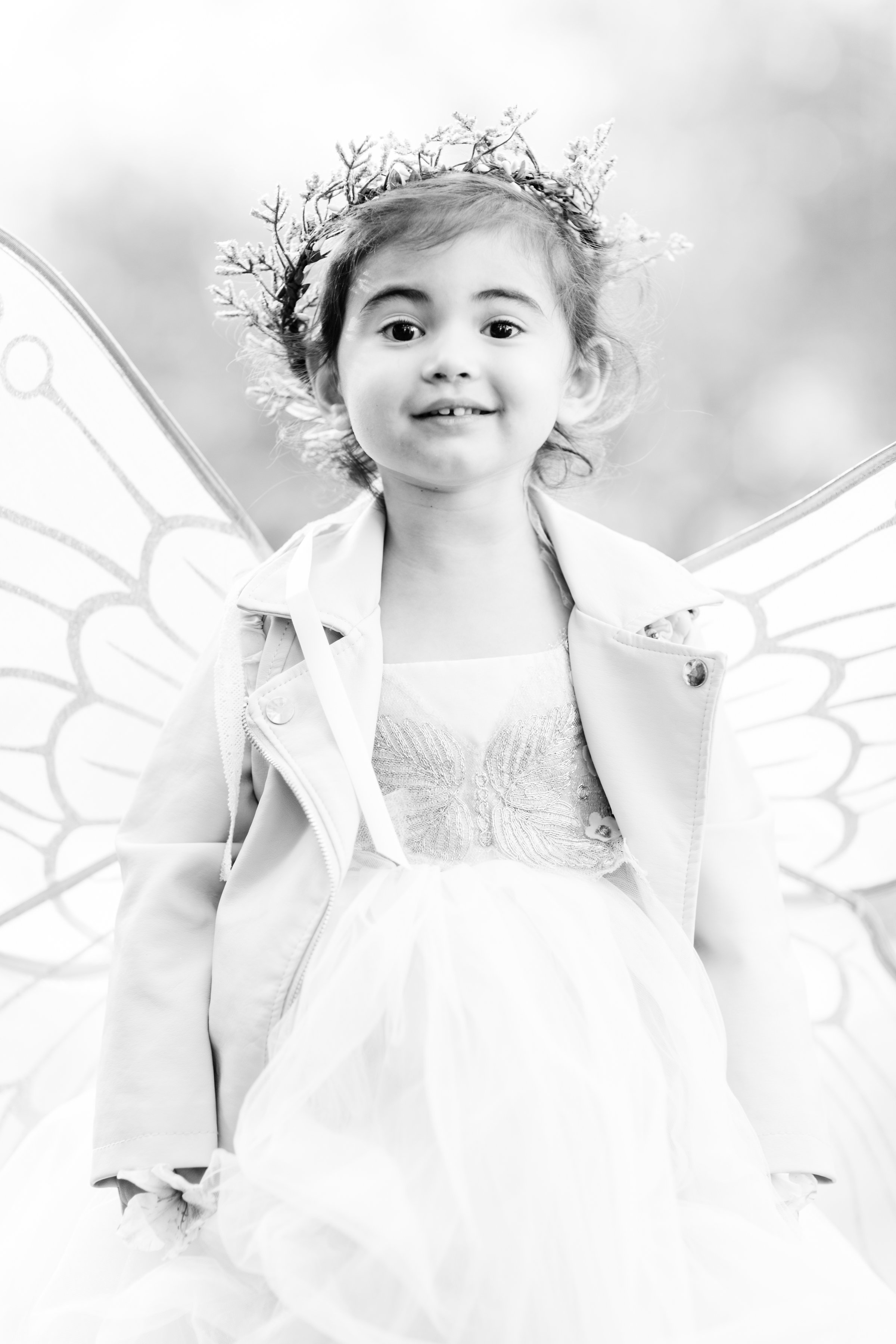 SHOP THE POST | CLICK LEFT & RIGHT ARROWS TO EXPLORE

Scarlett's Toddler Butterfly Fairy Costume via Pottery Barn Kids // Toddler Pink Faux Leather Jacket (similar) // Hunter  First Classic Boots
Emmeline's Kissy Kissy Footie Outfit // Newborn Baby Butterfly Wings // Baby Butterfly Wings
Love Scarlett's flower crown? Here's how to make your own real flower crown.
Photo by Annie Watts Photography for Glitter, Inc.
This post contains affiliate links, which means that if you click on one of the product links, I'll receive a small commission. Thank you so much for clicking through and helping to support this little blog business of mine! Read more about our site, privacy, and disclosure policies here.