This post contains affiliate links, which means that if you click on one of the product links, I'll receive a small commission. Additionally, as an Amazon Associate I earn from qualifying purchases. Thank you so much for clicking through and helping to support this little blog business of mine! Read more about our site, privacy, and disclosure policies here.
It's that time of year — Mother's Day is right around the corner! I'm rounding up all of the very best gifts for mom, including a few things on the Mother's Day gift guide that I'd love for myself and what I'm shopping for Aunts, Grandmas, friends, and more.
Now I know that many of my readers are probably moms themselves, but if you're anything like me, it's probably kind of tricky to think up what exactly it is you want as a gift for Mother's Day when asked. Every year, my husband asks me again and again what it is I'd like for Mother's Day and I always feel kind of stumped.
This year, I think it's a tie between a Maya Brenner initial necklace (or mayyyybe this diamond charm MAMA necklace) and the Dyson Airwrap Complete, but then I keep going back and forth on what I really want/need. I also recently fell in love with the Hill House Nap Dress and I'm kind of dreaming of owning one in every color. 🙈
Plus, we all have moms and grandmas and aunts and best friends to shop for, so here it is: the 2021 Mother's Day Gift Guide!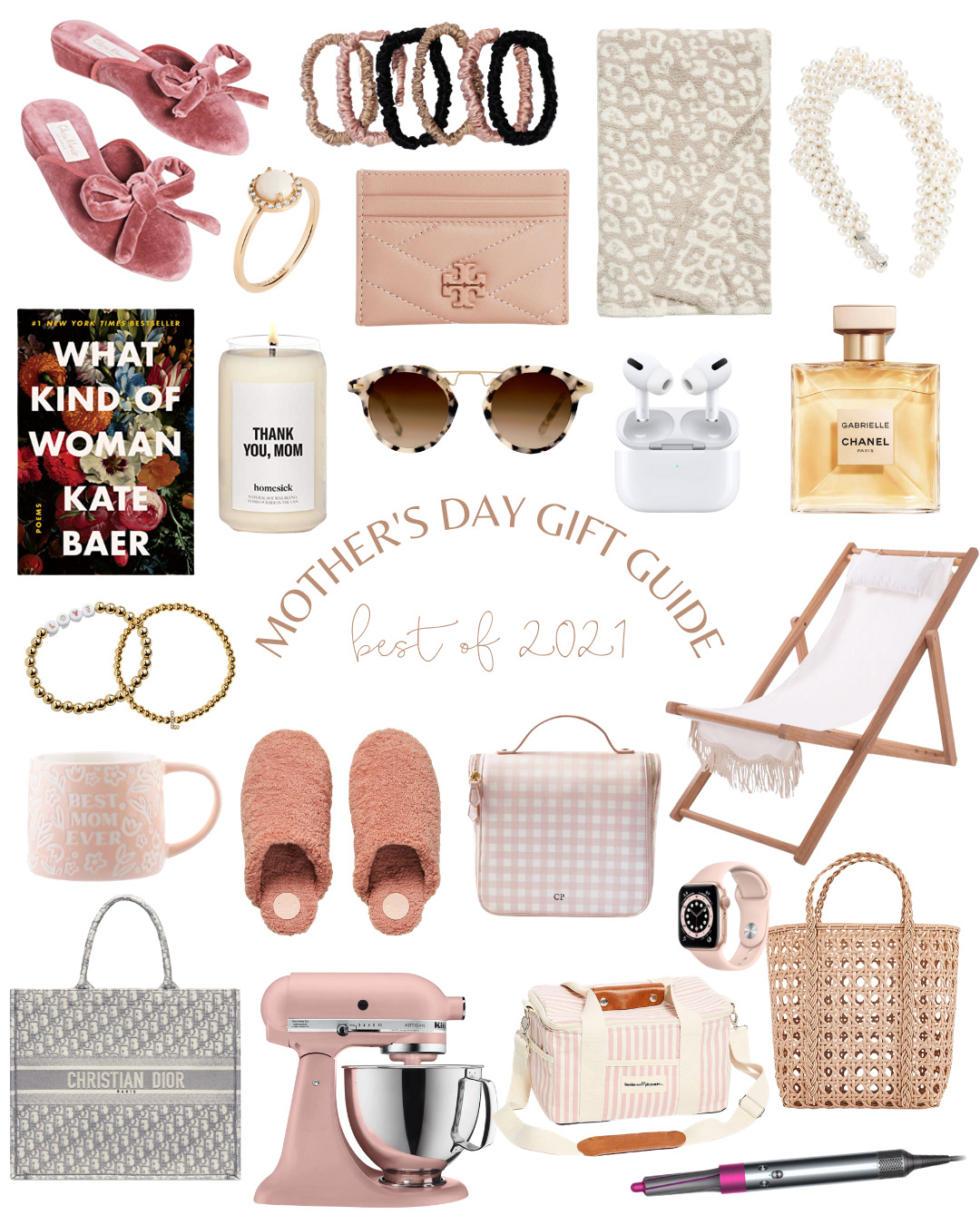 Mother's Day Gift Guide 2021
These velvet slippers are LUXE. If you've always been a slippers kind of gal, and you're especially fond of a touch of glam, these are your slippers. They have major Bridgerton vibes, don't you think?
These hair ties are made with same silk, each has a wide surface area and is designed to reduce those annoying ridges caused by regular hair scrunchies, and they're soft enough that you can sleep in them.
If there ever was an IT blanket, this would be it. I have three (🙈) and I can confidently say that these blankets are worth the hype.
This is the most beautiful statement headband; perfect for any accessories lover.
This ring is simple, beautiful, and has subtle vintage vibes that make it a classic.
These thinner card case wallets are perfect for the mom on the go. I love sliding mine into a clutch, a diaper bag; basically anywhere I need it.
If you follow Kate Baer on Instagram you'll know just what a powerful writer she is. Her poems connect with moms in the thick of motherhood on such a visceral level. Her book of poetry is no doubt, something really beautiful.
Homesick makes the best-smelling candles, and right now, this super sweet "Thank You, Mom" candle is on sale!
I LOVE that these adorable bracelets are totally customizable, affordable, and the perfect piece (or pieces) to wear every day. Wear them in a stack for extra oomph.
If mom is looking for a timeless splurge, might I suggest a Dior Book Tote? This classic style is casual enough and large enough for every day use and beautiful enough to make mom smile every time she wears it on her arm.
These sunglasses are too cool for school and I love them.
The latest apple AirPods are the best for listening to music on the run, they sync with all your Apple devices, and they have a super easy customizable fit. They're also on sale right now at Target!
I have and love this scent. It smells beautiful, sophisticated, and a little bit sexy; everything you'd expect out of a splurge-worthy Chanel scent.
Let mom relax in the glorious sunshine this summer in serious style with this beautiful lounge chair with boho vibes.
This adorable mom mug is from Target and the sweetest little gift for any mom. Gift it to the mom in your life with some coffee and chocolates and you'll have one happy mama.
These super cozy slippers come in several colors and are an Anthropologie staple for good reason: everyone loves them.
If you've never used a hanging cosmetic case for travel, make the switch. So much easier to use (I even use one on the daily in our bathroom at home), and folds up nice and compact, keeping everything inside safe. Bonus: you can also have it personalized and it comes in several color options!
Not gonna lie, if they had this rose pink version when I bought my KitchenAid mixer all those tears ago, I 100% would have snagged this one. So pretty, so practical, so perfect.
If mom loves the beach, this may be the prettiest cooler she'll ever own.
I am absolutely in love with my Apple Watch. I've worn the same one for at least 5 years now and pretty soon I plan to upgrade because the newest models are water resistant. Honestly, this watch does everything I need – I can take calls and reply to texts from my wrist, use so many of my apps on the watch, track my daily activity and heart rate, and so much more.
These new beach bags from J.Crew are so beautiful. Similar to a BOGG bag, but so much more chic, this is shaping up to be the perfect bag for beach days all summer long.
This is at the top of my wishlist (and has been for awhile). It's pricey, but I haven't met a single person who owns one who doesn't absolutely rave about theirs. I LOVE the idea of ditching my hot tools and having an all-in-one for blowouts, waves, curls, etc.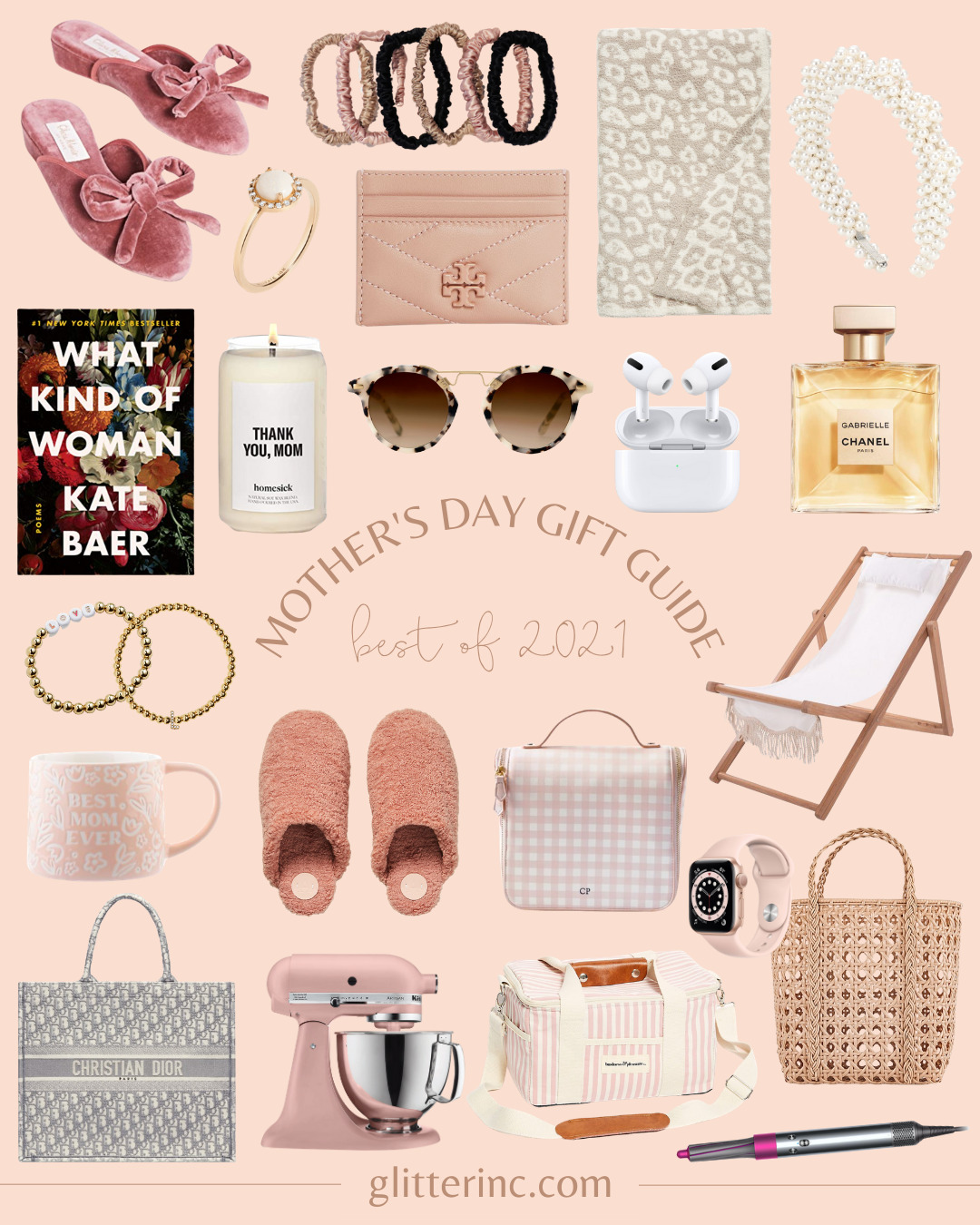 SHOP THE MOTHER'S DAY GIFT GUIDE | CLICK LEFT & RIGHT ARROWS TO EXPLORE

What about you? Do you have any dream gifts topping your own wishlist this year? Anything special you're gifting to the mothers in your life?
Love these Mother's Day gift ideas? You can scroll through all of our gift guides for even more inspiration.