This post has been sponsored by American Greetings. All thoughts and opinions are my own. This site contains affiliate links, which means that if you click on one of the product links, I'll receive a small commission. Read more about our site, privacy, and disclosure policies here.
Searching for a fun way to celebrate your little ones' birthdays in memorable ways? You'll love and want to re-create this adorable birthday tradition: a sweet way to display cards in your kids' playspace.
Our oldest baby girl, Scarlett, is turning 4 years old this July. I've been thinking a lot about fun ways to commemorate her birthday, especially with family being far away and a birthday party to celebrate still about a month away (blame a busy summer schedule!). I really wanted to start a tradition to celebrate our girls' on the actual day of their birthday. I polled my favorite mom group, GLITTER MOMS (more about our super awesome cool moms club here), looking for everyone's favorite day-of birthday traditions for their kids. I got so many great responses.
A few memorable (and adorably stand-out) day-of birthday traditions:
"Every year my kids wake up to their bedroom floor filled with balloons left by the birthday fairy. I get a stock of balloons maybe a week before and hide them. Then after bedtime my husband and I blow them up and sneak them into the room. I'm ALWAYS thinking I'll get busted! LOL"
"Funfetti pancake breakfast!"
"I like to decorate their rooms the night before – sometimes I line up the stuffed animals and put party hats on them or balloons and a note on the door or the bathroom mirror. Just a fun morning surprise. This year I lined up all the barbies approaching her bed! She was so happy!"
"I always decorate the house so they wake up to a birthday party and make pancakes with a candle for breakfast. We usually do a party but on the weekend after."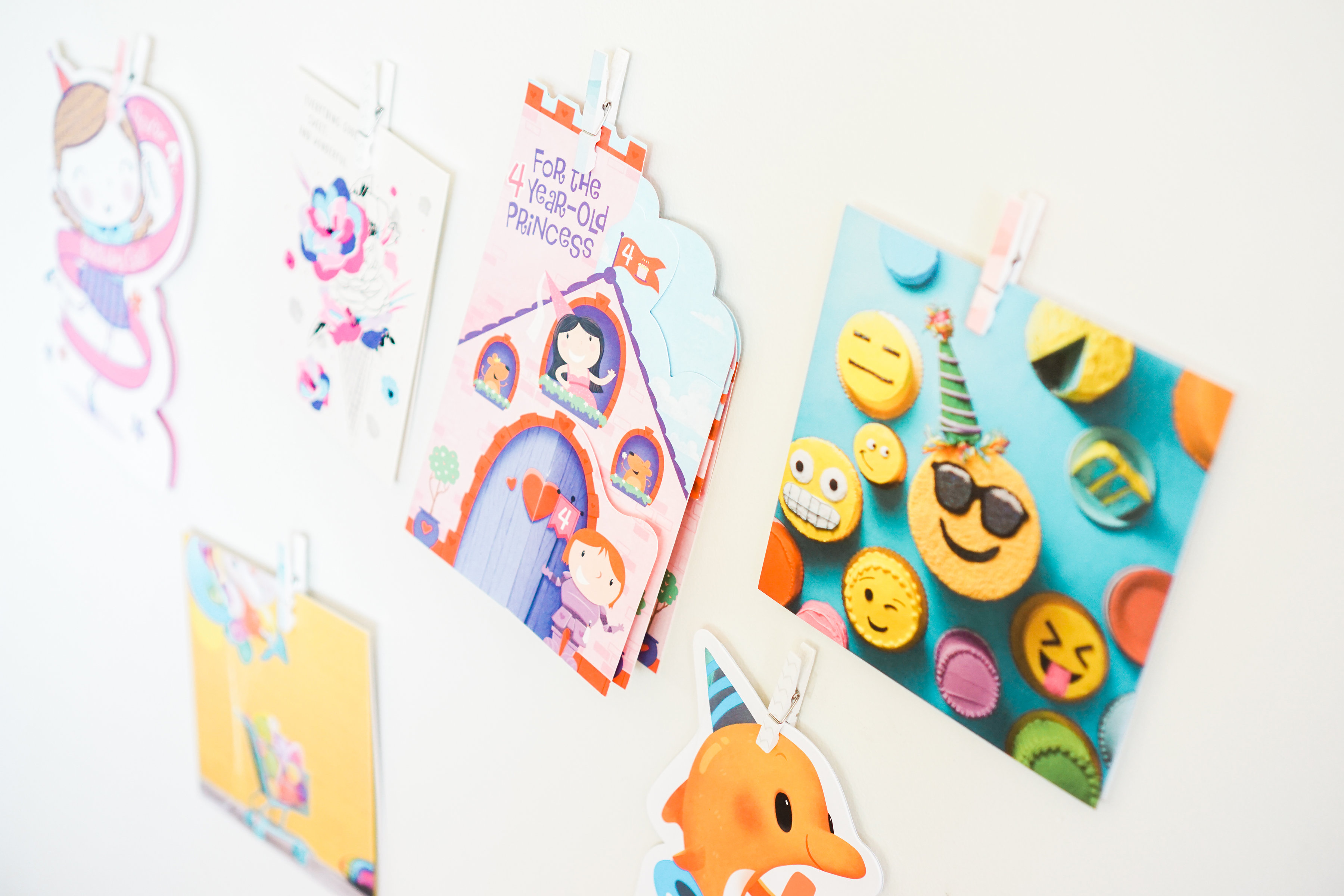 Memorable Birthday Traditions: A Sweet Way to Display Cards in Your Kids' Playspace
One of the adorable ways my whole family has been able to celebrate and praise my girls from afar is by sending snail mail. The grandmas like to send the girls care packages, and my own mom sends our oldest, Scarlett, postcards and greeting cards with little notes in them. They're always SO sweet and Scarlett absolutely cherishes them. She's been getting heaps of mail for her birthday, mostly birthday presents and so many sweet greeting cards. Target always has an amazing selection in the card section.Some of the  summer occasion cards, highlighting featured artists and design collections, are too cute for words. One of our favorites was the bright and festive emoji card from the artist Audrey Jones. How fun is that?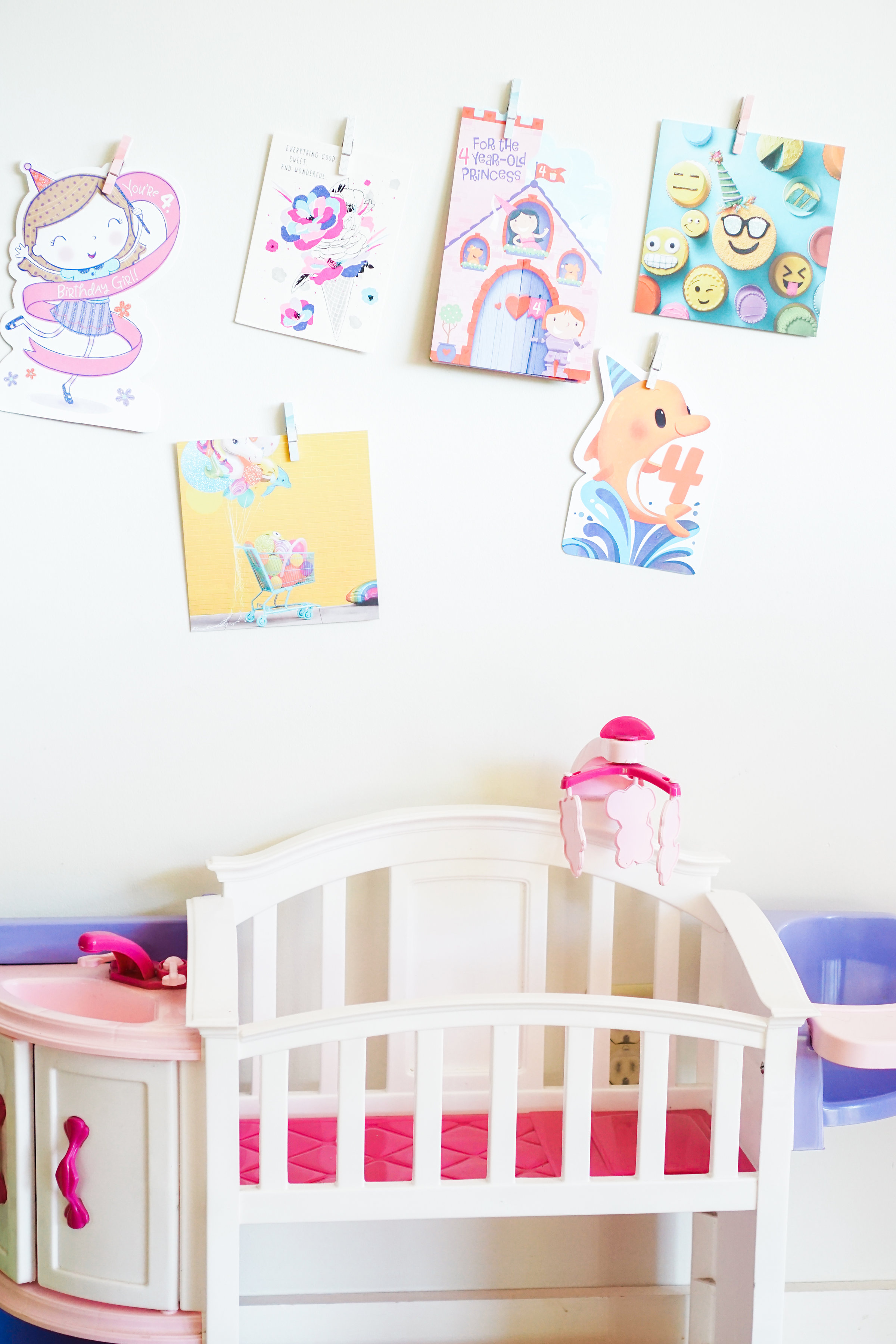 With all of the fun mail Scarlett has been getting for her 4th birthday, we decided we needed a memorable way to display all of the cards from Mom and Dad, Grandparents, Aunts and Uncles, etc. So our newest day-of birthday tradition? A sweet way to display birthday cards in our kids' playspace to remind her of just how much she's loved!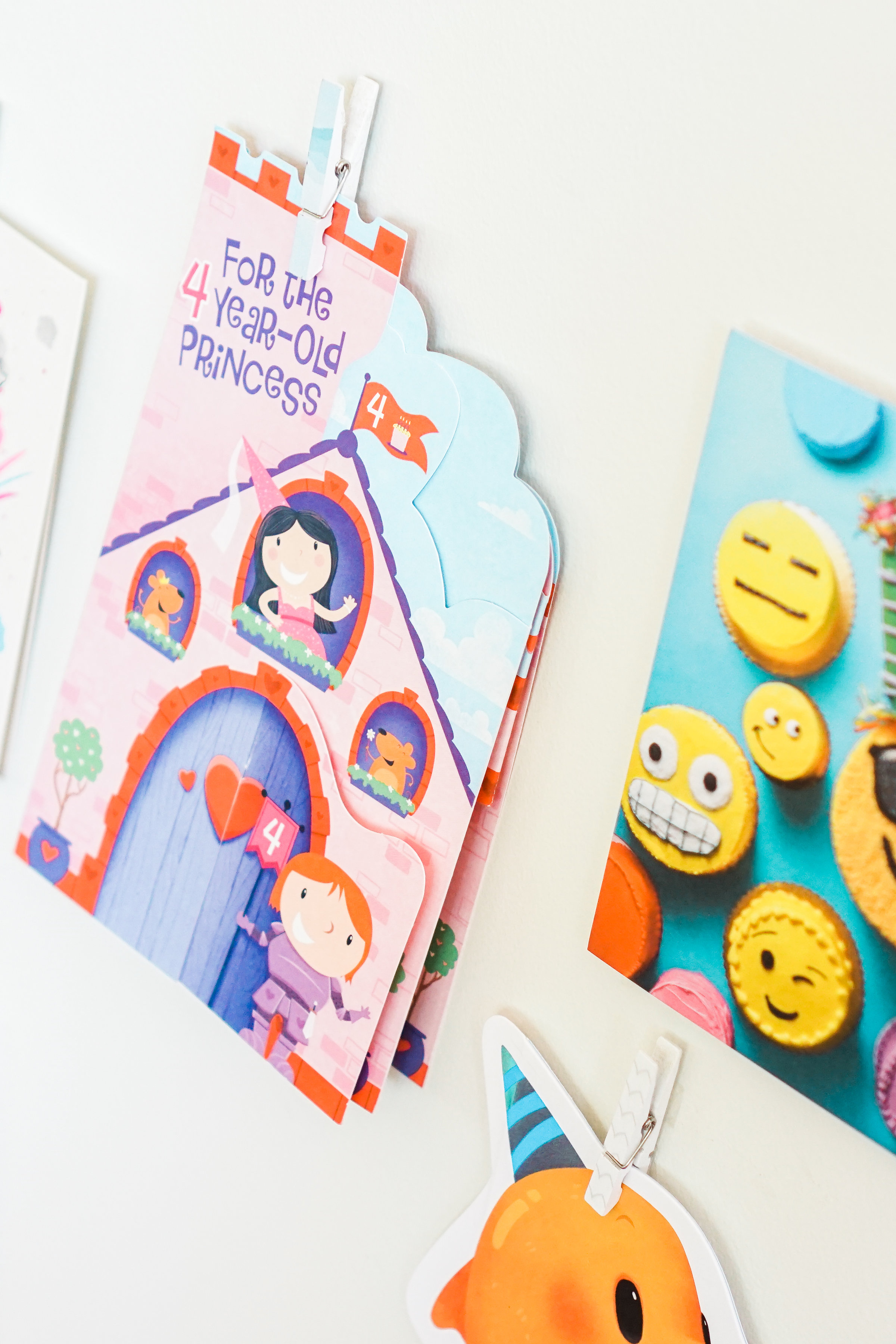 Having all of her birthday cards displayed above where she plays, Scarlett really gets to enjoy the adorable cards everyone sends her. She loves to point at the cards and say things like, "Bubby got me this one! I love the dolphin!"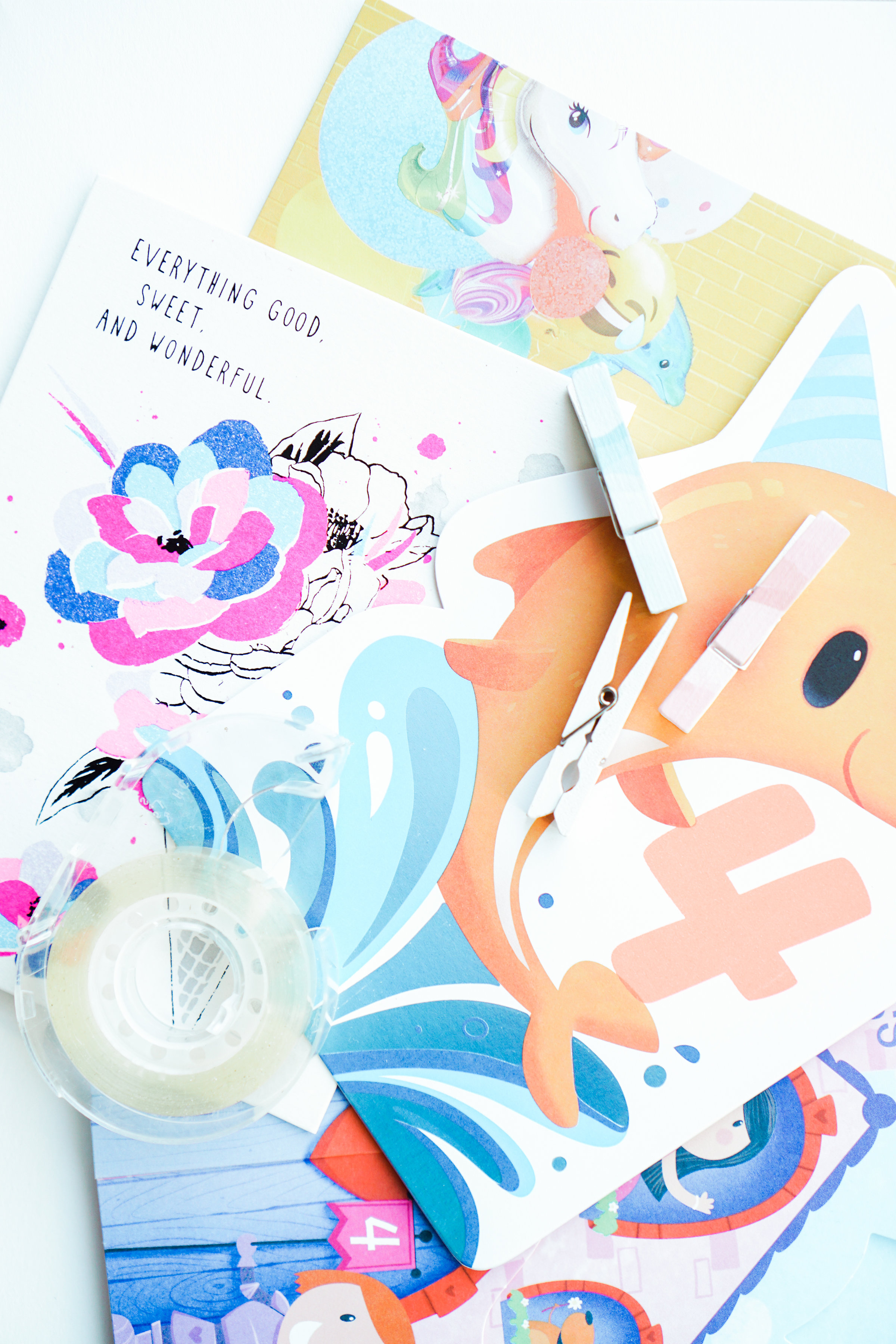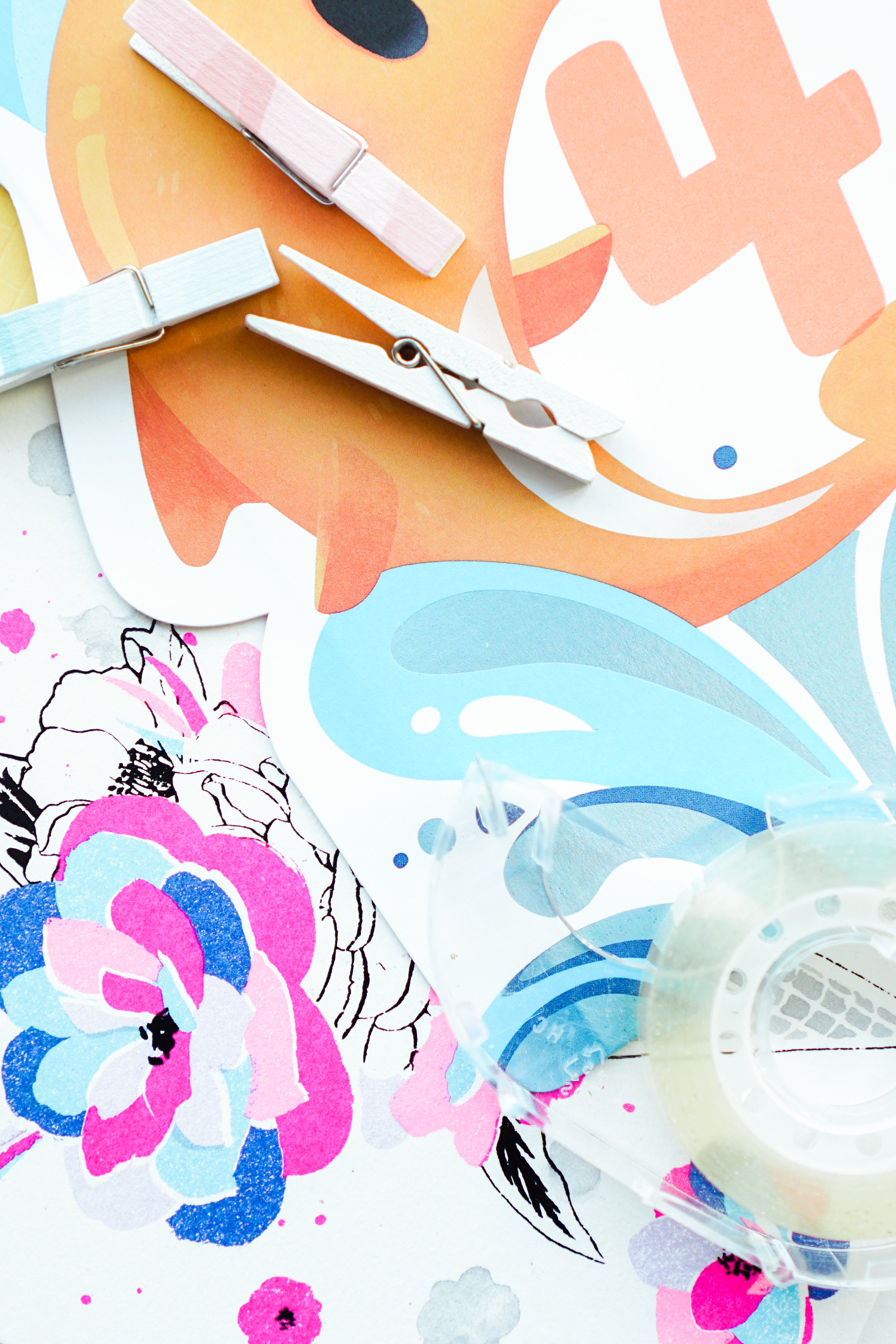 How to Display Cards in Your Kids' Playspace
What You'll Need:
Festive Greeting Cards
Clothespins
Double-Sided Tape
Instructions:
Place a piece of sturdy double-sided tape on the back of each of your clothespins.
Adhere the clothespins to the wall, just above your kids' playspace.
Carefully hang greeting cards one by one using the clothespins.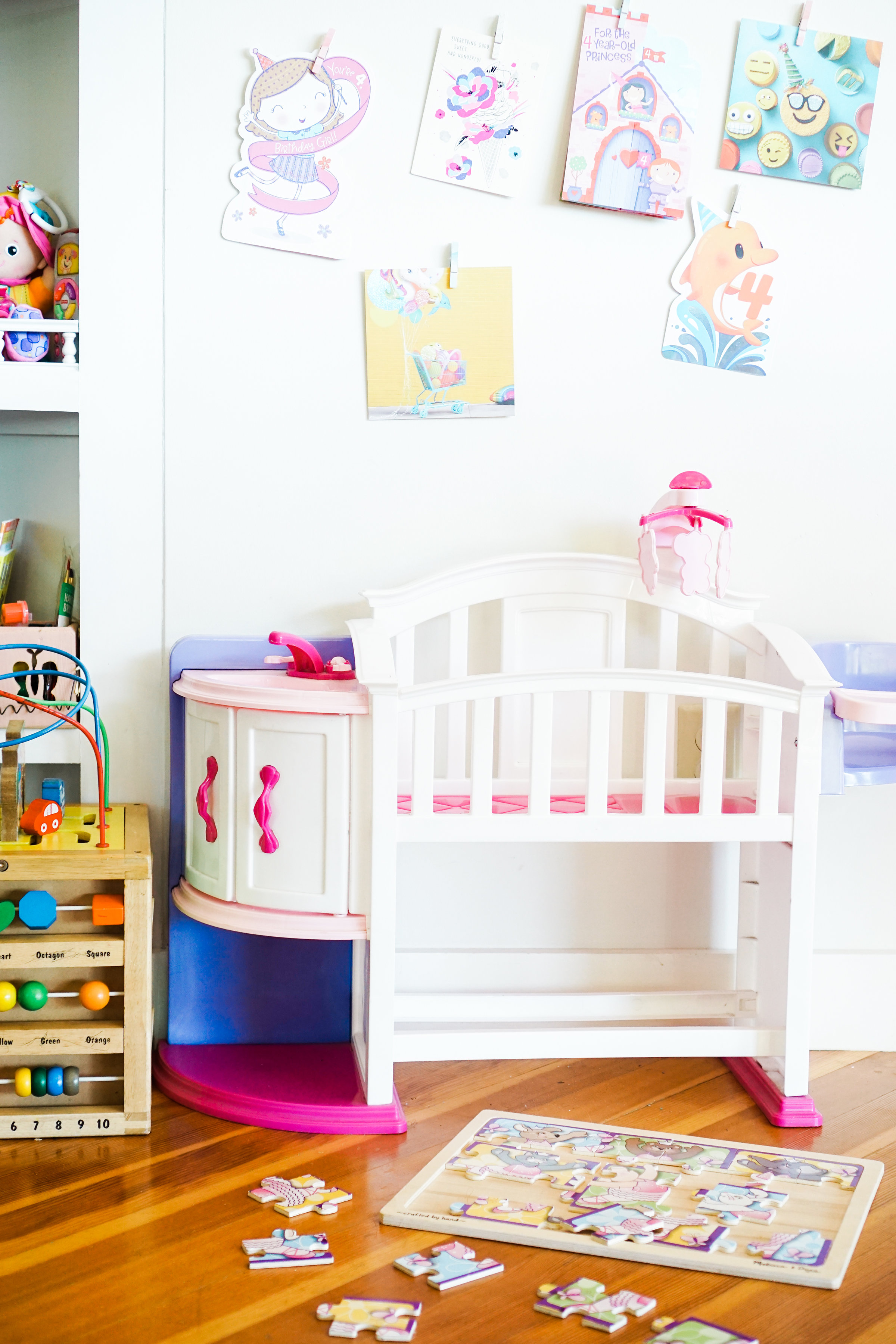 Watch the video below to see the sweet way we display cards in our kids' playspace:
What are some of your birthday traditions for your kids? What were they when you were growing up?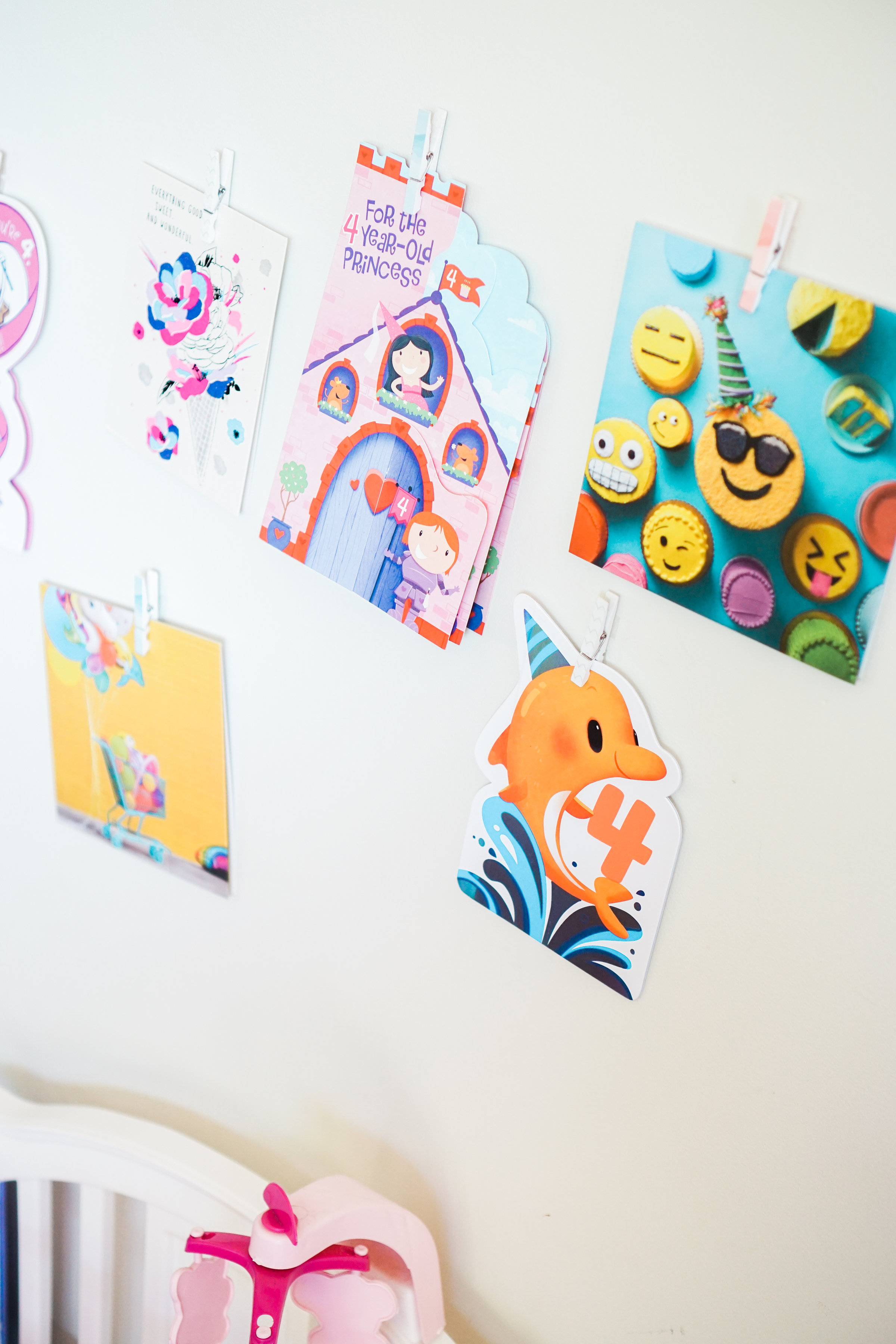 And don't forget; you can find all of your  summer occasion cards (with fun new artists and designs!) in the Target card section, plus plenty of clothespins and double-sided tape to display the cards in your own kids' playspace.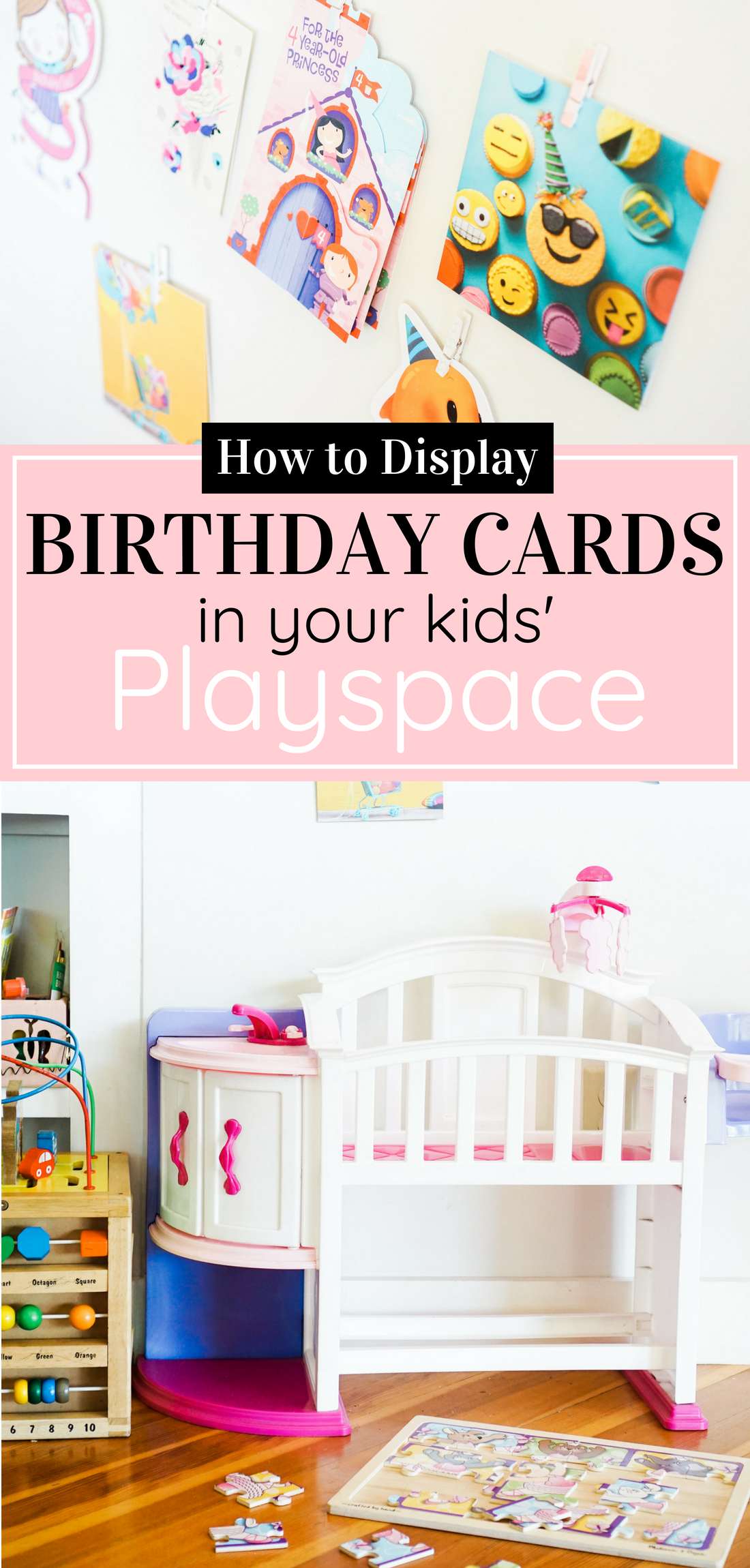 SaveSave
SaveSave
SaveSave
SaveSave
SaveSave
SaveSave
SaveSave
SaveSave
SaveSave
SaveSave
SaveSave
SaveSave
SaveSave
SaveSave
SaveSave
SaveSave