This post contains affiliate links, which means that if you click on one of the product links, I'll receive a small commission. Thank you so much for clicking through and helping to support this little blog business of mine! Read more about our site, privacy, and disclosure policies here.
After having experienced the Nordstrom Anniversary Sale (Yay, Early Access!!), I'm now sharing my top picks from the sale. Psst … I took a TON of pictures along the way, tried stuff on, and made a few purchases that I'm super excited about! Get ready for one HUGE post!
In case you missed it here on Glitter, Inc. or ALL over social media, he 2018 Nordstrom Anniversary Sale Early Access is here!! This is Nordstrom's biggest sale of the year, and easily a favorite of mine. What makes this sale so unique – and fantastic – is that the Nordstrom Anniversary Sale is nothing but ALL NEW fall items that are marked down for a limited time. (This year, everything goes back to full price on August 6th, so you're snagging BRAND NEW fall items at a major discount until then.)
On Thursday, I shared what to buy at this year's Nordstrom Anniversary Sale, how to shop for the biggest steals and deals, and what not to miss before it sells out, but I wanted to pop in today once I had experienced the sale for myself to share my top picks from the Nordstrom Anniversary Sale! I was able to scour the racks, and I took a TON of pictures along the way, tried stuff on, and made a few purchases that I'm super excited about!
My Top Picks From the Nordstrom Anniversary Sale (With Pictures!)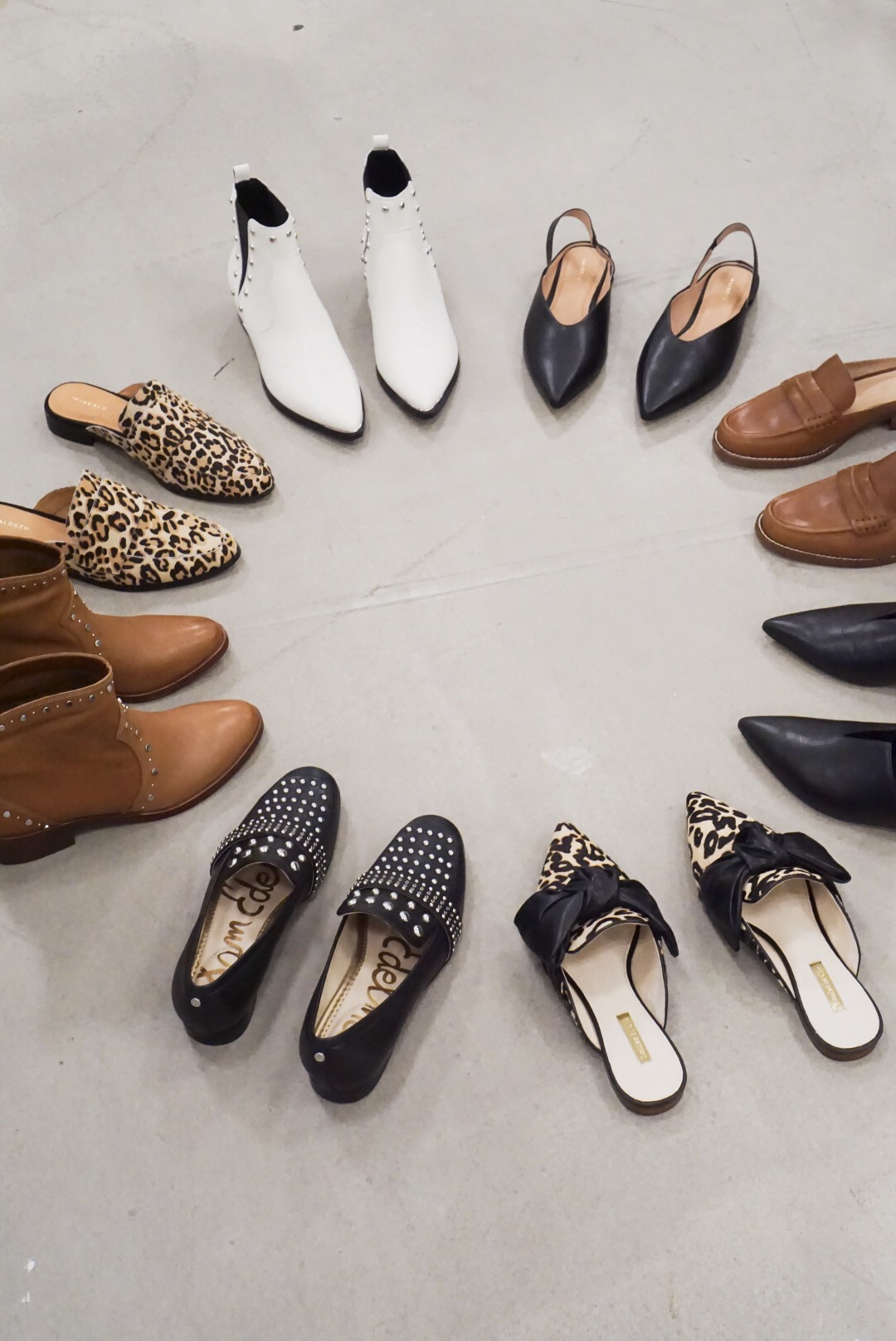 My Favorite Nordstrom Anniversary Sale Shoes
I'm going to dive right in with my FAVORITE part of the Nordstrom Anniversary Sale Favorite Shoes and Top Picks year in and year out: SHOES. And this year is no exception; the shoes are pretty great.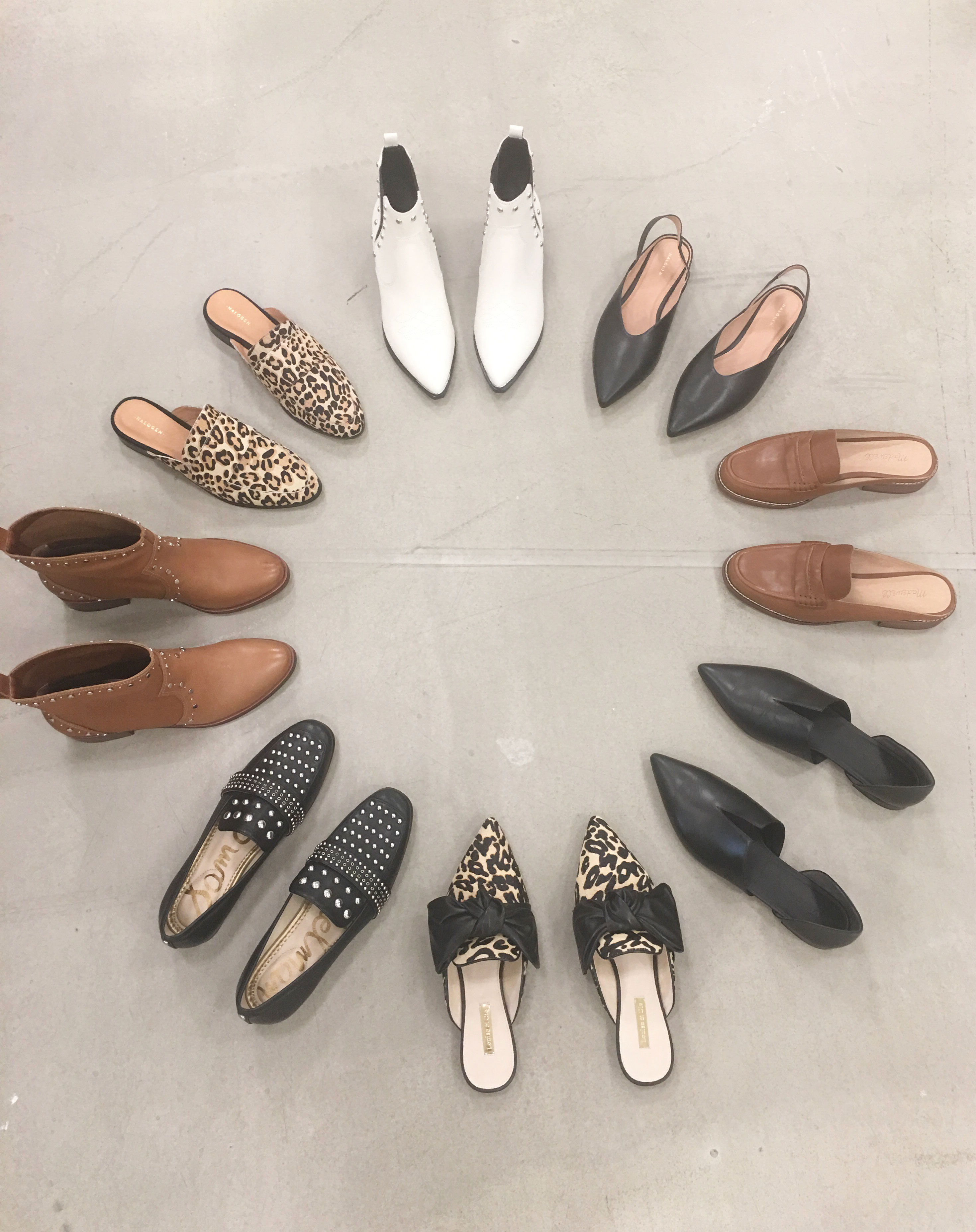 I mostly fell for the flats, slides/mules, and booties in this year's sale. I bought the Louise et Cie Cela Bow Slides in leopard print and the Madewell The Elinor Loafer Mule in English Saddle Leather. Our store didn't have the BP. Brice Notched Bootie, Madewell The Bonham Bootie, Converse Chuck Taylor Shoreline Sneaker (which I actually already know I love … and the gold detail is awesome!), or Vince Camuto Pevista Bootie, but I may order those and try them on at home. (Update: I ordered the KRISTIN CAVALLARI Charlie Studded Loafer Mule and the Converse Chuck Taylor Shoreline Sneaker last night! I'll keep you posted!) I also really liked the Marsden Flat Thong Sandal (but I have enough sandals!), the Sam Edelman Chesney Loafer (more in my stories!), the Vince Camuto Movinta Bootie (though I'm not sure if I want a higher heel), and the Tory Burch Marsden Over the Knee Boot (which were gorgeous in person, and amazing quality, but the calf was a bit too narrow for my wider calves, and I didn't really want to commit to a $350 pair of boots that I would have to struggle to wiggle on and off.)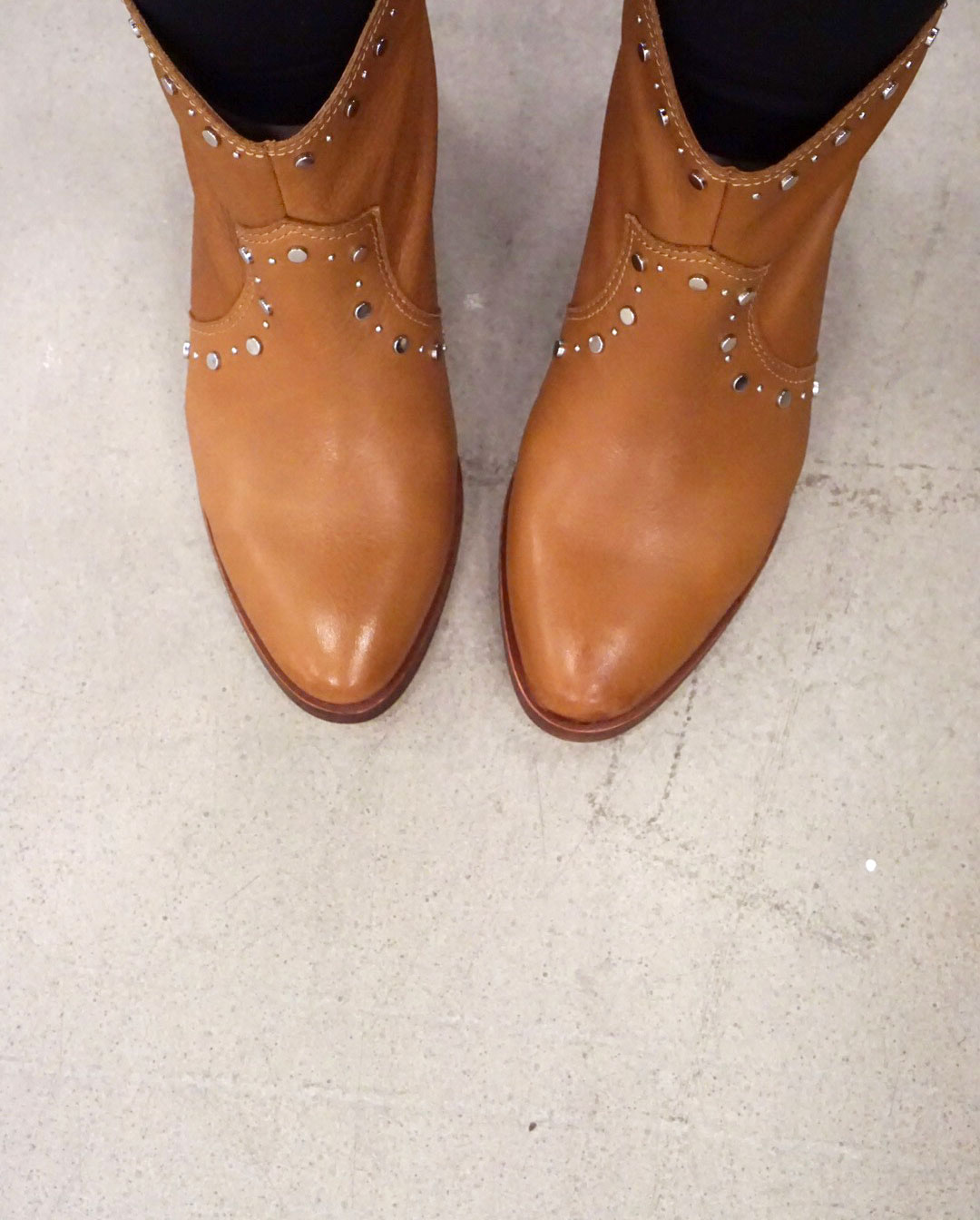 Dolce Vita Tobin Studded Bootie – These are buttery soft (like, SO soft), are under $100 on sale, and the studs add a really beautiful, edgy element to the boots.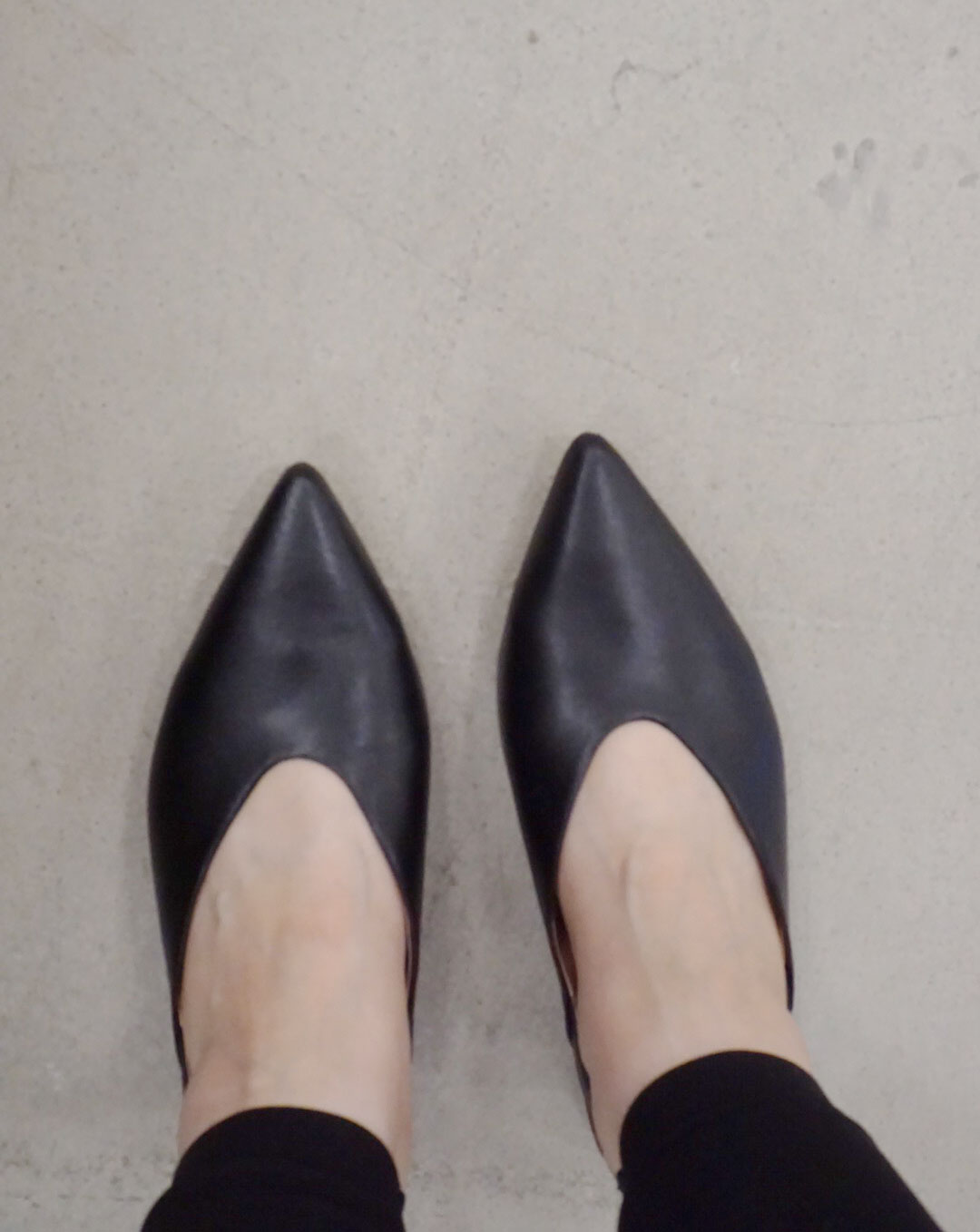 Halogen Sadie Slingback Flat – These also come in a really fun cherry red color. Cute, affordable, but not my favorite.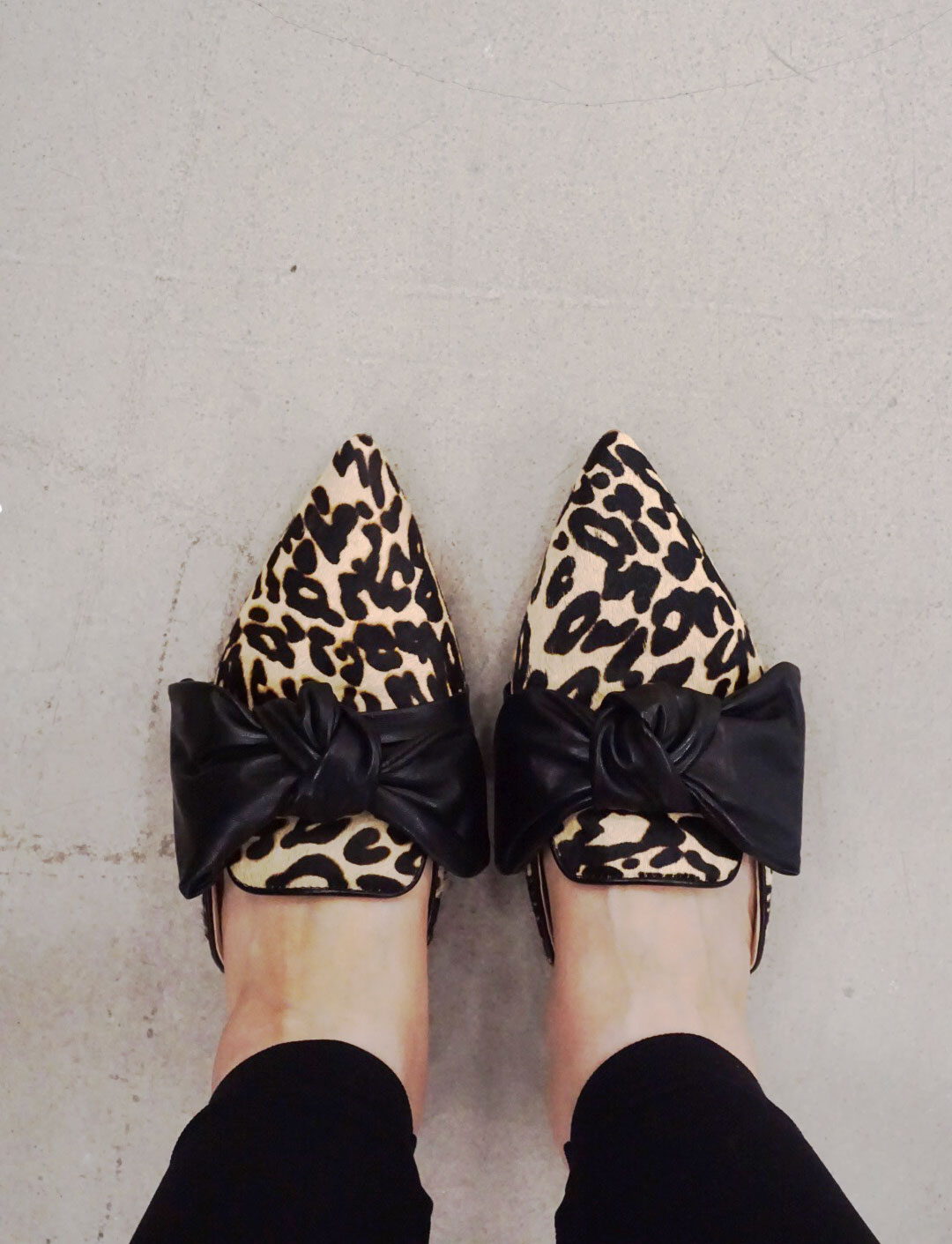 Louise et Cie Cela Bow Slides – Goodness, I adore these slides. They're comfortable, adorable, and totally chic. Leopard AND a big bow? Yesss!!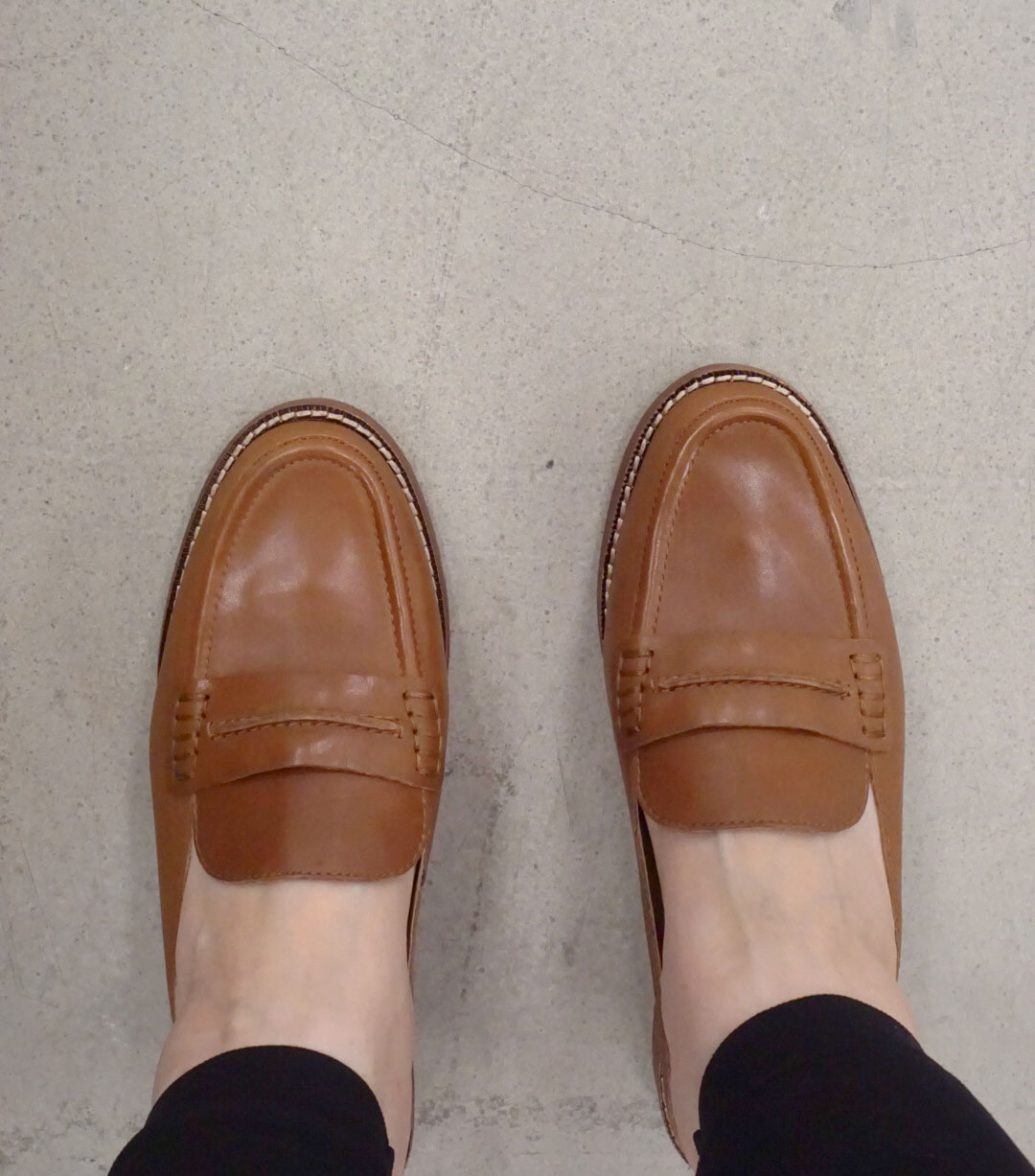 Madewell The Elinor Loafer Mule in English Saddle Leather – Not my usual style, but really cute on, and insanely comfortable. (I bought these.)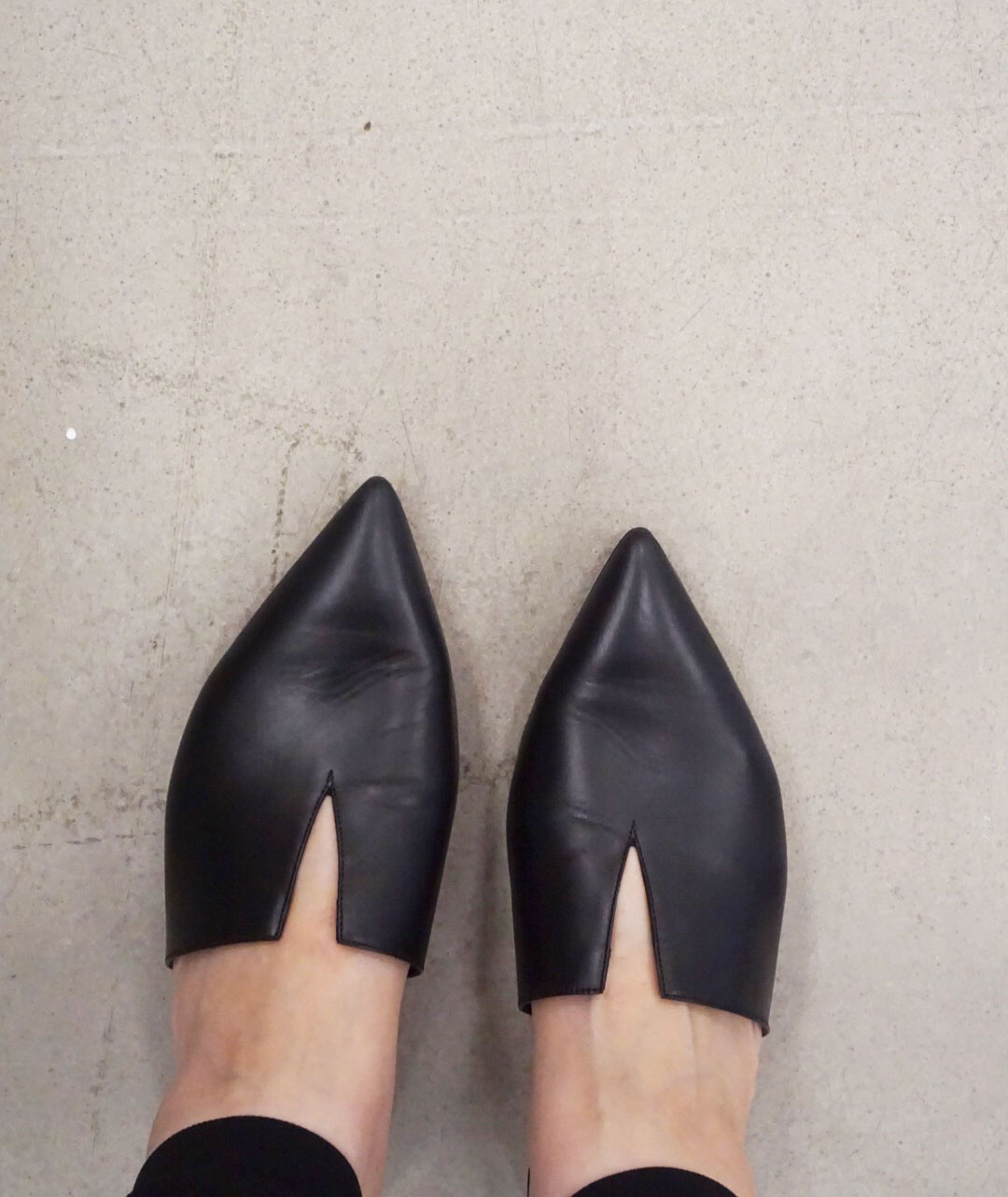 Vince Darlington Flat – I REALLY liked these. I will say, they run maybe a 1/2 size big, so size down, but the main reason I didn't snatch them up is because they're $189 on sale, and truthfully, there were plenty of under $100 shoes that I loved just as much.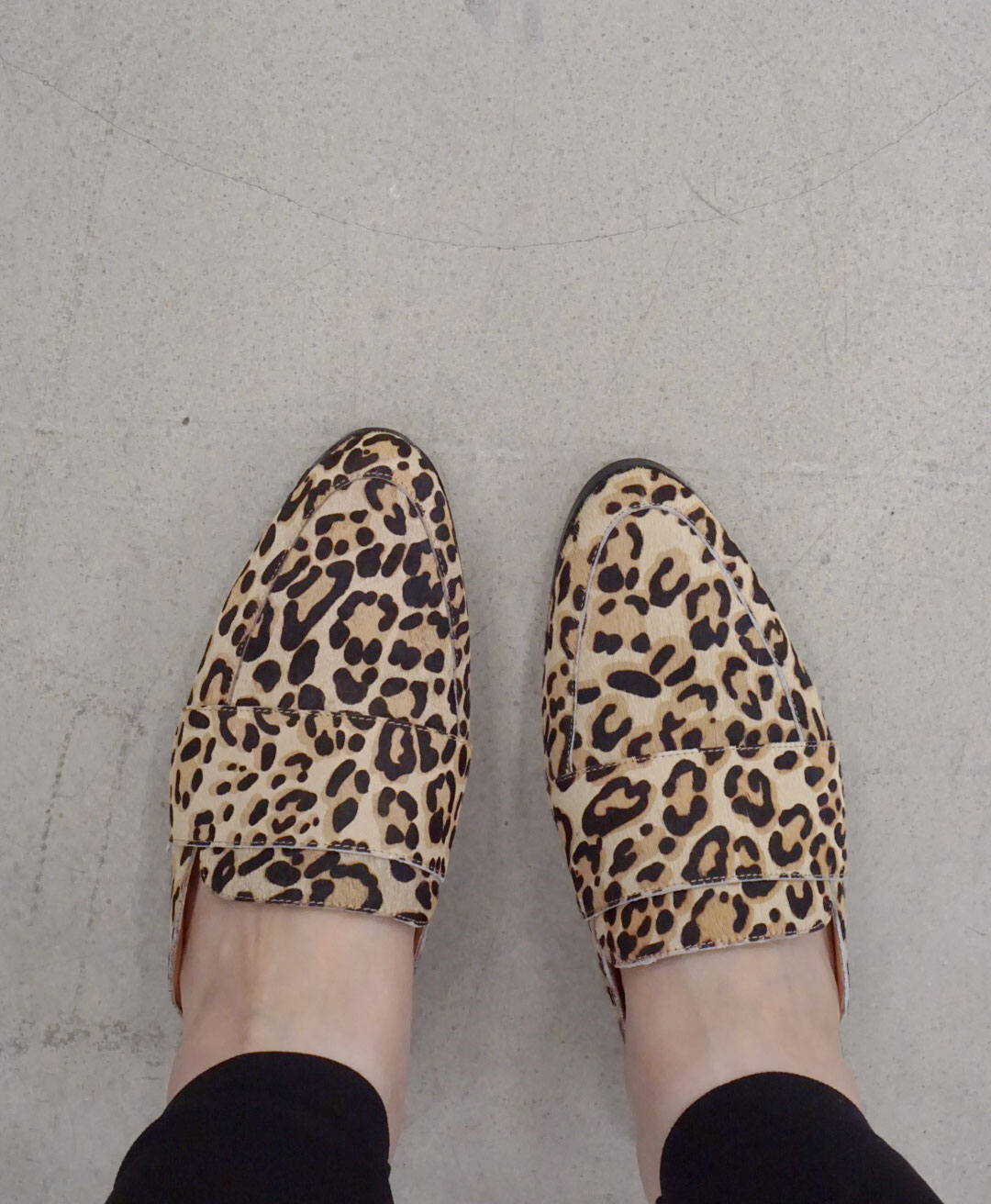 Halogen Violet Mule in Leopard – Honestly, the main reason I didn't buy these is because I bought the Louise et Cie Cela Bow Slides in leopard and I felt like two pairs of leopard slides in one shop was a wee bit overkill. Though of course now, I'm sort of regretting that decision. These slides are super cute, affordable, and reasonably comfortable – though admittedly, a bit stiff. I might need to cave and order the white leather.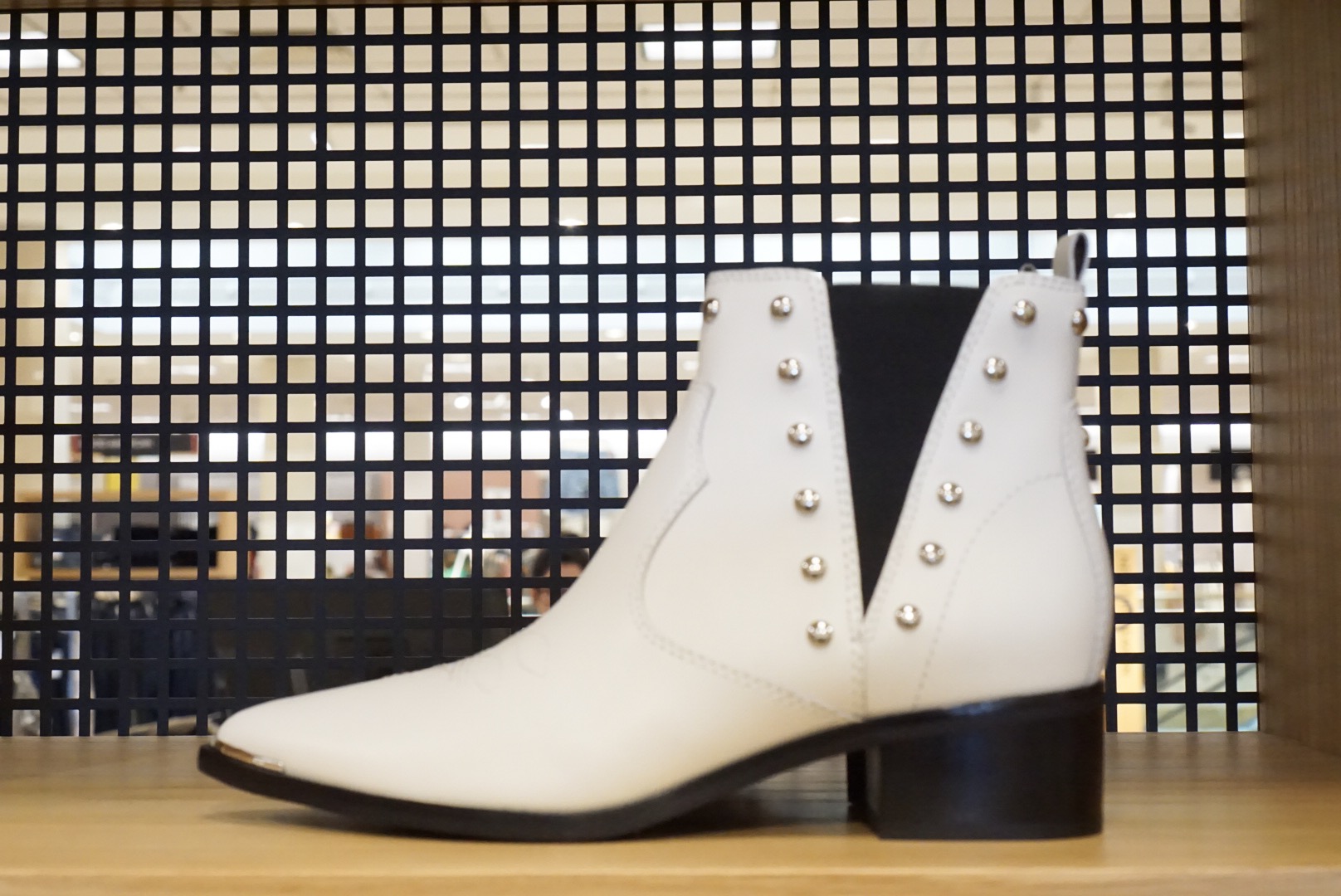 MARC FISHER LTD Yentia Chelsea Boot – I actually have and adore last year's version of the Chelsea boot. The studs on these are fabulous, though this year's design seems a tiny bit more narrow. Still, the elastic at the ankles does help to slide these on and off pretty easily. I kinda want the "natural suede" … like, a lot.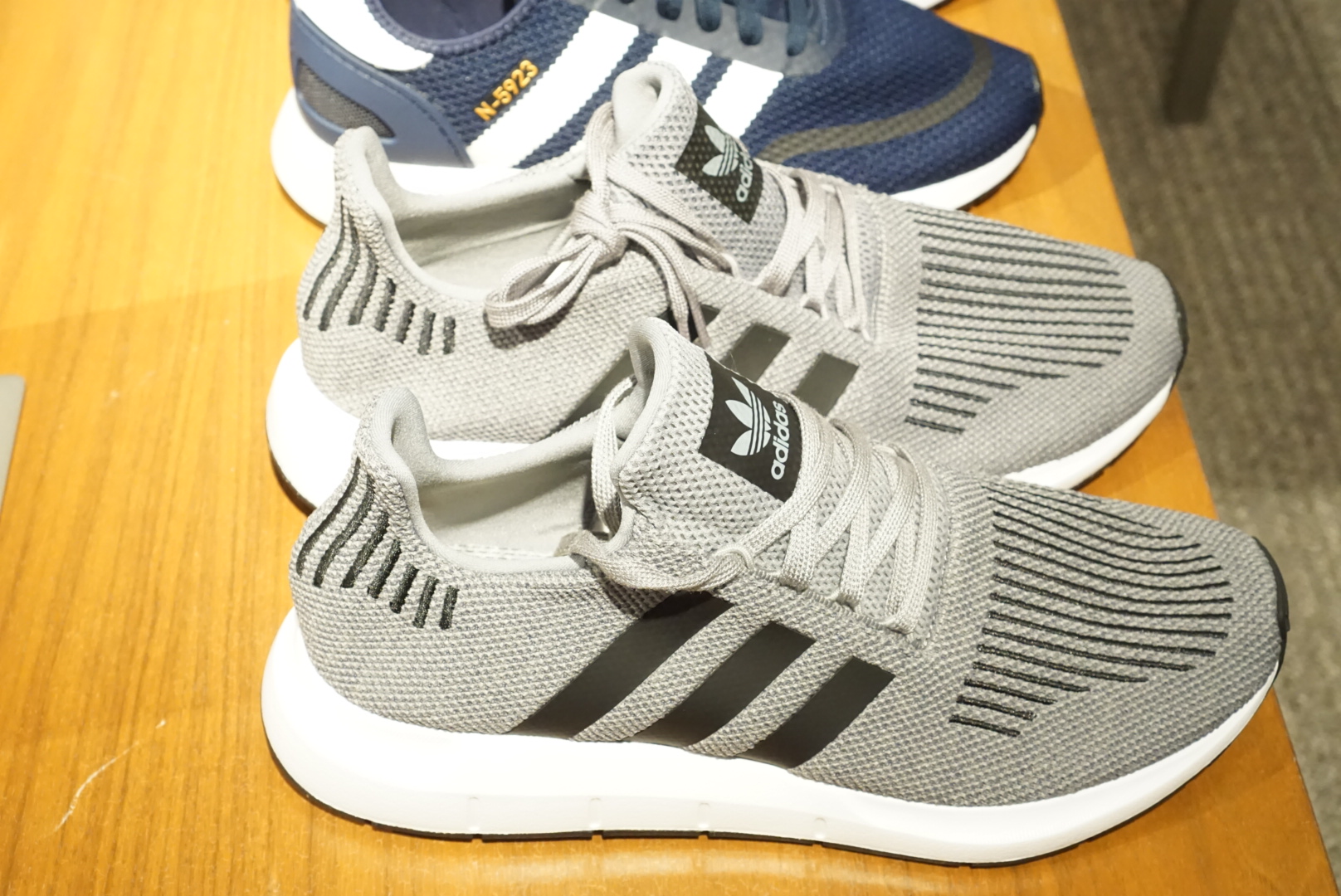 I didn't get many photos, but I was able to snap a quick picture of the adidas Swift Running Shoes hubby has his eye on. The sneaker selection for men and women at this year's sale is really good.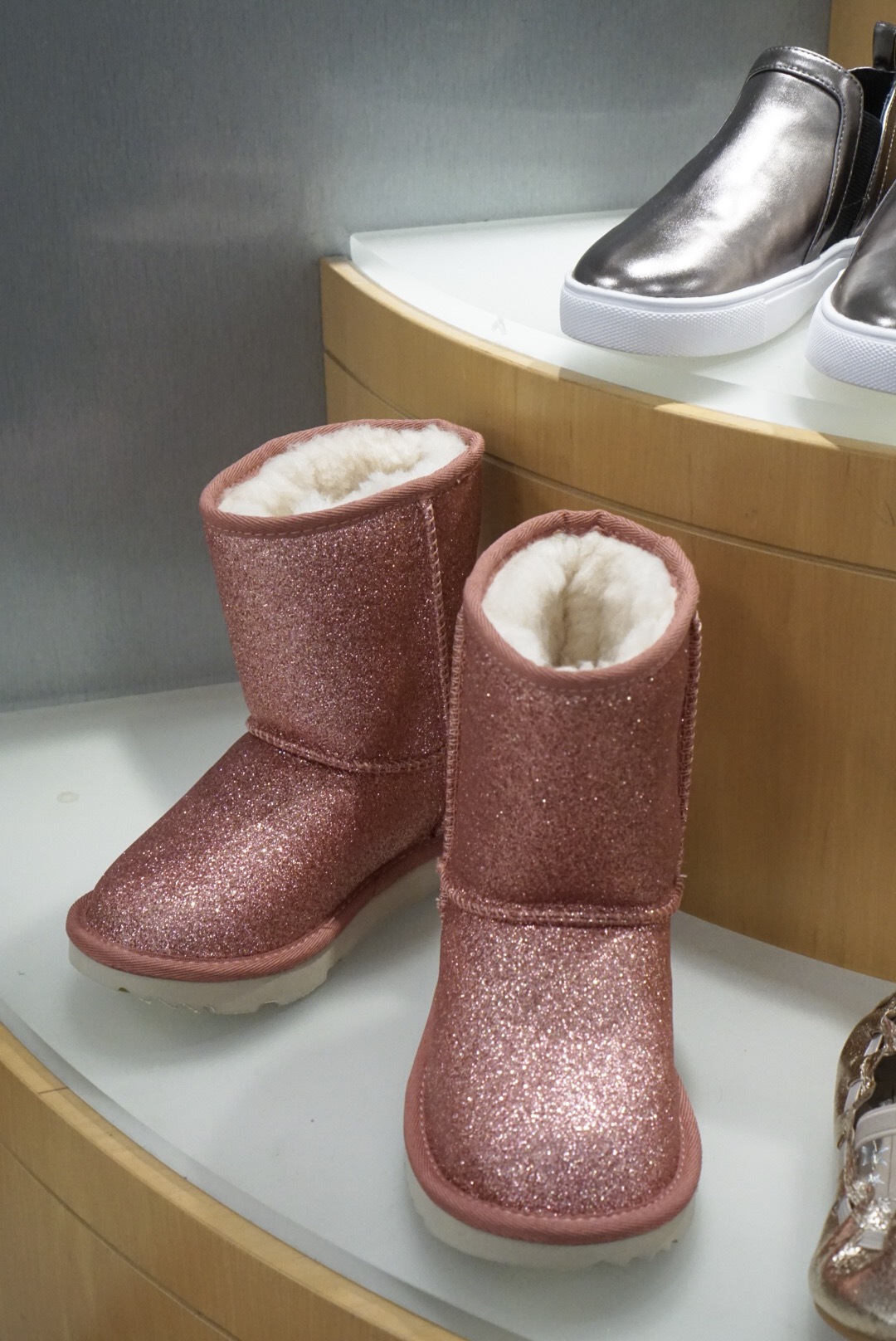 UGG Classic Short II Glitter Bootie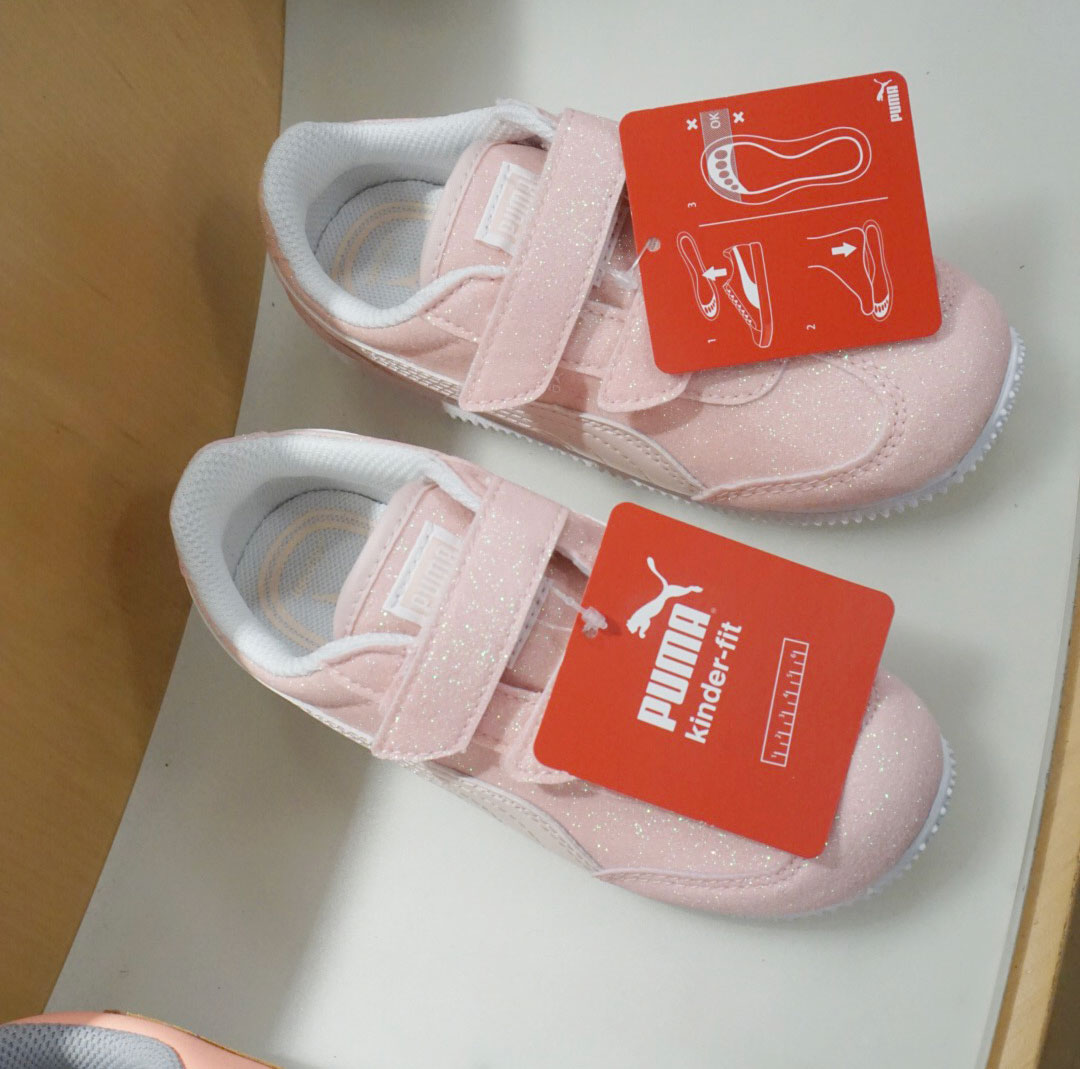 My Favorite Nordstrom Anniversary Sale Women's Clothes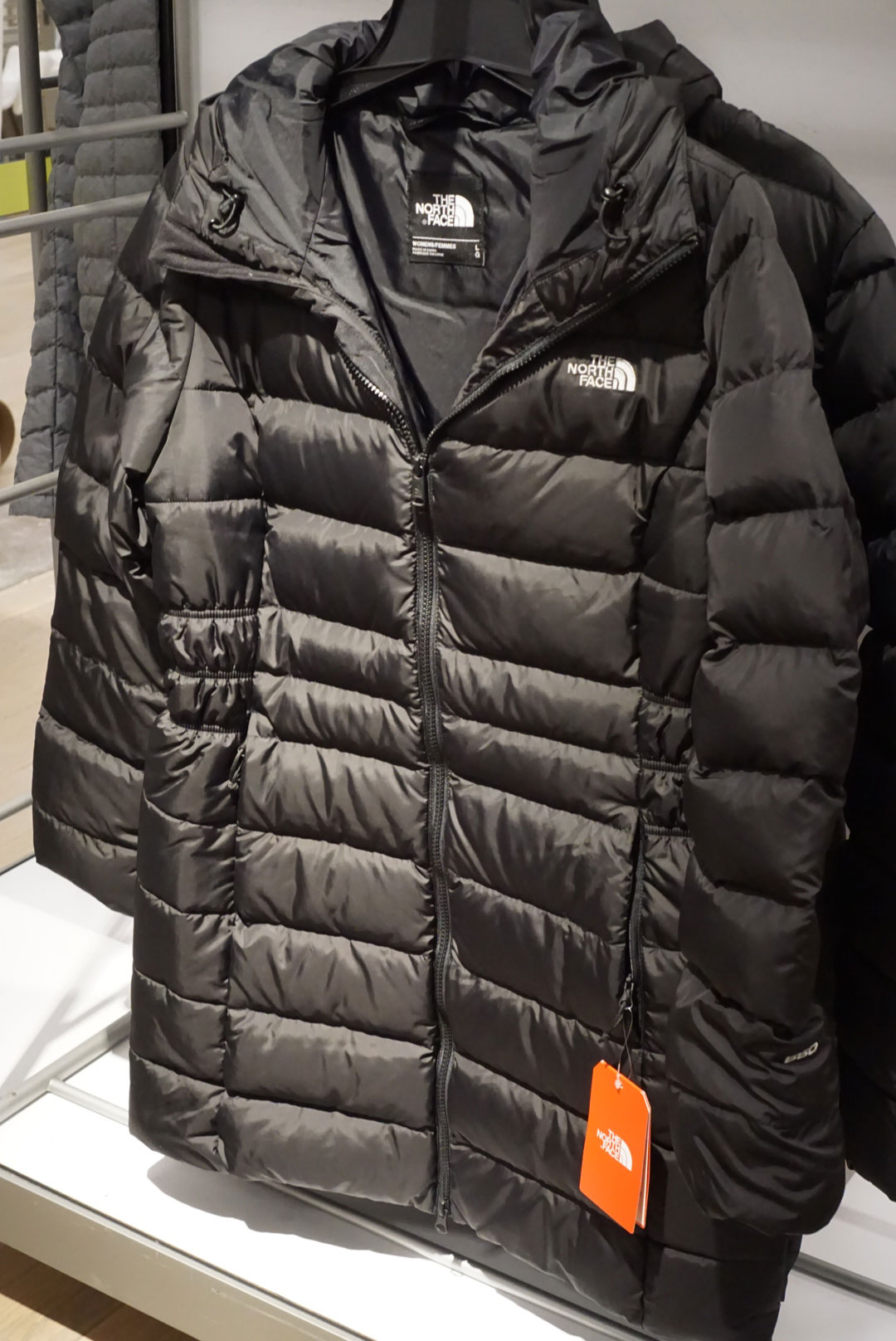 Every year at the sale, I typically scoop up (or at least dream about) a new coat or jacket for fall and winter. This year's coat selection was just OK for me. There were a few solid deals, so I thought I'd share those first.
Above: The North Face Gotham II Down Parka is really good quality at a really great price.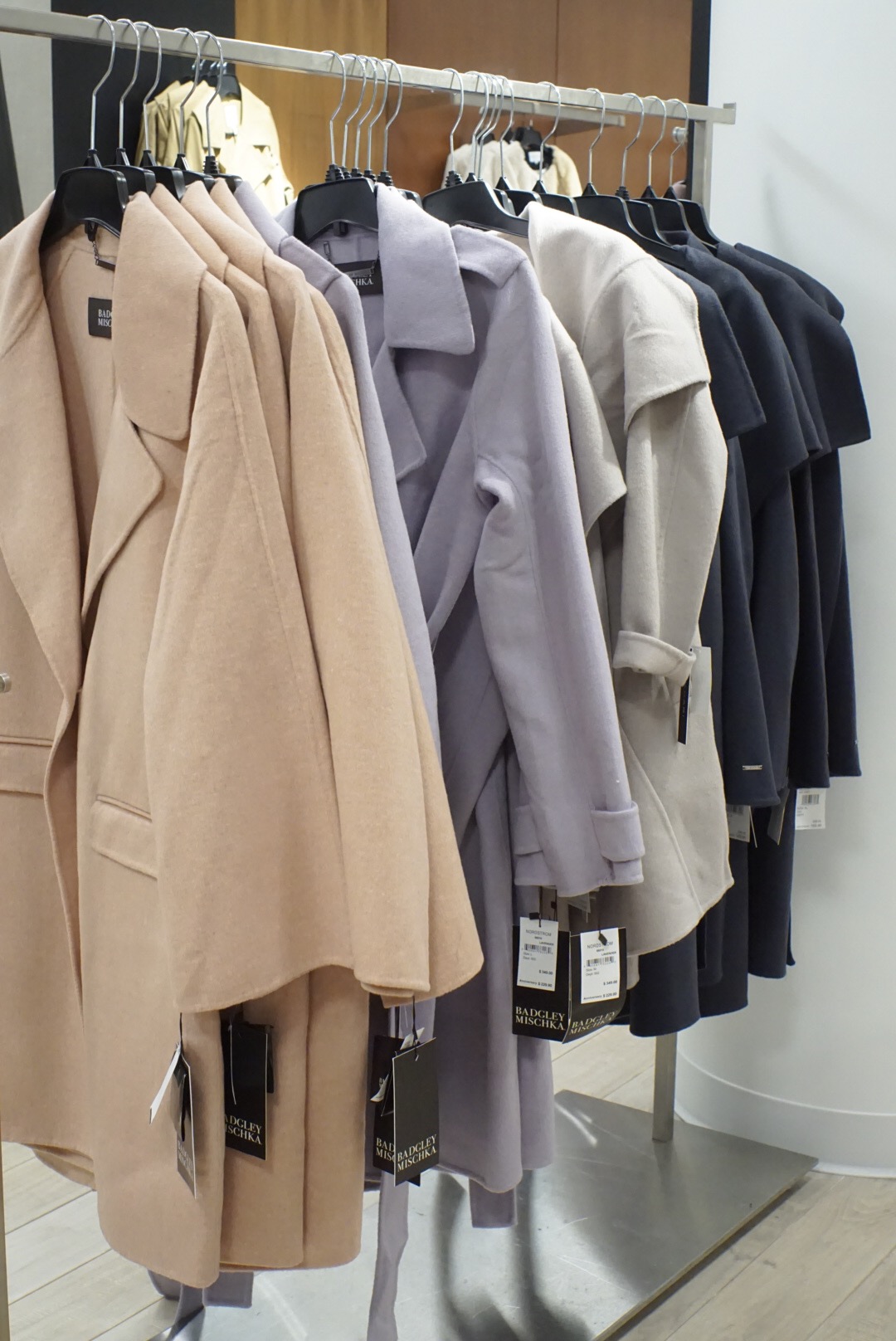 I really liked the color options in the Badgley Mischka coats. I really wanted to try on the J.Crew Olga Boiled Wool Topcoat, but I didn't see them in our store. I may order this one to try it on.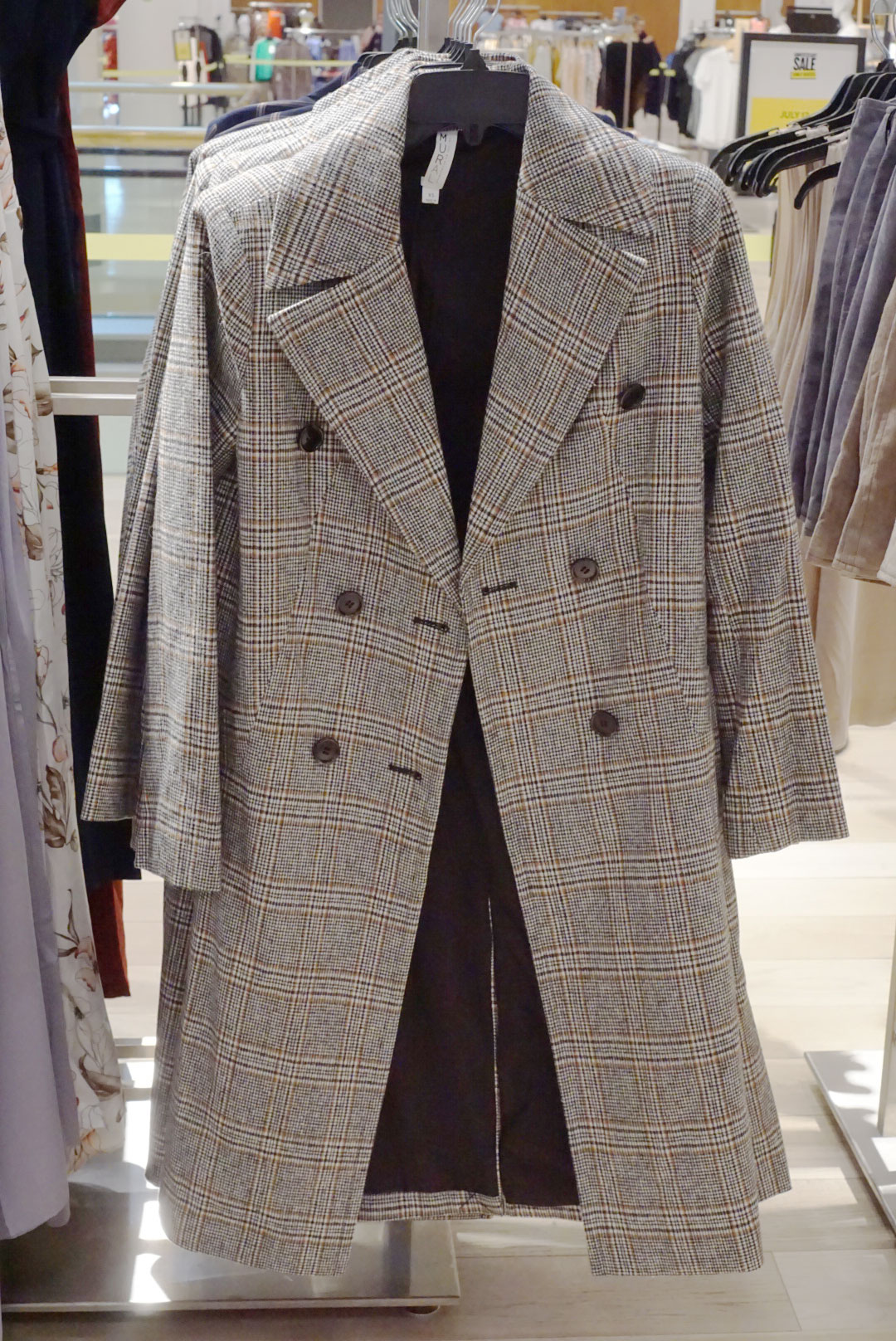 Mural Blazer Midi Coat – This coat is just $84.90 and looks really chic in person.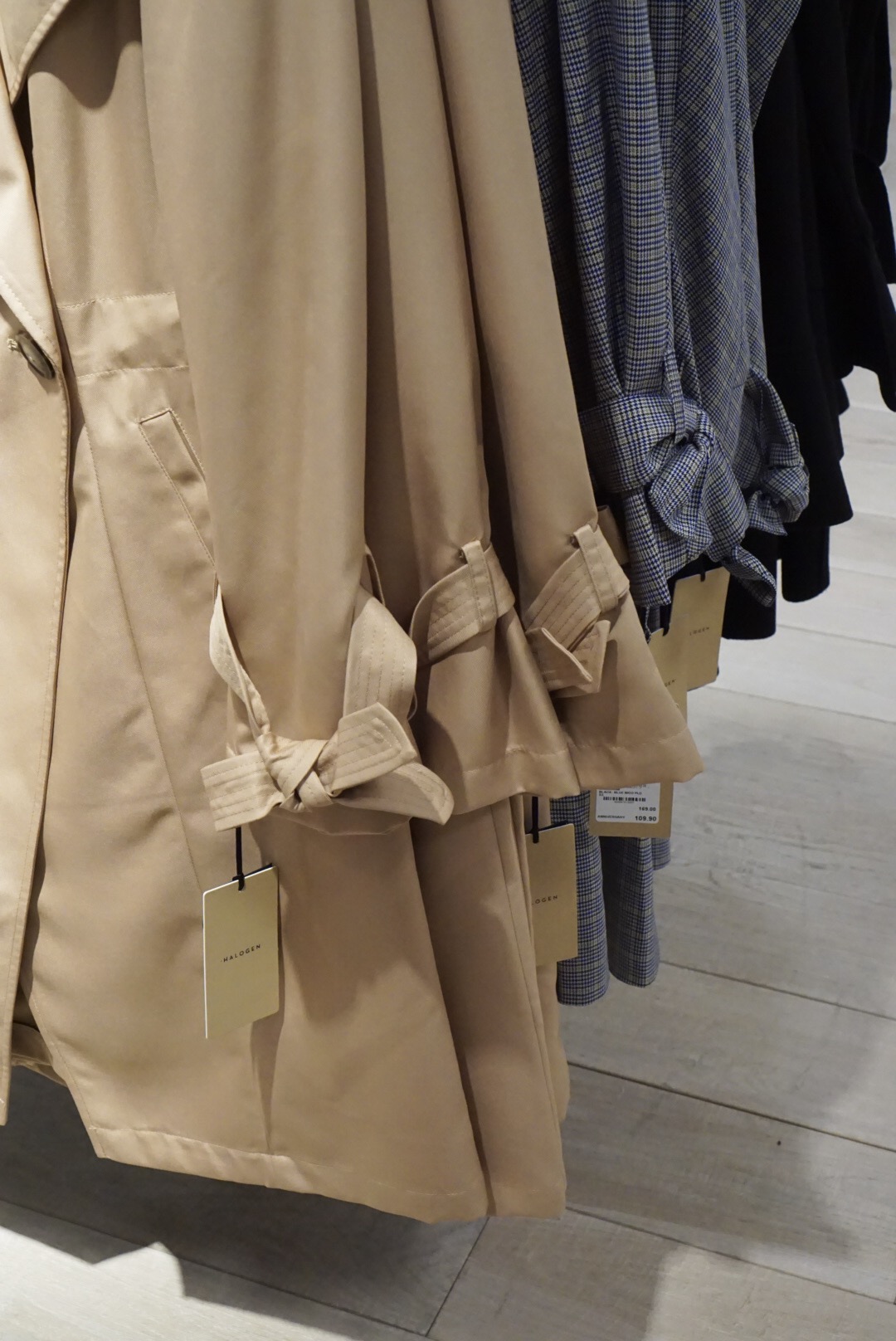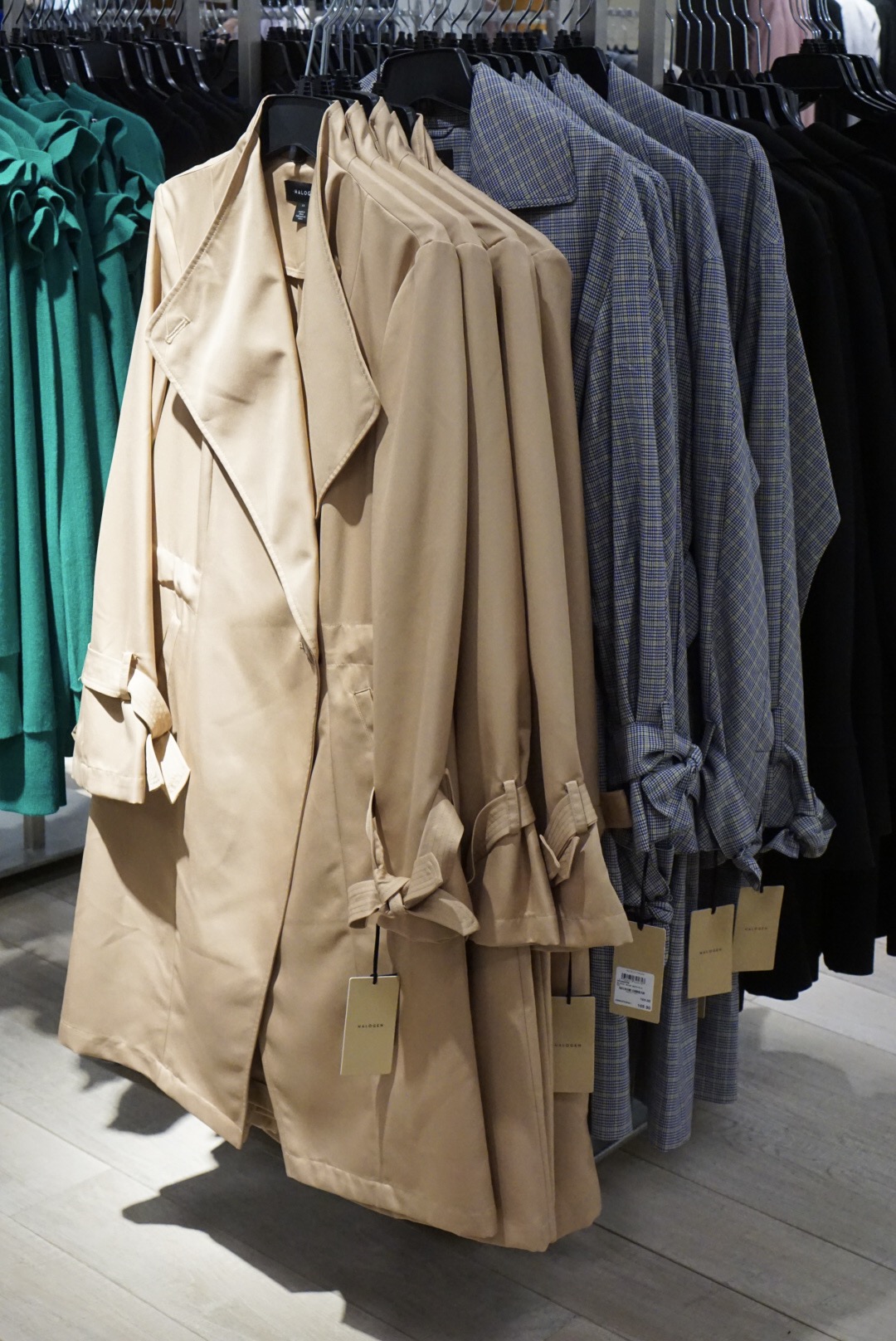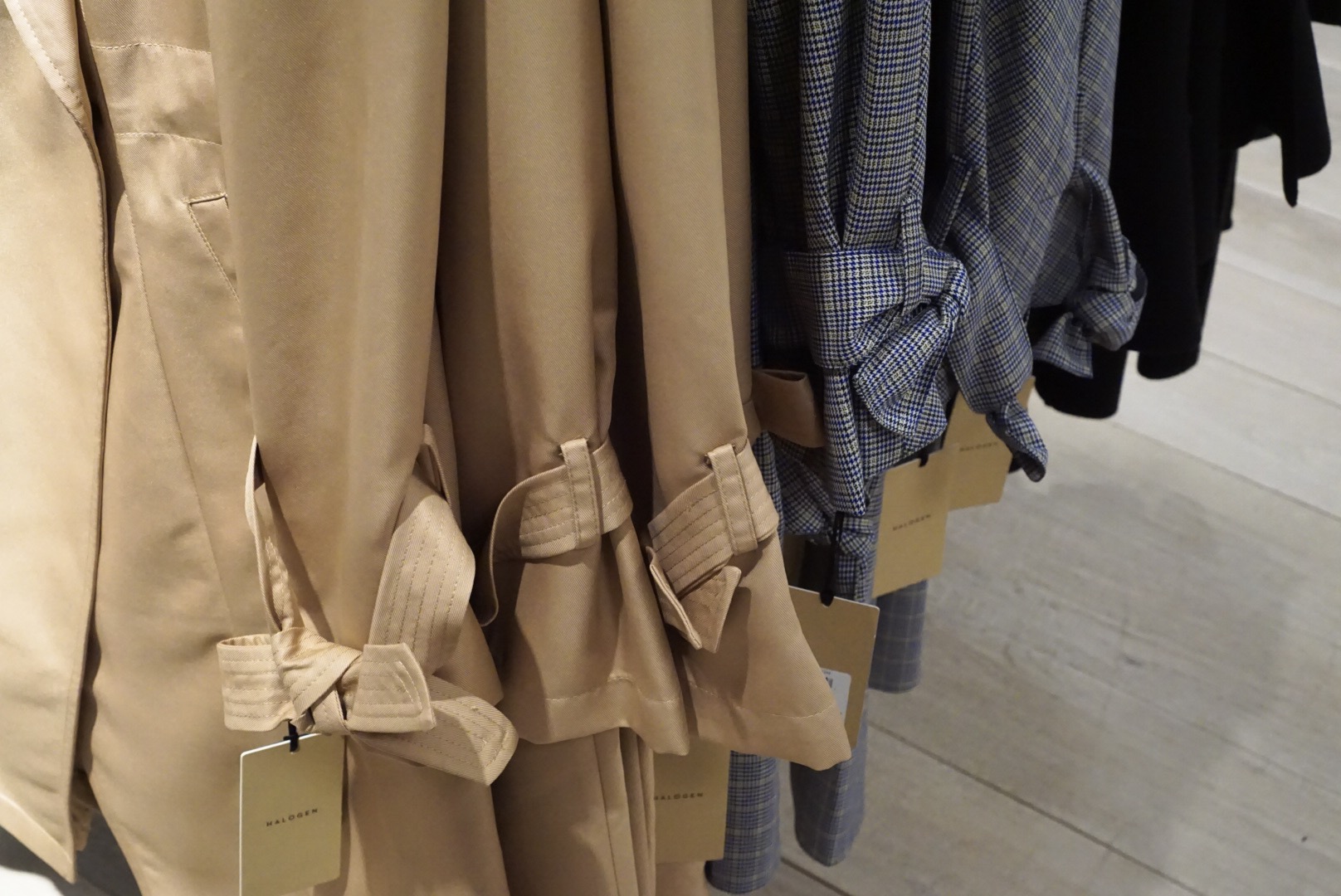 The tie-sleeve on these Halogen Tie Sleeve Trench Coats (in khaki and black/blue plaid) and the under $125 price tag can't be beat! The Halogen Blouson Sleeve Long Cashmere Cardigan was also really pretty in person. (And if you're not looking to splurge on cashmere, the Hinge Balloon Sleeve Cardigan at $52.90 is a super cute dupe.)
If I had heaps of money, I would probably wear a whole lot of Eileen Fisher. So classic and flattering; including this Eileen Fisher Cashmere and Wool Cardigan.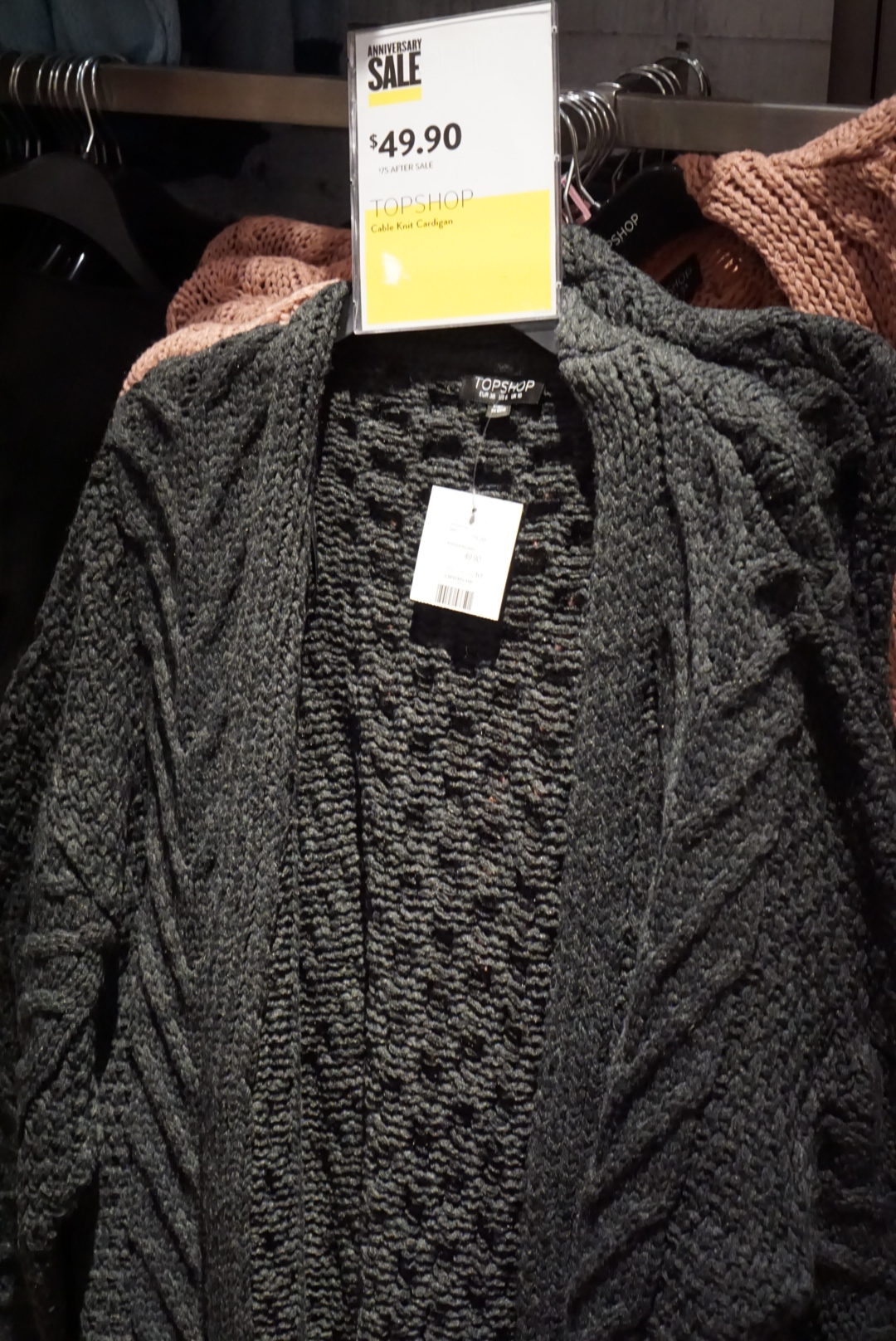 Sorry for the not so great photo, but I was able to snap a pic of the super popular Topshop Cable Knit Open Front Cardigan. I was actually kind of disappointed in this cardigan … which is crazy, because I LOVE cardigans. The pink was the softest of the colors, while the black – what I would normally gravitate towards – was a bit rougher to touch. Weird that the different colors felt different, but they did. I like the style of this cardigan, but it's heavy, so definitely meant for colder temps.
If you're looking for a chunkier knit cardigan, the O'Neill Galley Cardigan might be perfect for you.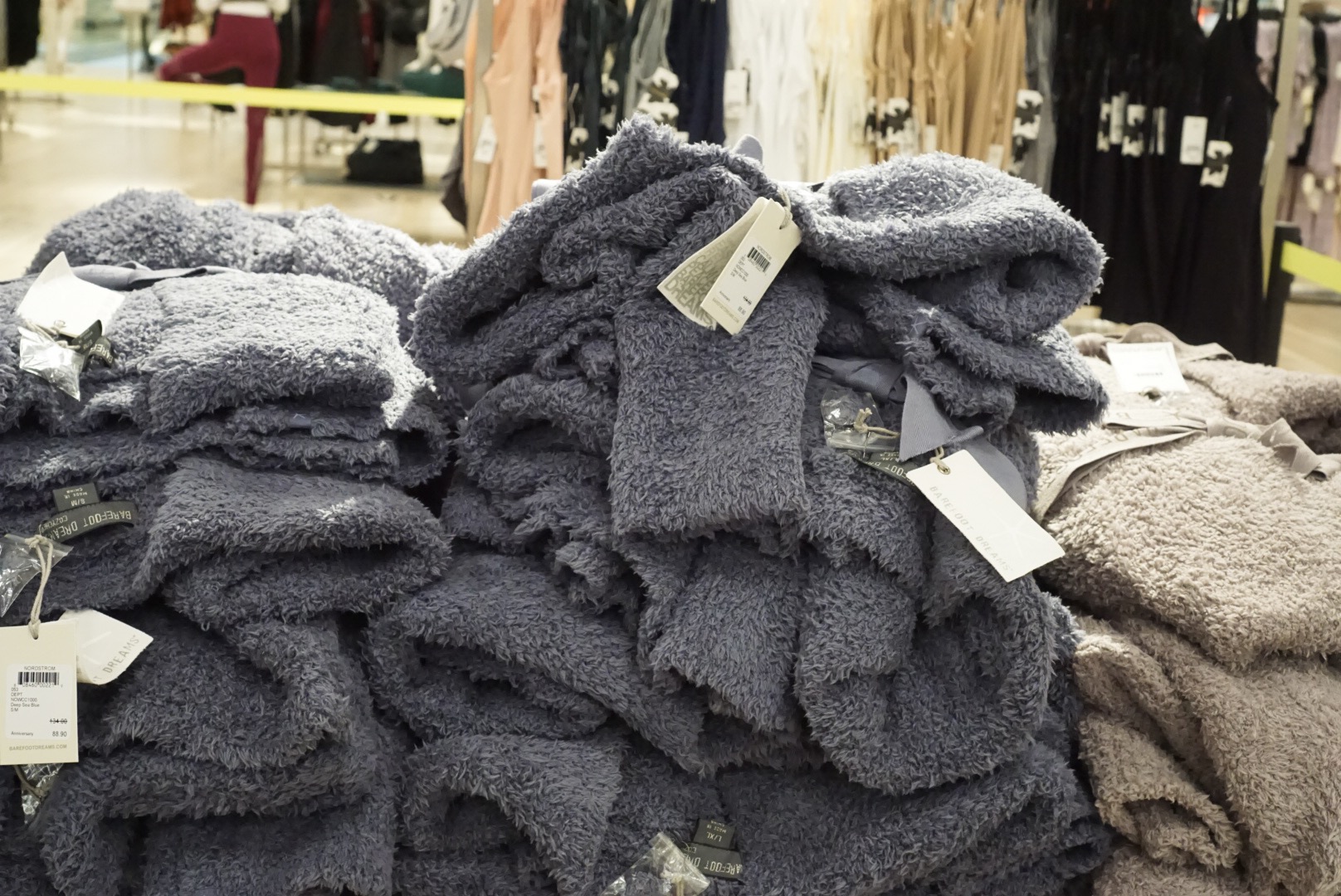 There is a TON of Barefoot Dreams on sale at this year's Nordstrom Anniversary Sale. Buttery soft and soooo cozy for fall and winter, if you don't own any Barefoot Dreams yet, the sale is the time to grab it! (Pssst … the NEW Barefoot Dreams CozyChic Cardigan is SO SOFT AND FLUFFY.)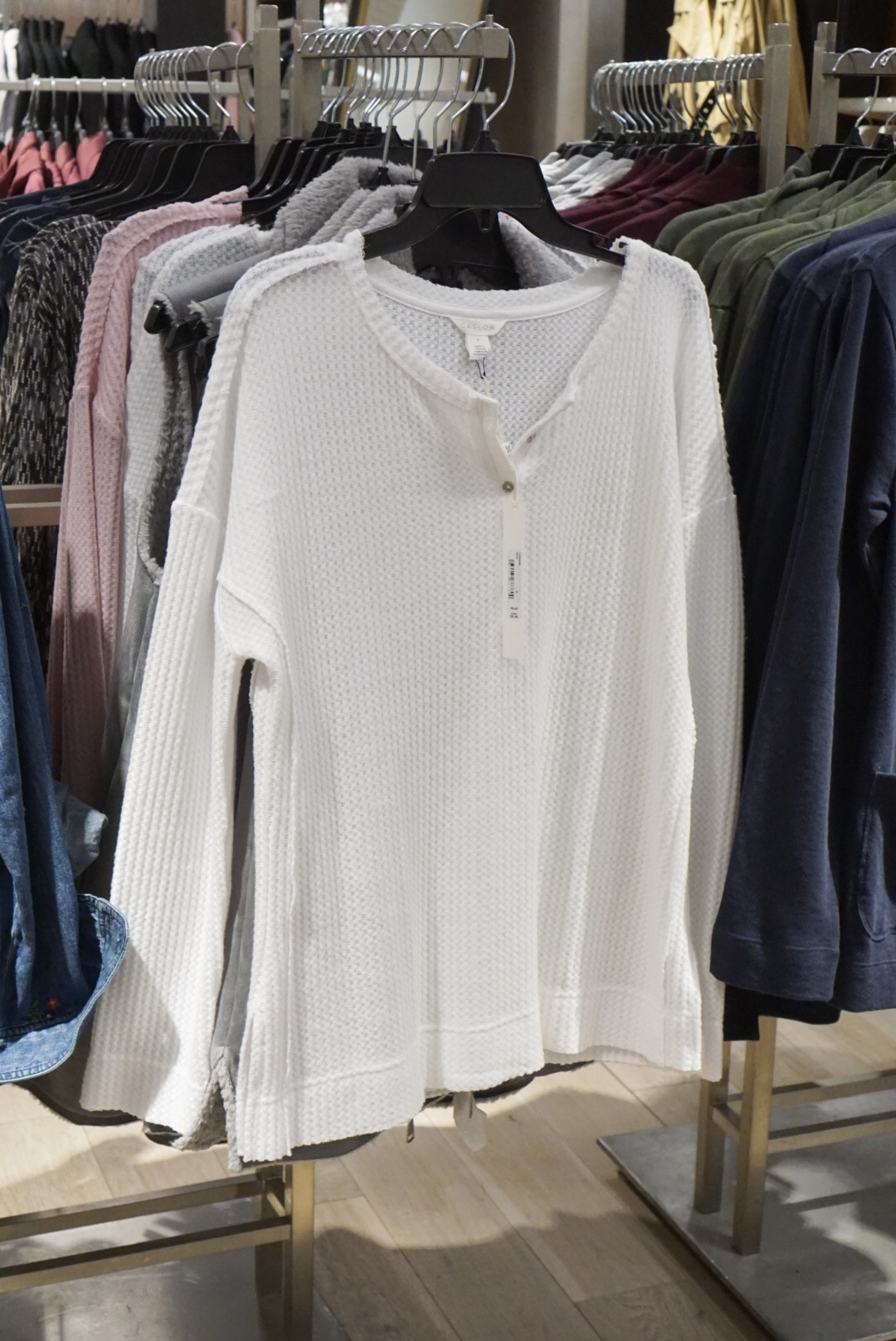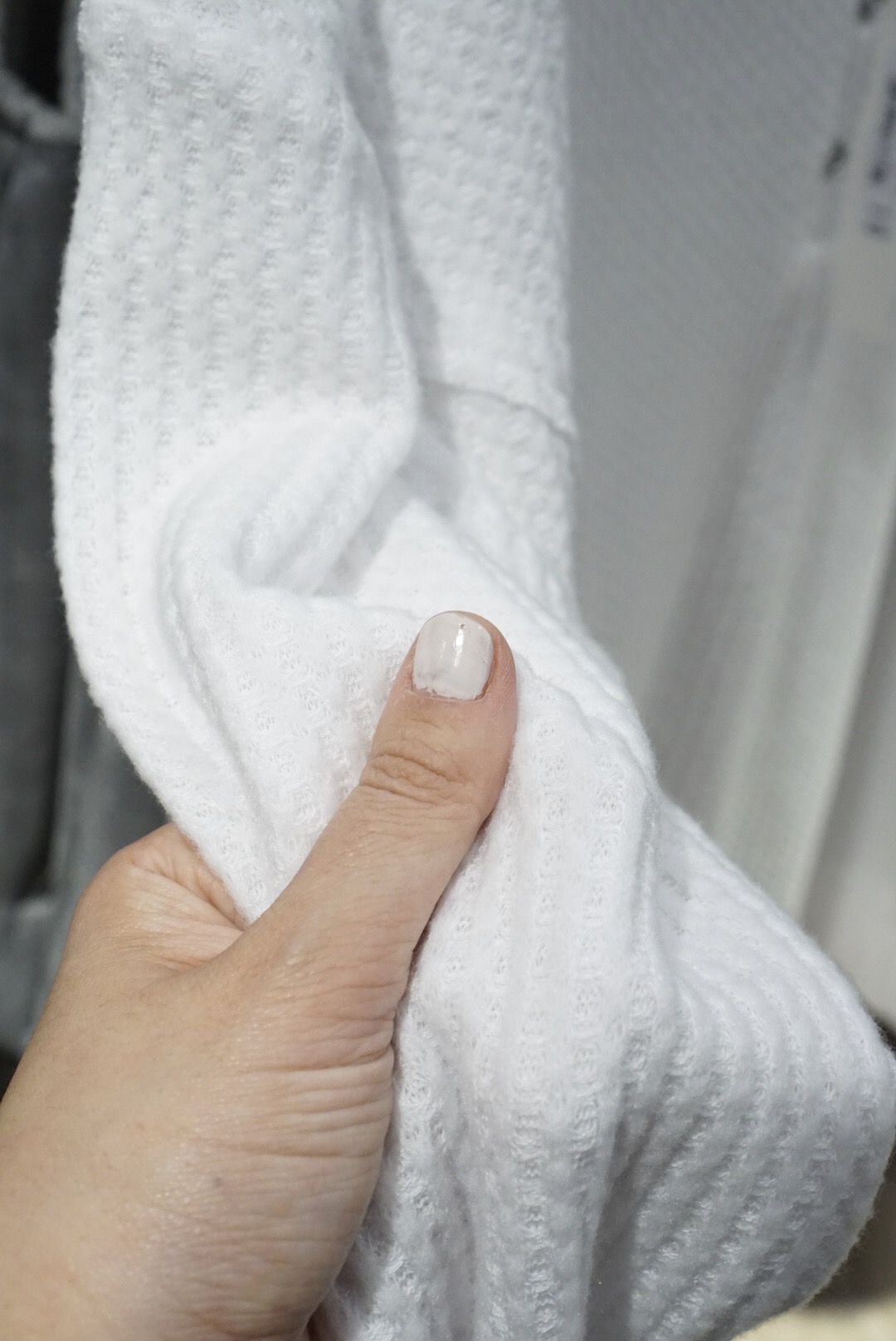 If you've got cold weather on the brain, there are several really cute thermals on sale this year. Please excuse the chipped nail polish, but this Caslon Thermal Henley Top was sooooo buttery soft. Also, this BP. Ribbed Cardigan is $25.90 and selling out FAST; probably because the button detail is so cute.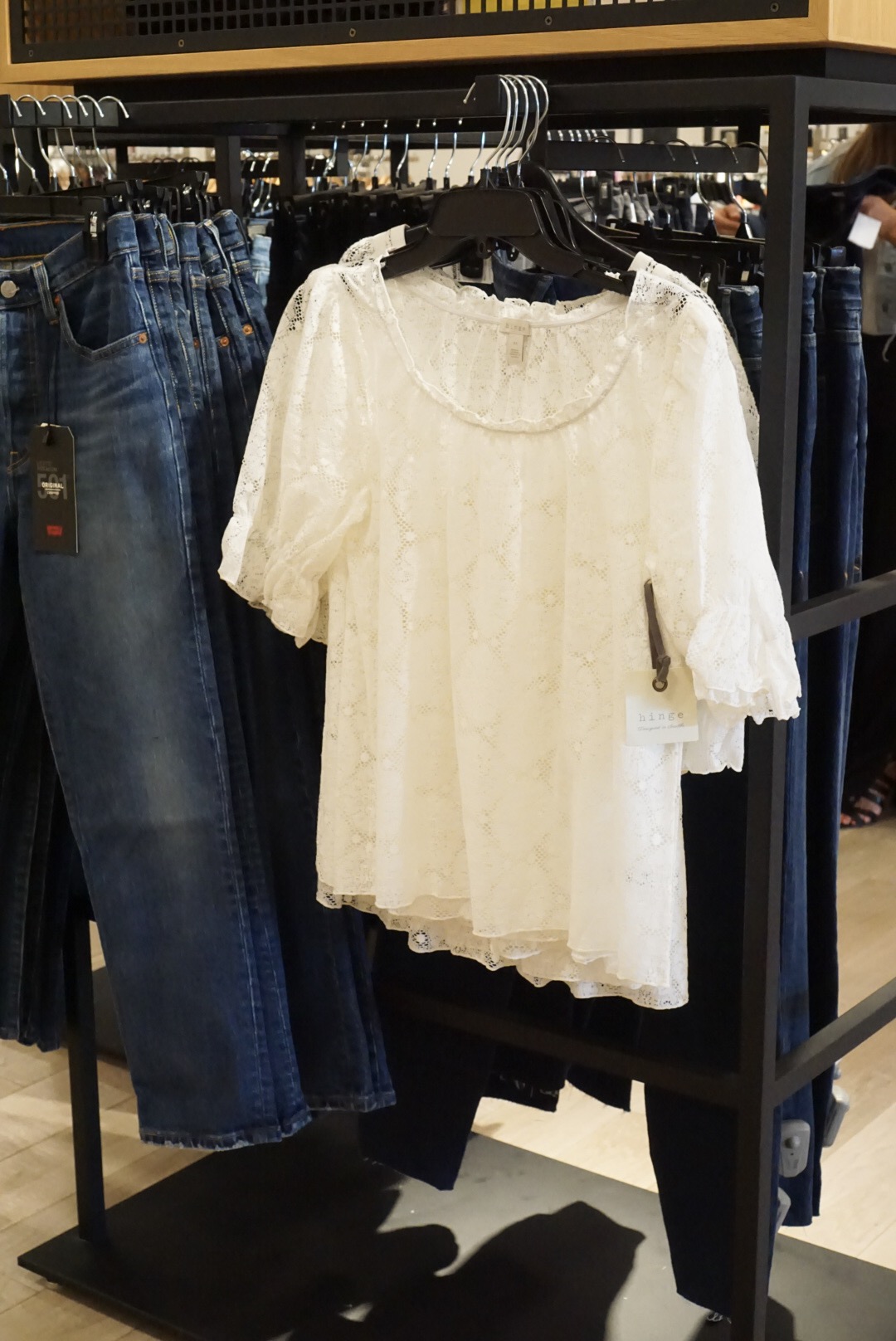 Hinge has some really pretty tops in this year's sale. How great is this Hinge Puff Sleeve Lace Top?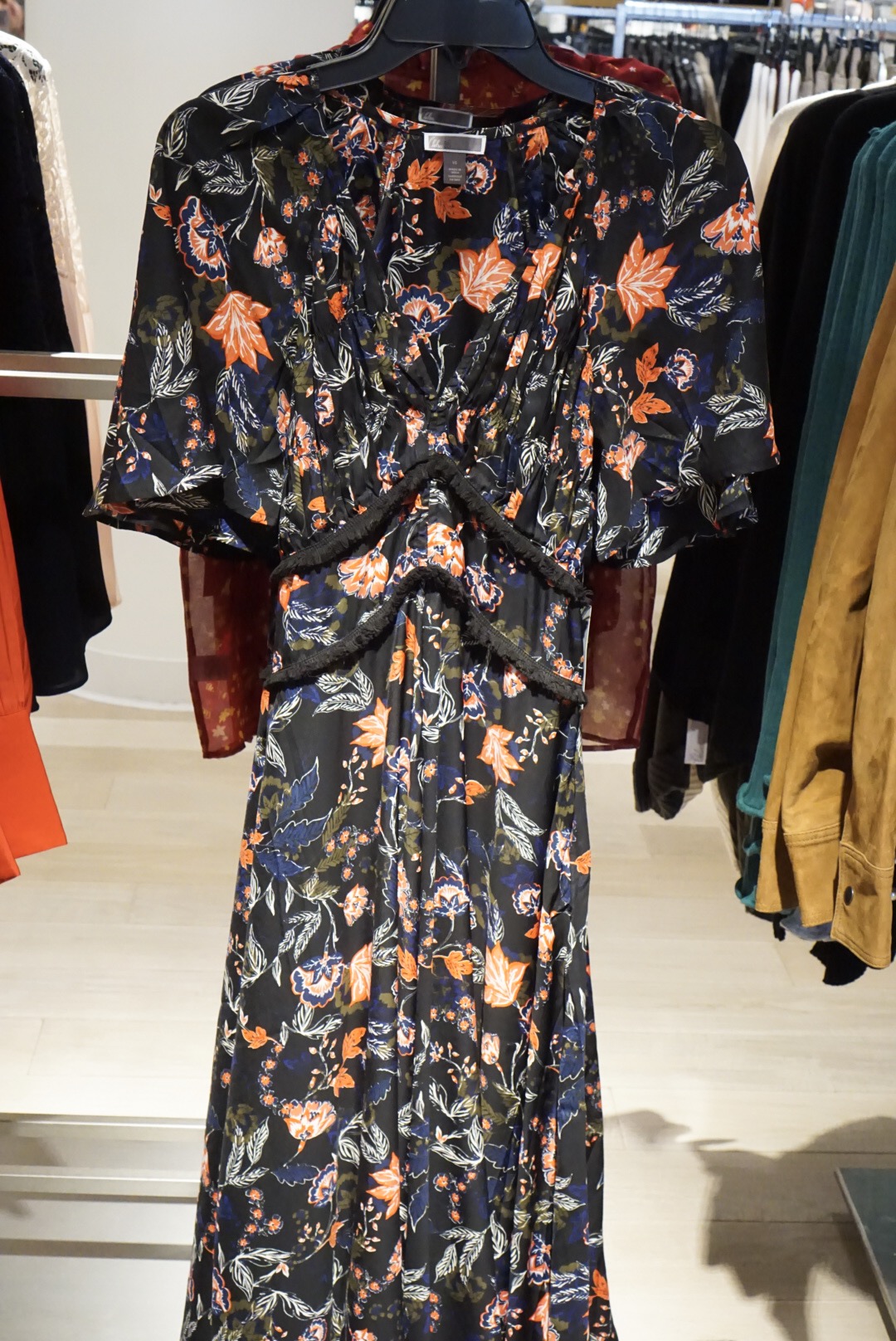 I wasn't blown away by the dress selection … and I'm a total dress lover. Did you find any dresses you loved? I would probably order and try on the JOIE Angeni Leopard Print Puff Sleeve Dress, the CHARLES HENRY Ruffle Shift Dress, the TOPSHOP Bubble Satin Wrap Dress, and the J.Crew Atrium Midi Dress.
Above: CHELSEA28 Ruched Bodice Midi Dress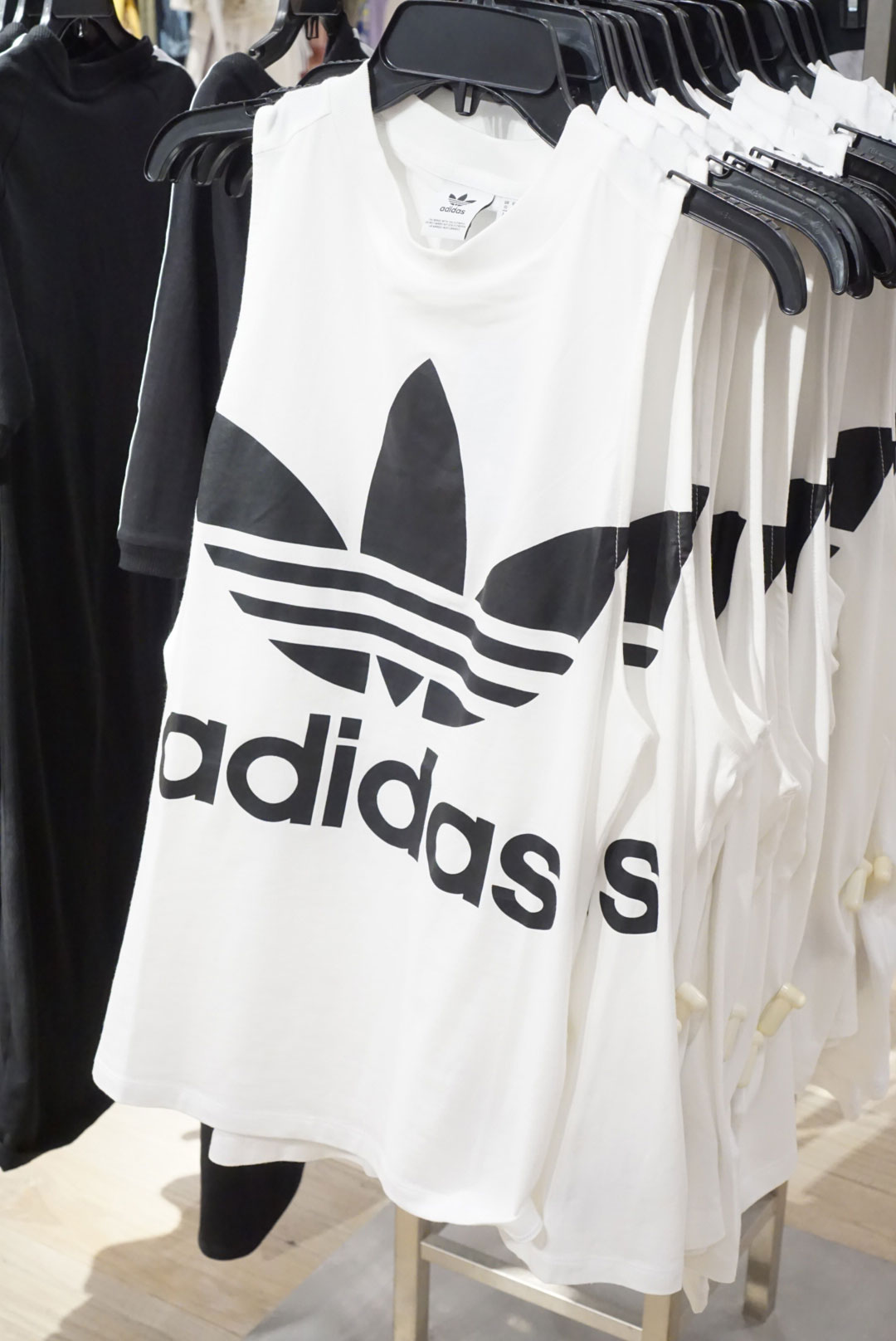 Call me old school, but I totally loved the ADIDAS Originals Trefoil Tank. Super cute, perfect for a work-out, and just $23.90.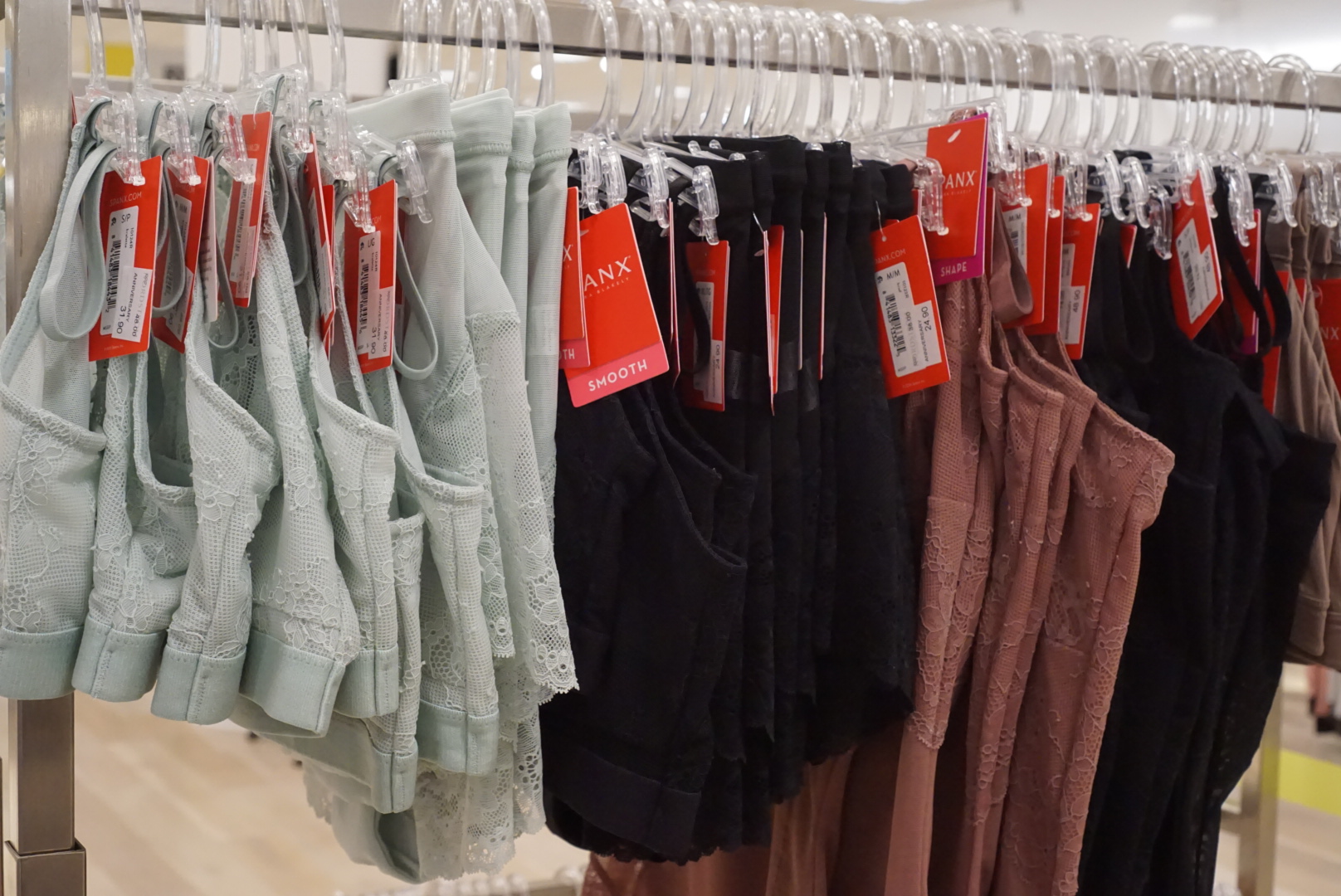 I'm most likely ordering a new Natori Feathers Underwire Contour Bra – easily my favorite bra ever (and pretty consistently a part of the Nordstrom Anniversary Sale each year.) I was also really impressed with the amount of SPANX on sale this year. I love these SPANX Camo Faux Leather Leggings (they have some of my favorite, most flattering leggings ever), and the SPANX Faux Leather Moto Leggings are back again this sale … and WILL sell out. IF you missed them last year, snatch them up while you still can! The SPANX intimates this year were really beautiful – the SPANX Spotlight On Lace Bralette has a perfectly classic look, and I like how lightweight it looks. You also can't go wrong with a pair of SPANX Undie-tectable Lace Hipster Panties.
One of the biggest steals of the Nordstrom Anniversary Sale each year are the Zella Live In High Waist Leggings. I cannot sing their praises enough. I have several pairs of the Zella leggings and I keep coming back. They're thick enough to cover and hide everything, the high waist is super flattering and helps to hold in your tummy, and they hold up well to washes.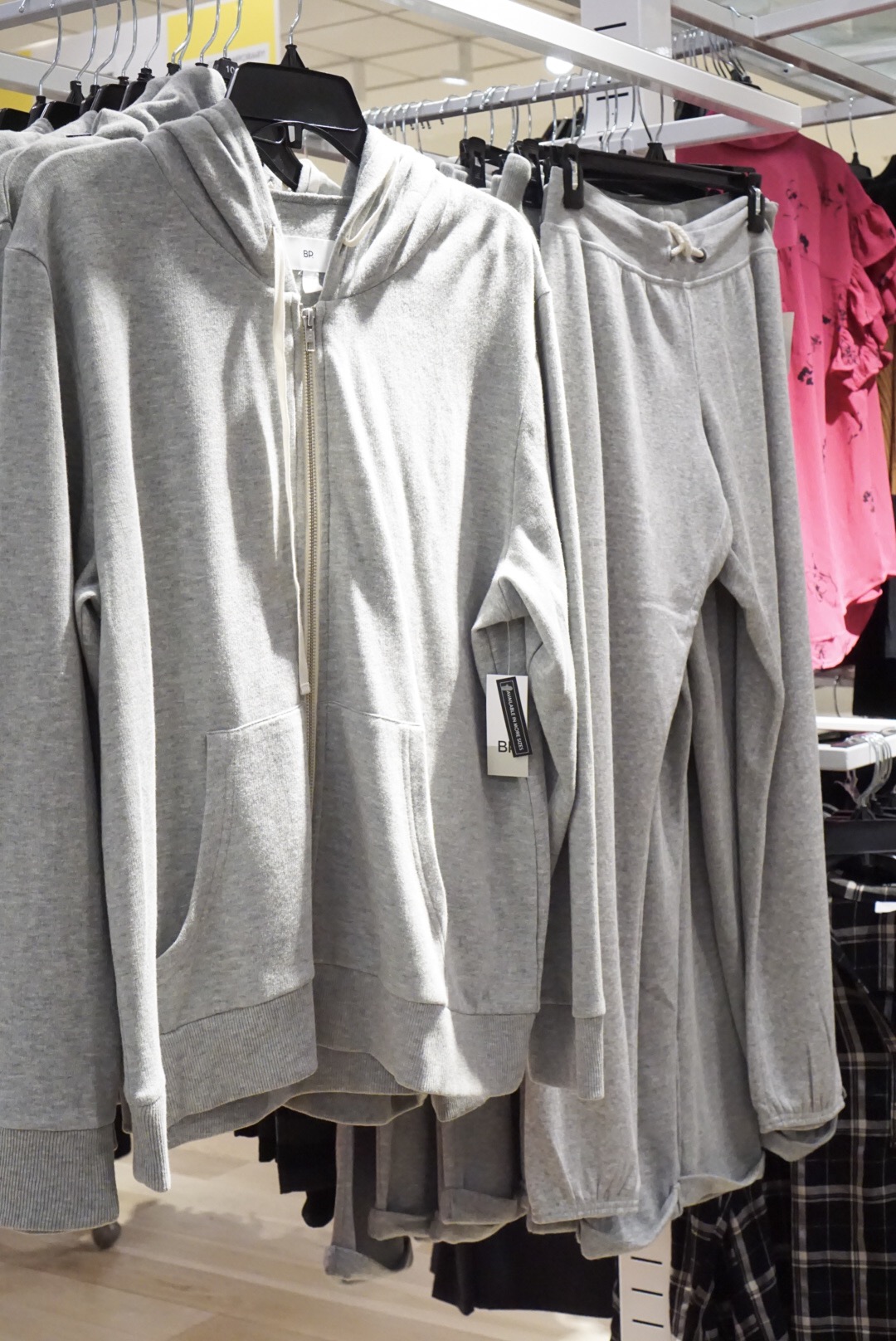 I thought this BP. Fleece Lined Jogger set was ADORABLE and affordable. Winning. These Make + Model Dreamy Fleece Jogger Pants are equally fabulous and a lighter weight. (Plus, they're also under $30!)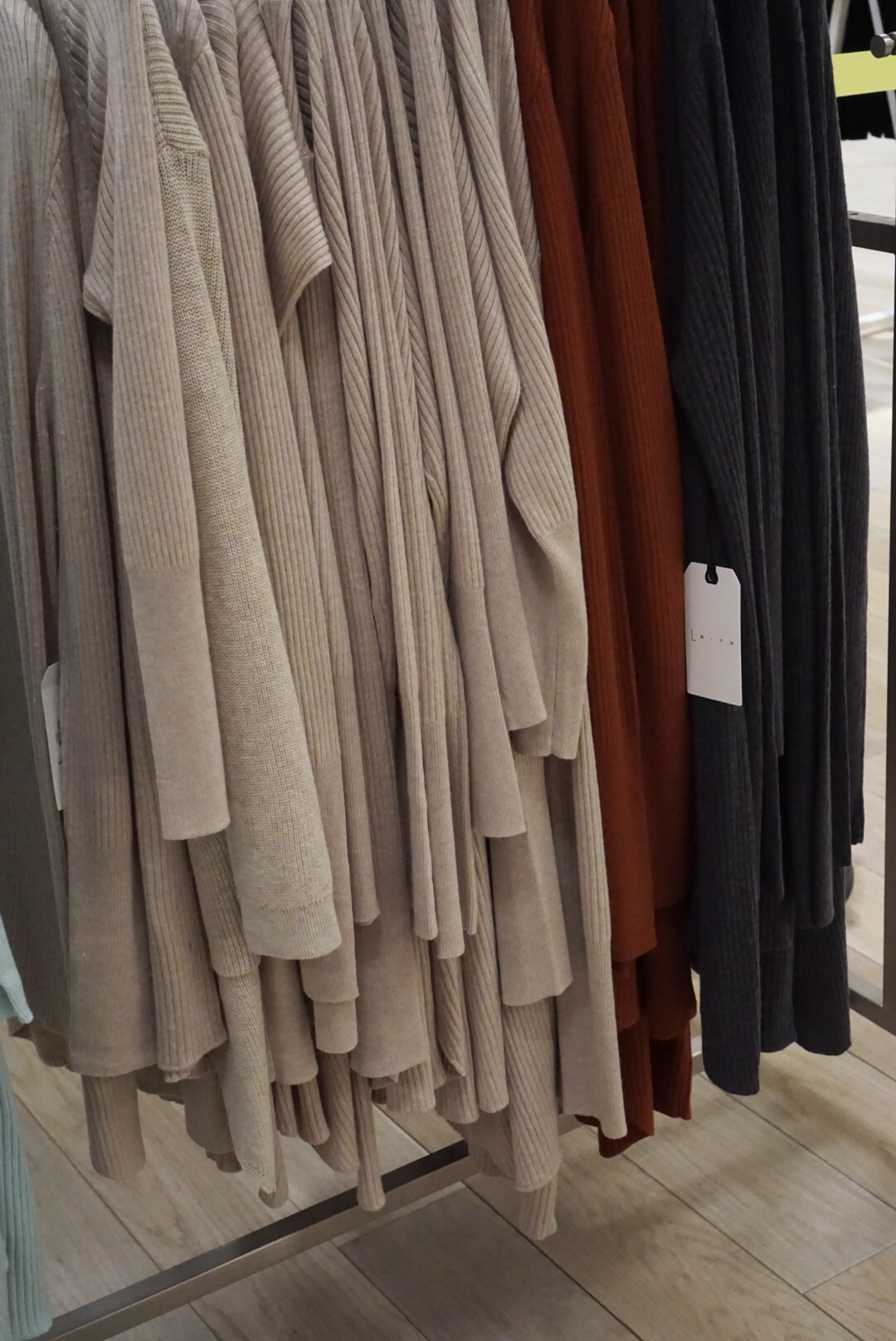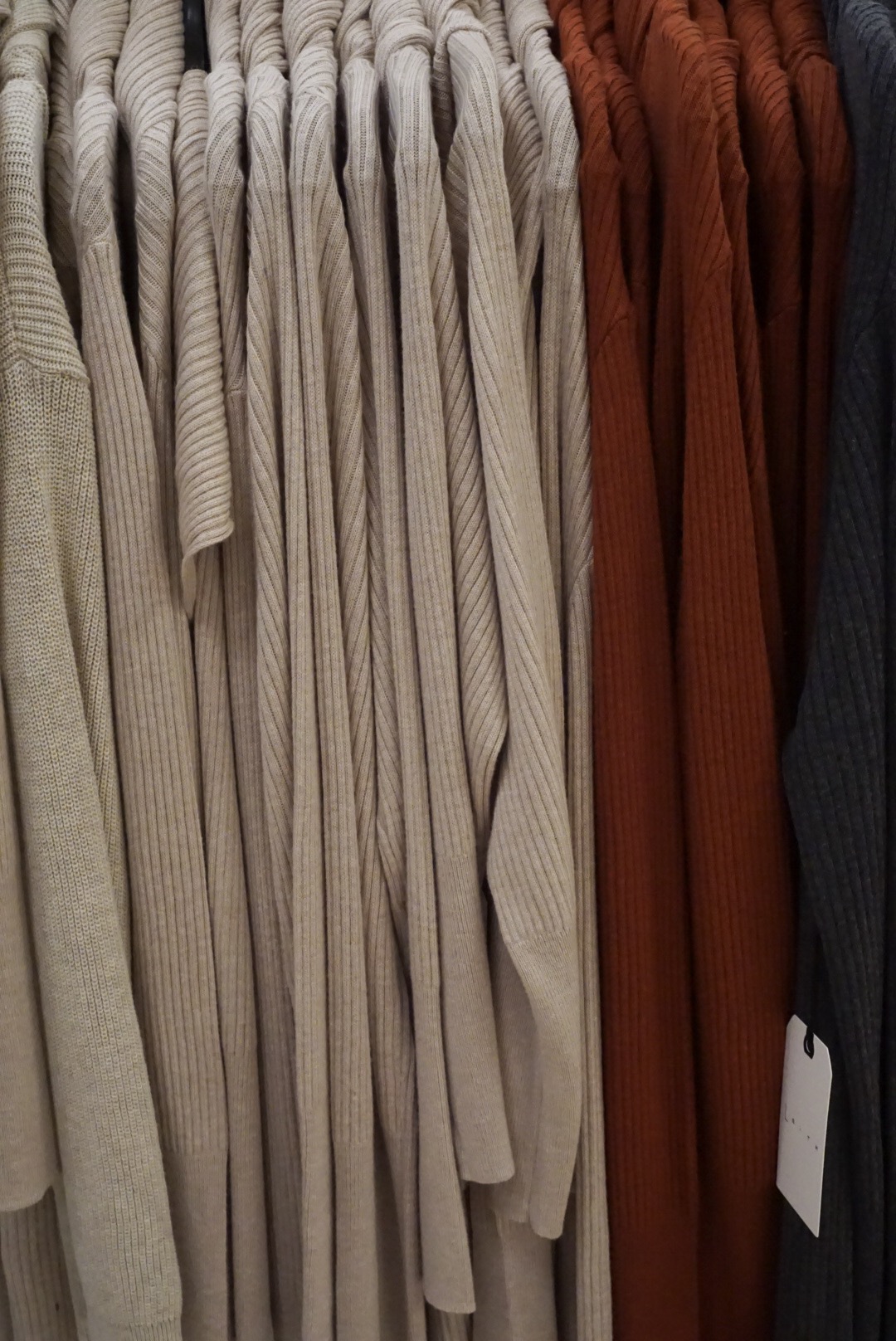 As usual, there are a ton of cardigans that are a part of the Nordstrom Anniversary Sale. I bought the Leith Ribbed Shawl Cocoon Sweater yesterday and I LOVE it. The material is SO soft and the drape is super flattering.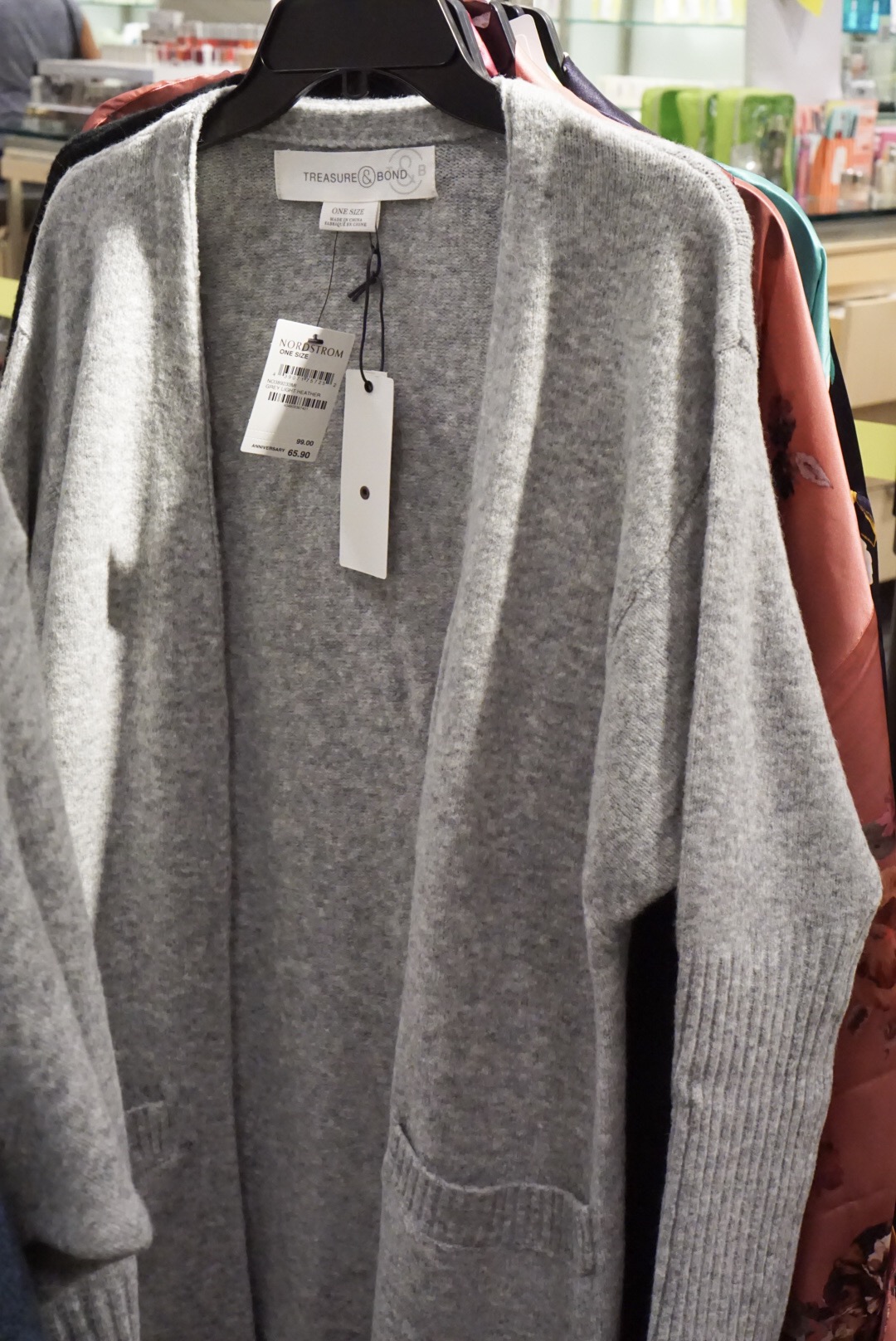 Two of the cardigans that I left the store still dreaming about: the Treasure & Bond Easy Throw-On Cardigan and the Free People Saturday Morning Cardigan.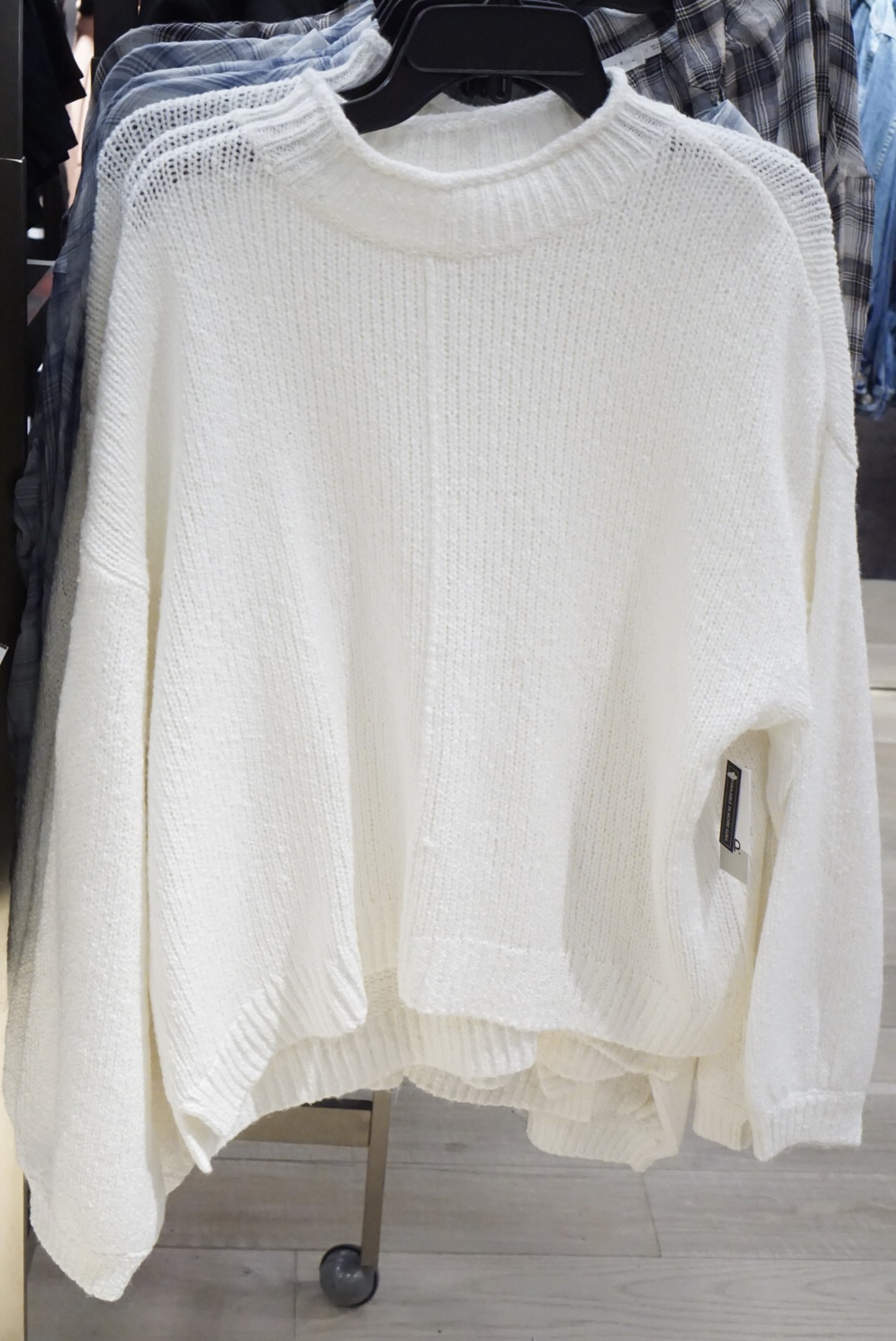 I'm also still thinking about the BP. Balloon Sleeve Sweater (SO cute!) and the Caslon Back Zip Pullover (which has a super flattering shape to it); both under $40!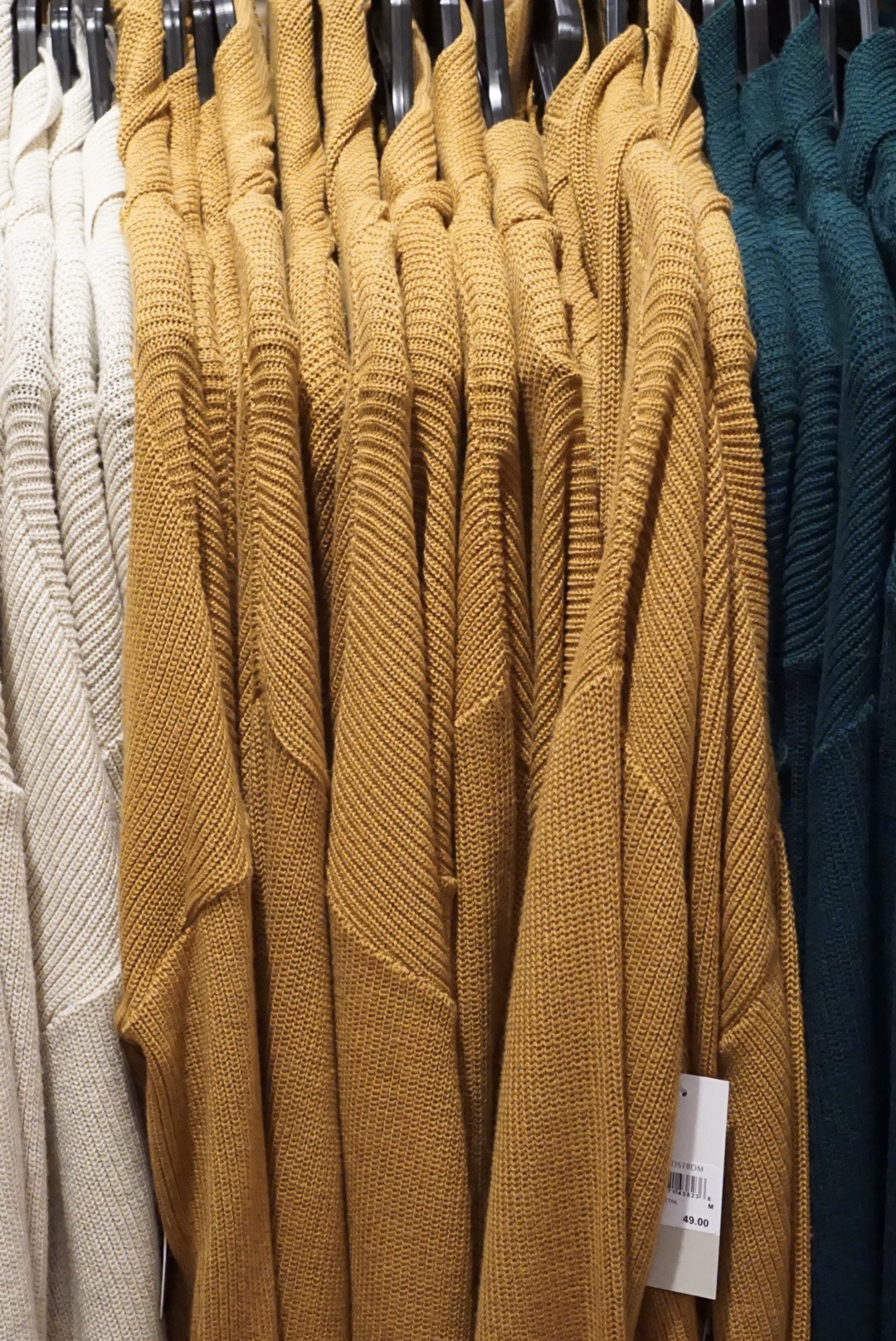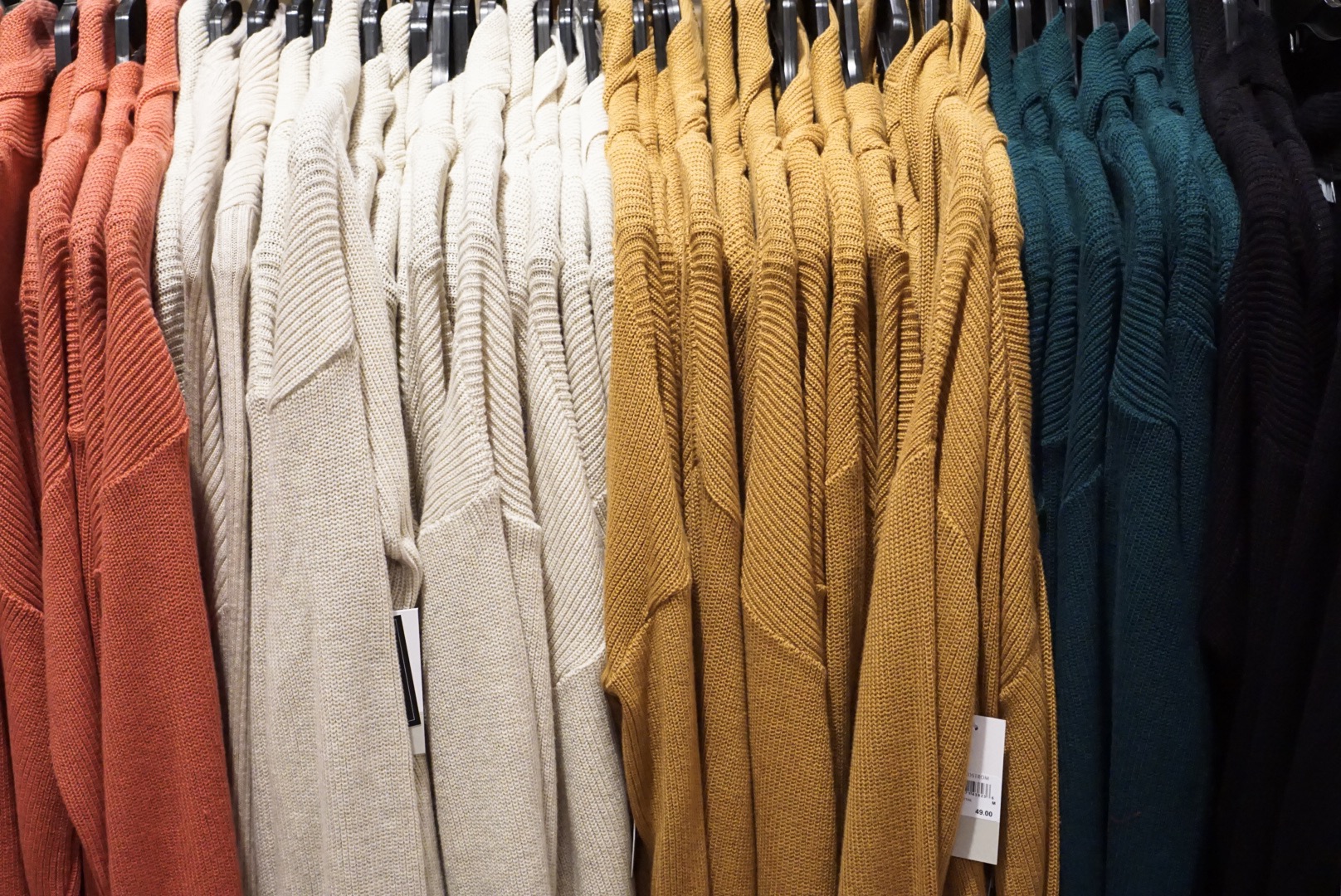 If you're looking for a longer-length cardigan, the Leith Side Split Midi Cardigan is really cute, but I will add that the black color was already picking up lint in the store. Whomp, whomp.
If you're willing to spluge, the Vince Wool & Cashmere Split Hem Cardigan is totally stunning. And cashmere lasts forever.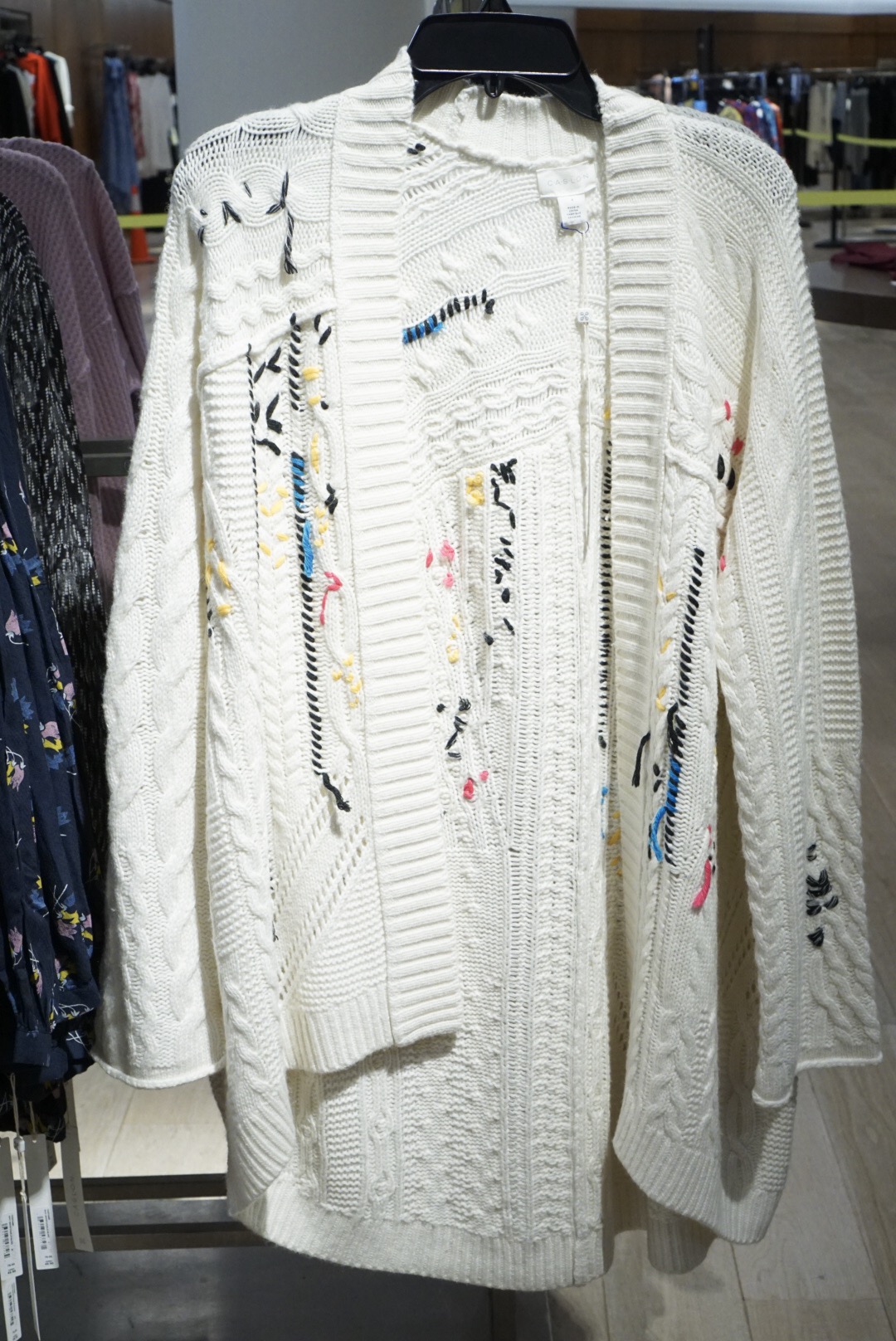 I have SUCH a crush on the Caslon Knitty Gritty Cardigan Sweater. The details are beautfuiful, and this one is really a standout.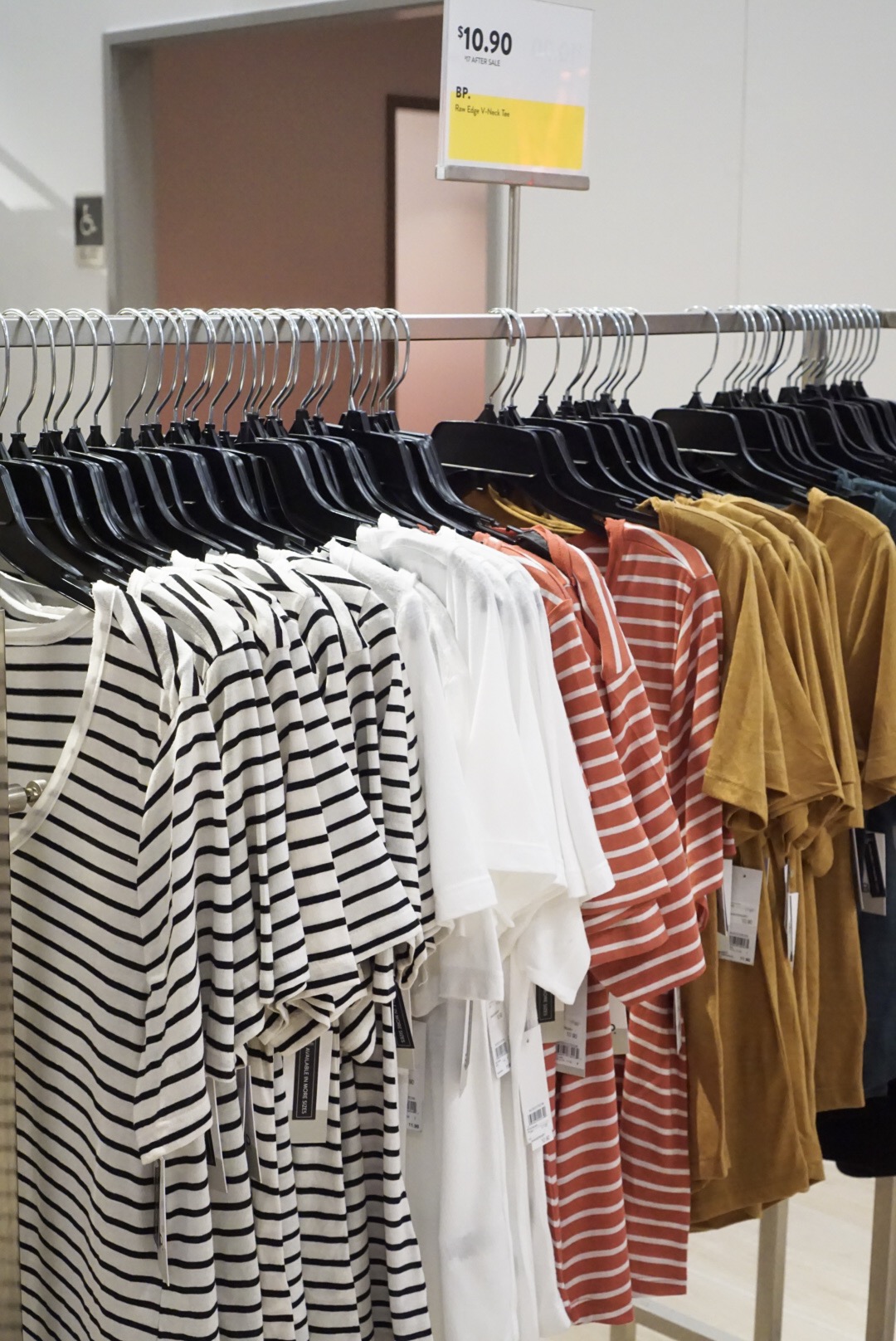 For $11.90 a shirt, the BP. Raw Edge V-Neck Tee is the perfect wardrobe staple, and comes in plenty of great colors and prints. The shirts are a tad see-through, so keep that in mind. The BP. Lace Trim Satin Camisole is also another really great top that's affordable and you should get a lot of wear out of.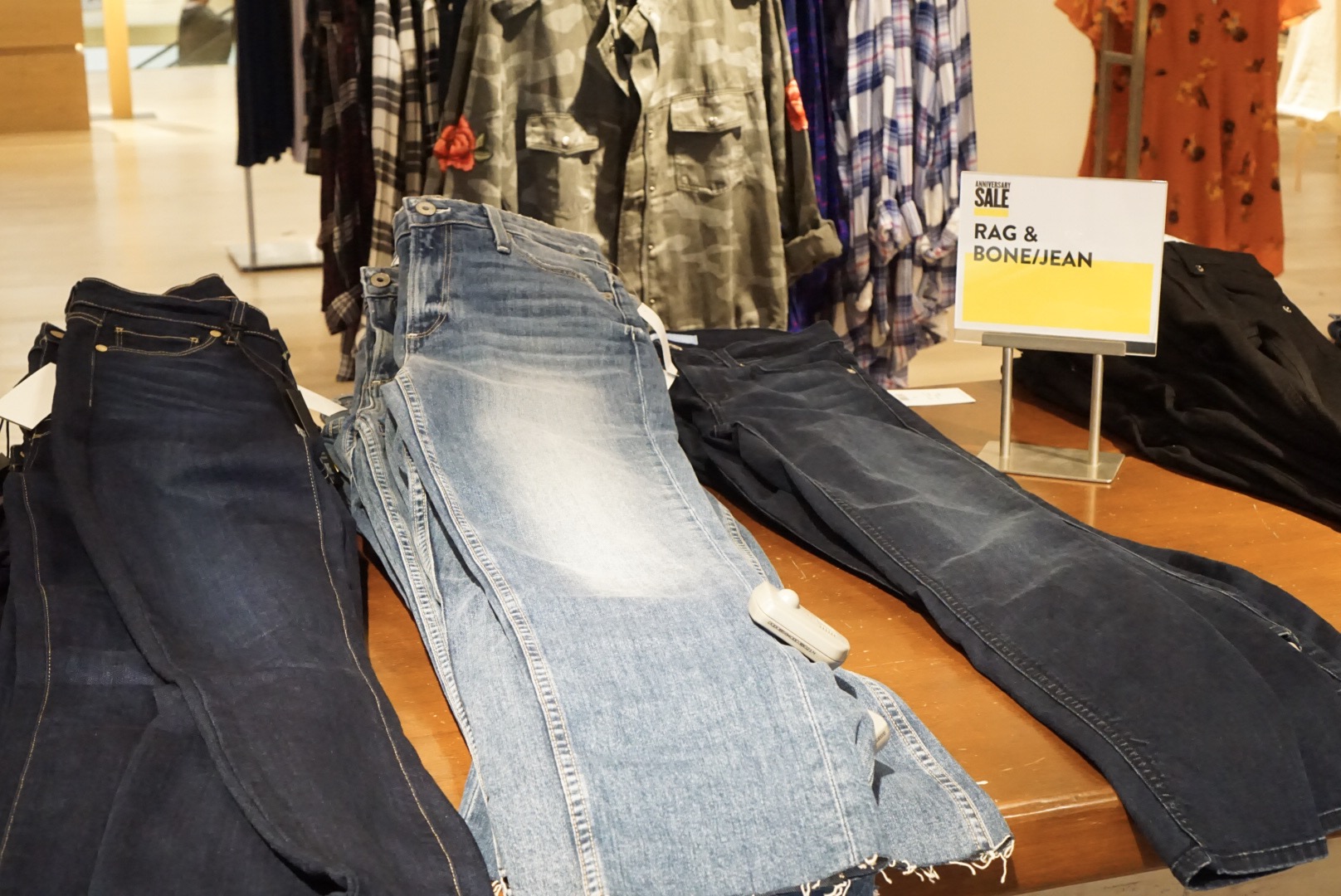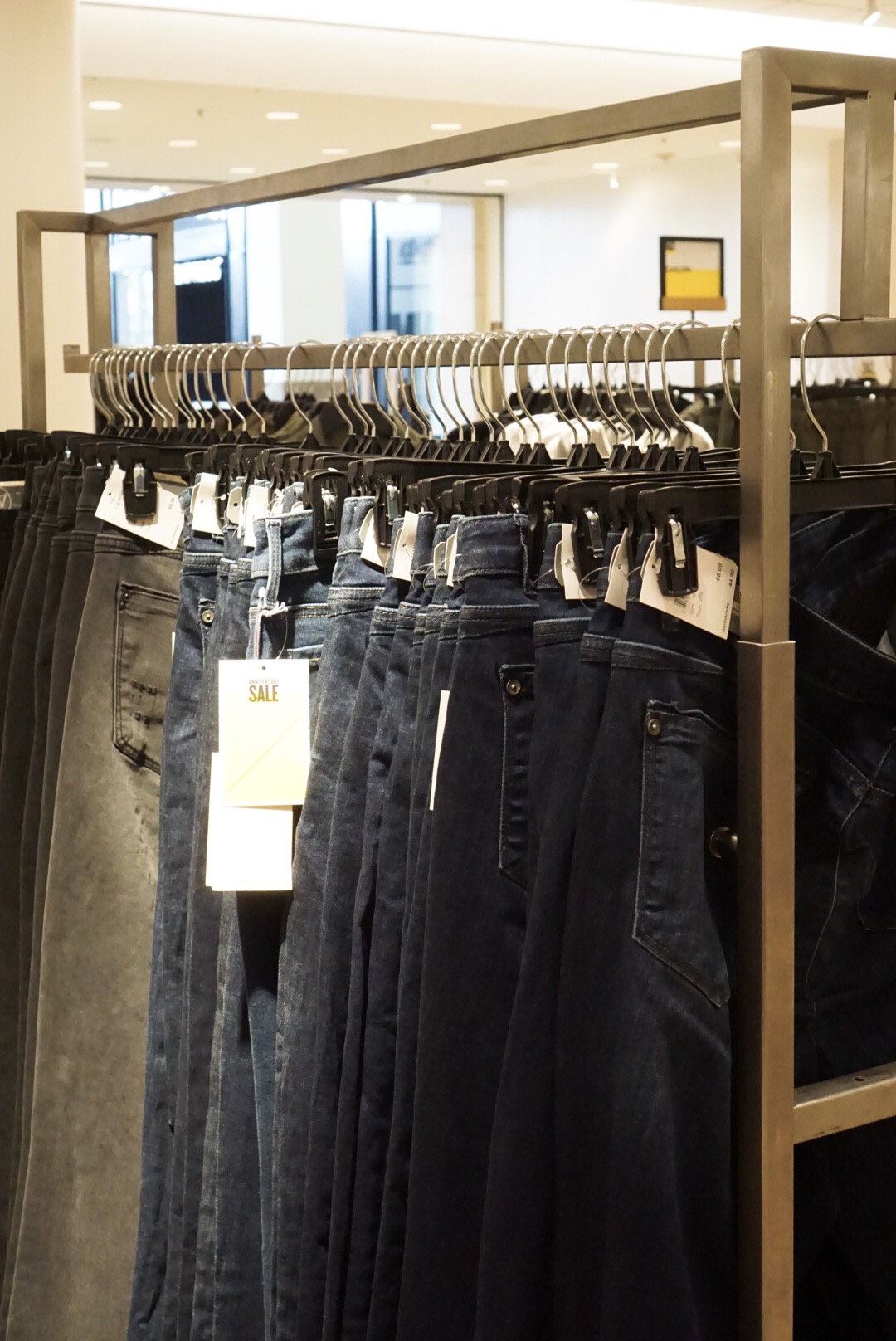 A ton of designer women's jeans are part of this year's Nordstrom Anniversary Sale. My favorites: Madewell 10-Inch High Waist Skinny Jeans, Rag & Bone Raw Hem Ankle Skinny Jeans (love that shorter, raw hem!), and Rag & Bone Ankle Skinny Jeans. (Rag & Bone makes a GREAT pair of skinny jeans!)
My Favorite Nordstrom Anniversary Sale Baby + Kids
Our local Nordstrom store did not have a lot of baby and kids items available, so I'd need to order most everything I want online. I already mentioned the few shoes I liked for our daughters above, I just saw that the Freshly Picked Mary Jane Moccasins are part of the sale (we adore ours!), and I will say that there are some incredible discounts on new baby gear online (and things that never ever go on sale!), like a Bugaboo Cameleon, the Baby Jogger City Select Stroller (plus several other Baby Jogger stroller options!), and the Maxi-Cosi Pria 85 Max Convertible Car Seat. (You can check out our review of the Maxi-Cosi Pria 85 here.)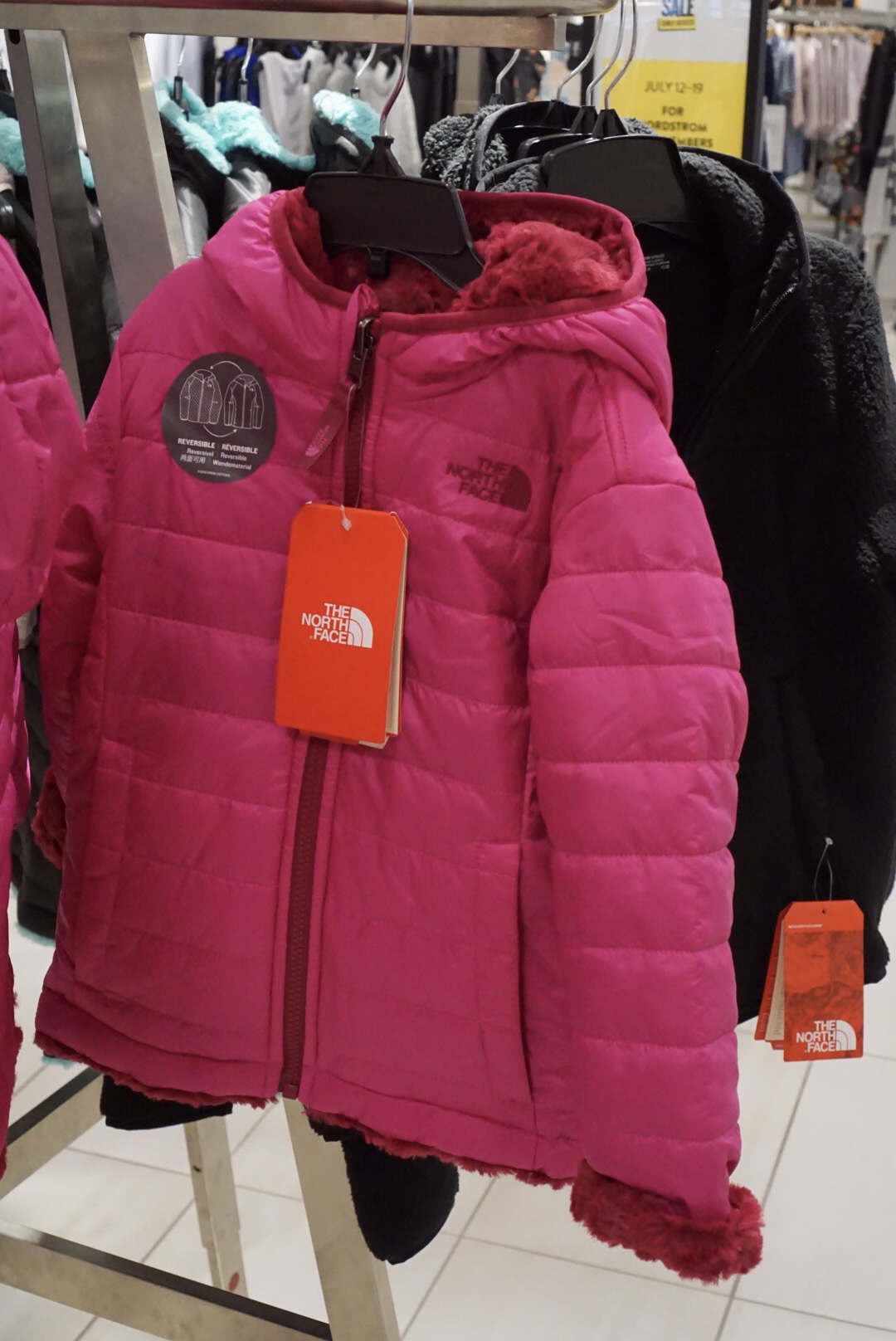 The North Face Mossbud Swirl Insulated Reversible Jacket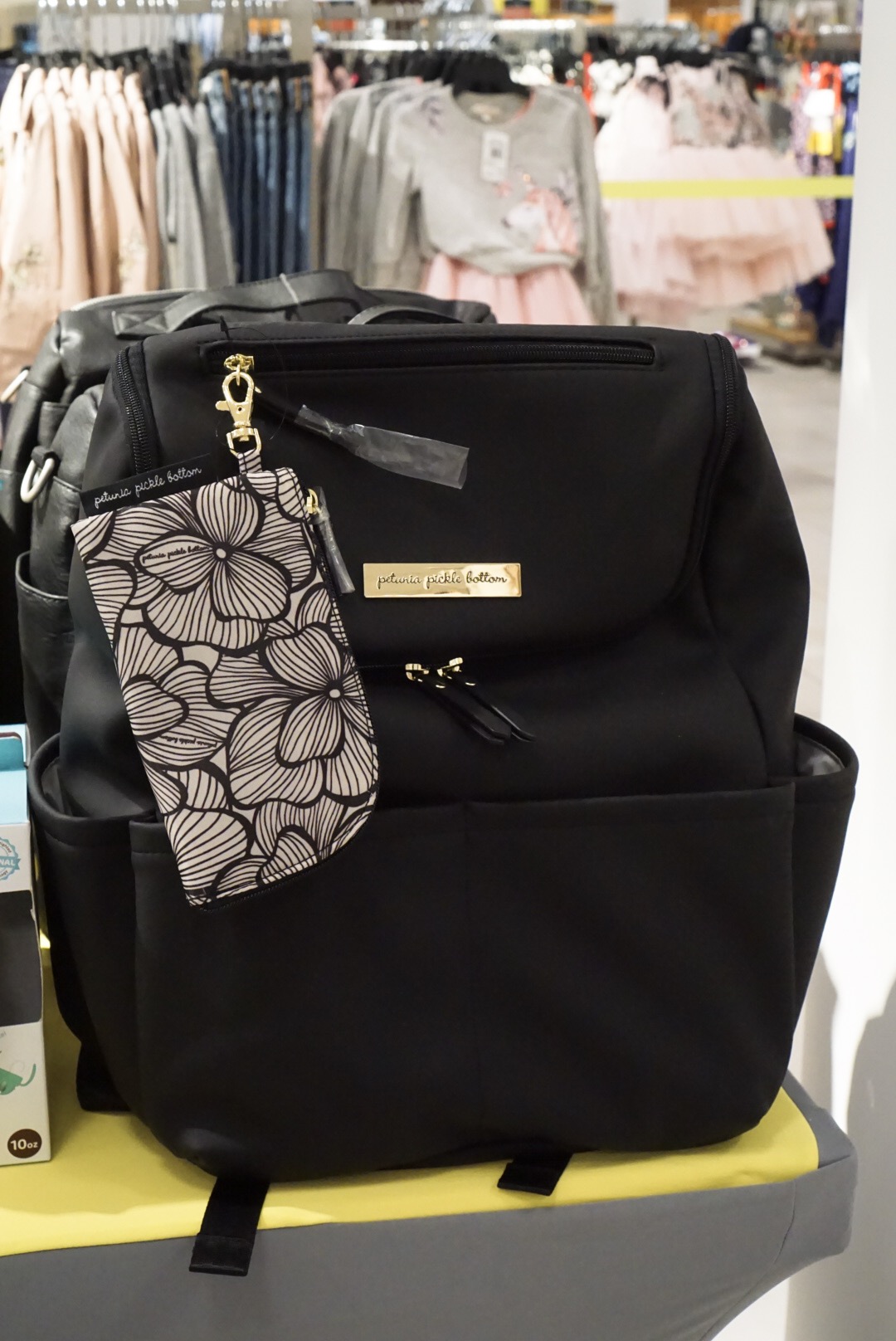 PETUNIA PICKLE BOTTOM Method Diaper Backpack (Plus, a few other popular diaper bags!)
My Favorite Nordstrom Anniversary Sale Accessories
Now let's talk accessories …. mostly I only found a few pairs of sunglasses, necklaces, the gorgeous and super popular Monica Vinader bracelets that are on sale, and a handful of purses that really caught my eye: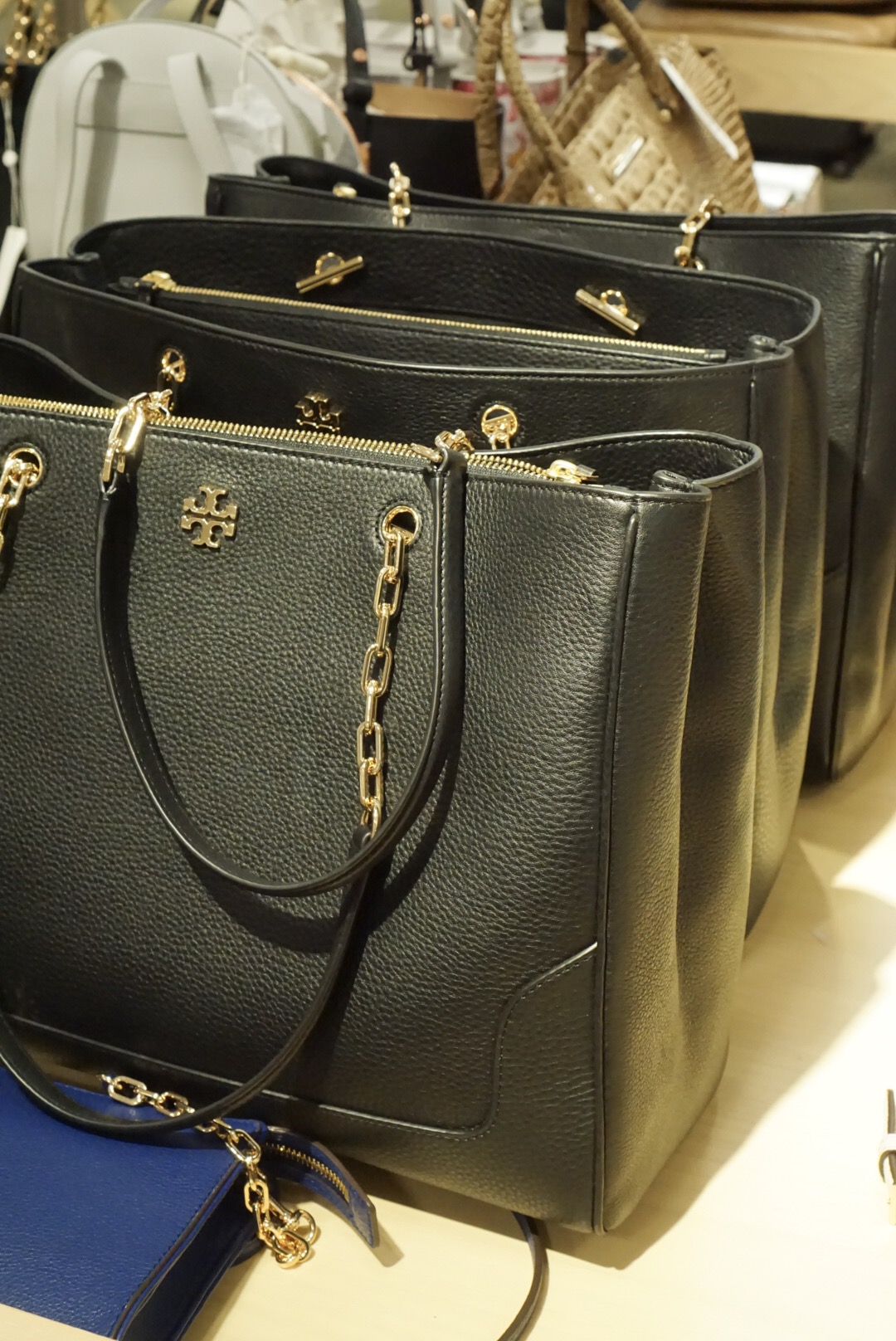 Tory Burch Marsden Pebbled Leather Tote – This bag is gorgeous in person. It's a perfect size, the leather is beautiful, and the gold detail really dresses it up.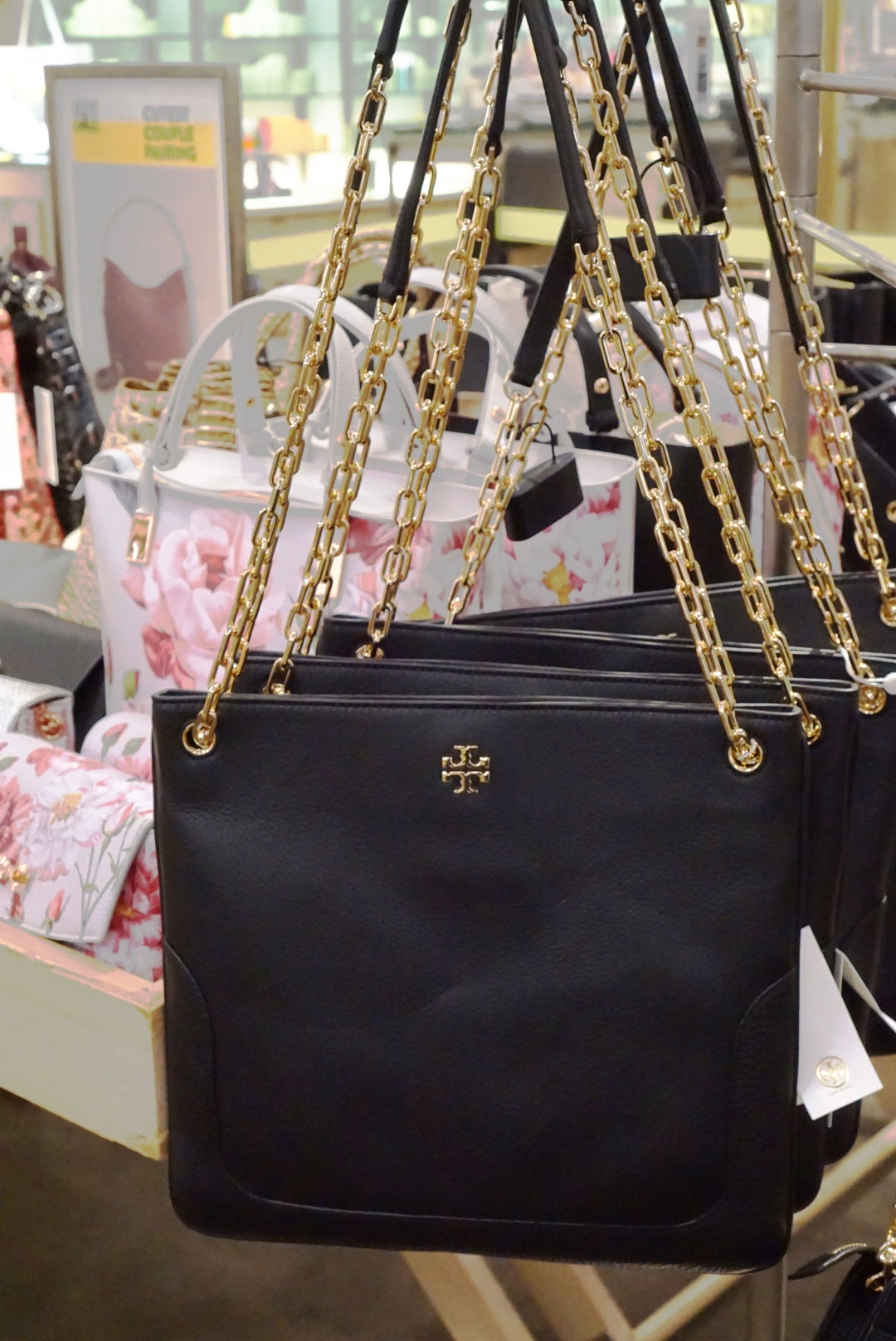 Tory Burch Marsden Swingpack Leather Crossbody Bag – If you're looking for something a bit smaller, this bag was also really eye-catching.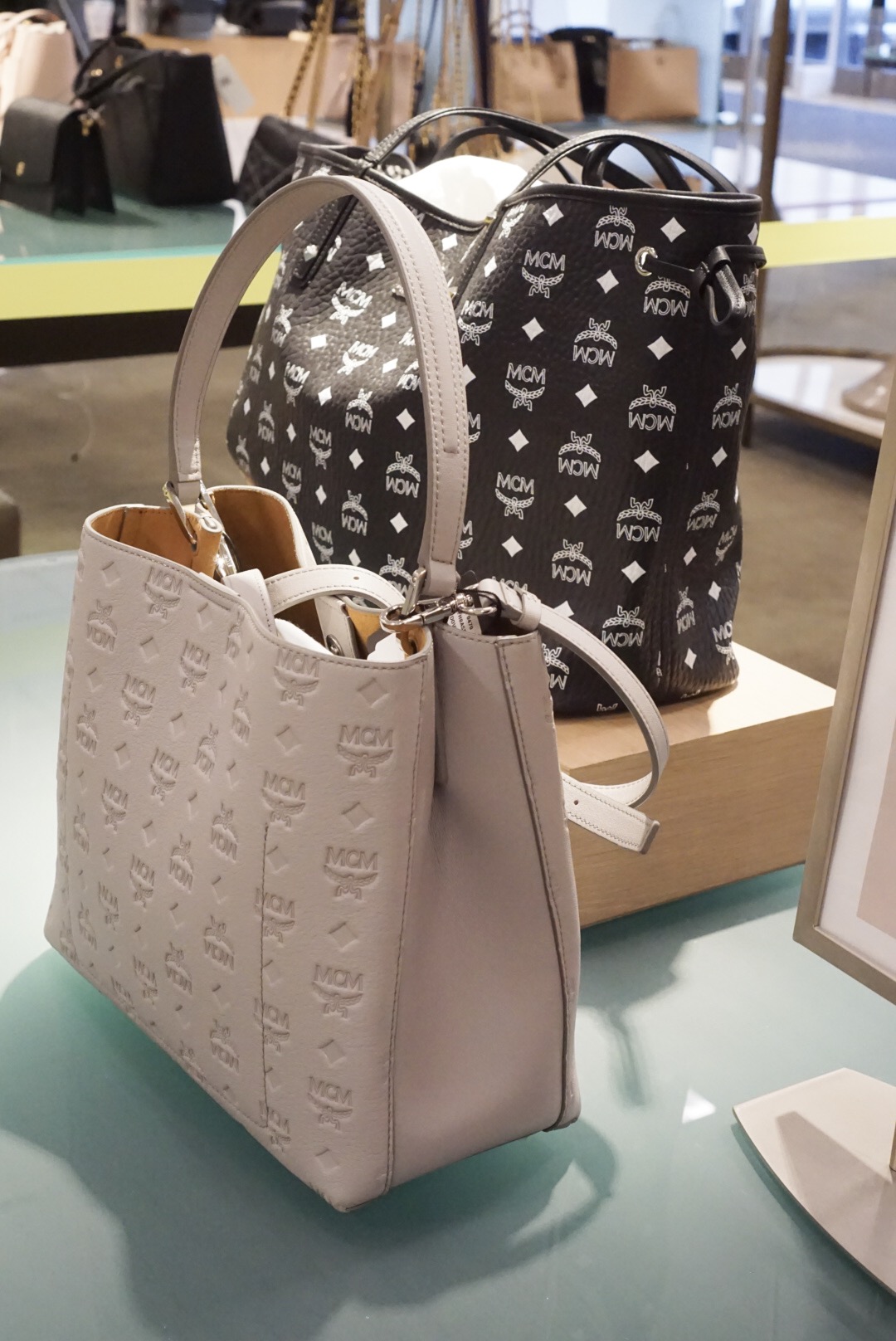 There is a ton of MCM on sale during the Anniversary Sale! Just sayin'! (MCM Sara Leather Convertible Hobo + MCM Medium Liz Reversible Visetos Leather Shopper)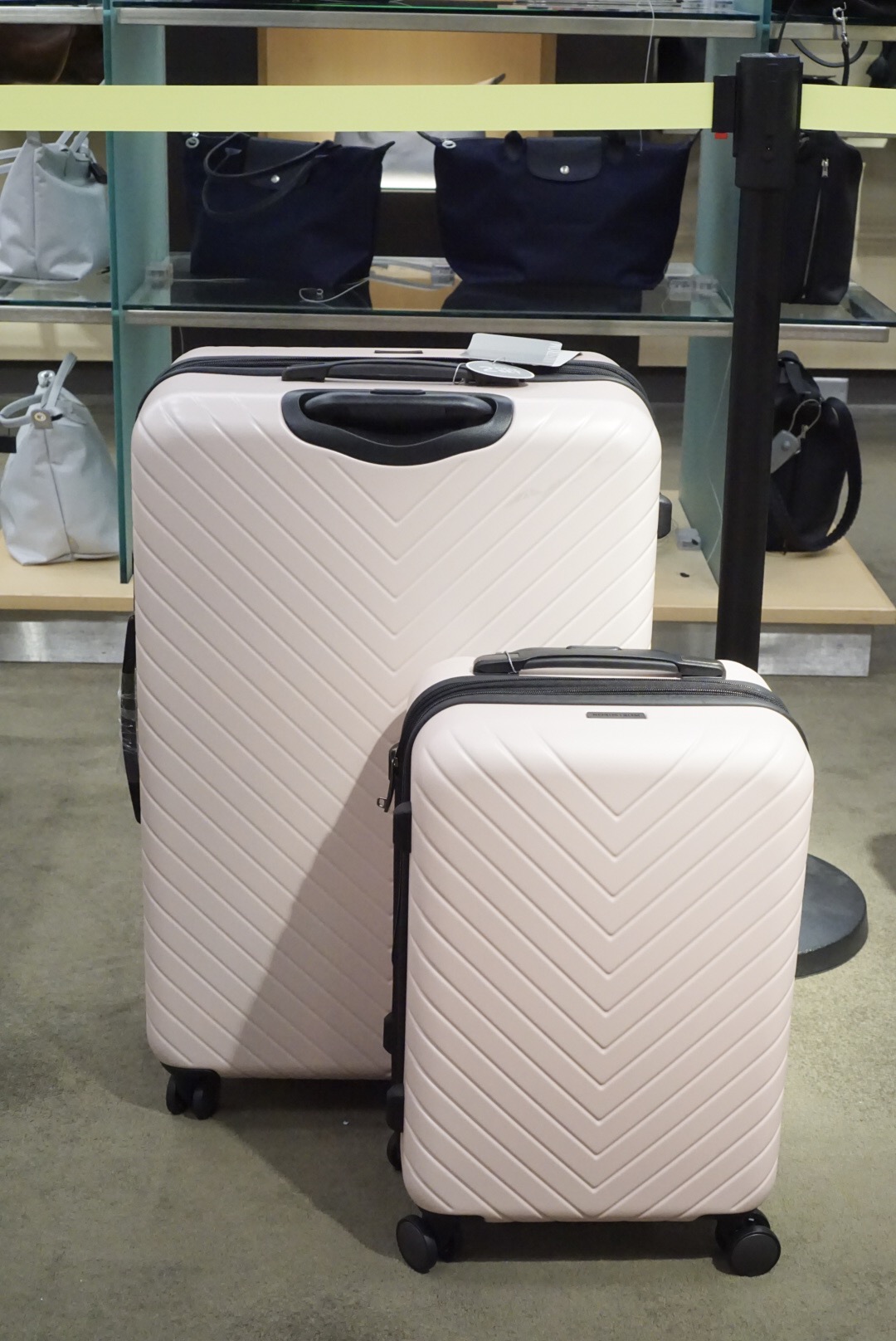 Nordstrom Chevron 29-Inch & 20-Inch Spinner Luggage Set
Le Specs Caliente 53mm Cat Eye Sunglasses + Le Specs Air Heart 51mm Cat Eye Sunglasses (Both under $58!)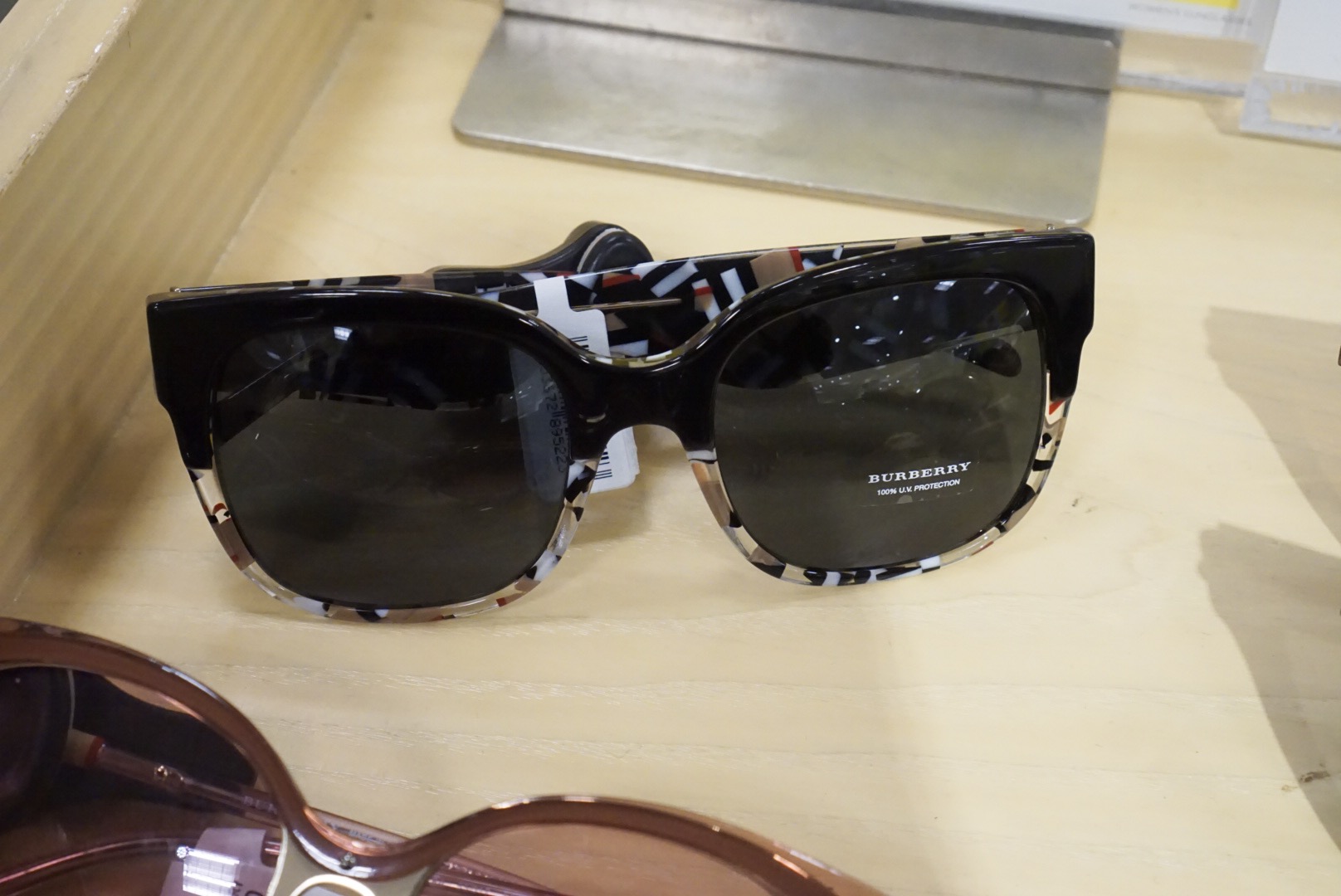 Burberry 56mm Cat Eye Sunglasses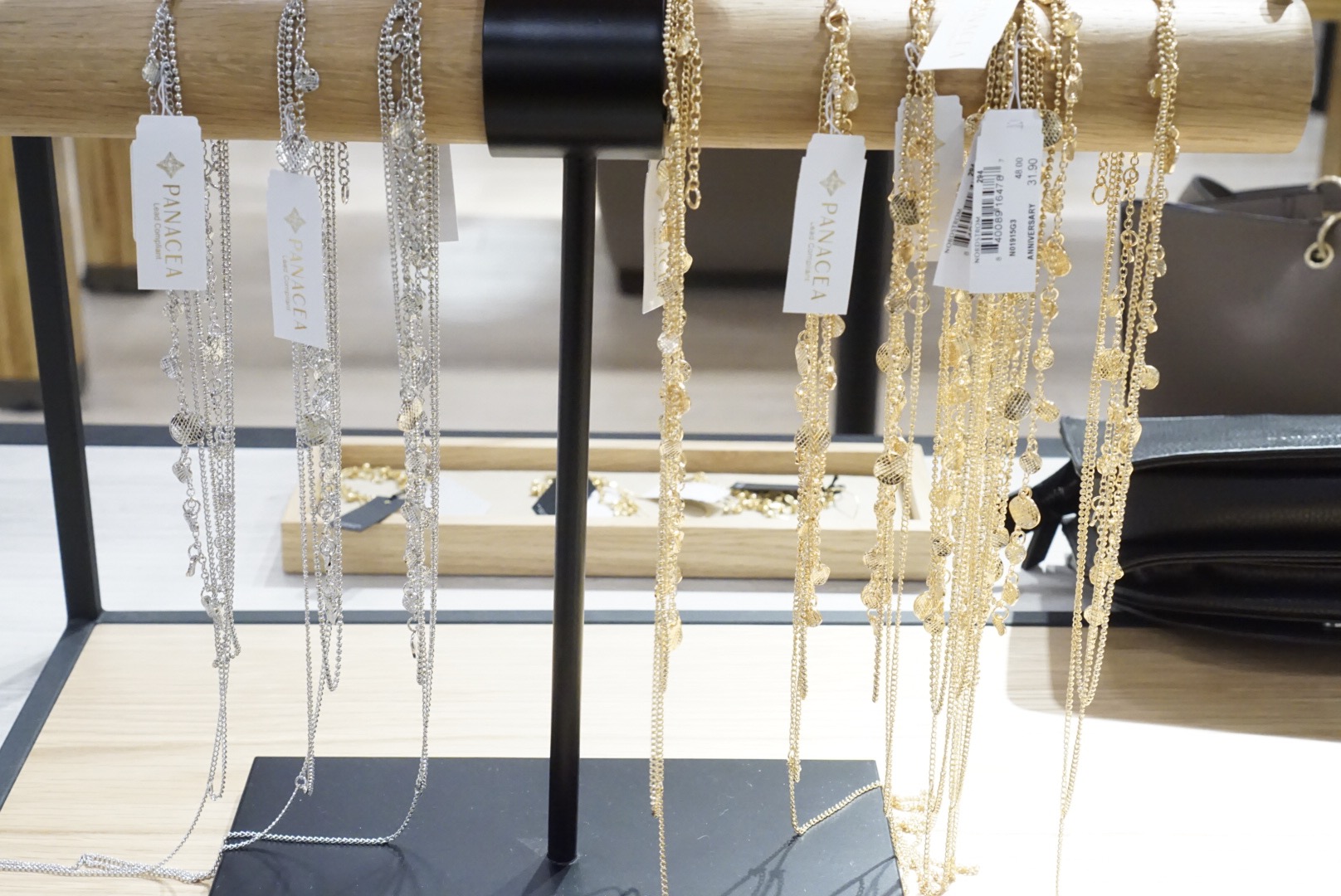 For $31.90, the Panacea Layered Lariat Necklace is super cute and would probably get a whole lot of wear-time.
My Favorite Nordstrom Anniversary Sale Home
Honestly, the home section in our local Nordstrom is really small, so I didn't get the chance to see a whole lot in person. I was pleasantly surprised by the Treasure & Bond Jersey Rope Throw Blanket, so I'm sharing that, plus super cute water bottles!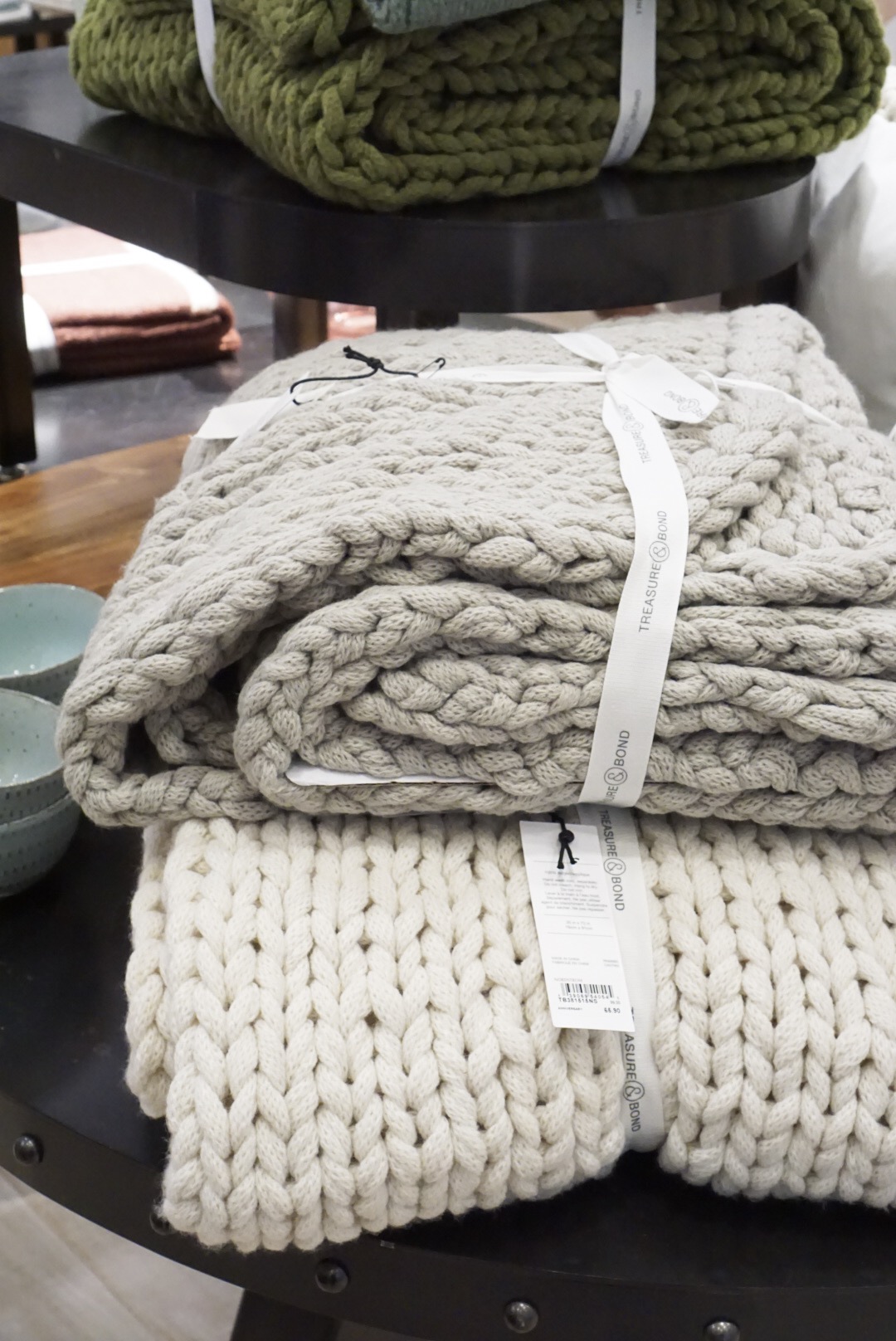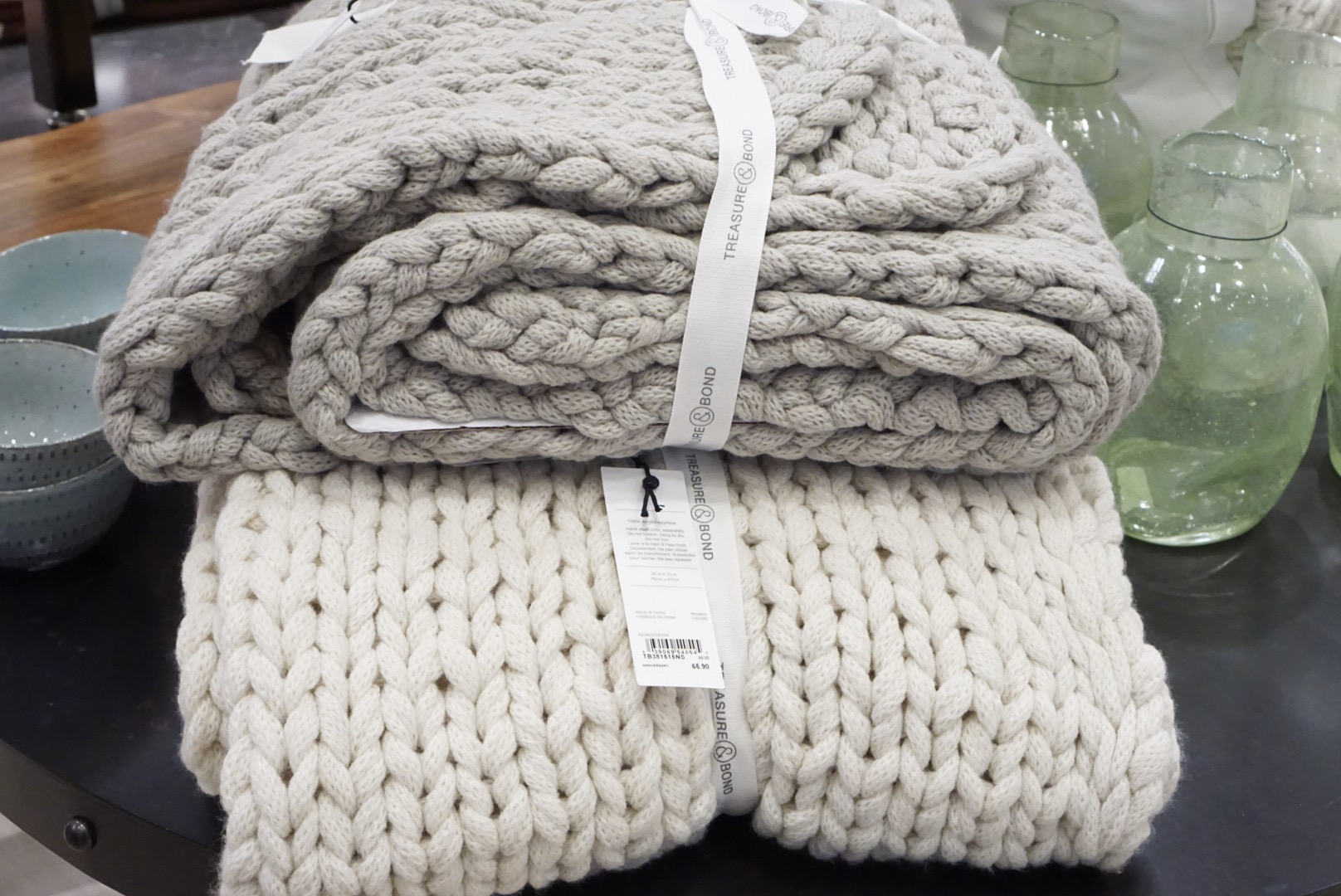 Treasure & Bond Jersey Rope Throw Blanket – This blanket is reminiscent of the oversized chunky knit throw blankets I happen to be obsessed with, but without the unfortunate shedding or whopping price tag. I I was really pleasantly surprised by how nice this blanket was in person! It's soft and pretty affordable.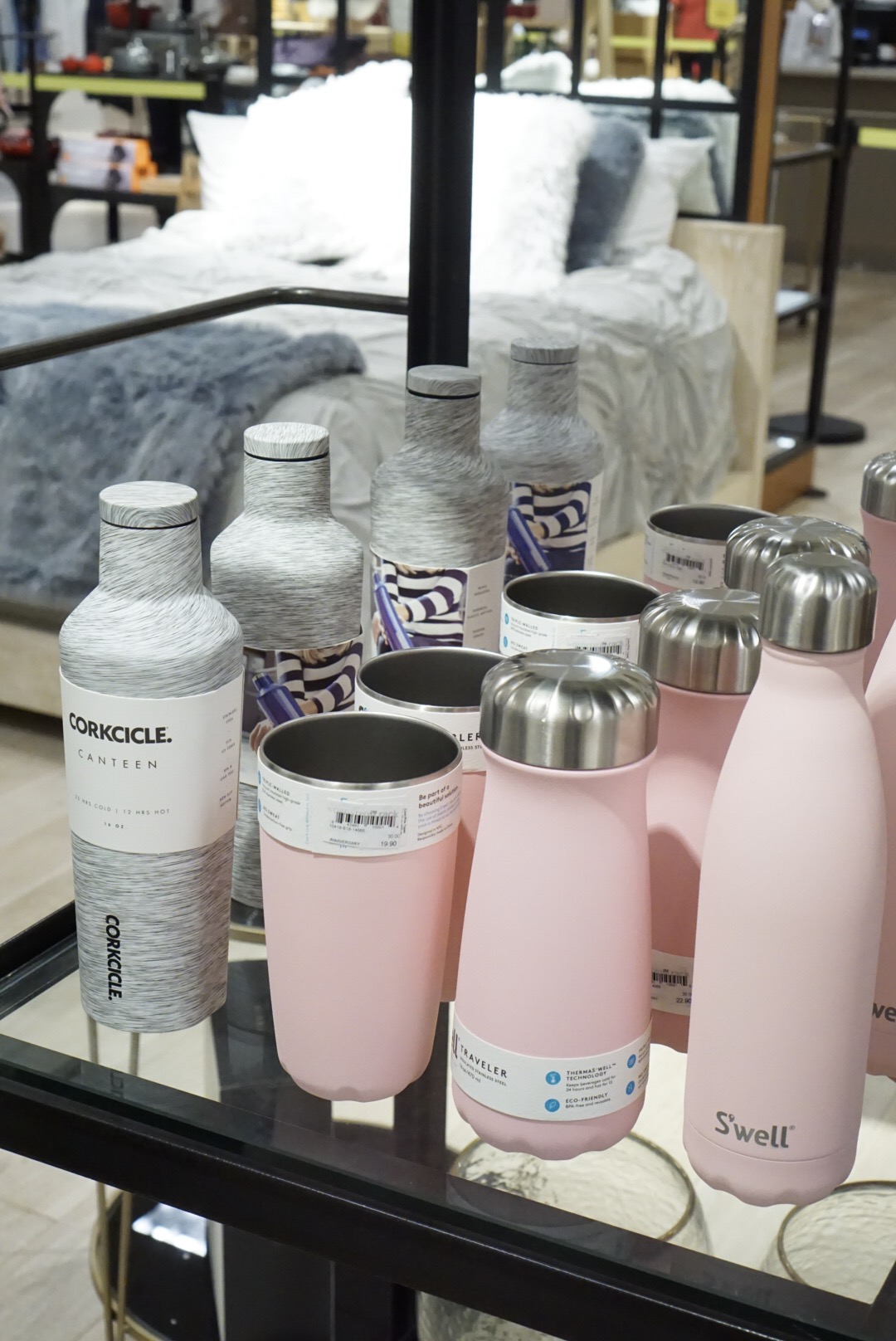 Swell Pink Topaz Insulated Stainless Steel Water Bottle
My Favorite Nordstrom Anniversary Sale Beauty
There are always great beauty deals and bundles at the Nordstrom Anniversary Sale. These are a few that I would definitely snag for myself …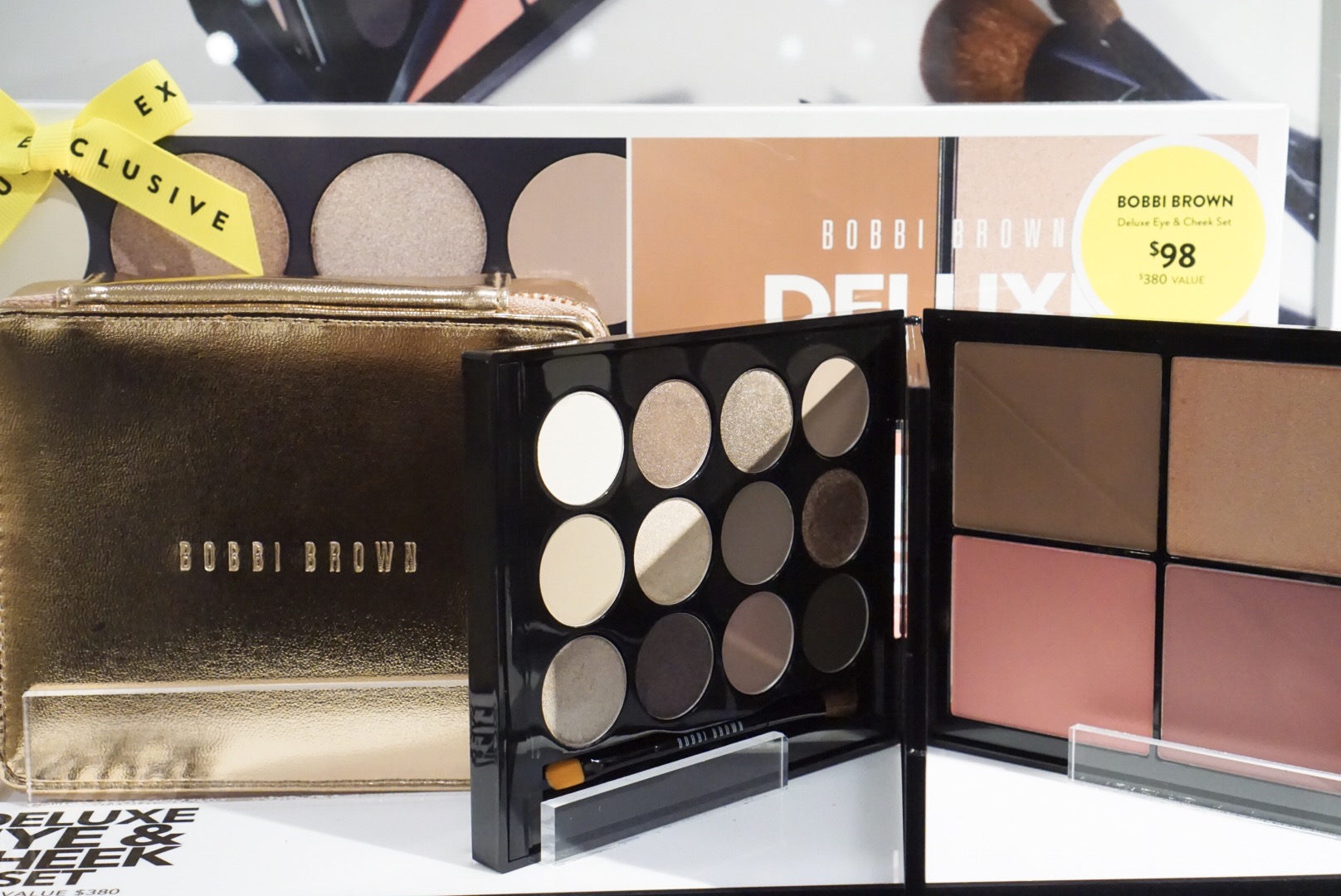 This Bobbi Brown Deluxe Eye & Cheek Set is AWESOME. All of the colors are super wearable, which I find is sometimes hard in a bigger palette.
I really really love Living Proof. Their dry shampoo is tops and their shampoo and conditioner are equally amazing.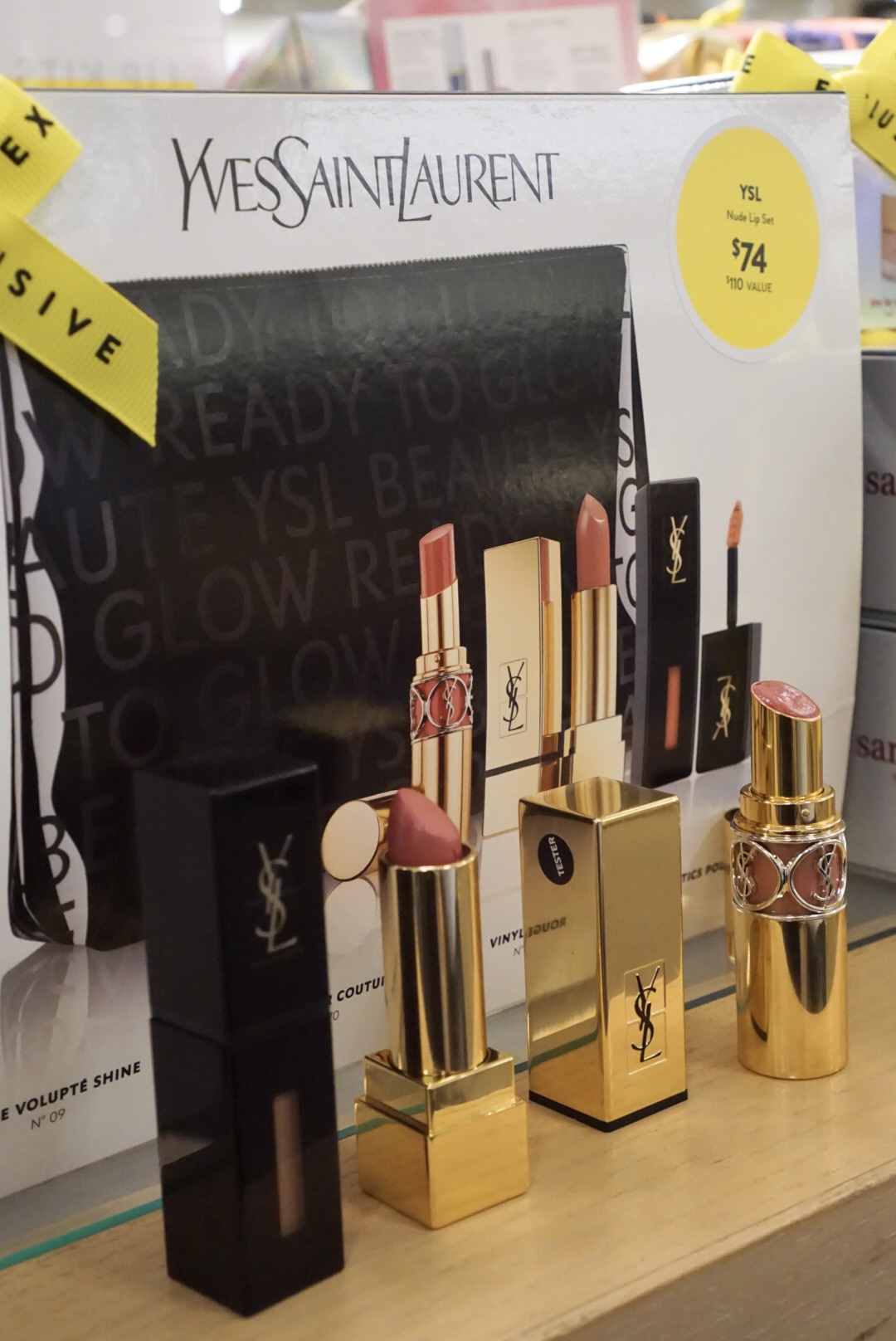 YSL lipstick, all day everyday. The best nudes. SWOON.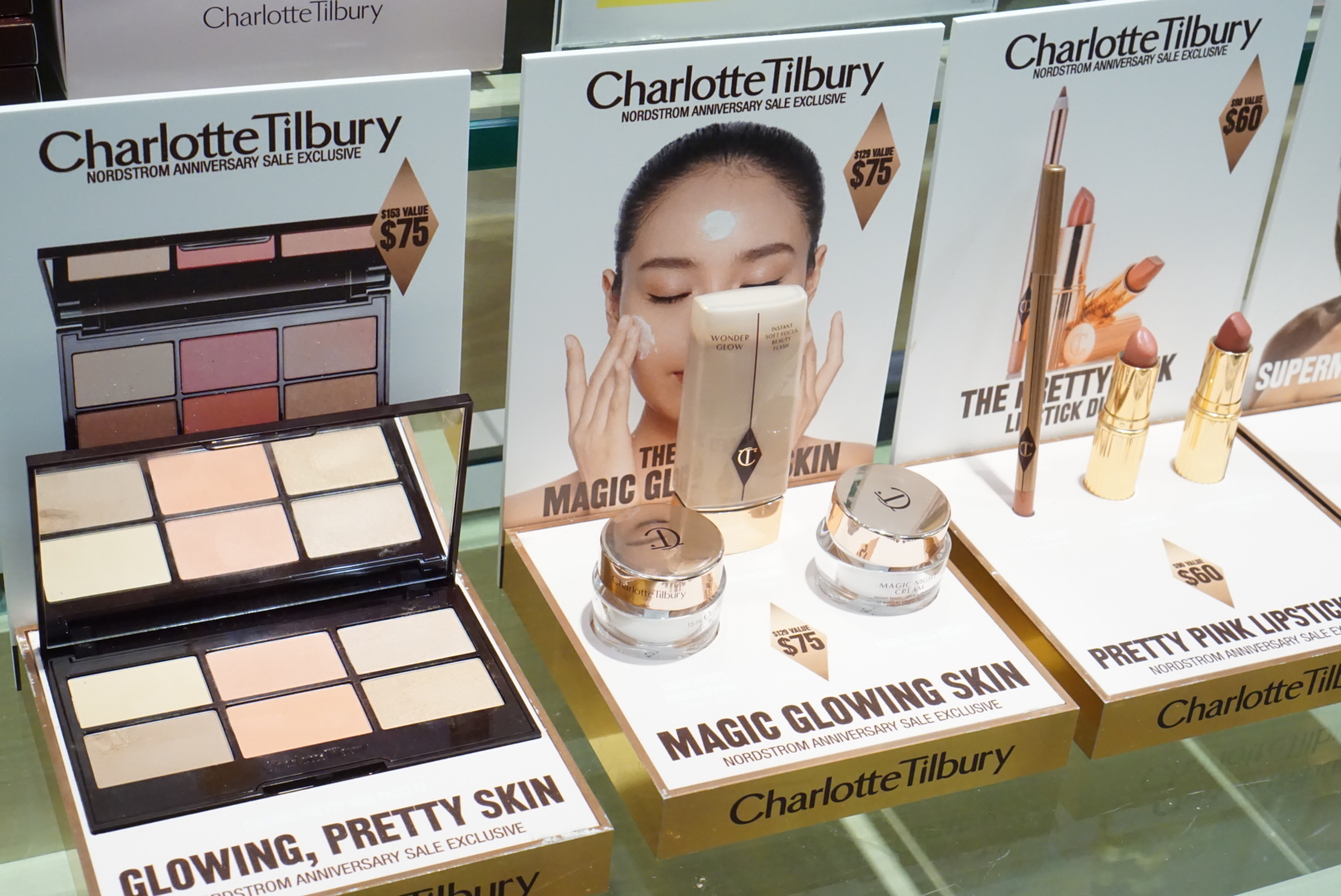 Lots of Charlotte Tilbury on sale.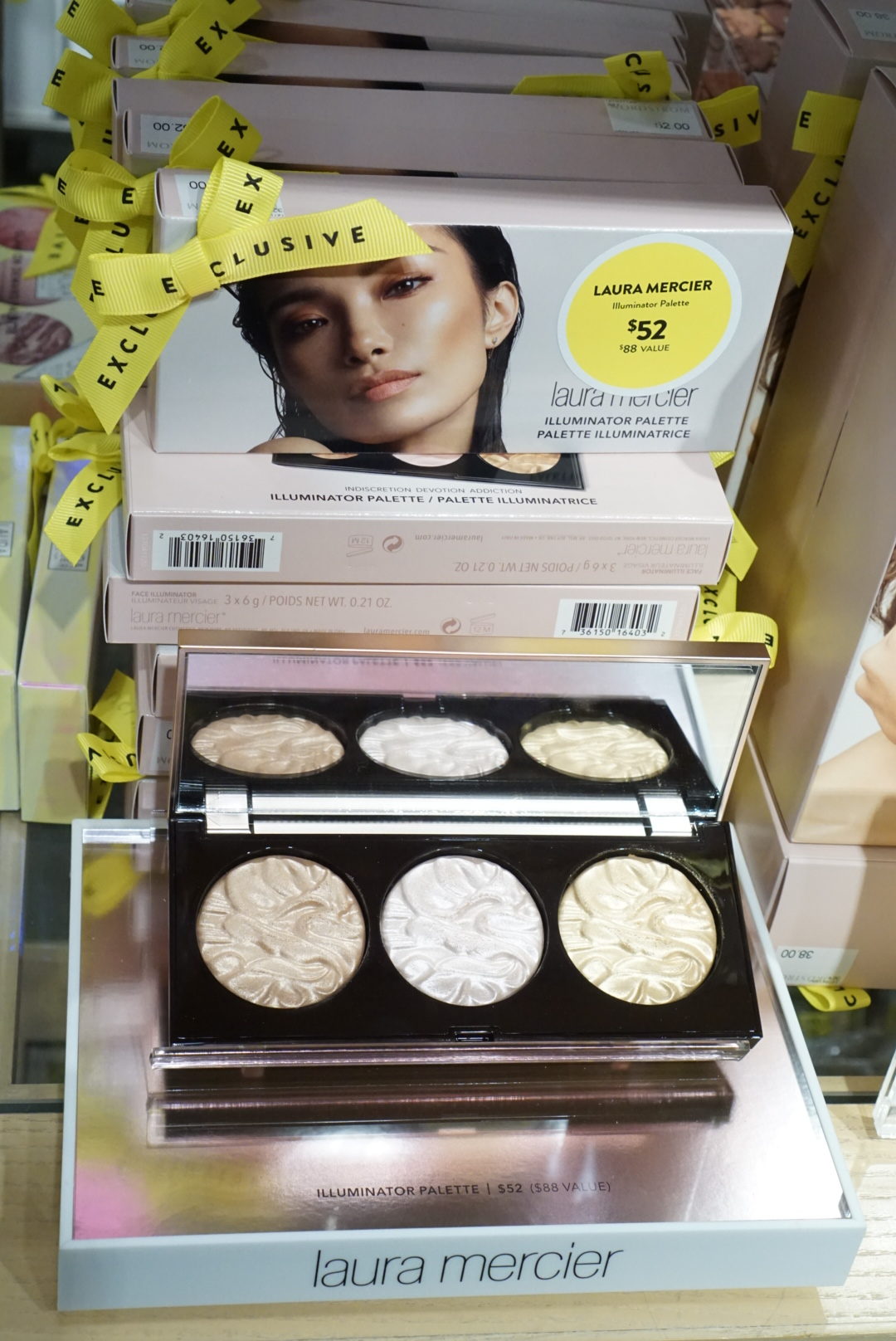 And Laura Mercier. This Laura Mercier Illuminator Palette is dreamy.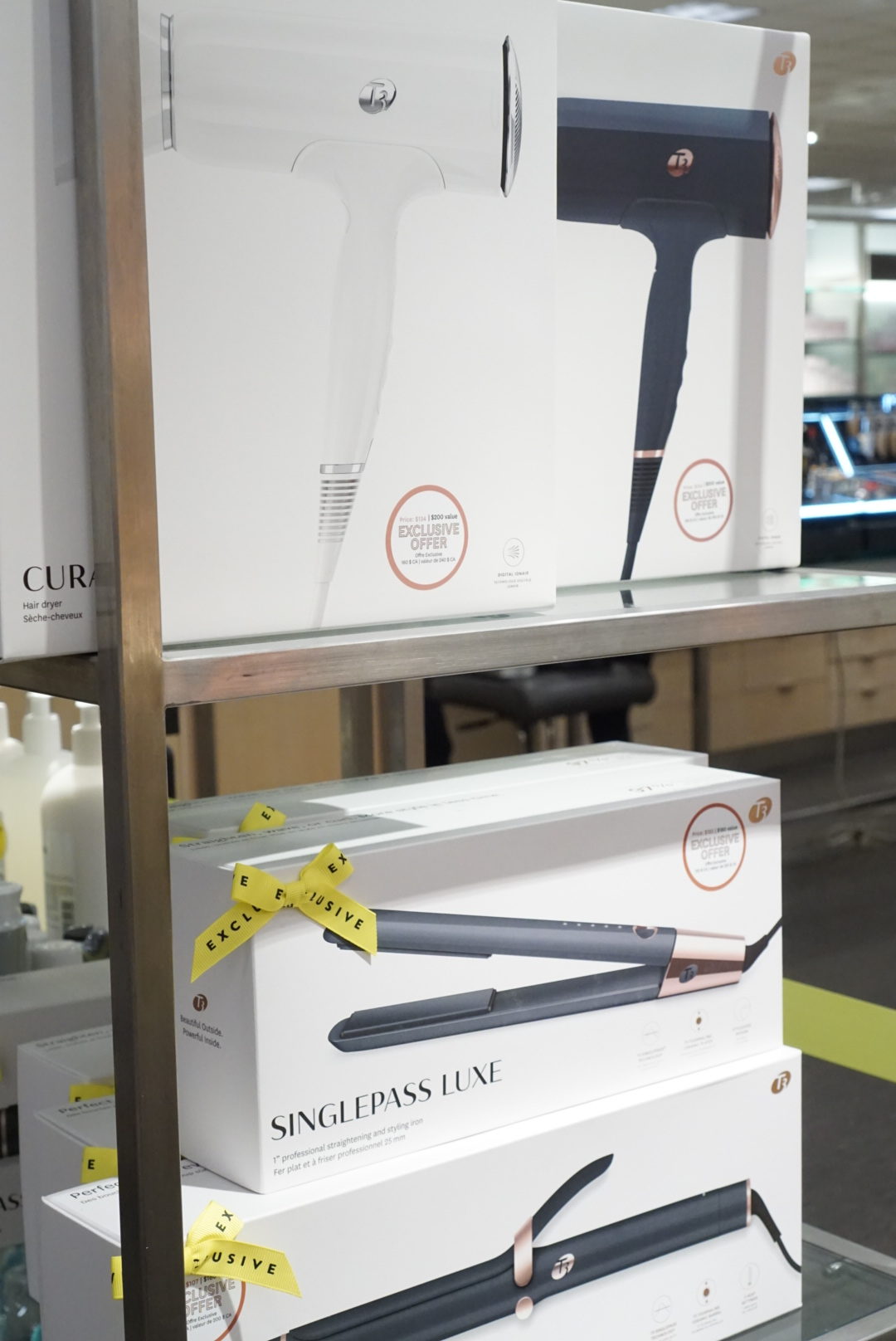 And just like last year, there are a ton of T3 beauty tools on sale. (They're hardly ever on sale, anddefinitely my favorite hair tools!)
Whew!! That was a HUGE post. Hope it helps!

What are you shopping for during this year's Nordstrom Anniversary Sale? Any amazing finds? Have any shopping questions for me?
Be sure to visit my Facebook, Instagram, and Twitter for exclusive information about my favorite Nordstrom Anniversary Sale picks. I'll be shopping the sale early and often and sharing sneak peeks along the way!
SaveSave
SaveSave
SaveSave
SaveSave
SaveSave
SaveSave
SaveSave
SaveSave
SaveSave
SaveSave
SaveSave
SaveSave
SaveSave
SaveSave
SaveSave