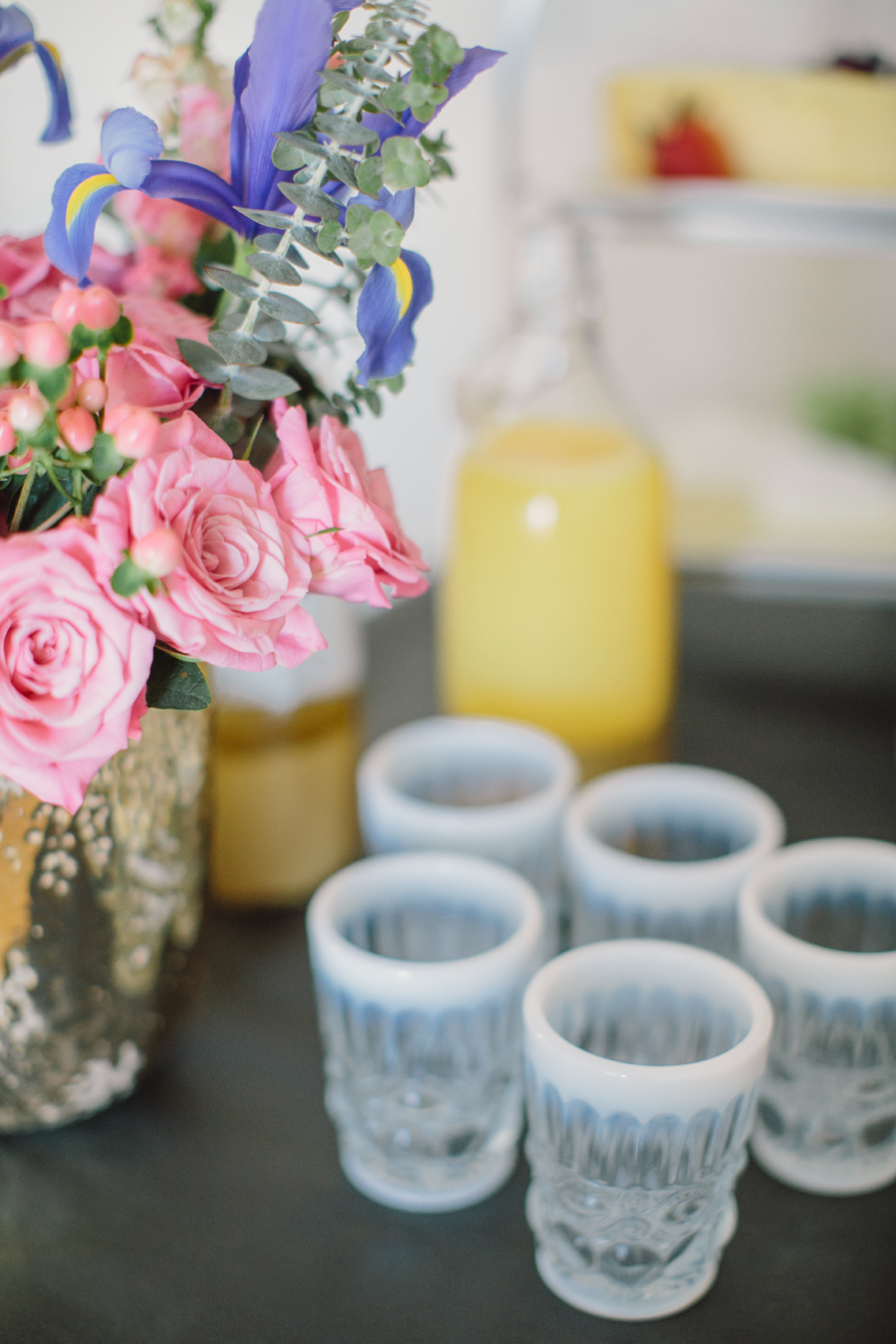 I typically have brunch on the brain.  (Mostly because of my affinity for pancakes … and carbs in general.)  And brunch doesn't need to be complicated.  I love throwing together something simple and bright, and Summer is the perfect time to play with sweet brunch settings for your family and friends.
A few months back we actually threw this little brunch (for the Style Me Pretty Living photoshoot, mostly because I can't help but feed guests, always), and it occurred to me how easily you could put together such a sweet little party.  For this brunch we went with a cheese platter (I used a two-tier dessert tray and served a soft brie, aged cheddar, parmesan, and a hard goat cheese); fresh fruit (grapes and strawberries); coffee and juice; and fresh croissants and rolls from our favorite little French bakery.  Normally I put all of this pressure on myself to bake and/or cook, but the truth is, fresh baked goods from a favorite bakery or market are always a huge hit (and save me plenty of hard work.)
In case you're wondering, those amazing baked goods are almond-filled croissants, dalmatian croissants (croissants with toasted black sesame seeds), and French tulip rolls.
I rolled out a piece of chalkboard table runner, placed stacks of dishes, cups, and napkins on the table, and threw my gold silverware into mason jars for easy serving.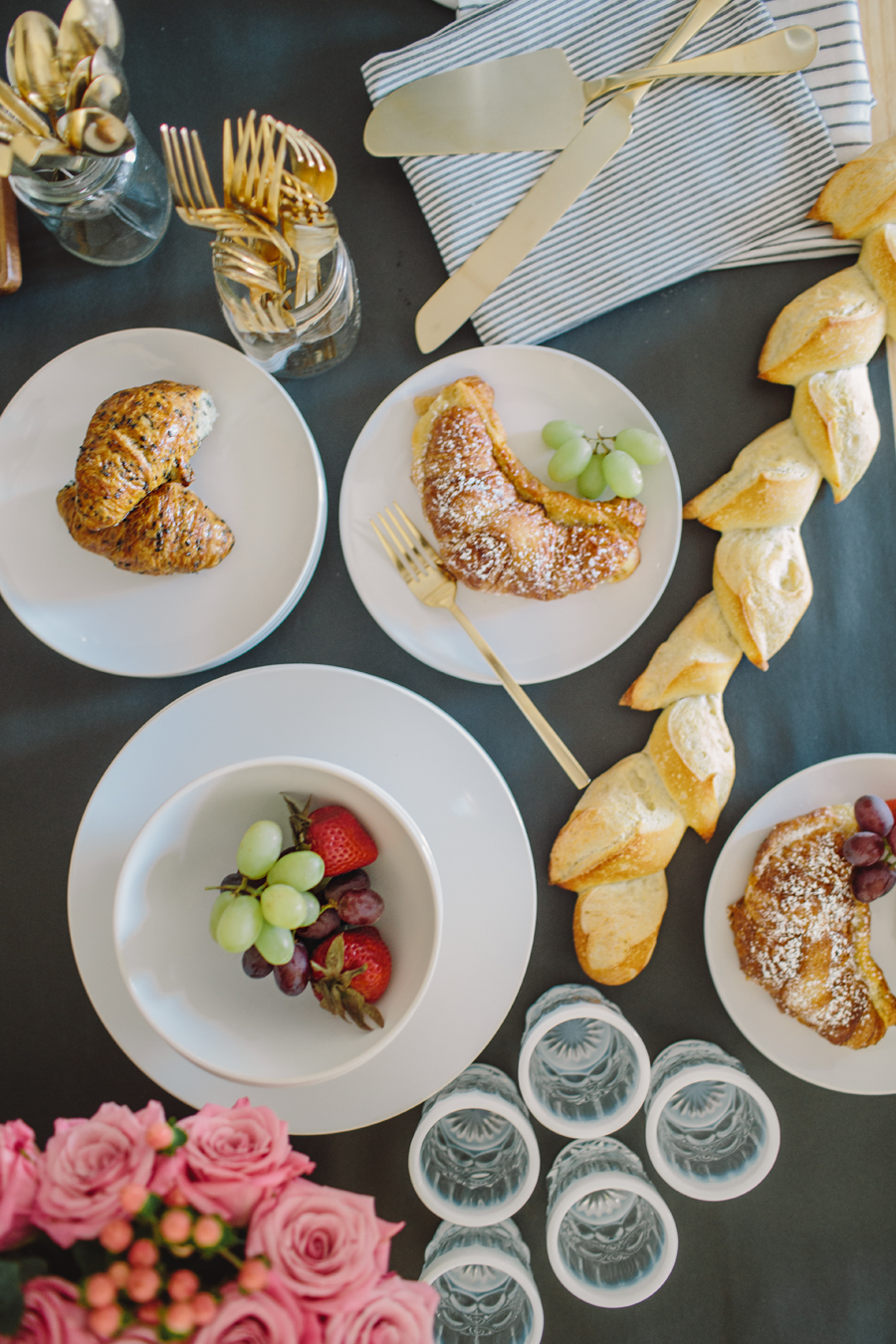 Be sure to serve plenty of good coffee, and ingredients for a breakfast cocktail (think bellini or mimosa).  Fresh flowers also go a long way for keeping things beautiful and festive.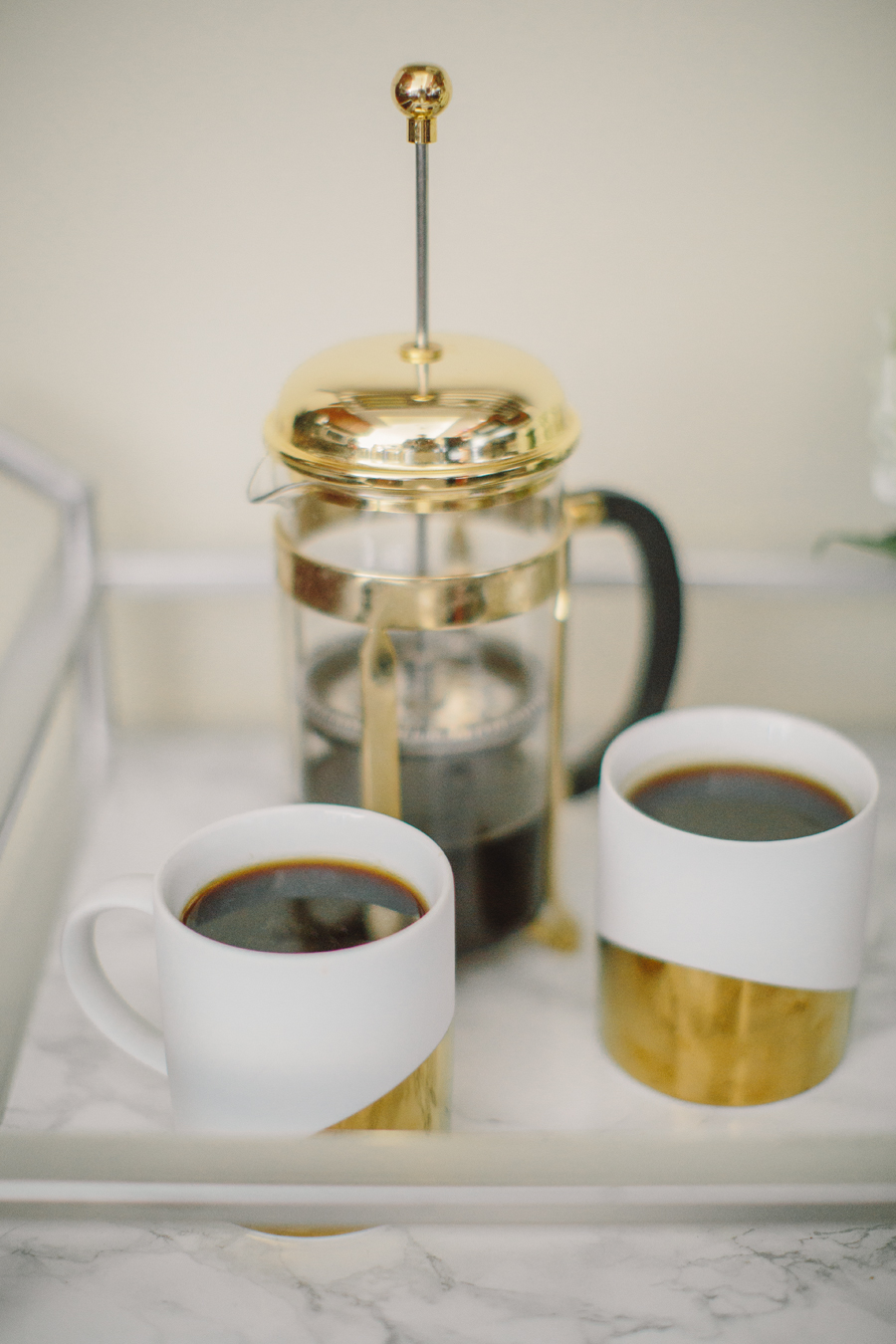 Shop the Brunch Table:  DIY Farm Table // Ghost Chairs: Local Event Chairs Vendor // Chalkboard Table Runner: Anthropologie// Metallic Crackle Flower Pot: Anthropologie // Wood Chalkboard with Ceramic Pen Holder: Target // Milk Glass Cake Stands // Opalescent Tumblers: Anthropologie // Gold-Dipped Glass Pitchers: IKEA (DIY) // White Dishware: IKEA // Gold Flatware: West Elm // Gold Cake-Serving Set: West Elm // Yarn-Dyed Striped Napkins: West Elm // Silver Bar Cart: DIY via Target // Silver Shelves: IKEA // Silver Measuring Spoons: Anthropologie // Gold-Dipped Mugs: Starbucks // Gold Coffee Press: Vintage
Photography: Jeremy Harwell | Design & Styling: Jennifer Wurtzebach of The Chic Pad & Lexi Holzberg Kritzer of Glitter, Inc.