This is a sponsored post written by me on behalf of Star Market. All opinions are 100% mine. This post contains affiliate links, which means that if you click on one of the product links, I'll receive a small commission. Thank you so much for clicking through and helping to support this little blog business of mine! Read more about our site, privacy, and disclosure policies here.
This is a sponsored post written by me on behalf of Star Market. All opinions are 100% mine.
It's football season! Celebrate by throwing an easy gameday party at home. Gather with family and watch the game with these simple BIG GAME party tips, football party decoration ideas, and the yummiest game day snacks – no cooking required – to keep your crew happy and well fed.
From kick-off day in September to the Big Game in February, football house viewing parties are all the rage throughout the fall and winter, and though tailgating may look a bit different this year, celebrating never goes out of style.
Though I'm admittedly not much of a football fanatic, I grew up in a house of football obsessed. There was always a yummy spread of food on Sundays, a whole lot of yelling and fanfare, and honestly, though I couldn't tell you who was playing on the big screen all those years, I can tell you that I grew to love Sundays.
Now that we have a little family of our own, and we're sadly so far from home here in Boston, I love the idea of carrying on the traditions that really shaped my childhood memories. Especially on bigger game days, Mike can get really into the action, and I'm always up for an excuse to throw a party.
How to Throw an Easy Gameday Party at Home
So celebrate with us and throw your own house viewing gameday party with your family this fall or winter! These tips for hosting an easy gameday party at home are sure to win over your crew.
The keys to a memorable, yet still easy to achieve, game day: the party decorations and the food presentation. Those two things set the scene for a great football party; and neither require a whole lot of work, promise!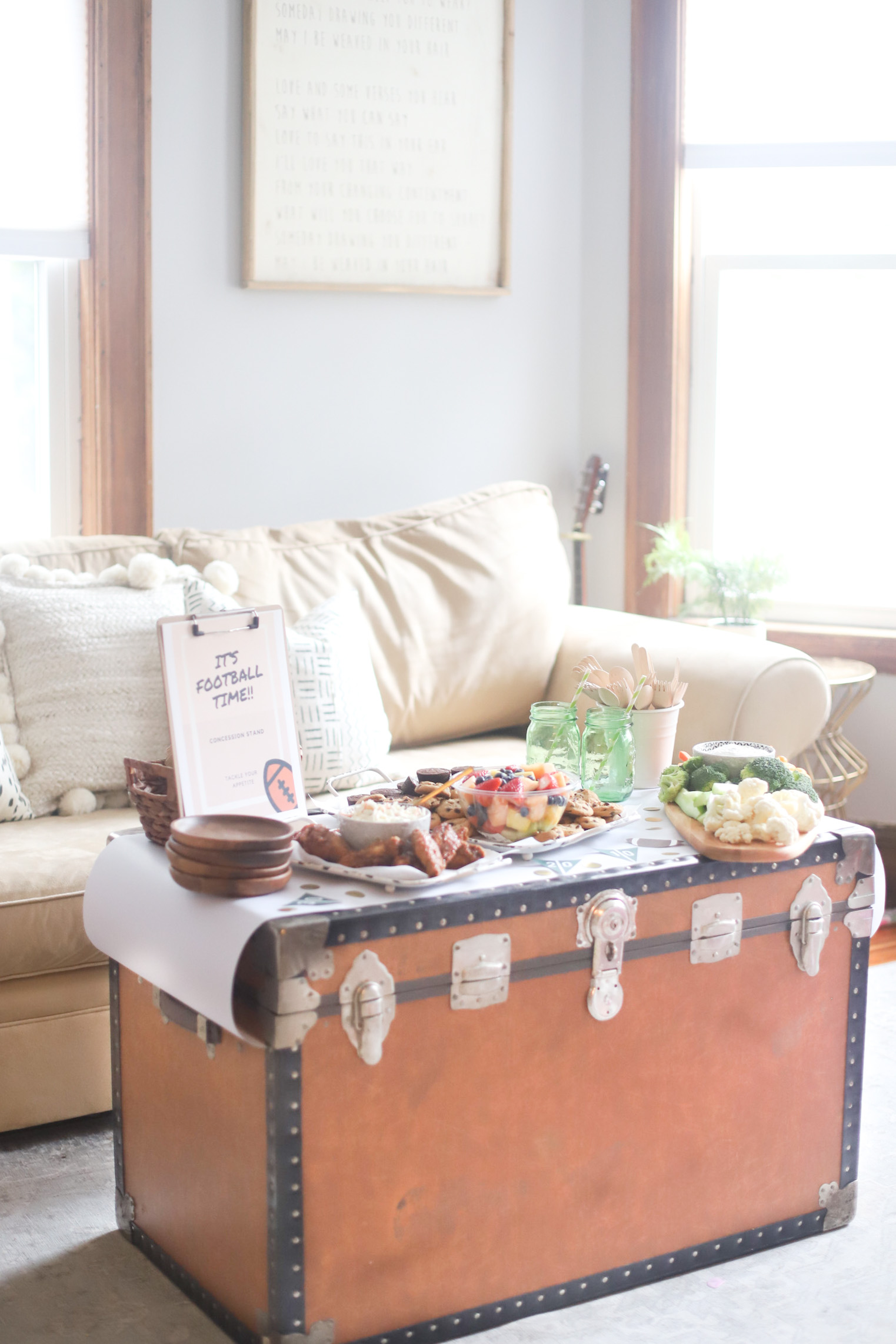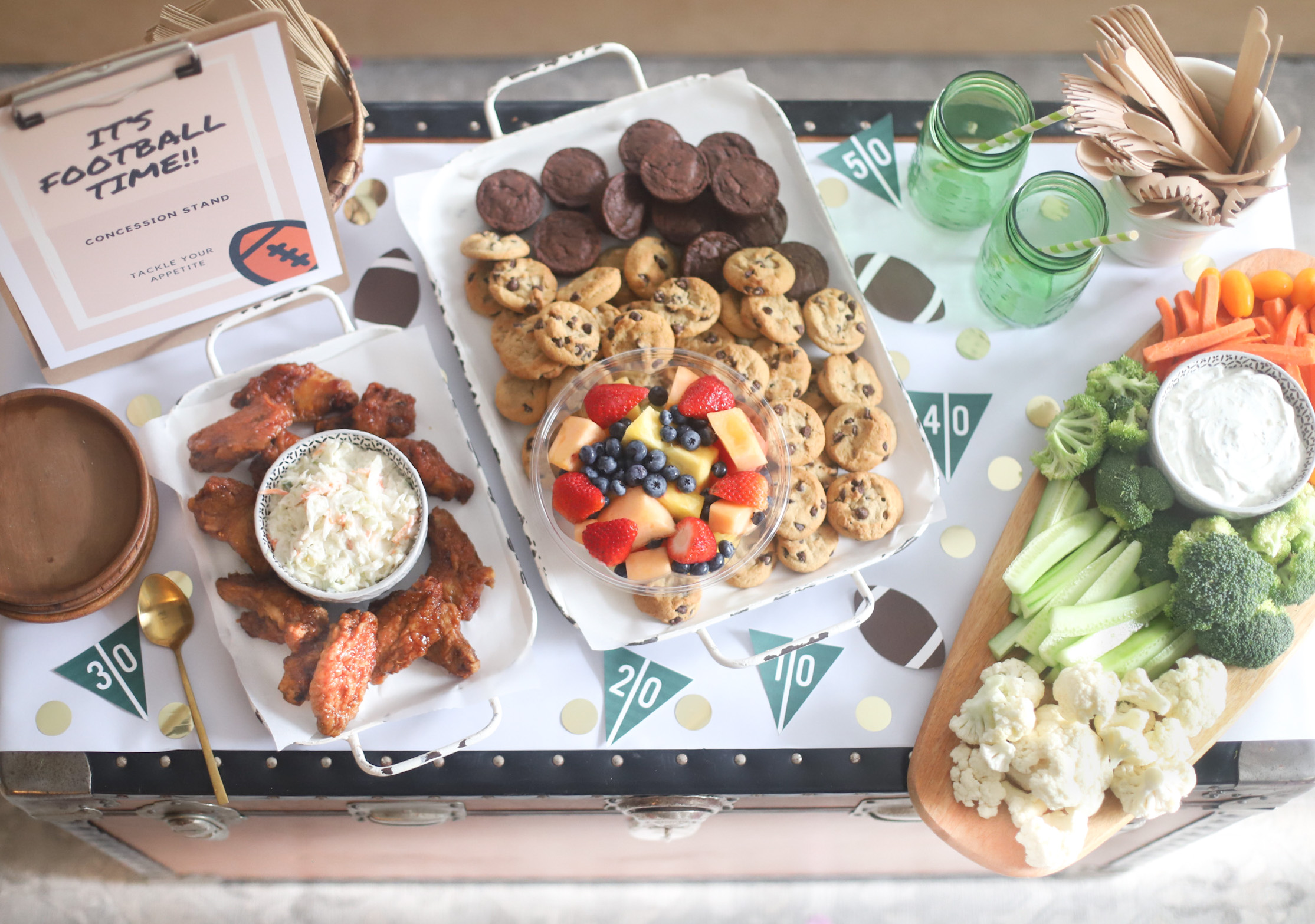 Host an Easy Gameday Party at Home:
Decorate with black and white stripes, green, pennants, footballs, etc.
No need to be team specific, just go with the football theme so that your party will coordinate with any team playing. Make a fun printable on Canva – or print the free printable below – and prop the sign up on your buffet. It's such an easy upgrade but makes a party spread look all the more adorable and intentional. (Bonus: you can use your football decorations and signs again and again, making every Sunday extra festive and fun!)
Set out paper plates, paper napkins, and plastic or wood cutlery to make cleanup even easier.
Keep the guest list small.
Though things may be different this year, keeping the festivities to just family works out just fine, since you want to be sure everyone has somewhere to comfortably sit around the TV.
Take the guesswork and stress out of planning that gameday party menu.
Every great football party spread should be chock full of food that's quick, easy, and crowd pleasing. No one wants to be preparing a meal during the big game, so go for convenience. And that's surprisingly easy to do! Head to your local Albertsons Companies family of stores (we use Star Market) the morning of the big game and hit up the deli section, bakery, and produce section. In one quick trip, you can have everything you need for the perfect party buffet: the yummiest freshly cooked chicken wings (teriyaki are a family favorite!), prepared salads like potato salad and coleslaw, freshly baked desserts like chocolate chip cookies and brownies to satisfy any sweet tooth, and freshly cut up fruit bowls.
I like to serve foods around a bowl of something to make the presentation more appealing; i.e., a big plate of chicken wings with a bowl of coleslaw at the center, piles of cookies and brownie bites around a bowl of fruit, fresh cut veggies around our favorite veggie dip, etc.
Where you can, use the bowls things come in; i.e., you can serve the fresh cut fruit right from the bowl! How convenient is that?
Set out plenty of food. The goal for a good game day spread is to serve the kind of food and game day snacks that everyone can munch on throughout the game. You can always replenish things mid-way through the game, and anything leftover makes for great snacking the next day.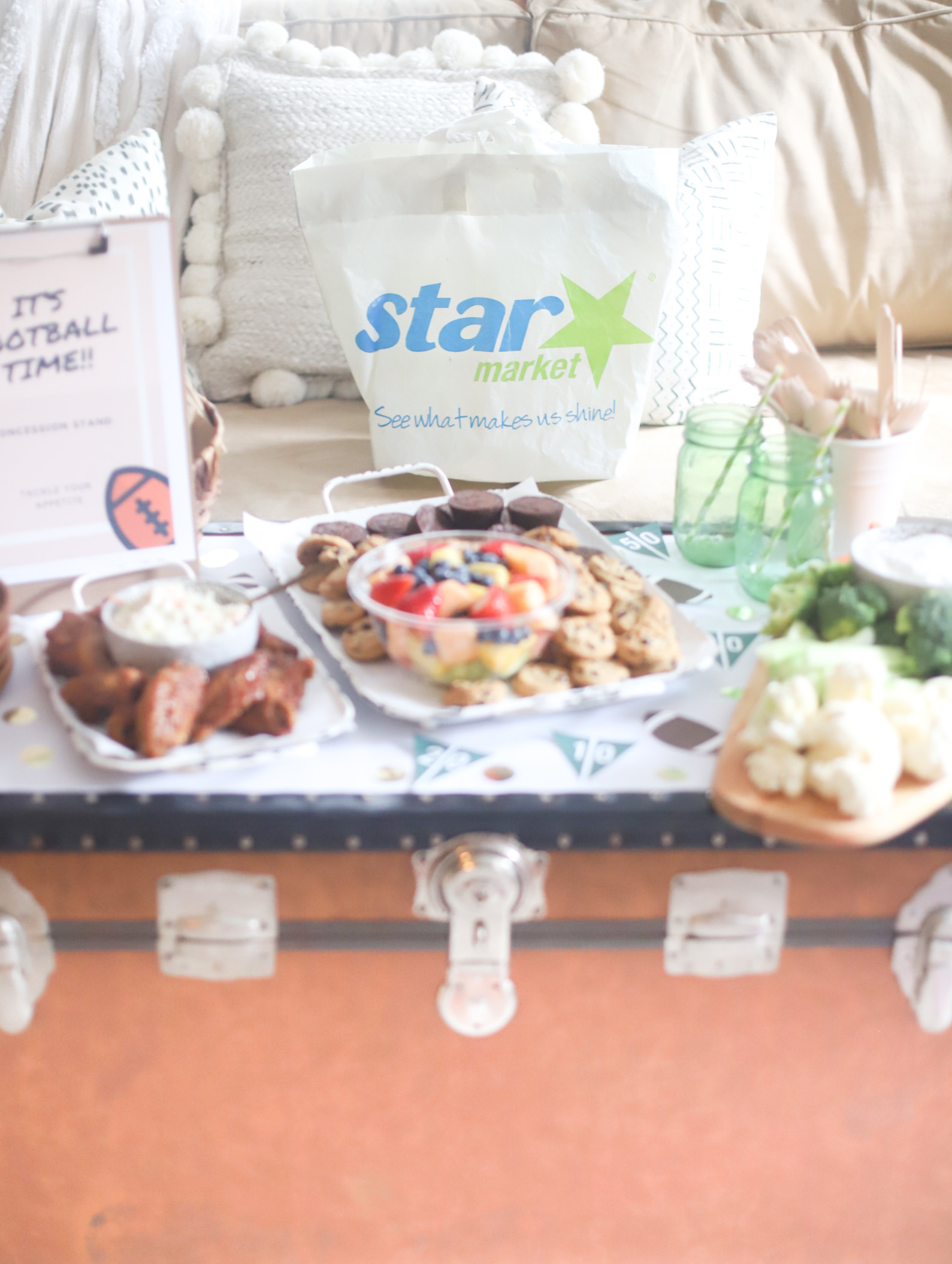 Star Market
However you're planning on watching sporting events this year, Star Market has got you covered with their made in-store chicken wings, freshly prepared deli salads, bakery treats, and fresh cut fruit bowls.
Find the yummiest deli, bakery, and produce gameday offerings at your local Star Market. (We shop at our Star Market here in Boston; their deli and bakery sections seriously take the stress out of what to serve at a party.)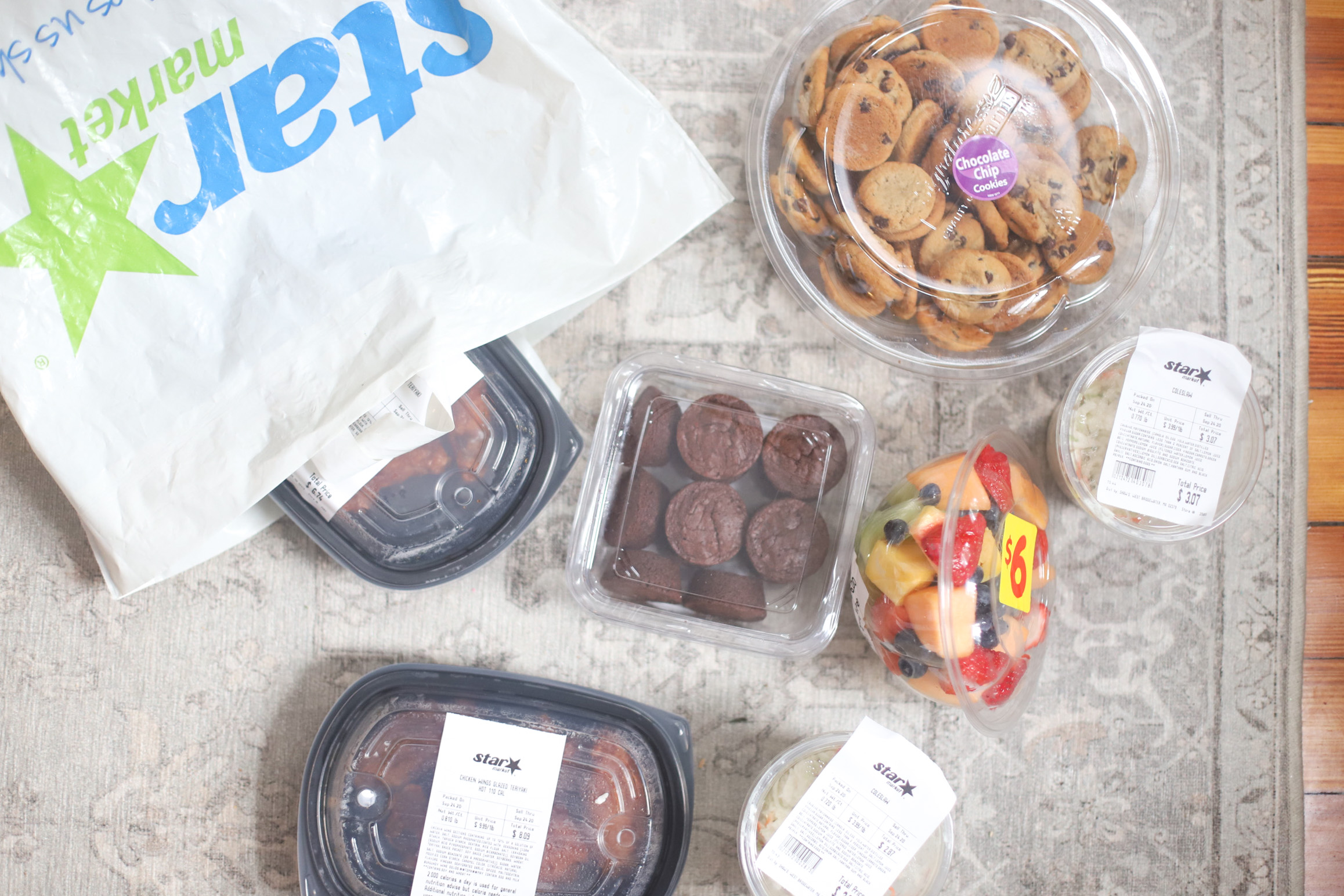 And did I mention Star Market offers Grocery Delivery and Pick Up for convenient ways to shop? SO convenient. Of course I shopped at Star Market in my local area, but you can also find O Organics® products exclusively at the Albertsons Companies family of stores, including Albertsons, Safeway, ACME Markets, Jewel-Osco, Vons, Randalls, Shaw's Supermarket, Star Market, and Tom Thumb.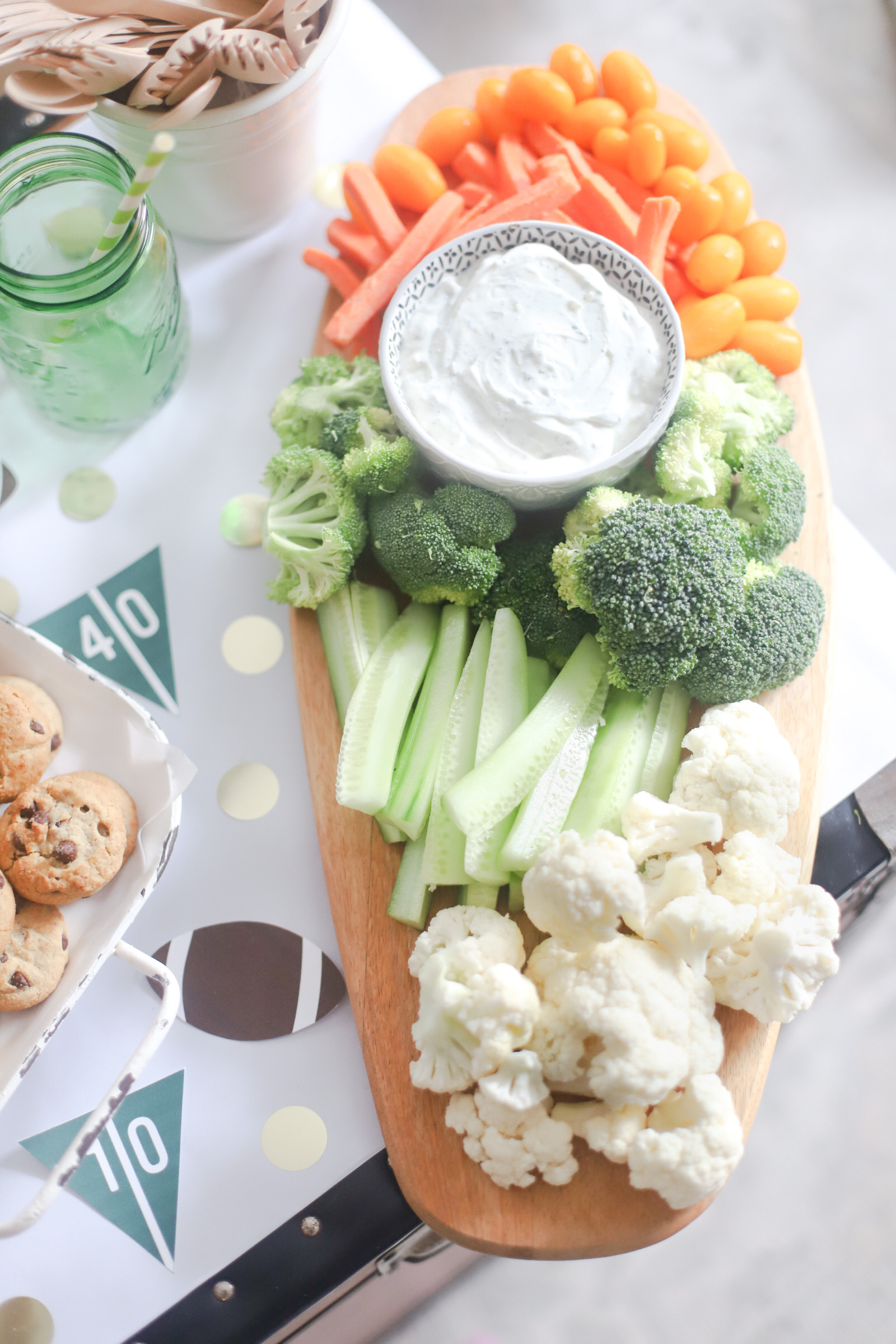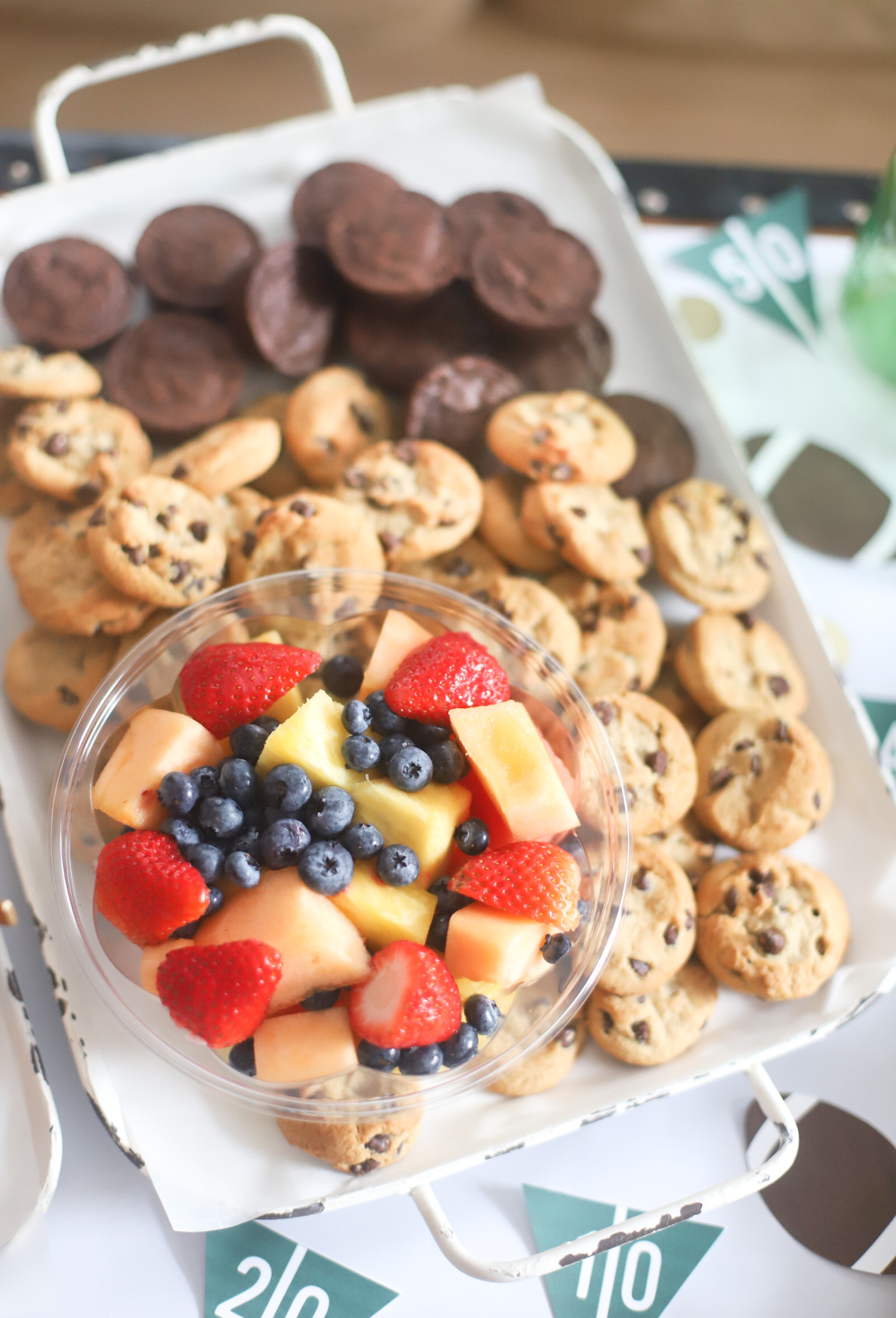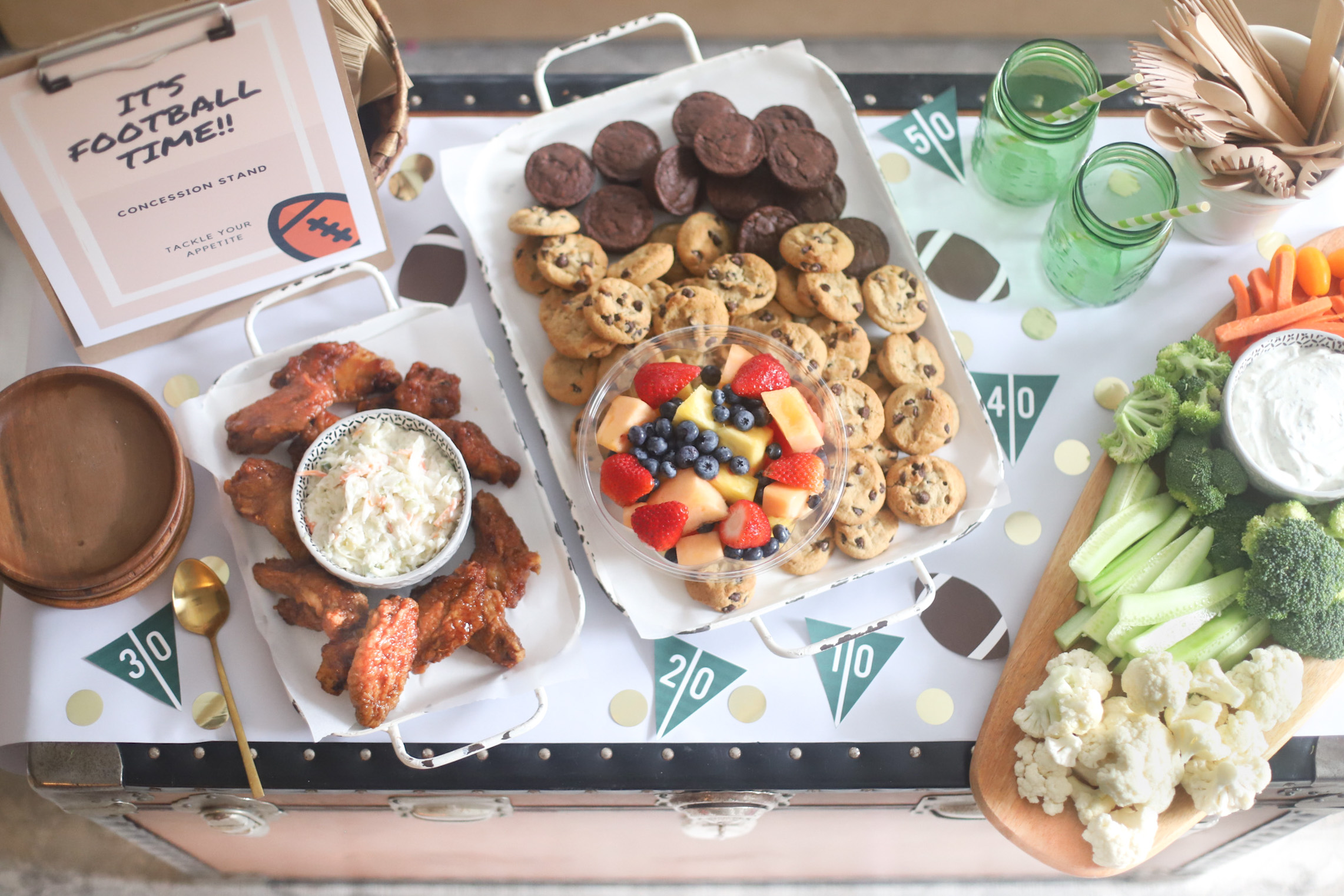 Our Gameday Party Menu
freshly made chicken wings
fresh coleslaw
cut up vegetables and dip (you can also add in chips or pretzels)
fresh cut fruit
chocolate chip cookies
brownie bites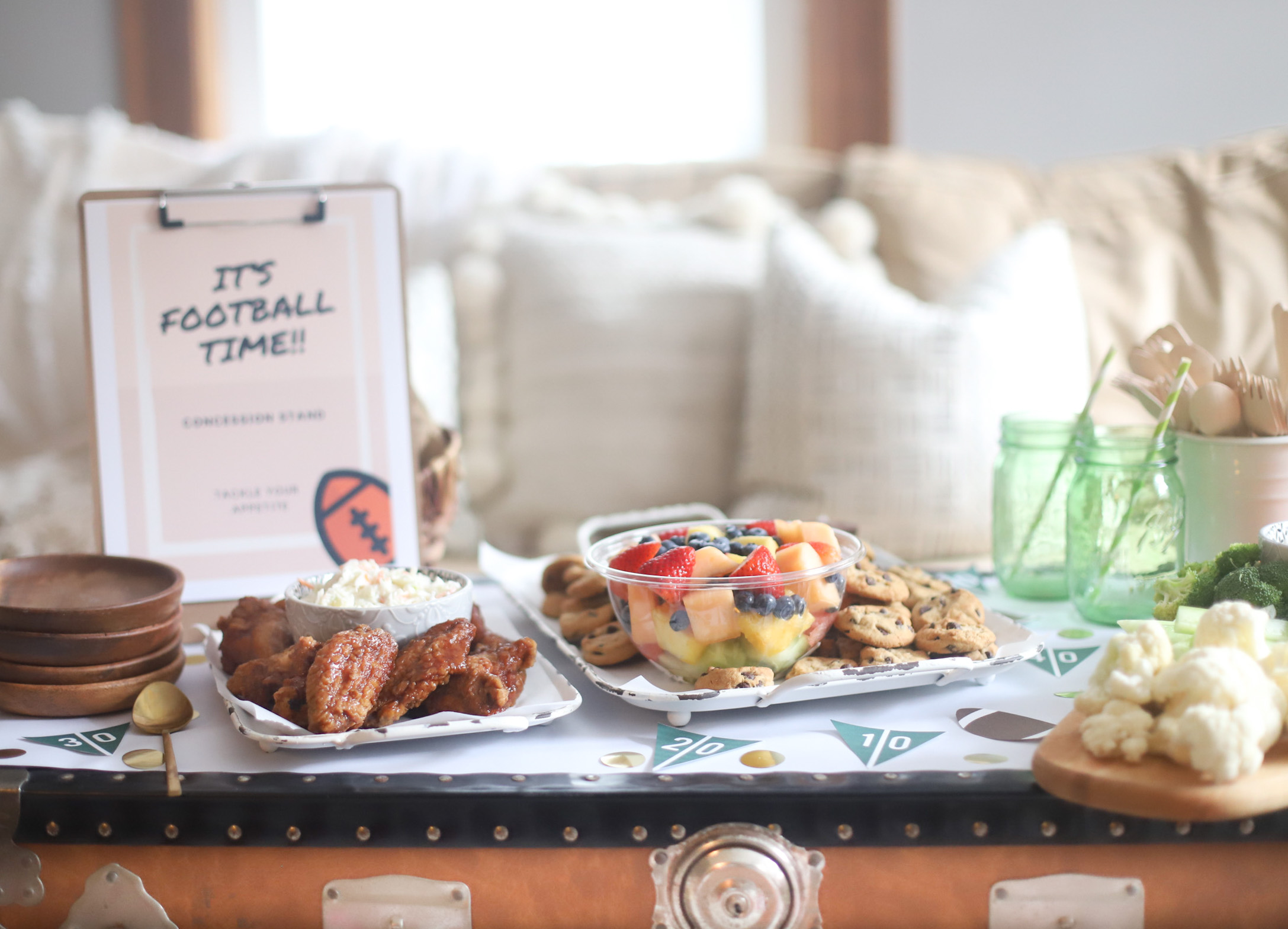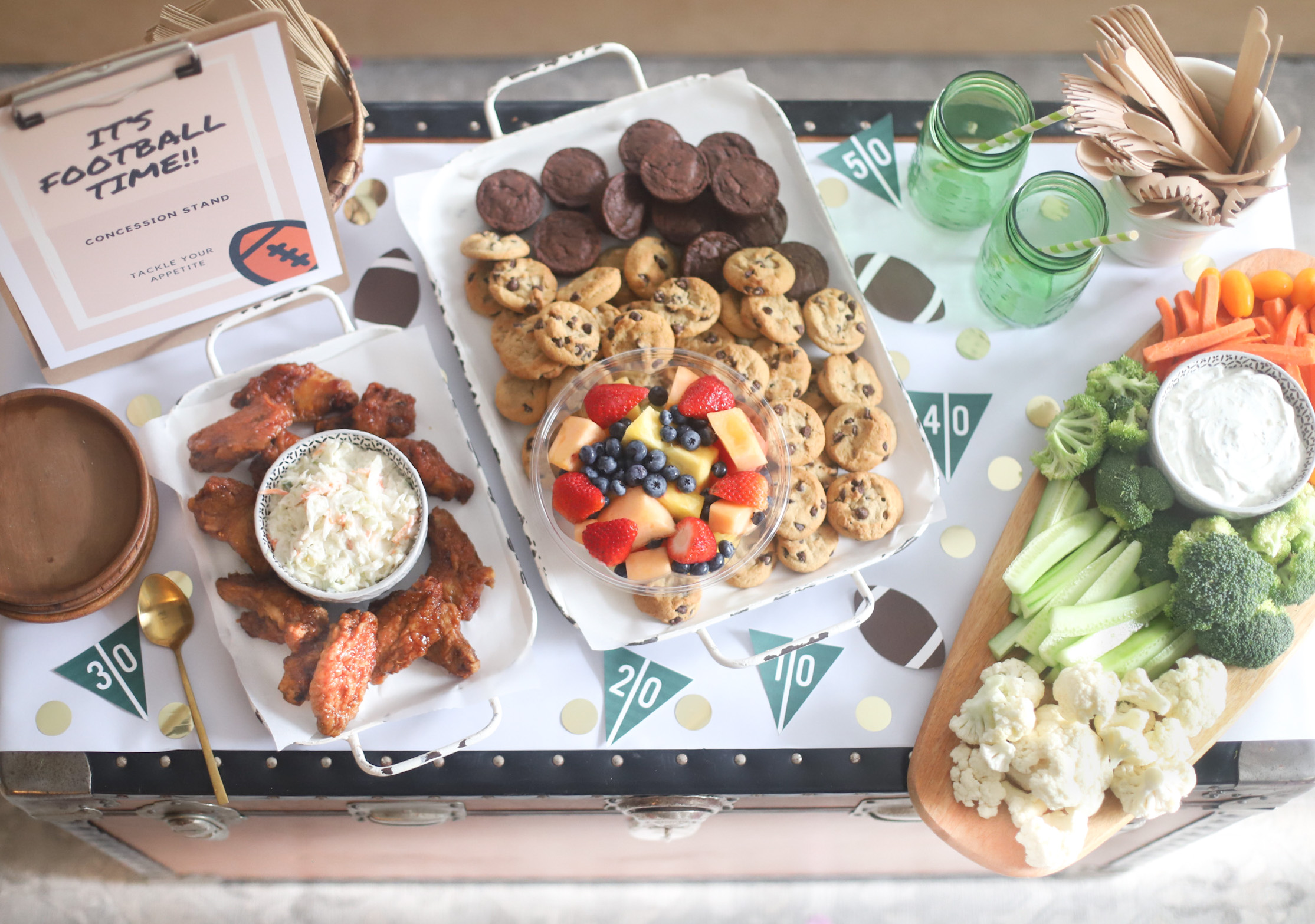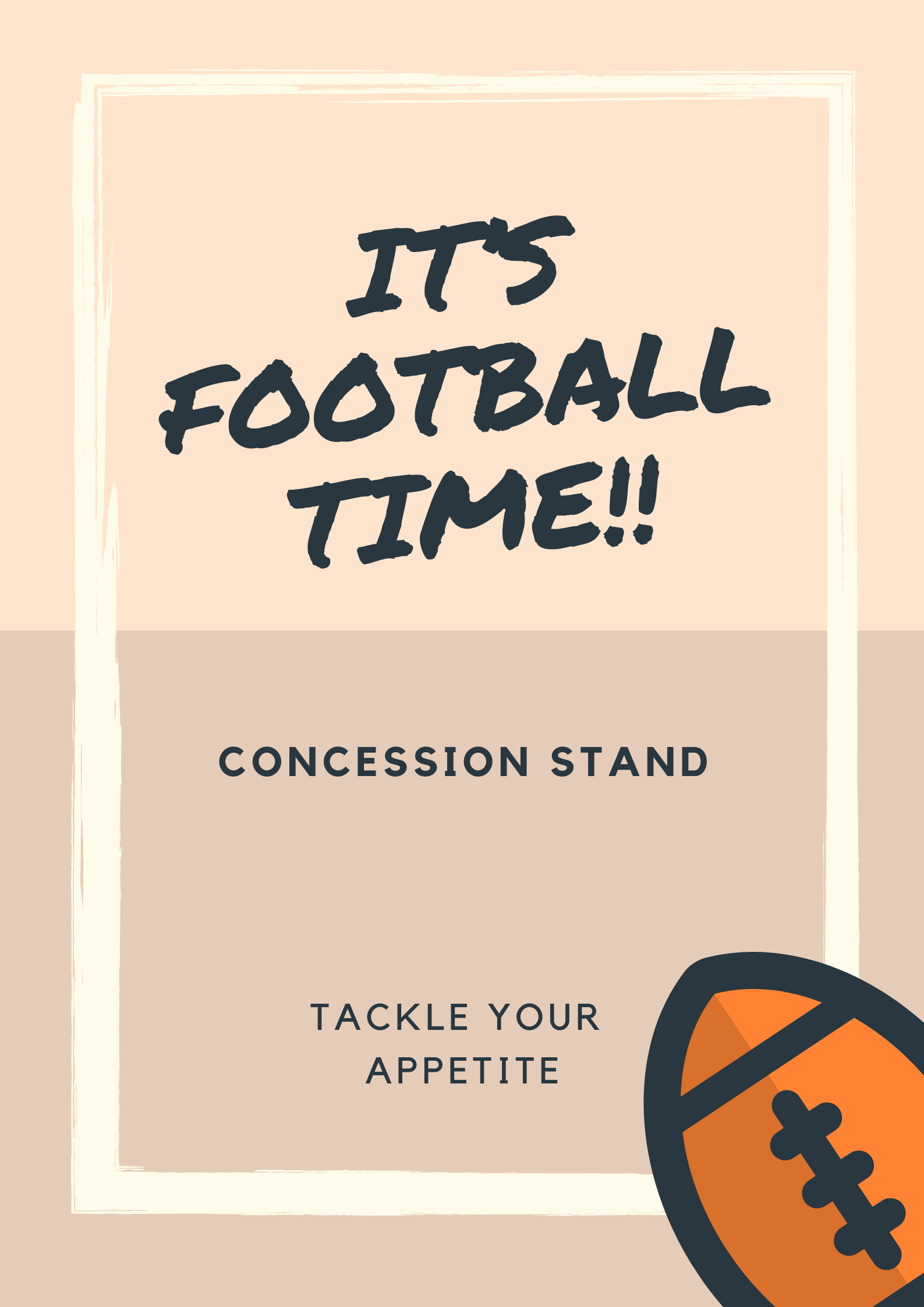 Gameday Party Buffet Printable
Print the above gameday sign on cardstock paper and put it in a clipboard displayed on your buffet table, for the cutest invitation to dive in!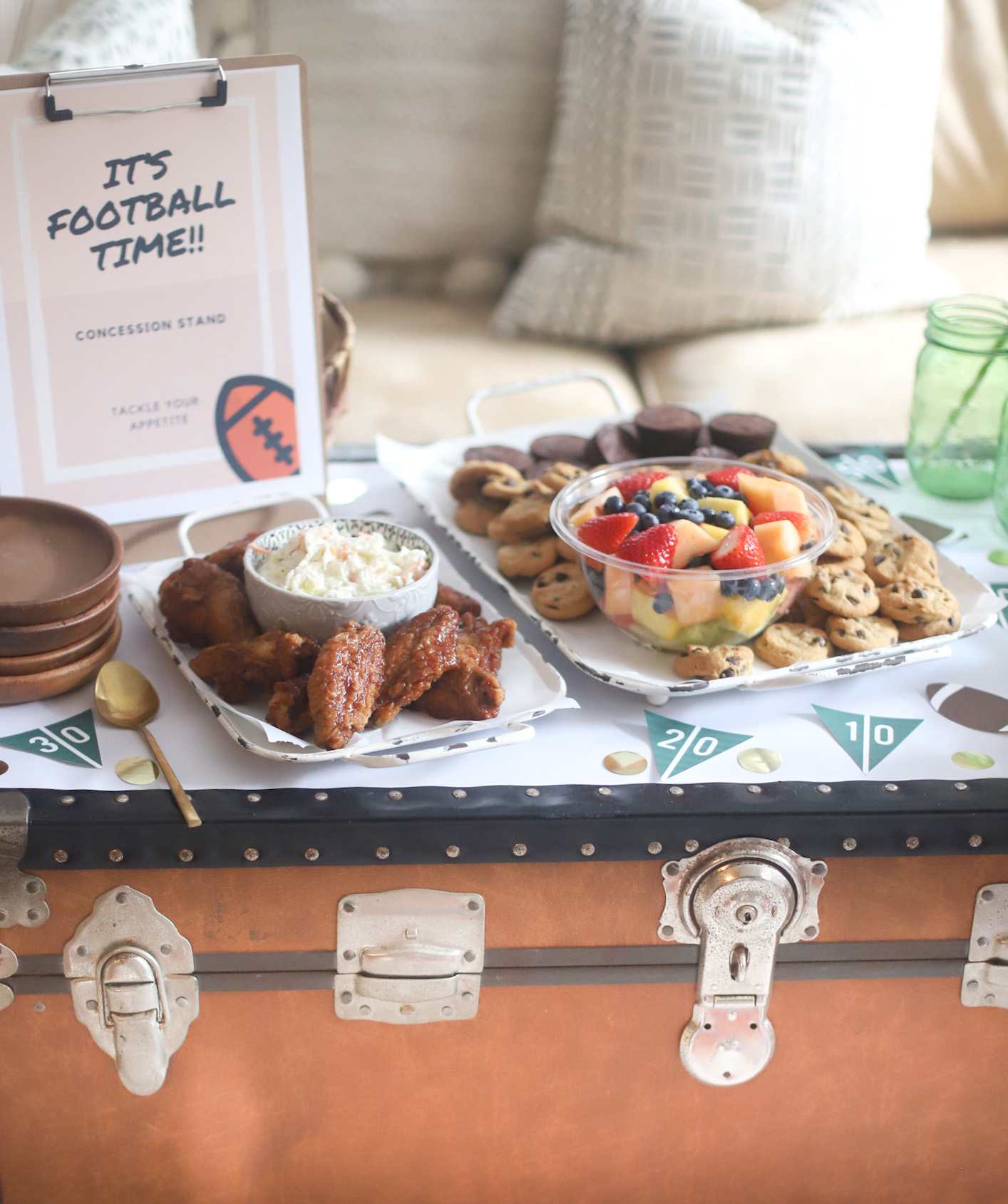 Does your family celebrate on football sundays? Do you have your own gameday spreads?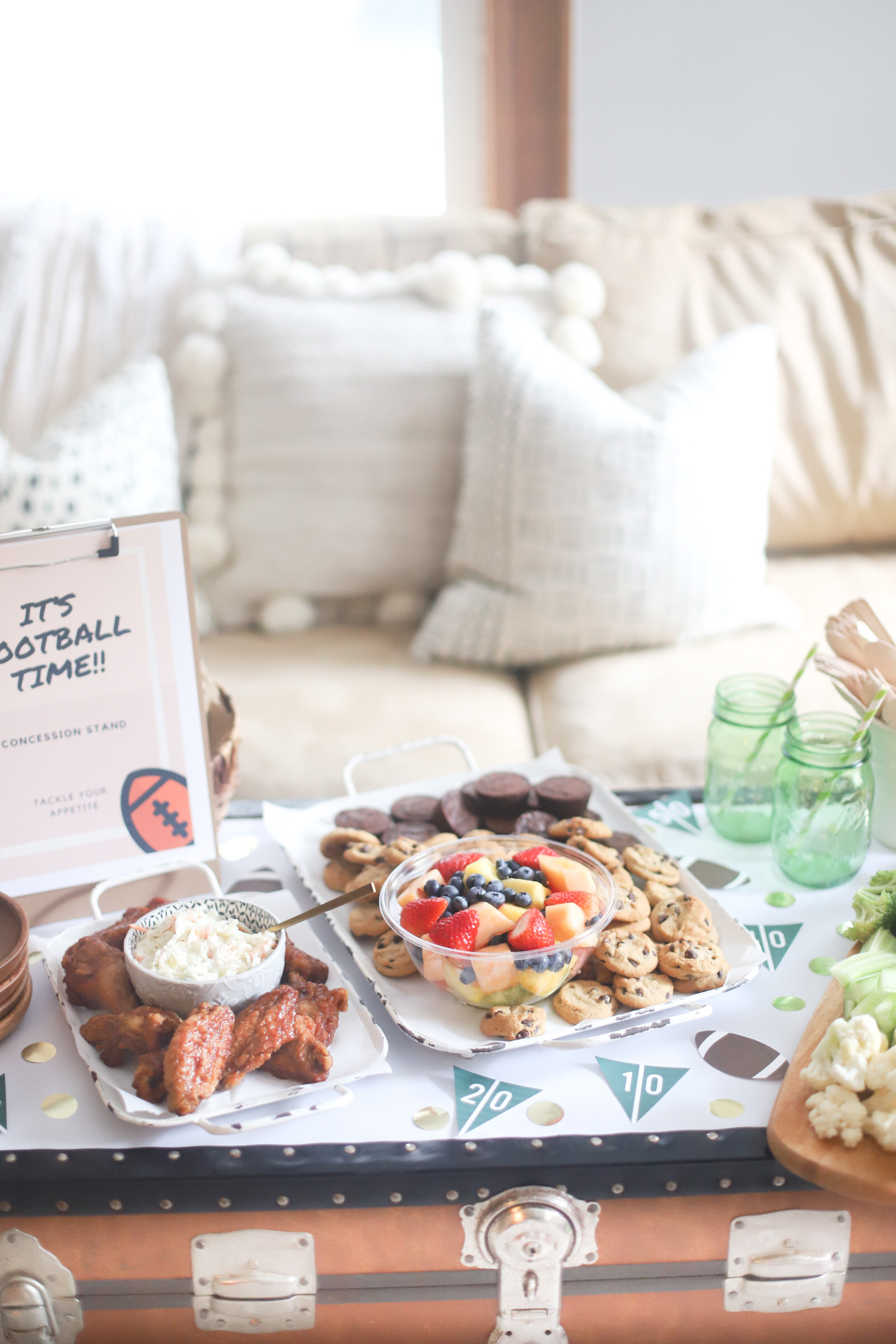 Love this gameday party? Check out all of our celebrations here; and if you put together your own at-home football bash, be sure to tag me on social media (@glitterinclexi) so I can live vicariously through all of your festive fun!