This post is sponsored by BUBBA burger. This post contains affiliate links, which means that if you click on one of the product links, I'll receive a small commission. Additionally, as an Amazon Associate I earn from qualifying purchases. Thank you so much for clicking through and helping to support this little blog business of mine! Read more about our site, privacy, and disclosure policies here.
I love a low-key backyard (or in our case, back porch) summer party; and a 4th of July BBQ might be my favorite easy summer celebration of all.
Because we live in the city, making the most of our little outdoor space – especially in the summer months – is key. The last few summers we've spent so much time on our back deck, and now that the weather is warming up here in Boston, I knew going into the 4th of July, I wanted to clean up our outdoor space and style it up for a low-key summer party.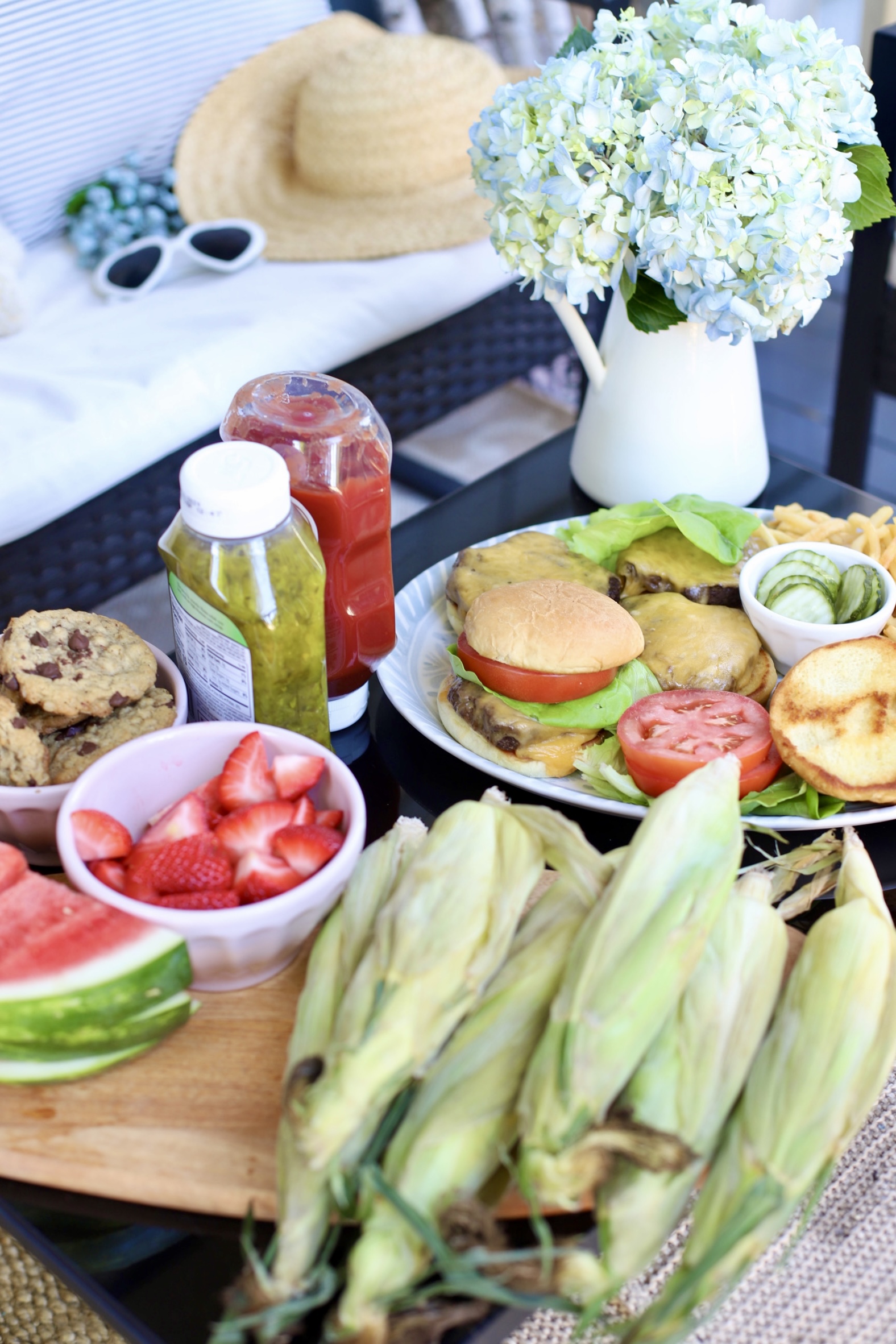 How to Throw a Low-Key Backyard 4th of July BBQ
Summer parties, and backyard barbecues in particular, are great because a huge part of their beauty is in the simplicity: grilling outside, easy sides, fresh fruit for dessert, and you've got yourself a party!
Cozy seating, a few rows of string lights, fresh flowers, bubbles for the kids, and of course, BUBBA burgers and watermelon, made our patriotic festivities just perfect.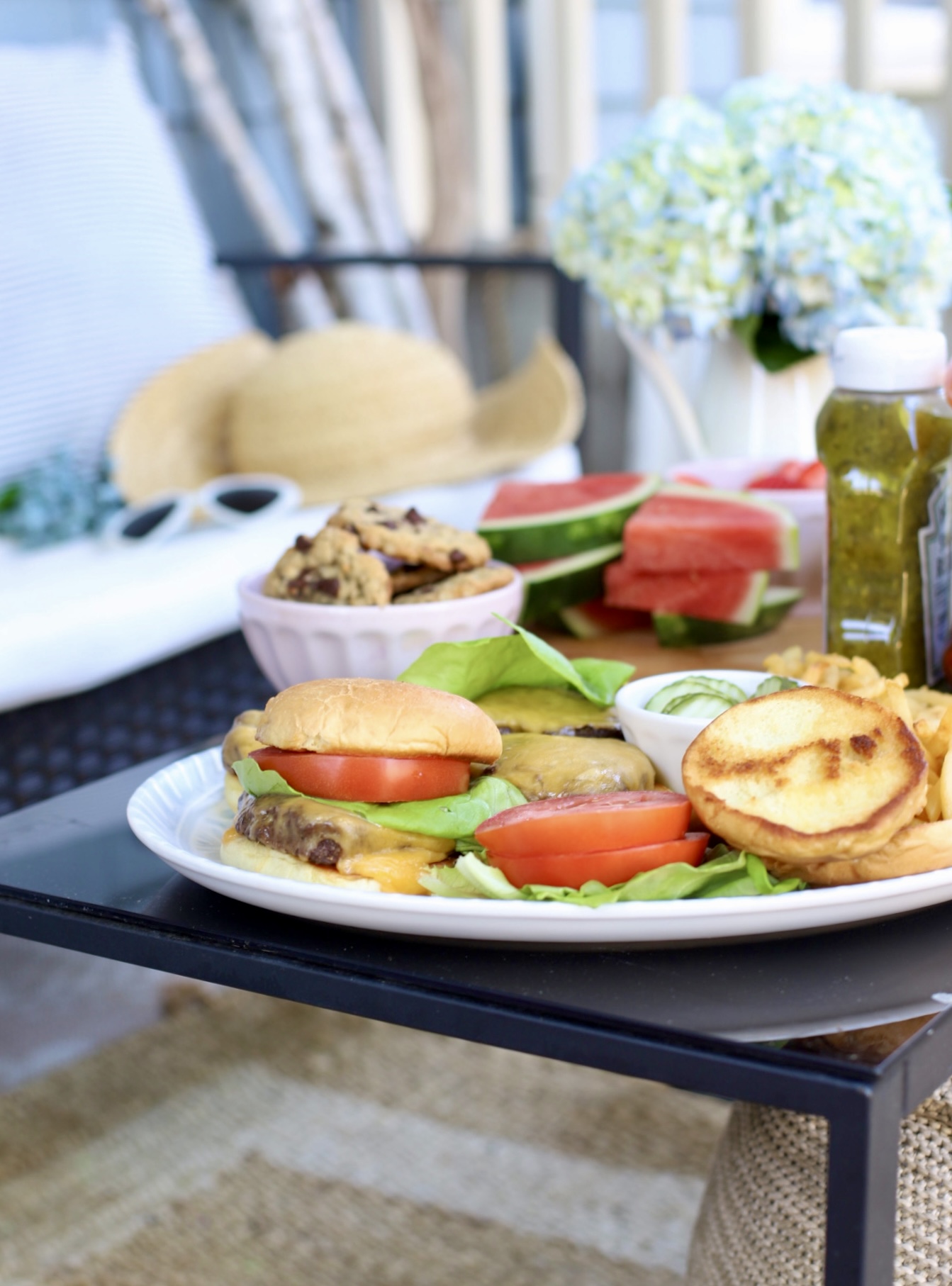 Easy Backyard 4th of July BBQ Menu
BUBBA burgers: The centerpiece of an easy BBQ: delicious, juicy burgers, made extra easy thanks to BUBBA burgers. We always tend to keep a box of BUBBA burgers in our freezer for quick meals that don't give up on quality; especially in the summertime months when the kids are all for random weekend barbecues.
For our low-key backyard 4th of July BBQ, we went with cheeseburgers, grilling our burgers first and then adding a thick slice of cheddar cheese on top for the last few minutes of grilling to get that melty cheese top. We served our cheeseburgers with lettuce, sliced tomatoes, sliced pickles, and ketchup and relish on the side.
BUBBA burgers are made with 100% USDA Choice Chuck; no fillers, no artificial ingredients, and no preservatives – and you can just cook your burgers straight from the freezer on the grill or in a skillet (I like to use a cast iron skillet for burgers when I'm using the stove top). BUBBA burgers are ready in about 10 minutes – and taste so darn delicious! Find your favorite BUBBA burger near you.
French Fries: I just tossed a bag of our favorite frozen shoestring french fries in the air fryer, and voilà: easy french fries at home. If you want to simplify things even more, a bowl or two of your favorite potato chips are always a good idea for a BBQ.
Corn on the Cob: I love steaming or grilling fresh corn right in their husks during the summer months. All three of our girls are obsessed with fresh summer corn, and it's such an easy side dish for any BBQ.
Fresh Fruit: Cut up strawberries and thick slices of watermelon made for very happy kids.
Cookies: We also baked up a quick batch of our favorite chewy oatmeal chocolate chunk cookies, because, why not?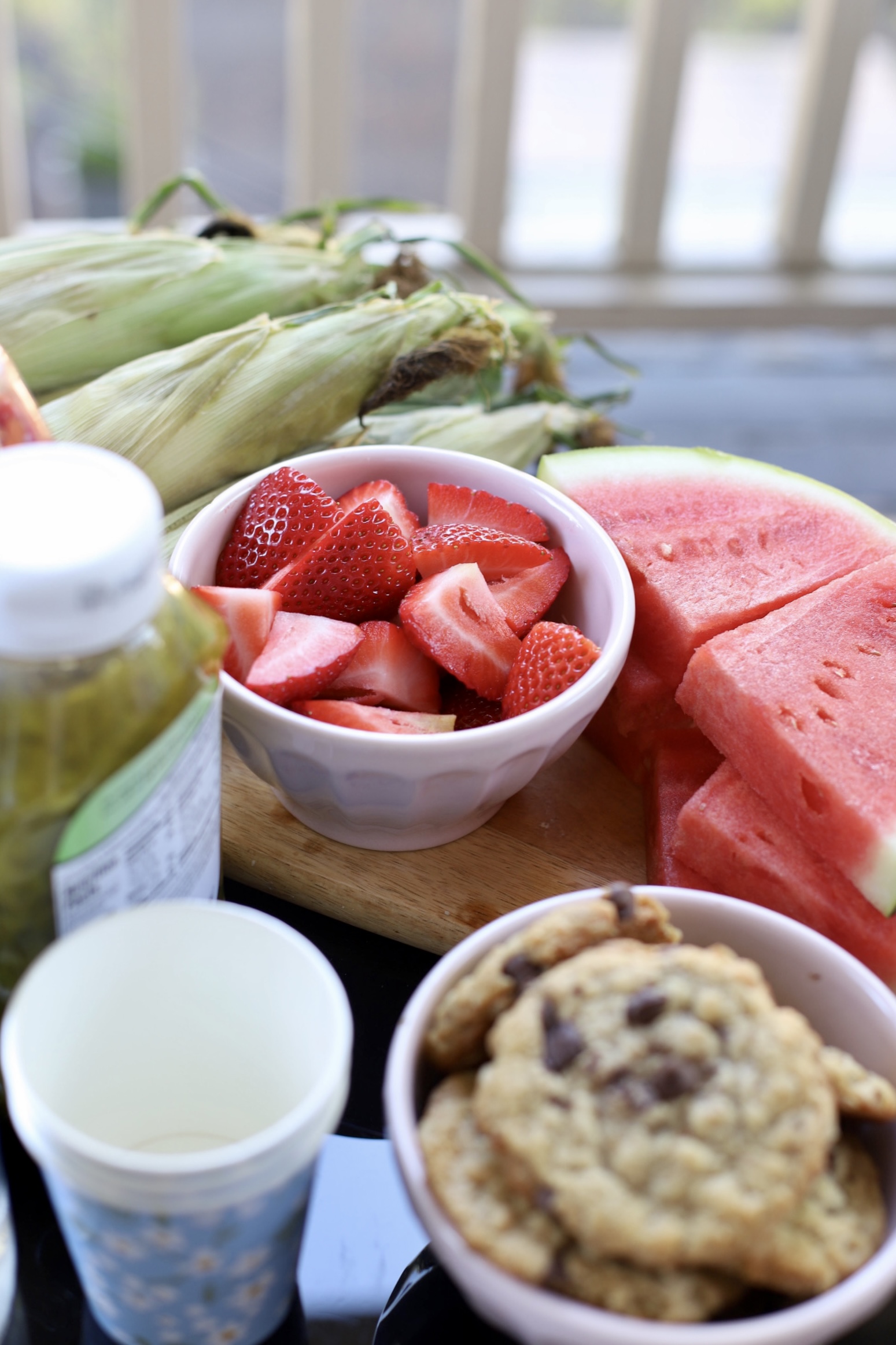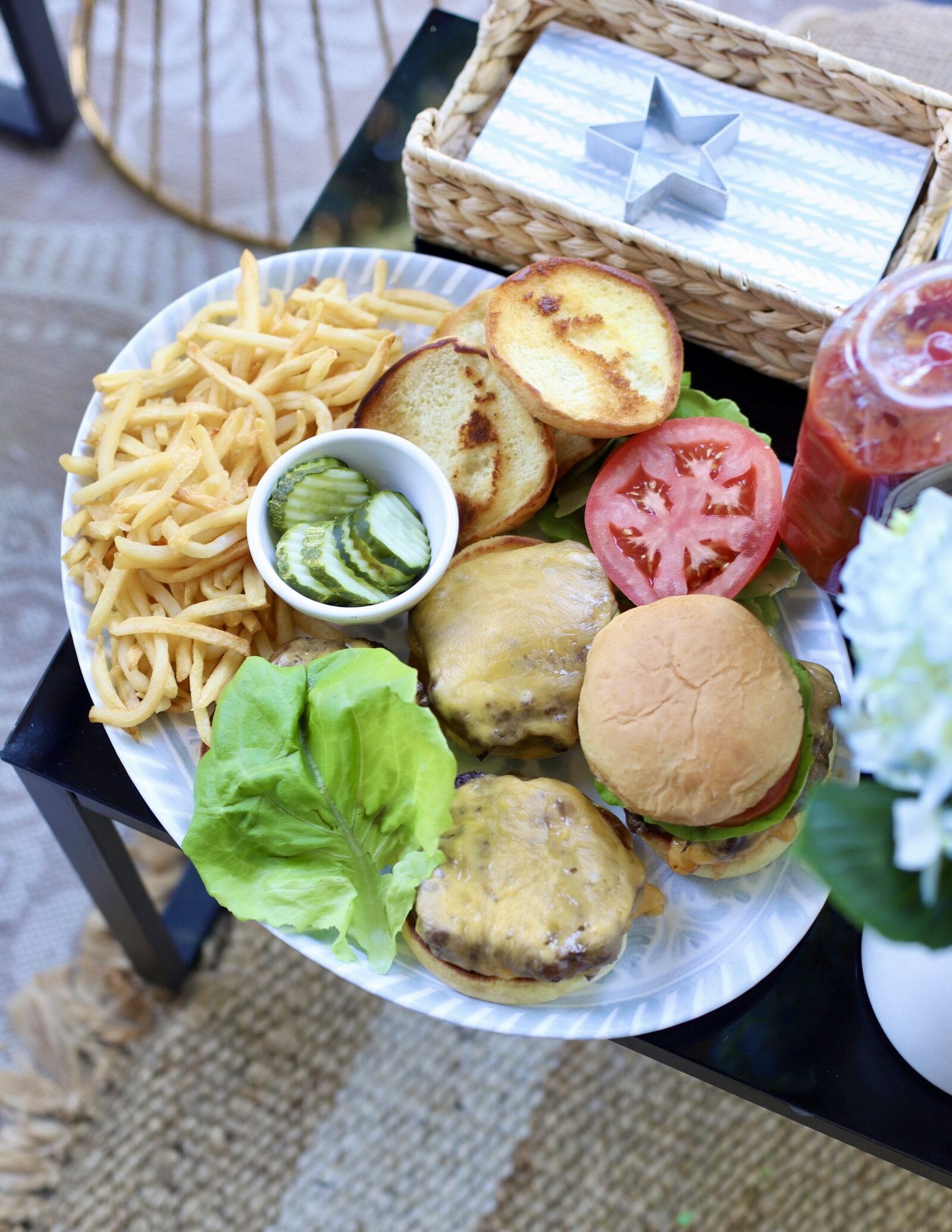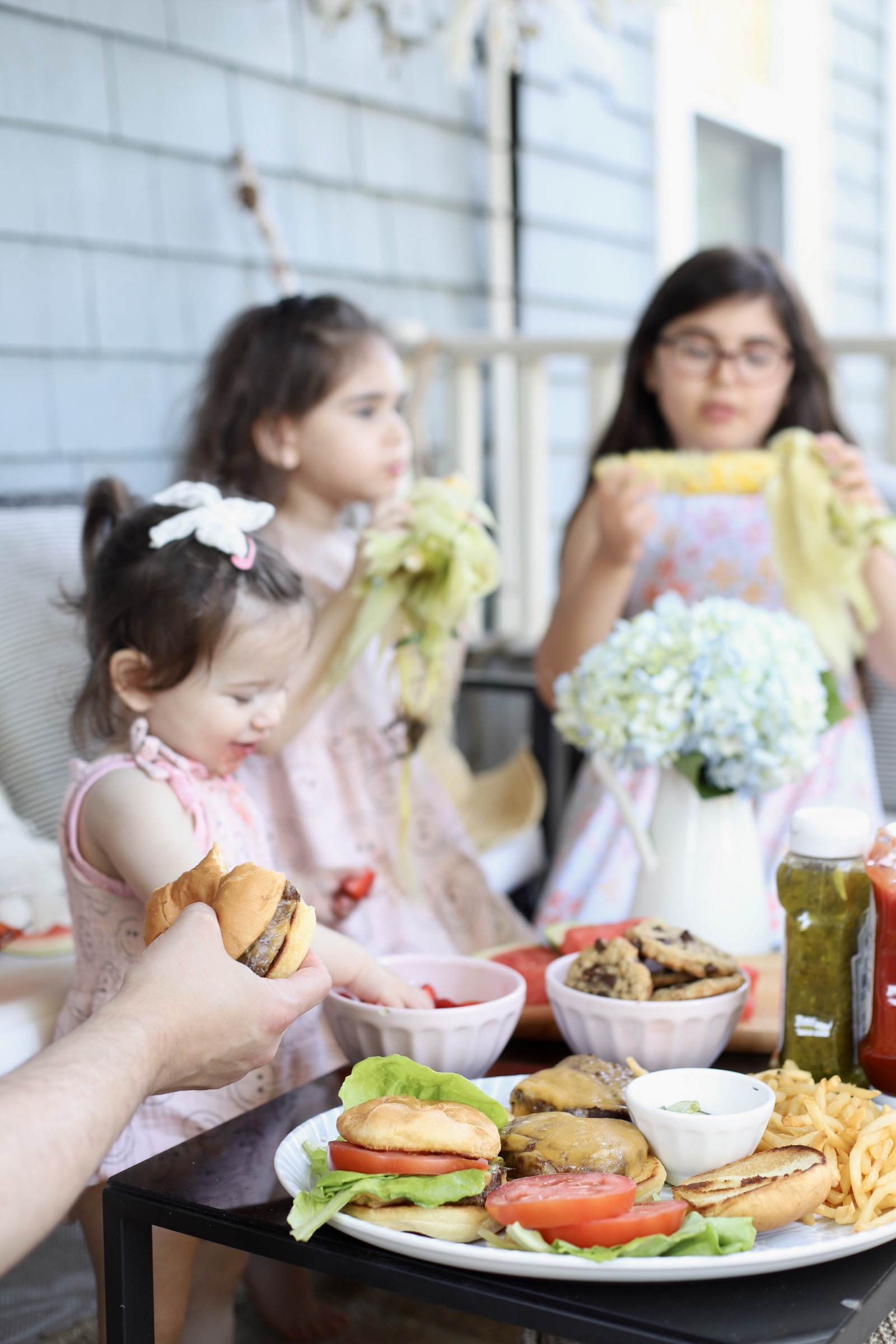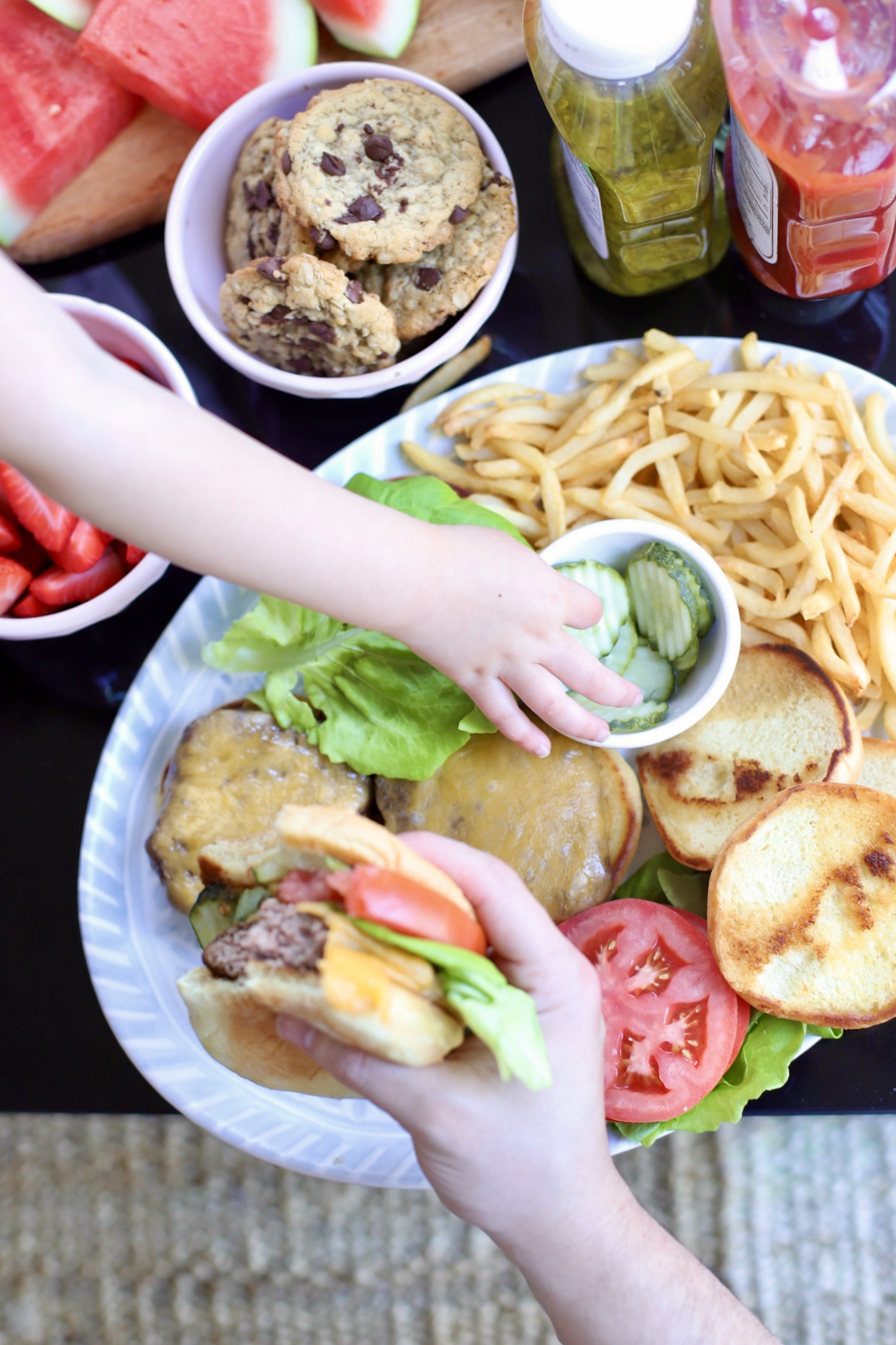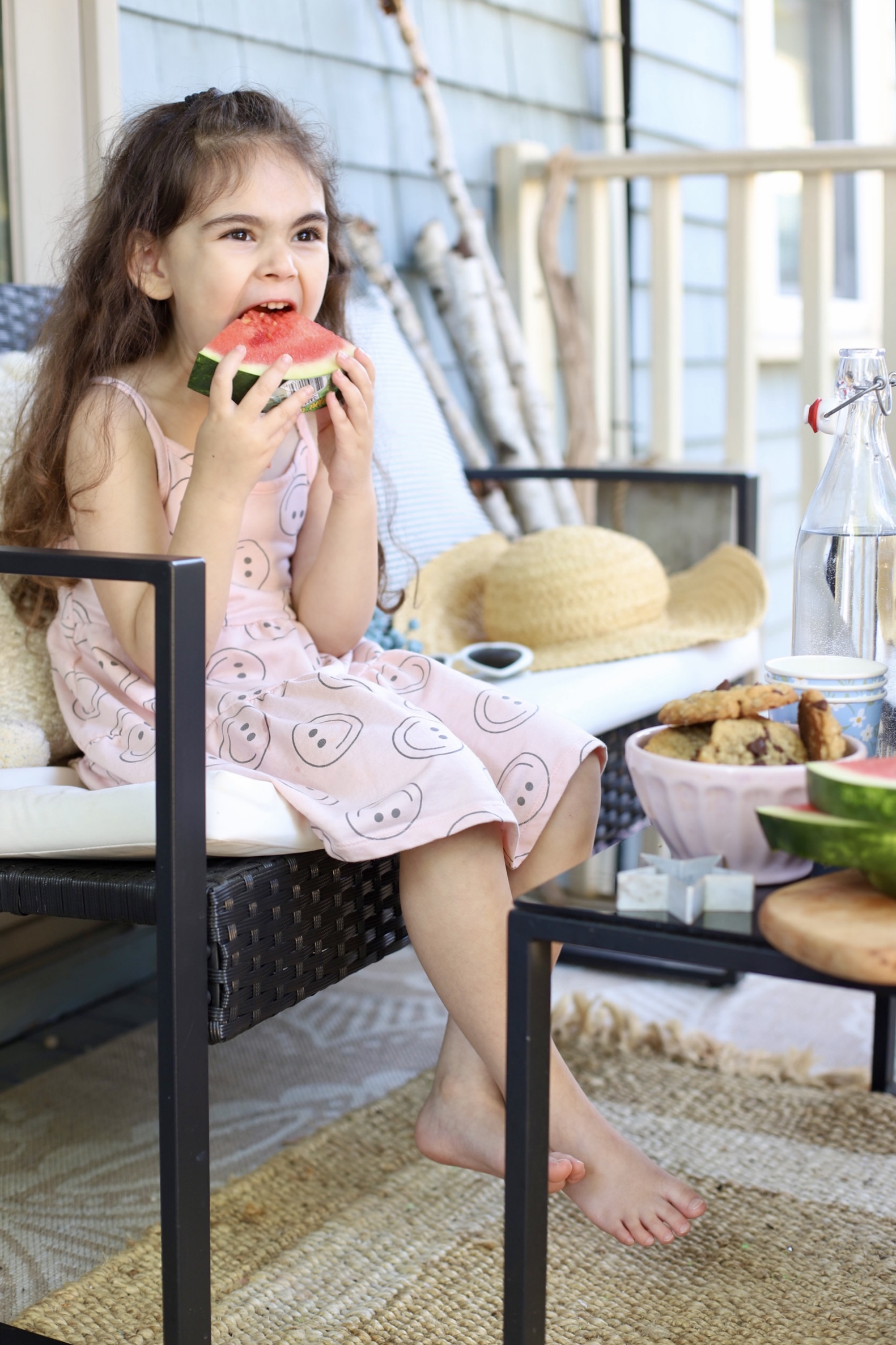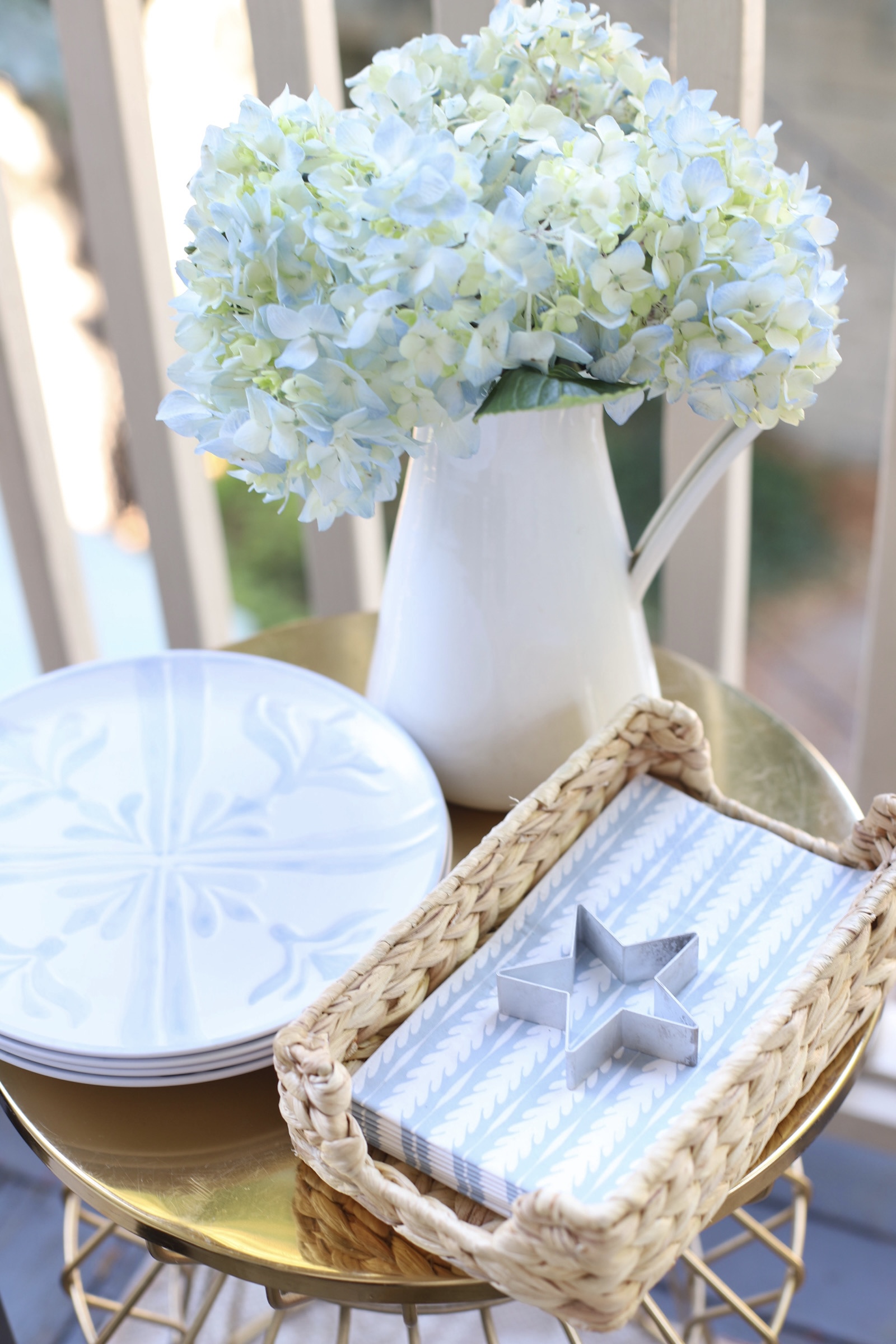 Backyard 4th of July BBQ Décor
For our backyard 4th of July BBQ, I kept the look super simple and really leaned into that classic blue and white look.
A freshened up back porch styled with a few layered outdoor rugs and our patio set, a couple of throw pillows and an oversized pouf for added comfort, bubbles for the kids, the blue and white melamine dishes and serving platter that I'm obsessed with (and I swear make everything I serve look just a touch more beautiful), cups, pitchers, pretty blue napkins, and fresh flowers; all styled for simple summer ease.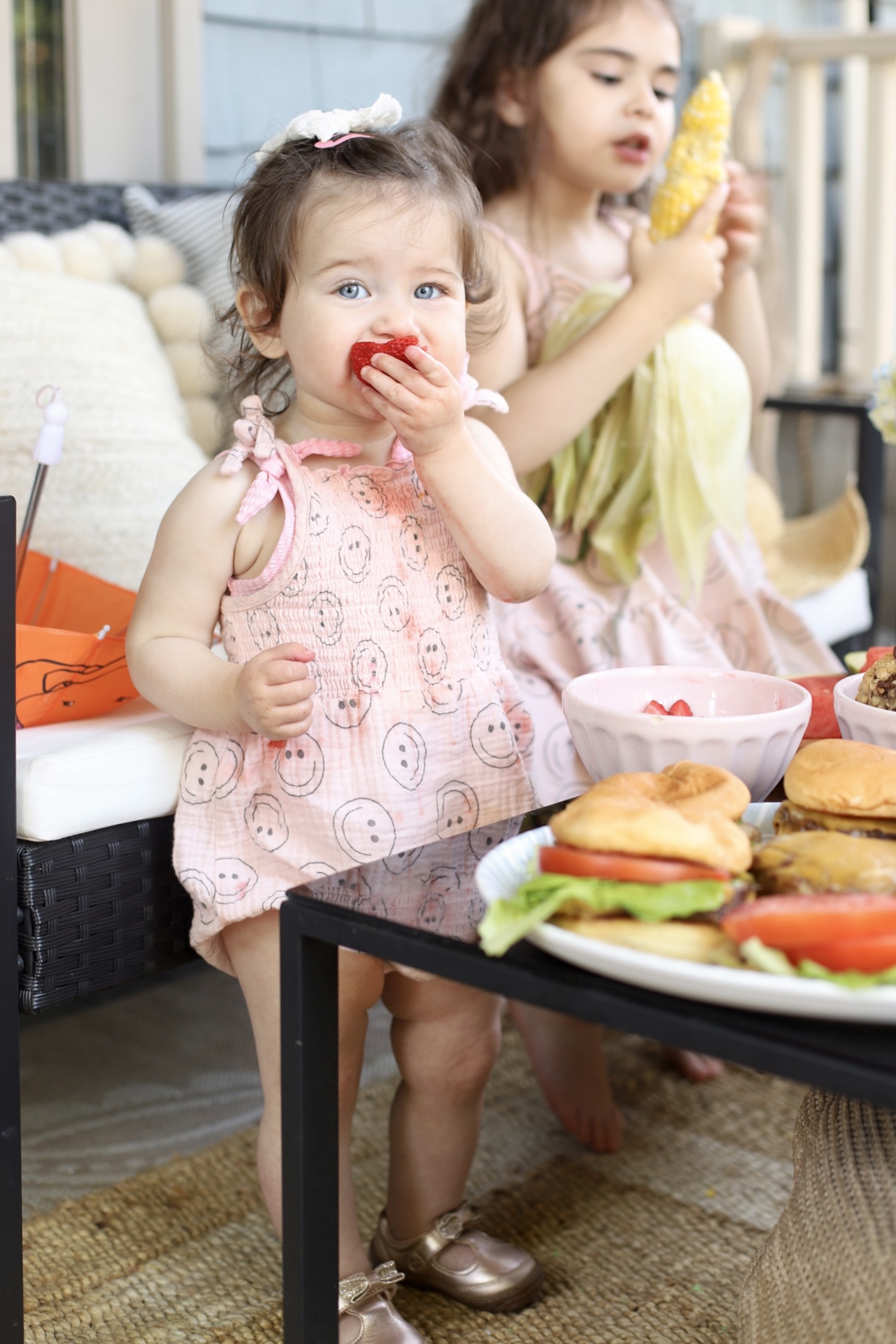 We had so much fun styling up our little back porch space, just in time for the 4th of July, and we will most definitely be recreating the backyard BBQ, complete with the yummiest burgers, again and again all summer long. Enjoy quality time in no time with BUBBA burgers.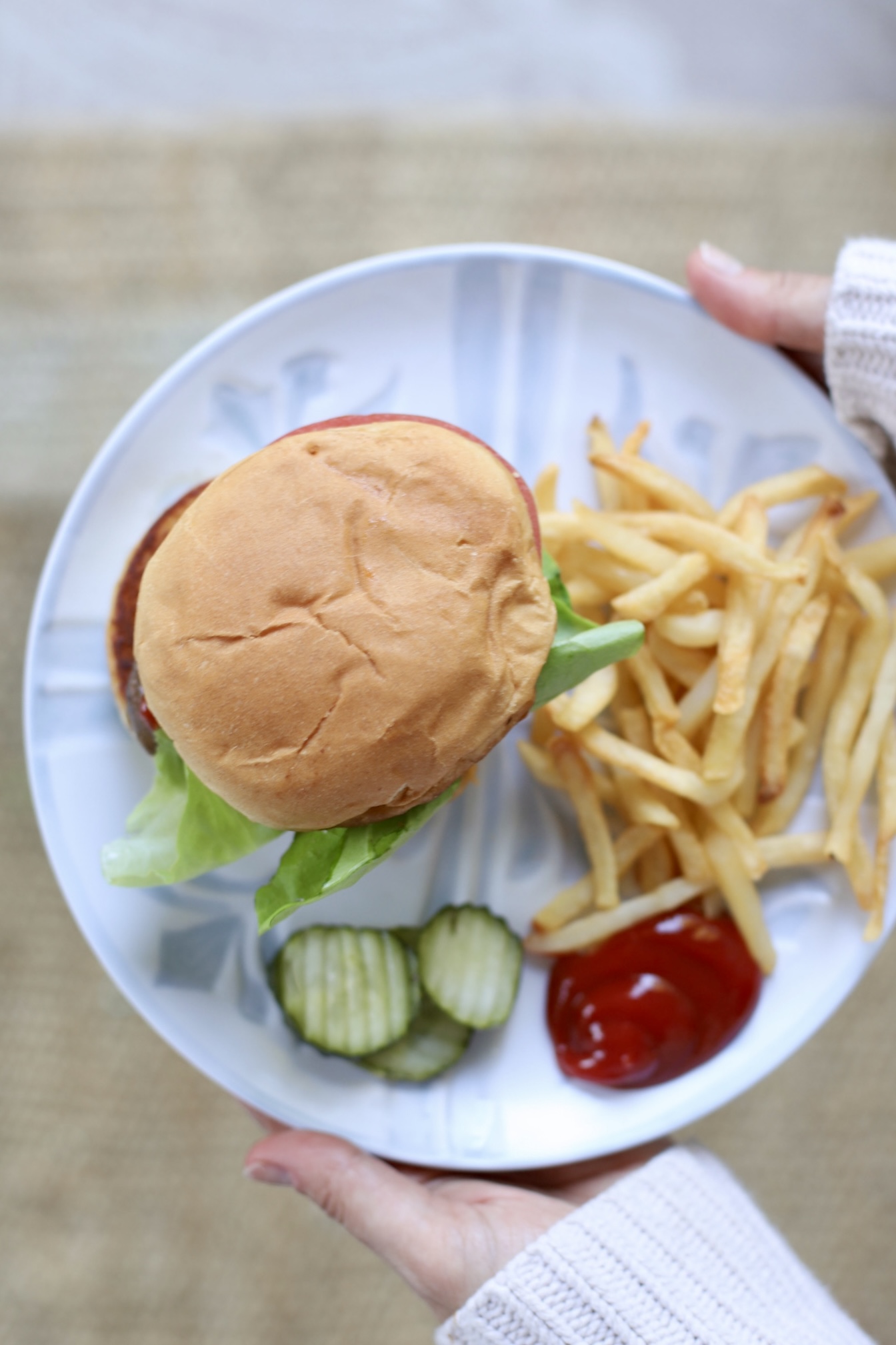 IF YOU LOVED THIS EASY 4TH OF JULY BACKYARD BBQ PARTY POST, YOU CAN SEE MORE OF OUR PARTIES HERE OR FOLLOW ME ON INSTAGRAM TO SEE THE LATEST.
You May Also Like:
Easy Loaded Burger Bowls With the Best Sauce
16 Easy Red White and Blue Patriotic Desserts for the 4th of July
7 Delicious Red, White and Blue Patriotic Drink and Cocktail Recipes
20 Incredible Summer Salad Recipes
How to Throw a Simple Backyard BBQ Picnic
8 Standout Summer Pasta Salad Recipes
4th of July No Bake Cheesecake Cups
I hope I've helped inspire your next 4th of July party. Thanks for reading and happy celebrating! 🇺🇸