This post is sponsored by BUBBA burger. This post contains affiliate links, which means that if you click on one of the product links, I'll receive a small commission. Additionally, as an Amazon Associate I earn from qualifying purchases. Thank you so much for clicking through and helping to support this little blog business of mine! Read more about our site, privacy, and disclosure policies here.




This delicious burger bowl is a great way to throw together an easy, family-friendly dinner with all of the flavors of a great burger, plus the best sauce to take this meal to the next level.
As the countdown to summer begins, I've got my mind on long days outside in the sunshine with the kids, plenty of recharging after a busy school year, and a whole stack of beach reads calling my name. One thing I don't want to fret about: those busy weeknight dinners.
Especially as the school year winds down, a lot of busy parents can fall into that dinnertime rut. I'm sharing a go-to, easy, and protein-packed home-cooked dinner idea: burger bowls. All of the things you love in a cheeseburger, piled high in a salad bowl.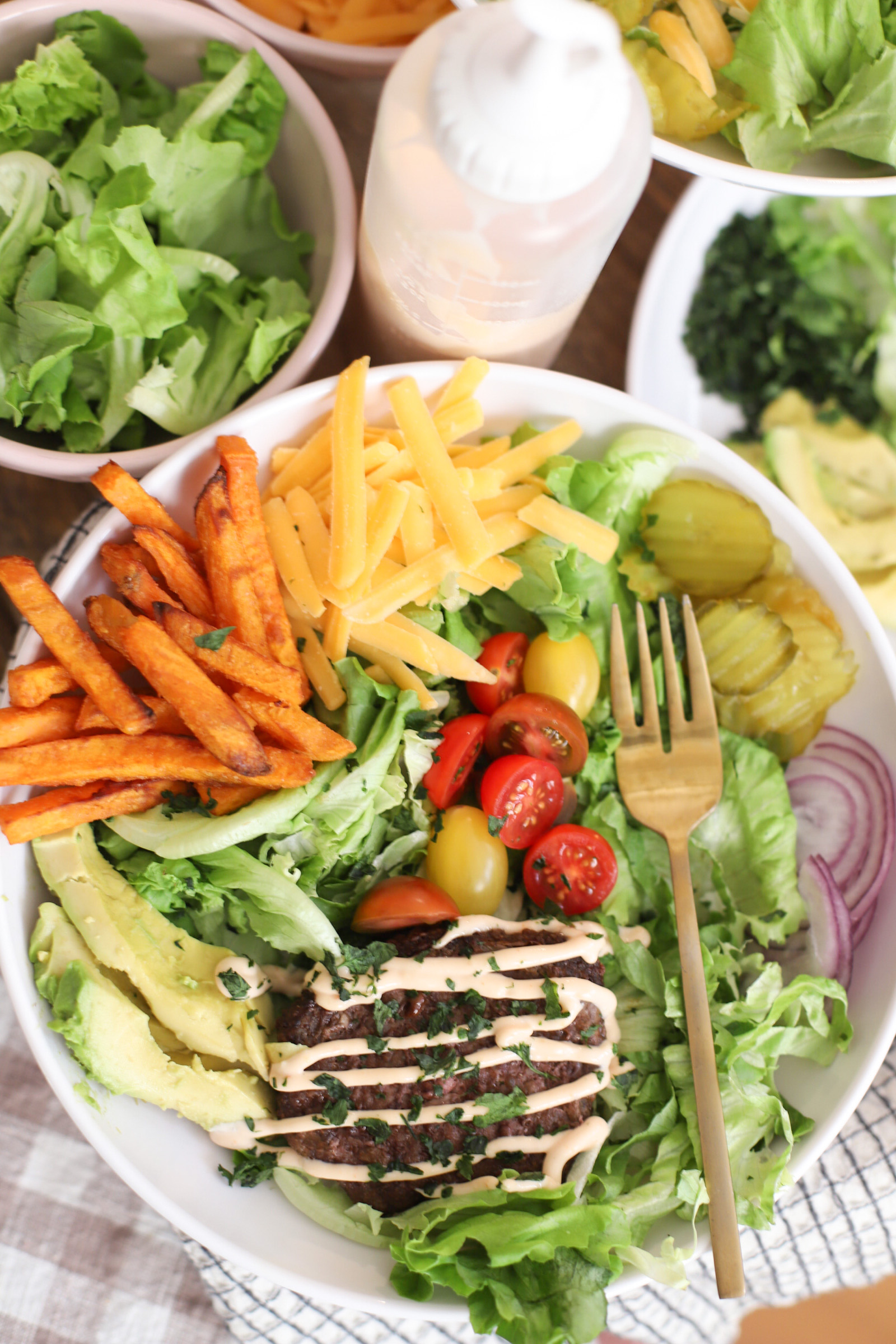 For our healthy summer-time burger bowls or kicked up burger salads, I love to set all of our favorite burger ingredients out for our kids, like a taco bar of sorts; but rather, a "burger bowl bar".
Any time I lay out dinners this way – spread out like a make-your-own meal – the whole family devours it. I think giving everyone options, and letting them create their own perfect combination is fun for the kids and makes my life as a busy mom a little easier too.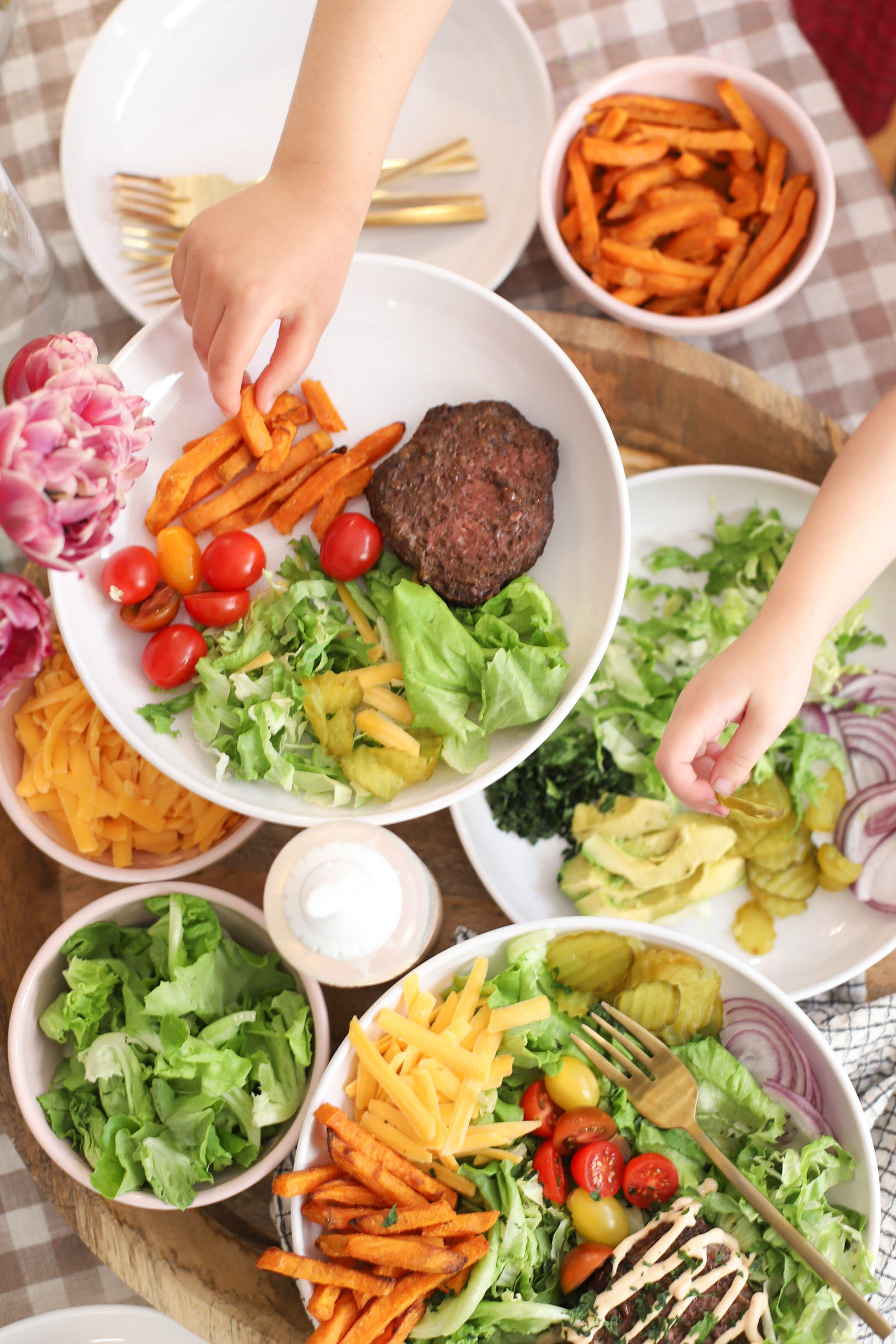 Our burger bowl bar – complete with flavorful, high quality BUBBA burgers (using BUBBA burgers and cooking them right from the freezer saves so much time), fresh lettuce, juicy tomatoes, red onions, dill pickles, avocado, shredded cheddar cheese, sweet potato fries, and a delicious and easy homemade burger sauce to top it all off – is the perfect summer dinner any night of the week, making it a quick meal that doesn't give up on quality.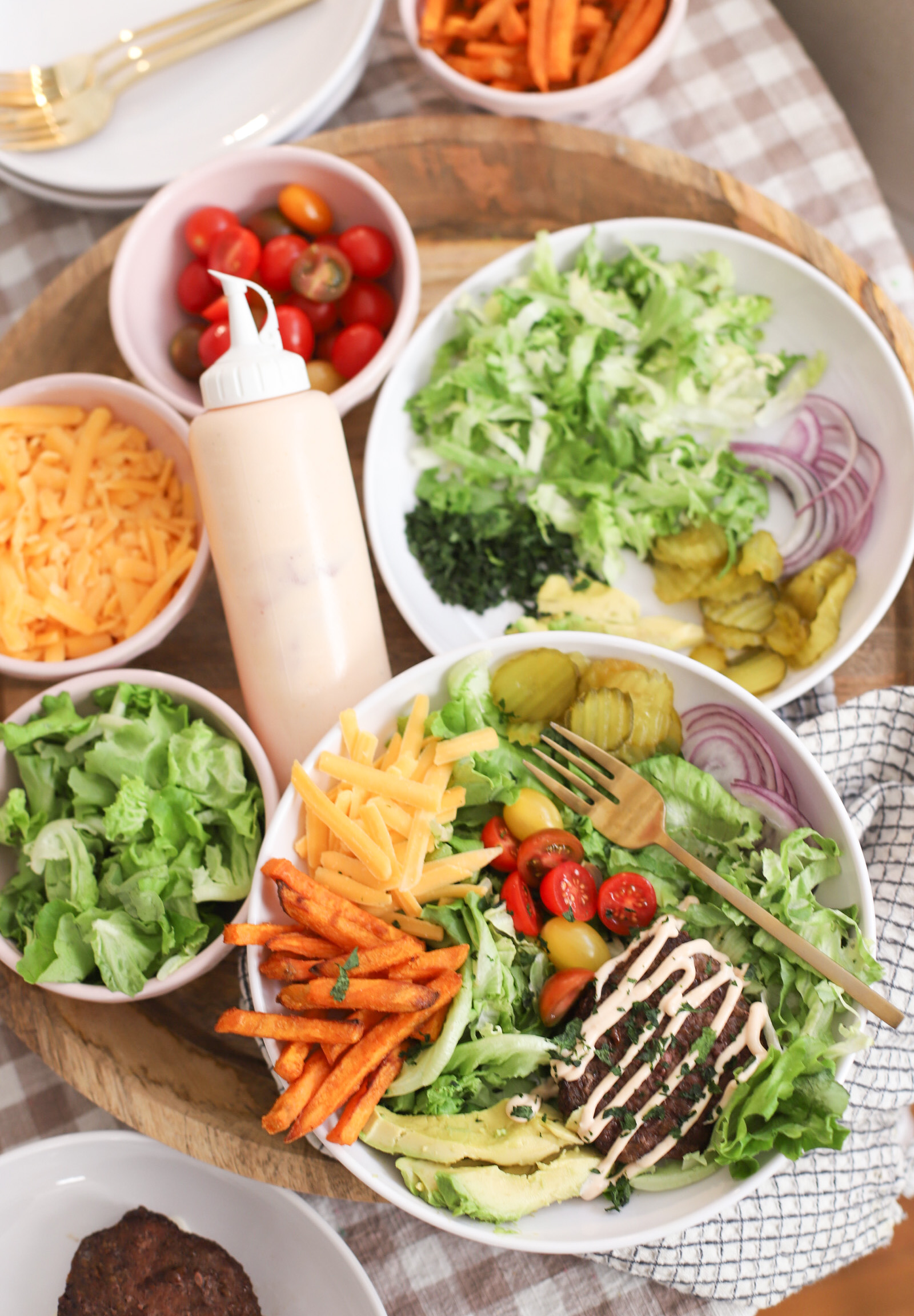 Loaded Burger Bowl Ingredients
BUBBA burgers: This dinner comes together quick and easy thanks to BUBBA burgers. Keeping a box of BUBBA burgers in your freezer as a busy parent is such a winning strategy. BUBBA burgers are made with 100% USDA Choice Chuck; no fillers, no artificial ingredients, and no preservatives – And then just cook your burgers straight from the freezer on the grill or in a skillet (I like to use a cast iron skillet for burgers) – they're ready in about 10 minutes – and enjoy! Find your favorite BUBBA burger near you.
Shredded Cheddar Cheese: Let everyone add theirs to their bowls or melt a little right on top of your burgers in the pan before you take them off the heat for instant cheeseburgers.
Green Lettuce: Use either green leaf lettuce or shredded iceberg lettuce (or a combination like we did here!)
Fresh Tomatoes: I love halving cherry tomatoes, but diced tomatoes also works great for burger bowls.
Fresh Avocado: Slice up a perfectly ripe avocado or two and add them to your burger bowls.
Red Onions: Thin slices work or diced onions are a great option to add to your burger bowls.
Dill Pickles: Sliced in a jar are easy and a kid-favorite.
Sweet Potato Fries: Bake or fry up your family's favorite fries (we love sweet potato fries, though traditional fries are equally awesome) and serve them alongside the bowl toppings.
Burger Sauce: Scroll down for our favorite super easy burger sauce recipe.
Fresh Parsley: Chop a bit of fresh parsley to top your burger bowls.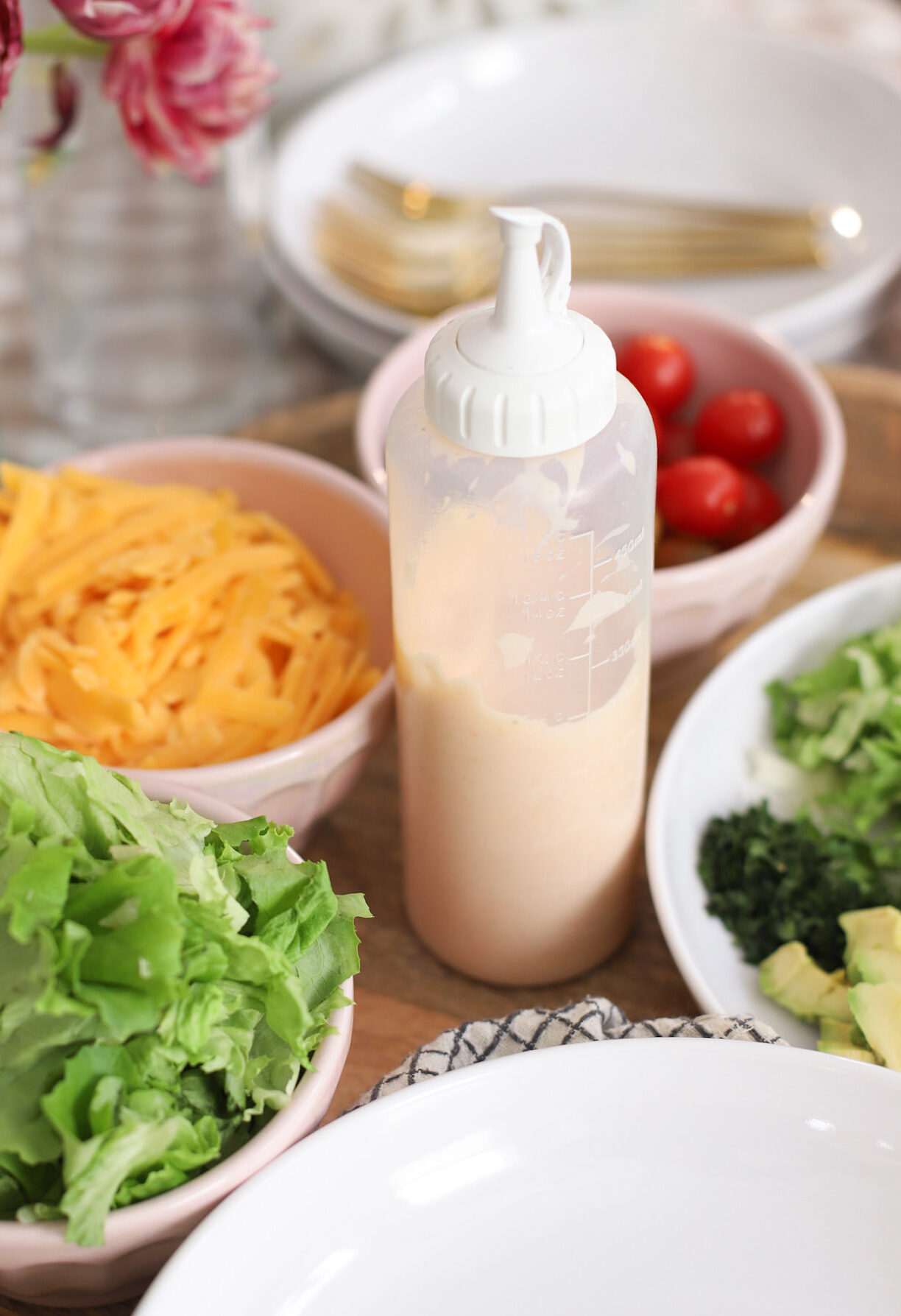 This burger sauce is actually really simple to make, comes together with just a few ingredients, and tastes SO good on pretty much everything. Grab the recipe below.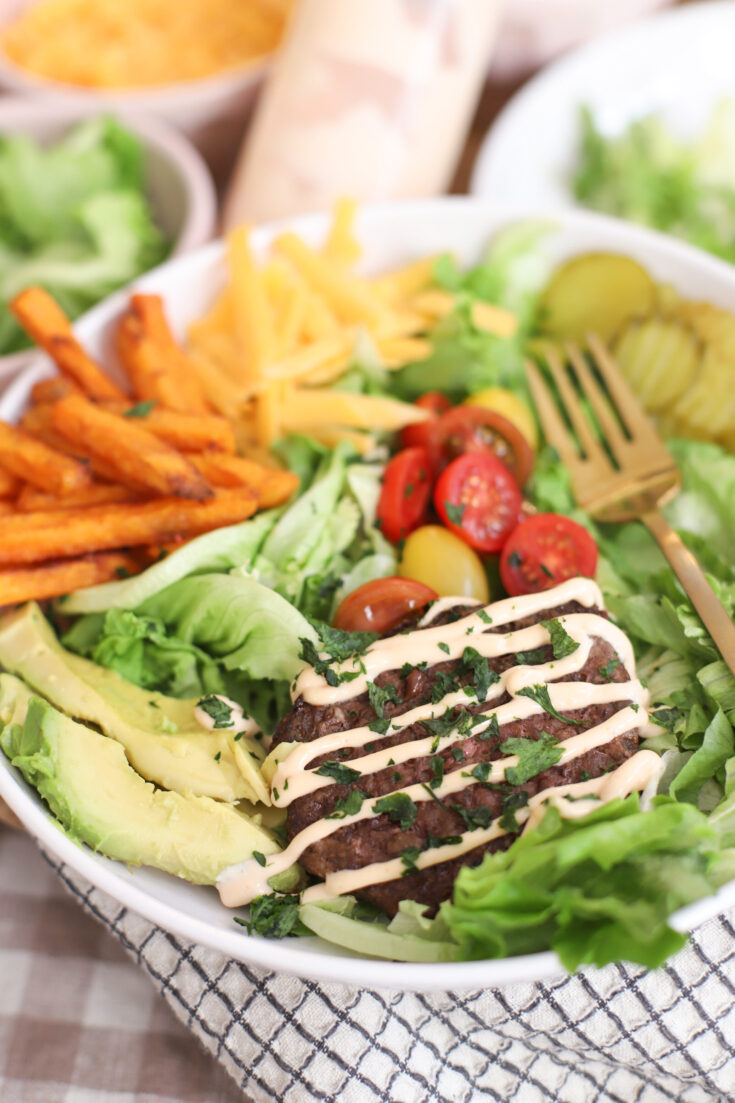 Easy Loaded Burger Bowls with the Best Sauce
These easy loaded burger bowls with the best homemade burger sauce make for the perfect quick and delicious family dinner.
Ingredients
BUBBA burgers*
4 to 5 cups of green lettuce, washed and chopped
½ cup cherry or grape tomatoes, cut in halves
¼ cup dill pickles, sliced or diced
¼ cup red onion, diced or thinly sliced
½ cup cheddar cheese, shredded
1 avocado, sliced
Ssweet potato fries (optional)
fresh parsley (optional)
Burger Sauce (Recipe below)
Instructions
Burger Sauce Recipe: First, make your burger sauce. To make our family's favorite burger sauce (that pretty much tastes good on everything), mix together 1 cup of mayonnaise, 2 tablespoons of ketchup, a 1/2 teaspoon garlic powder or garlic salt, and about 2 tablespoons pickle juice (I often do this to taste). Let the flavors come together in the refrigerator before serving.
Cook your BUBBA burgers on the grill or in a heavy bottom skillet (like a cast iron skillet) straight from the freezer according to the directions on the packaging.
Once your burgers are ready, set out all of the ingredients and let your family/guests plate their own delicious burger bowls and top with burger sauce and fresh parsley.
Notes
*BUBBA burger also makes awesome turkey burgers and plant-based/veggie burgers.
So there you have it: a family-friendly, crowd-pleasing, simple and amazing burger bowl, perfect for busy weeknights, long summer nights, and pretty much every grilling occasion in between. Enjoy quality time in no time with BUBBA burgers.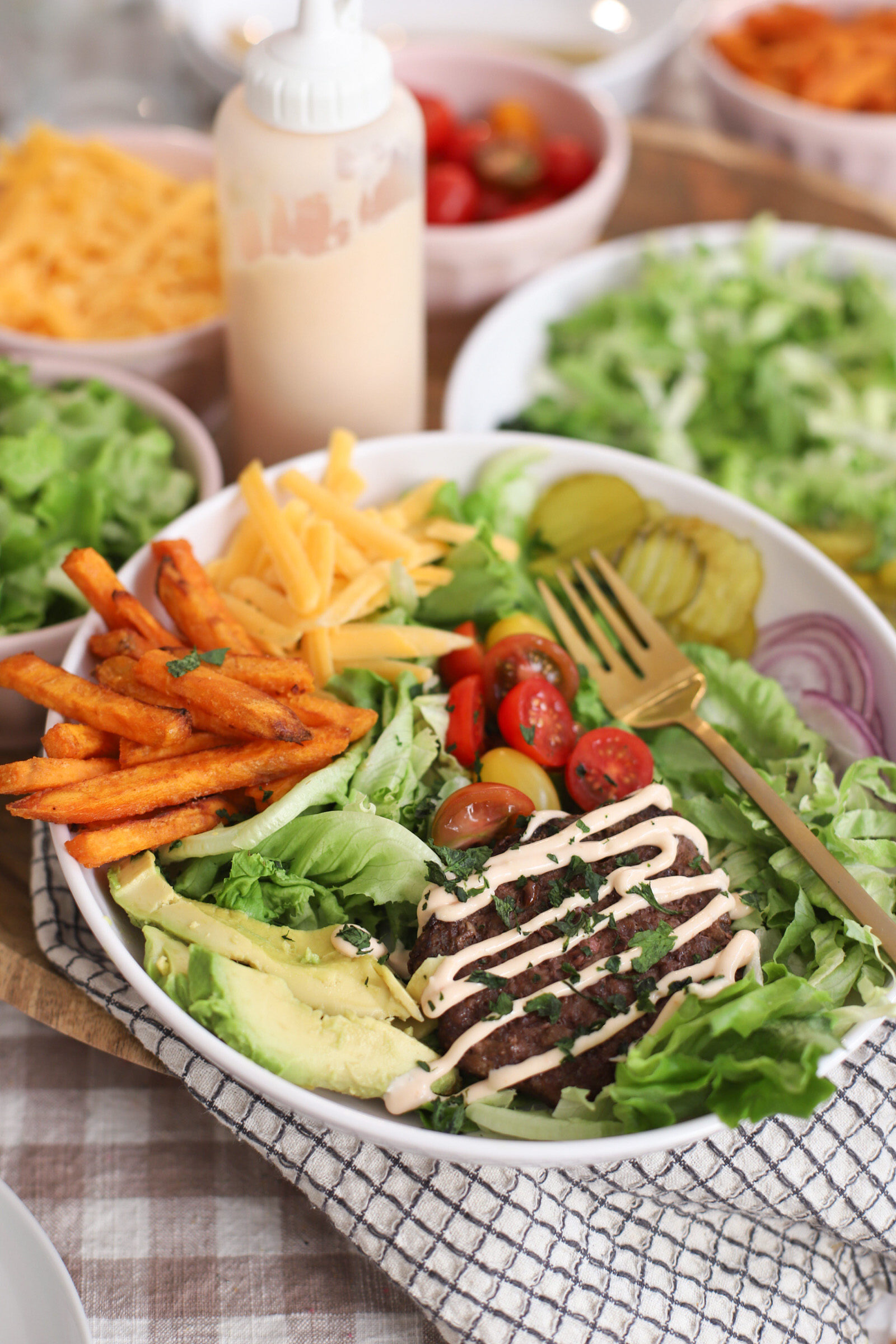 Love this easy and delicious summer dinner idea? Check out our recipe page to see what else we're dreaming up in the kitchen! And if you put together your own burger bowl spread, be sure to tag me on social media (@glitterinclexi) so I can live vicariously through all of your yummy dinner fun!