This post contains affiliate links, which means that if you click on one of the product links, I'll receive a small commission. Additionally, as an Amazon Associate I earn from qualifying purchases. Thank you so much for clicking through and helping to support this little blog business of mine! Read more about our site, privacy, and disclosure policies here.
I don't normally re-post recipes on this blog; in fact, this is the first recipe I have ever re-posted … it's that good, and easy, and almost guilt-free. Meet my secret-weapon go-to Summer dessert: the no-bake cheesecake. Plus, with strawberries (or raspberries) and blueberries, it is the perfect Fourth of July dessert.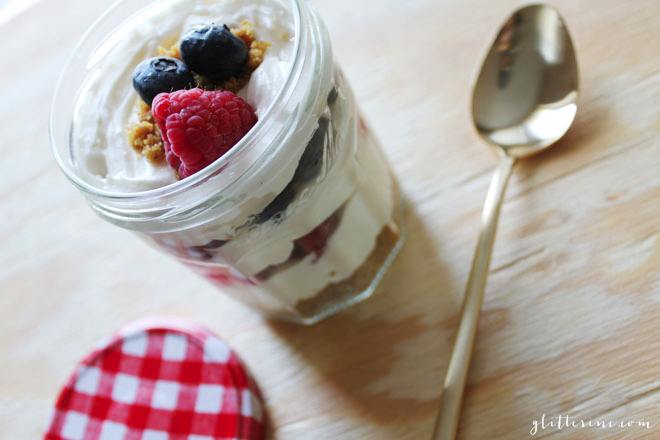 It's also the perfect anytime dessert. I actually always have graham cracker crumbs, a stick of cream cheese, and powdered sugar on hand, in case we get a last-minute invite to a party, or I've had a bad day, or hubby makes sad face at me. I usually experiment with this dessert, cutting fat, adding citrus, etc., but for the most part, to keep the dessert lighter, I use low-fat cream cheese, fat free cool whip, skim milk, and butter substitute (for the crust). And FYI: I've never been the biggest cheesecake lover, but the addition of cool whip keeps this "healthy" cheesecake light and fluffy.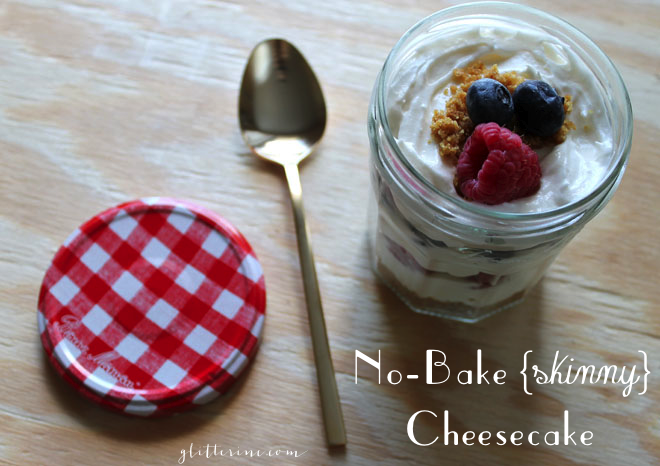 Recipe yields about 6-7 Mini Desserts, or 4-5 moderate-sized desserts. The recipe does not create a huge amount, so for a party, I would double the recipe.
INGREDIENTS
Graham Cracker Crumble
1 1/2 cups graham cracker crumbs (or about 10 full sized crackers pounded)
1/3 cup butter, melted (When I'm keeping it light, I use lower fat/calorie margarine substitute.)
1 Tablespoon sugar (You can skip this altogether to cut back on sugar.)
Fluffy Cheesecake
1- 8oz block cream cheese
1/2 cup powdered sugar
2 teaspoons fresh lemon juice
1 – 2 tablespoons milk (any fat content — I use Skim, and I usually only use 1 tablespoon of milk per serving.)
2 cups cool whip, or freshly whipped cream (When I'm keeping it light, I use fat free cool whip.)
Fresh berries (Raspberries and blueberries shown, though strawberries work really well also.)
DIRECTIONS
Graham Cracker Crumble
Either use graham cracker crumbs from a box or pound crackers in a large ziploc bag (the most fun you can have with a ziploc bag!) Pour crumbs, sugar and melted butter into a bowl and stir until fully combined. Pour into a 9″x13″ casserole dish and press into a even layer. To get them extra toasty, bake at 350*F for 10-12 minutes, until light brown. Allow to cool.
Fluffy Cheesecake
1. Beat cream cheese in the bowl of an electric mixer until smooth. Add powdered sugar, beat to combine. Add lemon juice and beat until fully incorporated. Add milk, and combine.
2. Fold cool whip or freshly-whipped cream into cream cheese mixture. Spoon into dessert dishes – or for smaller dishes, fill a large piping bag and pipe into dessert dishes – over the graham cracker crust. You can also build the whole dessert in one large baking dish — works well to bring for parties.
Dessert Assembly
To create the dessert as shown, layer a spoonful of graham cracker crumble, then a layer of cheesecake, fresh strawberries or raspberries, more cheesecake, fresh blueberries, and a final layer of cheesecake. Garnish.
Fun Serving Idea: I'm kind of partial to serving these desserts in little mason jars or jelly jars – pop the lid on and you've got adorable leftovers!
Original Recipe via Glorious Treats // (based on Cherries on a Cloud)