In the past few months I've started a bit of a milk glass collection. I can't get enough of the clean white vases and jars with that cool retro feel. Fun fact: Milk glass originated in Venice in the 16th century and has been gaining in popularity ever since.
Blame all of the amazing vintage fairs and antique co-ops around North Carolina, but I just keep buying up piece after piece. (I already have several vases in varying shapes and sizes and three milk glass cake stands. Yep, told you I was obsessed.) But even used pieces of milk glass and reproduction milk glass can start to add up; so when Patrón shared their "Art of Patrón" Bottle Art Competition and asked if I wanted to try my hand at a DIY project using Patrón bottles, I knew just what I wanted to make. You guessed it … I decided it was time I try creating my very own DIY milk glass.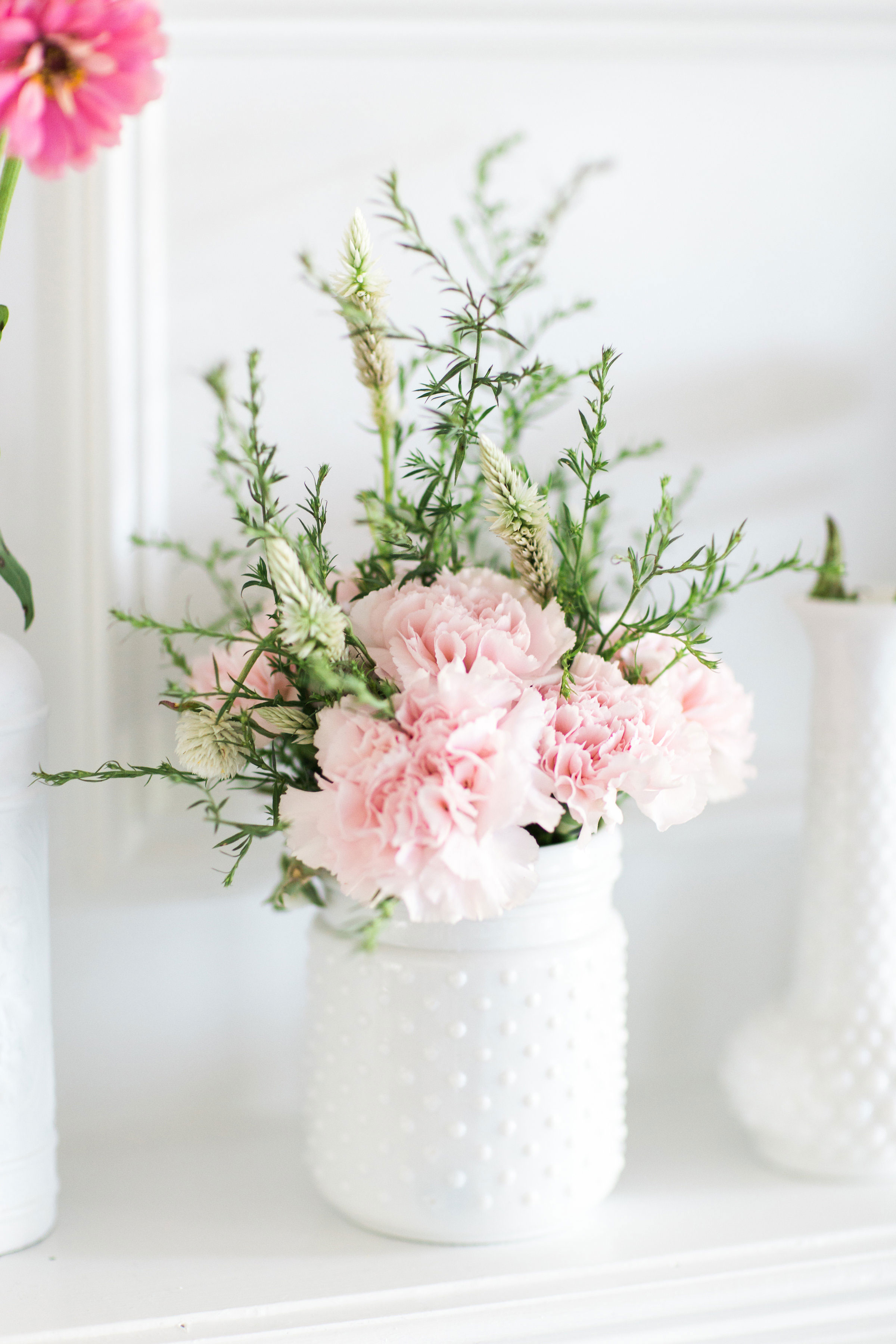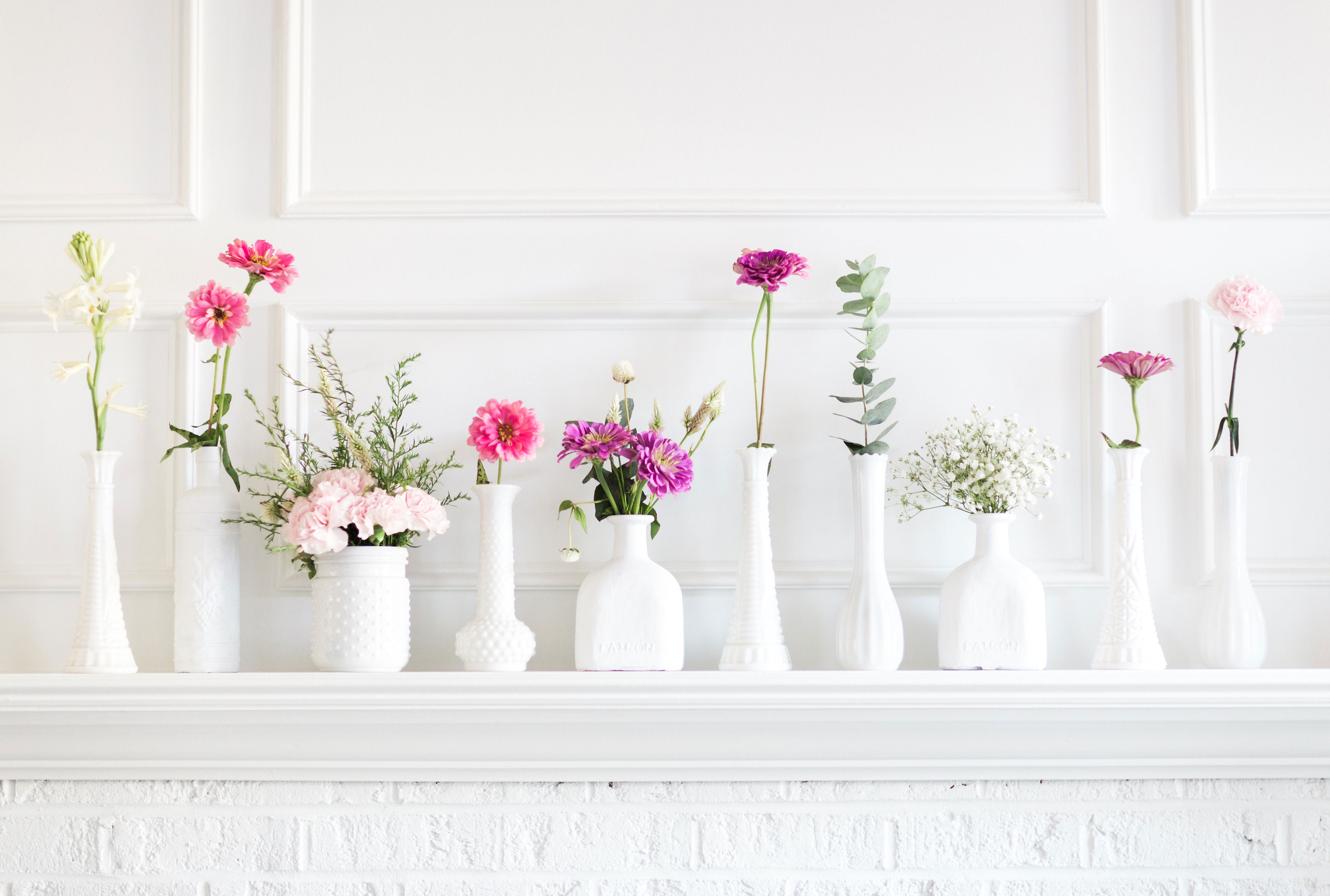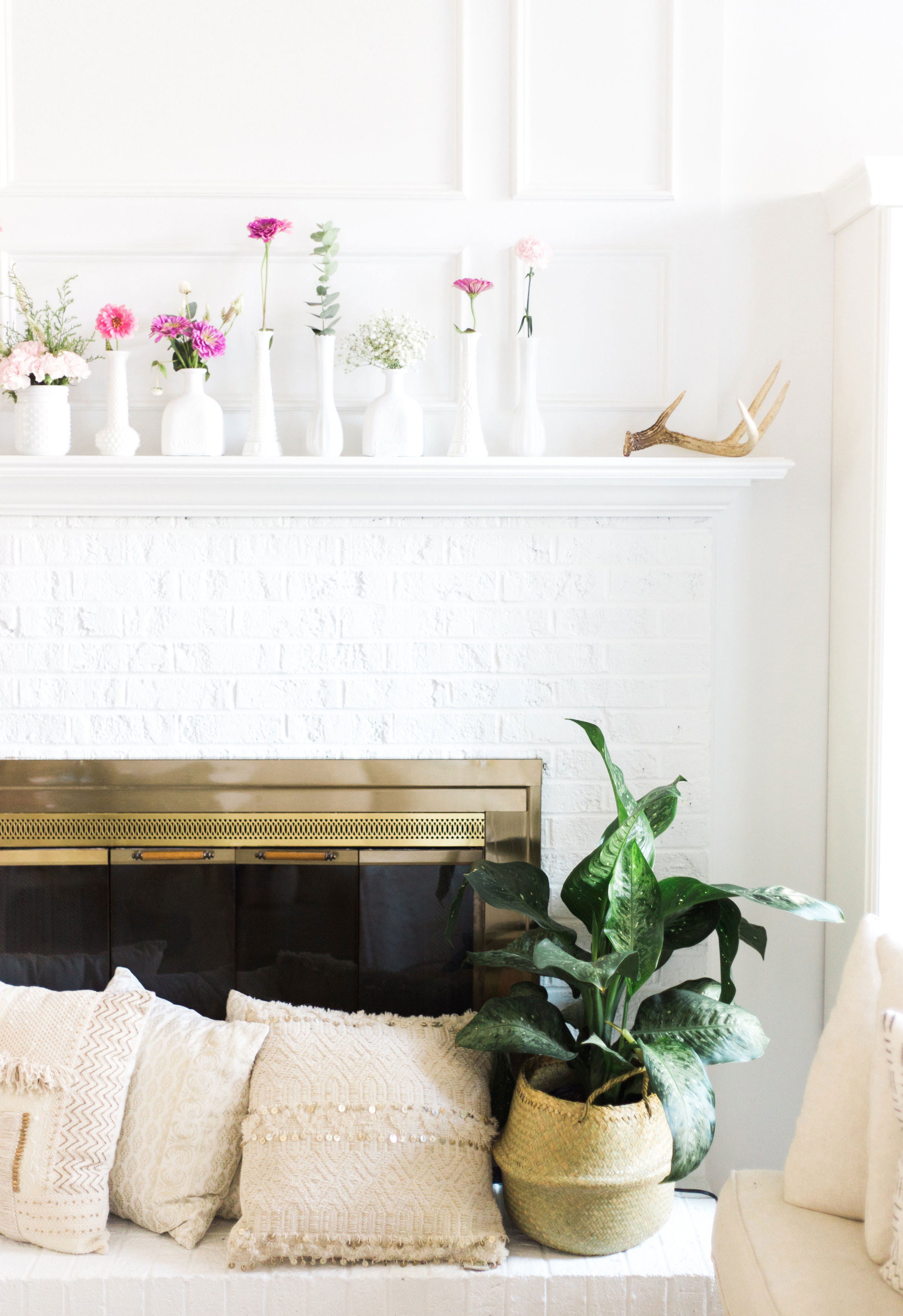 In truth, there are two ways to go about making your own milk glass. You can either (a) fill glass bottles and vases with a matte white paint (rolling it around in the bottle and allowing it to coat the inside completely before pouring the remainder out, or (b) spray paint or hand paint bottles with a white matte or white glass paint to look like milk glass. I decided to go with option (b), i.e., coating my glass bottles with paint, in case I decided to use the glasses to fill with drinks or food at any point.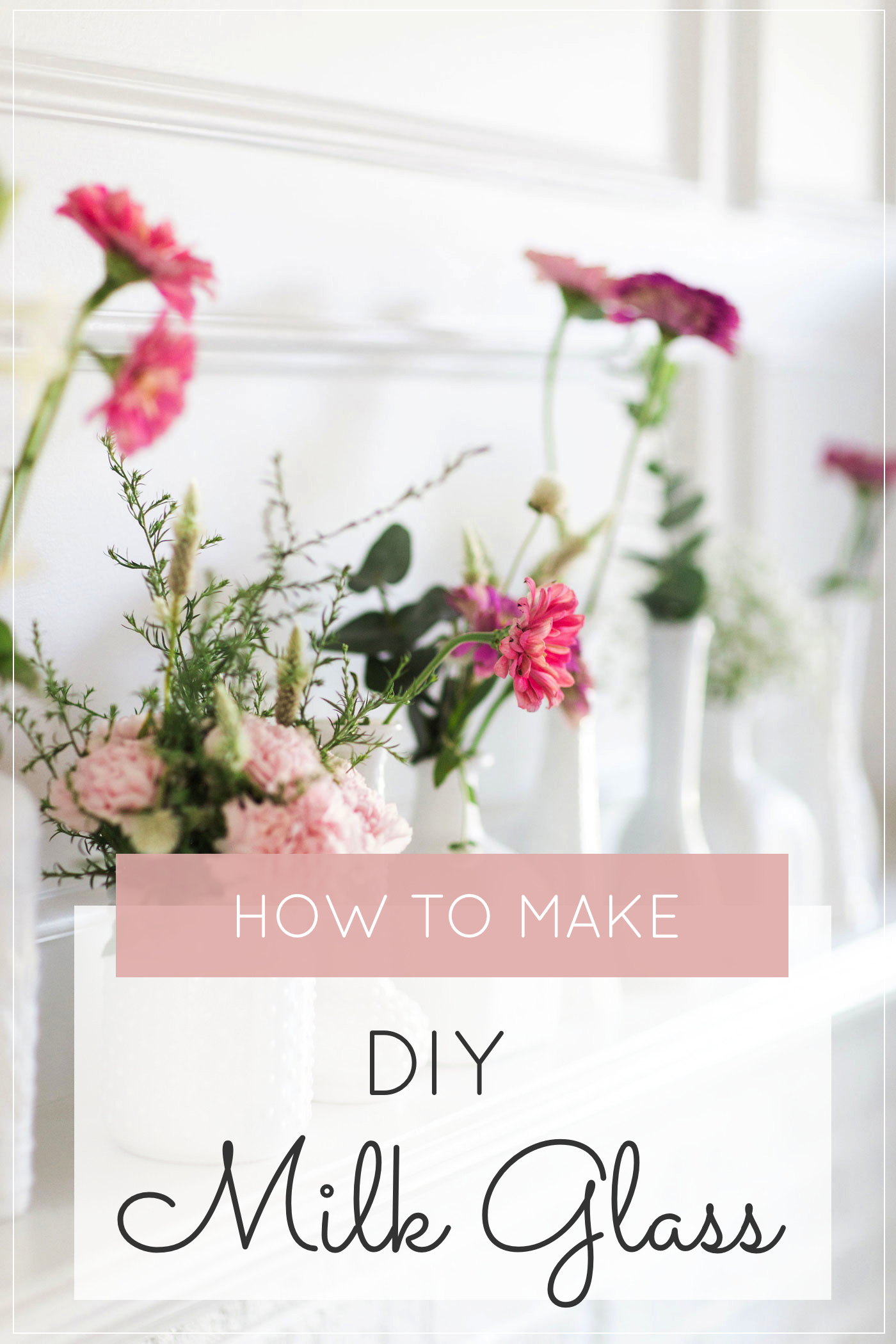 HOW TO MAKE DIY MILK GLASS (THE EASY WAY)
Source old glass bottles and vessels. Anything from an olive oil bottle to a jam jar, inexpensive florist vases you're not crazy about, wine and liquor bottles, etc. can work.
Clean your glass really well. You can use a glass cleaner or wipe the glass with alcohol on a cotton swab to clean the surface.
Either spray paint or paint with a paint brush or sponge brush an even coat of white paint. Allow to dry completely.
If you want to add a bit of sheen* to your DIY milk glass you can coat your project with a clear gloss paint like Martha Stewart Crafts Gloss Transparent Glass Paint in Clear or use a spray paint with gloss. I'm actually kind of digging the matte white effect that some of my bottles have, and they mix in so well with my real milk glass, so I made a mix of matte and gloss bottles.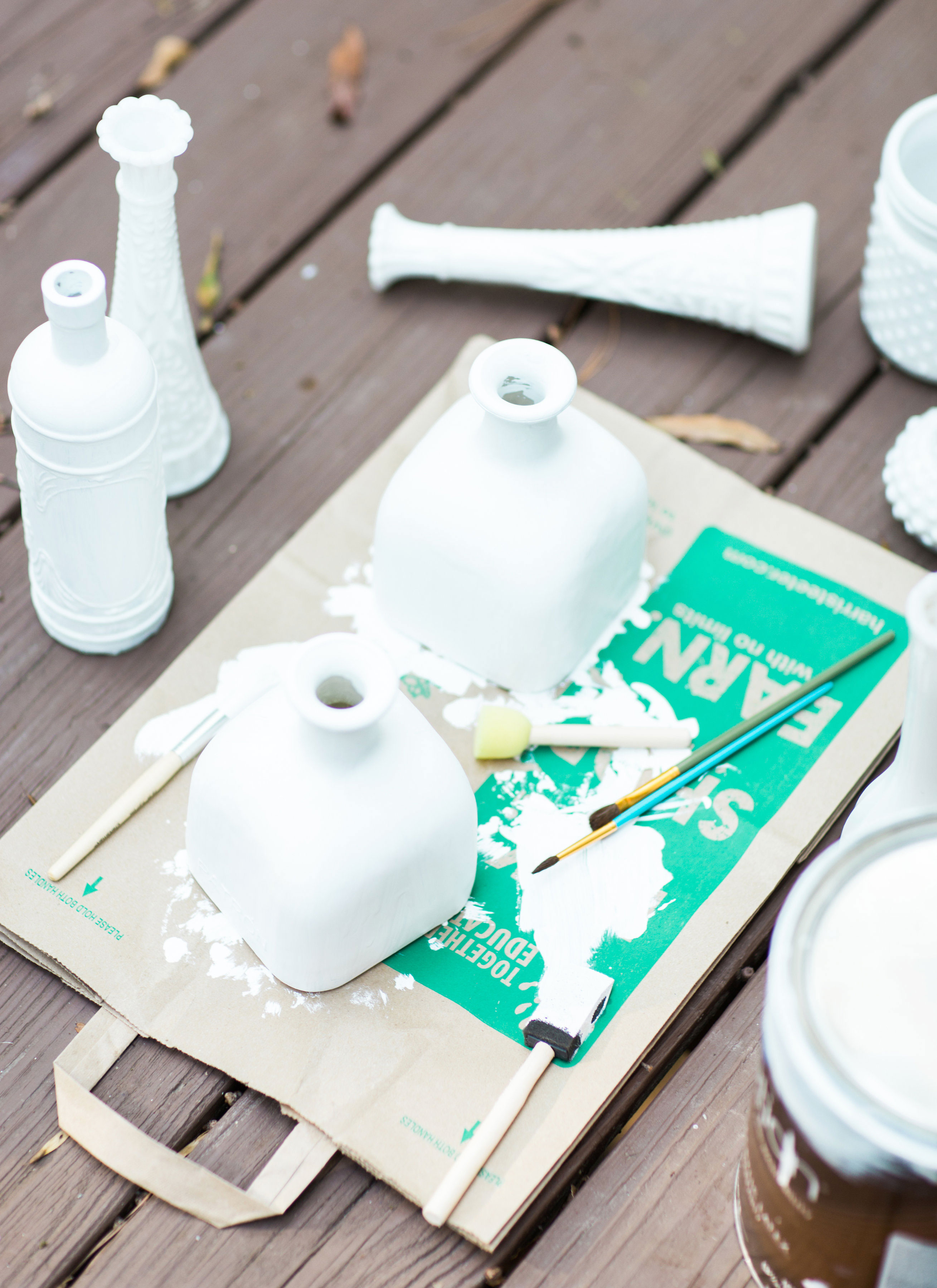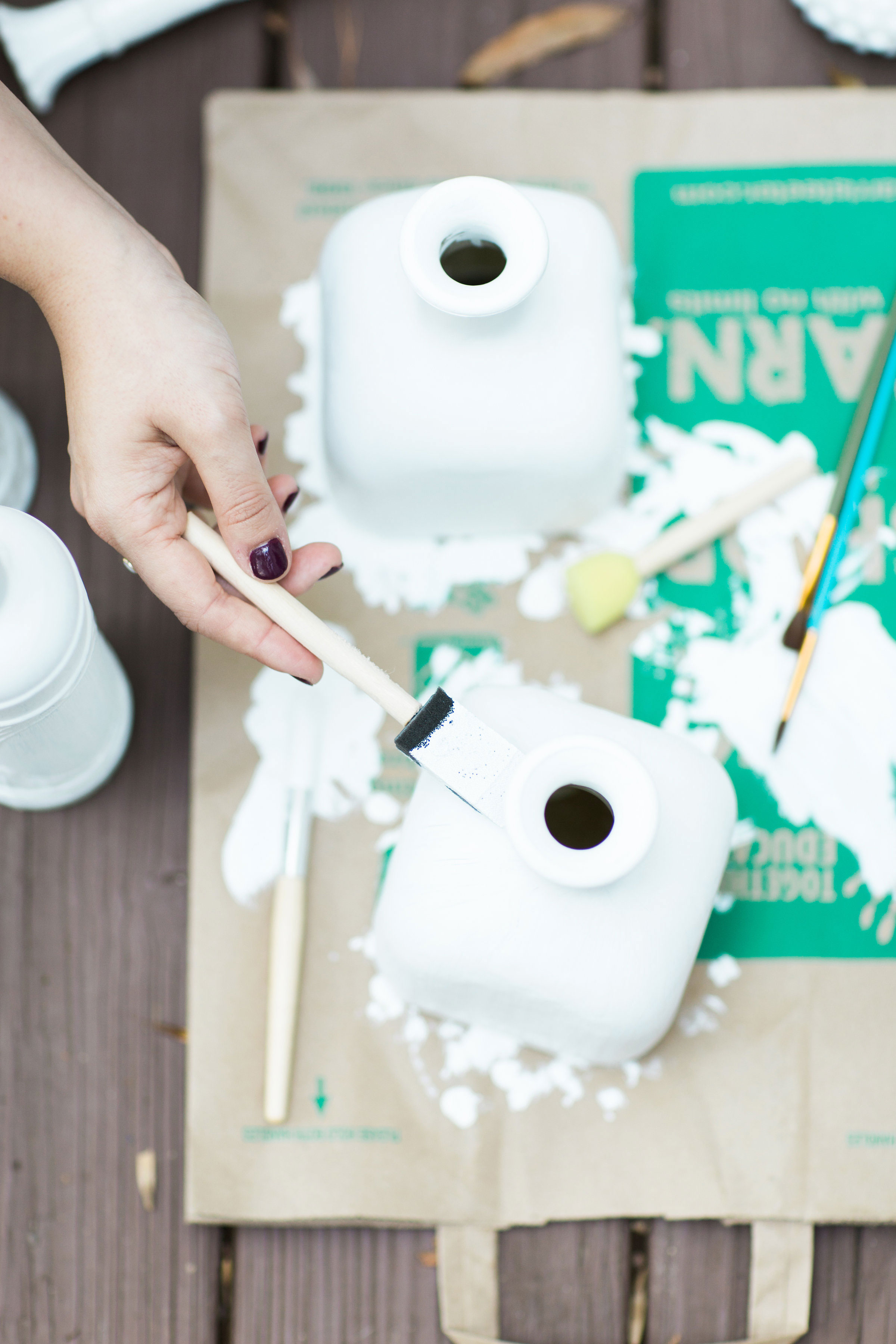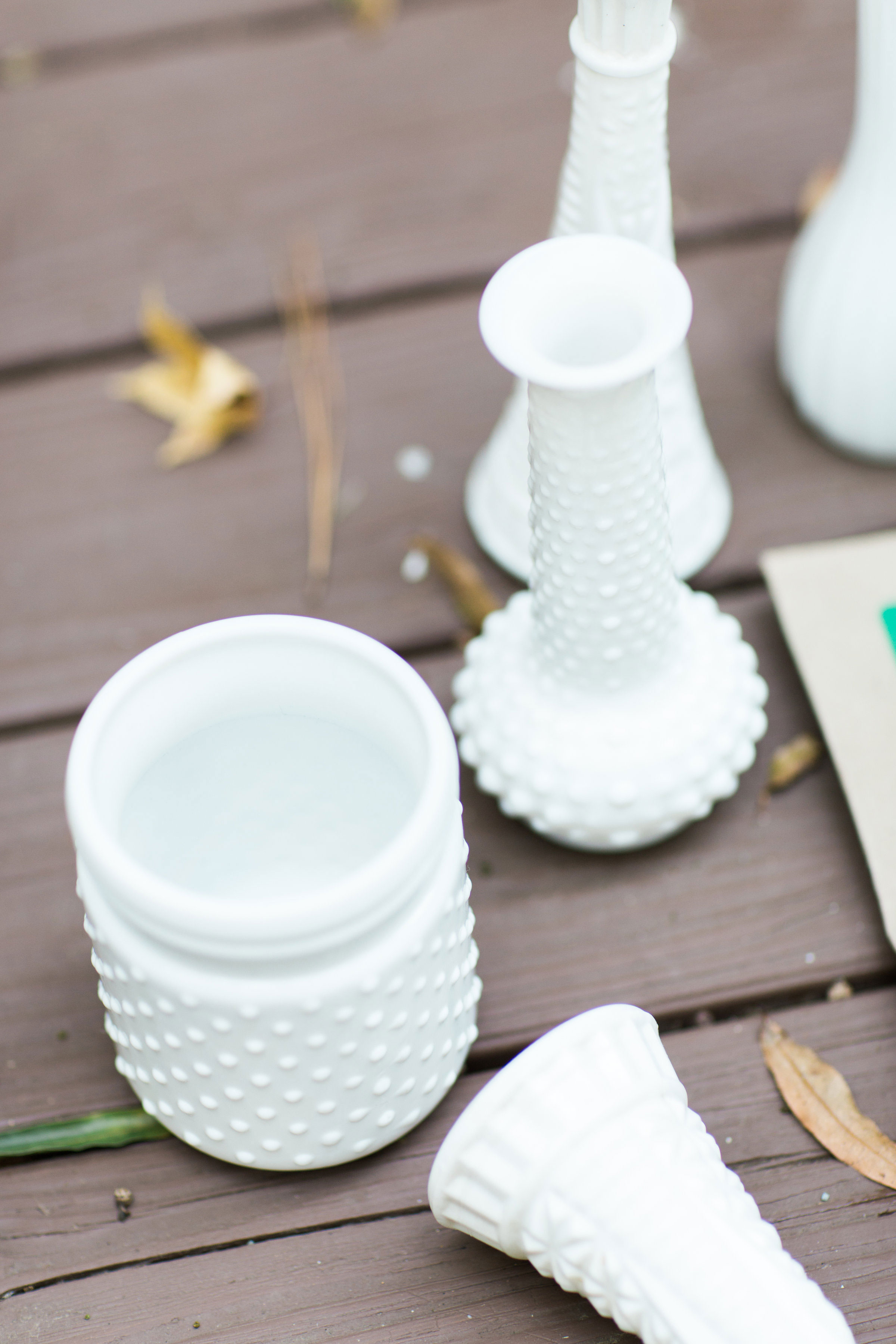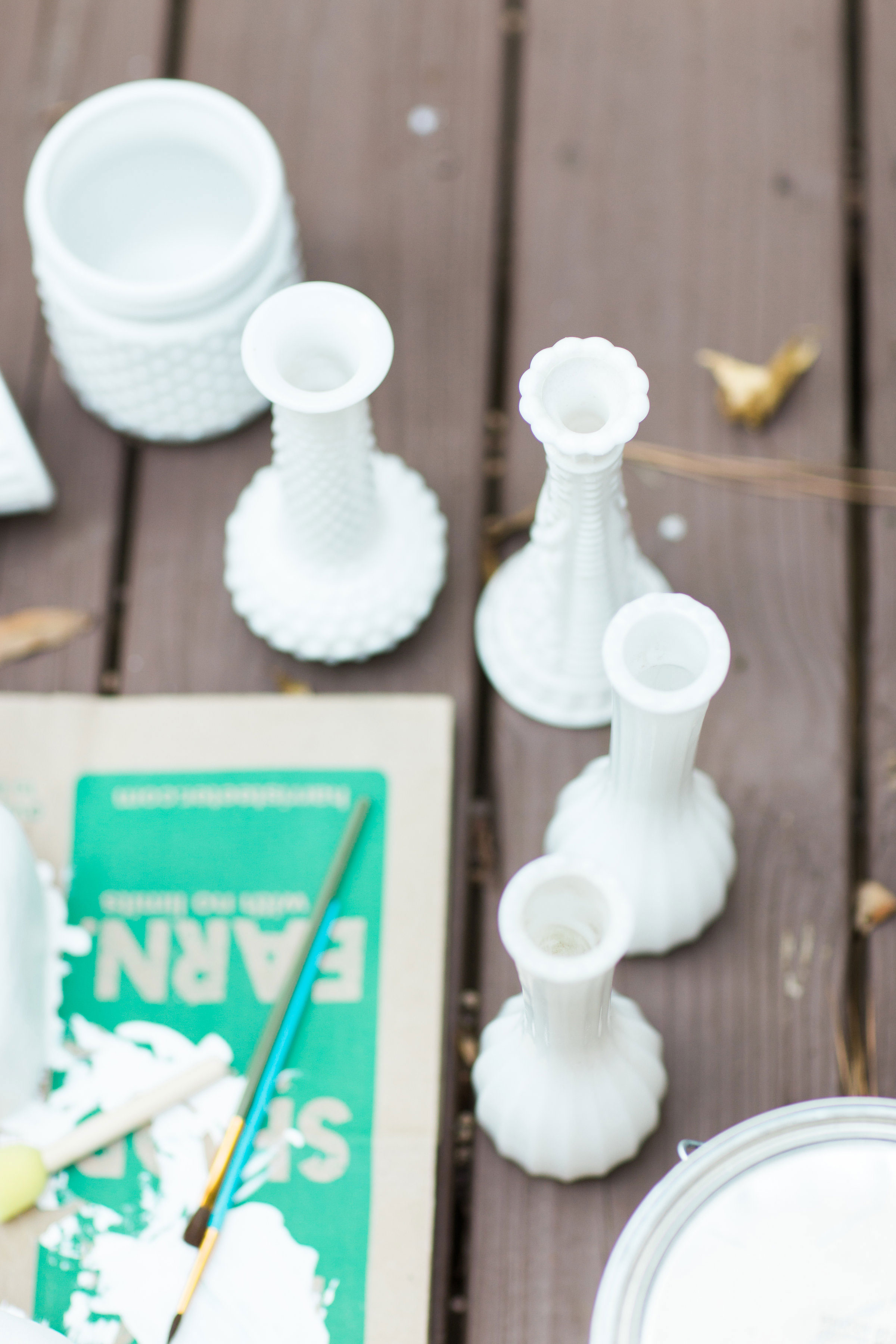 *Real milk glass has a bit of translucency and sheen, but I love that with a little paint and a cool glass jar or bottle, you can make your own version of inexpensive and easy-to-create DIY milk glass.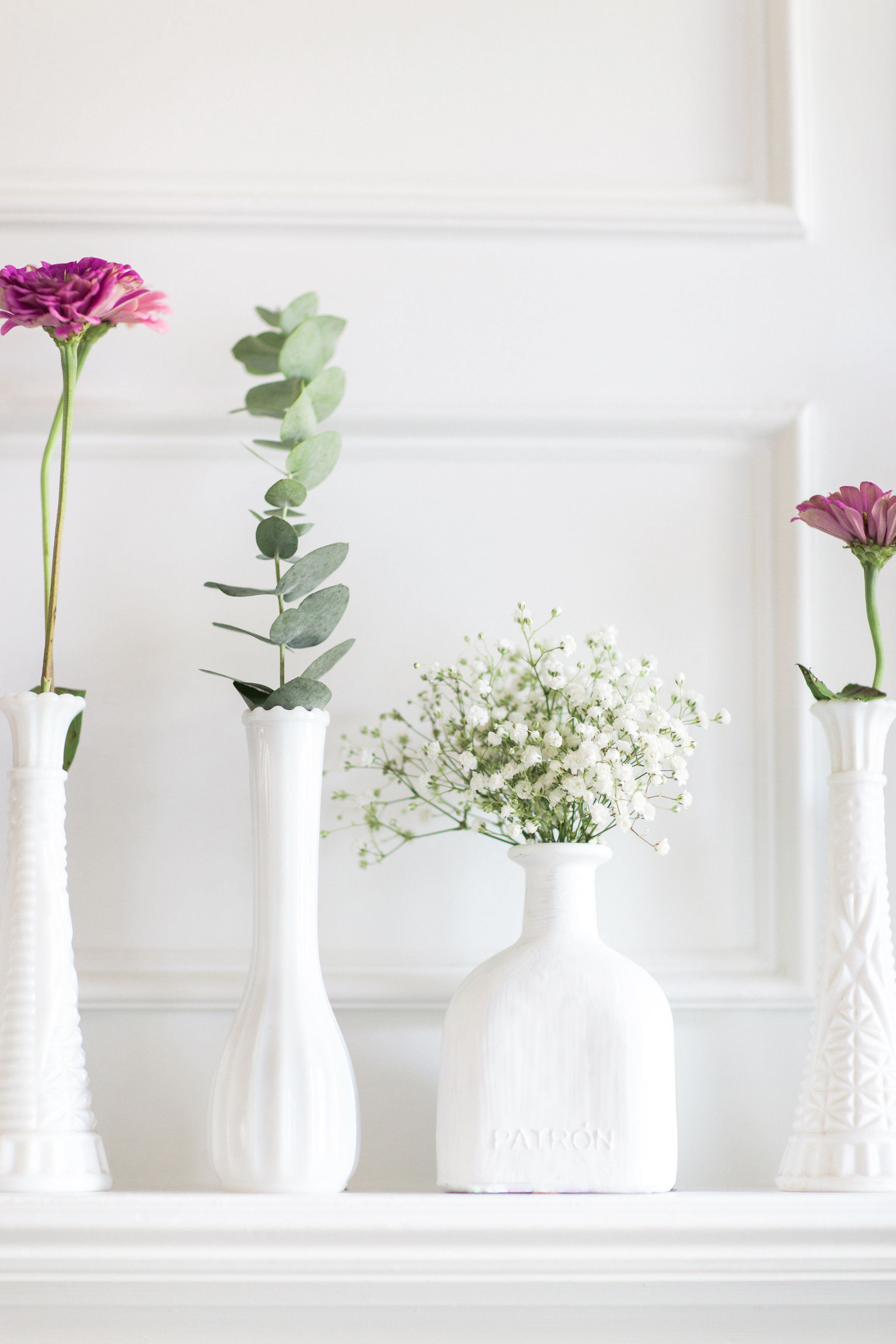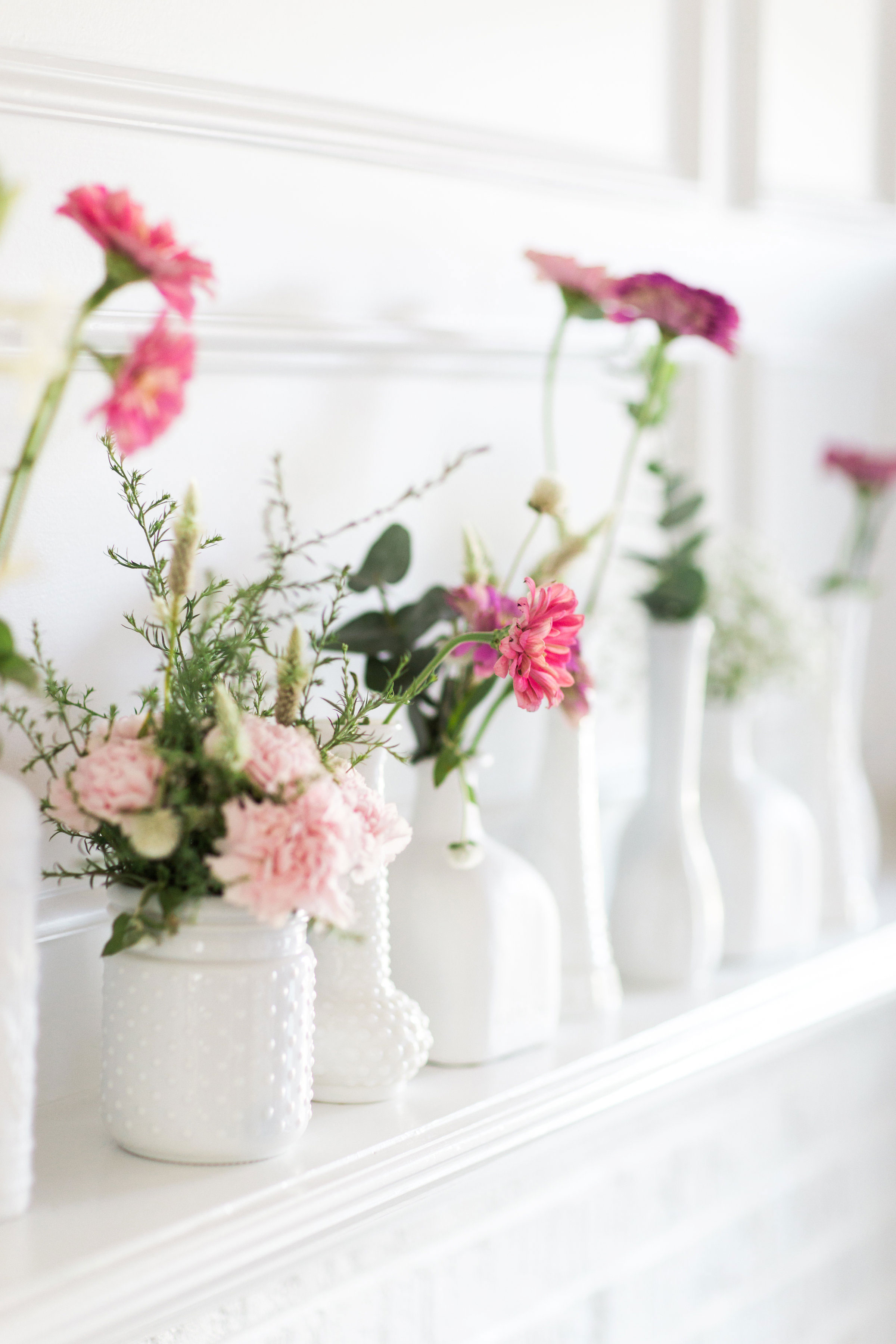 Be sure to check out ArtOfPatron.com and enter your own DIY Patrón bottles. The "Art of Patrón" Bottle Art Competition celebrates the iconic Patrón bottle and encourages fans and artisans across the country to share their artistic vision, using Patron's signature bottle as inspiration, for a chance to win $10,000 and a national platform for their work. Year after year, fans create incredible, unique pieces of art that honor the bottle. Entries have included everything from a chess set, to gorgeous waterfalls, to striking light fixtures. It's amazing to see what everyone comes up with! This is the third annual competition and it will run through October 14, 2016, where Patrón fans 21 years and older can visit ArtofPatron.com to enter.
If you share your creation on social media tag @patron and use #ArtOfPatron and tag me – @glitterinclexi – so that I can see what you've dreamed up!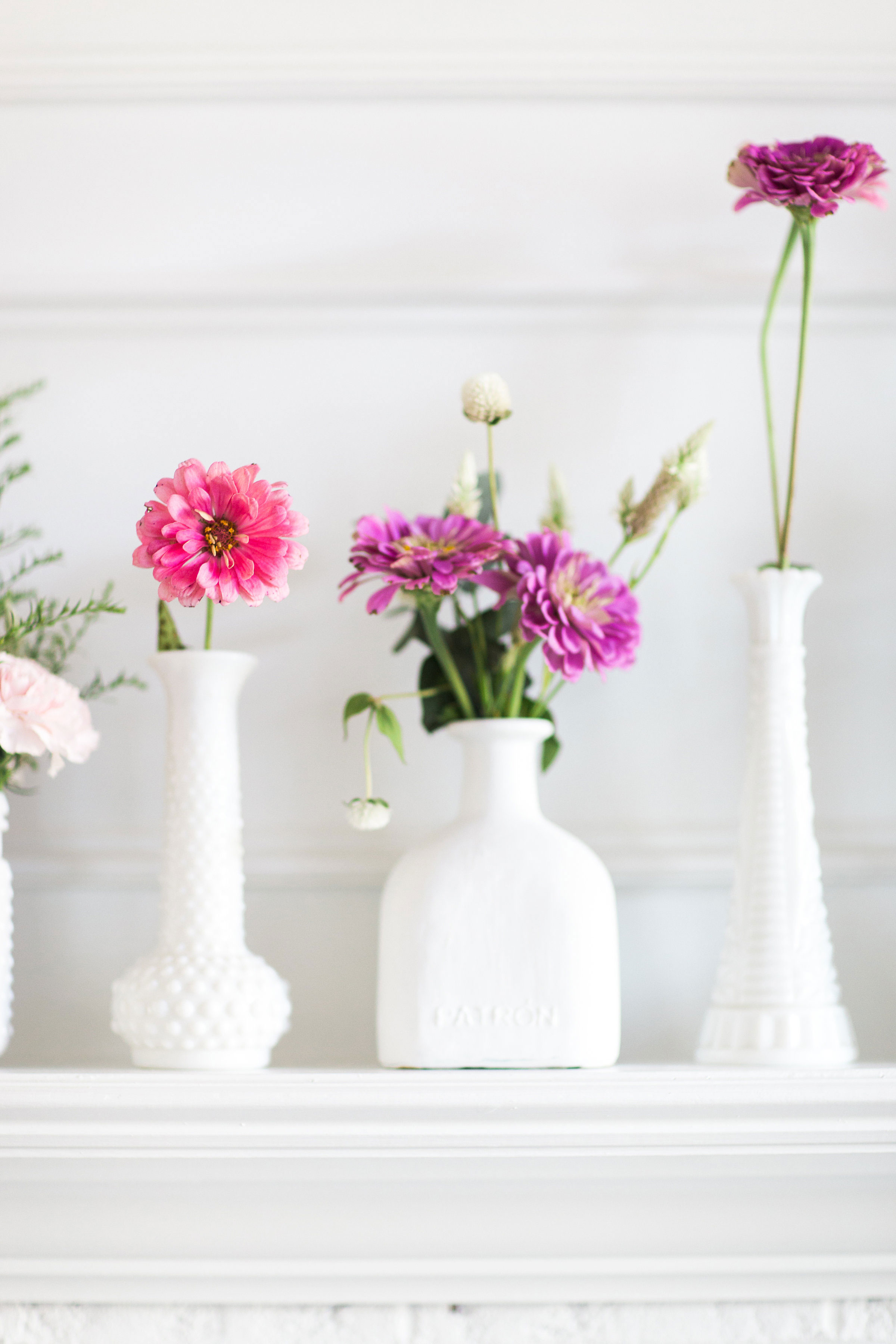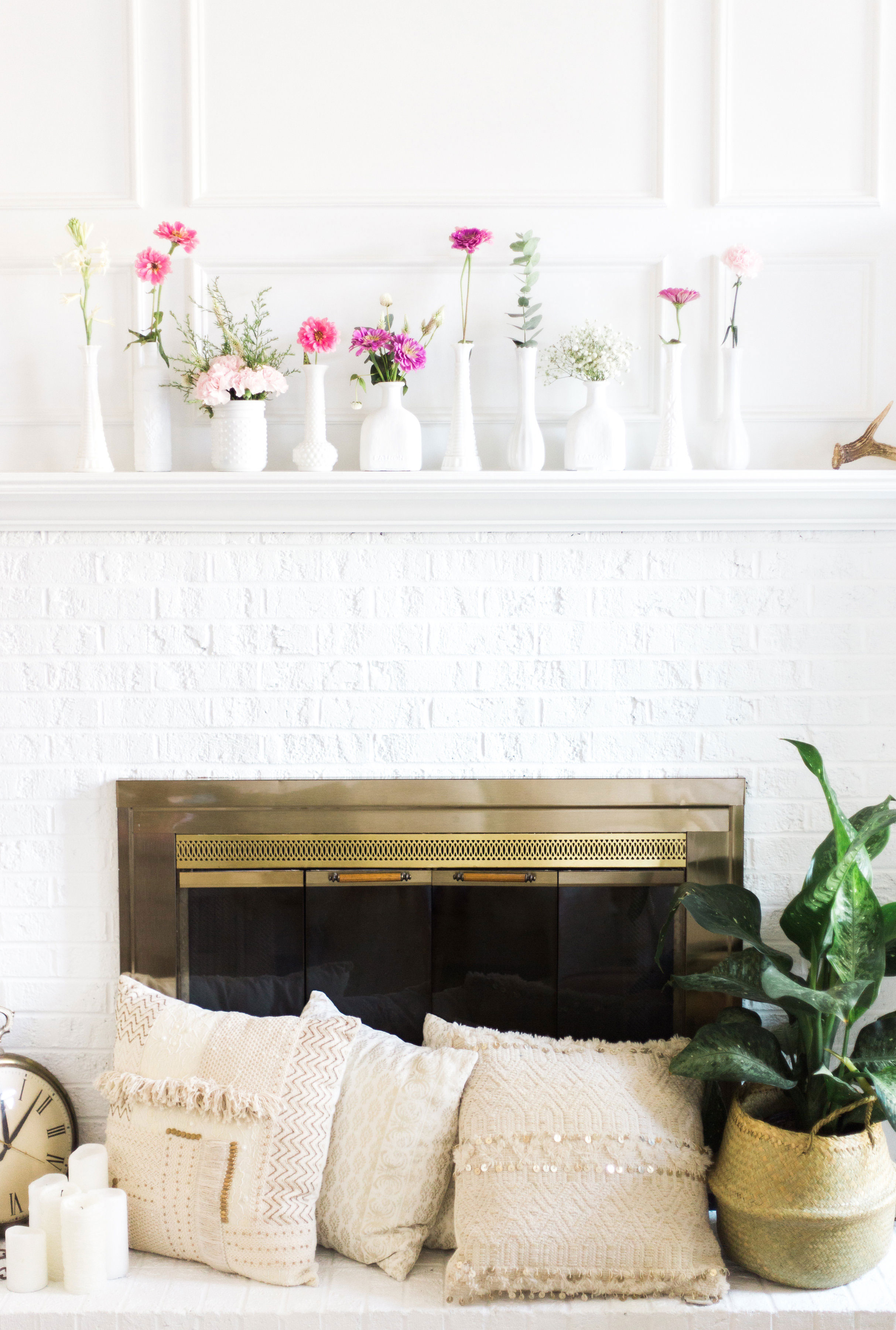 SHOP THE STORY / CLICK LEFT & RIGHT ARROWS TO EXPLORE

Photos by Annie Watts Photography
This post has been sponsored by Patrón. All thoughts and opinions are my own. Thank you so much for supporting the sponsors that make Glitter, Inc. possible!
This post contains affiliate links, which means that if you click on one of the product links, I'll receive a small commission. Thank you so much for clicking through and helping to support this little blog business of mine! Read more about our site, privacy, and disclosure policies here.