This post contains affiliate links, which means that if you click on one of the product links, I'll receive a small commission. Thank you so much for clicking through and helping to support this little blog business of mine! Read more about our site, privacy, and disclosure policies here.
Forget sorting your favorite books by author or genre or title and transform your home with an oh-so-pretty rainbow-sorted bookshelf. Here's how to get the ombré bookshelves of your dreams!
Books and reading will forever be one of my favorite hobbies of all time. I love to read. I love to hunt through aisles and aisles of a bookstore; used or new, I'm charmed by them all.
Now that we're living in Cambridge, I find myself wandering all of these magnificent old libraries and lauded bookstores, touching the spines, flipping over the books and reading description after description, letting my own joy of aesthetics lead me to choose which book to pick up next. (I've always found it fascinating to see how book cover designs are made, which really sell, and which I gravitate towards.)
So naturally, as rainbow sorted bookshelves have grown in popularity – especially in the home design world, on Instagram, and on Pinterest (my favorite place to go for home inspiration) – I've grown increasingly more obsessed. Rows and rows of meticulously organized books, sorted by the rainbow colored hues of their spines. Now this design trend I can seriously get on board with. 😍
The only catch is, a great rainbow bookshelf requires just a bit of planning; but fret not: we're showing you how to get the ombré bookshelves of your dreams!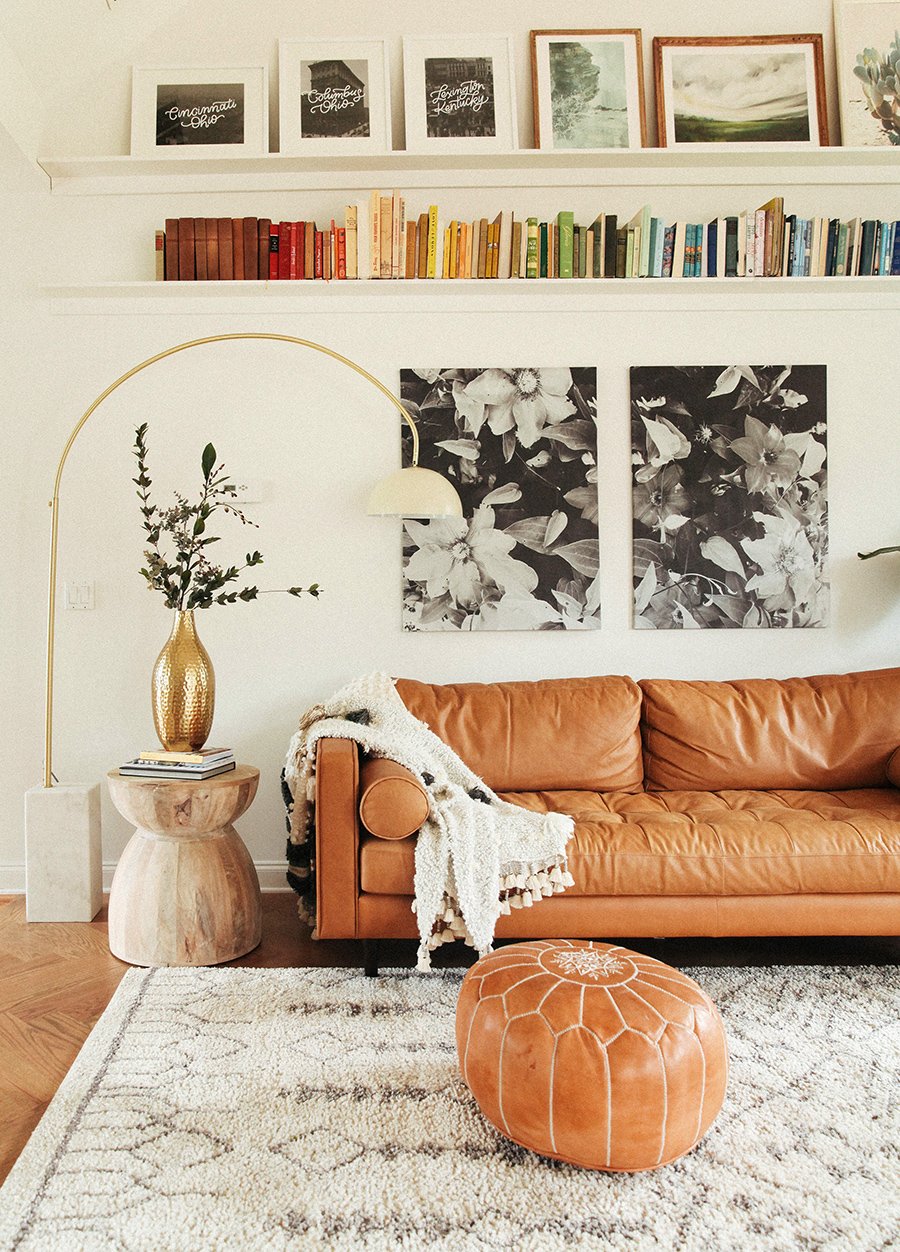 Picture Ledge Rainbow Books via IHOD Shop
How to Get the Look: Rainbow Colored Sorted Bookshelves
| 1 | Take Your Books Off The Shelf
First things first, you'll need to take all of your books off your book shelf and arrange them in groups according to color.
If taking all your books off the shelf feels a bit (or a lot) overwhelming (because you may or may not be a total book hoarder — like me), try starting by grouping one color pile at a time.
Remember: the goal is to sort by book spine color, not by book cover color, since on most bookshelves, the spines are the only color that you see.
| 2 | Sort By Shade Within Color Group
Make stacks of color groups. You'll want to set up your groupings in a large space, so head to a playroom or living room — somewhere where you can really spread out. It doesn't have to be perfect; just make big piles or stacks by color scheme first.
TIP: If you're low on one or two colors and really want those colors in your rainbow sorted arranging, head to the used bookstores. Buying secondhand books is the best way to fill in colors. Try old book shops, garage sales, church sales, flea markets, etc. Don't feel weird about buying books purely for decoration. We're going for the aesthetic here after all.
| 3 | Take Off Or Add Dust Jackets To Change Color
Don't forget, a lot of books are actually really pretty beneath the dust jacket. Take a look at the actual binding beneath dusk jackets on your hard cover books; they might just have an even better color hidden there. (Hardcover books will also look more "vintage" and stylish without dust jackets.)
| 3 | Line Up Books on Your Shelf, One Color Section at a Time
Take your time setting up your books on the shelves. Go group by group. Play with heights and shades within that color group. You may want to organize the colors themselves by going from light to dark in that shade/color; i.e., ombré. Move books around until your bookshelf looks the way you want it to.
Remember: it doesn't need to be perfect. Just have fun with it!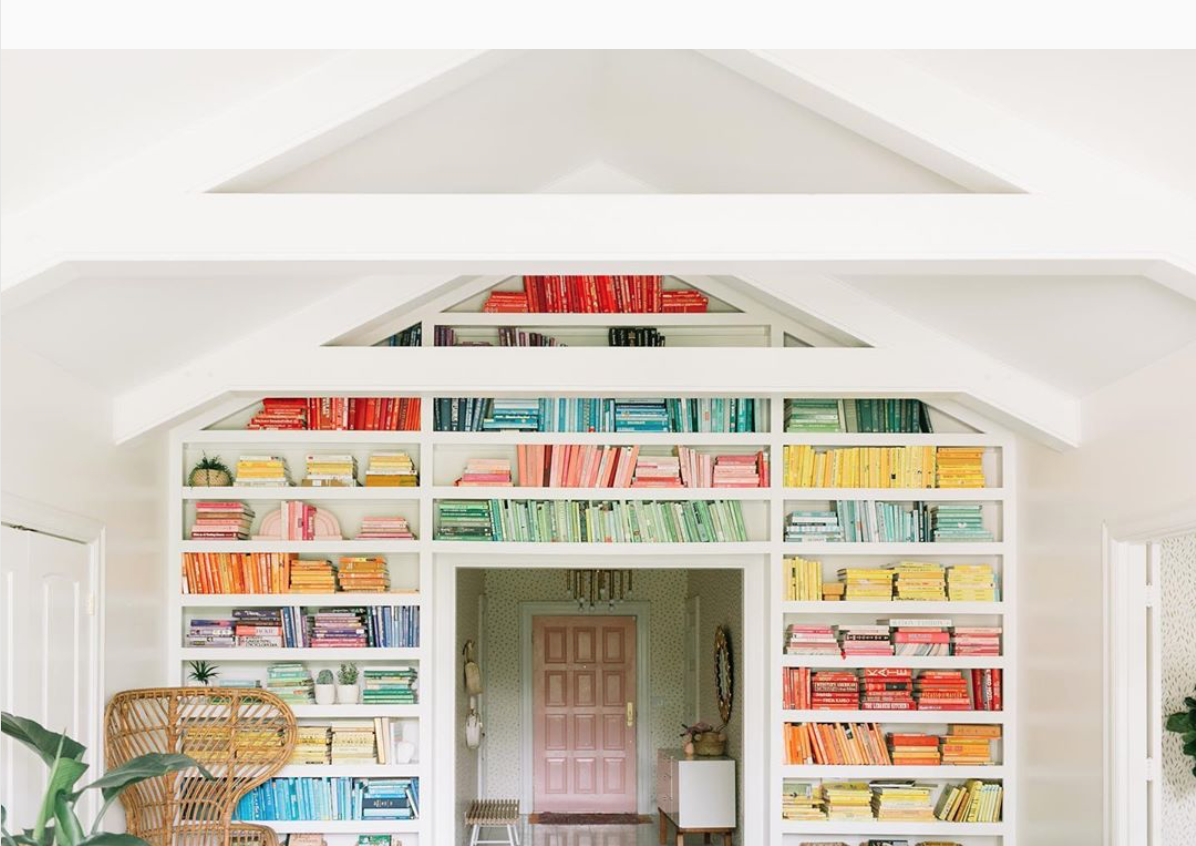 Pastel Rainbow Sorted Book Wall via @abeautifulmess
Elsie Larson has such an eye for color. The pale tones of the rainbow colored book spines she chose are so stunningly beautiful arranged all together like that. Does this not make you want a great big book wall full of dreamy pastel rainbow colored spines? 😍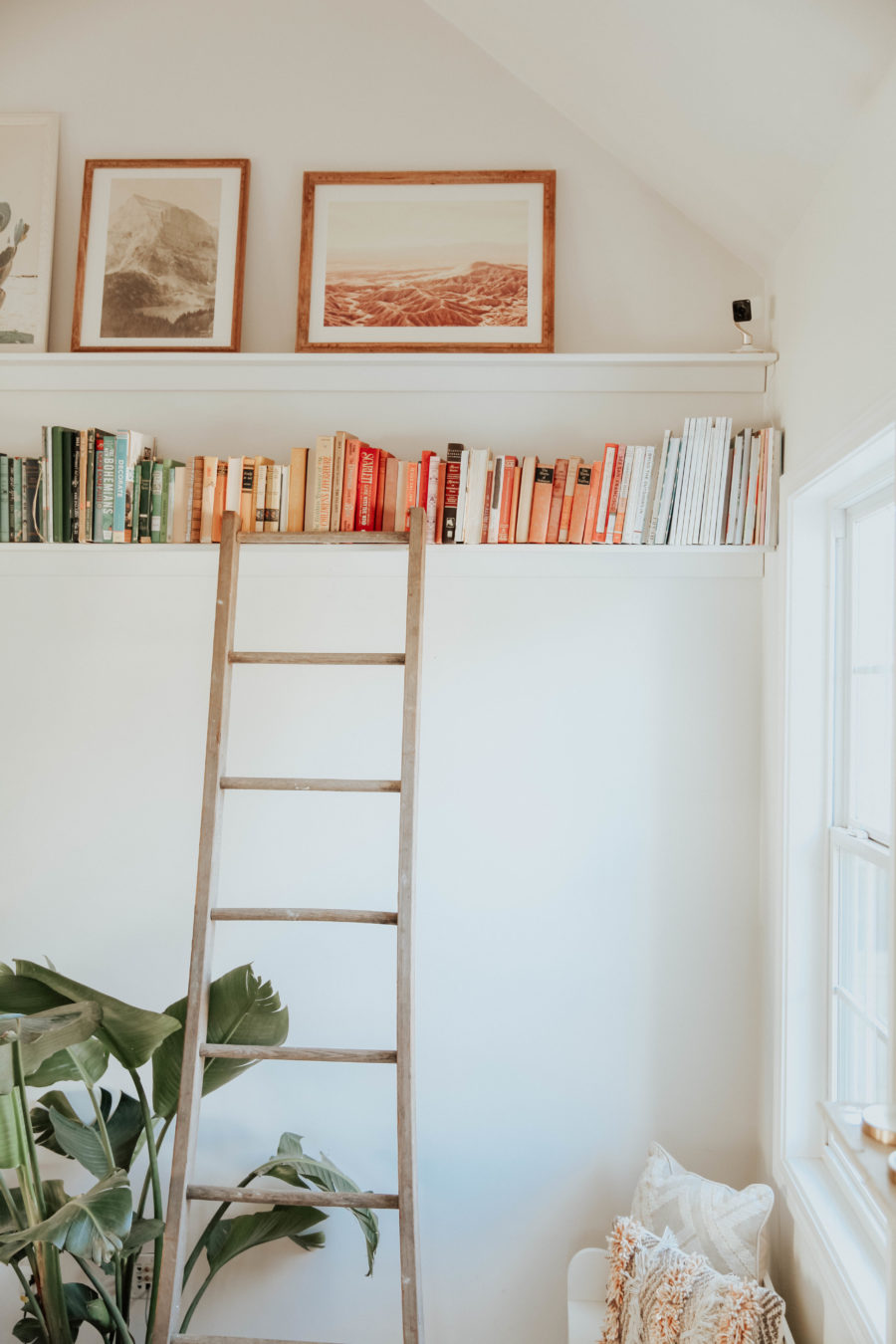 Neutral Pastel Rainbow Sorted Bookshelf via In Honor of Design
I love the simplicity of this rainbow sorted bookshelf. The soft, pastel colors they chose perfectly match the living room décor.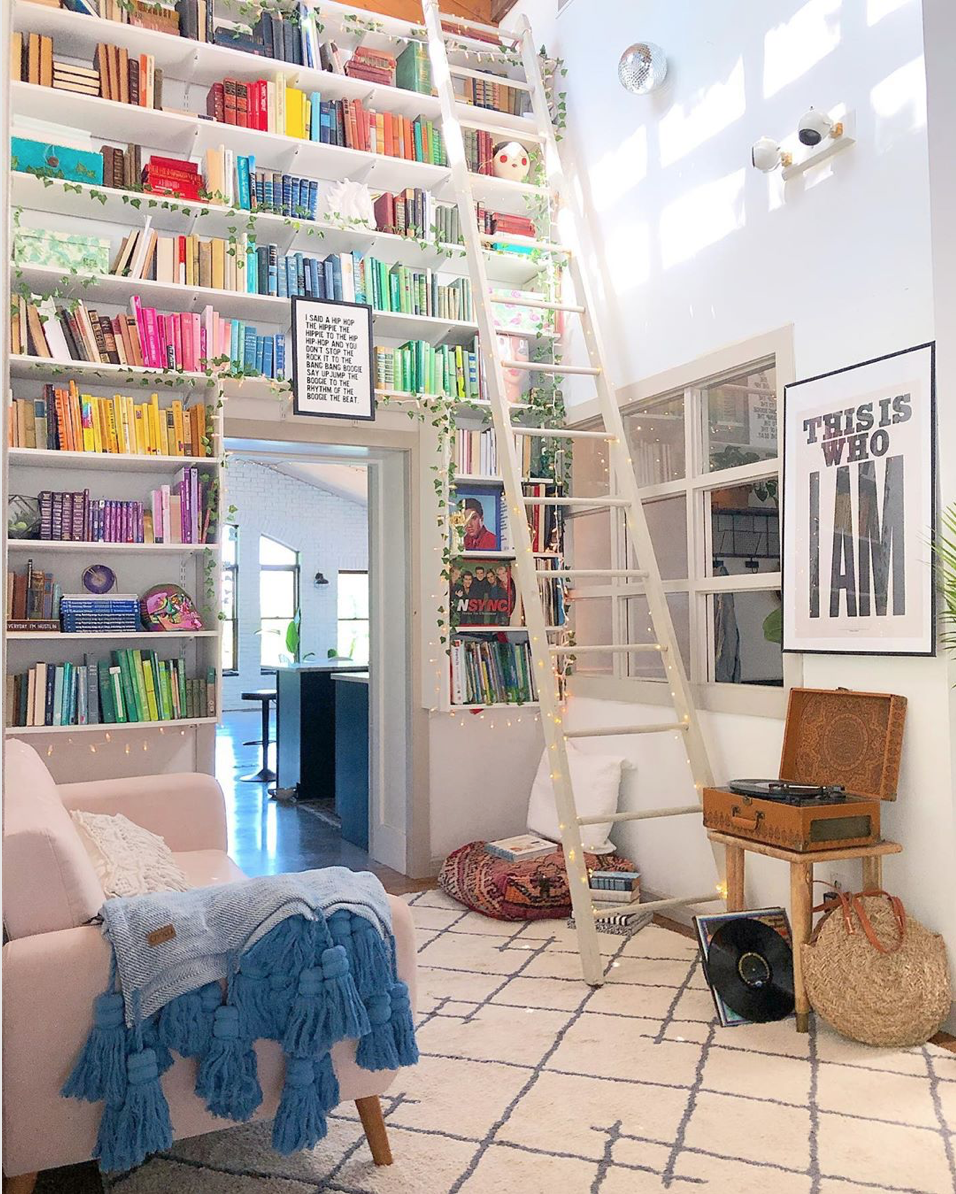 I love that these rainbow sorted bookshelves are sort of perfectly imperfect. So pretty.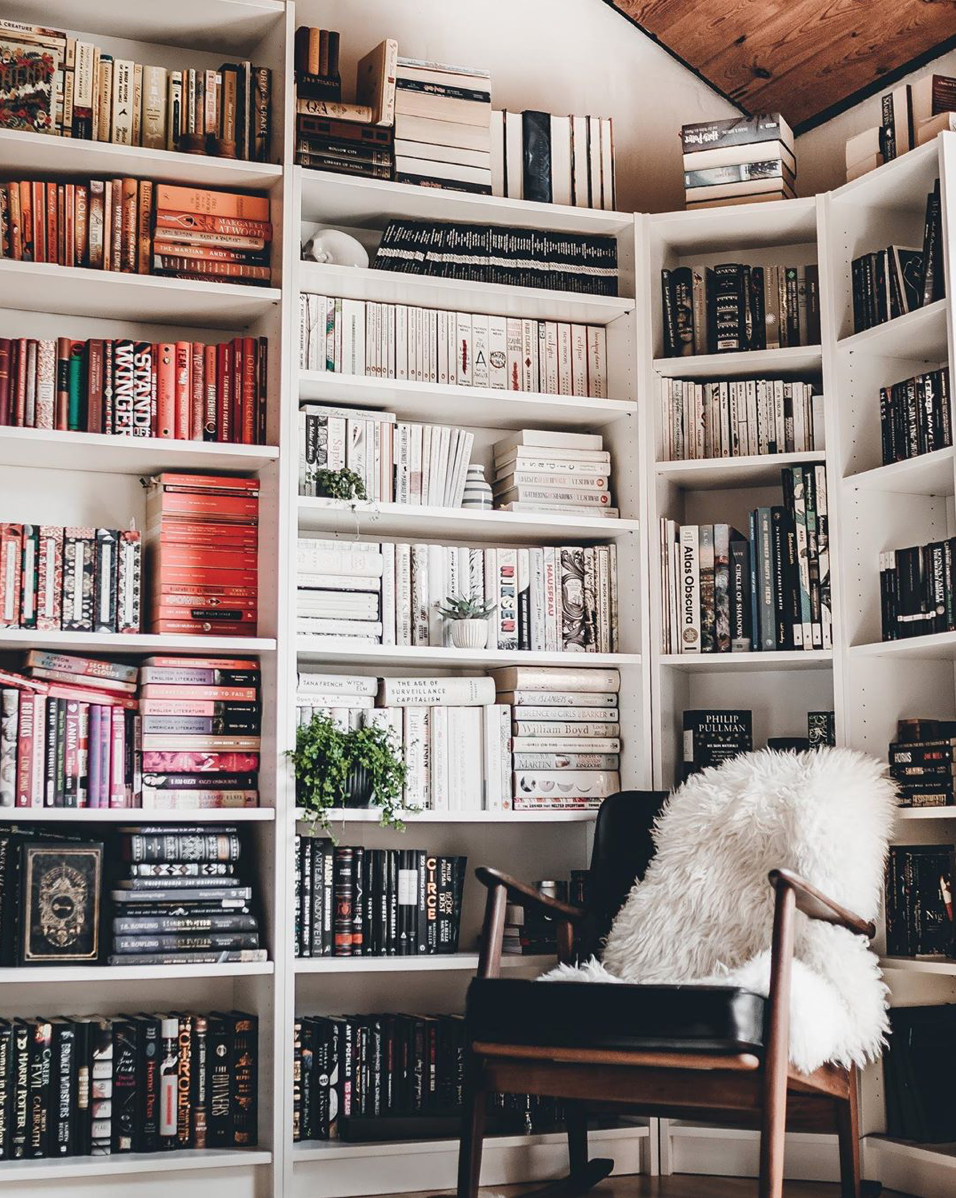 Books Sorted in Black, Pink and White via @silkreads
These book shelves are sorted into three main color groups: black, pink, and white; and I totally dig it.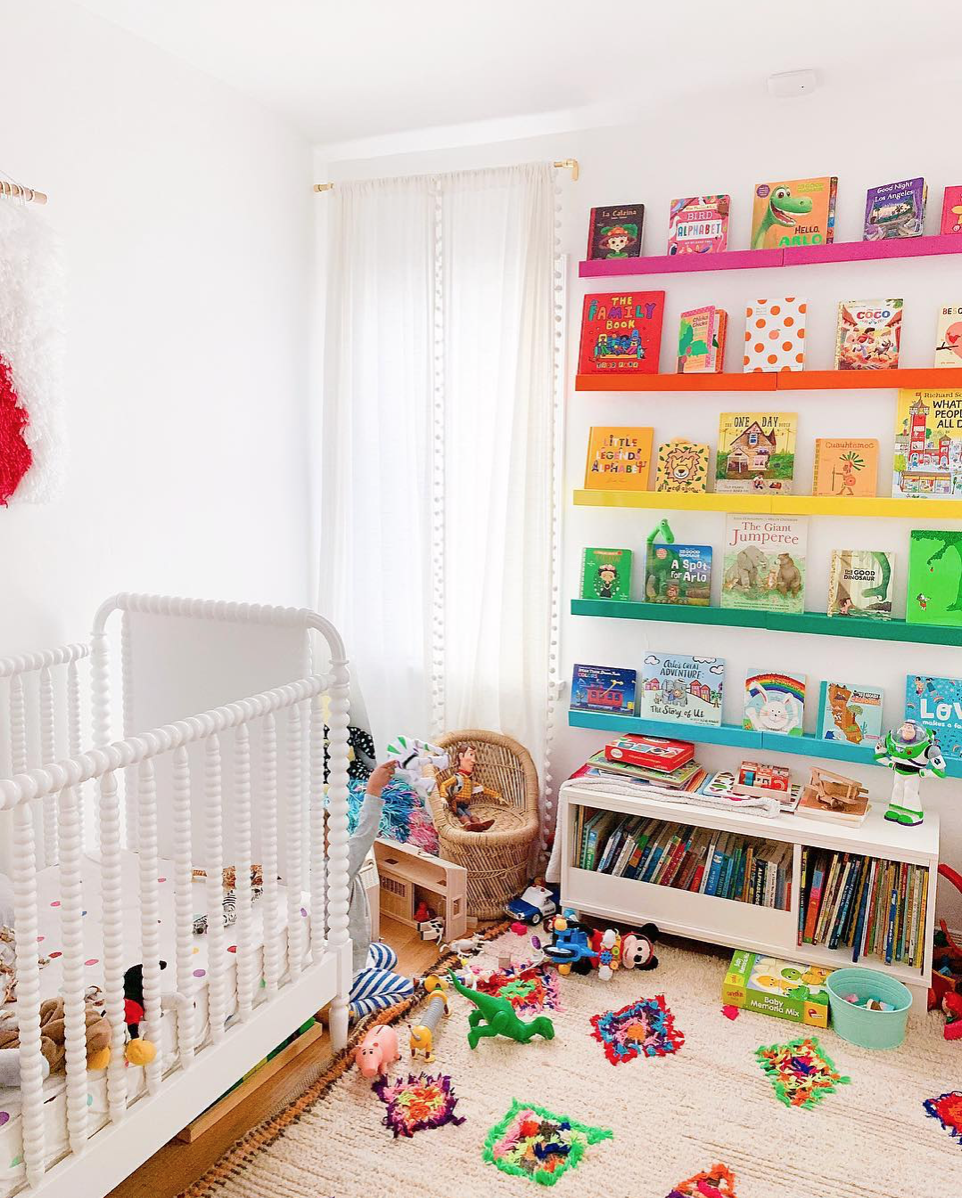 Rainbow Colored Bookshelves in a Nursery via Studio DIY
This is another really fun take on the rainbow book sorting trend. Instead of arranging books by the color of their spine, Kelly arranged her books, colorful covers forward, and then doubled down on the rainbow fun, by painting their bookshelves in a rainbow pattern as well. Do you love it or DO YOU LOVE IT??
SHOP THE BOOK SHELVES | CLICK LEFT & RIGHT ARROWS TO EXPLORE
I hope this post gives you plenty of ideas and inspiration for your own rainbow sorted book shelves. If you create your own rainbow-colored book shelf this season, be sure to tag me @glitterinclexi in your pictures on Instagram so that I can live vicariously through all of your stunning book wall creations!
Love this home design post? See more home décor tips, tricks, and plenty of design inspiration right here. And if you adore books, you do not want to miss our very own BOOK CLUB!!