This post is sponsored by Ace Hardware. All thoughts and opinions are my own and do not necessarily reflect those of Ace Hardware.
Since moving to North Carolina, I've become quite obsessed with the shabby chic, restored vintage look. Maybe I've drank the sweet tea, but I just can't help myself; bright whites, distressed paint, a bit of an antique feel – I'm in love. You may remember that last year I teamed up with ACE Hardware to participate in their 31 Days of Color (remember this perfect shade of lavender?), and we're at it again this year, but this time with a bigger project: my shabby chic coffee table.
First stop on my coffee table DIY project: Ace Hardware's Paint Studio – in stores and online – they've got all the color inspiration you'll need. I quickly settled on Clark + Kensington "Silent White," a bright white; perfect for that shabby chic coffee table look. I grabbed a paint brush and steel wool as well, to distress my table once I'd painted it. The oh-so-helpful man at ACE told me I'd likely only need one coat of paint, especially because I planned on distressing it, and he was spot on. By the way, don't be afraid to ask questions at your local ACE. I'm always amazed at how much knowledge I leave with after chatting with the amazing employees behind the counter. They know their stuff and really want your home DIY project to turn out just right!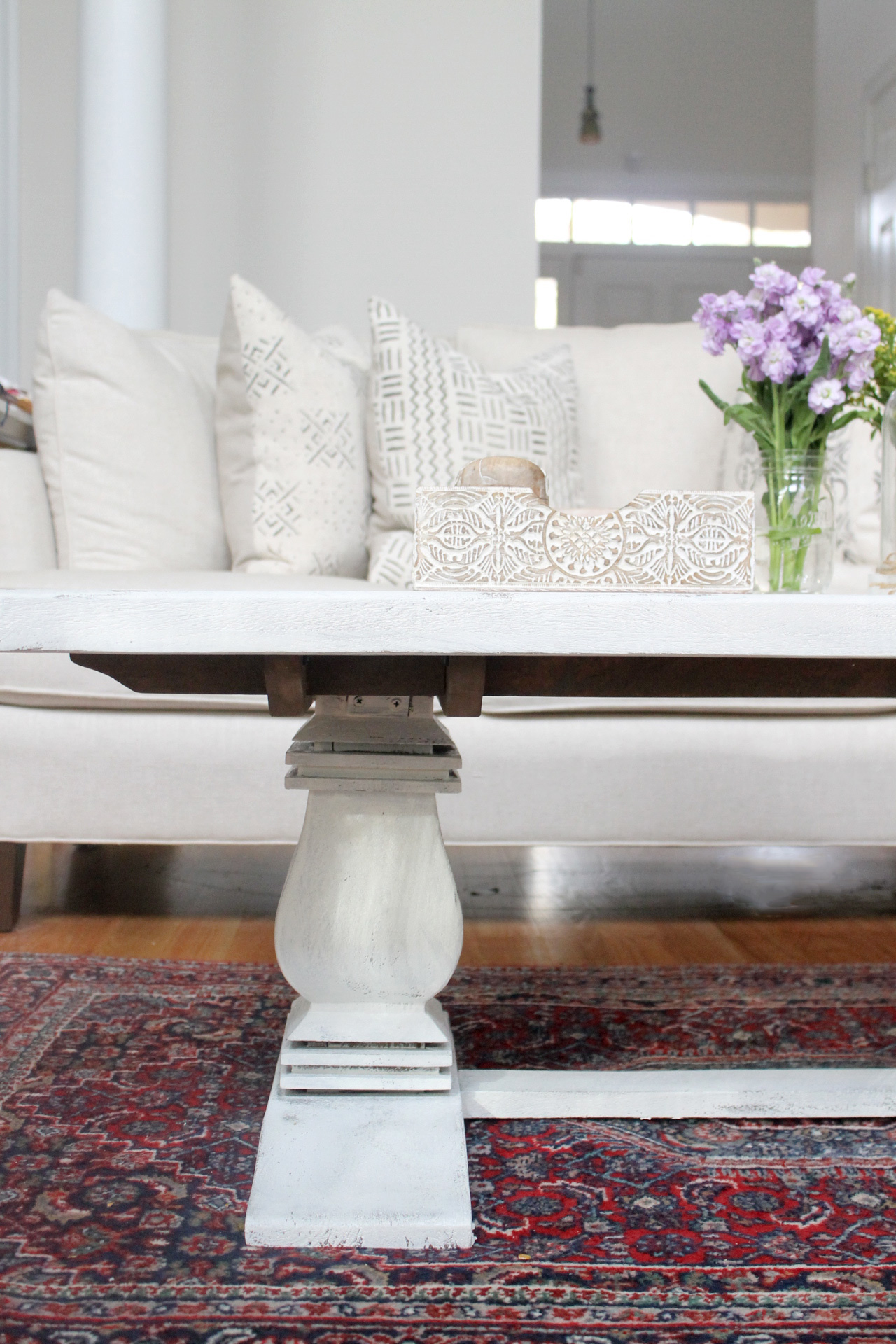 As for the table, I have always wanted to give it a bit of a facelift. The original wood color was always a bit dark for our living room, and well, with a toddler, the original wood surface was slowly being destroyed by crayons, dried banana, and sippy cup rings. But I also wanted to keep the project as simple as possible – as in, something I could do during nap time.
HOW TO DISTRESS A SHABBY CHIC COFFEE TABLE (The Easy Way!)
Depending on your surface, you may want to clean and sand a bit first. I washed the whole table down with a bit of dish detergent and a good scrub brush and then sanded a few surfaces that needed smoothing.
Don't forget to put lots of newspaper down before you start painting.
Using a 2″+ paint brush, paint your table in strokes. I tried to keep my strokes going in one direction so that they looked like they went with the wood grain. I also didn't paint a very heavy coat because I wanted that natural wood texture to peek through.
Allow your fully-painted table to dry. I left our table on the patio to dry overnight.
Once your paint is completely dry, using a steel wool pad and/or sand paper, rub briskly at surfaces you want distressed. I went for corners in particular, because in a natural distressed piece, corners usually get nicked the most. Don't be afraid to actually scrub off paint in some areas. The more distressing, the cooler, and more authentic, your piece will look. (Now that I've seen the table in photographs, I'm tempted to go back in and distress even more. The beauty of this project, is you really can't mess up! Foolproof; a.k.a., my kind of DIY project.)
Voilà! Your very own shabby chic coffee table, in a few easy steps. I think I'm going for the end tables next. The really tricky part is deciding whether to keep the shabby chic coffee table in our living room, or to move it out to our sunroom with an outdoor sofa or daybed (So many good options, here! I swear my home improvement "to do" list never ends.) Honestly, I'm kind of digging the look both ways!
I had always been wary of trying my hand at distressing a piece of furniture. I figured I'd leave it to the pros; but the truth is, with a great paint and some quick distressing, this project was so much easier than I had imagined. Such a fan.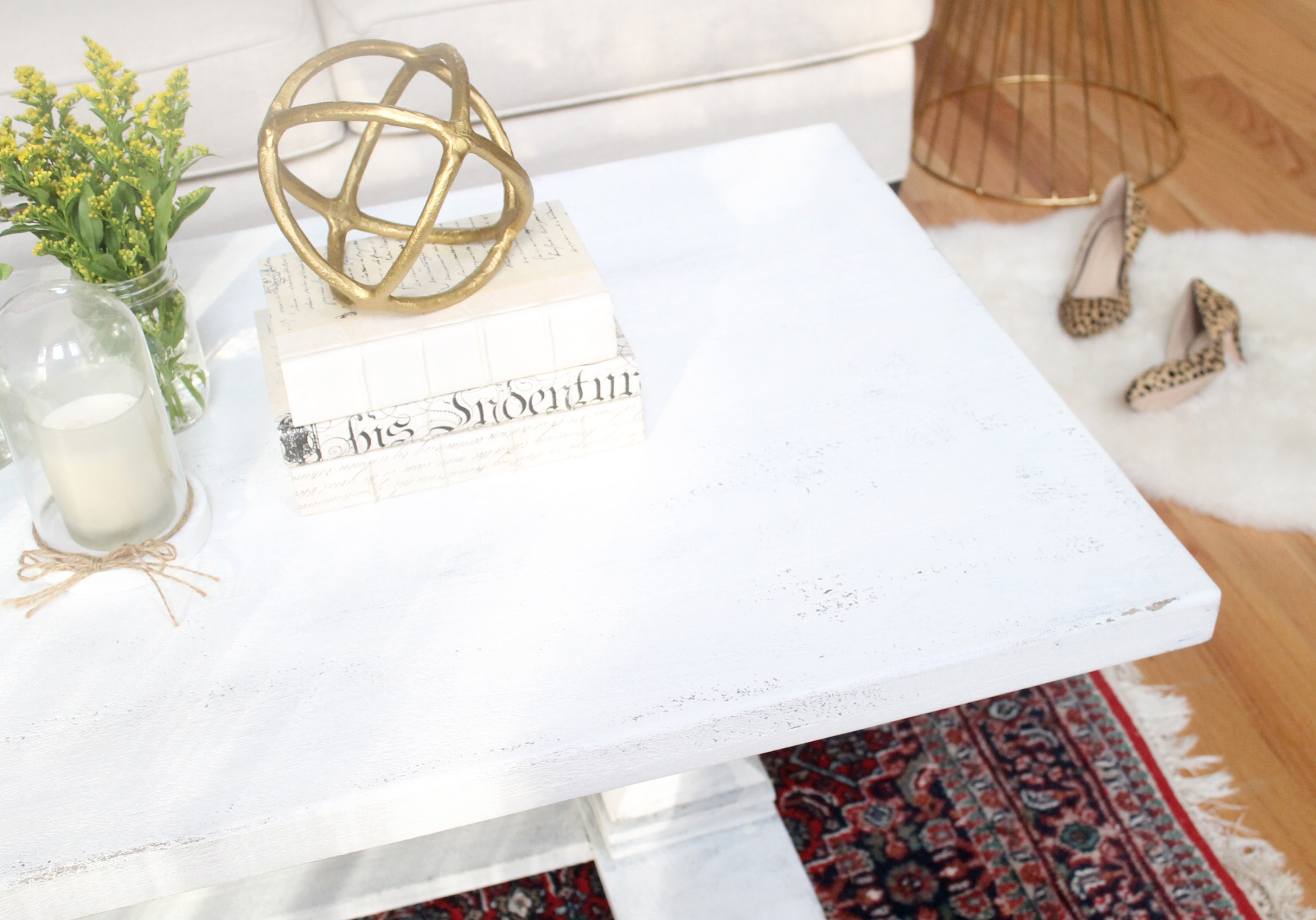 Check out the Ace Hardware Paint Studio 31 Days of Color every day in March to uncover new colors, get inspired for your own home DIY projects and get expert tips from the pros. Visit the Paint Studio to enter the 31 Days of Color sweepstakes for the chance to win a $10,000 paint makeover and daily gift cards! (Oh yeah, you read that right: a $10,000 paint makeover!)
No purchase or payment necessary to enter or win.  Open to legal US residents residing in the contiguous United States and the District of Columbia who are at least twenty-one (21) years of age and who are homeowners.  Sweepstakes will run from 3/1/16-3/31/16.  Full rules located here: https://www.thepaintstudio.com/31daysofcolor/pdf/2016AceHardware31DaysofColorSweepstakesRules.pdf

Another day, another color to inspire your home projects. Every day in March, Ace is unveiling a featured color and giving you a chance to win a $10,000 room makeover! To learn more, visit thepaintstudio.com.