Nothing like starting the week off with a little ice cream, amiright? And this one in particular – roasted peach and oatmeal cookie no churn ice cream, packed with chewy homemade cookie chunks – OMG. Besides, we only have about five weeks left of summer, so why not enjoy every last second of it. With homemade ice cream.
Psst .. love ice cream? You do not want to miss our confetti cookie cup ice cream sundaes and double chocolate peanut butter ice cream sandwiches (made with homemade salted chocolate and peanut butter swirl ice cream and chocolate sugar cookies.)
But back to today's summer-perfect roasted peaches and oatmeal cookie no churn ice cream …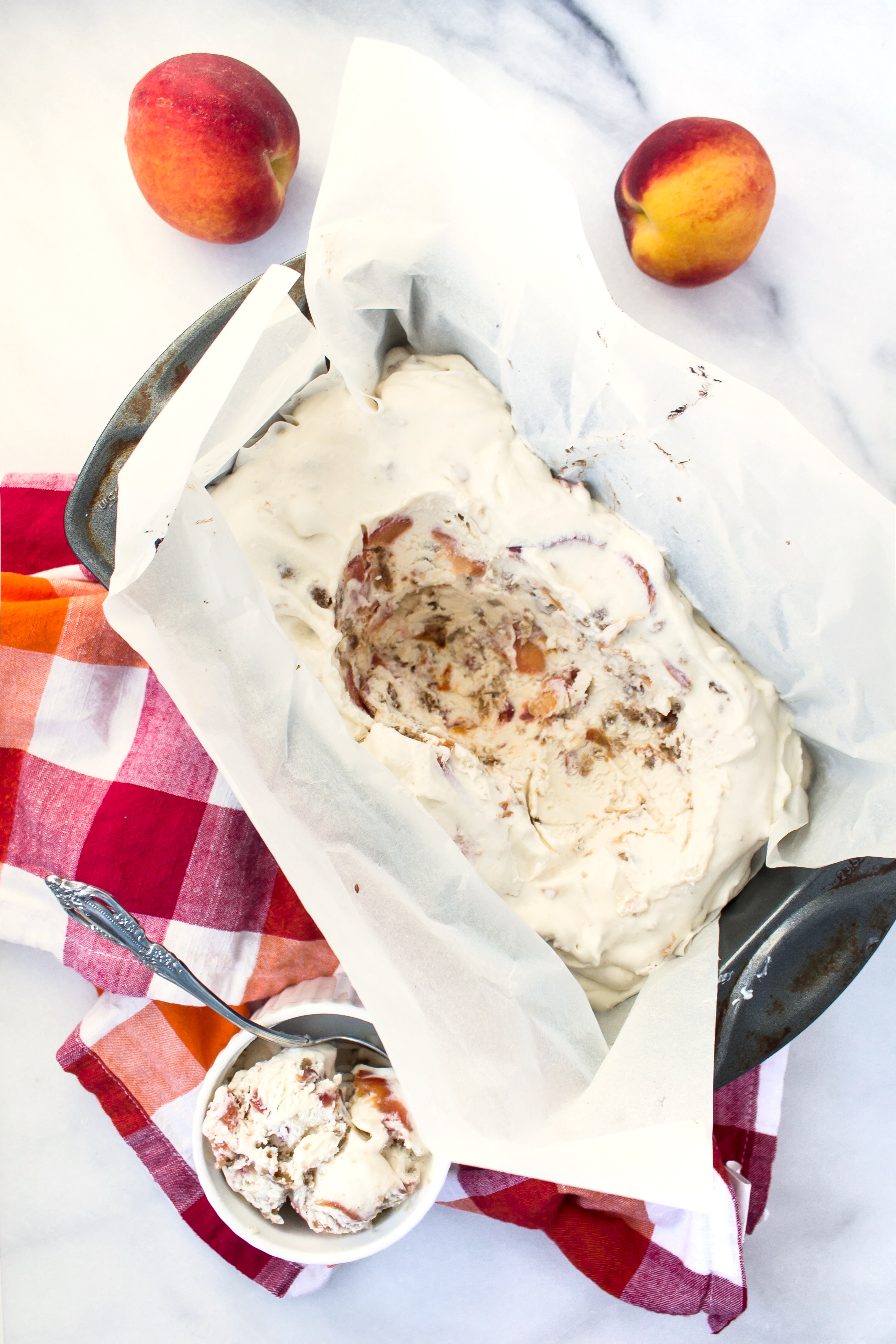 Our awesome food contributor, Hope, perfected this homemade no churn ice cream crammed with roasted peaches and oatmeal cookies, and the result is so, so good.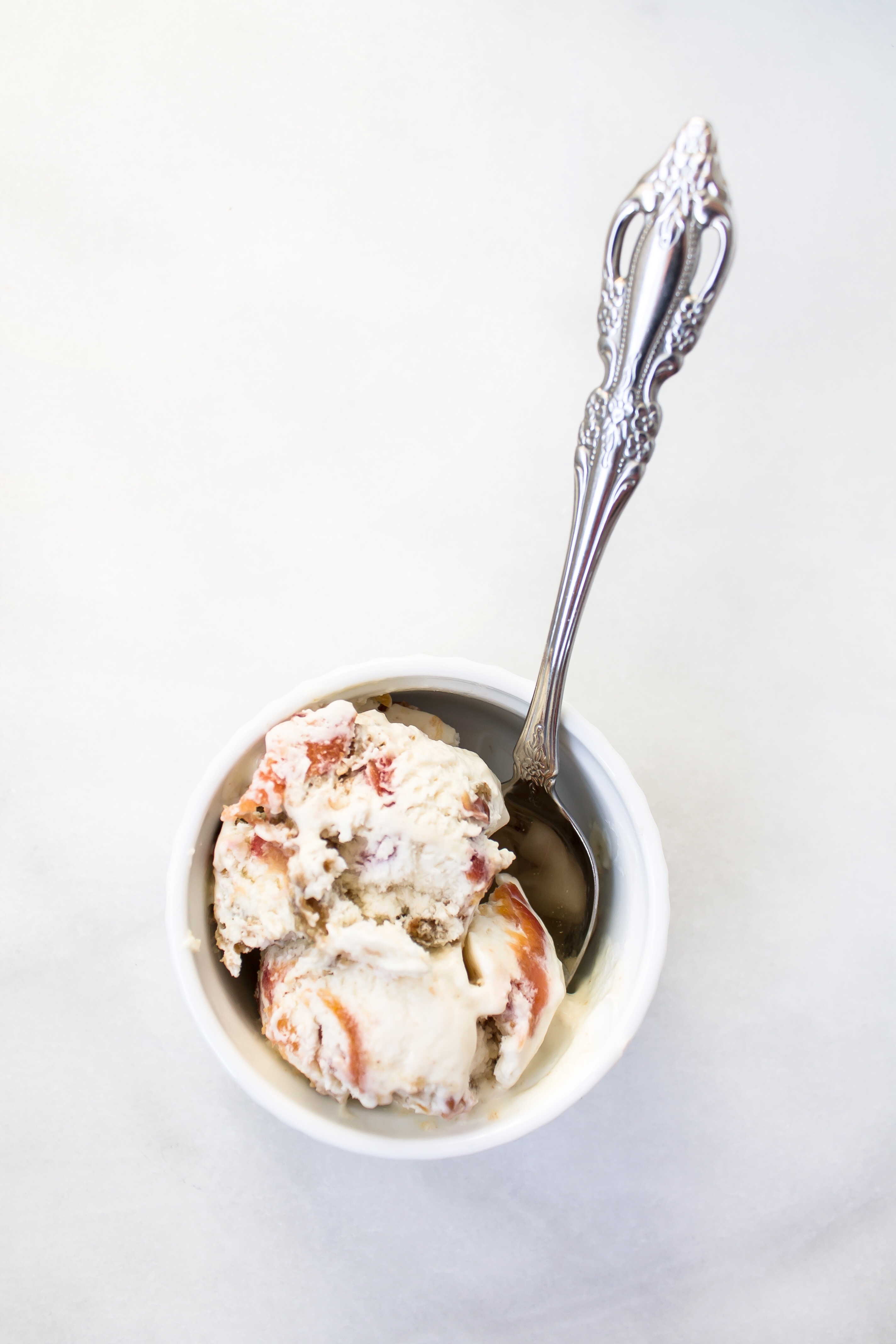 From Hope:
The combination of flavors in this roasted peach and oatmeal cookie no churn ice cream is amazing! The sweet roasted peaches and chewy oatmeal cookies suspended in a smooth and easy no churn ice cream base are perfectly delicious. Each bite is a little different, but each spoonful brings a bit of nostalgia for those warm, slow summer nights on the front porch.

Peach and Oatmeal Cookie Crumble No Churn Ice Cream
INGREDIENTS
5 smallish or 4 medium to large peaches, thinly sliced
2 tablespoons light brown sugar
½ teaspoon sea salt
1 (14-ounce) can sweetened condensed milk
2 teaspoons vanilla extract
1 teaspoon bourbon
2 cups cold heavy cream
Oatmeal cookie chunks (recipe below)
DIRECTIONS
Preheat the oven to 400 degrees F. Line a baking sheet with parchment paper. Spread the peach slices out in a single layer and sprinkle with the brown sugar and salt. Roast until golden and caramely, flipping once or twice during roast time, about 30 to 35 minutes.
Line a loaf pan or ice cream freezer container with parchment paper.
In a bowl, whisk together the sweetened condensed milk, vanilla extract, and bourbon until combined.
Place the cold cream in the bowl of an electric mixer and beat on medium high speed until stiff peaks form. Fold the whipped cream into the mixture – constantly folding over and over until everything is combined. This will take a few minutes! Fold in the sugar roasted peaches, reserving a few for the top of the ice cream.
Gently stir in most the cookie crumbs. Pour the mixture into your prepared loaf pan and freeze for at least 6 hours, or overnight.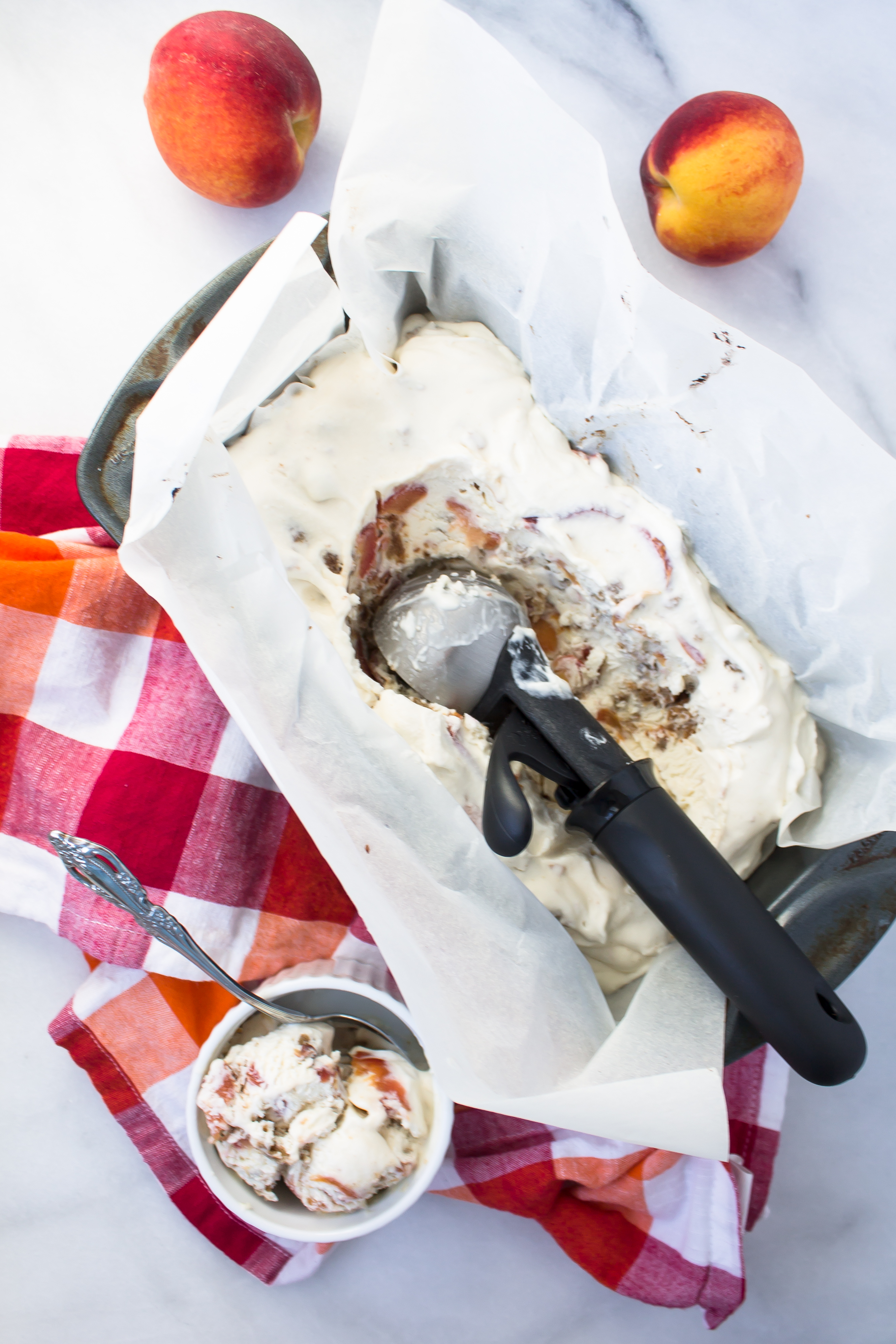 Oatmeal Cookies
INGREDIENTS
3/4 cup all purpose flour
1 cup of quick cooking oats
1/2 teaspoon baking soda
1/8 teaspoon cinnamon
8 tablespoons (1 stick) unsalted butter
3/4 cup packed light brown sugar
1/4 + 1/8 teaspoon sea salt
1/2 teaspoon vanilla
1 egg
DIRECTIONS
Preheat the oven to 350 degrees.
Stir together the flour, oats, baking soda, cinnamon, and salt until combined in a medium sized bowl. In a large bowl, cream the butter until smooth with an electric mixer. Add the sugar, beating until light and fluffy. Add the vanilla and eggs, beating well to combine thoroughly. Add the dry ingredients slowly and mix just until combined.
Pat out the dough into the bottom of an 8.5″ x 4.5″ loaf pan. Bake in the preheated oven for 20 minutes or until the dough at the center of the pan looks nearly done. Allow the cookies to cool at room temperature or in a fridge. Cut into small cubes, or break it into small pieces, just before using.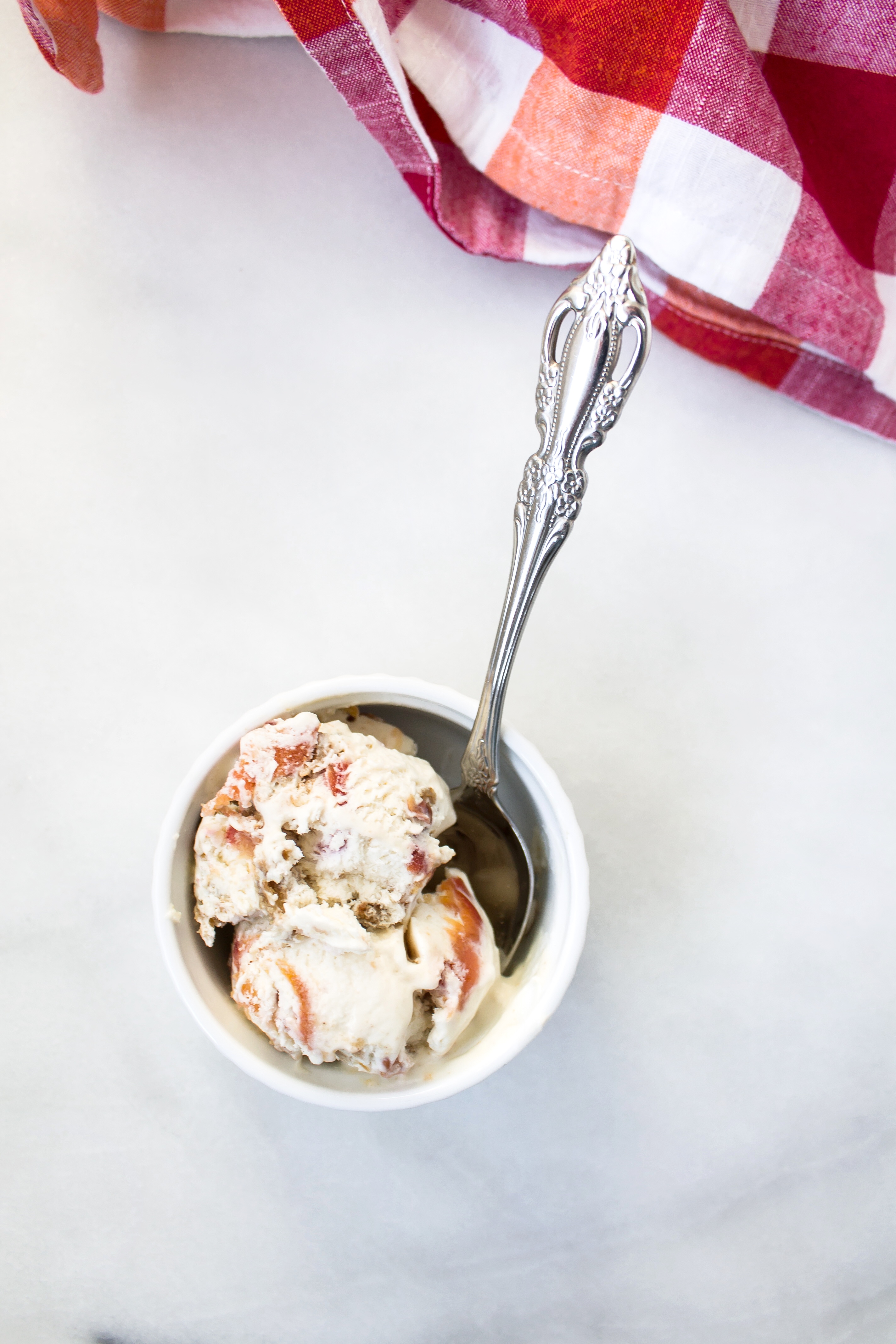 If you make your own roasted peach and oatmeal cookie no churn ice cream, be sure to tag me on social media (@glitterinclexi) so I can live vicariously through all of your yummy ice cream creations!