This post contains affiliate links, which means that if you click on one of the product links, I'll receive a small commission. Thank you so much for clicking through and helping to support this little blog business of mine! Read more about our site, privacy, and disclosure policies here.
Fluffy homemade marshmallows dipped in chocolate and crushed peppermint; these heavenly and festive marshmallows are perfect for gifting and devouring this holiday season.
Goodness, I'm excited about today's recipe. Let me start by saying that if you have never experienced the bliss that is a fluffy homemade marshmallow, it is time to hop on that sweet treat bandwagon. (Remember these big and fluffy raspberry marshmallows?) Truly, homemade marshmallows are SO much better than store-bought and making homemade marshmallows is the coolest thing ever. There's something totally magical about watching sugar whip up into marshmallow fluff, and then just a few hours later, the marshmallow sets into this giant squishy pillow. You sort of feel like a mad scientist in the kitchen and the end result is too much fun.
Dipping these fluffy homemade marshmallows in chocolate and crushed peppermint is just the icing on the cake … errr, marshmallow.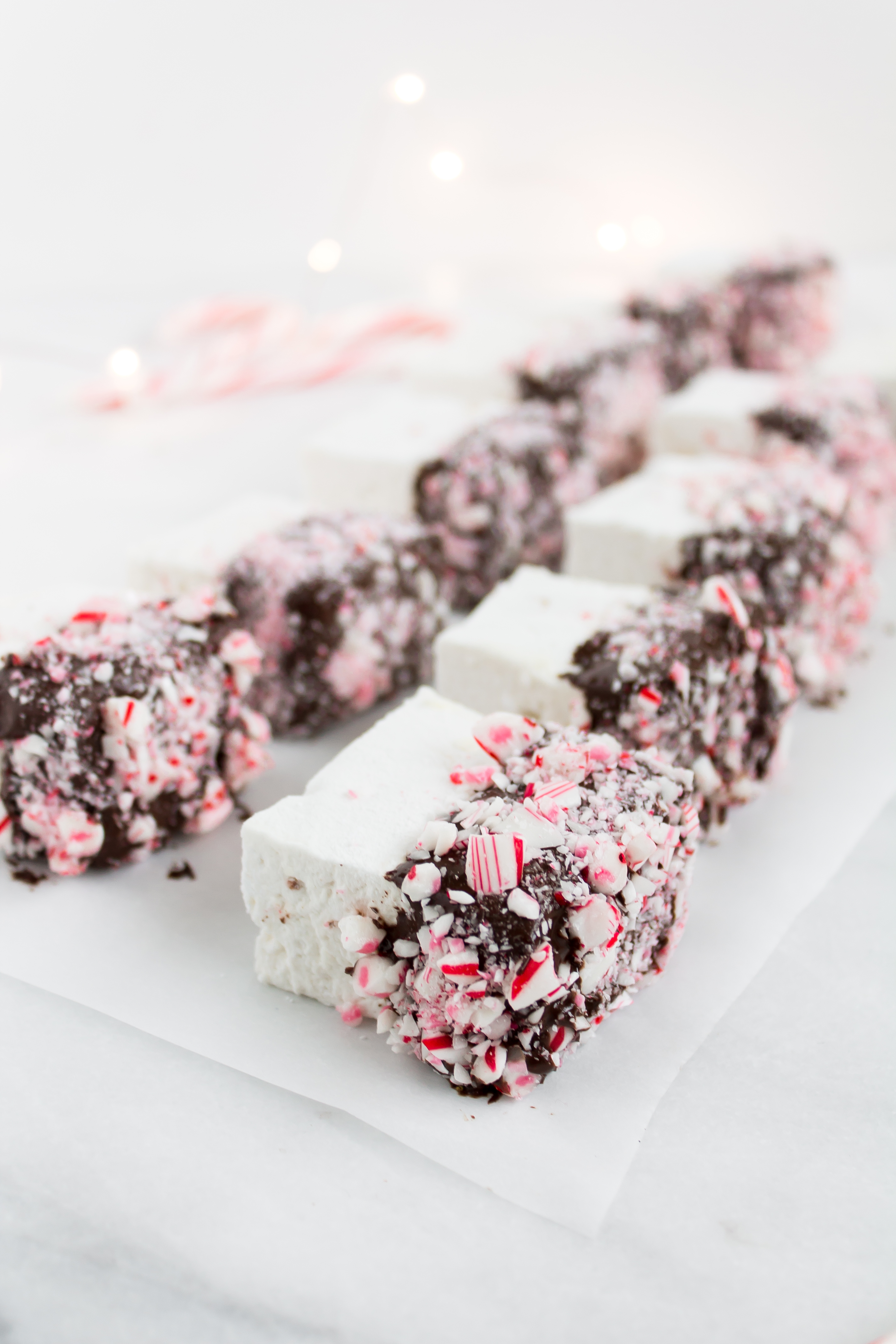 Psst … Looking for other party-worthy recipes for the holidays? Check out our super popular holiday dessert charcuterie snack board, the cutest easy Christmas tree brownies, marbled peppermint bark, classic graham cracker crack, sugared cranberries (to top cakes and cocktails), and sparkling pomegranate punch.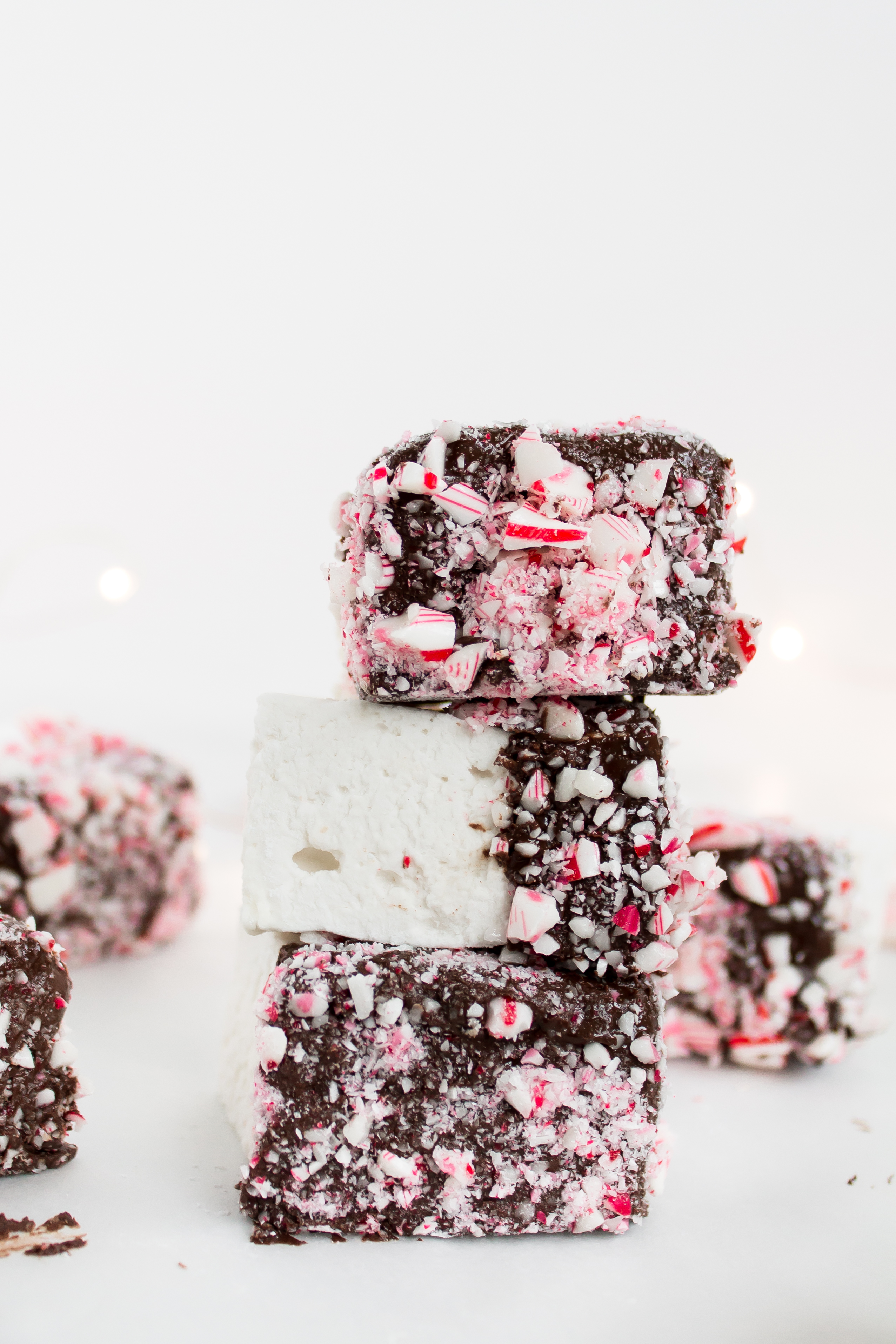 So as you can imagine, when Hope, our food contributor, shared this awesome holiday recipe with me, I couldn't wait to share it!
From Hope:
Pillow soft, fluffy homemade marshmallows seem like such a luxury. They look fancy without taking much hands-on time to make. Dipped in chocolate and crushed peppermint, homemade chocolate covered marshmallows become the perfect treat for your evening hot cocoa, or a beautiful, simple gift perfect for visiting house guests, hostesses, teachers, and more!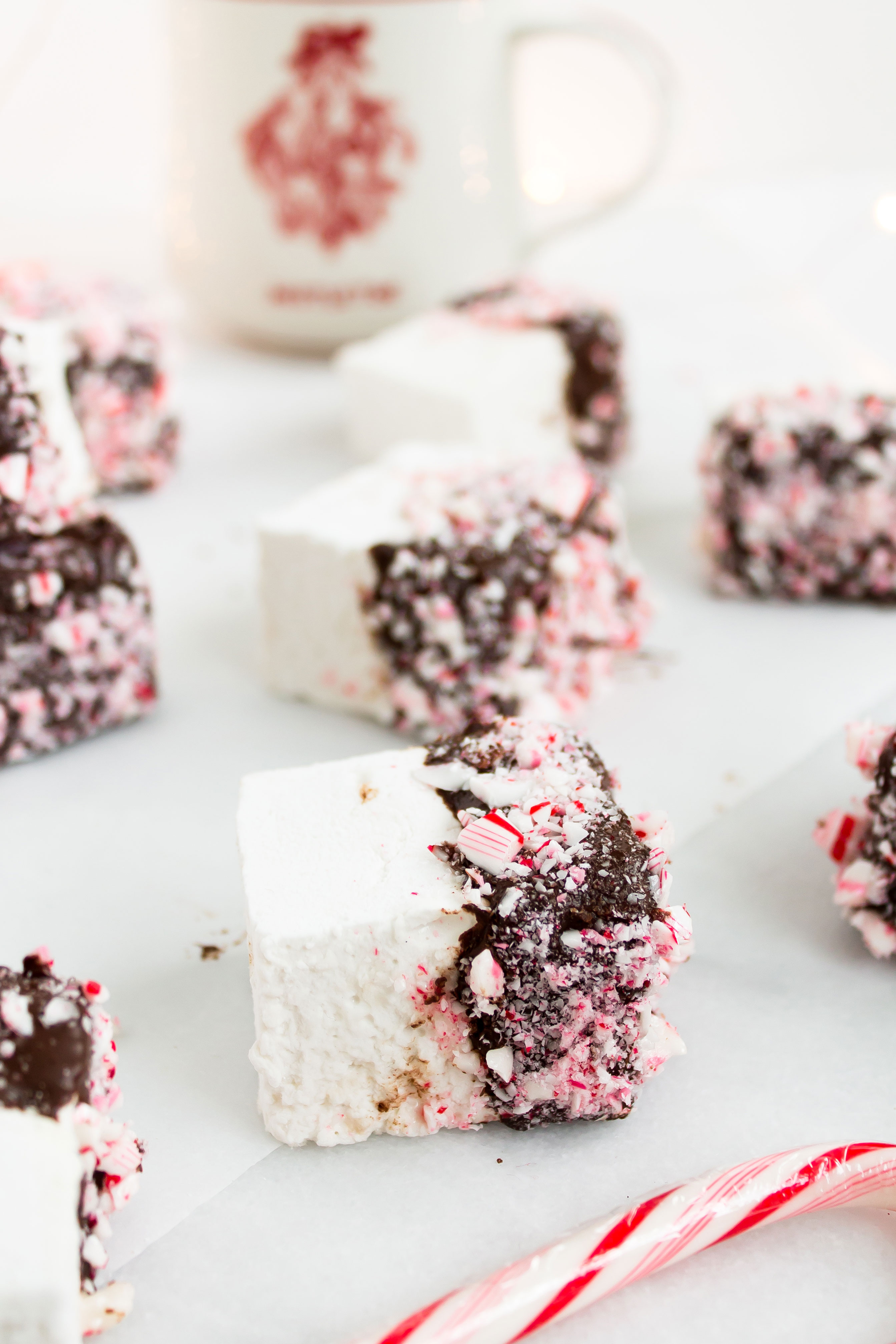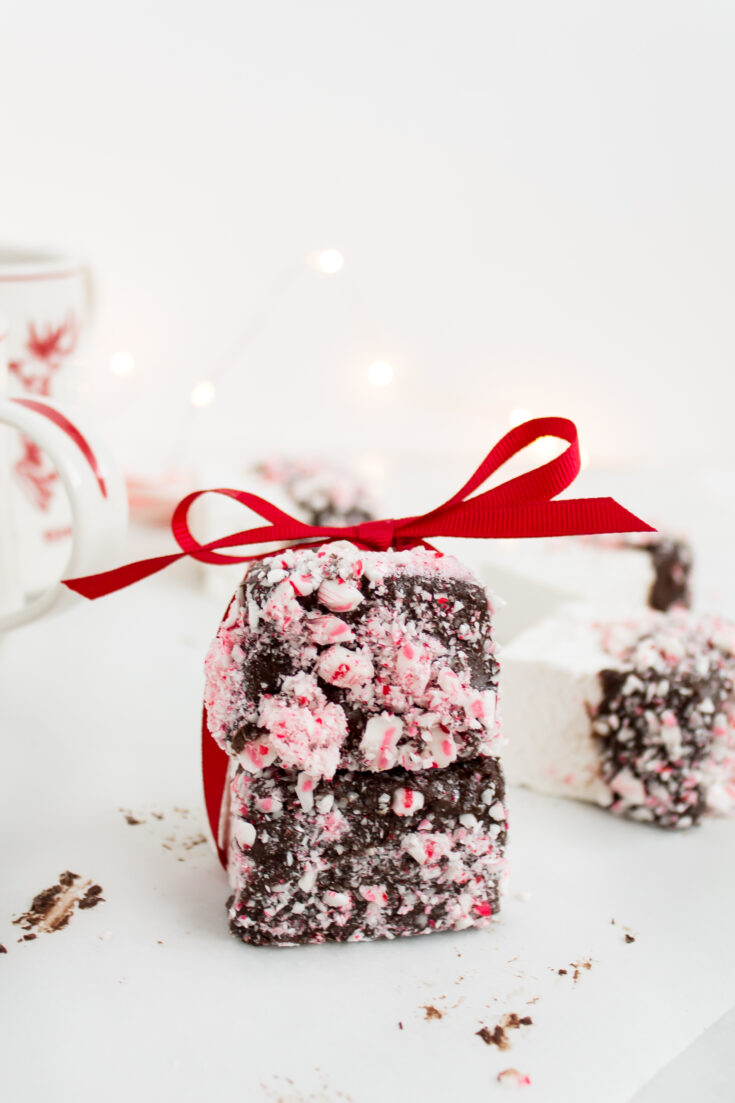 Yield:
Chocolate Covered Marshmallows with Crushed Peppermint
Ingredients
1 cup cold water
3 packages plain gelatin powder
1 ½ cups sugar
1 cup light corn syrup
a pinch of salt
1 teaspoon vanilla
powdered sugar, for dusting
1 cup semisweet or dark chocolate
6-8 candy canes, crushed (can also buy crushed peppermint at the store)
Optional: In addition to rolling the marshmallows in crushed peppermint, to make the marshmallows themselves peppermint flavored, substitute 1 teaspoon of peppermint extract for the vanilla extract
Instructions
Spray a 9×13-inch pan or a casserole dish with nonstick cooking spray and dust with powdered sugar. Set aside.
In the bowl of an electric mixer fitted with the whisk attachment, pour ½ cup of the cold water. Sprinkle the gelatin powder over the water and let it sit for about 10 minutes while you prepare the next steps.
In a medium saucepan, combine the remaining ½ cup of water, the sugar, corn syrup and salt over medium heat. Stir until the sugar dissolves, then stop stirring. Increase the heat and bring the mixture to 240 degrees F, using a candy thermometer to check. If you don't have a candy thermometer you might be able to use a clean meat thermometer. (My parents sent me this candy thermometer spatula earlier this year and it has been perfect for marshmallow and caramel making.)
Once the mixture reaches 240 degrees, remove it from the heat. Turn the electric mixer with the gelatin mixture on a low speed and carefully stream the hot sugar mixture into the bowl while the mixer is running. Beware of hot sugar that might splatter if you pour it too quickly or into the whisk! Add the peppermint extract and gradually increase the speed of the mixer to high. Beat on high for about 8-10 minutes, or until white and very fluffy. The mixture should have tripled in volume and will look like marshmallow cream at this point.
Spread the marshmallow fluff into your prepared pan. Dust the top of the marshmallows with powdered sugar and let rest for 8 hours, or overnight.
After they have set, coat a sharp knife with nonstick cooking spray (this makes cutting cleaner and easier) and cut the marshmallows into cubes. Roll each marshmallow in a bit of powdered sugar to keep them from sticking to each other. If you are not coating them in chocolate and peppermint right away, store the marshmallows in an airtight container until you are ready to use them.
Line a cookie sheet with parchment paper or wax paper. Pour your crushed candy canes or crushed peppermint in a small bowl.
In a medium microwaveable bowl, melt your chocolate by heating it for 1 minute in the microwave, stirring halfway through. Continue to heat the chocolate and stir in 10-second increments until it is fully melted.
Tap the powdered sugar off of a marshmallow and dip it in the melted chocolate. The powdered sugar can prevent the chocolate from sticking to the marshmallow. If you are having trouble with the chocolate sticking, try spreading it onto the marshmallow with the back of a spoon. Holding the chocolate-dipped marshmallow over the peppermint bowl, sprinkle crushed peppermint on all of the chocolate covered areas. Place the finished marshmallow on your prepared pan. Repeat these steps with all of the marshmallows you want to cover.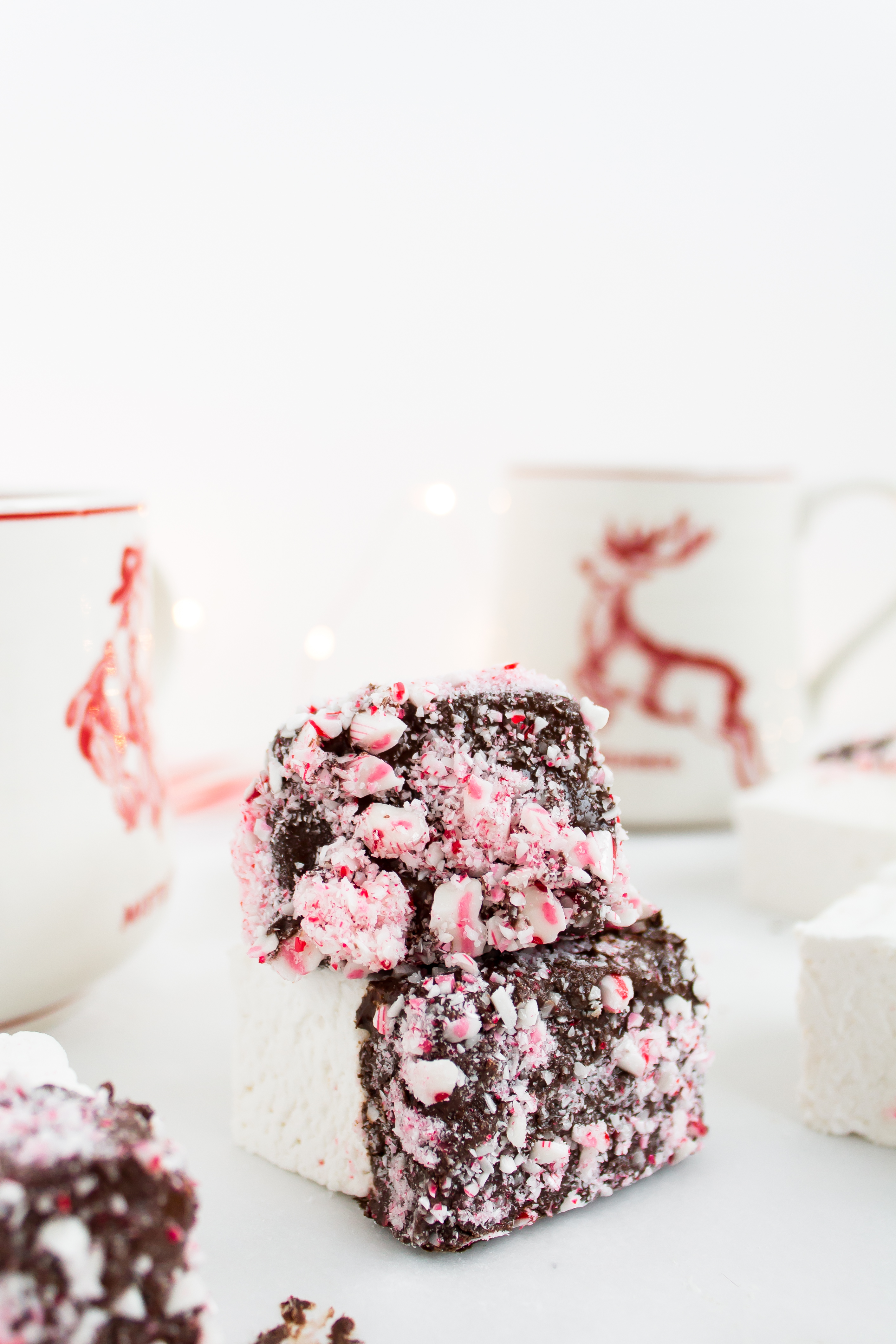 Aren't these chocolate covered marshmallows just so darn pretty?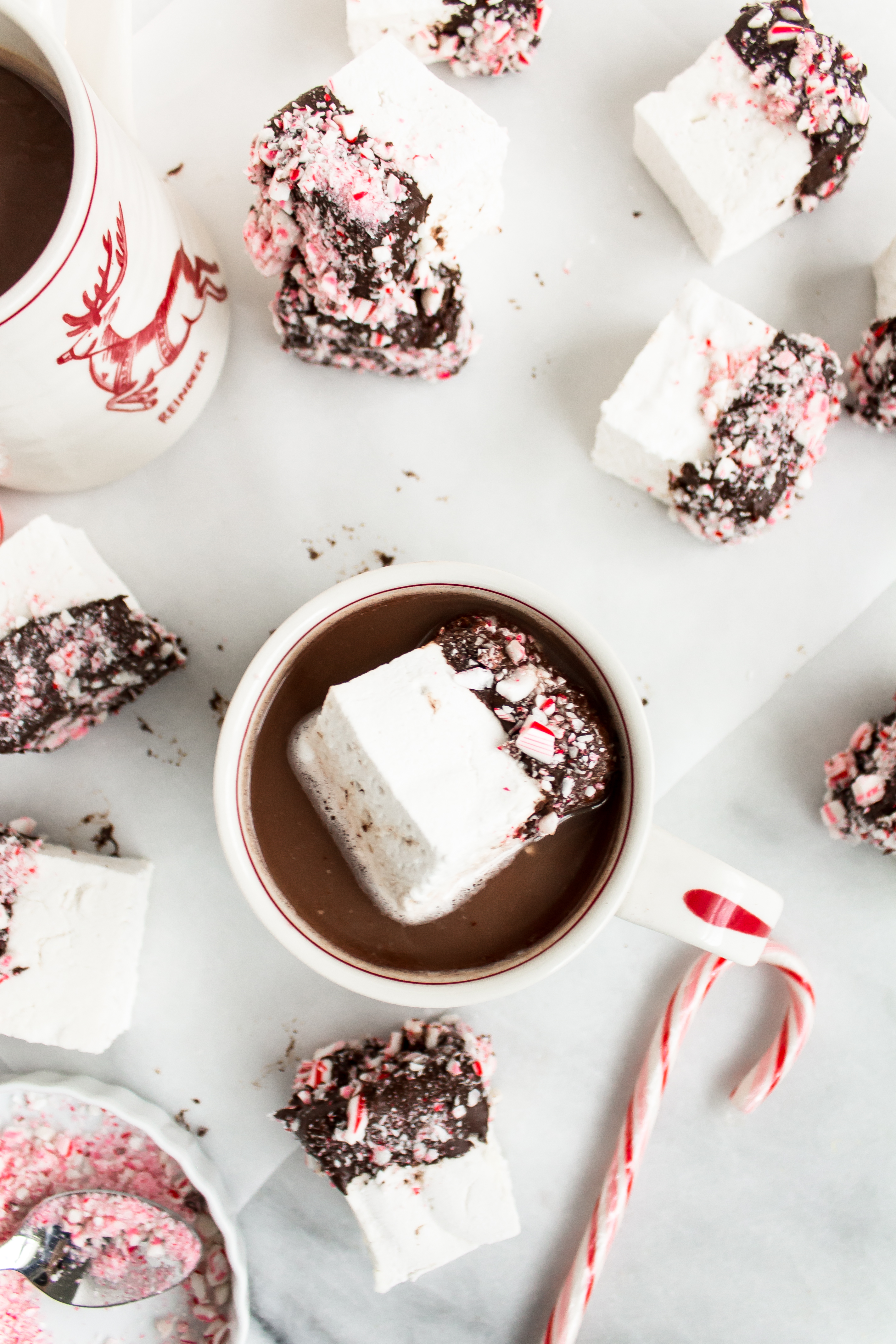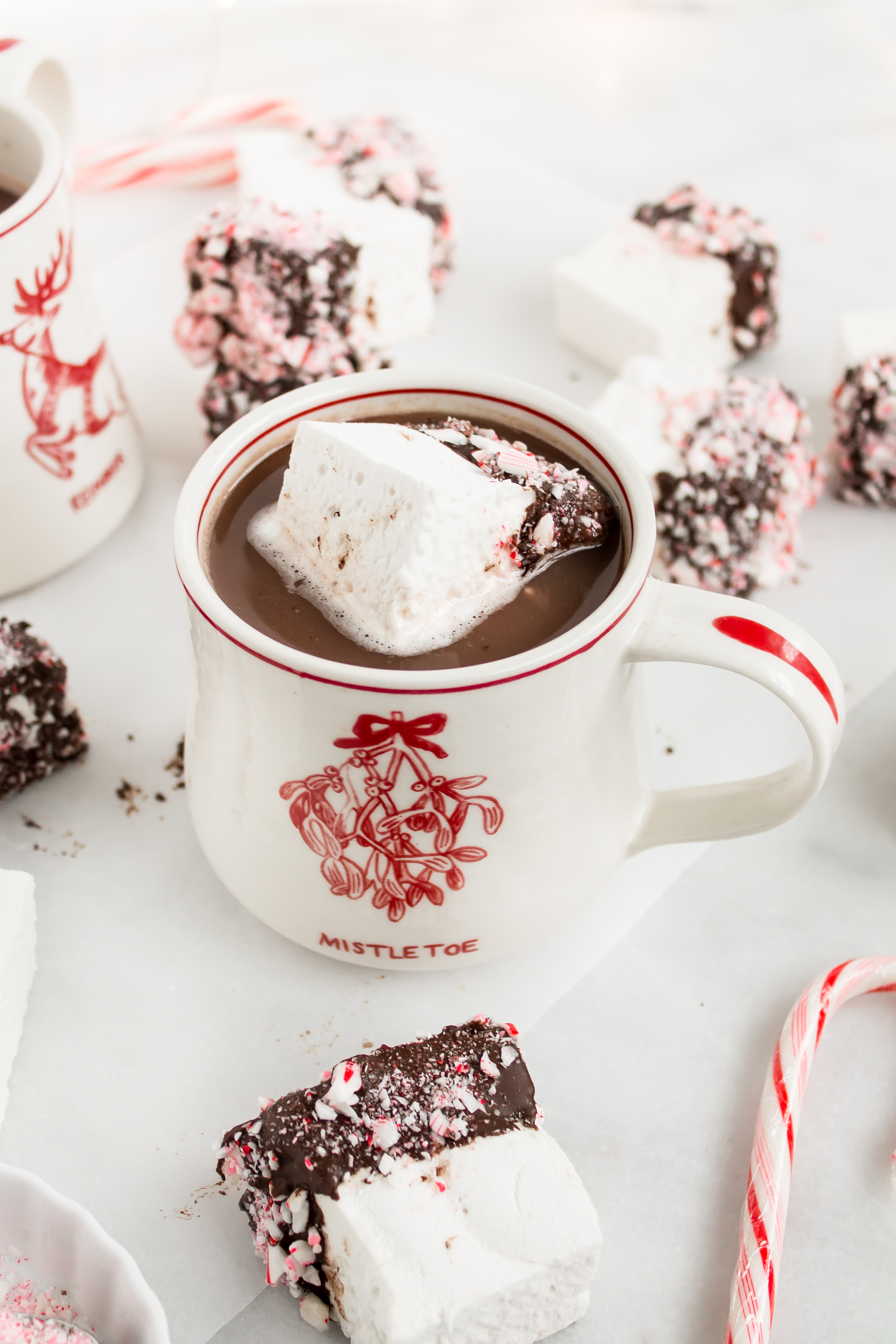 Pro tip: top your hot cocoa with one of these fluffy chocolate and peppermint covered marshmallows for the yummiest decadent holiday treat. And of course, don't forget to Instagram!
(Side note: the Molly Hatch mugs in the pictures are from a few season's back at Anthropologie, but these mugs … SO cute.)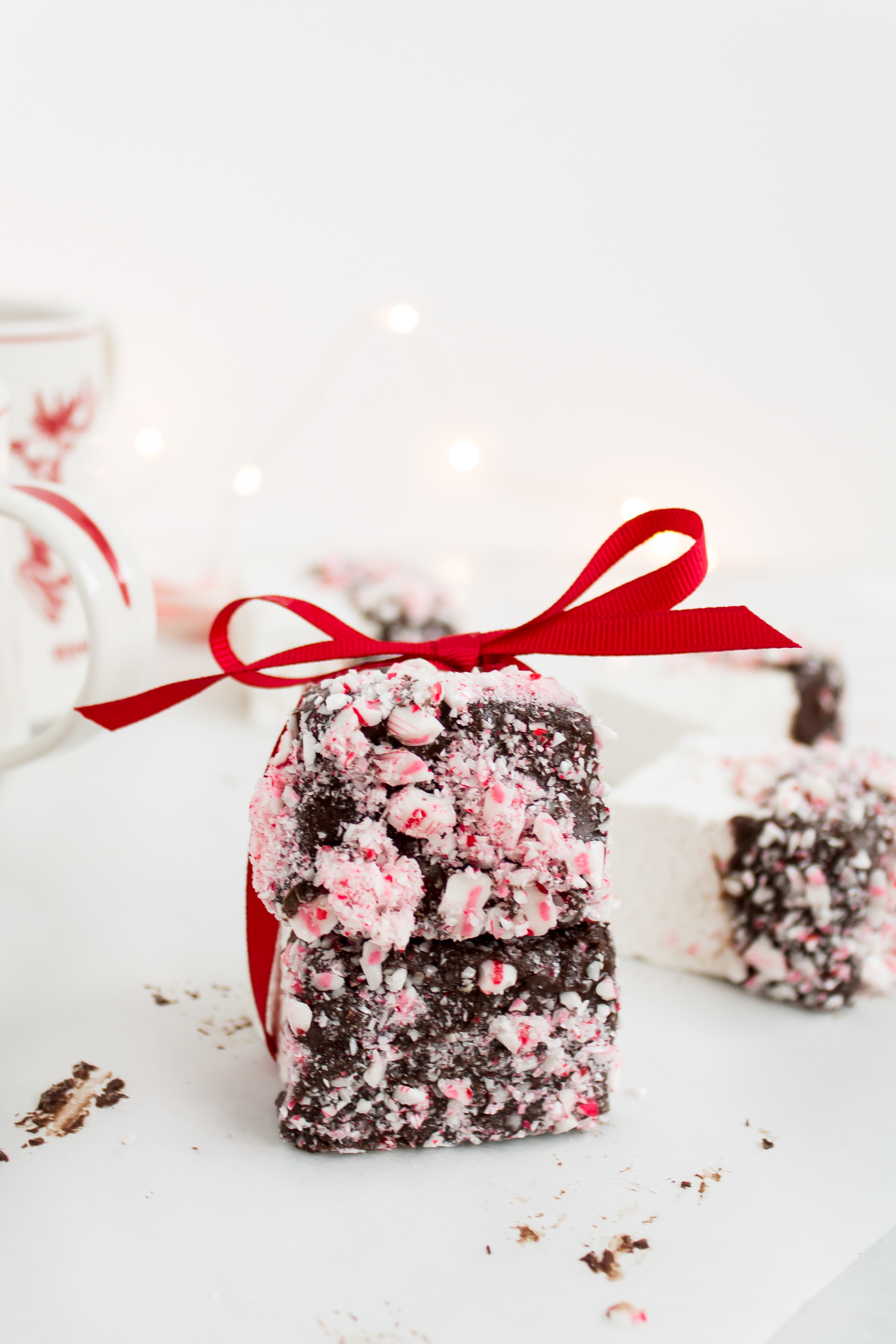 These peppermint and chocolate covered marshmallows also happen to make great gifts. Stack a couple of your fully cooled marshmallows, wrap them in a bit of cellophane and tie it off with a ribbon and you've got the sweetest holiday gifts to hand out.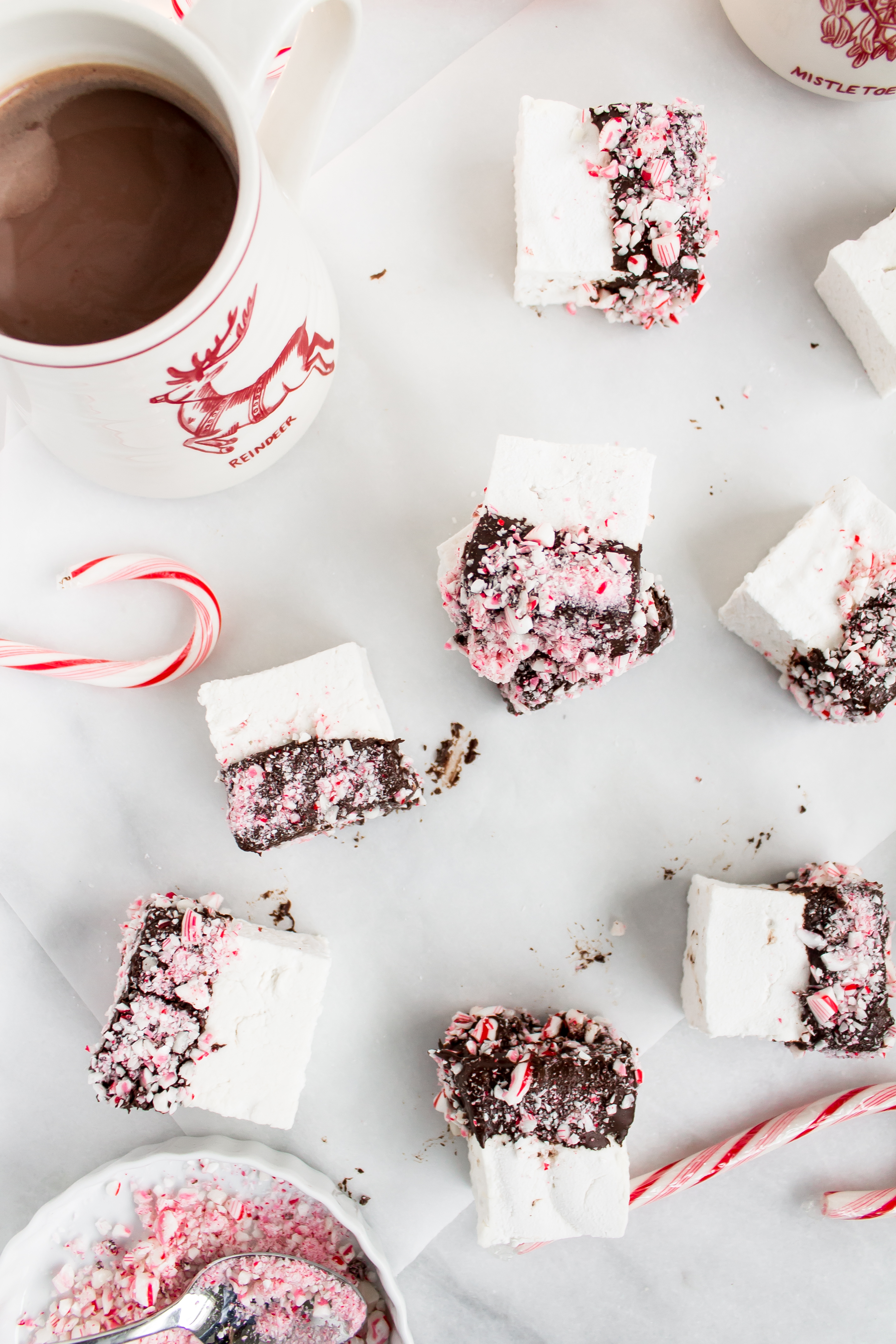 Love these fluffy homemade marshmallows covered in chocolate and crush peppermint? Head to our recipe page to check out what else we've been whipping up in the kitchen!
If you make your own holiday chocolate covered marshmallows, be sure to tag me on social media (@glitterinclexi) so I can live vicariously through all of your sweet creations!
Recipe and Photos by Hope Woodhouse for Glitter, Inc.