This post has been sponsored ©2017 Mars, Incorporated and its Affiliates.This post contains affiliate links, which means that if you click on one of the product links, I'll receive a small commission. All thoughts and opinions are my own. Read more about our site, privacy, and disclosure policies here. Thank you for supporting the sponsors who help to make Glitter, Inc. possible! 
'Tis the season of holiday baking, party planning, gifting and décor, and you know I can't resist sharing tons of fun and accessible inspiration for your own festive parties. And this year, I am WAY too excited about this holiday dessert charcuterie snack board.
So why a dessert charcuterie board?
Well, last year, we threw such a fun ugly sweater party for the holidays, so I knew I wanted to keep that trend going. I was hoping to find a dessert that would fit right into a fun ugly sweater party, or equally festive holiday party. And who doesn't love dessert? I'll admit, the dessert table usually becomes the focal point of most of my parties because, well, dessert. I also love baking, and pulling together ALL of the sweets to really wow guests.
I've also been crushing on all of the amazing charcuterie boards all across food blogs and Pinterest, and I thought it would be so much fun to put together a sweet charcuterie board full of all of our favorite holiday desserts and sweet treats. The dessert charcuterie board really allows you to get creative and bring together all different sweets and desserts for your guests, so that everyone can choose a little bit of what they love.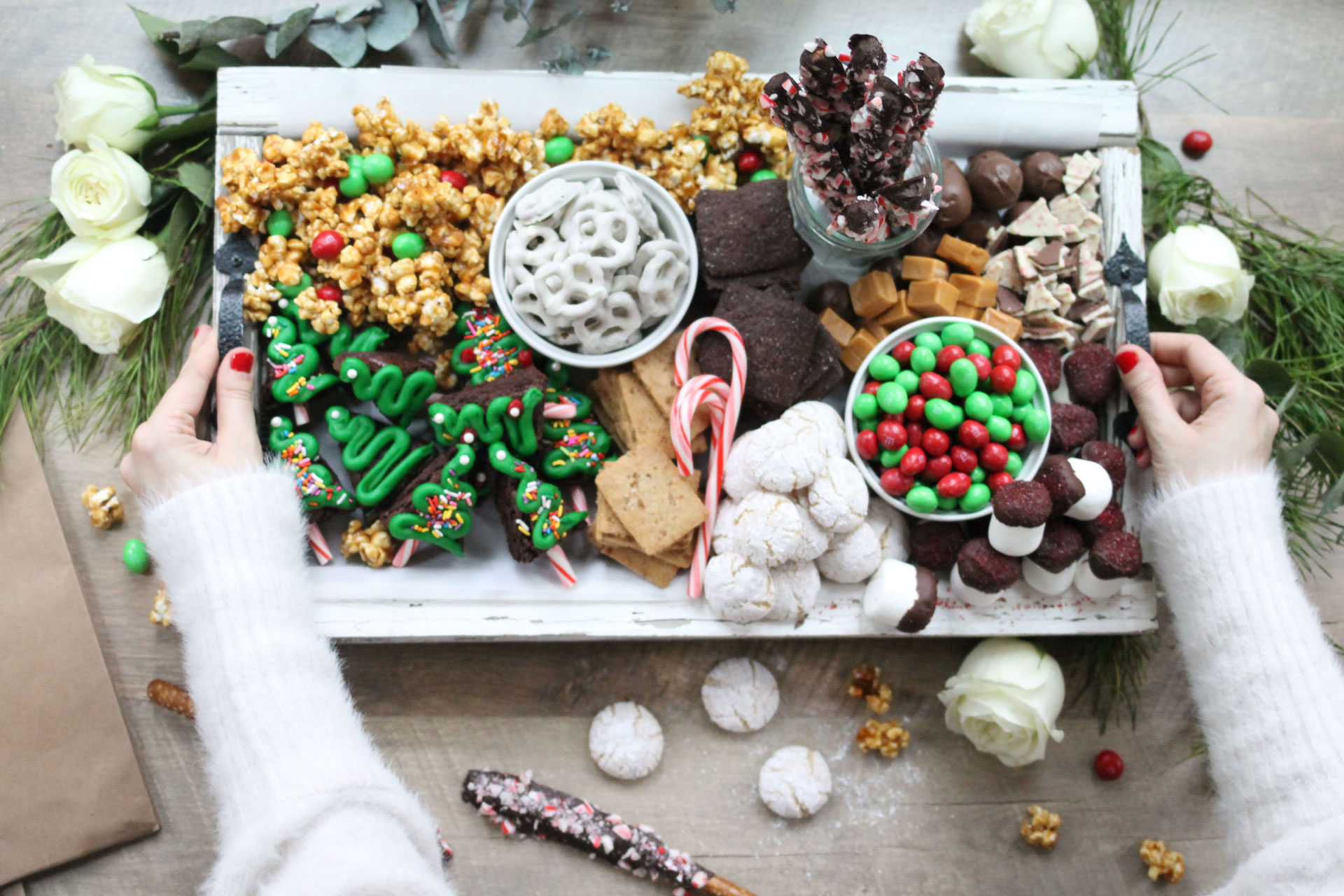 The beauty of a dessert table charcuterie board is that you don't need to stress about making everything homemade. Pull together everyone's favorite holiday cookies and treats, head to your favorite local bakery for things like shortbread, snowball cookies, and chocolates, and fill in the gaps with whimsical Christmas candy like candy canes, chocolate covered cherry cordials, peppermint bark, and everyone's favorite red and green holiday M&M'S®. You can also make simple desserts like brownie Christmas trees (you can use boxed brownie mix), caramel corn, and chocolate-dipped pretzel rods and marshmallows (just melt chocolate in the microwave, dip, cover in sprinkles, and allow to cool and dry completely on wax or parchment paper.)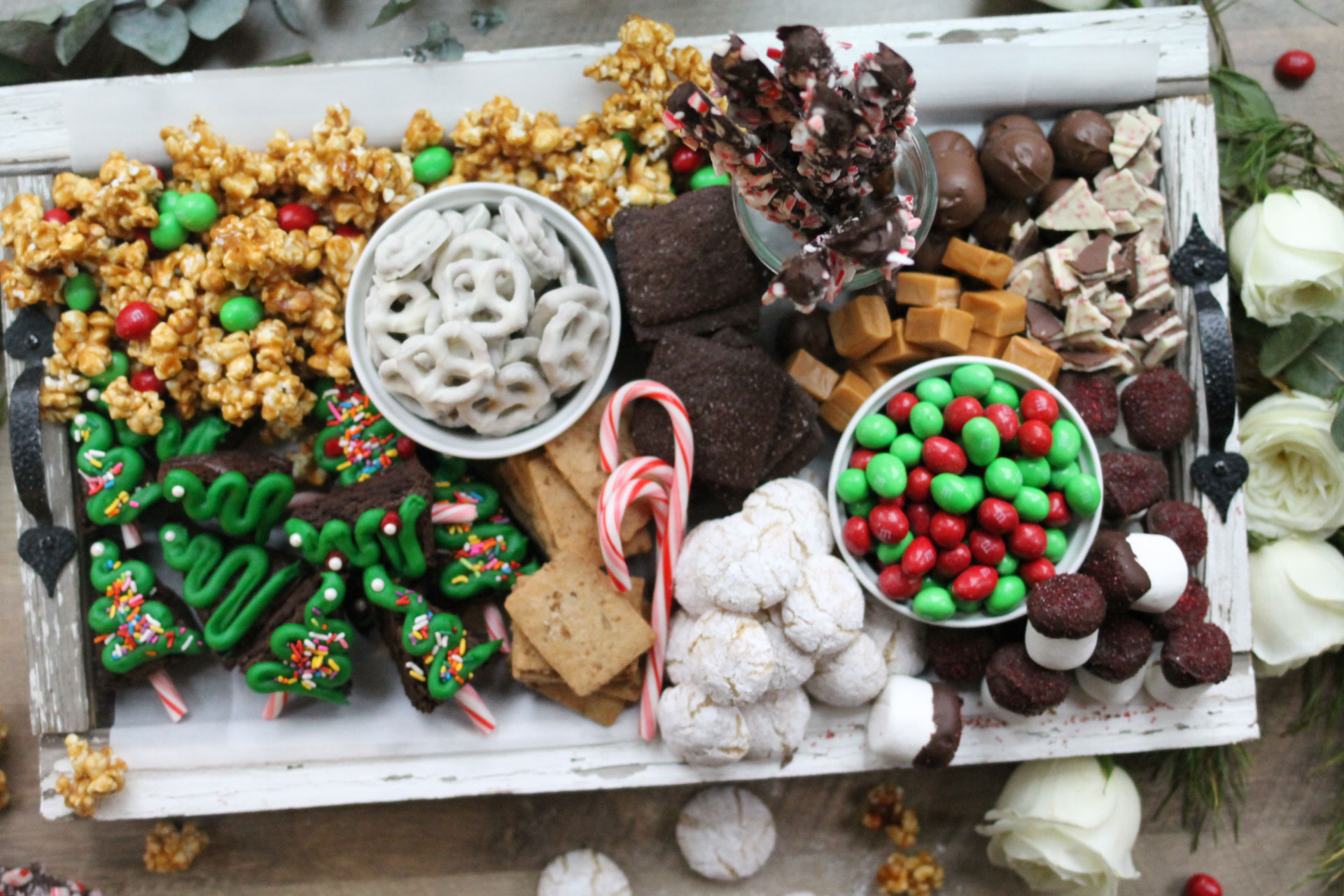 This is the kind of dessert spread that is sure to impress!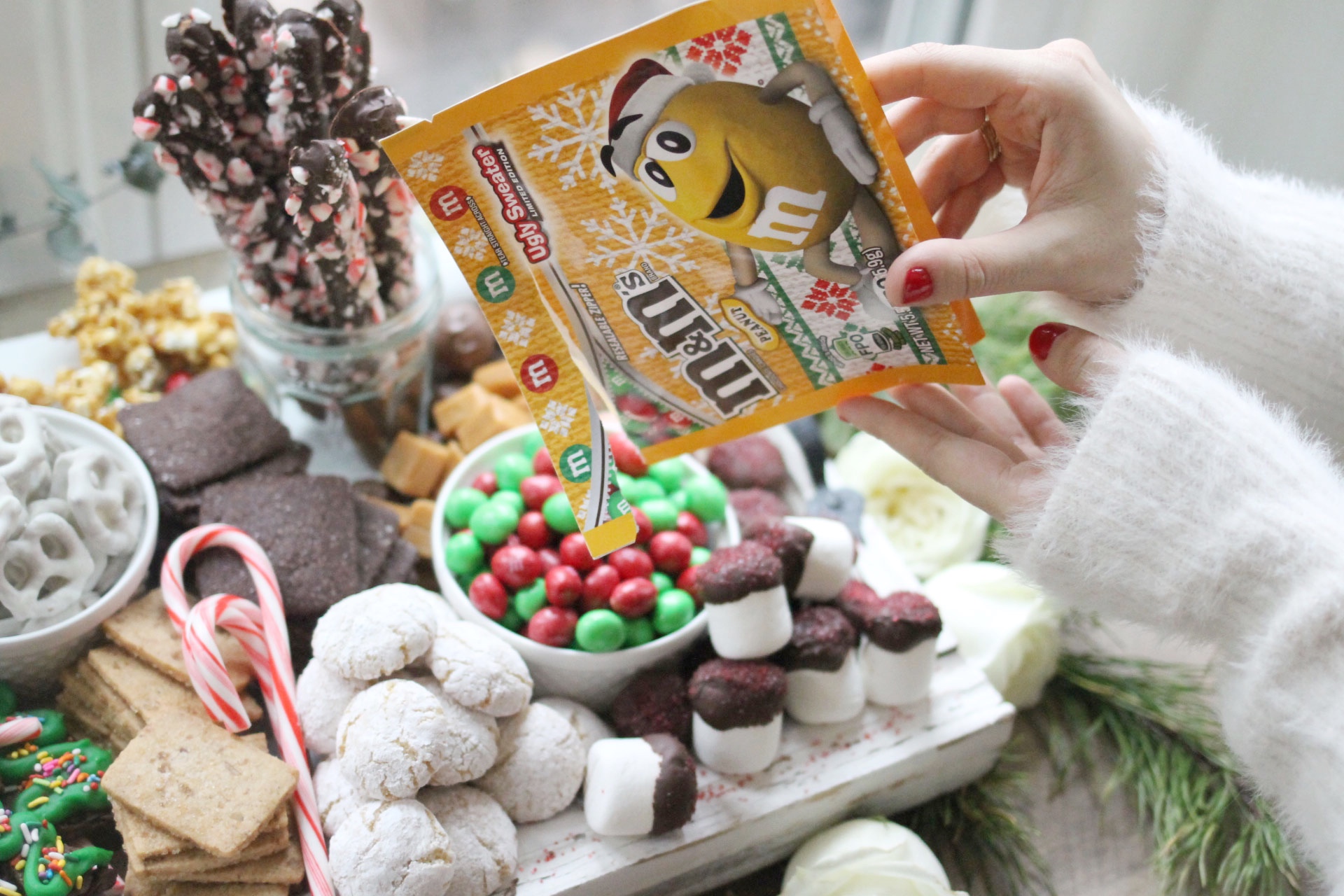 The M&M's Ugly Sweater Packs are available exclusively at select Kroger stores and they're on a season-long sale for 2/$4. But hurry, the packs are only available while supplies last.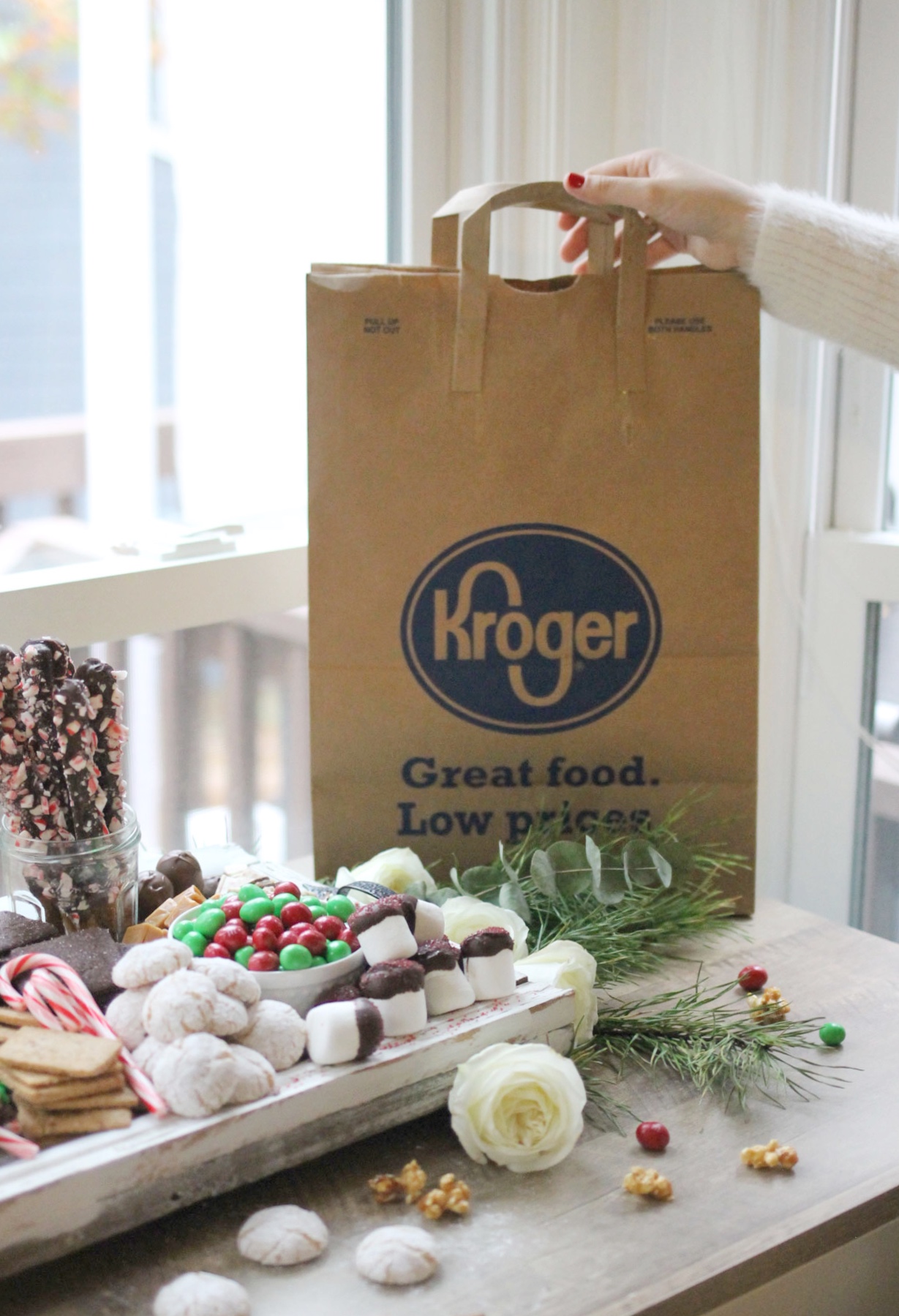 I scooped up a few bags of peanut Ugly Sweater M&M'S (though of course they're available in the classic milk chocolate version as well) in the seasonal aisle. How cute is that packaging?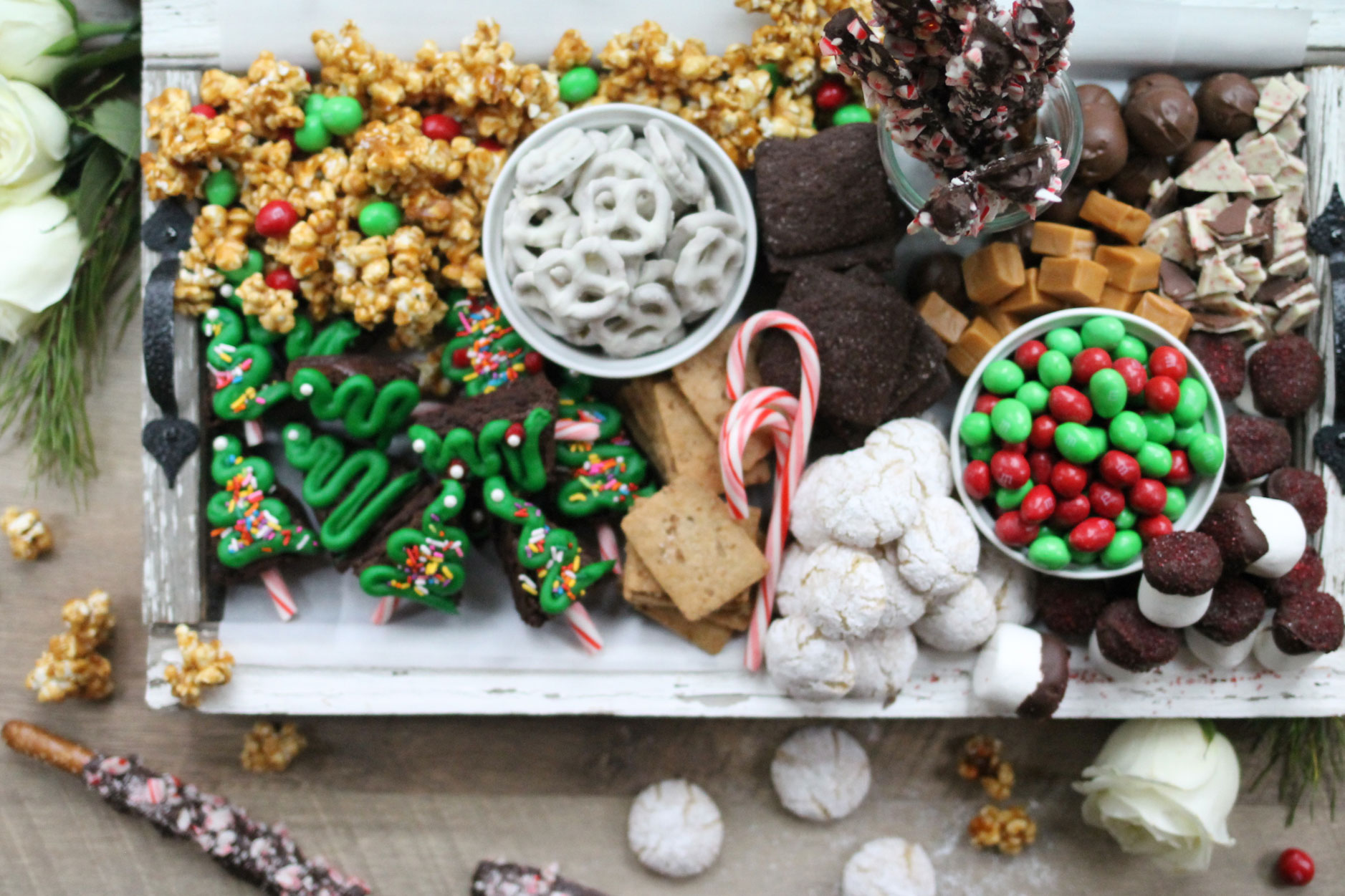 As for the theme of this dessert set-up: the holiday M&M'S Ugly Sweater Pack was giving me plenty of inspiration here.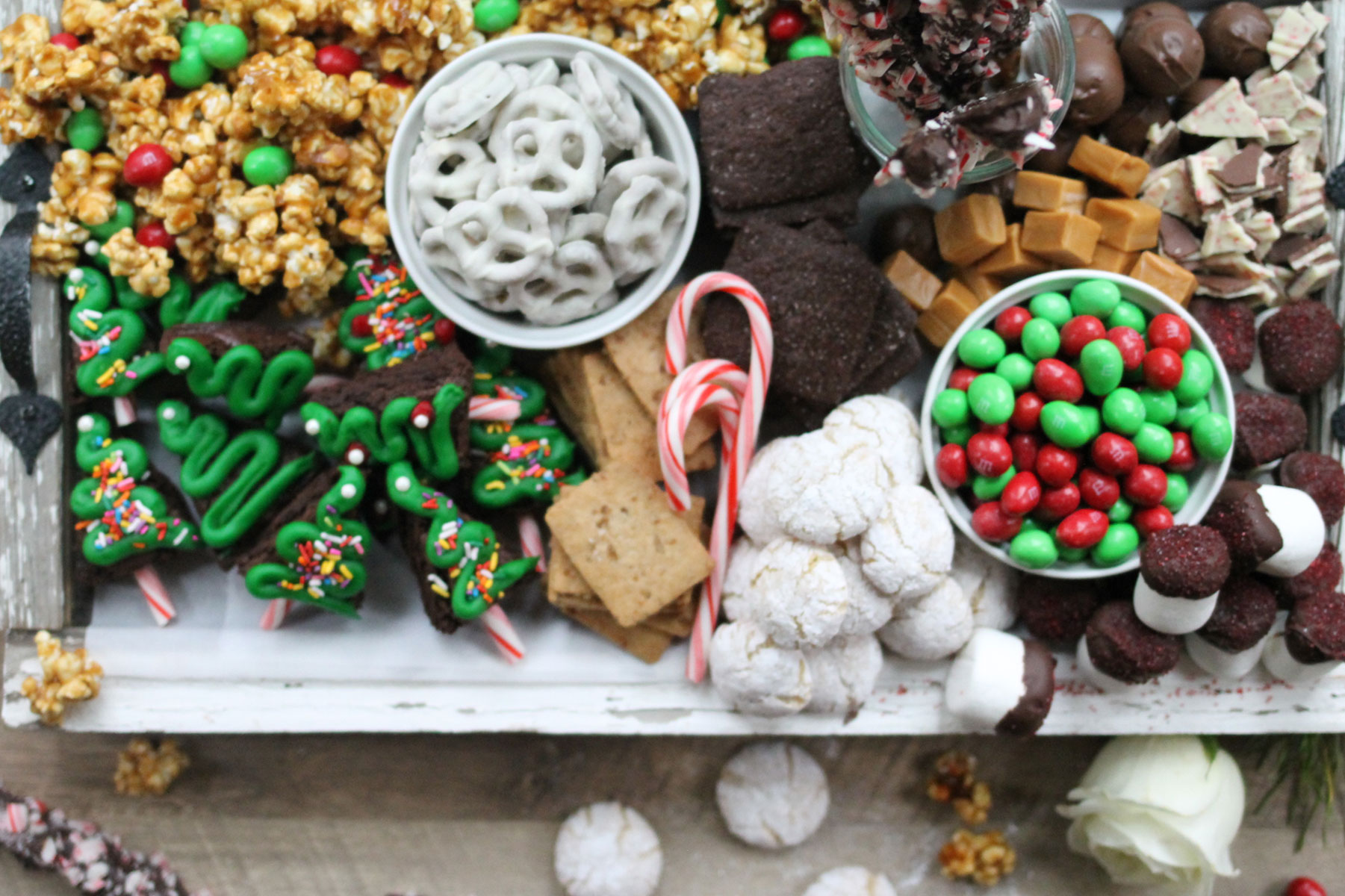 Keep scrolling for a breakdown of what you'll need for your very own holiday dessert charcuterie board.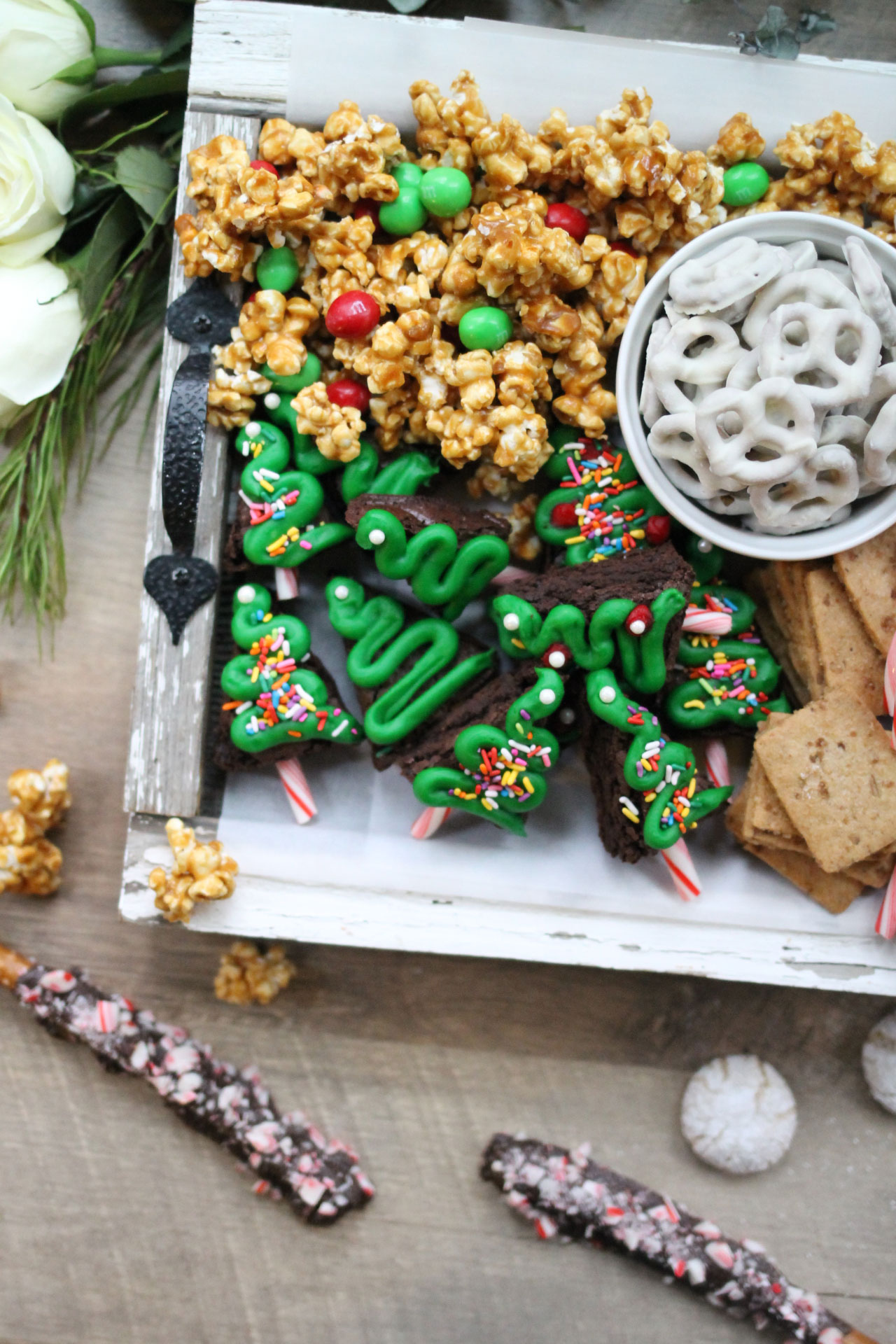 Holiday Dessert Charcuterie Board
This holiday season, put together a sweet charcuterie board full of all of our favorite holiday desserts and sweet treats. Don't be afraid to get creative!
Ingredients
holiday M&M's
shortbread
almond cookies
snowball cookies
chocolates
candy canes
chocolate covered cherry cordials
peppermint bark
brownie Christmas trees (or regular brownies; add red or green frosting for a splash of holiday color)
caramel corn
trail mix
muddy buddies
chocolate- or yogurt-covered pretzels
chocolate-dipped pretzel rods
caramel squares
marshmallows
Instructions
Find the biggest serving board or wood cutting board that you have and set up a designated dessert station. Place groups of sweet treats in bunches. You can use shorter jelly jars and bowls for loose candies (mostly to keep them from rolling away.) Be sure to unwrap any of your candies like candy canes, chocolates, and caramel squares, before putting on your charcuterie board.
NOTE: If you make any desserts, like brownies or chocolate-dipped pretzels, allow to cool completely before placing on your tray.
Voilà! A holiday dessert charcuterie, sure to impress all of your guests!
Courses Dessert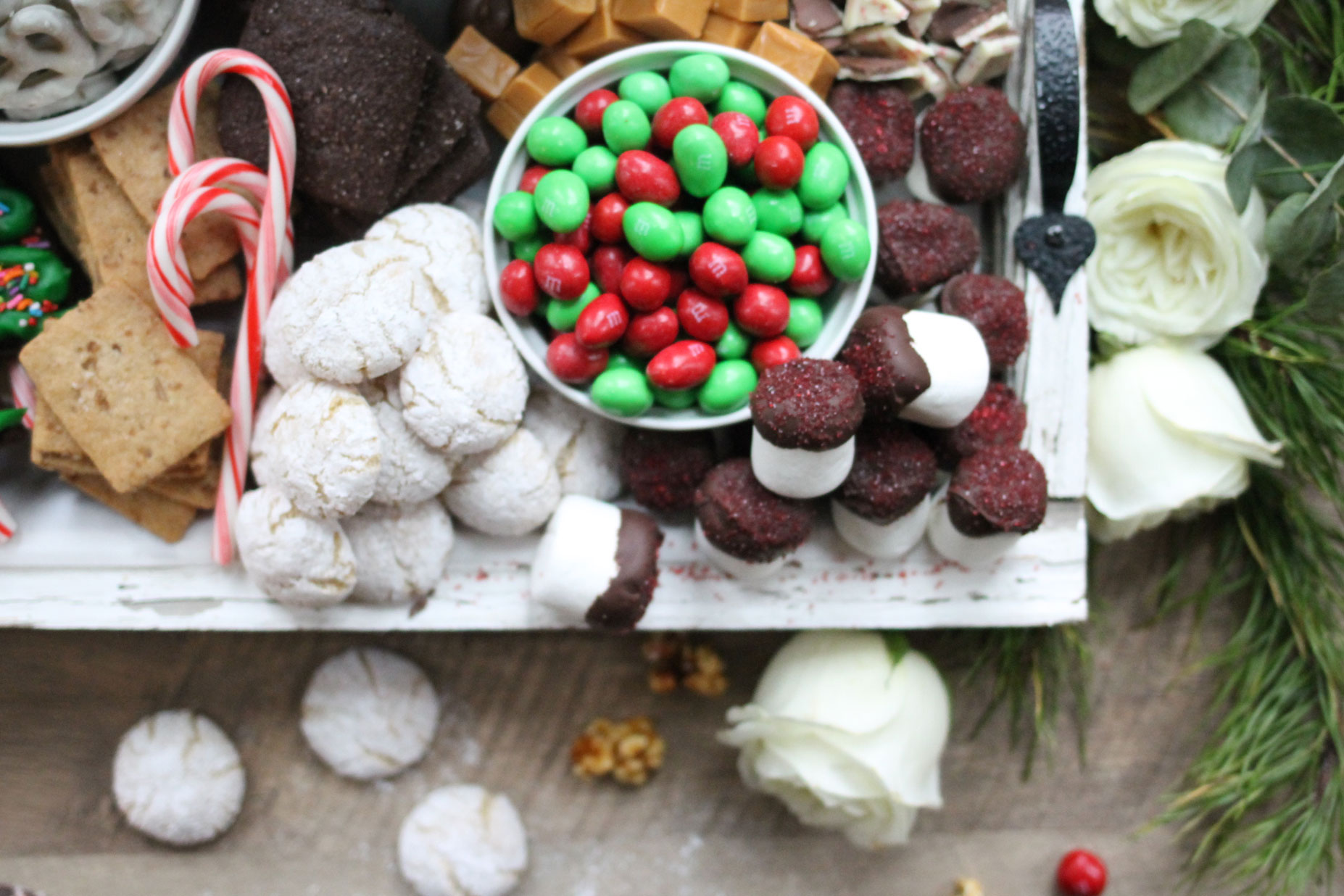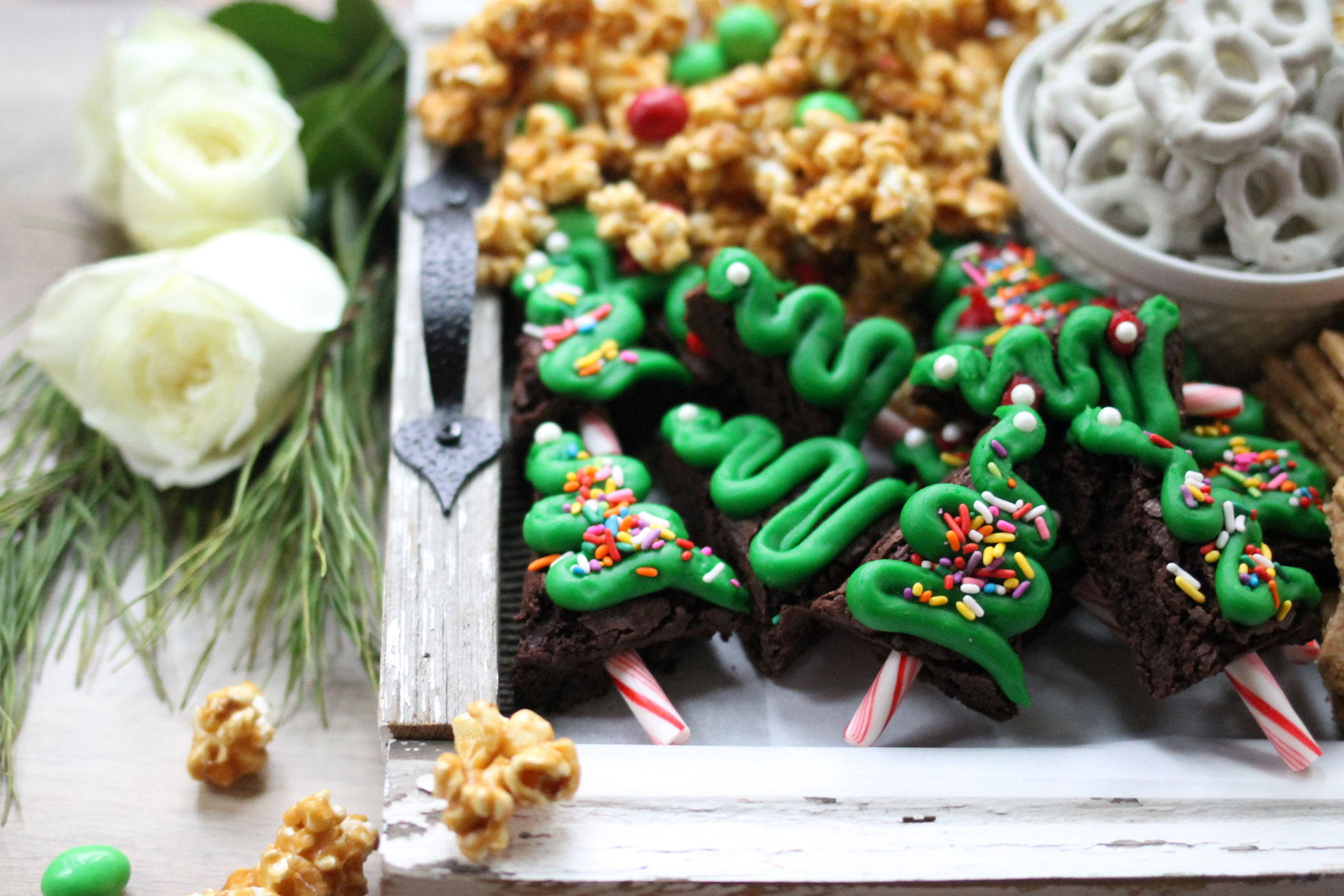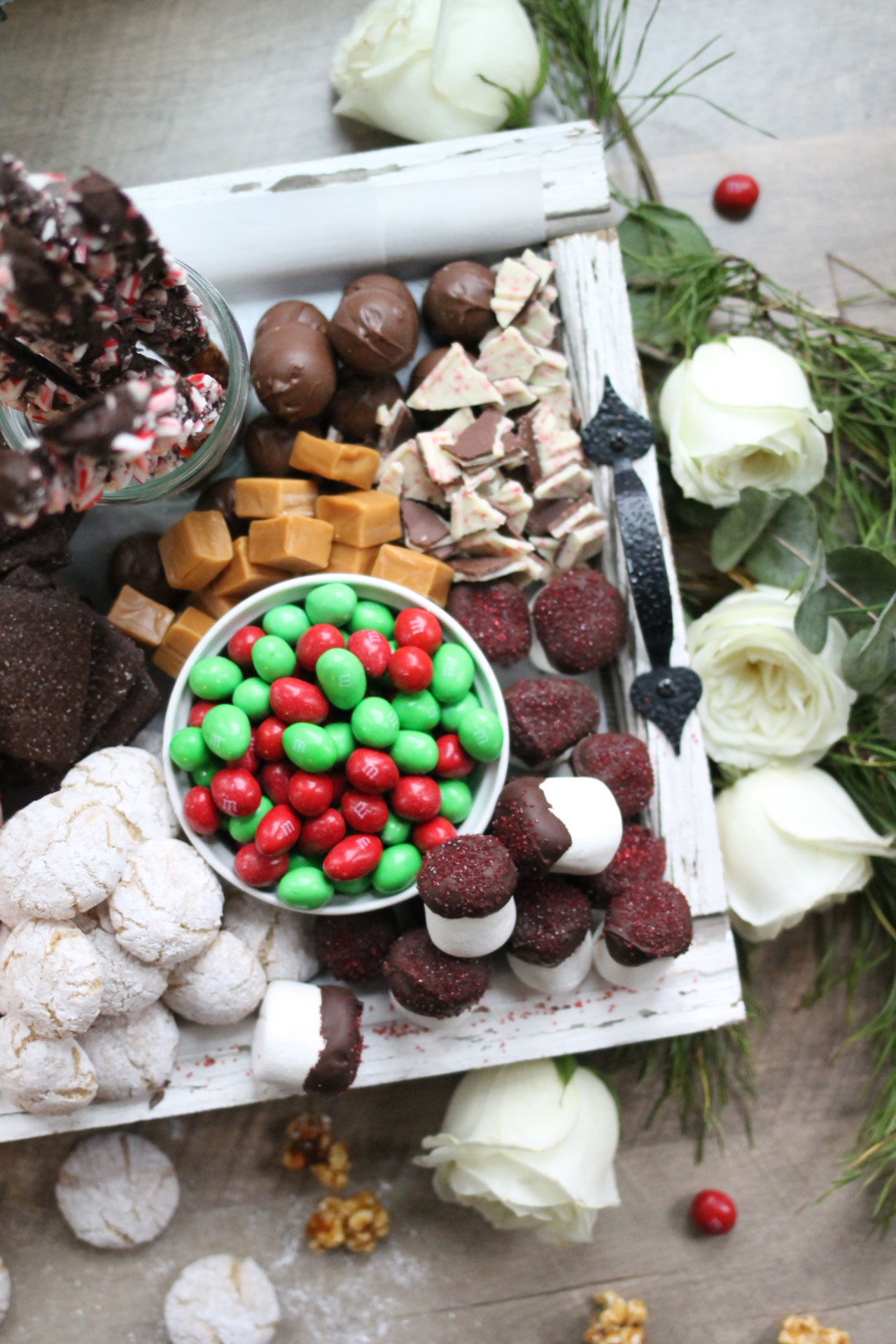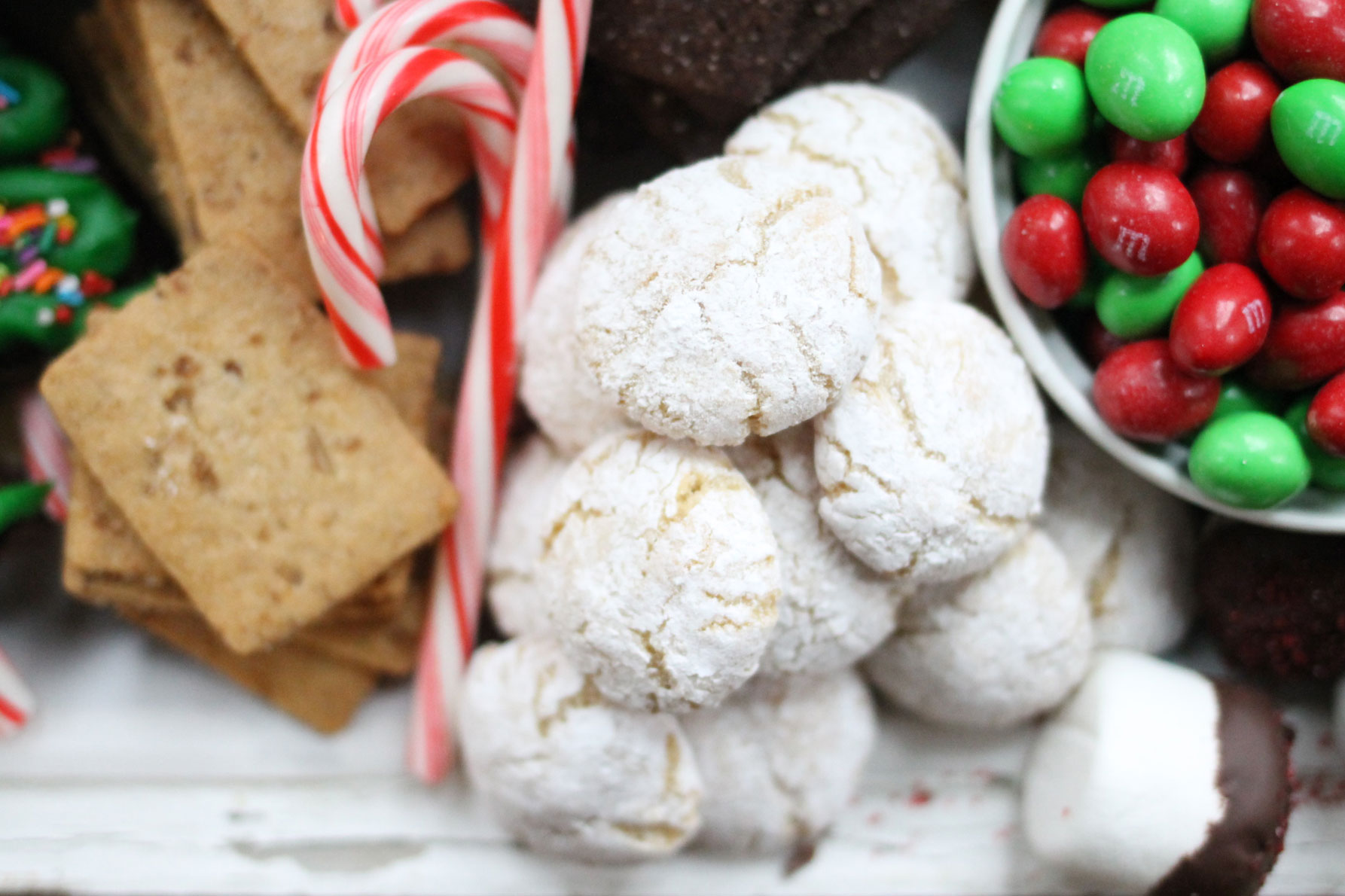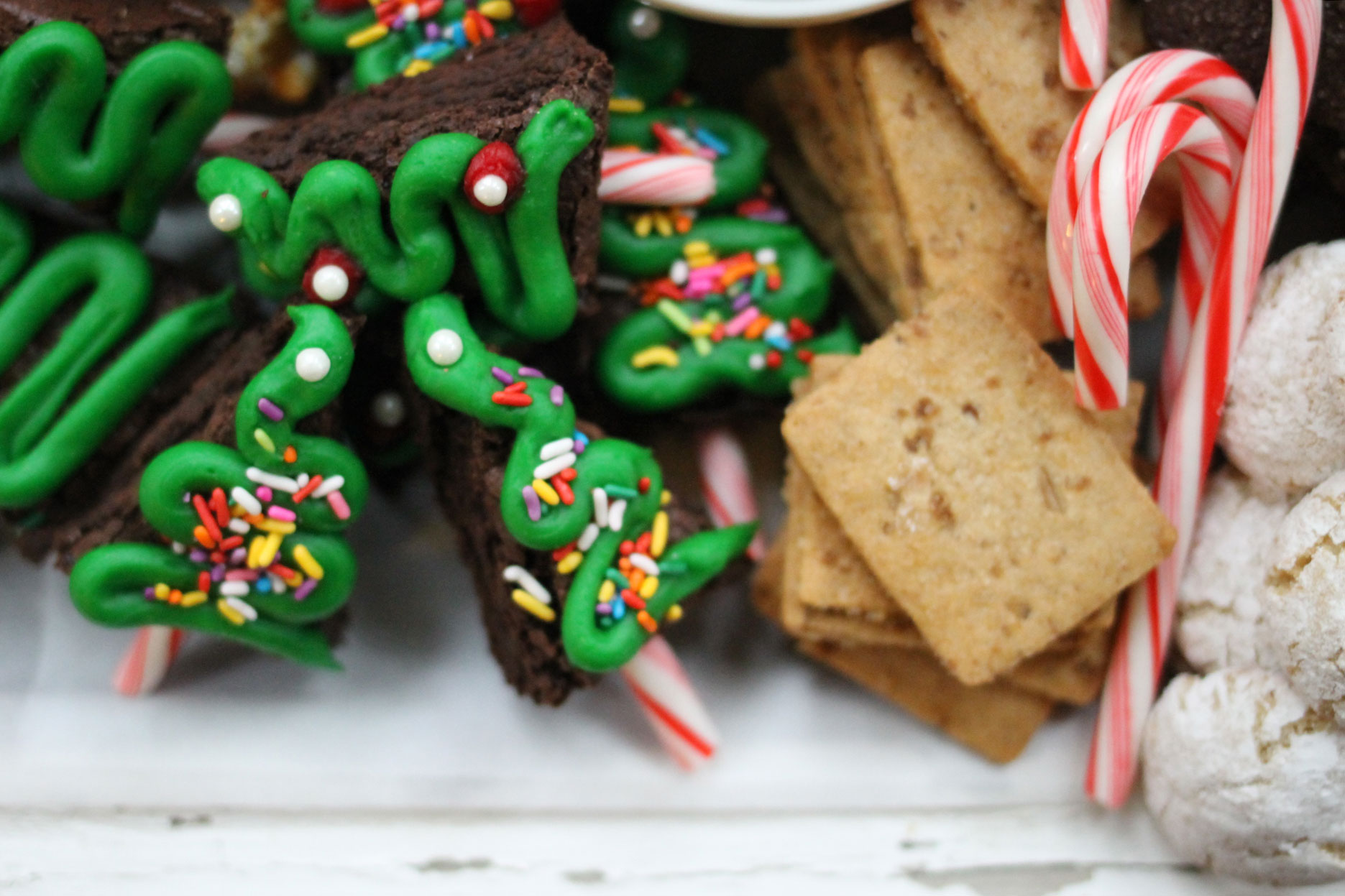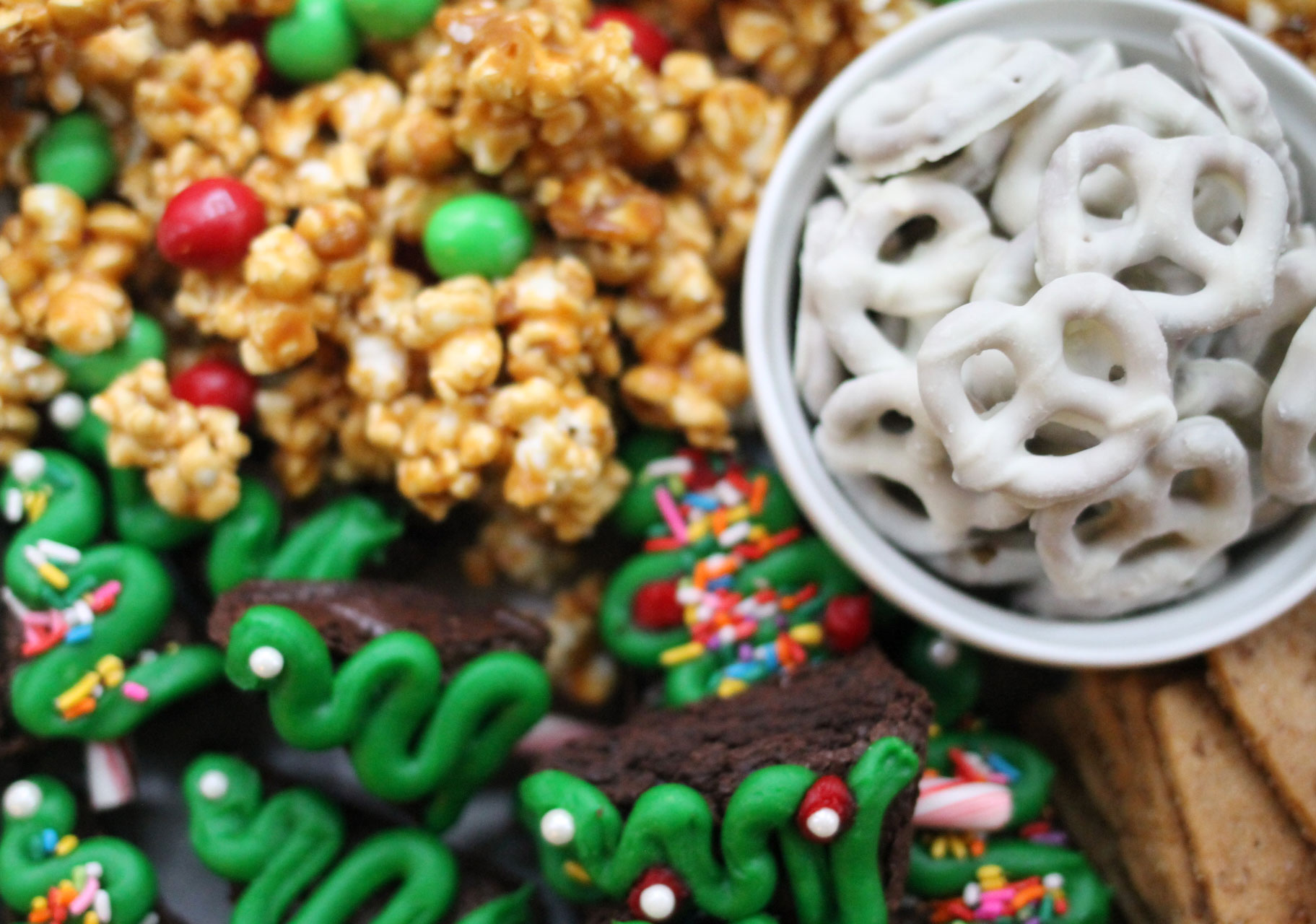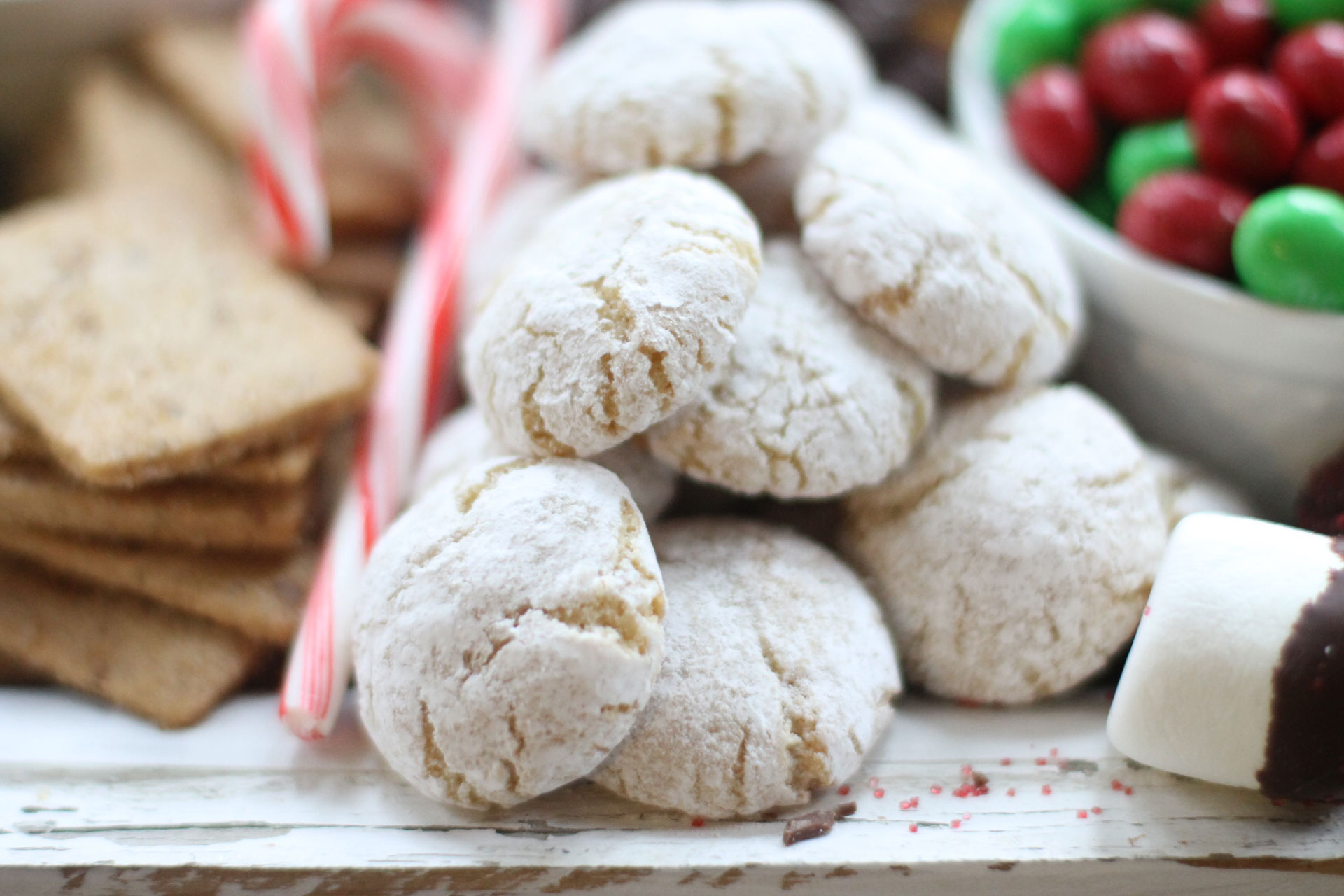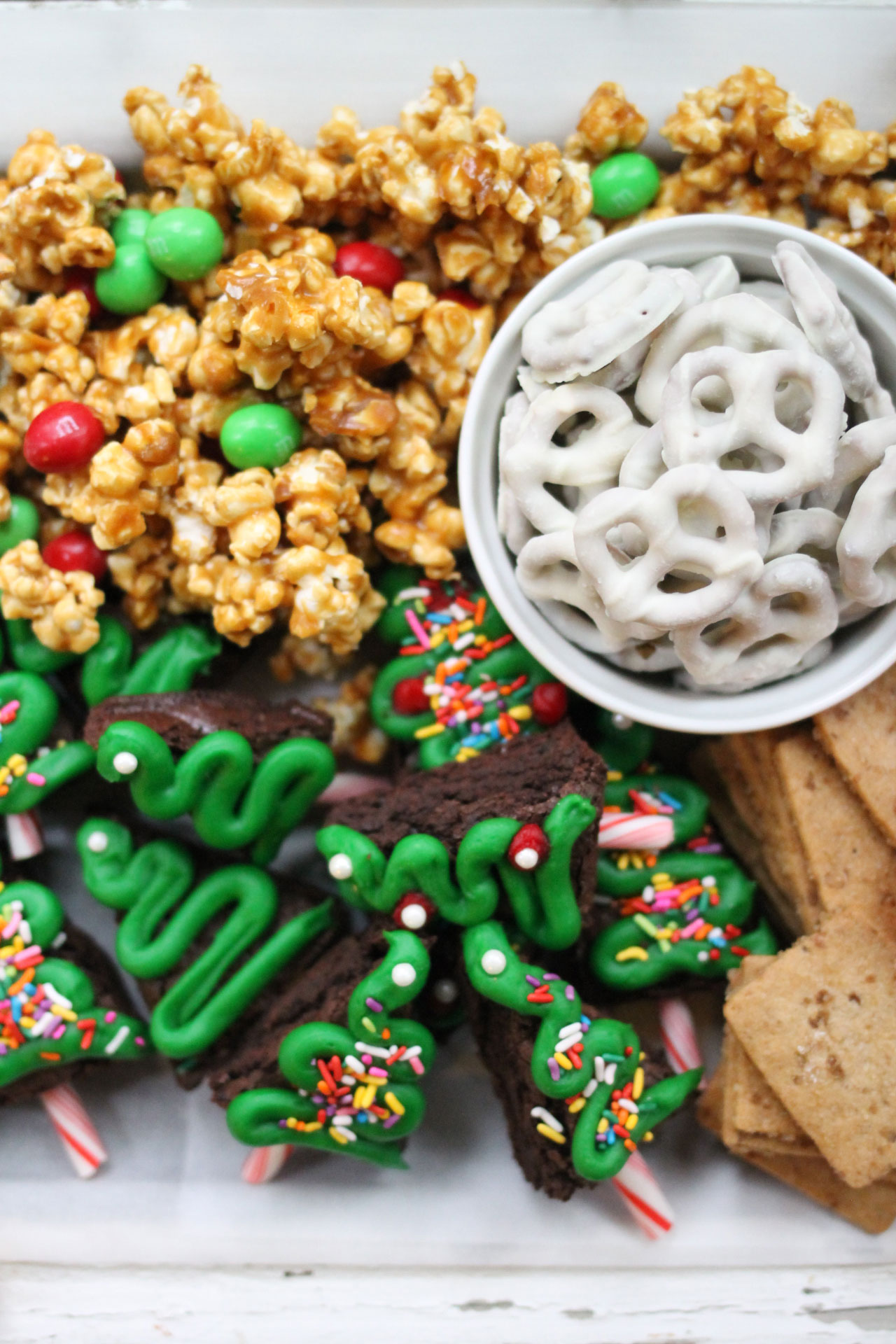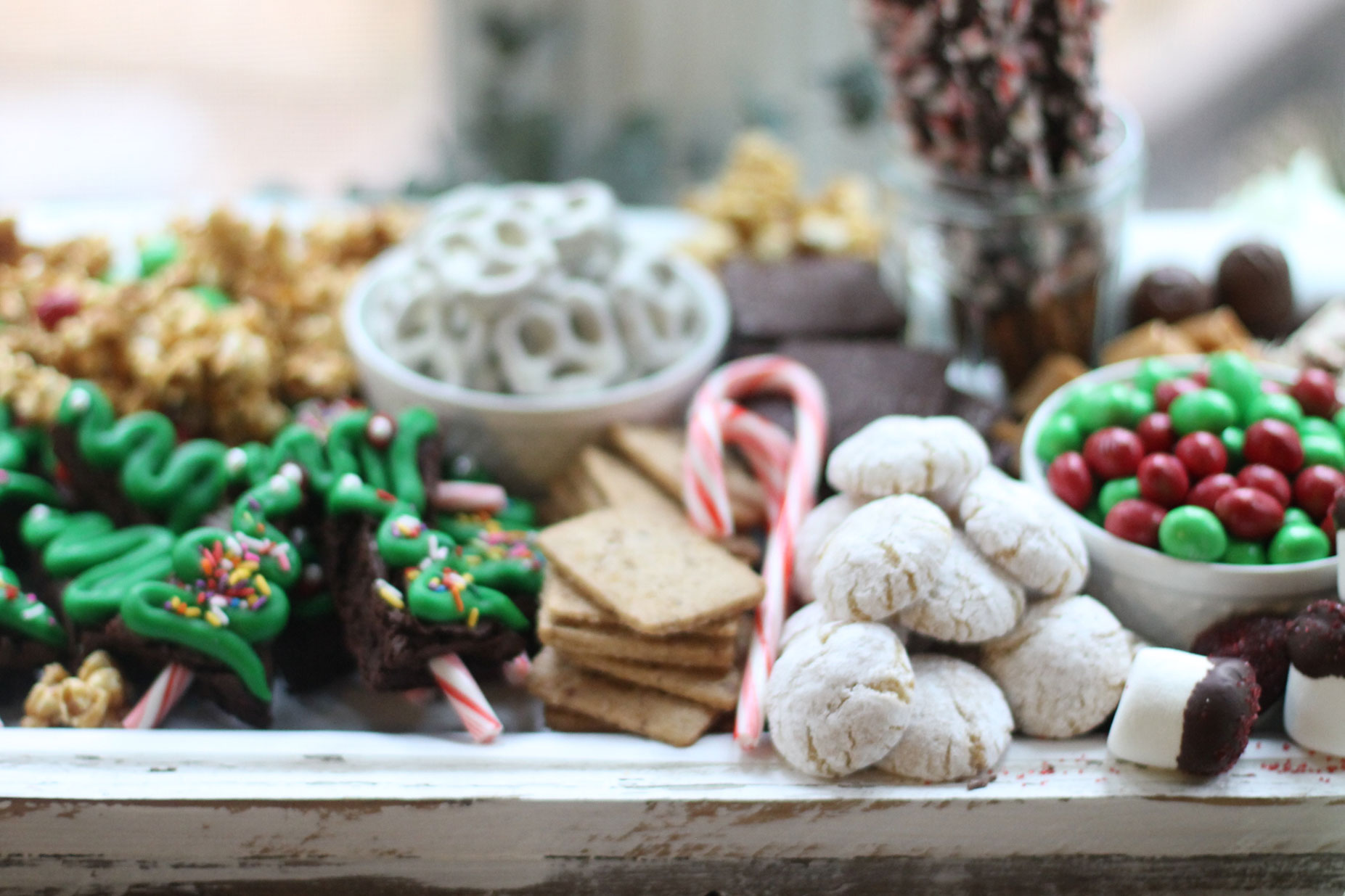 I loved mixing a few homemade goodies with plenty of store-bought and bakery-bought goodies.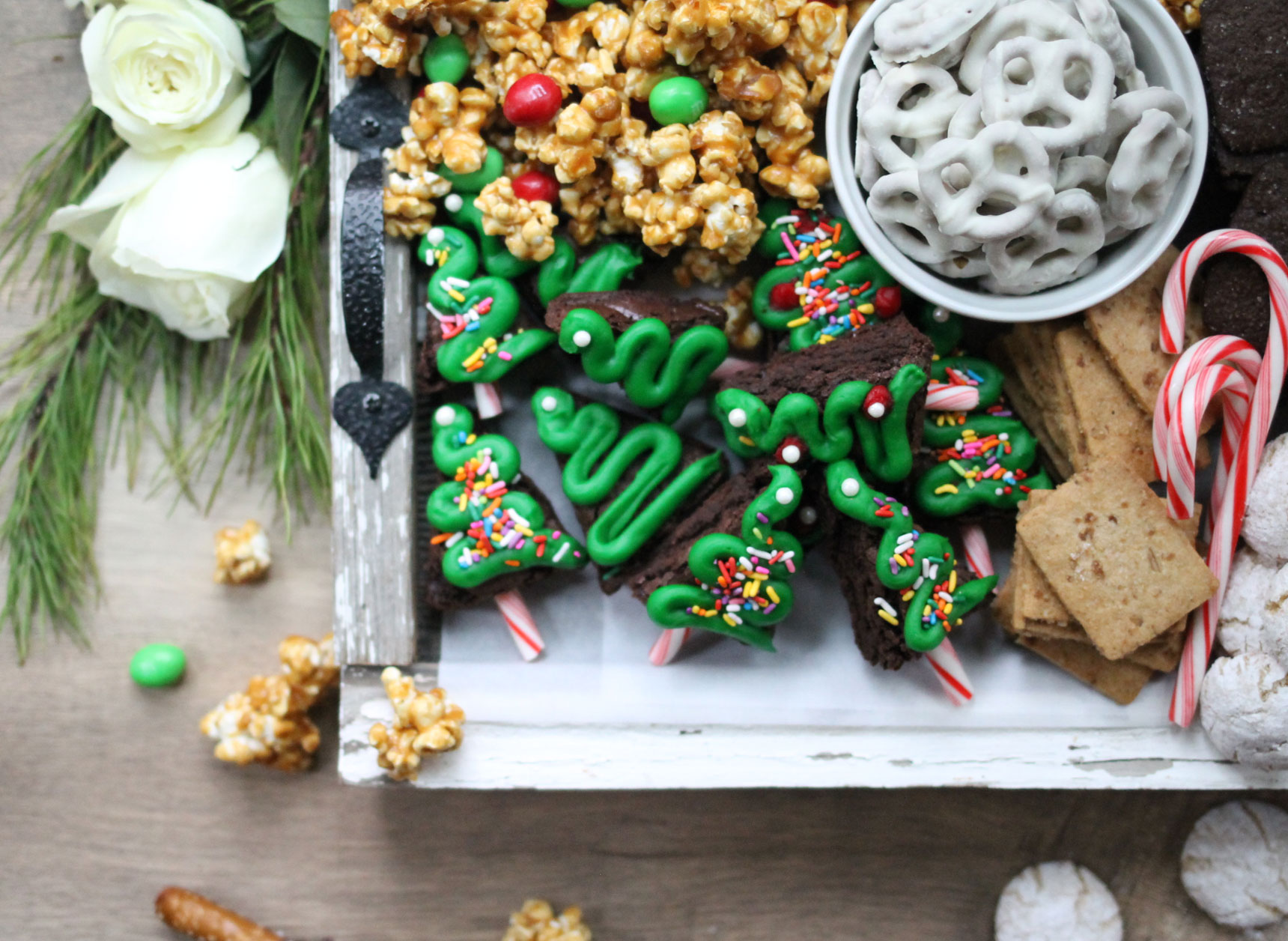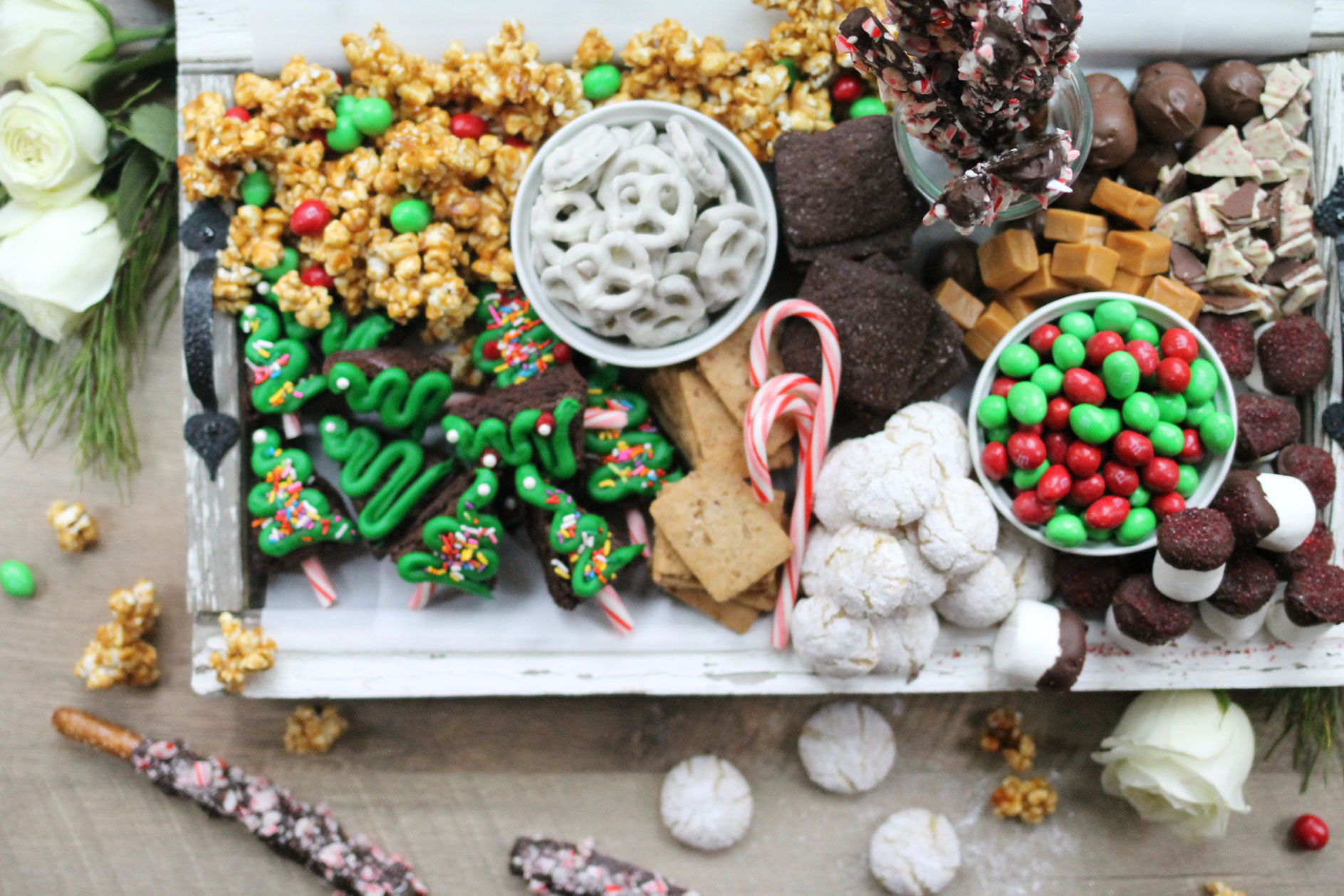 If you make your own holiday dessert charcuterie board, be sure to tag me on social media (@glitterinclexi) so I can live vicariously through all of your sweet creations!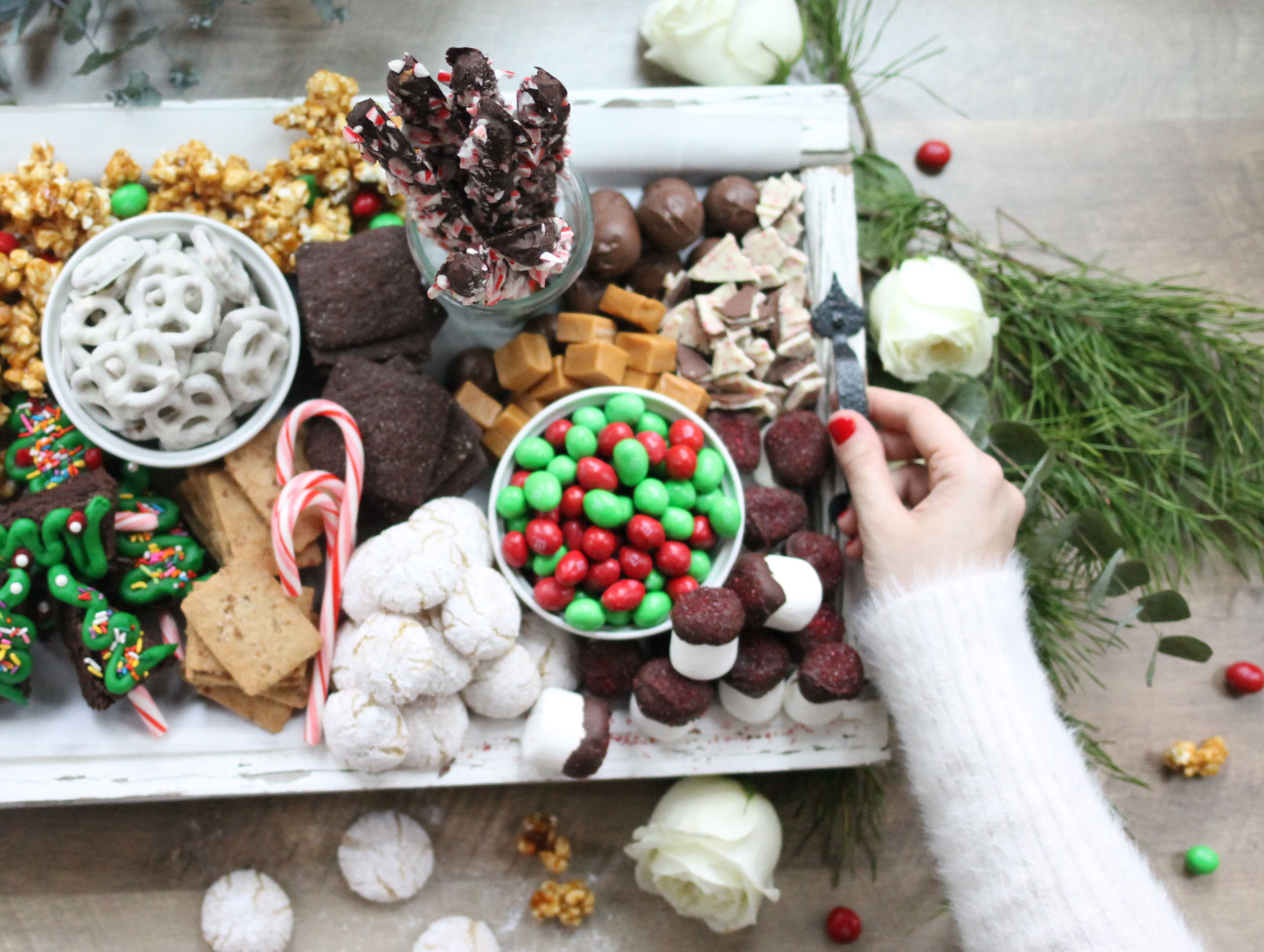 Looking for more holiday inspiration? Check out last year's ugly sweater holiday party and farmhouse style winter wonderland holiday party.