I always struggle with choosing the simplest of gifts – those to just say thank you – because I want it to be something special without spending a ton of money. So I took some time this week really researching and considering what someone special would appreciate, from a great teacher to an awesome colleague to your favorite UPS guy, these are the little things that will definitely make them smile. And hey, when in doubt, go for sugar: cookies or candy, stuffed inside a cute tin or special mug – always a winner.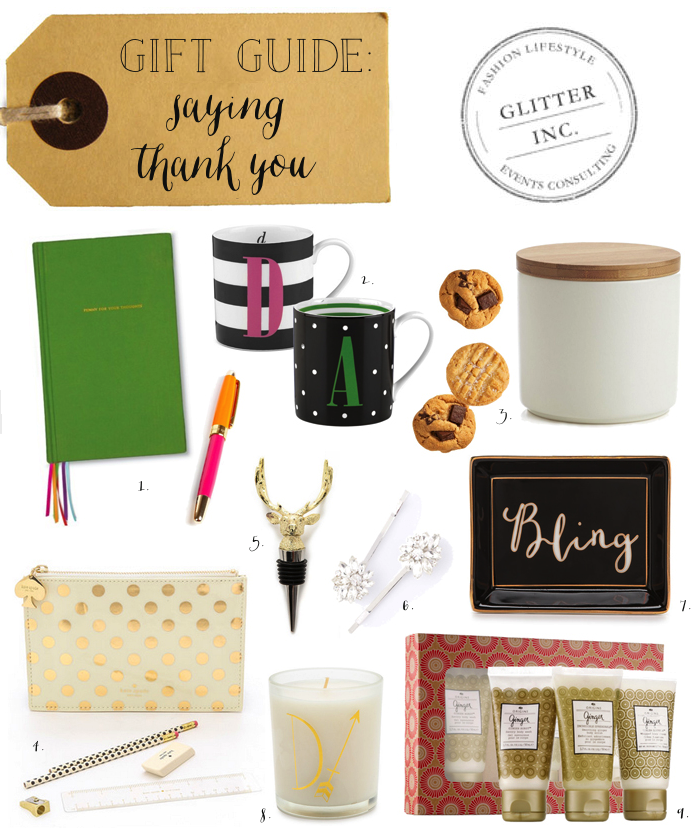 1. Kate Spade Penny for Your Thoughts Journal and Handwritten Note Pen: There's something so comforting about handwriting – notes, thoughts, to do lists, whatever it may be – a journal and a pen are a perfect gift to receive just before the new year.
2. kate spade new york Monogram Mugs: I'm crazy for mugs. I actually have happier mornings on those mornings that my husband pours my coffee in one of my "pretty" mugs. And these kate spade mugs are extra pretty.
3. Crate & Barrel Silo Canister (and homemade cookies): At just $7.95, this canister is the perfect container to fill with homemade cookies or candy, and the best part: your favorite person gets to keep and reuse the awesome canister. By the way, 50 holiday cookie recipes from the Food Network.
4. Kate Spade New York Gold Dots Pencil Pouch: Gold dots, on a multi-use pouch – such a great gift.
5. C. Wonder Stag Bottle Stopper: For all of your favorite wine lovers, this is wine bling at it's Winter coolest.
6. Ann Taylor Floral Stone Hair Clips: I love that hair clips are tiny, and always loved; plus, they can be slipped into a little envelope and popped in the mail – simple and sweet.
7. C. Wonder Bling Trinket Tray: I can't get enough trays, and this one is small and specially created for bling – awesome.
8. C. Wonder Zodiac Votive Candle: When in doubt, gift a candle.
9. Origins Go Ginger Holiday Set: The Origins Ginger scent is one of my absolute favorites; it's one of those scents that you can count on to smell amazing, without ever having opened the bottle – it's just that good. Suddenly I'm craving a new tub of ginger souffle.
This year, I'll also continuously be adding to my holiday Gift Guides on Pinterest, so be sure to check out the GIFT GUIDE: THANK YOU board for more great inspiration!