I can't believe it's nearly mid-November and of course, time for the holiday gift guides. But hey, gift guides are ridiculously fun to put together, and help with my own holiday shopping. This year, I've vowed to stay organized and on top of my holiday shopping (read: no last-minute shopping for me). So we're kicking things off with the gifts to get the gracious party hosts and hostesses. Face it, party-throwers are awesome and deserve something sweet and fun, preferably for the home (like these adorable buffalo check appetizer/dessert plates and Diptyque's awesome holiday candle trio.) Do you have a go-to party thank you gift?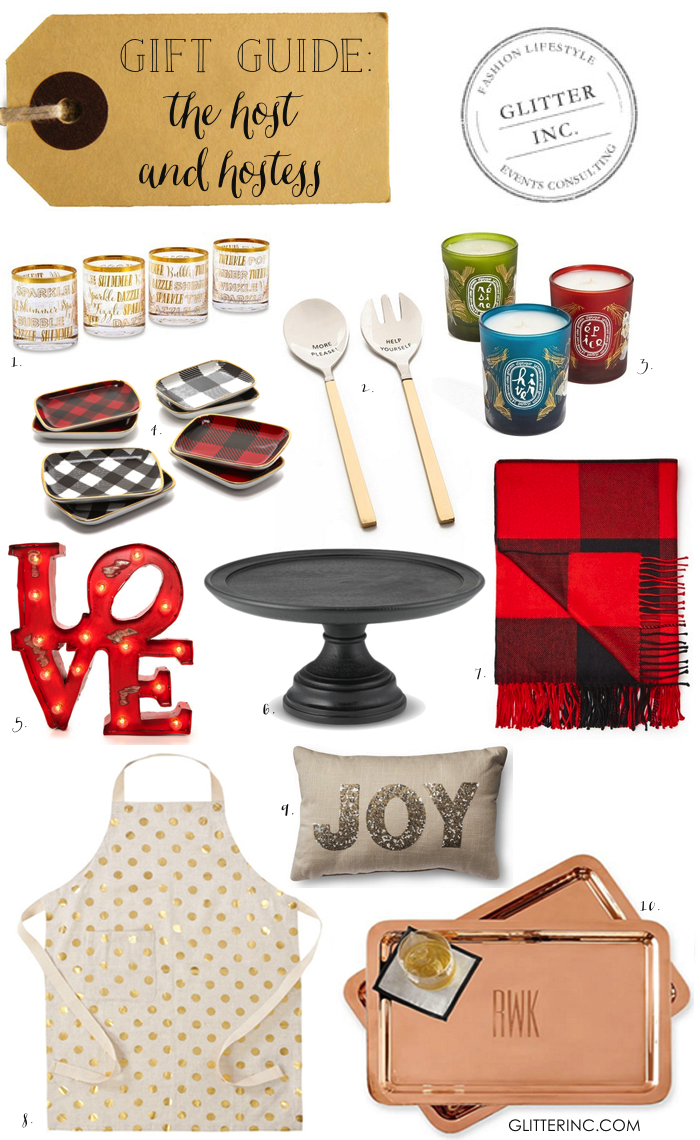 1. C. Wonder Pop Fizz Glasses Set: C. Wonder makes the cutest glassware, and these are oh so festive.
2. C. Wonder More Please / Help Yourself Serving Set: Yes. I want. I love. Such a perfect host/hostess gift.
3. diptyque Holiday Candle Trio: I love giving candles as gift – their small, season-appropriate, and who doesn't love a good candle?
4. C. Wonder Buffalo Check Mini Appetizer Plate Set: I absolutely love these – buffalo check just sings Christmas, and any party-thrower loves a set of sweet little plates.
5. Love Light Sign: I've had my eye on a light-up sign for our own living room, and this one is just so sweet.
6. Willams-Sonoma Venezia Wood Pedestal Stand: Cake stands are so functional and beautiful, and I love the idea of mix-and-match pedestals, starting with this lovely black wood stand (and it's on sale!)
7. C. Wonder Buffalo Check Aplaca Blend Throw: I know, I know, more buffalo check … but this one is in uber soft throw form, a.k.a., a great gift.
8. Gorman Gold Dot Apron: Basically, I want this for myself, so I figure plenty of other wannabe fashionista chefs are into it too. Amiright?
9. Target Joy Pillow: Cute, chic, and won't break the bank; I love you, Target.
10. Mark and Graham Copper Tray: You can never go wrong with a tray – use them for serving, storage, or great decor, and this one is copper and comes with a monogram … so good.
This year, I'll also continuously be adding to my holiday Gift Guides on Pinterest, so be sure to check out the GIFT GUIDE: HOST/HOSTESS board for more great inspiration!