This post contains affiliate links, which means that if you click on one of the product links, I'll receive a small commission. Thank you so much for clicking through and helping to support this little blog business of mine! Read more about our site, privacy, and disclosure policies here.
Say hello to hands-down one of my favorite oatmeal recipes to date. These dark chocolate chip oatmeal cookie bars are unbelievably moist and packed with oats and whole wheat flour and dark chocolate chips which are full of antioxidants, so they're maybe sort of not the worst dessert choice for you. Healthy cookies? I'll take three (dozen). Also, dark chocolate and oats were made for each other … for a brief moment I considered using milk chocolate chips instead of the dark (hubby loves milk chocolate), but then I realized that was just madness, and went with the dark … so glad that I did; they are perfect in every single way, just as they are.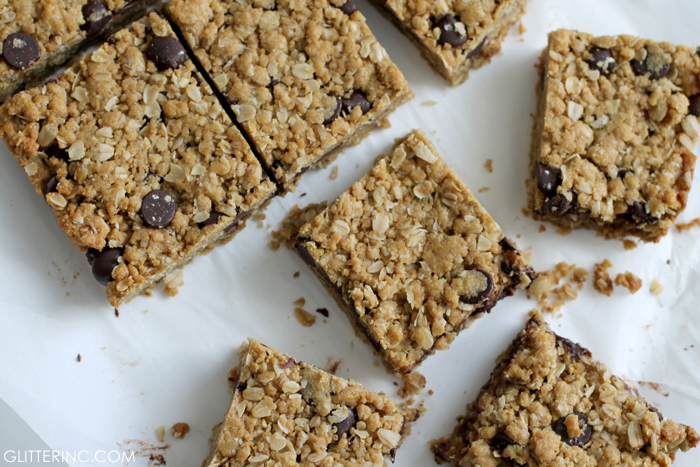 Whenever I make these I tell myself to save some to bring to the office, but we never make it. They are just so darn good, and moist, and oat-y, and subtly salted, and perfect. Pass the milk.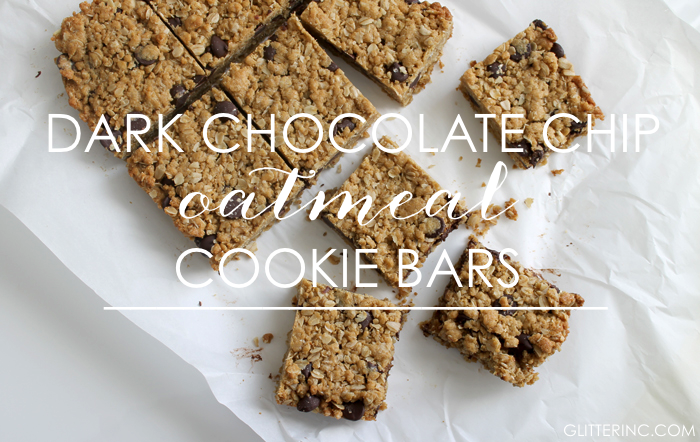 DARK CHOCOLATE CHIP OATMEAL COOKIE BARS
Makes about 18 bars
INGREDIENTS
2 1/2 cup old fashioned oats
1 cup all-purpose flour
1 cup white whole wheat flour or whole wheat pastry flour (I used whole wheat pastry flour)
1 cup brown sugar
1 teaspoon baking soda
1/2 teaspoon salt
1 cup coconut oil, melted (or you may sub canola oil)
2 eggs
1 tablespoon vanilla
1 1/2 cups dark chocolate chips (8 ounces)
DIRECTIONS
Preheat the oven to 350 degrees.
Grease a 9×13 inch baking dish or line with foil or parchment paper.
In a large mixing bowl or bowl of a stand mixer, add the oatmeal, flour, brown sugar, baking soda, salt, melted coconut oil or canola oil, eggs and vanilla and beat until combined and the dough holds together (the dough will seem oily, this is good). Mix in about 1 cup of the dark chocolate chunks and stir once more.
Turn half the batter out into your prepared pan, pushing the dough into pan. Sprinkle on the remaining dark chocolate chips and then place the remaining half of the dough over the chips and press again. Some of the chips will most likely be sticking out and that is fine; don't worry about it looking perfect. If desired you may even add more chocolate to the top.
Bake for about 20-25 minutes, just be sure not to over-bake. Allow bars to cool in the pan for at least 30 minutes before slicing and serving.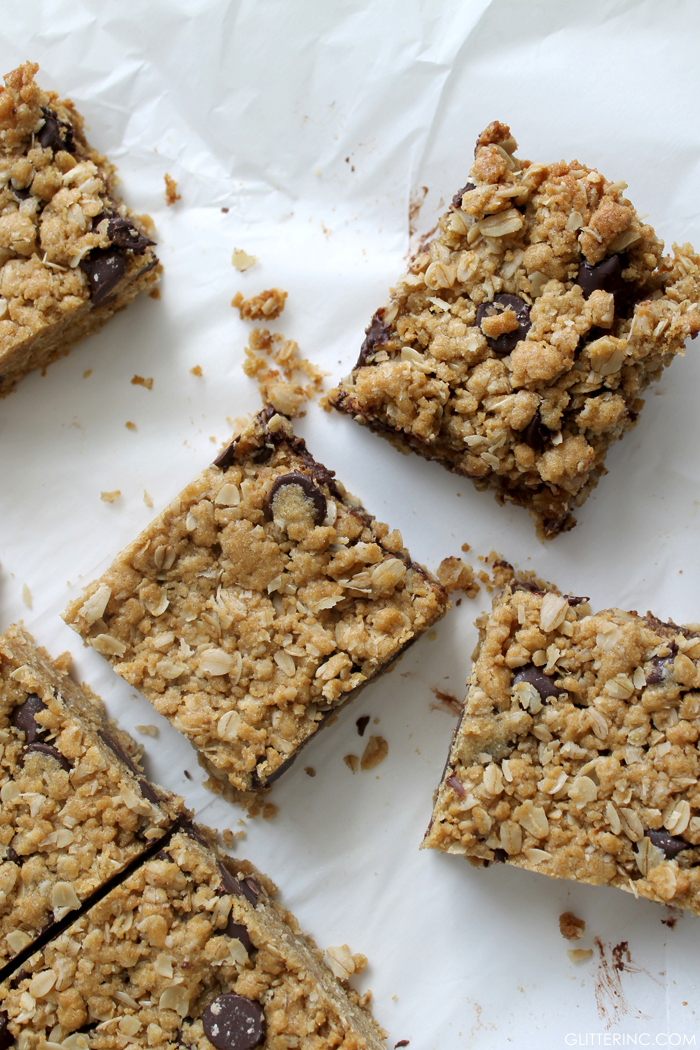 The idea of creating any kind of cookie without butter seemed a bit foreign to me, but these bars 100% thrive off of the coconut or canola oil – the oil really makes these bars incredibly moist. They are somehow perfectly soft, perfectly crumbly and really simple to make. (And again, don't overcook these – they are at the very best just a tad under-cooked and doughy.)
These cookie bars taste amazing served warm, cold, or room-temperature, and last several days in the refrigerator. They also make a great party favor, if you're up for sharing.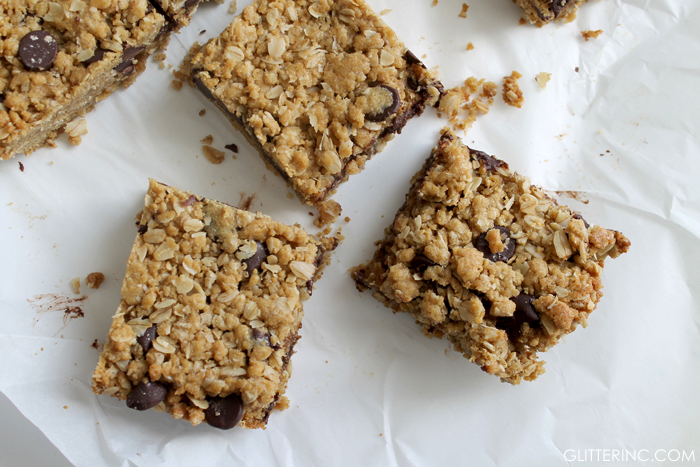 Recipe adapted via Half-Baked Harvest