This post contains affiliate links, which means that if you click on one of the product links, I'll receive a small commission. Additionally, as an Amazon Associate I earn from qualifying purchases. Thank you so much for clicking through and helping to support this little blog business of mine! Read more about our site, privacy, and disclosure policies here.
Now that we're back in the swing of throwing parties, and on the heels of our oh-so-fun backyard garden party, we threw a backyard splash party (a.k.a., a city-fied pool party) for our big girl, Scarlett. (Also, still not over the fact that I have an eight year old; but I digress.)
Scarlett's 8th Birthday Mermaid Splash Party
It's no secret that Scarlett is mermaid-obsessed. We've had several iterations of the mermaid party over the years, and it's actually been a lot of fun coming up with new and unique mermaid party ideas each summer.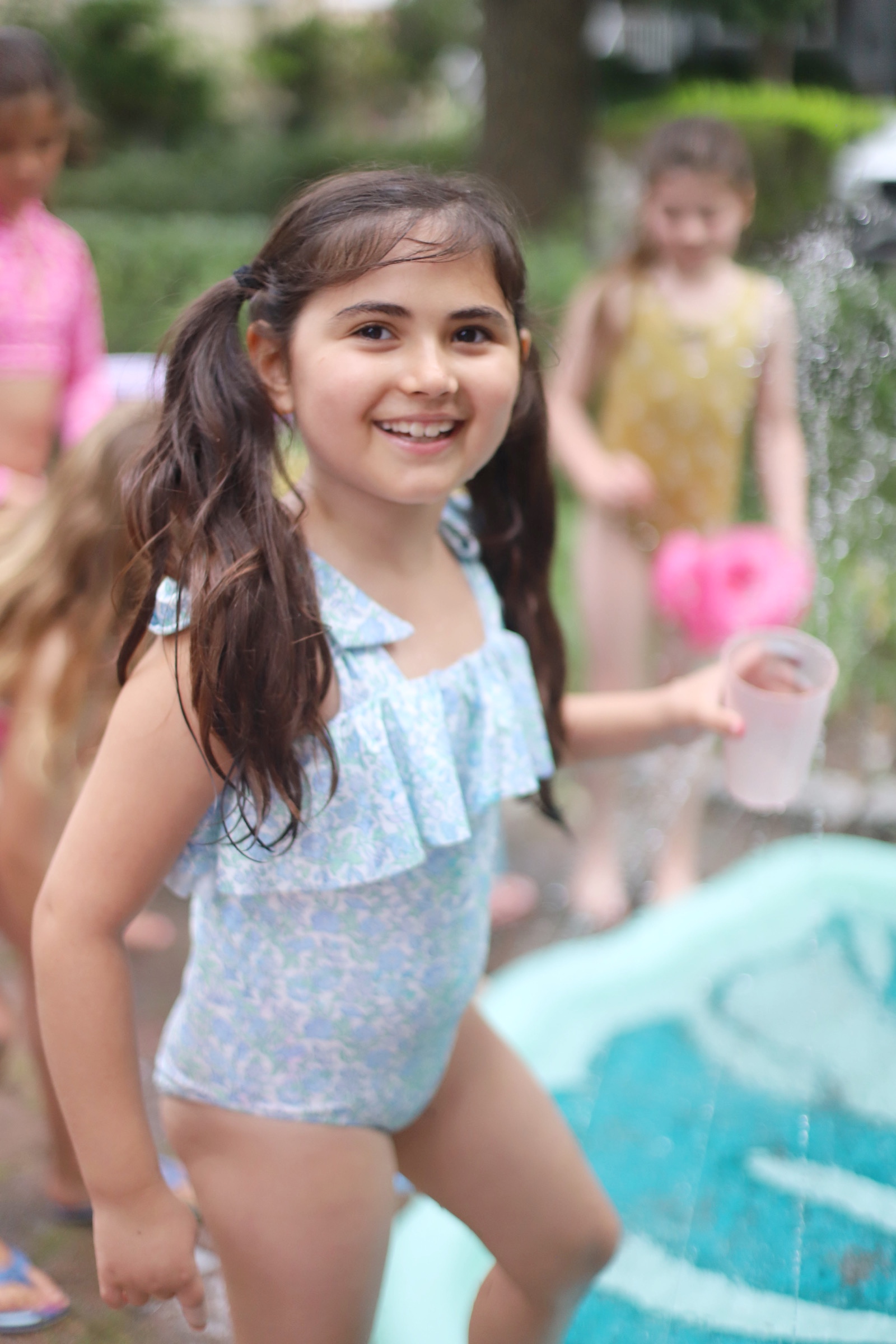 How to Throw a Simple Backyard Mermaid Splash Birthday Party
Scarlett's number one request for this year's 8th birthday party celebration was a "pool party." The only trick was, she wanted to have the party at home, and we live in the city; a.k.a., we don't have a pool and our backyard is more like a brick driveway. I love a good challenge though, so you know we were going to have one awesome "pool party".
Mermaid Splash Party Ideas
Lucky for us, blow-up pools and a huge splash pad (the Minnidip Palm Leaf Splash Pad Sprinkler is the best) fit the theme, and offered up plenty of that pool day fun we were hoping for!
I also found a bunch of really great decor and kid-friendly activities that fell right in line with the mermaid-meets-pool party fun we had in mind.
So without further ado, here's how to throw a simple backyard mermaid splash birthday party (with or without that in-ground swimming pool.)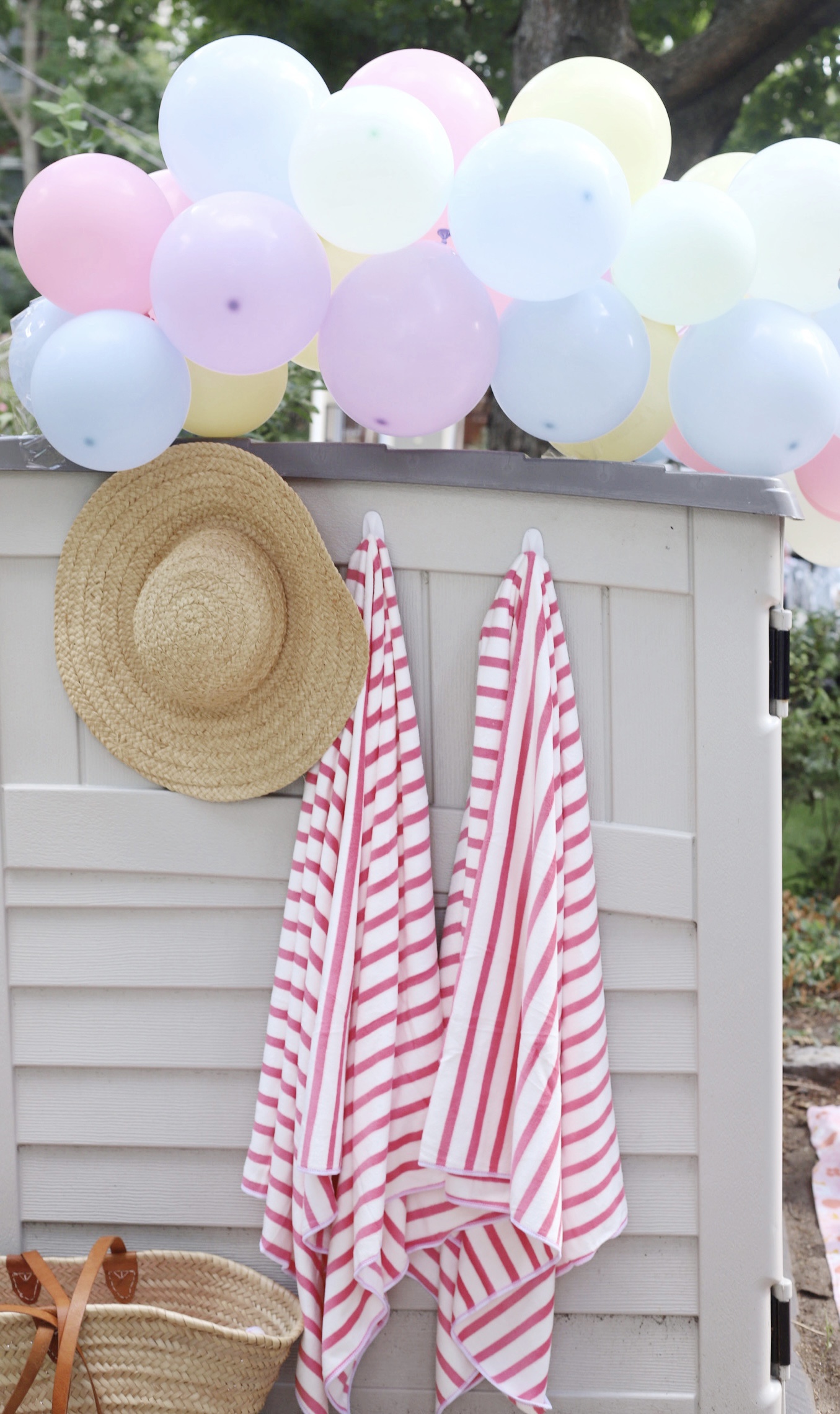 Splash Activities
We filled up two kiddie pools and kept our huge splash pad running to keep everyone cool. It was the perfect mix for both the bigger kids and some of their younger siblings. The party was also relatively small since so many kids go out of town in the summer here. Honestly though, it felt like the ideal party size and all of our girls had an absolute blast. Scarlett is already telling me she wants to have the same exact party again next year. 😂
Pool Towels
Using command hooks, I hung oversized pink and white striped beach towels, that worked both as decor and wound up being super useful for the kids.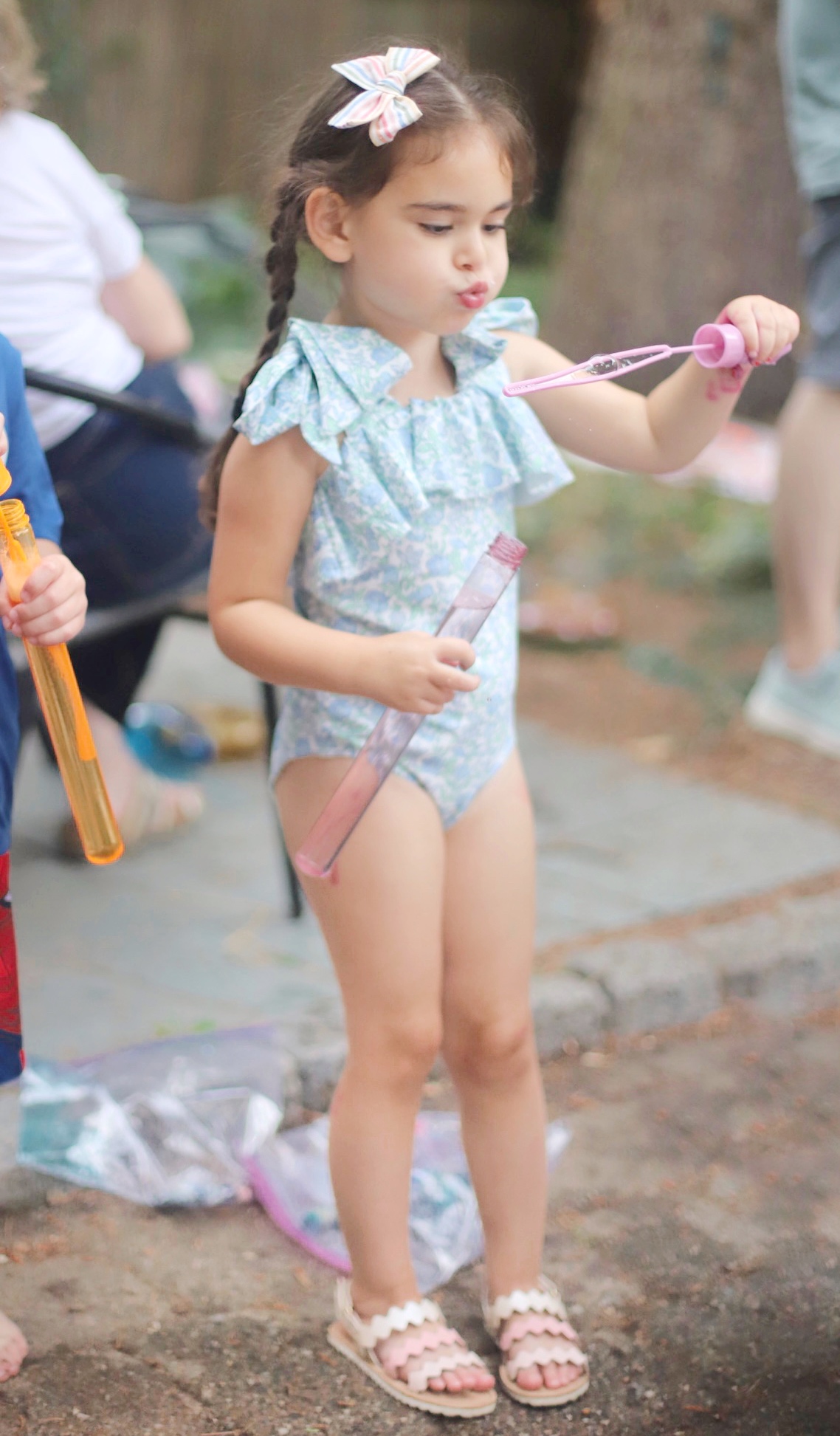 Bubbles
We had a bubble machine running (this bubble machine from Amazon is the real MVP) with an endless supply of bubbles (the giant $3 Sun Squad bubble solution from Target is the greatest), plus a basket of colorful bubble wands.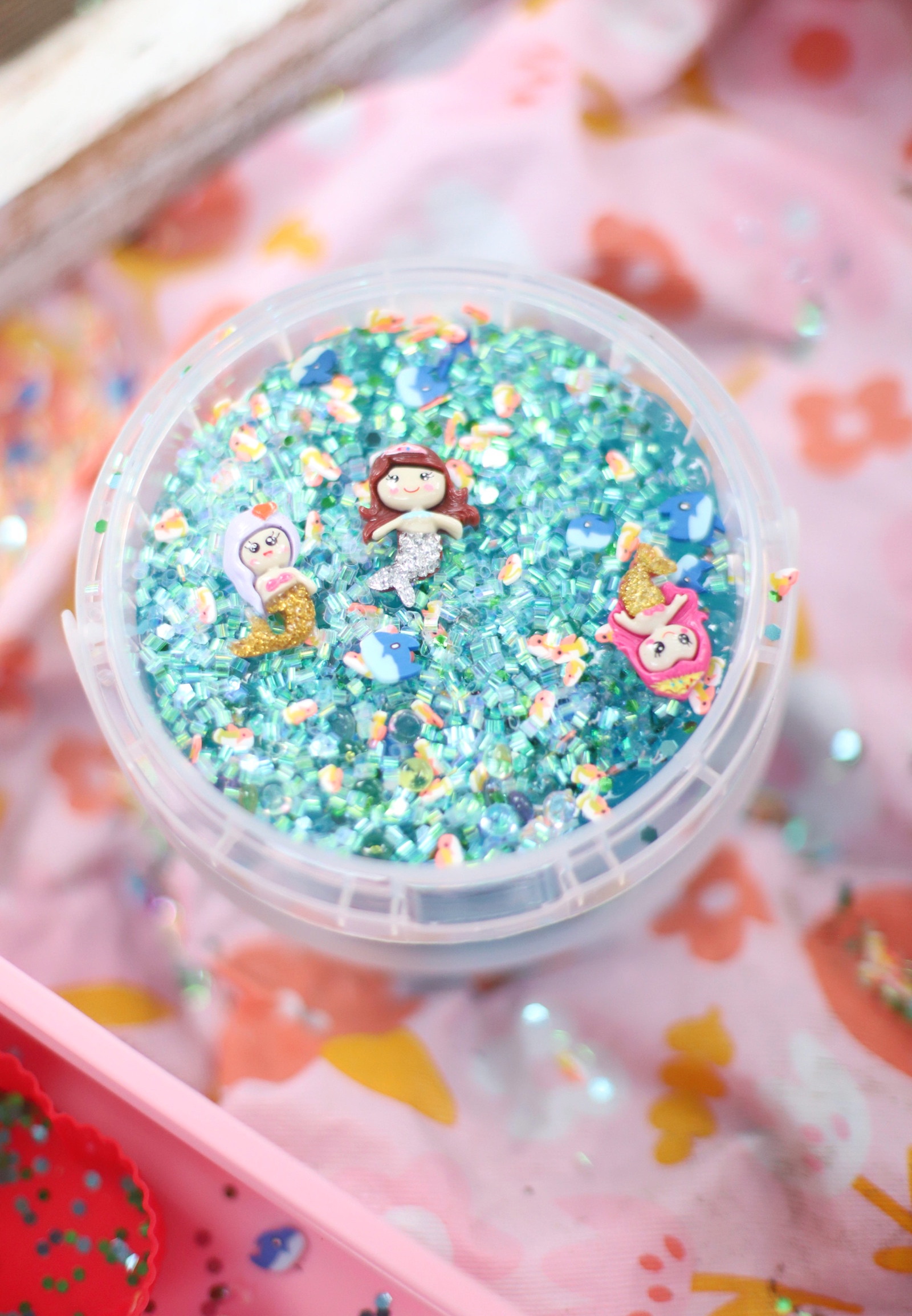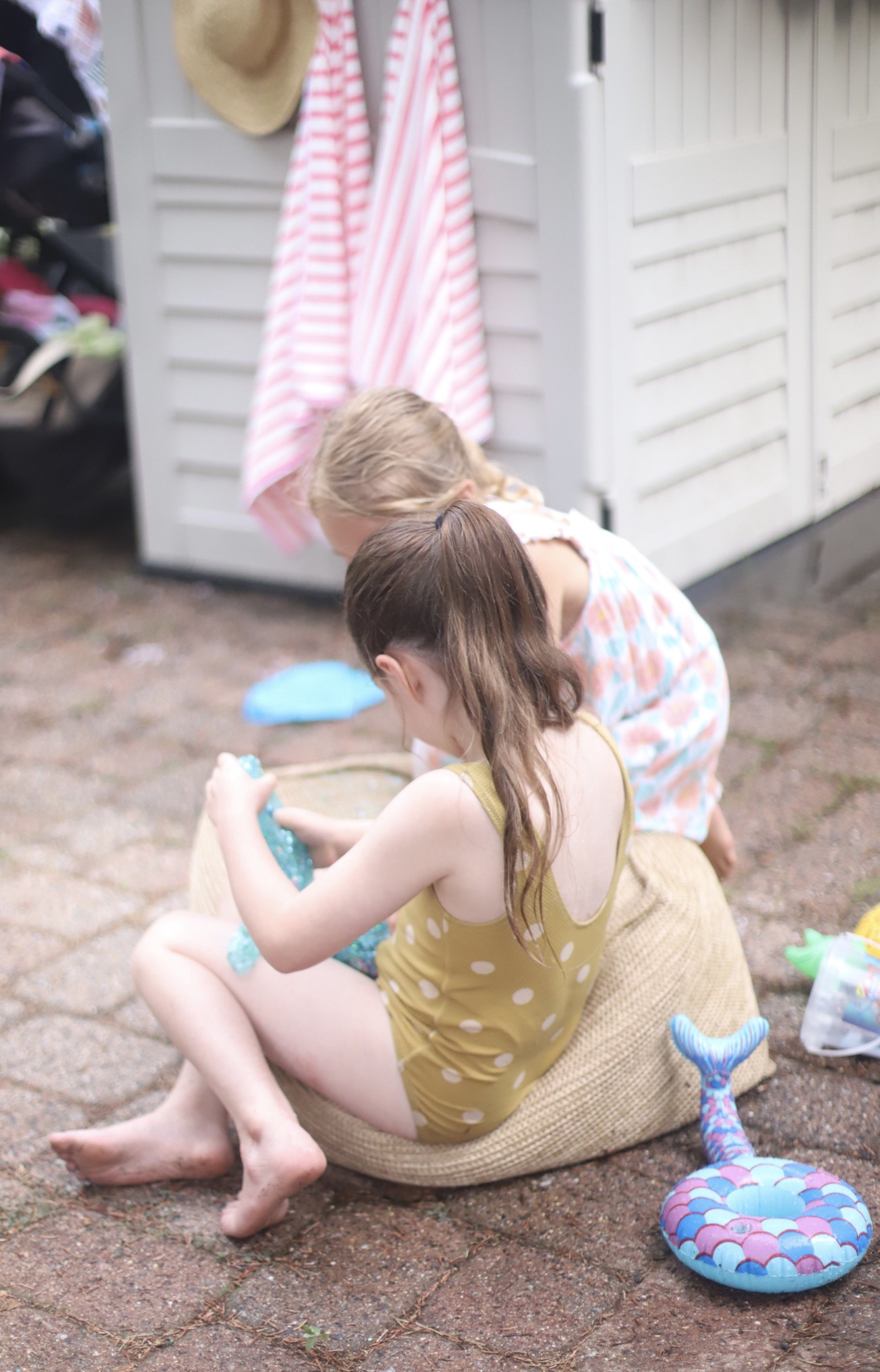 DIY Slime Station
There was a slime station, complete with plenty of blue slime (read below for more details on this genius, EASY slime!) and ocean-inspired mix-ins like glitter, little fish, and I added resin mermaids to tie into our mermaid theme.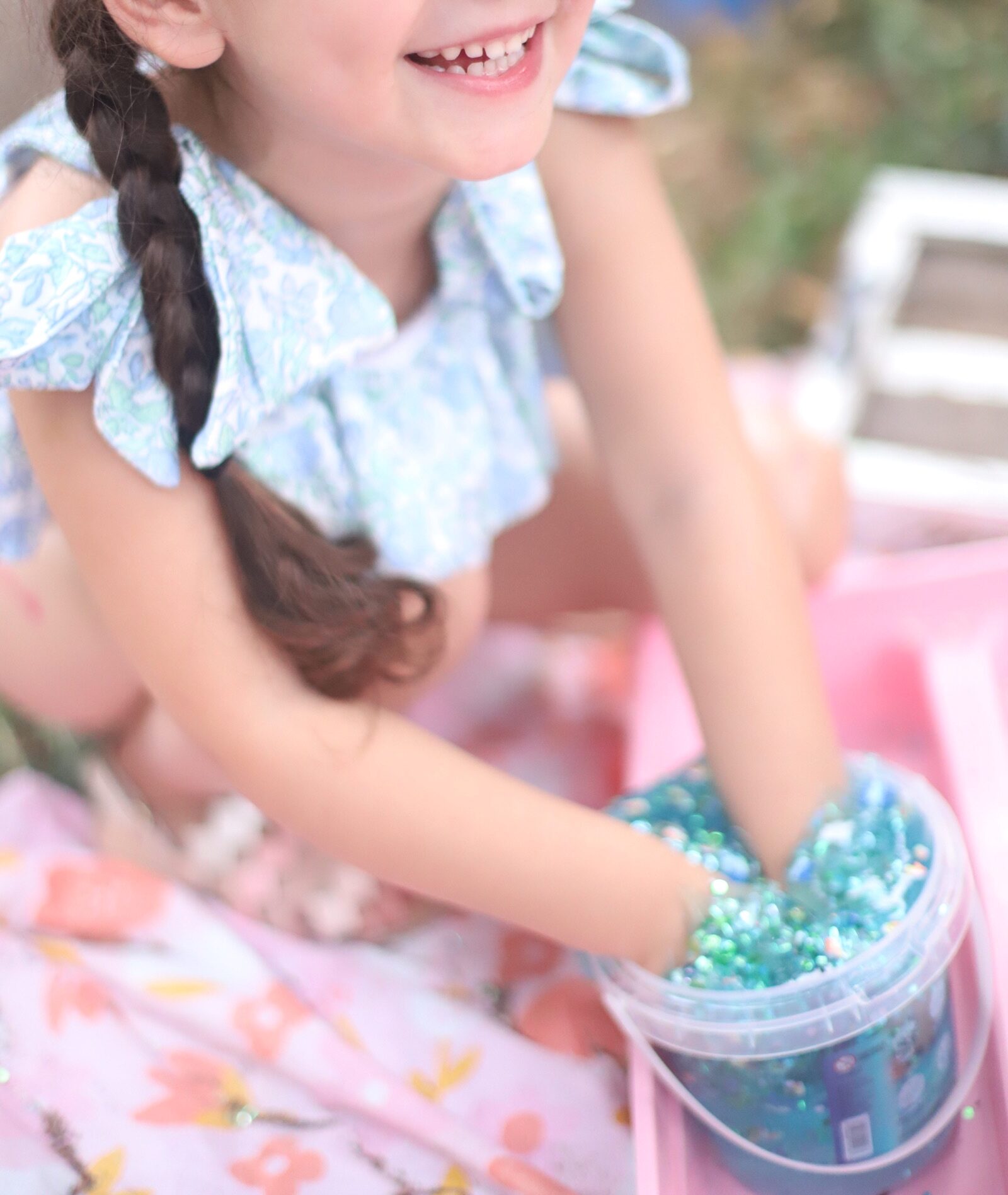 By the way, this bucket of Elmer's Glue Deep Gue Sea Premade Slime Kit with Mix-Ins is SO worth it. It kept the kids entertained at the mermaid splash party for so long, and our own girls have been playing with it for weeks since the party.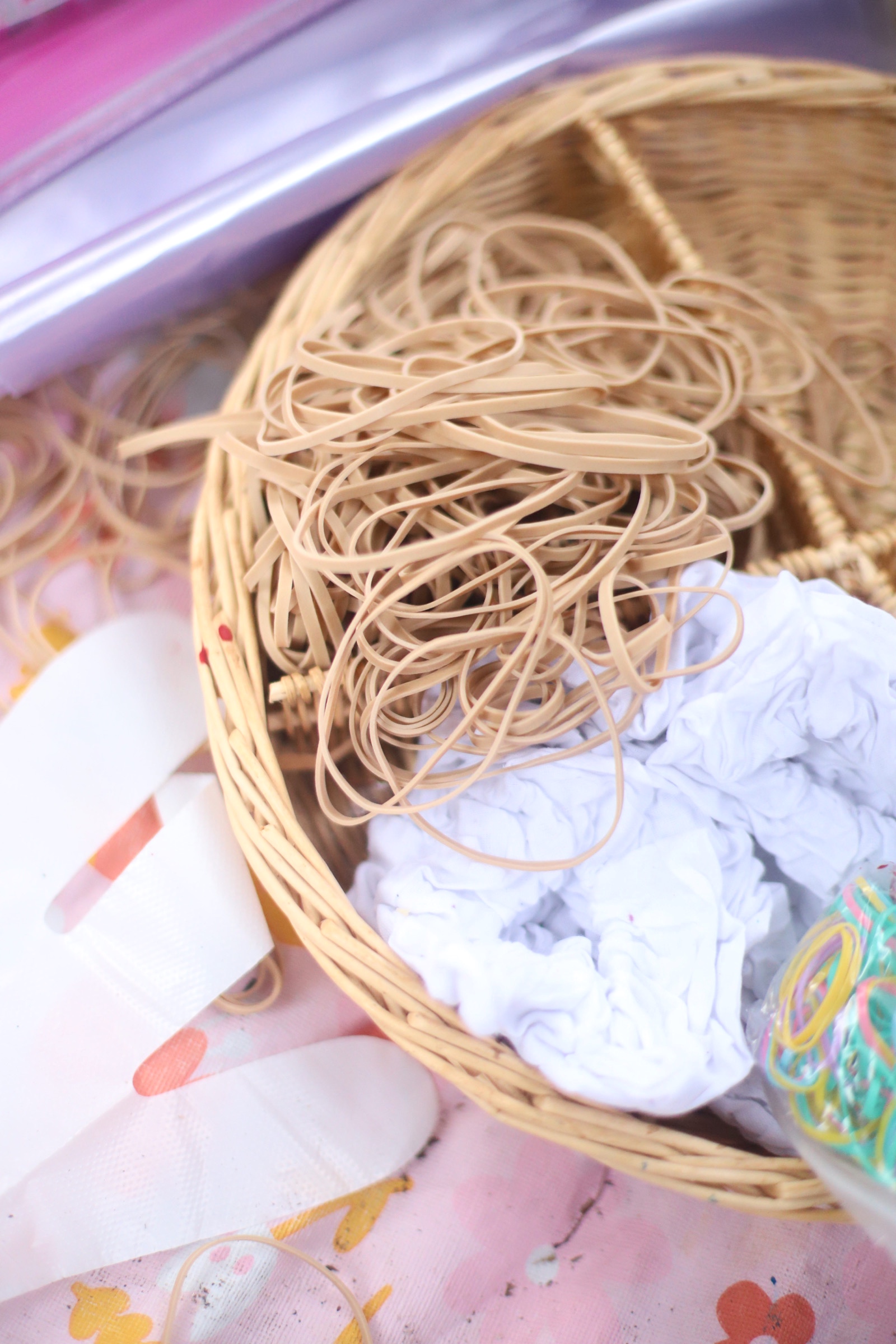 DIY Tie-Dye Station
We had a tie dye station with a whole lot of tie dye in mini plastic bottles, plastic gloves, and rubber bands (this tie dye set makes tie dye at home so easy and fun!), ziploc bags and permanent markers to label the bags to take home the tie dye creations. We tie-dyed t-shirts and scrunchies and everyone got to bring home their own custom tie dye pieces.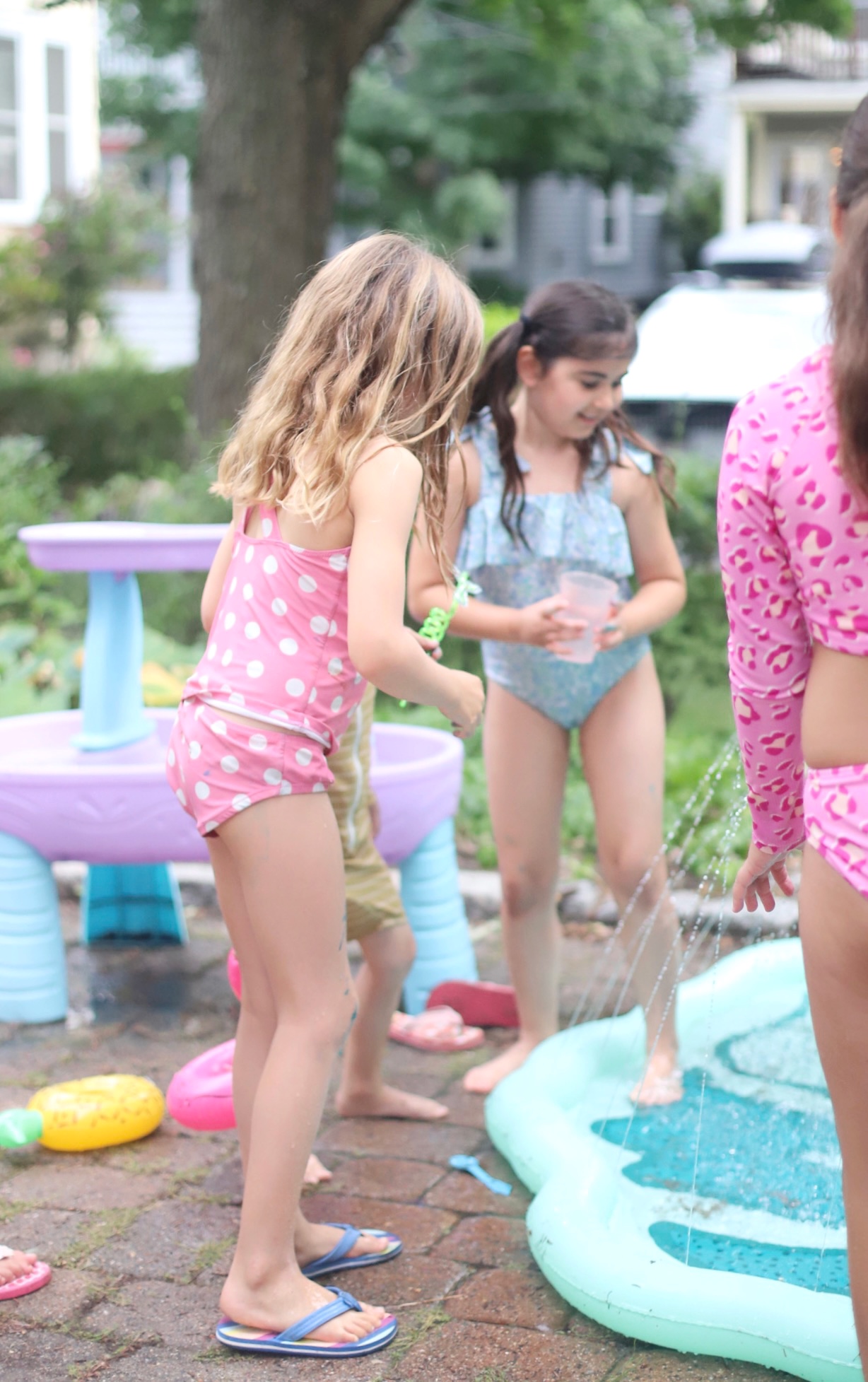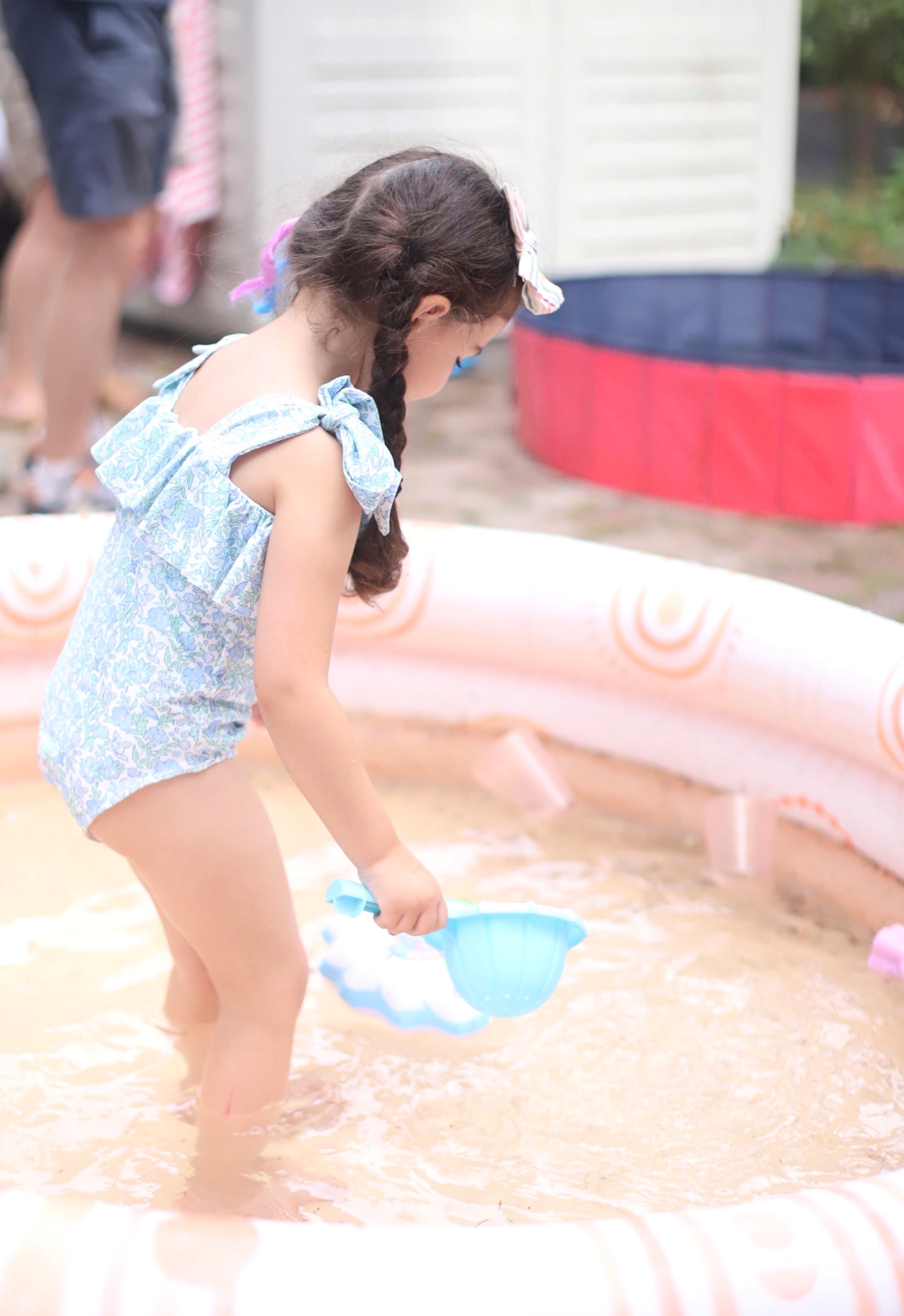 Mermaid Drinks
We also had the most adorable inflatable floating drink holders for the pool and mermaid glitter straws, which doubled as great summer party favors. We served mermaid pink lemonade as well!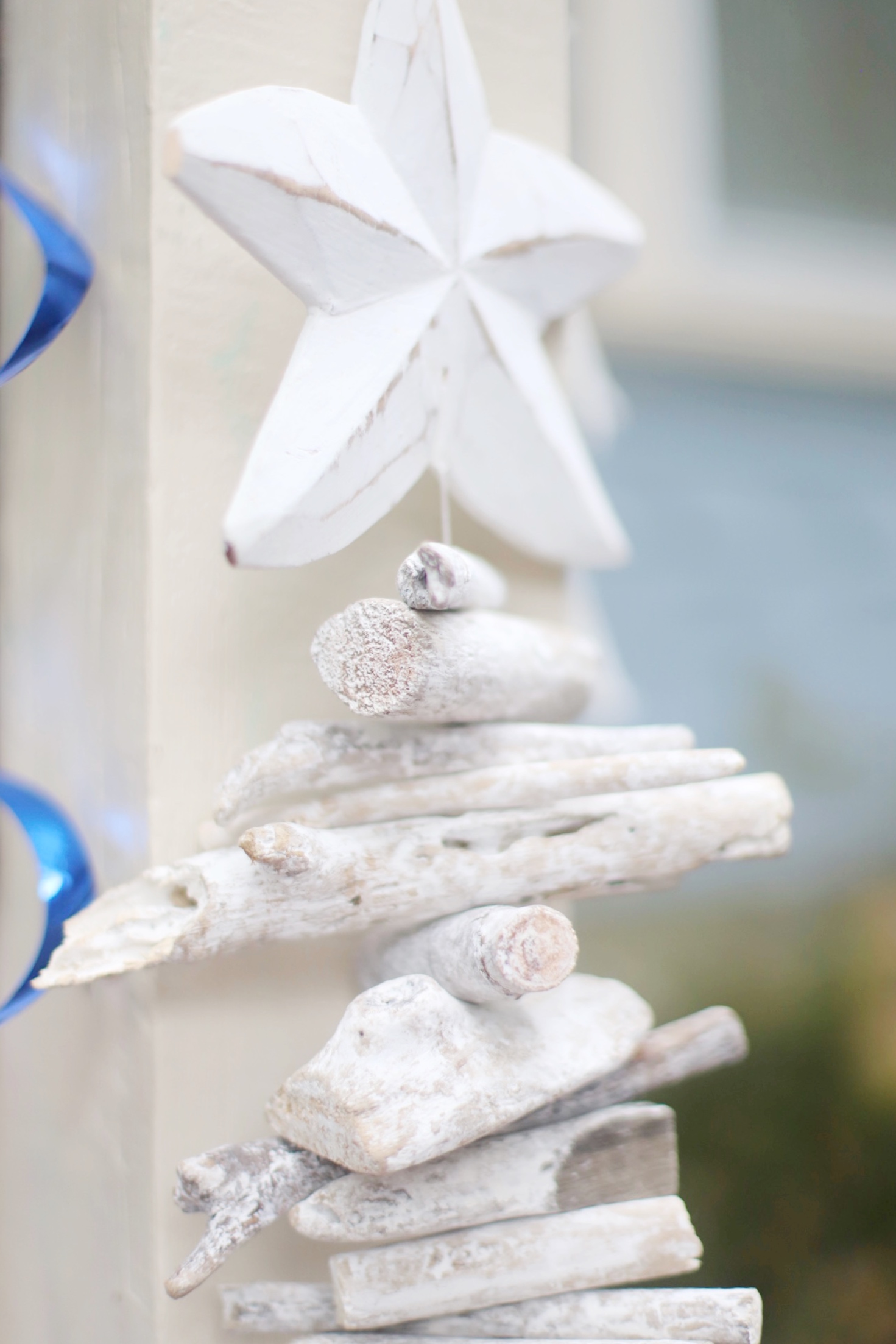 Beach-Themed Decorations
We decorated the entire backyard with seashells and starfish, balloons, anchors and rope, starfish chalk (found at HomeGoods), a bunch of cute under-the-sea themed decor (snagged from the girls' shared mermaid room), ocean netting, and a mermaid celebration sign.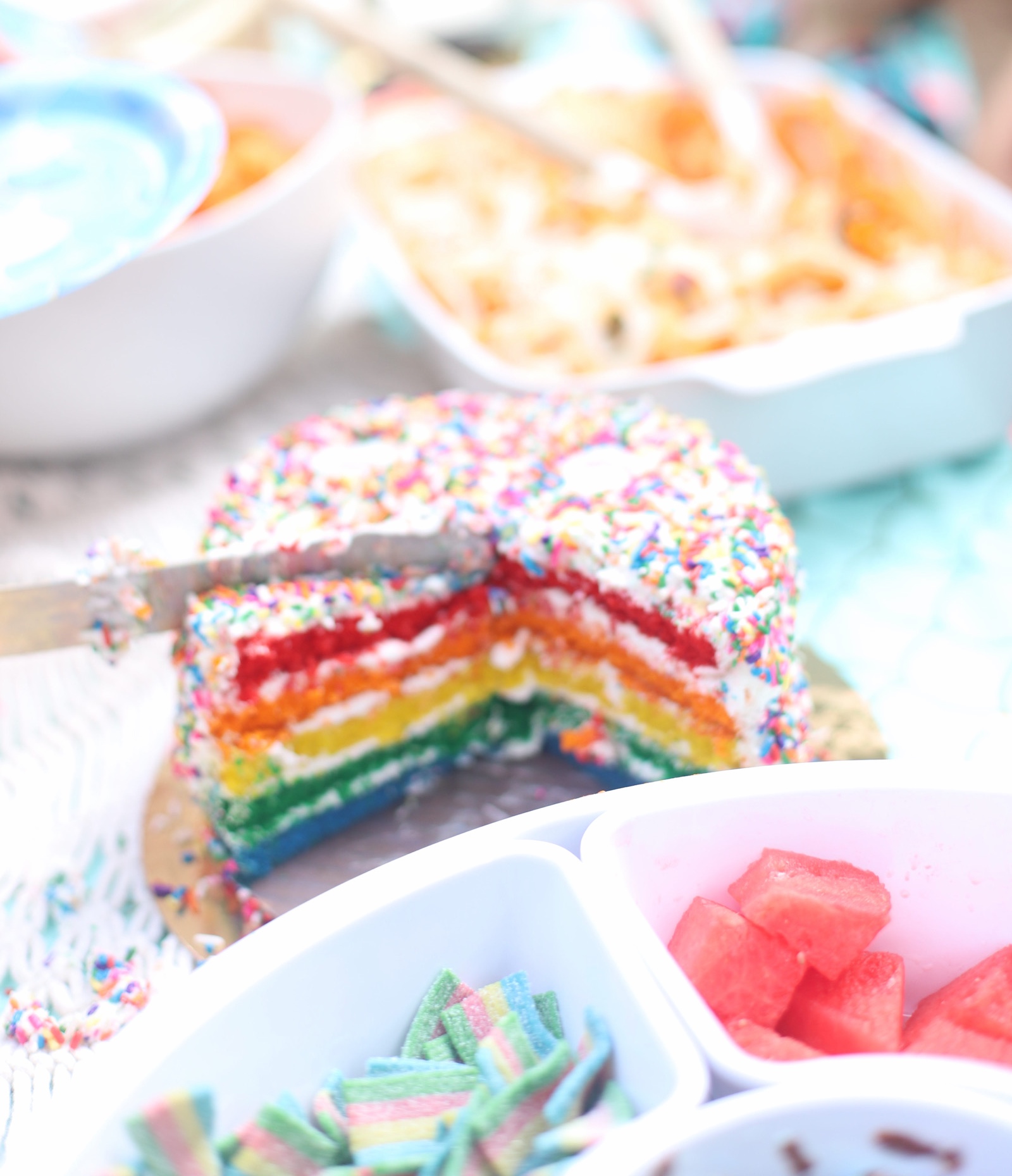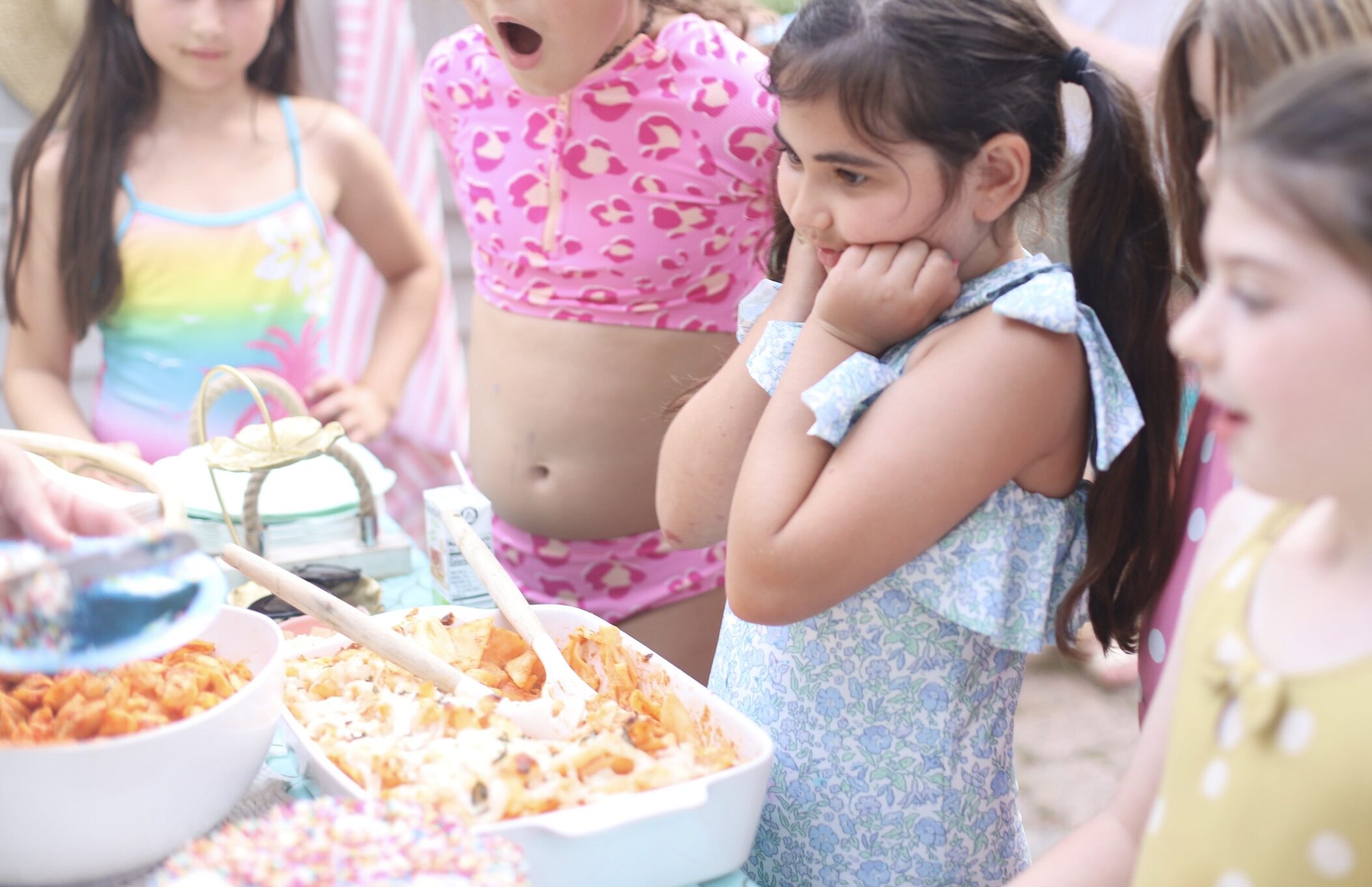 Mermaid Splash Party Menu
For the food, we created a pasta bar (per the birthday girl's request) complete with homemade baked ziti, buttered seashell noodles (a favorite of all of the kids), and pasta in red sauce. I found different pasta shapes that fit our ocean theme, like mini shells and radiatore, which the girls decided looked just like seaweed.
We also served ice cold watermelon, chocolate-covered pretzels with mermaid sprinkles, our favorite sugar cookie bars, and plenty of candy. We had a drink station with drinks and water for the grownups, plus popsicles and juice boxes for the kids. And of course, mermaid plates, napkins, and gold flatware.
The cake was an awesome find from Costco! They have this sprinkle celebration cake right now that is a layered rainbow cake. It was a huge hit!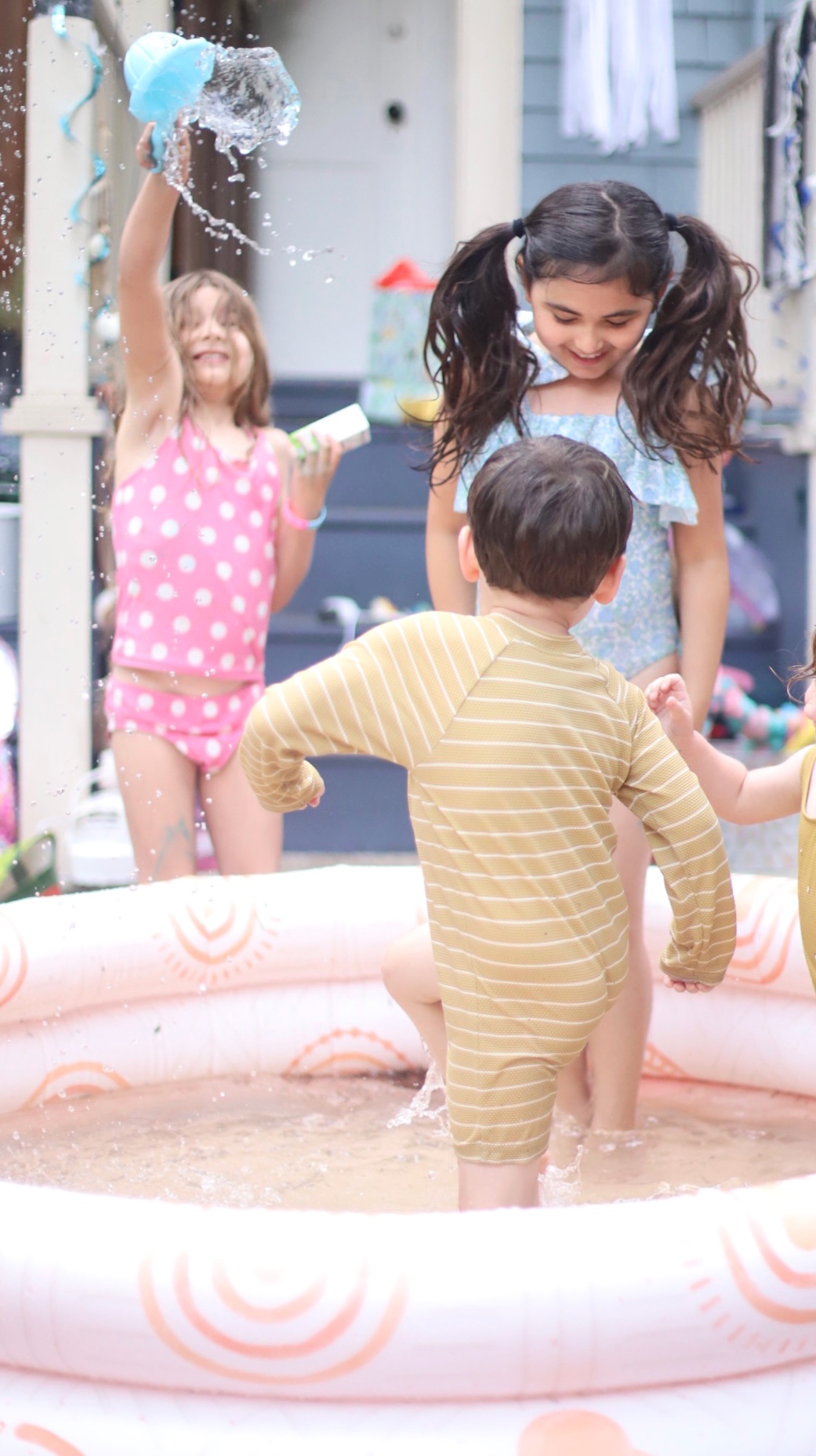 And most important of all, the party was everything our little eight year old could have imagined, and goodness, do I ever love watching all of that joy just radiate out of her.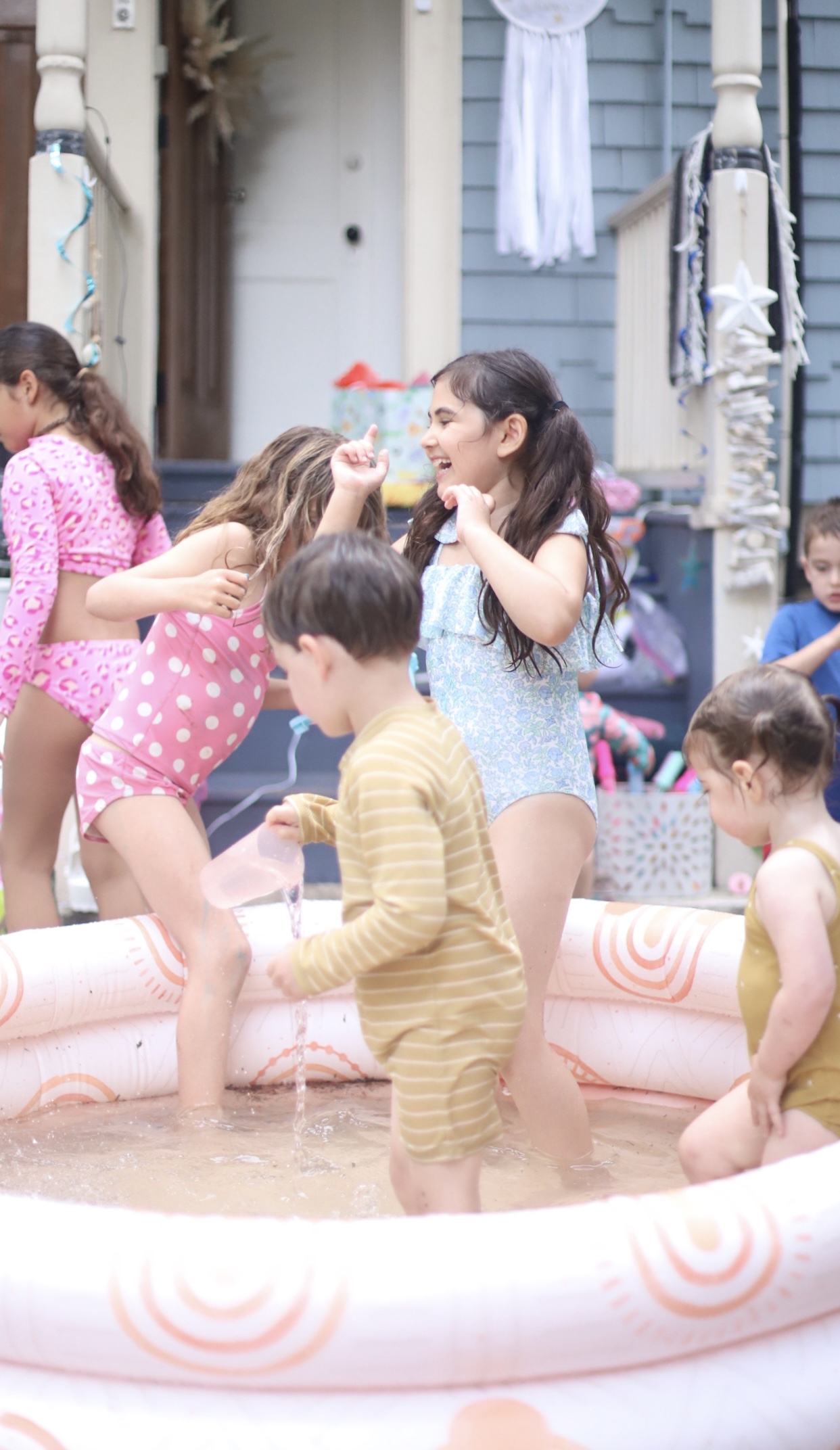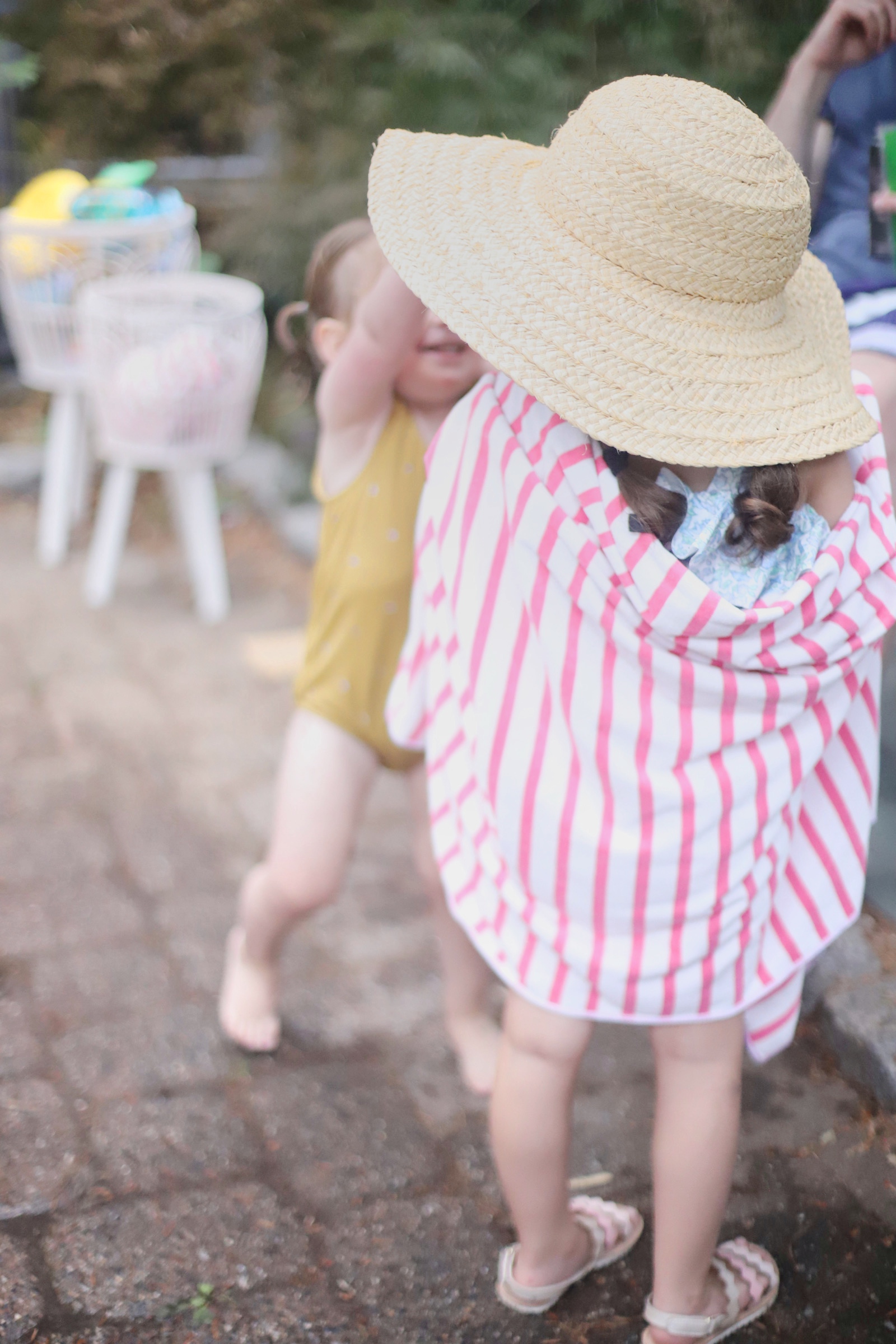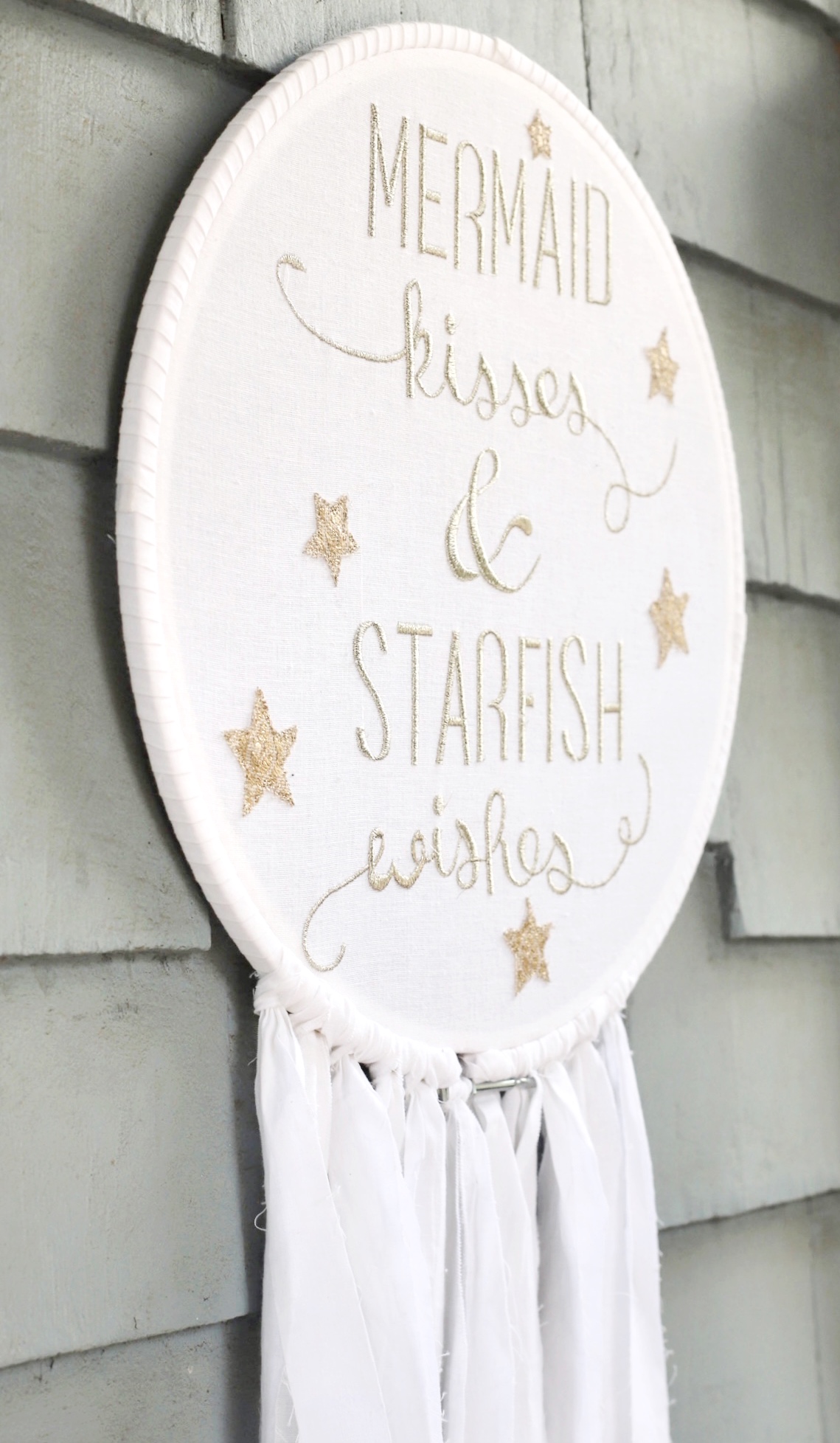 Most of the decor was from Target, HomeGoods, and Amazon and I'm linking what I could down below …
Of course, if there's anything that I missed, or you have questions about any of the mermaid splash party details, don't be shy, just send me a message!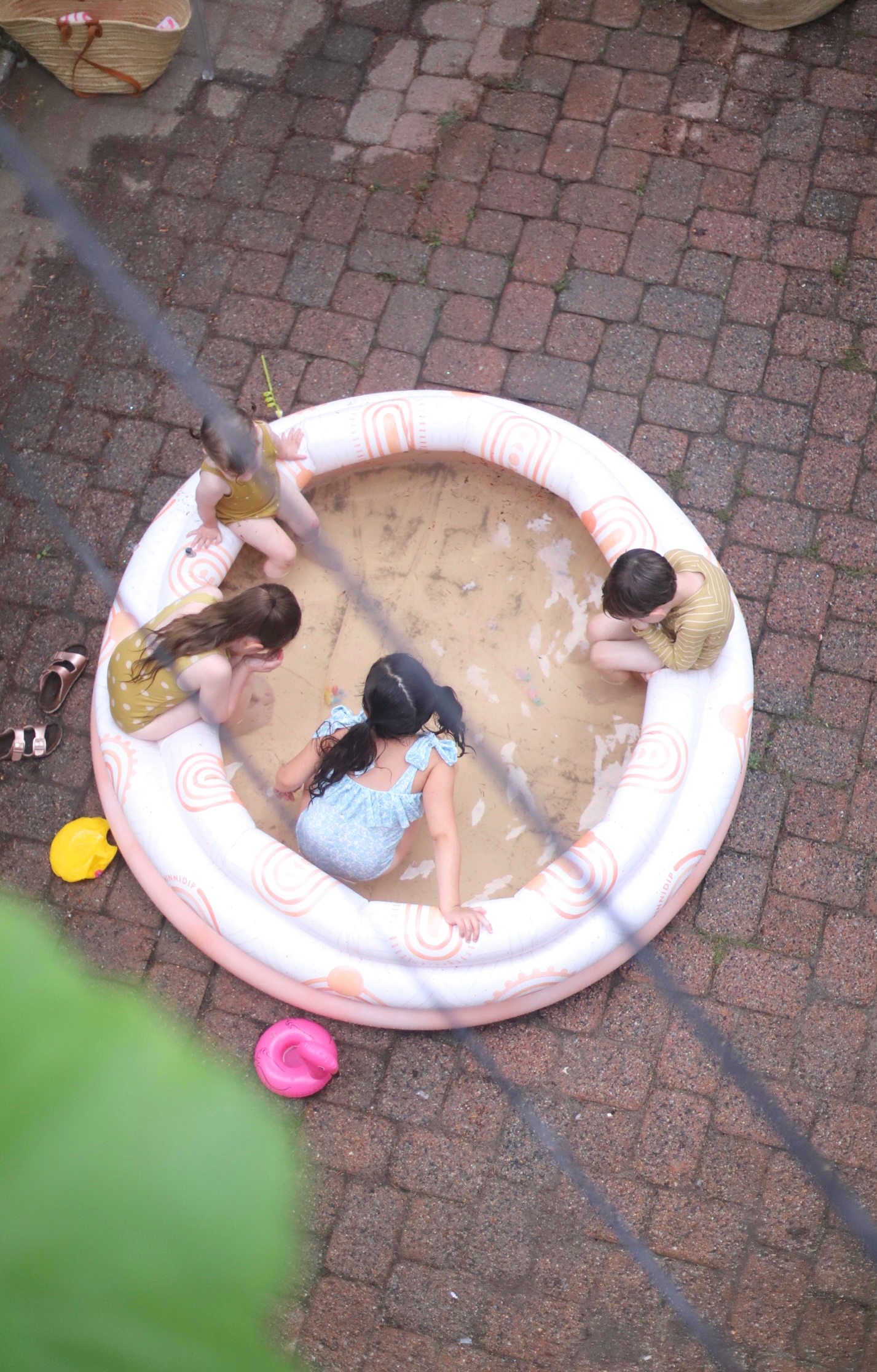 SHOP THE BACKYARD MERMAID SPLASH PARTY POST | CLICK THE IMAGES TO SHOP

IF YOU LOVED THIS POST, YOU CAN SEE MORE OF OUR LIFE WITH THREE LITTLE ONES HERE OR FOLLOW ME ON INSTAGRAM TO SEE THE LATEST.
You May Also Like:
The Girls' Shared Mermaid Bedroom
Scarlett's 3rd Magical Mermaid Birthday Party
Emmeline's Backyard Garden Party
Scarlett's First Birthday Bohemian Party and
Scarlett's 2nd Birthday Festival Backyard Party….
I hope I've helped inspire your next backyard party. Thanks for stopping by and happy celebrating!