This post contains affiliate links, which means that if you click on one of the product links, I'll receive a small commission. Thank you so much for clicking through and helping to support this little blog business of mine! Read more about our site, privacy, and disclosure policies here.
With Halloween only a few days away, I have candy on the brain (specifically, these unbelievably yummy homemade twix bars.) Soft shortbread cookie and gooey caramel inside, dipped in thick milk chocolate … really, these are the perfect sweet treat. And in case you've never tried it, homemade candy is where it's at. These homemade twix bars are moist, soft, delicately rich and buttery and surprisingly simple to throw together.
To keep the recipe extra easy, we used pre-packaged soft caramels (melted down) for the caramel filling, but you could make your own melted soft caramel using this recipe. The shortbread is homemade, but requires only six simple ingredients for an irresistibly good shortbread inside. Then of course, comes the melted milk chocolate … a.k.a., the best part. This is a chocolate candy lovers dream, and really Halloween is just a good excuse, but I'm thinking handmade chocolate twix bars in little tins as Christmas and Holiday gifts are the perfect present.
HOMEMADE TWIX BARS
Makes about 18 bars
INGREDIENTS
For the shortbread layer…
1 stick of softened butter
¼ cup sugar
1¼ cup flour
1 tbsp. milk
½ tsp. vanilla extract
A pinch of salt
For the caramel layer…
About 20 unwrapped caramel squares (Kraft works well)
1 tsp. cream, or milk
For the chocolate coating…
1 (11.5 ounce) bag of milk chocolate chips
2 tsp. coconut oil (optional)
For decorating…
Halloween sprinkles (optional)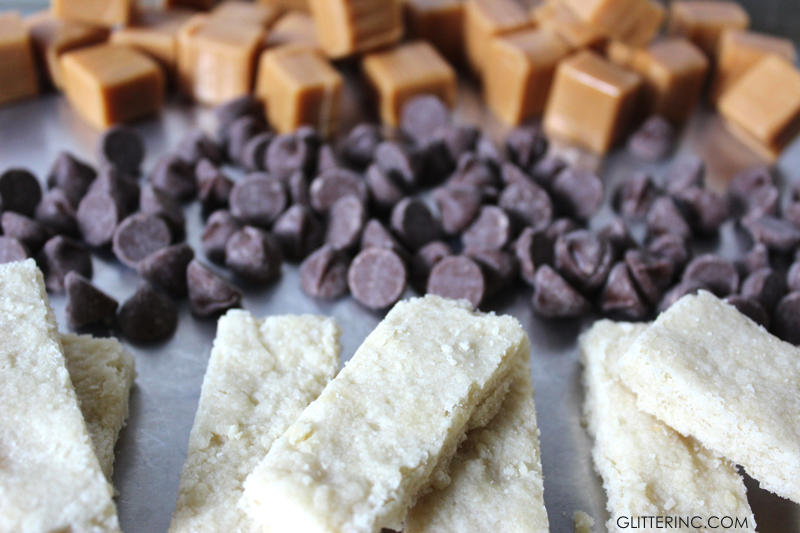 DIRECTIONS
Preheat your oven to 350 F, and prepare an 8×8 inch pan by greasing and lining the bottom with parchment paper.
In a bowl, cream together the softened butter and sugar using an electric mixer. Once smooth, slowly incorporate the flour. Lastly, add in the milk and salt. The dough will be very crumbly, (this is normal!) Pour dough into the greased pan, and press down until packed in tight. Bake for about 20-25 minutes, until golden brown.
Once the shortbread is cooled, remove it from the pan and use a sharp knife to slice about 18 rectangles. (They don't have to be perfect!) Line them up on a parchment lined baking sheet.
Next, unwrap and microwave the caramels and cream, until melted. Using a spoon, carefully spread caramel onto the tops of each shortbread rectangle. (It helps if you let the caramel cool slightly after melting so that it doesn't run off the sides of the shortbread.)
Place the caramel-layered shortbread into the freezer for about 5 minutes to set. While they are chilling, microwave the chocolate chips and coconut oil in 30-second increments, until melted.
Remove the caramel shortbread from the freezer. Flip each of the cookies over, and spread a thin layer of chocolate on the bottom. Place the chocolate covered bottoms down onto the parchment paper, and refrigerate for another 5 minutes until the chocolate is set.
Finally, spread a thin layer of chocolate on the top and sides of each caramel shortbread cookie—in order to completely coat them. Place them back onto the tray, decorate with each with Halloween sprinkles (optional), and chill.
Cover and store in the fridge or freezer until you're ready to eat them! You could also wrap each individually and give them away to friends.
NOTE: With this recipe, the shortbread bakes fairly soft and moist (but not as crisp as an original Twix bar cookie filling.) To fix this, you could bake the shortbread off for another 5-10 minutes after slicing, like you would biscotti, to make it extra crisp. (They're delicious either way, though!)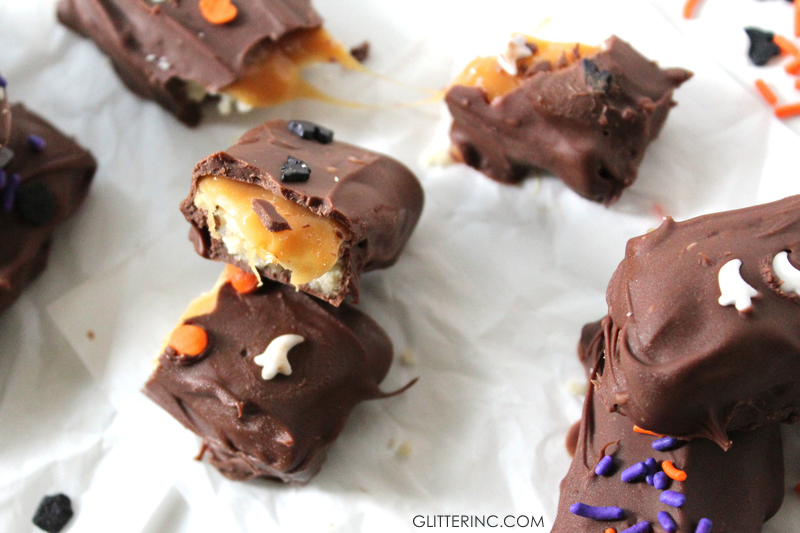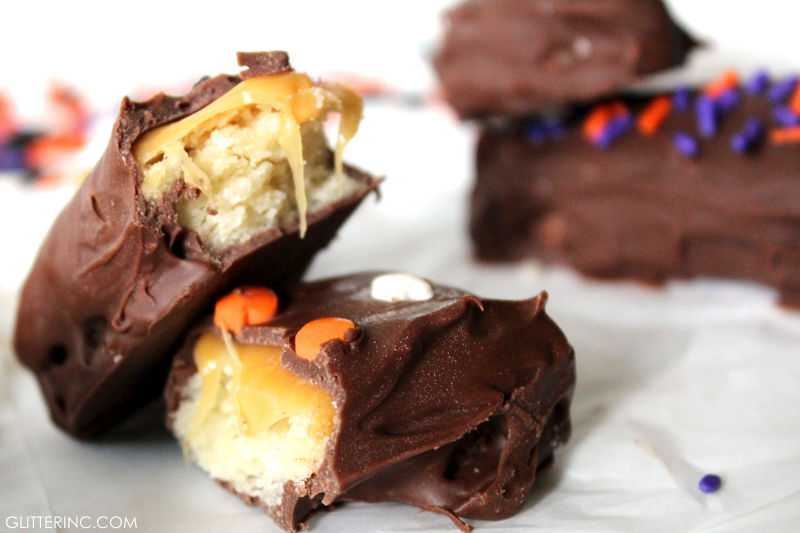 Shortbread recipe adapted via Tablespoon
Special thanks to Rachel of Sugar-Coated Inspiration for this amazing recipe!