Baby shoes, especially at this stage (when Scarlett is only three months old), are definitely a bit of a splurge, but there's something about teeny tiny baby shoes that gets me every time. She is my first after all! I'm sure by baby number two, my kids will live in socks and solid white onesies, but I'm enjoying it while I can get away with it.
Back to the itty bitty shoes … I've had to really scour stores and the internet to find cute baby shoes – there aren't that many great places to shop for sweet shoes (aside from the usual suspects, like Target and GAP – who both always have great baby-everything.)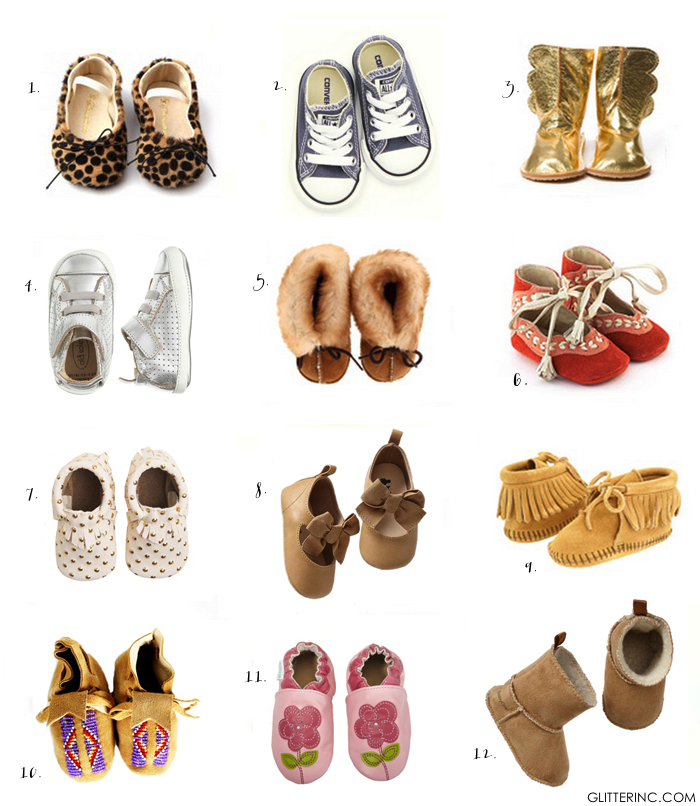 1. SONATINA:  The most adorable Italian baby boutique I have ever seen. (Leopard Ballet Flats)
2. CONVERSE:  OMG. Baby converse. I can't get enough.
3. ACORN: The cutest Brooklyn toy shop, complete with these ridiculously awesome gold wing boots.
4. J.CREW: J.Crew has the most adorable, yet curated, selection of baby clothes and gear. Though a bit pricey, their sales are not to be missed. (OLD SOLES™ Silver Baby High Top Sneakers)
5. ZAPPOS: Zappos has everything, plus free shipping and returns (key when it's hard to know just what size shoes to order for your little one). (Minnetonka Kids Genuine Sheepskin Bootie)
6. VIBYS:  This Etsy seller designs unbelievably chic baby shoes. (Coral Pink Leather Baby Shoes)
7. FRESHLY PICKED: FP designs some of my absolute favorite baby shoes – handmade moccasins to be exact.  (Heirloom Limited Edition Moccasins)
8. GAP: Baby Gap is my go-to for baby girl for nearly everything. They have the cutest essentials and their baby clothes are a bit more sophisticated than the average animal-printed-onesies you find everywhere else. The quality is also on point. (Gap Baby Mary Jane Bow Flats)
9. MINNETONKA: I can't wait to buy Scarlett her first pair of Minnetonka — as a huge fan of grown-up Minnetonka's, the idea of tiny fringe booties for my little one is irresistible. (Minnetonka Fringe Bootie)
10. GUNN AND SWAIN: A new-to-me site full of handmade items and finds, including the most adorable beaded moccs. (Beaded Baby Moccasins)
11. ROBEEZ: Robeez makes great baby shoes – adorable and comfy.
12. GAP: See number 8, above. (Gap Baby Sherpa Booties)
Where do you shop for your little ones? Any favorite boutiques and/or Etsy shops?